Please note that this post may contain affiliate links.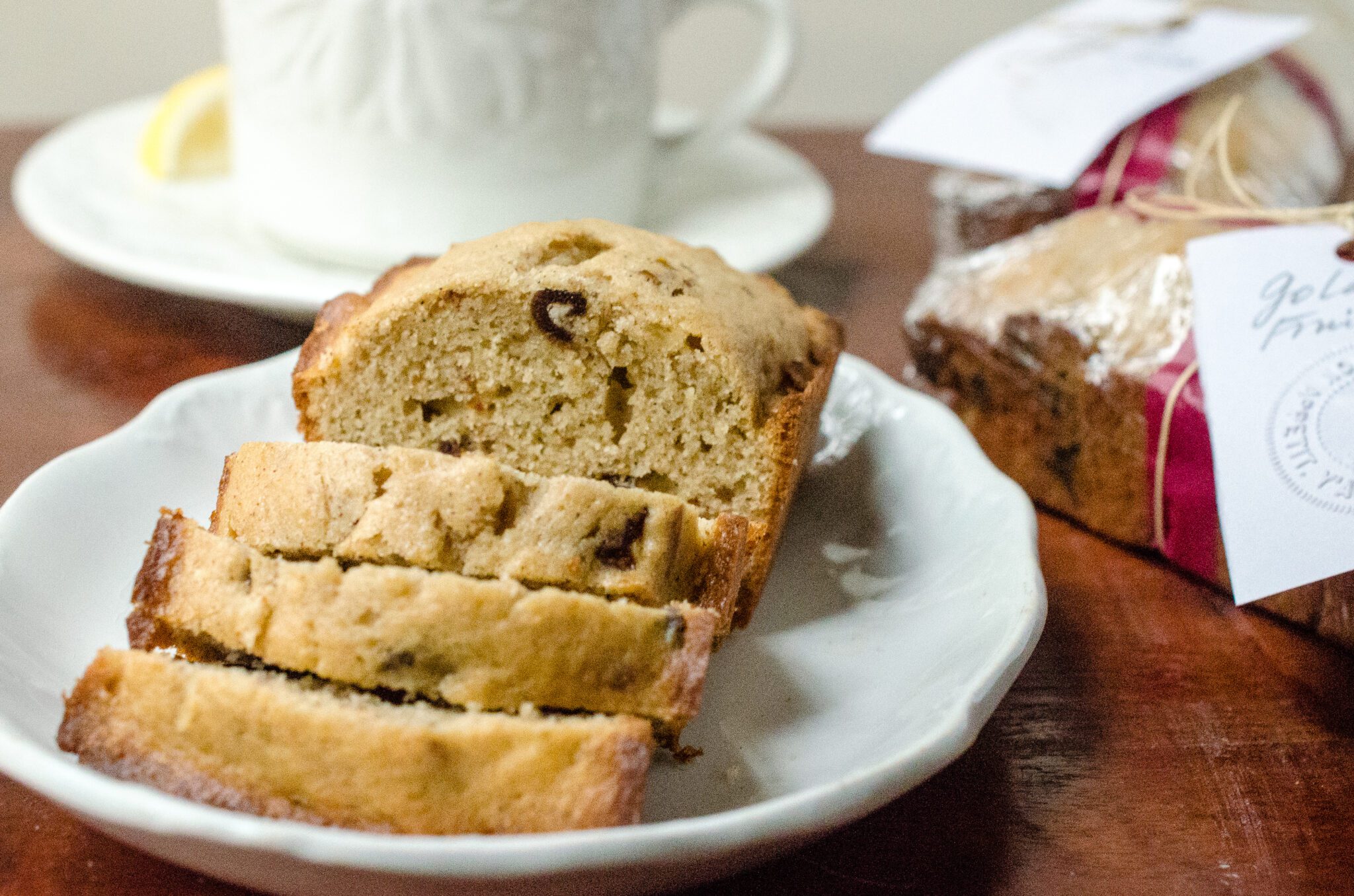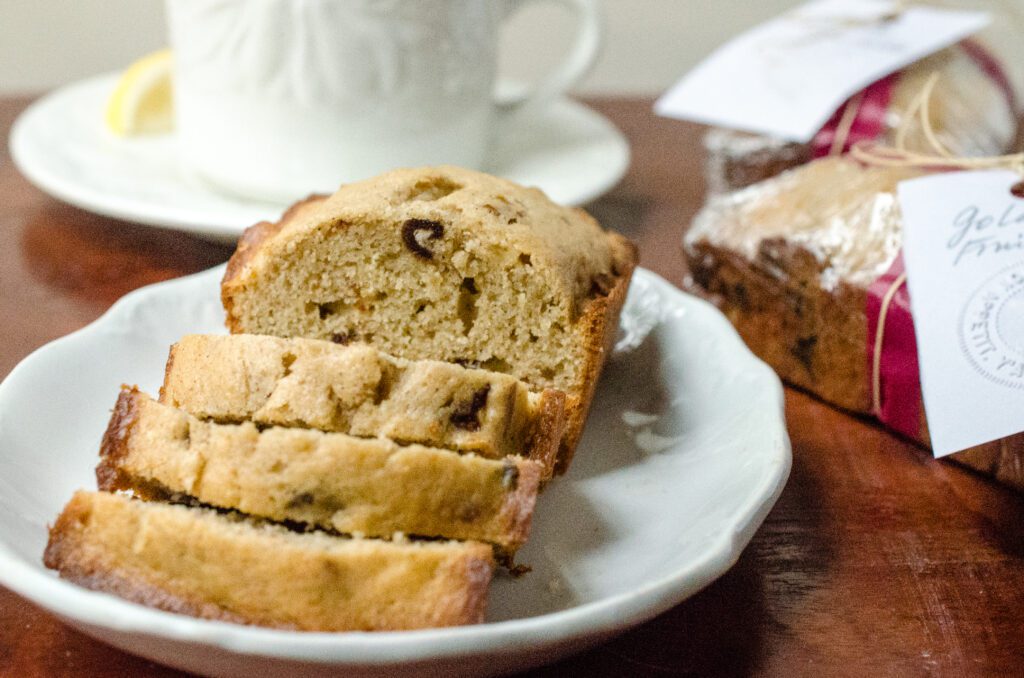 The word fruitcake immediately conjures images of boozy brown bricks studded with bizarre colored unidentifiable bits of fruit. I am not certain how fruitcake became the culinary oddity that it has become, but doesn't have to be… What about a golden cake studded with naturally sweet bits of dark amber fruit and rich buttery pecans? Now, that sounds delicious! Read on for more about the fruitcake you actually want to make and eat.  It's quick, easy, and absolutely delicious.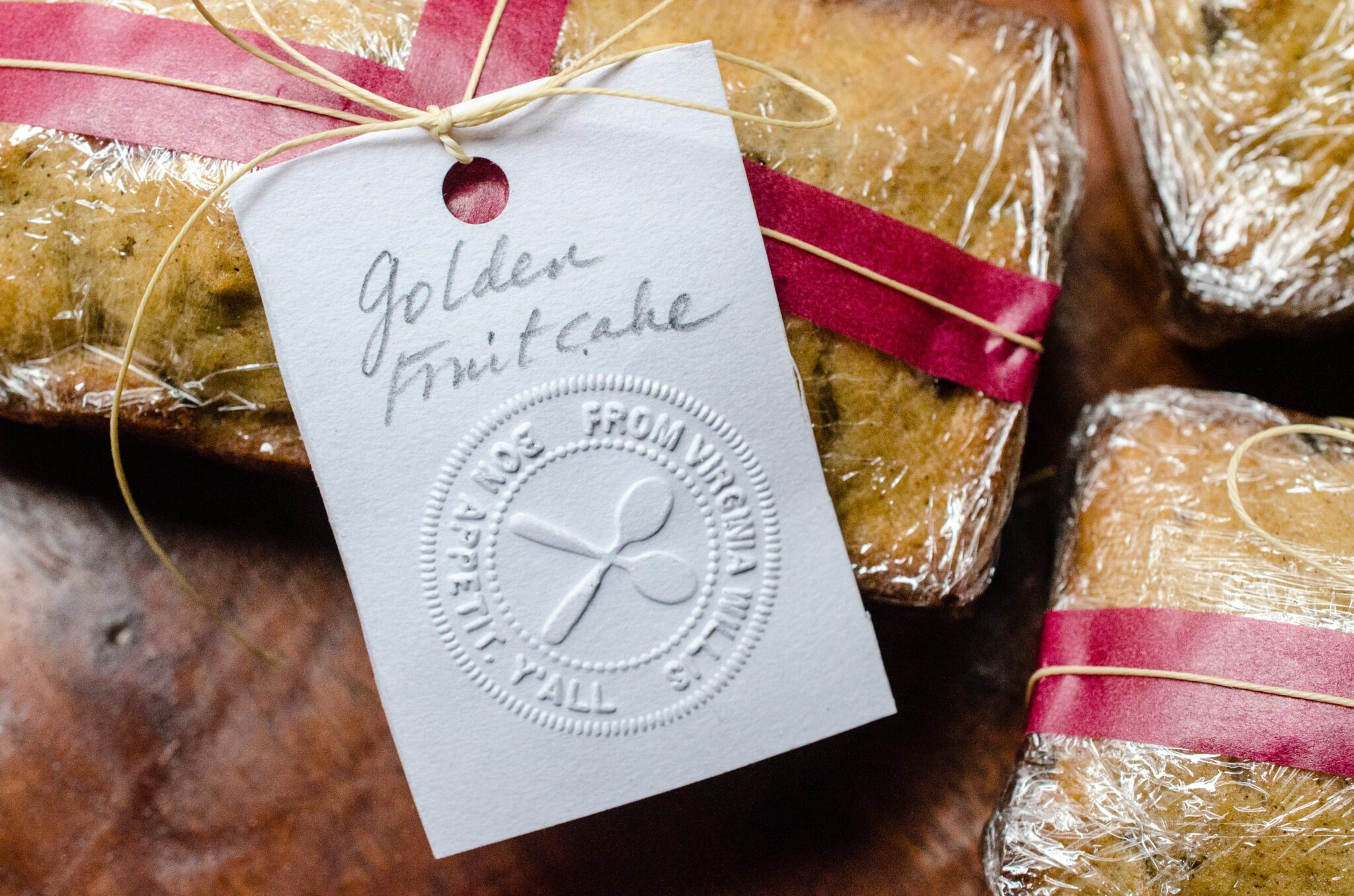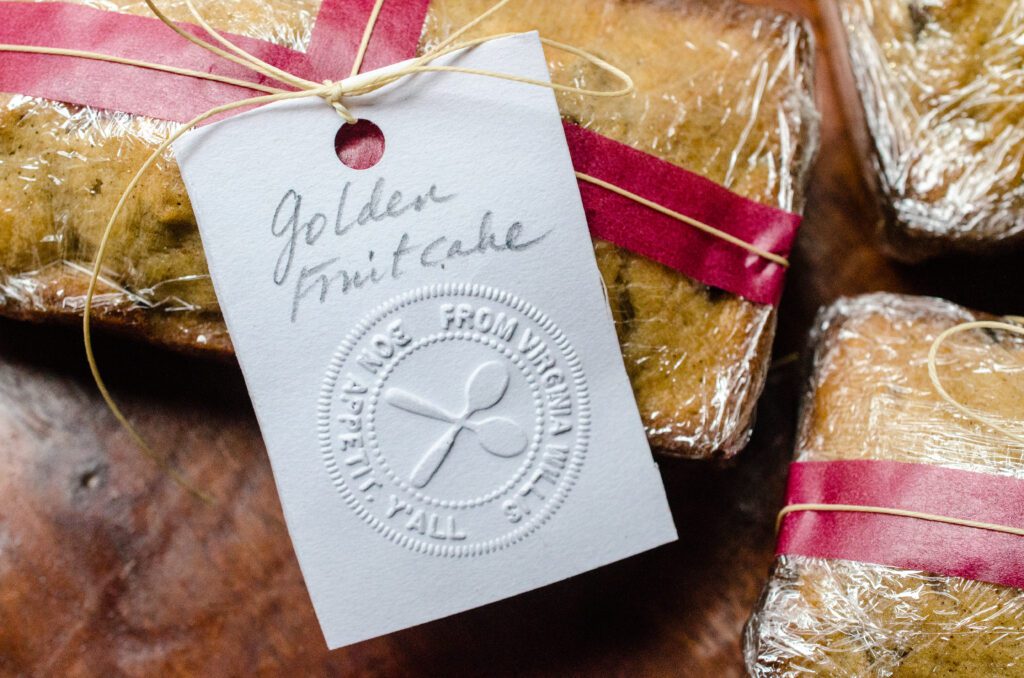 DIY Food Gifts
I'm in the gift-giving mindset these days. There is nothing like giving and receiving fresh baked goods during the holidays. And, if you can't sit with friends and have a nibble and a cup of tea, perhaps the next best thing is making a loaf to give to them.
But don't call it this a fruitcake.
I texted a friend and said I had a freshly made loaf for her. She shot back, "Oh thanks, I wouldn't eat it. It's not my thing."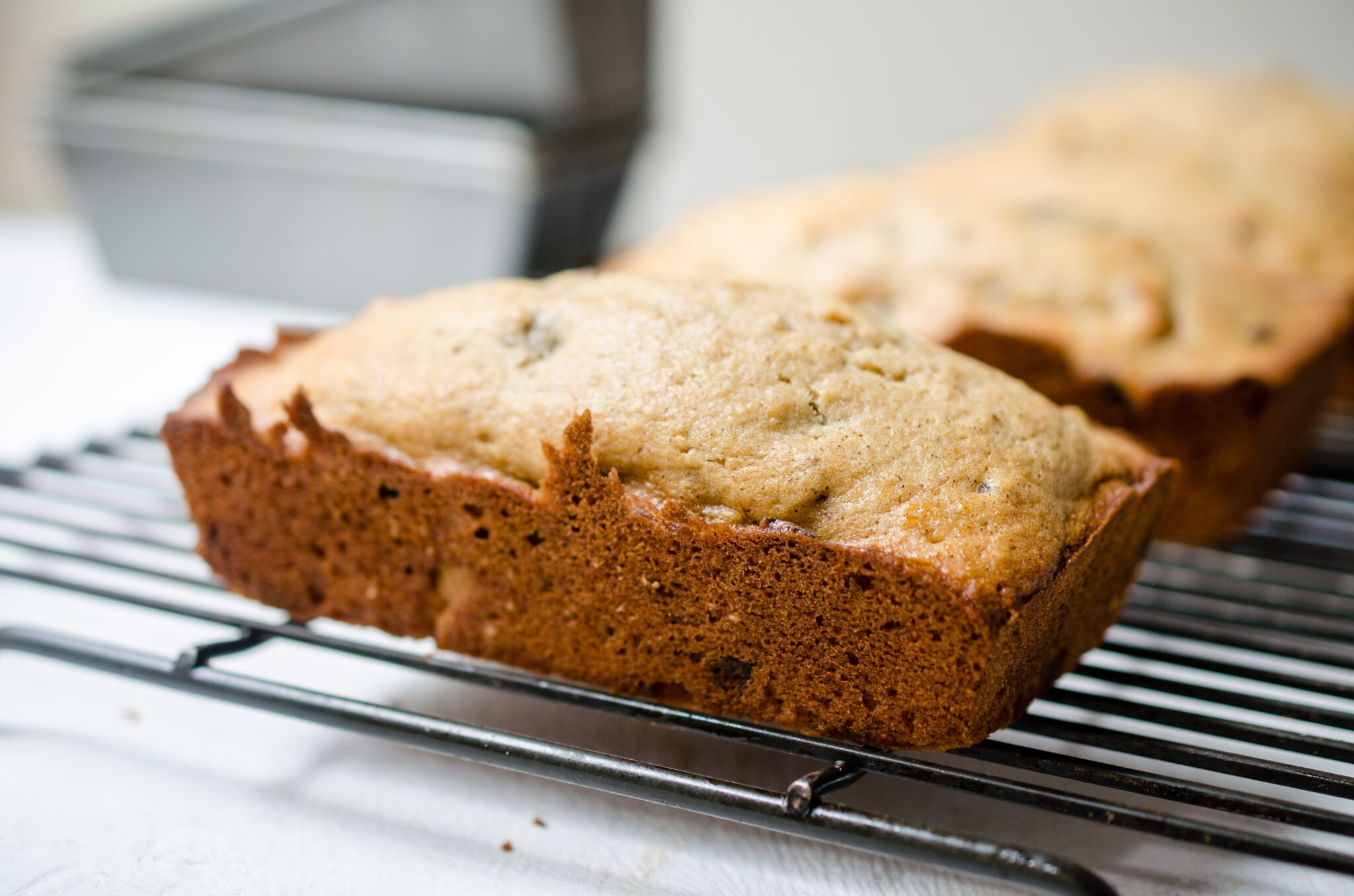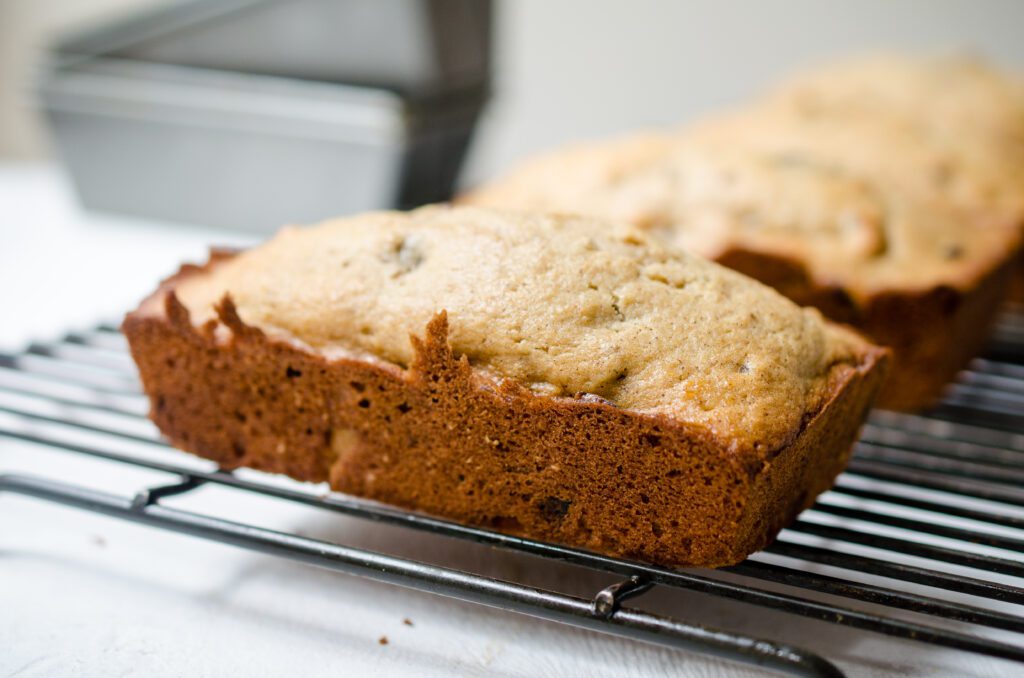 Festive Fruitcake
I get it and she is not alone. Americans malign fruitcakes. How did it go so wrong? Mass production baking ruined fruitcakes. Nearly every country has a type of cake that contains nuts and fruit (and is often liquored up.) Plum pudding in Great Britain, Stollen in Germany, Panettone in Italy, and Black Cake in the Caribbean. Fruit and nut cakes are celebrations! They are packed with valuable ingredients and served at special occasions.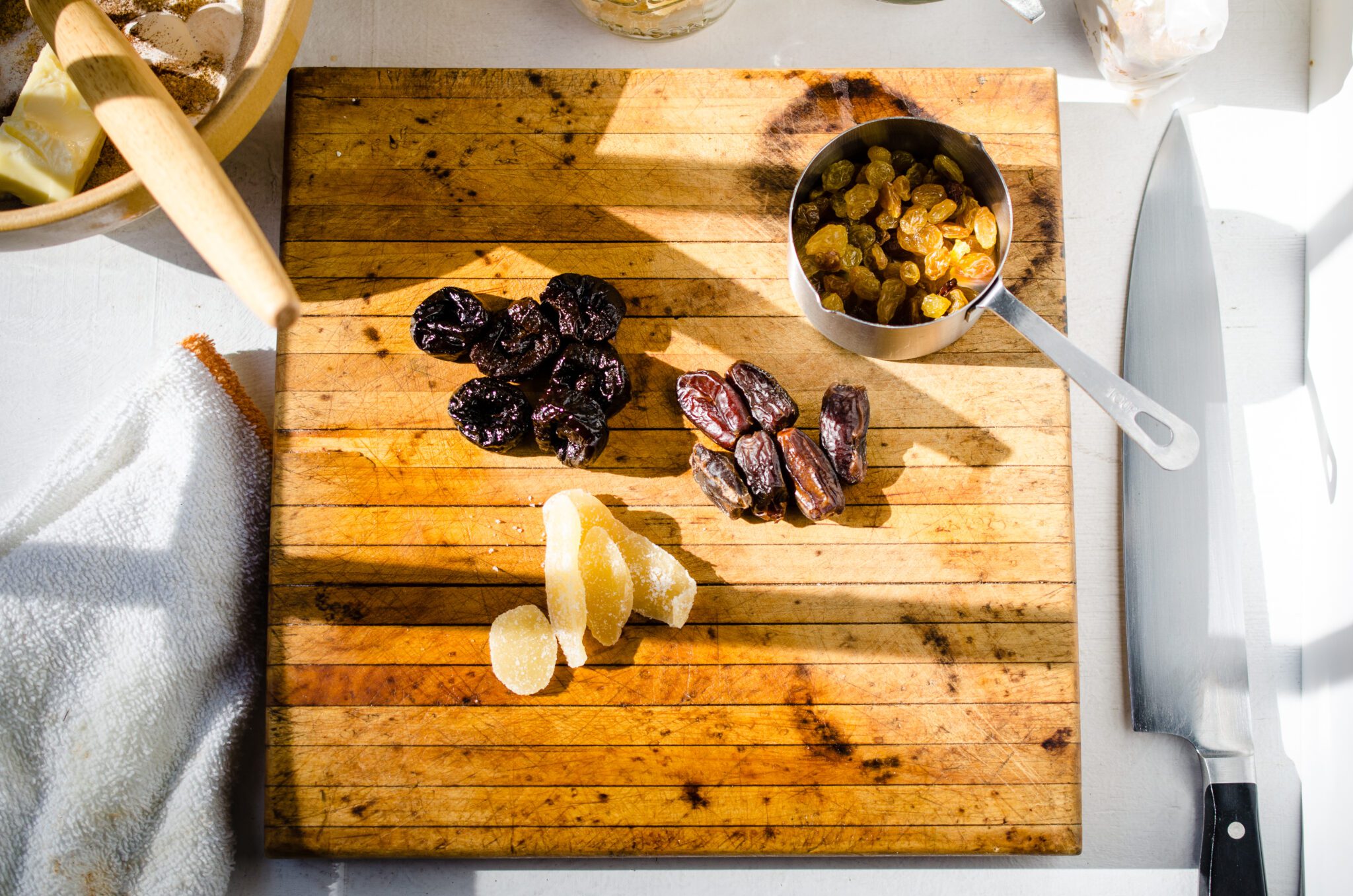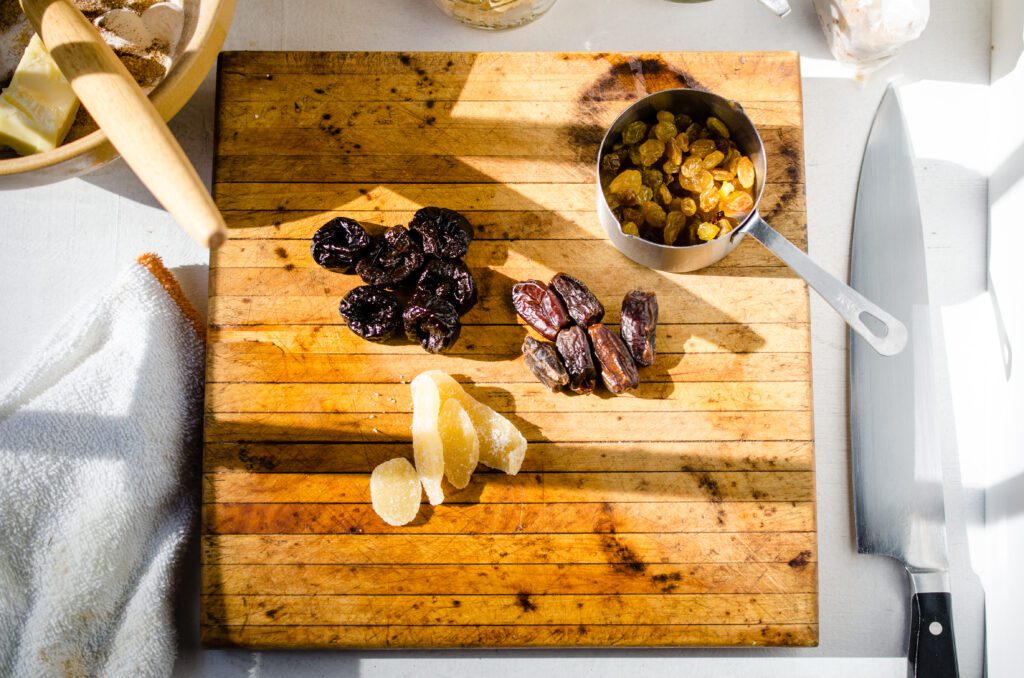 Christmas Traditions
Traditional fruitcake is not my first holiday dessert of choice, but I've been known to enjoy a slice. My grandmother made the traditional fruitcake with the famous oddly colored fruit. She also made fruitcake cookies, bizarre brown blobs, which were decidedly not my thing. Fruitcake is definitely an adult taste, but hell, bathe anything in copious amounts of bourbon and you have my attention. I've left the hard stuff in the liquor cabinet for this recipe. It's so light and moist that it doesn't need a boozy bath.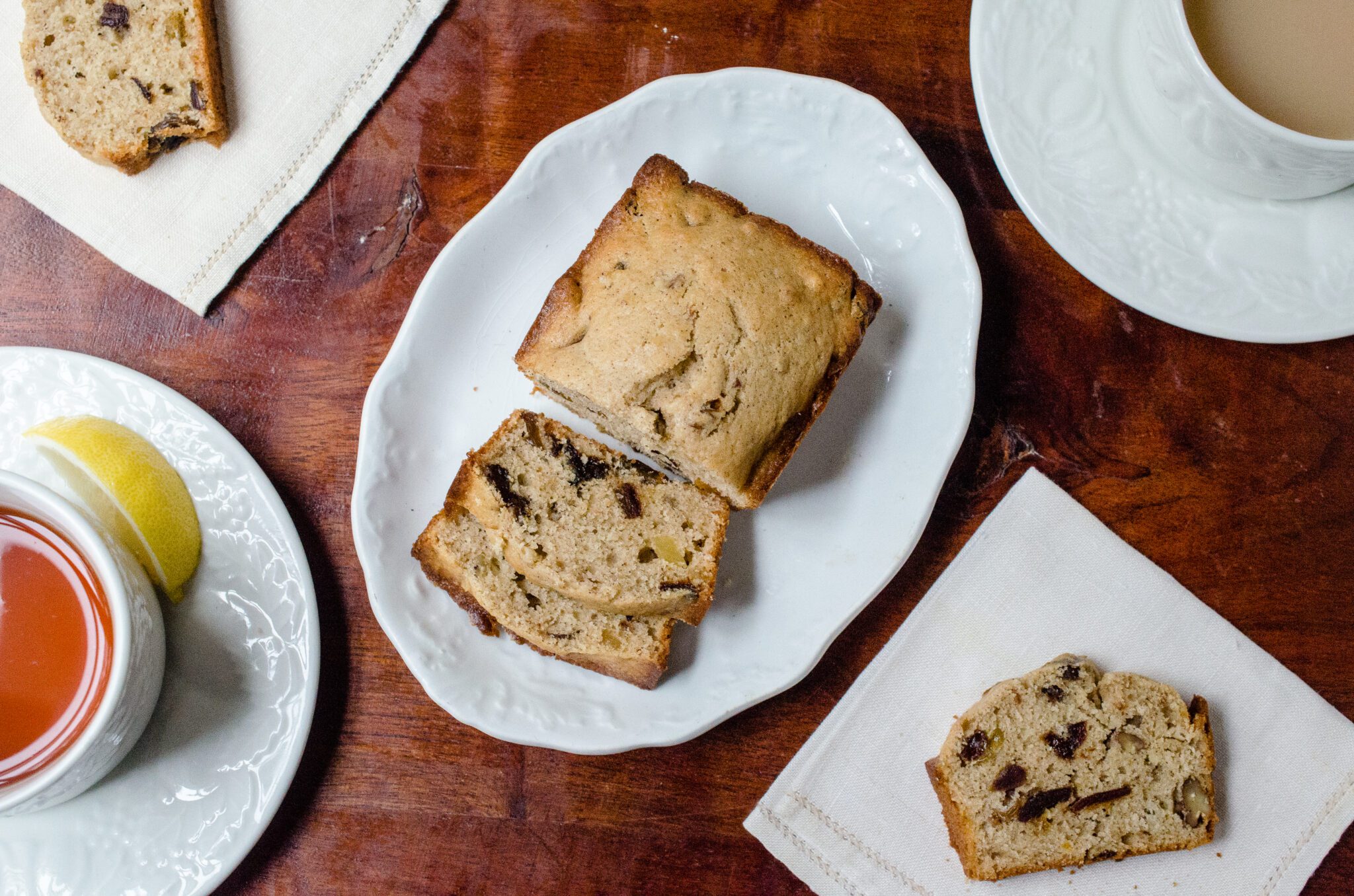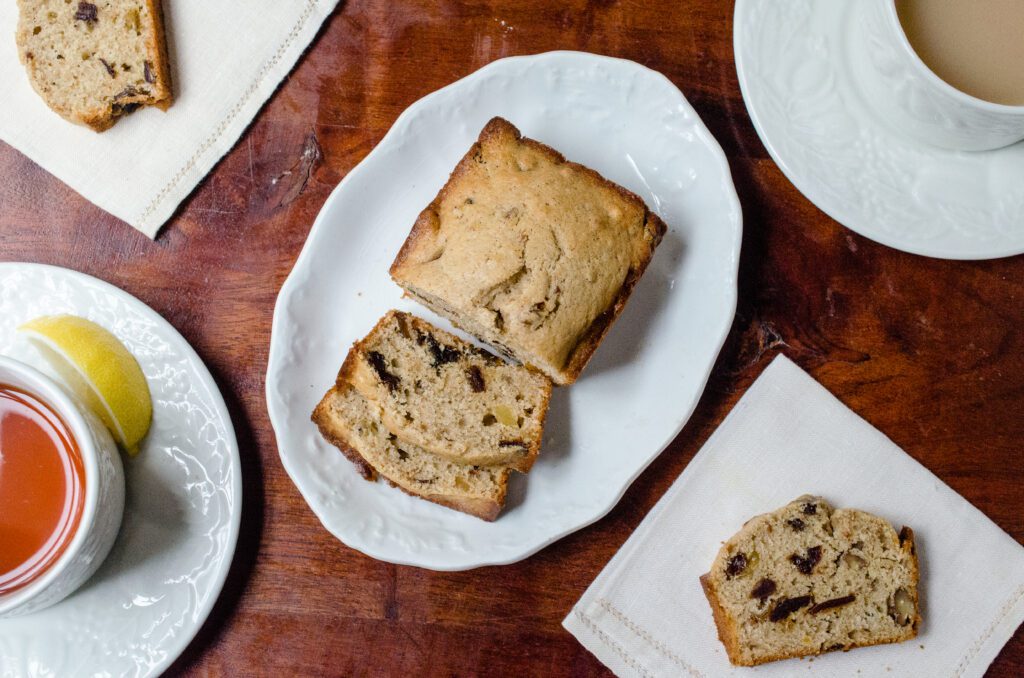 Fruit and Nut Cake
My issue is not with sugared fruit. It is the particular quality of the candied fruit. Proper candied fruit from Provence such as Lilimand Confiseur is an incredible work of art. The grocery store fruit has an abundance of color but no real flavor. I far prefer more simple cakes – dried fruit on its own is naturally sweet — and clearly more wholesome and natural.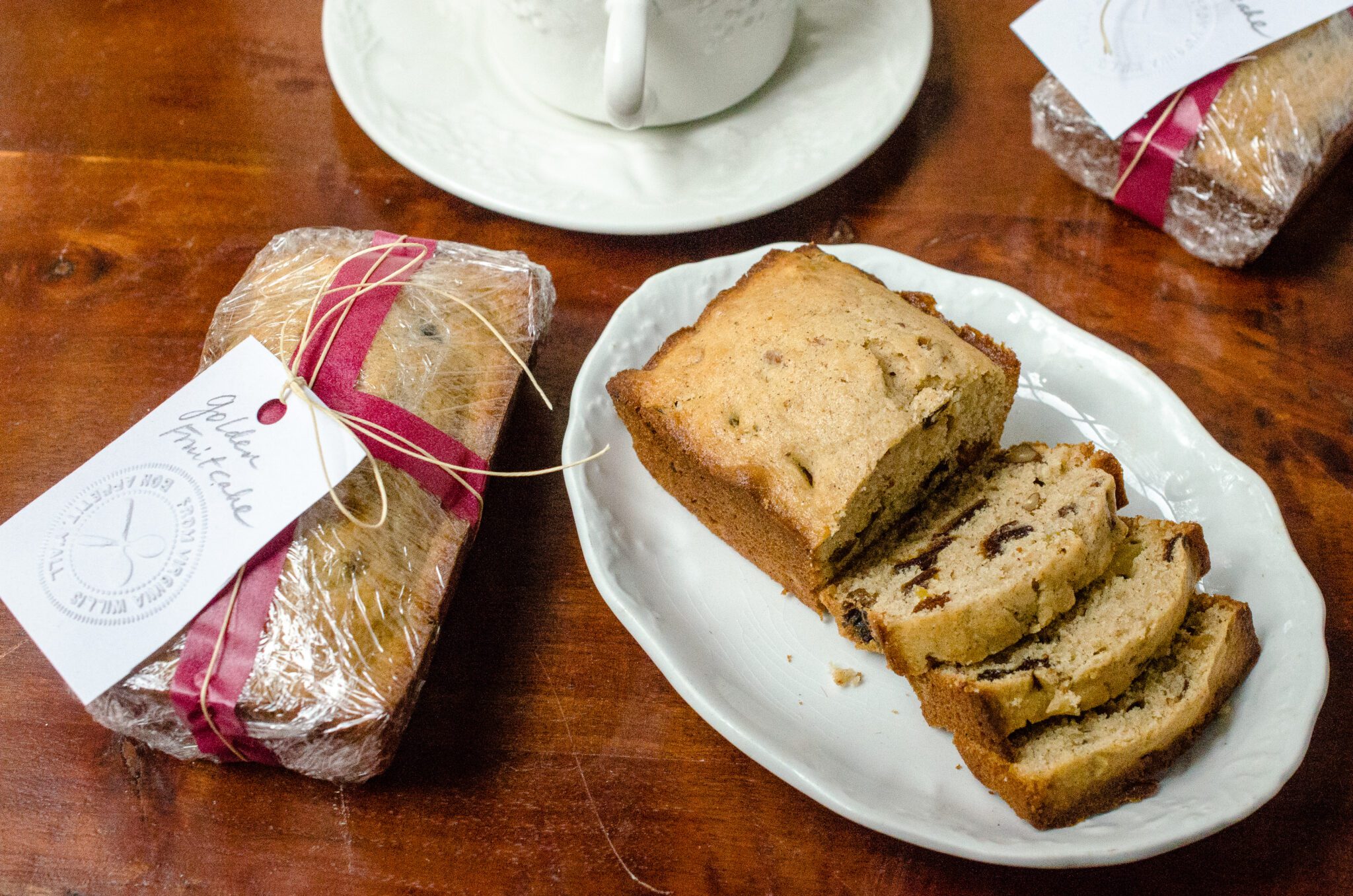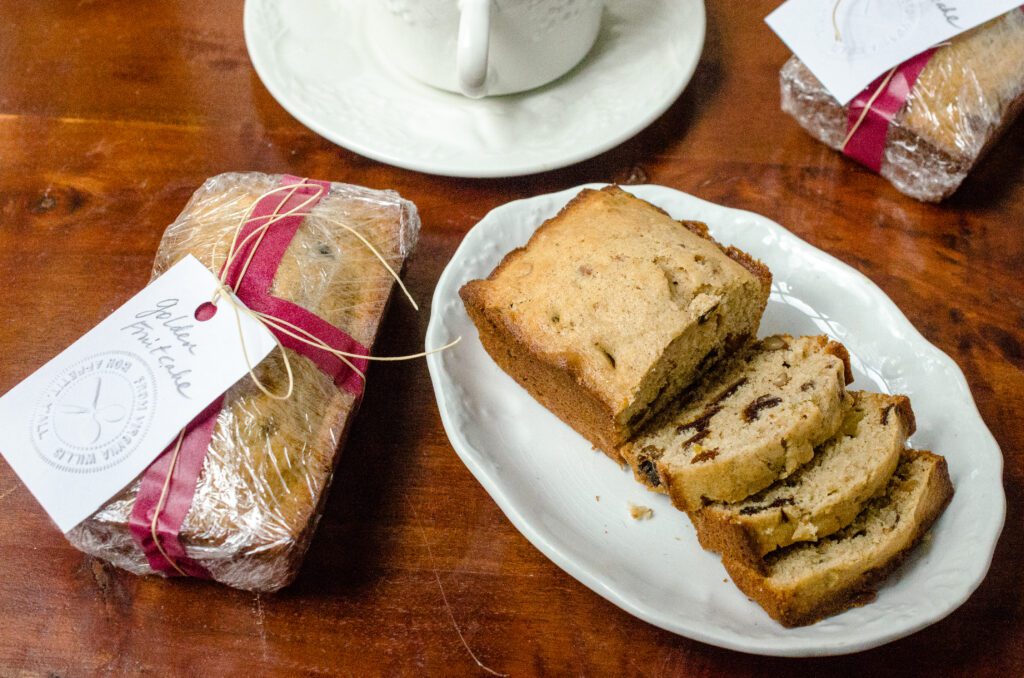 Tea Time
Given the time of year, I wanted to create a recipe that would be something nice for breakfast, dessert, or a cup of tea in the afternoon. However, one small loaf is all I need or want around the house! Given this year with everyone needing a bit of kindness, I thought it would also make a thoughtful gift.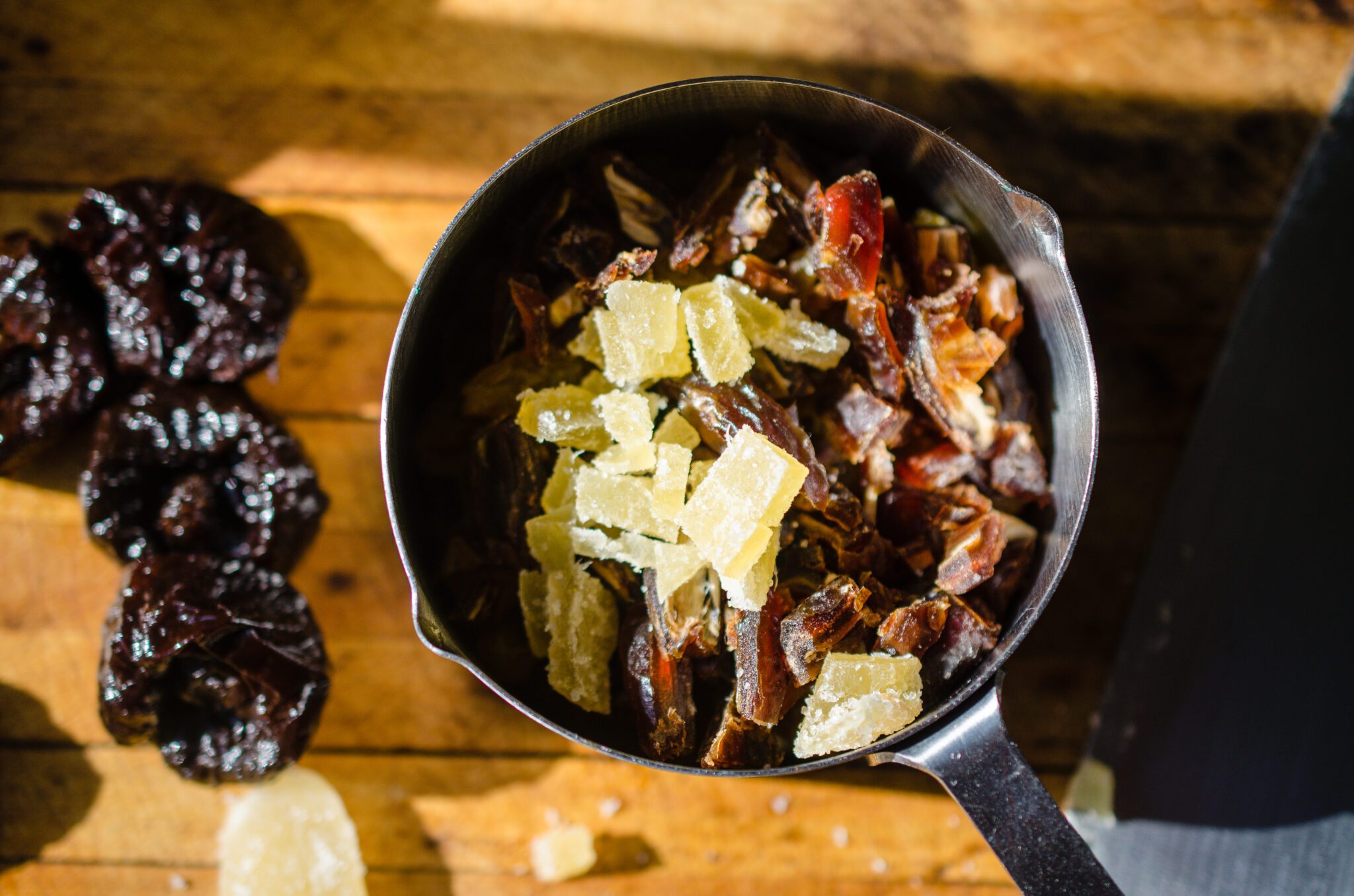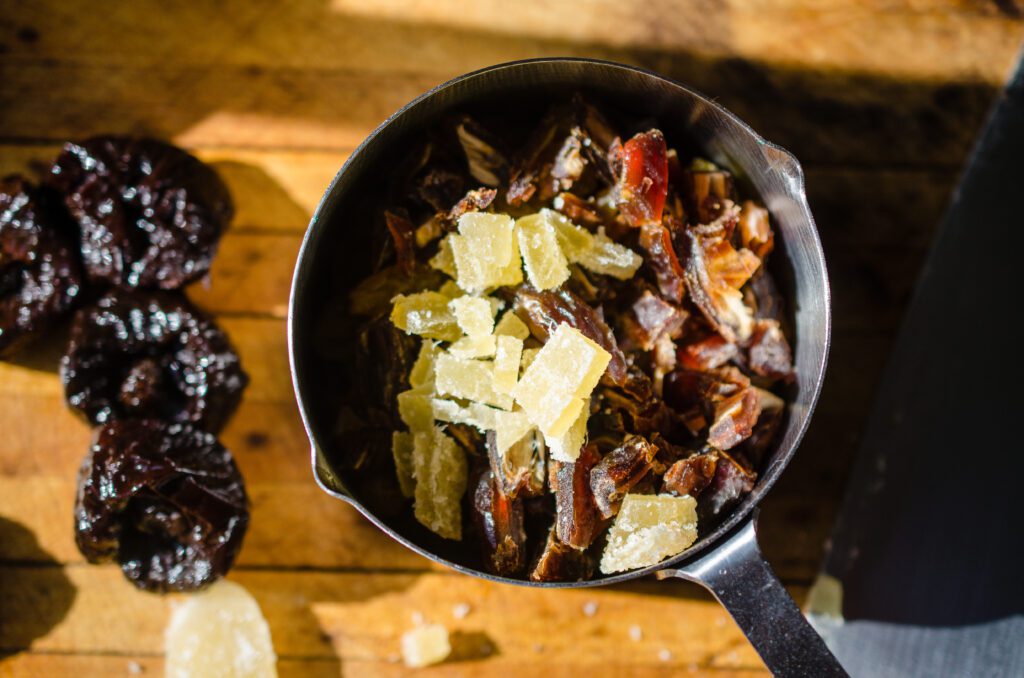 Fruit Ratio
I've designed this recipe to take about a cup of dried fruit. Any less it's not really fruit cake and any more inhibits the gluten formation and you'll have a crumbly cake. I normally have on hand raisins, dates, and prunes. You can also use dried apricots, mango, cranberries, cherries, and more. You can use all of one fruit, even plain old raisins, but I like to use a blend. One baker's tip, when I am using a mixture of dried fruit I nearly always love to add candied ginger or candied orange for a sweet-tart pop of bold flavor, as well. The choice is yours.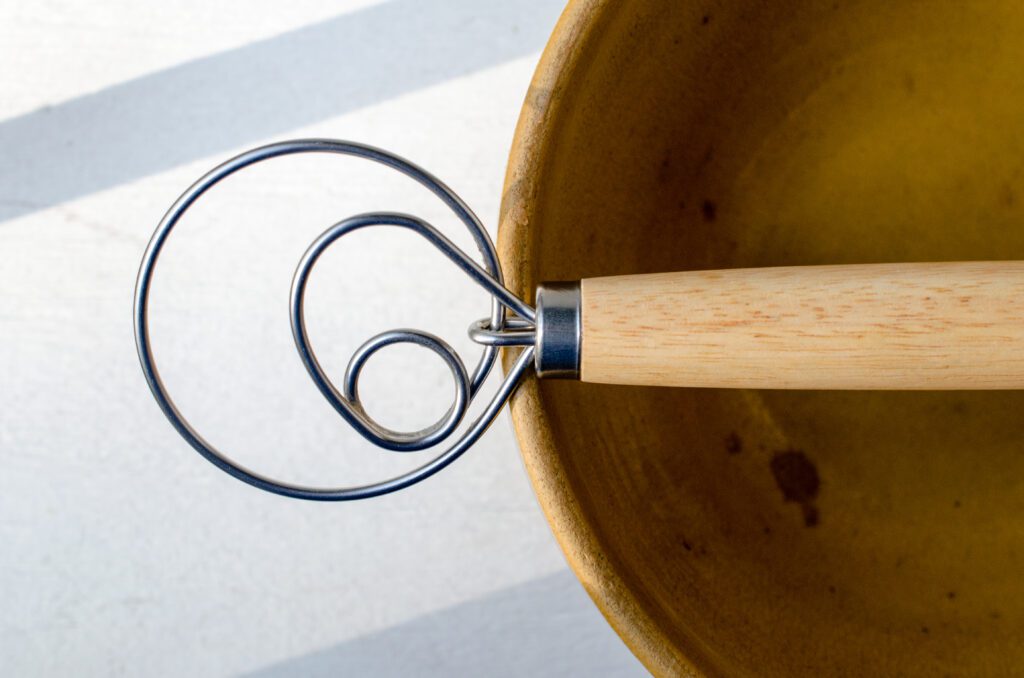 Danish Whisk
I wanted to create a quickbread that was super easy and quick to toss together, no mixer needed. Mama gave me a Danish whisk a few weeks ago — and I love it! It works like a charm. I will tell you I am not into random cooking tools and toys so I was quite dubious. However, it worked great and was a snap to clean. The way the wire part is built allows for the dough or batter to pass through easily. I was shocked!
Stay safe. Please let me know if you try my Golden Fruit and Nut Cake. It's only about 3 points a slice for the mini loaf! Thanks so much for reading.
Bon Appétit, Y'all
Virginia Willis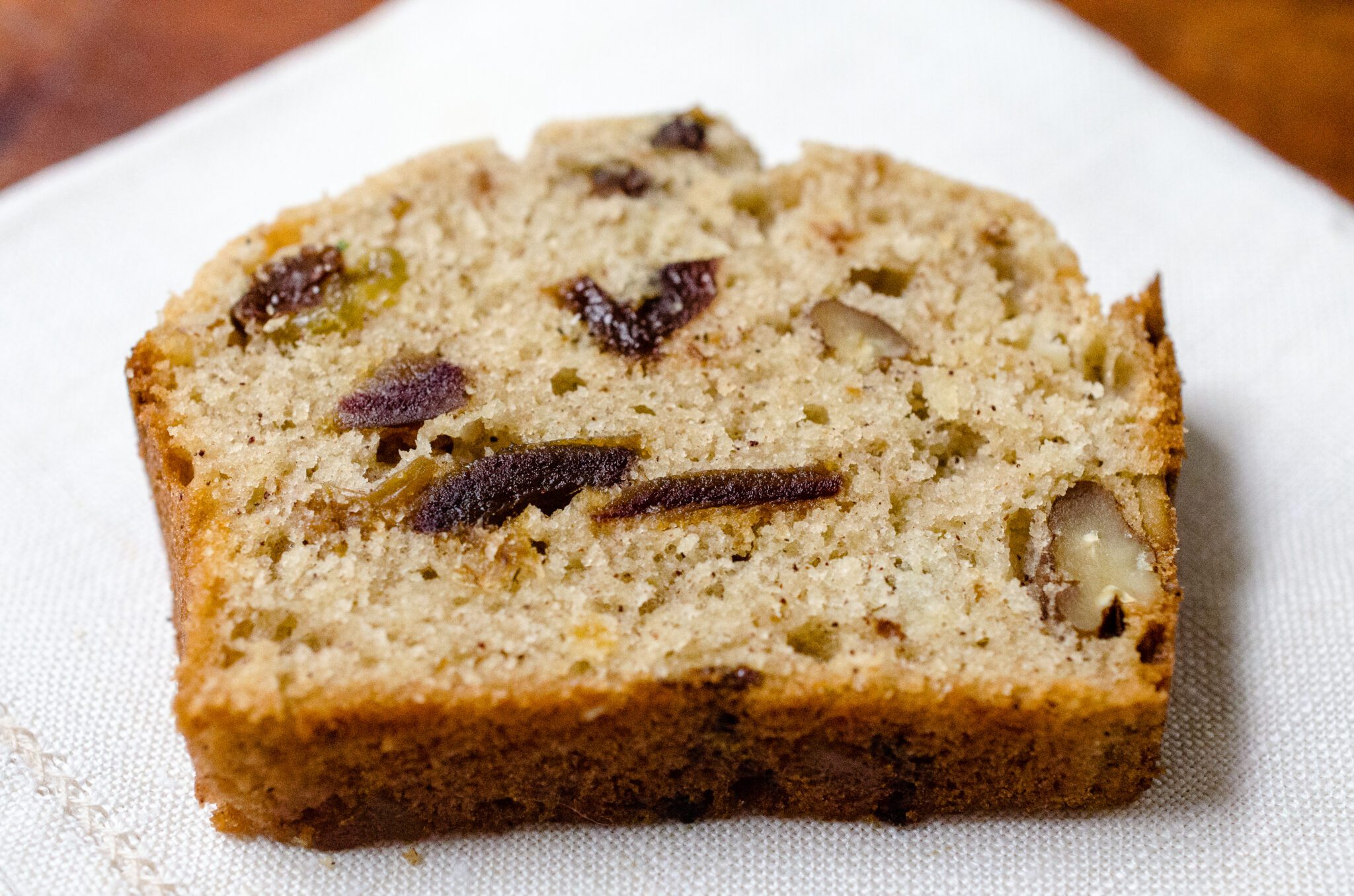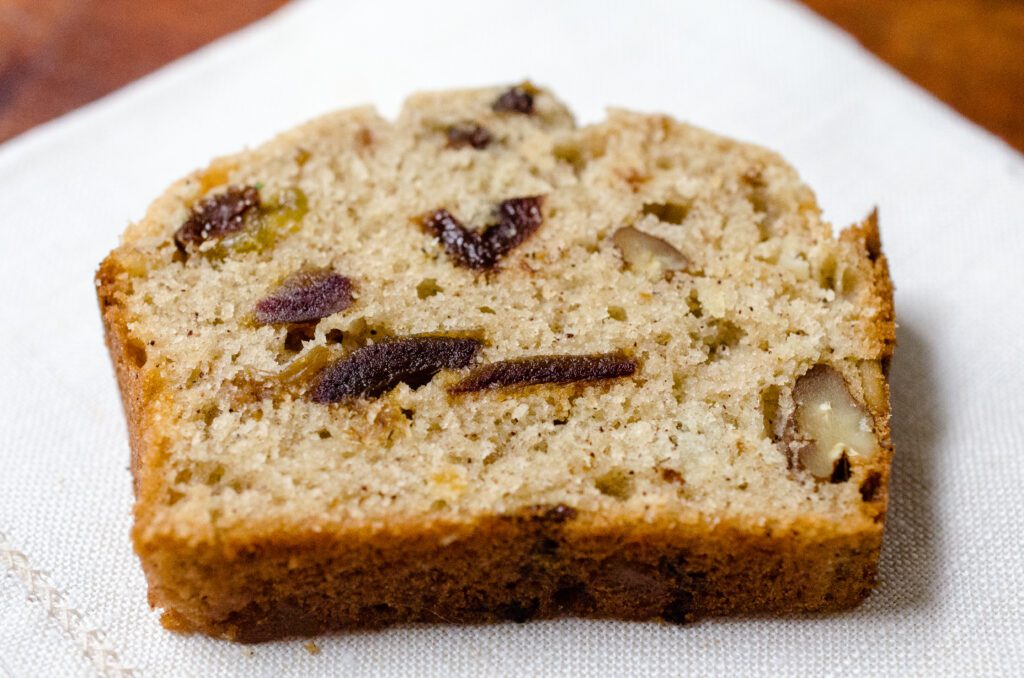 Golden Fruit and Nut Cake
Makes 1 loaf or 4 mini loaves
Ingredients
8

tablespoons

unsalted butter

room temperature

3/4

cup

granulated sugar

1

teaspoon

ground cinnamon

1

teaspoon

ground ginger

2

teaspoons

baking powder

1/2

teaspoon

fine sea salt

1

teaspoon

pure vanilla extract

2

large eggs

room temperature

1 1/2

cups

all purpose flour

1

cup

unsweetened applesauce

1

cup

mixed dried fruits

of your choice

1/4

cup

pecans
Instructions
Heat the oven to 350°F. Lightly grease r 4 5" x 3" mini loaf pans or 1 9" x 5" loaf pan o. Place the butter, sugar, cinnamon, ginger, baking powder, salt, and vanilla in a bowl, and beat till smooth.

Add the eggs one at a time, beating well after each addition. Add the flour, stirring to combine. Stir in the applesauce.

Stir in the fruits and nuts.

Spoon the batter into the prepared pans, smoothing the top. Bake the cakes until they pull away from the sides of the pan and an instant read thermometer registers 205°F, about 30 minutes for the smaller loaves and 60 for the larger loaf. (You may need to cover the larger loaf in foil at the end of baking.)

Remove the cakes from the oven and let cool slightly. Turn out onto a wire rack to cool completely.
Please note that this post may contain affiliate links. (That means I make a commission if you use my affiliate link to buy the product.) 
If you are interested in hosting me for a speaking engagement, event, cooking class, or a book signing, let me know! Send an email to jona@virginiawillis.com and we'll be back in touch as soon as possible.
Please be nice. Unauthorized use and/or duplication is prohibited. All photos and content are copyright protected. If you wish to republish this recipe, please link back to this recipe on virginiawillis.com. Thanks so much!
Let's connect on Facebook, Twitter, Instagram, and Pinterest!
Please note that this post may contain affiliate links.