Please note that this post may contain affiliate links.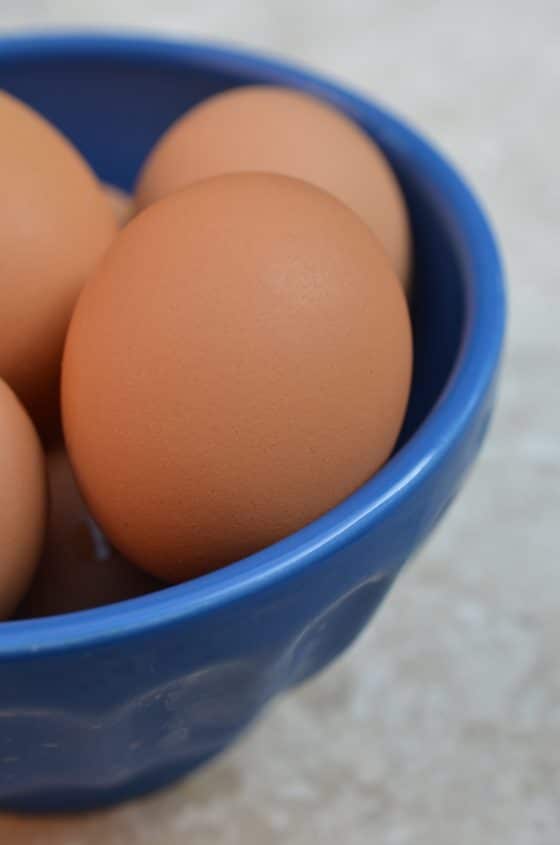 Breakfast is the most important meal of the day — and the one we have the least time to prepare for and the shortest time to eat. Studies show that eating a healthy breakfast gets you off on the right start and can lead to improved concentration and enhanced performance from the classroom to the boardroom. For a lot of folks breakfast consists of a coffee from a drive-thru on the way to work. And, needless to say a monster chemical-laden biscuit sandwiched with flavorless meat, pre-cooked eggs, and processed cheese is most definitely not the answer. This week I am sharing three classic breakfast egg recipes that will get you going sunny side up.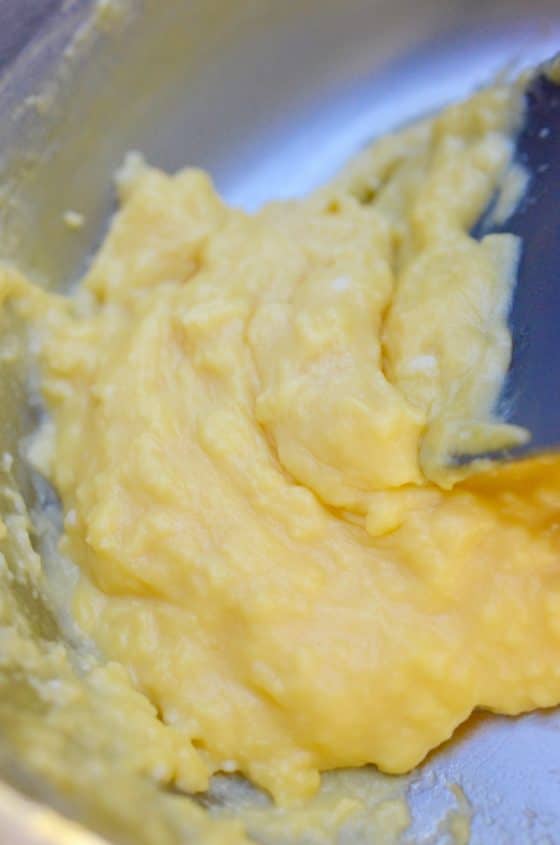 Egg it On
Eggs have long been a fundamental way to start your day. While in culinary school, one of the first dishes we learned to make was scrambled eggs. (Mama got a good laugh out of that one.) What? Scrambled eggs in culinary school!? YES! The key to moist and tender scrambled eggs is to cook them slowly and gently — and a double boiler is your secret weapon. Scrambled Eggs in a Double Boiler are unbelievably good.  
Why is this? Eggs are essentially water and protein. As eggs cook, the protein strands unfold and then get tangled up with each other. If you overcook the eggs, the protein strands become too tight and tangled, forcing the water out and resulting in dry, rubbery eggs. The lower the heat, the less likely the water is to be forced out.  A double boiler protects the egg from direct heat. It takes longer, but with constant, careful stirring the results are delicate curds and creamier eggs.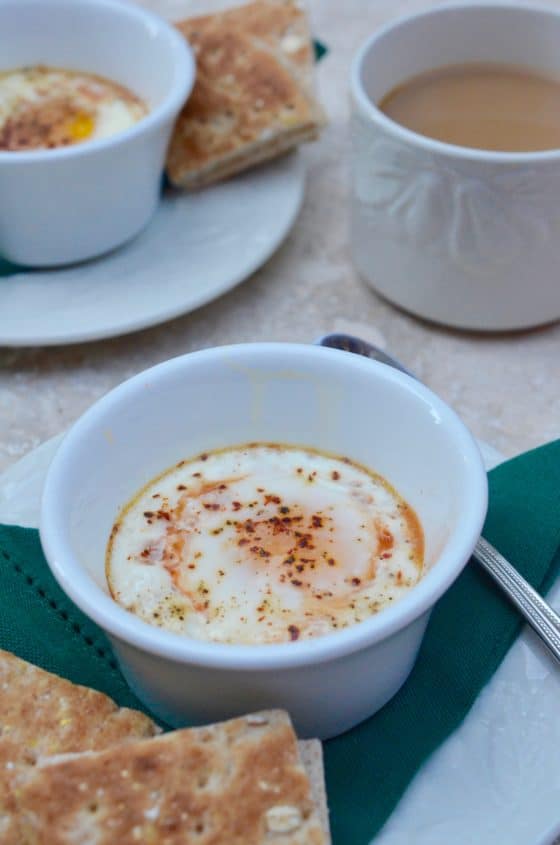 Easy Does It
Another simple and delicious method of cooking eggs are Shirred Eggs, the technique of baking eggs in a ramekin. With a minimum of hands-on time you can make a fresh, hot breakfast while your coffee is brewing. Baked Eggs are as simple as putting a dollop of something tasty on the bottom of a ramekin — it could be store-bought salsa, tomato puree, cooked greens, chopped ham, last night's leftover vegetables, you name it — and topping it with an egg. Pop it the oven for about 10 minutes until the white is set but the yoke is still runny. It's just that simple.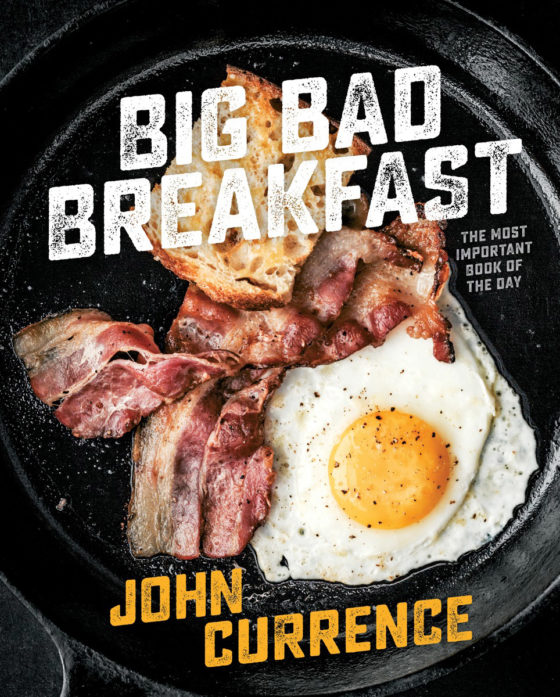 Big Bad Breakfast
My friend and colleague chef John Currence wrote a cookbook a few years ago called Big Bad Breakfast: The Most Important Book of the Day inspired by his restaurants. Now, you're probably a bit confused. John is a rock star chef — you've seen him on Top Chef Masters,  you've seen him featured in every food magazine on the rack, you know he won the James Beard Award for Best Chef of the South  — and he's written a book about lowly breakfast? Yes, he has and it's really fantastic.

Not Your Average Diner
It's packed with a slew of mouth-watering breakfast recipes including biscuits, cinnamon rolls, coffee cake, classic eggs, grits, and yes, even breakfast cocktails. Paired with Ed Anderson's glorious photography and John's smart, witty writing illuminates why the Southern breakfast is one of America's most valuable culinary contributions.
In the introduction John recounts what occurred during the very opening moments of BBB in Oxford. He divulges that he told his shocked wife Bess that of all of his restaurants that this was going to "put us on the map." Now, this wasn't unbridled ego. He goes on and explains that "BBB is not going to vie for awards or be lauded in a roomful of puffy white men in tuxedos." But, he knew "it was a place people wanted, even if they didn't know it themselves."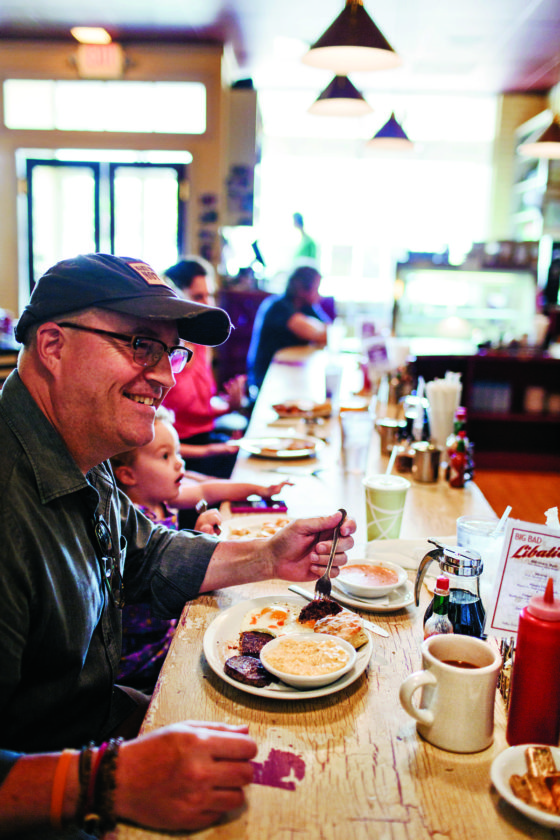 Proper Respect
John believes that breakfast should be "revered, respected, and adored." He asserts that in the 1970s dining out stopped being an experience and became a simple fuel stop — and that breakfast suffered the worst. He set out to do something about it, first with the BBB restaurants, and now, with his cookbook. That's one of the things I love about John the most. He didn't just decide to open a breakfast joint. It was a thoughtful process.
John has been a long-time hero of mine for his work on social justice issues. He thinks about what is right and wrong in this world and takes a firm (and sometimes profanity-laced) stand. He's a good man and I have tremendous admiration for him for his conviction. He's  a wicked talented chef, a proud fellow member of the Southern Foodways Alliance, and a real leader in the field of modern American hospitality. John feels things strongly — even about something as seemingly simple as breakfast.
Weekday to weekend –  we've got you covered. I'm sharing recipes for three classic breakfast egg recipes: Scrambled Eggs in a Double Boiler, Shirred Eggs, and John's French Omelet. And, if you need some slower breakfast ideas, check out these great recipes for Make Ahead Breakfast.
Bon Appétit Y'all!
Virginia Willis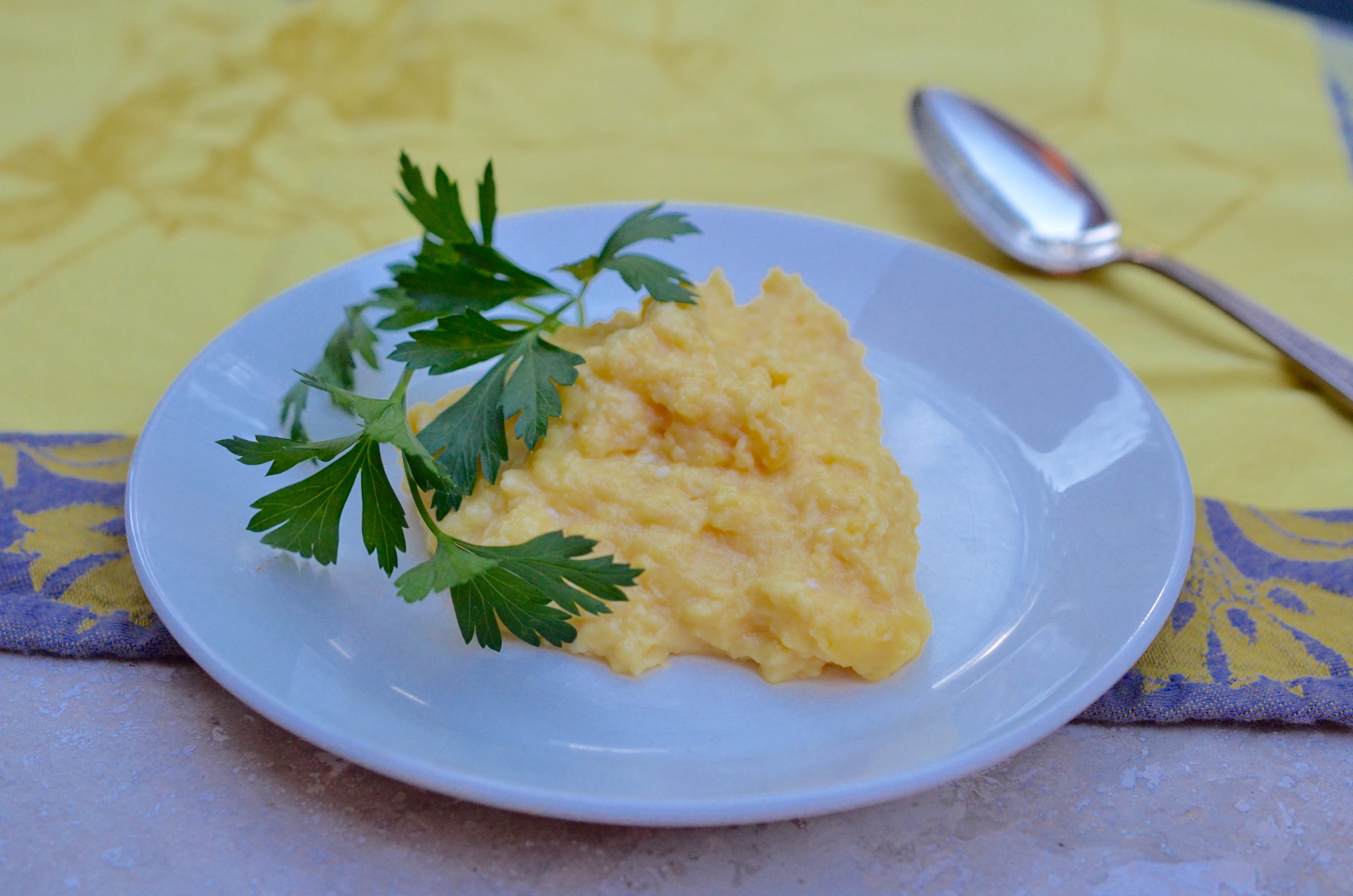 Scrambled Eggs in a Double Boiler
Serves 1
3 large eggs
1 tablespoon unsalted butter
Coarse kosher salt and freshly ground pepper
Place a couple of inches of water in a saucepan and bring to a simmer over medium high heat. Place a heatproof bowl or the top the double-boiler over the simmering water.  Add the butter and let melt. Crack the eggs into a 2nd bowl and season with salt and pepper; whisk until smooth. Pour the eggs into the double boiler and stir to combine with the butter. Using a wooden spoon, silicone spatula, or whisk cook the eggs, stirring often for small curds and less frequently for larger curds, until the eggs are set, 5 to 7 minutes. Taste and adjust for seasoning with salt and pepper. Serve immediately.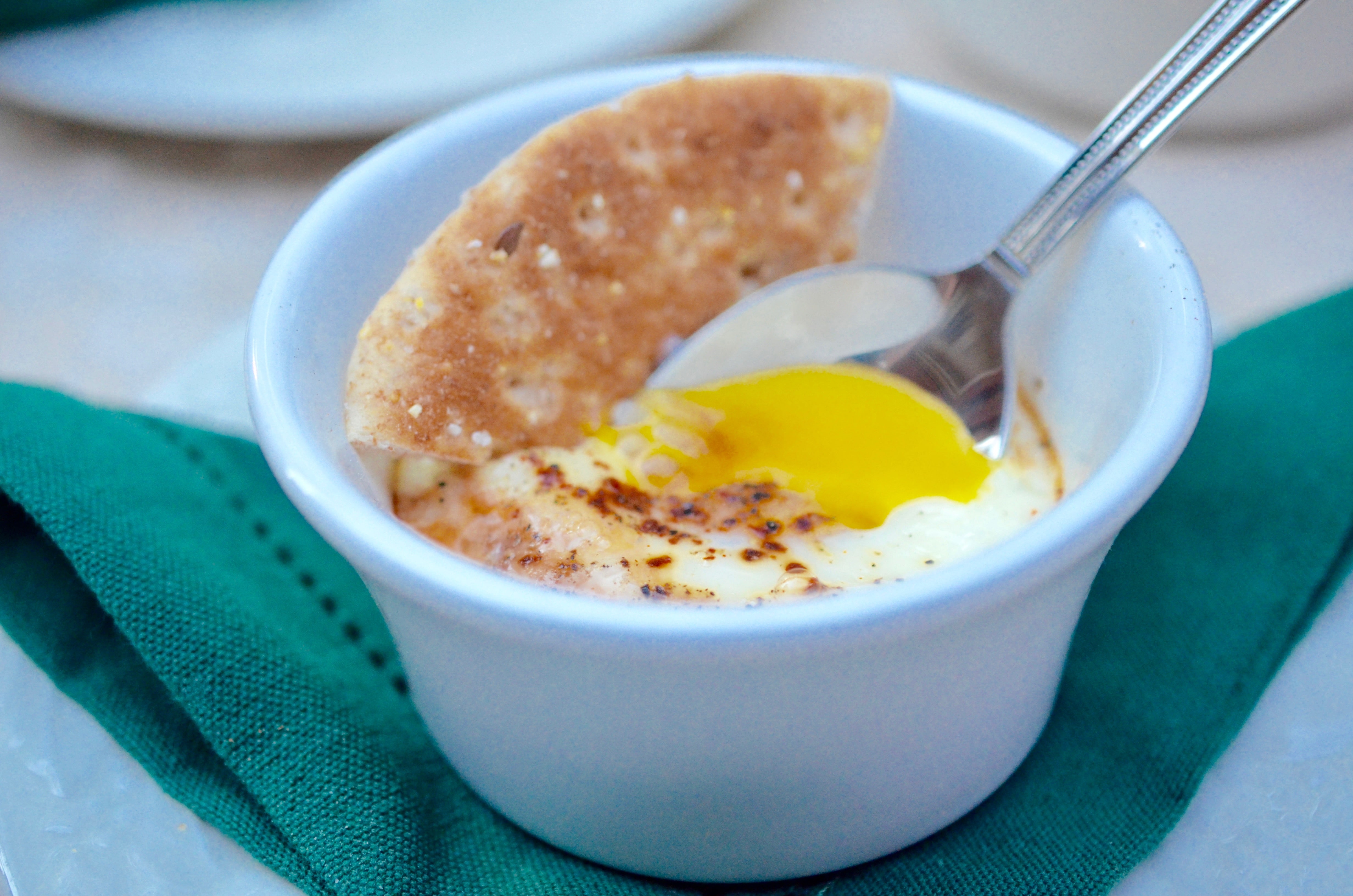 Shirred Eggs
Serves 1
2 tablespoons charred tomato salsa, or the filling of your choice
1 large egg
Red pepper flakes, Piment d'Espelette, or ground chilies, to taste
Coarse kosher salt and freshly ground pepper
Heat the oven to 350°F. Place the filling in the bottom of a heatproof ramekin. Crack an egg on top and season with red pepper, salt, and pepper. Transfer to the oven and bake until the whites are set but the yolk is still runny, or to your taste, about 10 minutes. Serve immediately.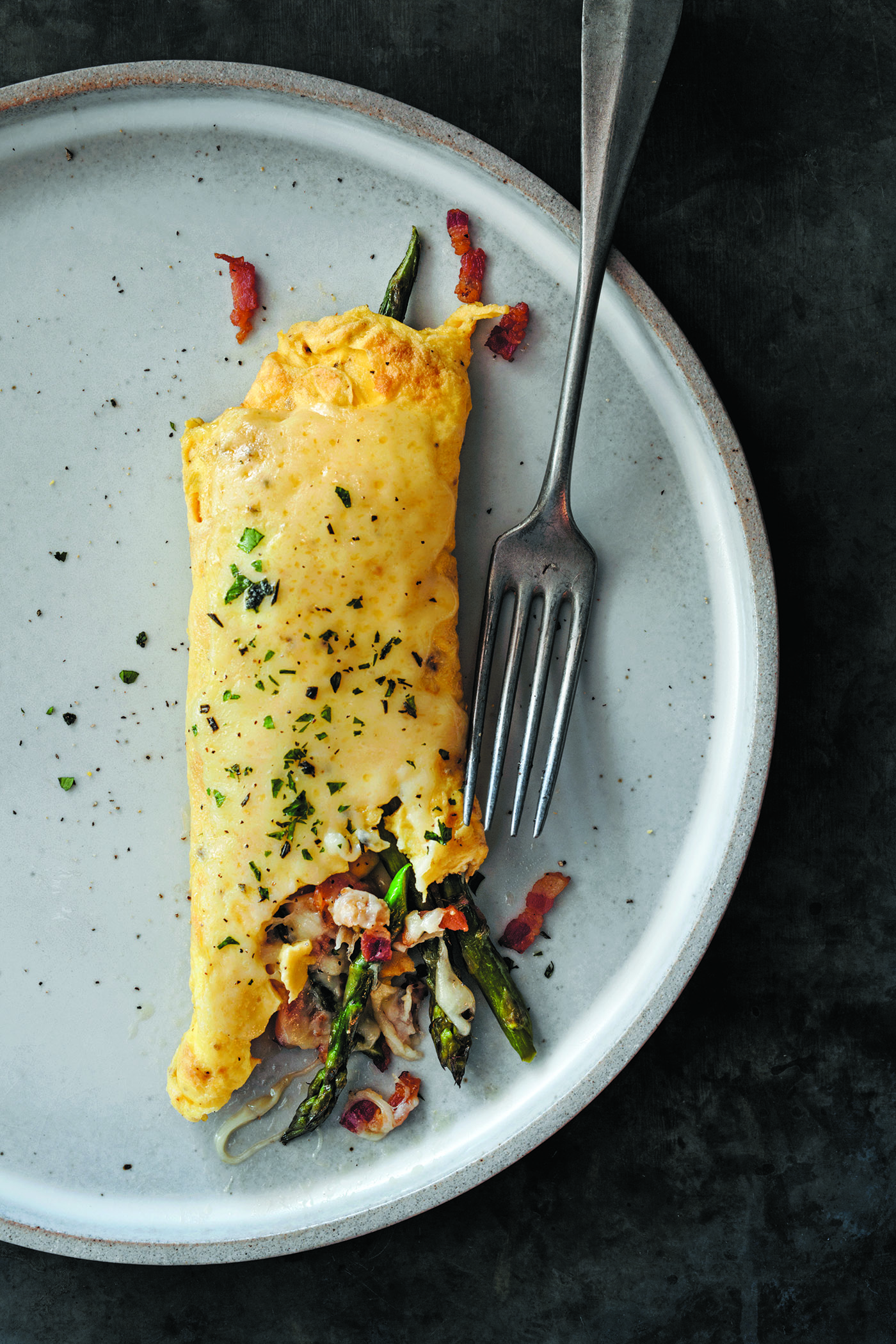 French Omelet
Serves 1
FILLING
1
⁄
2 
cup asparagus tips, 
trimmed to 1 inch pieces
1
⁄
4 
cup thin-sliced bacon,
chopped (a smoky-flavored 
bacon is ideal)
3 tablespoons sliced shallot
2 teaspoons fresh thyme 
leaves
3 tablespoons whole milk
Pinch of salt and black 
pepper
2 tablespoons clarified 
butter  or your 
preferred cooking fat
1
⁄
3 
cup grated Gruyère 
cheese
Set up an ice bath by adding ice and cold water to a 
large bowl. 
To make the filling: In a small saucepan, combine 6 cups 
of water and enough salt to bring the water to the salinity 
of seawater. Bring to a boil. Add the asparagus tips and 
cook for 1 minute, then remove and plunge into the ice 
bath to stop the cooking. Remove from the ice bath and 
set aside.
Warm a skillet over medium heat for 1 minute. Place 
the bacon in the pan and cook, stirring constantly, until 
lightly brown, about 2 minutes Add the shallot and 
cook, stirring, until it begins to turn transparent, about
1 minute. Stir in the asparagus and thyme and season 
lightly with salt and pepper. Remove from the heat, 
cover, and set aside.
To make the omelet, whisk together the eggs, milk, salt,
and pepper in a bowl until well combined and the whites 
are no longer stringy and the egg begins to hold bubbles 
when whisked, about a minute or so. Warm the clarified 
butter in a nonstick 10-inch skillet over low heat for 
1 minute. Pour the egg mixture into the pan and allow 
to sit for about 30 seconds. Stir the eggs with the back 
of a fork, while continually swirling the pan in a circular 
motion, so the uncooked egg filling the cracks left by the 
cooked egg being pulled away from the surface. When 
the egg is about 70 percent cooked, about 1
1
⁄
2  
minutes, 
stop stirring, but continue swirling the pan for another 
30 seconds. Remove the pan from the heat briefly and 
place the filling and cheese in the center of the omelet. 
Fold the sides of the omelet to cover the filling. Slide 
the omelet onto a plate, seam side down, and serve 
immediately. 
"Reprinted with permission from 
Big Bad Breakfast 
by John Currence, copyright © 2016.
Photography by Ed Anderson. Published by Ten Speed Press, an imprint of Random House LLC."
BBB photos by Ed Anderson.
Please note that this post may contain affiliate links. (That means I make a commission if you use my affiliate link to buy the product.) 
If you are interested in hosting me for a speaking engagement, event, cooking class, or a book signing, let me know! Send an email to jona@virginiawillis.com and we'll be back in touch as soon as possible.
Please be nice. Unauthorized use and/or duplication is prohibited. All photos and content are copyright protected. If you wish to republish this recipe, please link back to this recipe on virginiawillis.com. Thanks so much!
Let's connect on Facebook , Twitter, Instagram, and Pinterest!

Please note that this post may contain affiliate links.