Please note that this post may contain affiliate links.
Every family has at least one culinary Christmas tradition. In our family, at the top of the list of our Christmas traditions are Old-Fashioned Yeast Rolls. These Old-Fashioned Yeast Rolls are light, buttery, golden-brown pillows — perfect for sopping up gravy, dipping into salty, smoky potlikker,  or for making a sandwich the next day with the leftover turkey, crown of pork, or roast beef.
My grandparents, whom I called Meme and Dede made dozens and dozens of Old-Fashioned Yeast Rolls during the holidays. It was a team effort. Meme may have made the rolls, but it was Dede who did the bulk of the work. He beat the dough with a special wooden spoon that had a small ledge on the end for gripping. He'd cradle the large well-worn, opaque Tupperware bowl in his arm and beat the wet dough so it slapped "wap, wap, wap" against the bowl. All that "muscle" developed the dough's structure, causing the rolls to rise in the oven light as air, slightly sweet, and richly sour with the scent of yeast.
Christmas traditions create sweet memories. I remember the kitchen windows fogging with steam. I remember helping punch down the dough and the tangy aroma of yeast in the air. I remember tins of pale buns scattered about the kitchen in various stages of rising. I remember the rich smell of the rolls baking. I remember Meme tipping out the rolls while they were still quite hot, barely cool enough to touch, so they would not become soggy on the bottom. I remember the taste of warm rolls, the combination of of melted butter bathing the soft, tender crumb and the sweet tang of Meme's homemade Scuppernong Jelly.
As I continue this Christmas tradition and prepare my grandparents' recipe for  Old-Fashioned Yeast Rolls I feel them both at my side. I honor them, I love them, and I grieve that they are no longer with us. The holidays are a special time to reflect and remember. Of course, it can be sad, but I am so thankful I have those special memories to cherish. I know that those culinary Christmas traditions are a significant part of the reason I became a chef and cookbook author. For that, I am incredibly grateful. Food and cooking is more than sustenance to me. It defines me and gives me my place in the world.
Merry Christmas and Happy Holidays to you and yours. Best wishes to all and prayers for safe travels. I hope you and your family enjoy this recipe for Old-Fashioned Yeast Rolls, or your own Christmas tradition.
Bon Appétit Y'all
Virginia Willis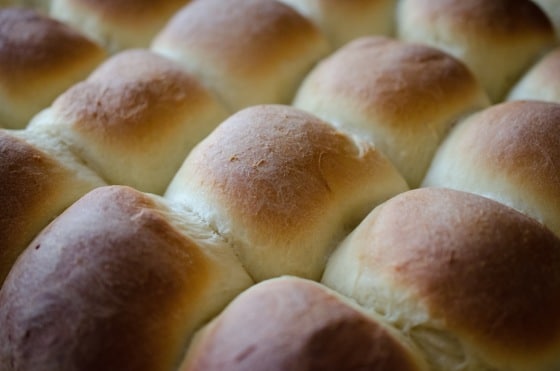 Old-Fashioned Yeast Rolls
Makes about 32
When yeast begins to ferment and grow, it converts its food to alcohol and carbon dioxide. The gluten sheets that form when water is stirred into flour trap the carbon dioxide and allow the dough to rise.
3 packages (6 3/4 teaspoons) active dry yeast
1/2 cup warm water (100° to 110°F)
2 cups hot water
1 cup dry or powdered milk
1 cup sugar
1/2 cup canola oil, more for brushing
4 large eggs, lightly beaten
1 1/2 tablespoons fine salt
9 to 10 cups all-purpose flour
To activate the yeast, combine the yeast and warm water in a large bowl. Set aside to proof. The mixture will become creamy and foamy after about 5 minutes.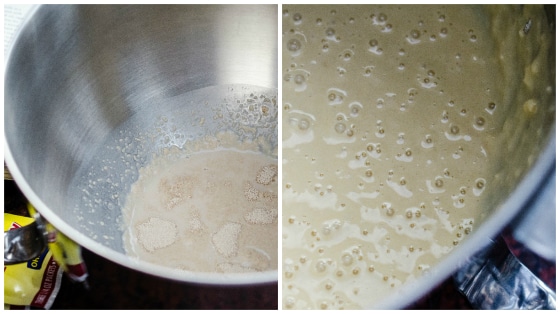 To make the dough, combine the hot water and dry milk in a liquid measuring cup; let cool slightly. Add the reconstituted milk to the yeast. Stir to combine. Add the sugar, the 1/2 cup of oil, eggs, salt, and 4 cups of the flour. With a wooden spoon, hand-held electric mixer, or large heavy-duty mixer fitted with the dough hook at medium speed, beat very hard until smooth, 3 to 5 minutes. Gradually add additional flour, 1 cup at a time, beating hard after each addition. When the dough is too firm to stir, using your hand, work enough of the remaining flour into the dough by kneading and turning the dough until it comes together. It will still be quite shaggy.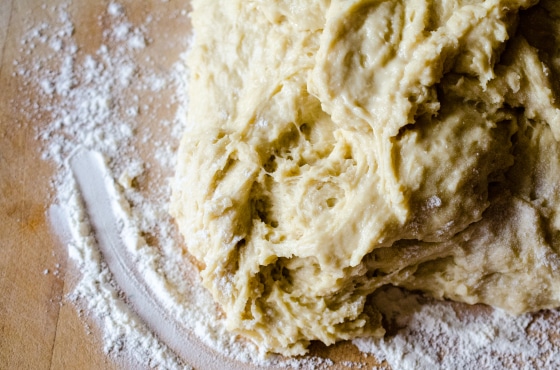 Turn the dough out onto a lightly floured surface. Knead, using the heel of your hand to compress and push the dough away from you, then fold it back over itself. Give the dough a small turn and repeat. (The dough is ready if it bounces back when pressed with your fingers.) Return the dough to the bowl.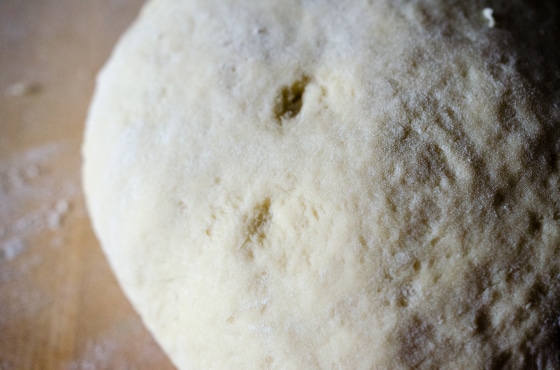 Cover the bowl with plastic wrap or a dry towel and place in a warm, draft-free spot to rise until doubled in size, about 2 hours.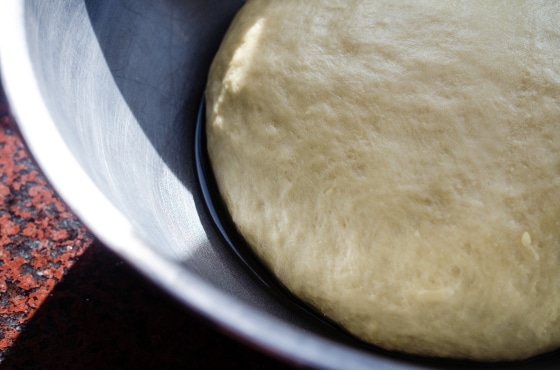 Lightly grease a baking sheet. Punch down the dough with your hands, then turn out onto a lightly floured surface. Flour your hands and pull off equal pieces of dough about the size of apricots and shape into balls.
Place them on the prepared baking sheet about 1/4 inch apart. Brush off any excess flour from the rolls and brush their surfaces with oil. Cover and let rise again in a warm place until doubled in bulk, 1 to 1 1/2 hours.
If you want to make ahead, the shaped rolls can rise overnight in the refrigerator If you want to make ahead and freeze: Prepare the rolls to this point, let partially rise, and freeze. Then, when ready to bake, let them come to room temperature, preferably overnight in the refrigerator, and finish the second rise before baking. When baking, they may take a tad longer as the dough will be cold.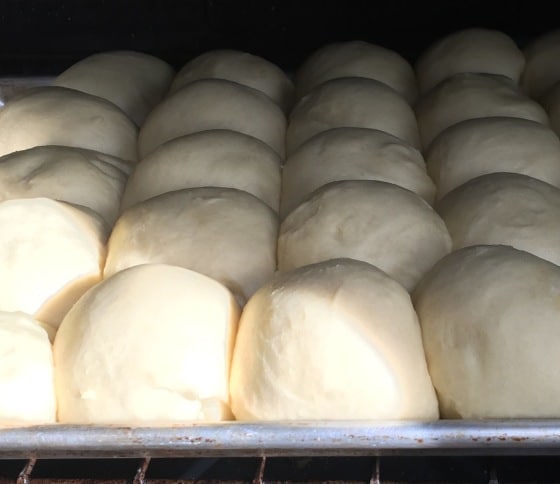 Heat the oven to 375°F. Bake until brown, 12 to 15 minutes. Transfer to a rack to cool slightly, then invert the rolls onto a rack so they won't become soggy on the bottom. Enjoy!
Order Lighten Up, Y'all and I'll send you a signed bookplate! Amazon and Barnes & Noble have my books on sale for 33% off!
If you'd like to book me to speak at your event or host me for a cooking class or a book signing let me know! Send an email to info@virginiawillis.com and we'll be back in touch as soon as possible.
Please be nice. Unauthorized use and/or duplication of this material without permission is prohibited. All photos and content are copyright protected. Please do not use photos without prior written permission. If you wish to republish this recipe, please rewrite the recipe in your own words and link back to this recipe on virginiawillis.com. Thanks so much.
Photography by Virginia Willis
Want to keep up with my culinary wanderings and wonderings?
Lets connect on Facebook , Twitter, Instagram, and Pinterest!
Please note that this post may contain affiliate links.