Please note that this post may contain affiliate links.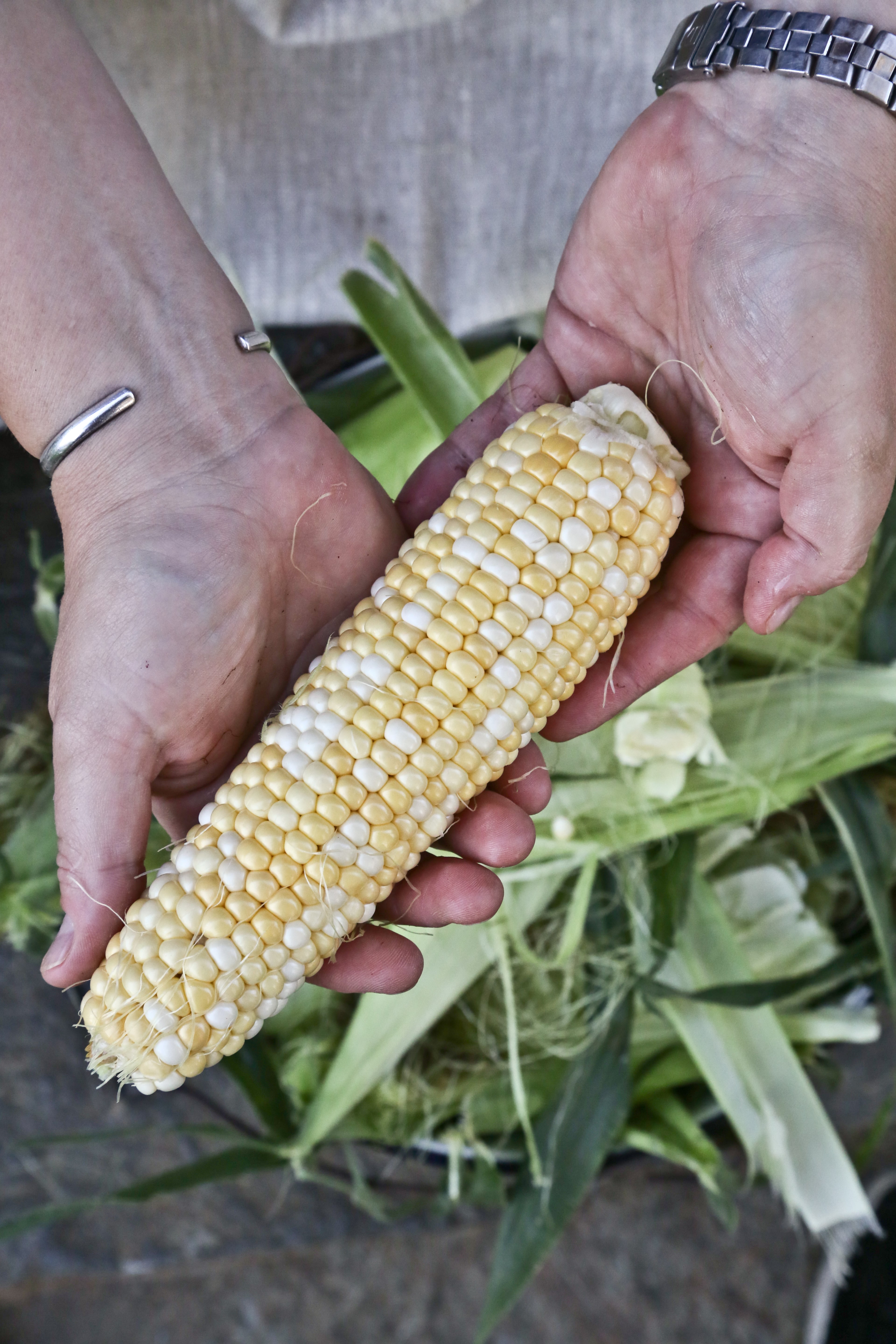 It's high corn season! And, this summer vegetable is so versatile we're having it nearly every meal. From sides and appetizers to entrées and desserts, it can be a part of a sweet or savory dish. To  take advantage of summer's sweet corn while at its peak, I've rounded up all of my favorite recipes in one place. Check out these top ten delicious recipes.
Grilled Corn Tabbouleh

How to Choose Sweet Corn
So, you have all these recipes, but aren't certain how how to pick the best ears? Picking the best ears of corn at a grocery store or farmer's stand is easier than you'd think.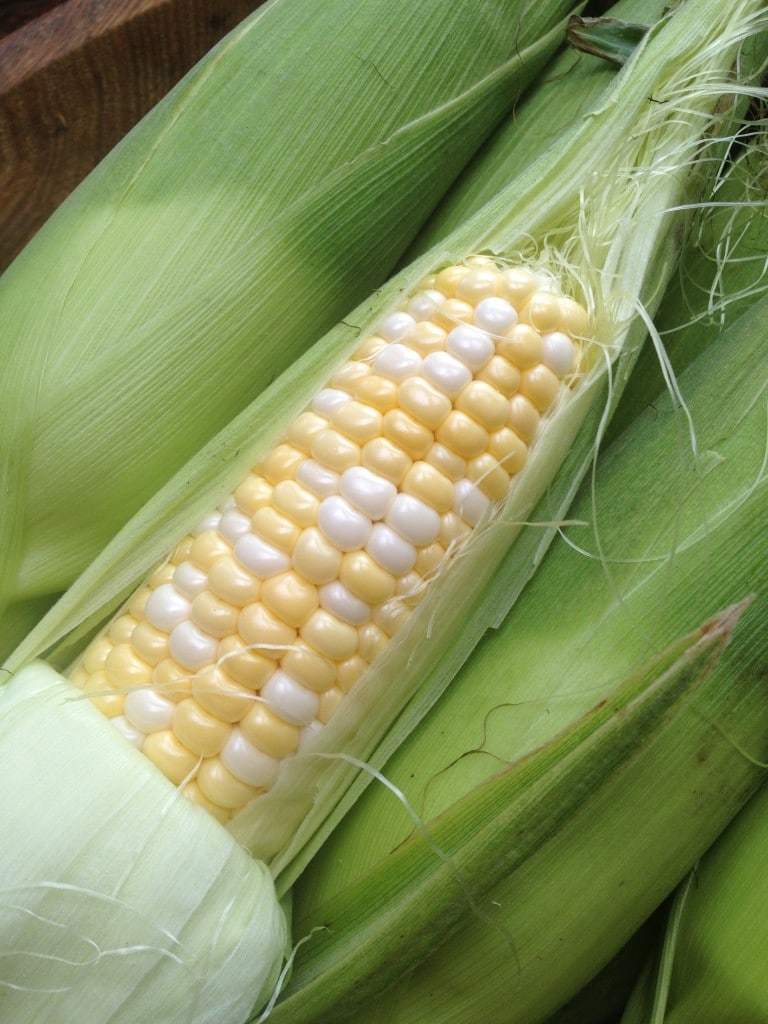 1. Husk
The outer husk should bright green and moist. Don't choose any husks that are starting to yellow or dry out. Check the husk for small brown holes, which mean worms or insects and should be avoided. Lastly, take a peek at the bottom of the stalk where the ear was broken off the plant in the field. If this area is very dry and brown, it's old and not as fresh.
2. Tassel
My grandfather, whom I called Dede, always preferred to plant his patch in the fruitful black soil at the river's edge. He taught me that when corn is ripe and ready to be picked, the silk at the top of the ear should be dark brown, almost black. Look for silky tassels that are still moist and not dried out. Hey — Did you know that each and every strand of silky tassel corresponds to a kernel?!
3. Give it a Squeeze
Feel through the husk and the kernels should be swollen and distinct. Peel back just the tip of the husk and make sure the tips are filled out. To store, refrigerate ears, tightly wrapped, still in its husks. Try to keep it away from strong scented foods and liquids as it will absorb odors quite readily.
4. Aw, Shucks – Corn in the Microwave 
We've learned a new method for shucking and cooking whole ears. Essentially you microwave the ear in the husk for a few minutes. Then, remove it from the microwave and let it steam for about 30 seconds. Next, chop the stalk end (not the silk end) off. Using a kitchen towel, starting at the silk end, push the cob out of the chopped stalk end. It comes out clean and perfectly silk free. Pretty handy!

Corn Ice Cream
I'm wrapping up my recipe collection with a recipe for ice cream. You won't believe how good it is. Thanks for reading and make sure to let me know if you cook any of the recipes featured here.
Bon Appétit Y'all!
Virginia Willis
PS Want to learn more about dried and ground corn? Check out my post on Cornmeal and Grits.
Butter Sugar Corn Ice Cream
This rich and creamy ice cream is pure indulgence. They call it "butter-sugar" because it's multicolor yellow and white. Any sweet corn may be substituted.
Ingredients
4

ears fresh sweet corn

shucked, kernels cut off, cobs reserved

4

cups

milk

3/4

cup

sugar

9

large egg yolks
Instructions
Roast the corn kernels in a dry cast iron skillet until browned in spots, 4-5 minutes. Place the roasted kernels in a large heavy saucepan. Break cobs in half and add to pan with milk and 1/2 cup of the sugar. Bring the mixture to a boil, stirring constantly, then turn off heat. Remove the cobs and discard. Either using a stick blender to puree until smooth or transfer the corn-milk mixture to the jar of a blender and puree until smooth then return to the large saucepan.

Bring mixture back to a just a simmer, then remove from the heat. In a medium bowl, whisk together the egg yolks and remaining 1/4 cup of sugar. Add a cup of the hot corn mixture to the yolks, whisking constantly to prevent eggs from curdling. Add yolk mixture to the saucepan, whisking constantly. Continue whisking over medium-low heat until the custard thickens enough to coat a spoon, 5 to 7 minutes.

Pass custard through a sieve pressing down hard on the solids. Discard solids. Cool custard completely over an ice bath or refrigerate until cool. Churn the ice cream according to the machine instructions. Enjoy!
If you are interested in hosting me for an event, cooking class, or a book signing, let me know! Send an email to jona@virginiawillis.com and we'll be back in touch as soon as possible.
Please be nice. Unauthorized use and/or duplication of this material without permission is prohibited. All photos and content are copyright protected. Please do not use photos without prior written permission. If you wish to republish this recipe, please rewrite the recipe in your own words and link back to this recipe on virginiawillis.com. Thanks so much.
Let's connect on Facebook , Twitter, Instagram, and Pinterest!

Please note that this post may contain affiliate links.