Please note that this post may contain affiliate links.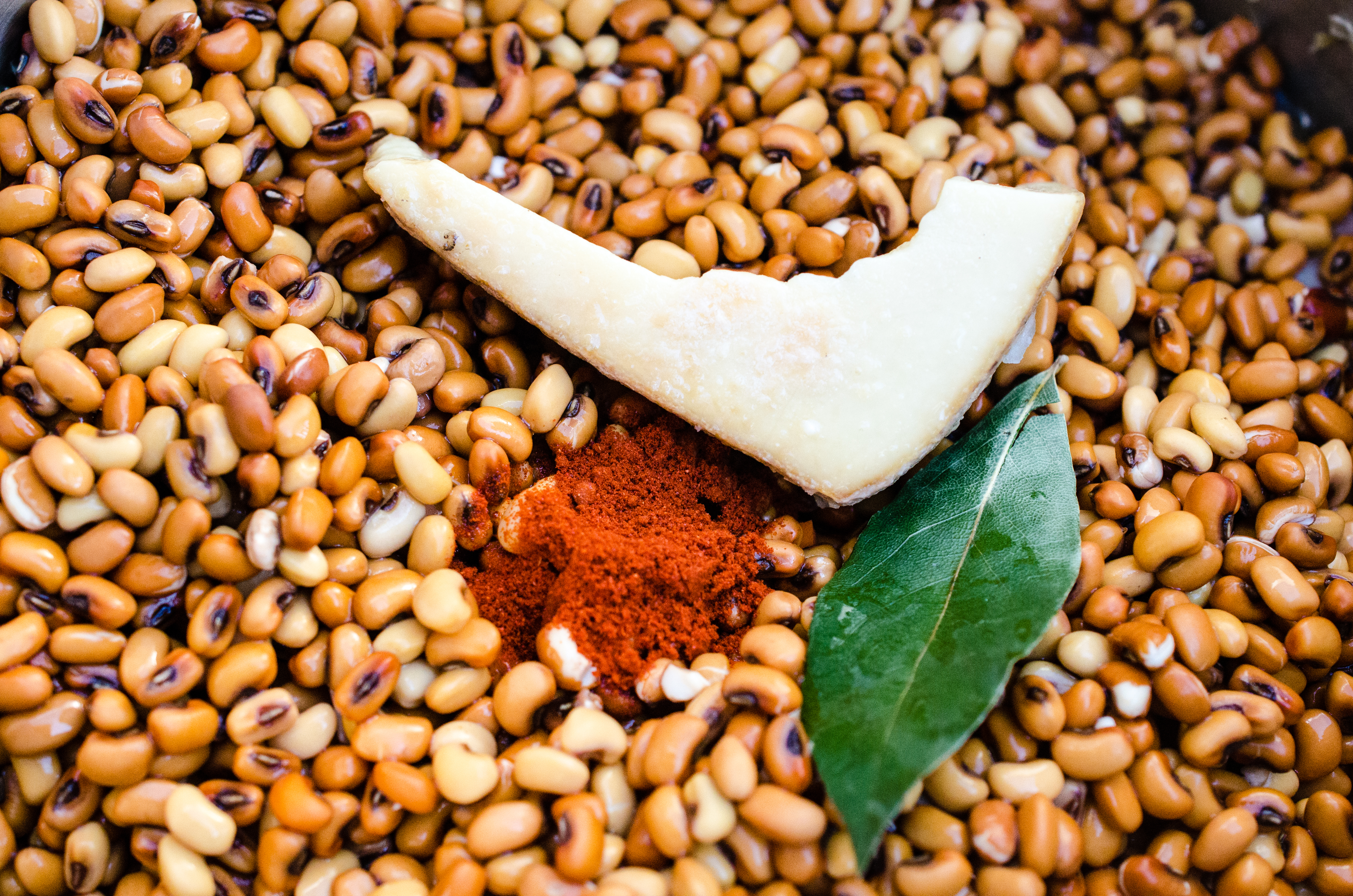 Want to know why Southerners eat peas and greens? The science behind the salt and smoke? What about Vegan options for Southern New Year's Day food traditions?! Check it out.
Peas and Rice
Many cultures have traditional meals as part of their New Year celebration. As a Southerner, I have had Black-Eyed Peas with Hog Jowl and some form of Collard Greens on New Year's Day nearly every year of my entire life. Hoppin' John represents a desire for luck and the greens signify money.
What is often portrayed on TV is not necessarily true Southern food. This, however, is the real thing. Black, white, rich, poor – everyone eats Black Eyed Peas and rice on New Years Day. Sometimes they are cooked together as in this recipe, and sometimes they are cooked separately and married together on the plate. And, often there is no additional meat served, the bit of pork in the dish represents the meat for the meal.  (I've made vegan greens for years!) And no biscuits for this traditional meal, it's served with buttermilk cornbread, to soak up every savory, juicy bite.

What are Cow Peas and Field Peas?
The term "cow peas" comes from the farming practice in which the remnants of the plants from the pea harvest were left in the field for grazing cattle. Cow peas are also sometimes called field peas. The importance of field peas in Southern foodways cannot be overstated. They were eaten fresh in the summer and dried for use in the winter. A simple dish like Hoppin' John is one of the cornerstones of Southern cuisine. Field peas became a staple food among Southerners, rich and poor, black and white, in the deep south as they are drought resistant and easily adaptable to varying types of soils.
Although called peas, they are actually beans. Cowpeas are very easy to grow and very popular in the Southern US, Africa, and Asia. They originated in Africa, and tolerate heat, drought and humidity much better than common beans do. Common examples include Black Eyed Peas, Crowder Peas, and the more rare heirloom cow pea known as the Sea Island Red Pea.  The Sea Island Red Pea was likely the original pea used in Hoppin' John, and was once grown along the Georgia and South Carolina coast. (Read more about field peas in this NYT article by Kim Severson.)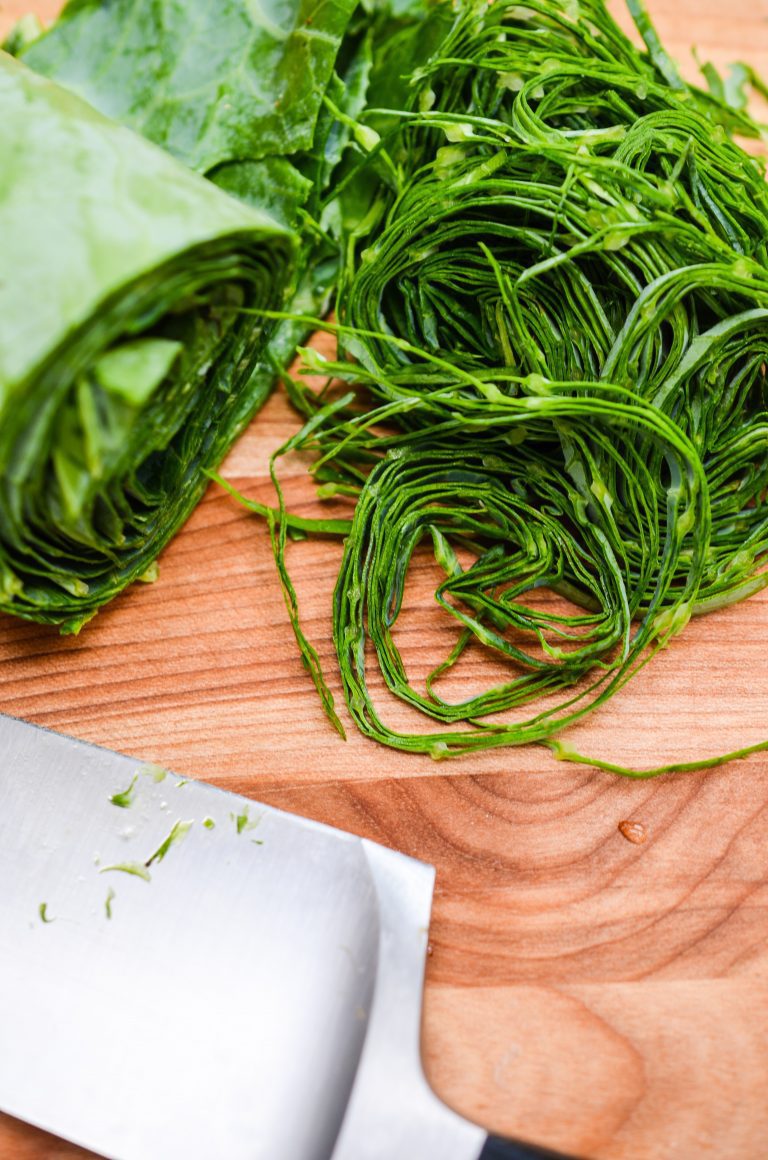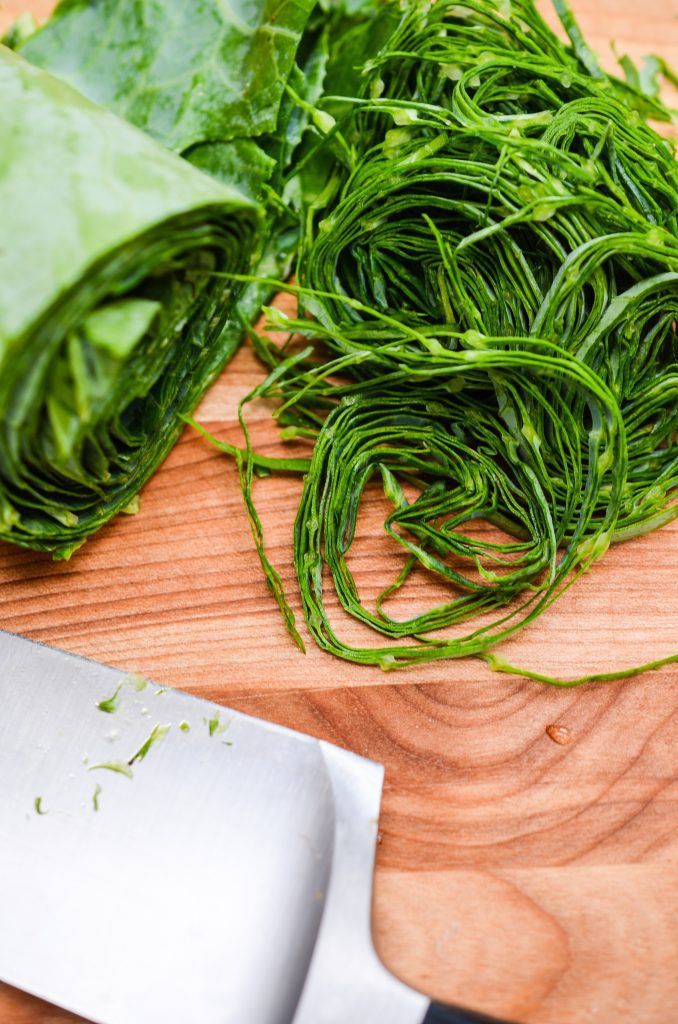 How to Cook and Clean Greens
I love greens. Collard greens, mustard greens, turnip greens, kale, cabbage — you name a green and I love them. All these greens are nutritional powerhouses and familiar friends on the Southern table. When buying greens look for brightly colored crisp leaves free of brown spots and yellowing edges.
The best way to clean greens is to fill a clean sink with cold water, add the greens, and swish them around. The dirt will fall to the bottom of the sink. Lift the greens out, drain the sink, and repeat until the water is clear and the greens are free of dirt and grit.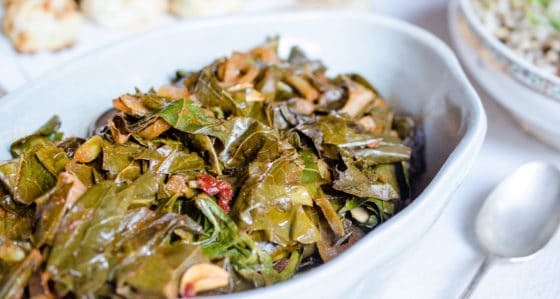 Greens Recipes for New Year's Day
Below is a collection of some of my Greens Recipes for you to try. Heads up, I often keep them vegan so it's one pot for everyone — and less pots for me to cook! And, I promise, no one will miss the meat!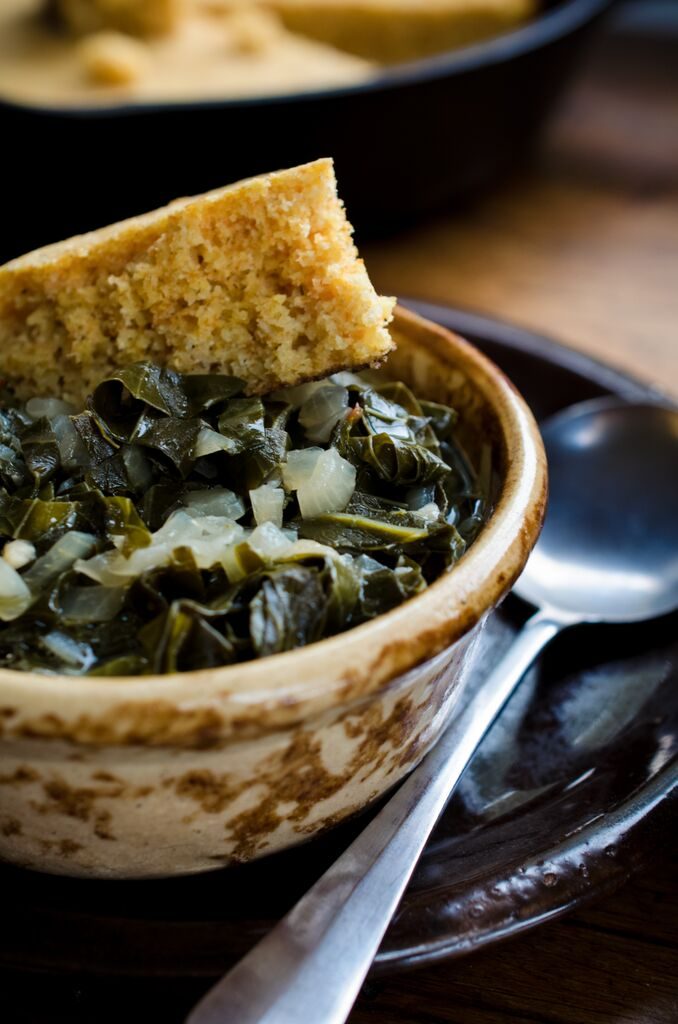 Pea Recipes for New Year's Day
Need to Know:
Older beans can take a very long time to cook and fresher dried beans take less time. Buy dried peas and beans from a store with high turnover and store them in an airtight container in a cool, dry place.
To salt or not to salt? According to the Bean Growers Association, dry beans cook faster when salt is added because salt helps break down the cell walls. So, the notion of salt slowing down the cooking process is a myth.
Hog Jowl is the cheek of a hog that has been cured and smoked. If hog jowl isn't available, bacon may be substituted.
Ham hock is the lower portion of a hog's hind leg, are found in 3-inch lengths about the size of a baseball. They are where the foot was attached to the leg and are made a combination of meat, fat, bone, gristle, and connective tissue. Cured and smoked, they are intensely flavored and also may be used to flavor the Hoppin' John.
Want to dig a little deeper? Check out my video on Instagram
Best wishes for a healthy and Happy New Year! I for one, am mighty ready to put 2020 behind me and looking forward to a thriving 2021. You can guarantee I'll be having peas and greens on New Year's Day!
Bon Appétit Y'all!
Virginia Willis
Versatile Hoppin' John
Ingredients
1

cup

dried black-eyed peas

about 16 ounces

1 1/2

quarts

chicken stock

vegetable broth, or water

4

ounces

hog jowl or bacon

cut into lardons, or 1 smoked ham hock, turkey wing, 1 chopped chipotle, or strip of kombu

1

medium onion

coarsely chopped

1

dry chili pepper such as chipotle or ancho

optional

1

cup

long-grain white rice

hot sauce

for serving

Kosher salt and freshly ground black pepper
Instructions
Place the peas in a large bowl. Remove any stones and discard. Add cold water to cover by several inches. Soak overnight or 8 hours. Or, for a quick soak, wash and sort the peas. Place in a large stockpot and add water to cover, about 3 quarts. Bring to a rolling boil over high heat. Remove from the heat and let soak for 1 hour. Drain soaked or quick-soaked peas, discarding the water.

Meanwhile, heat stock in a pot over high heat. Add flavoring agent, onion, and optional chili pepper. Reduce heat to simmer and cook for 25-30 minutes to flavor the stock. Add the drained peas. Season with salt and pepper. Bring to a boil over high heat, reduce heat to simmer and cook uncovered until just tender – almost al dente - and about 2 cups of liquid remain, 45 minutes to 1 hour. Taste and adjust the seasoning with salt and pepper.

Add the rice to the pot, cover, and simmer over low heat for about 20 minutes. Do not remove the lid during this part of cooking. Remove the pot from the heat and allow the rice to steam, still covered, for another 10 minutes. Remove the cover, fluff with a fork, and taste and adjust for seasoning. Serve immediately with hot sauce on the side.
If you are interested in hosting me for a speaking engagement, event, cooking class, or a book signing, let me know! Send an email to jona@virginiawillis.com and we'll be back in touch as soon as possible.
Please be nice. Unauthorized use and/or duplication is prohibited. All photos and content are copyright protected. If you wish to republish this recipe, please link back to this recipe on virginiawillis.com. Thanks so much!
Want to keep up with my culinary wanderings and wonderings?
Let's connect on Facebook, Twitter, Instagram, and Pinterest!

Please note that this post may contain affiliate links.