Please note that this post may contain affiliate links.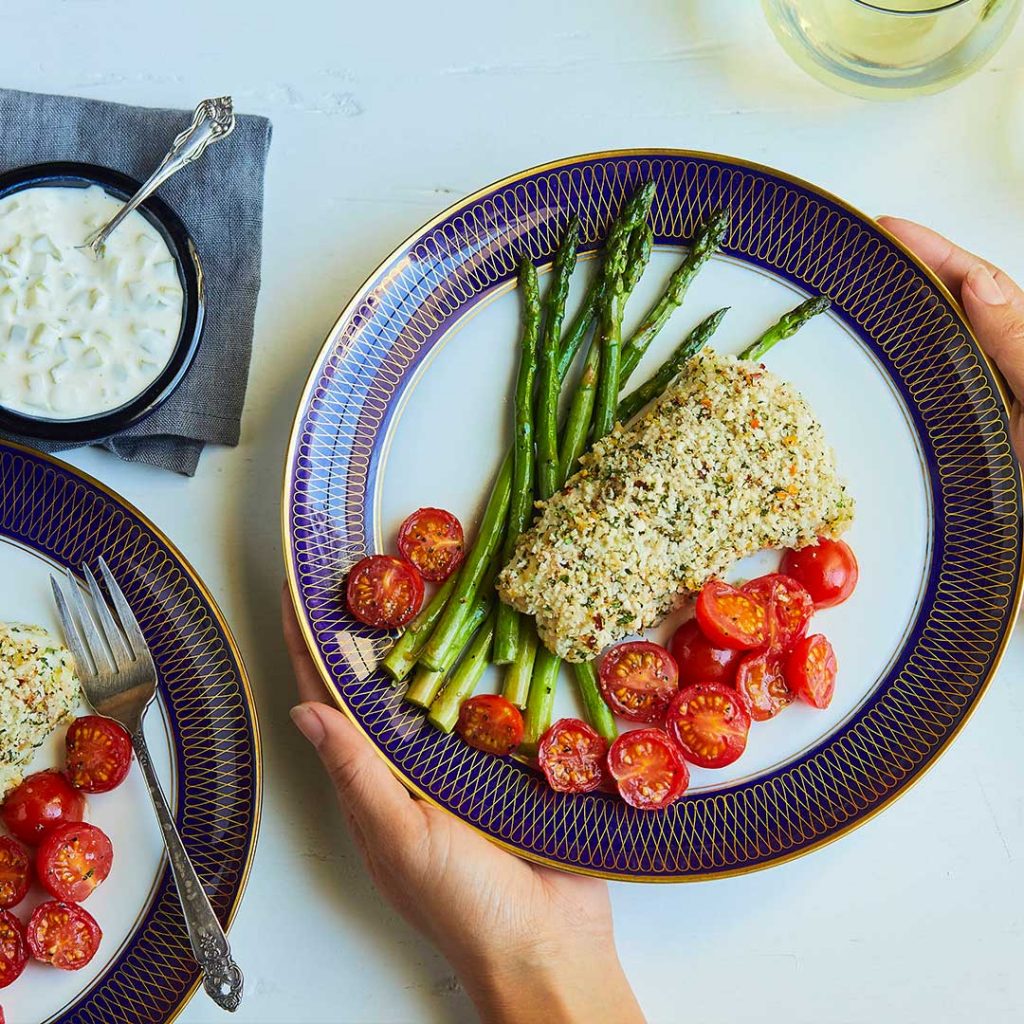 Who doesn't love a sheet pan supper? One pan and you're good to go. It's an easy and healthy meal that your family is certain to love! I know I am all about simple suppers right now and I bet you are, too! Between all-day zoom calls, juggling schedules, and what I lovingly refer to as "quicksand," supper has to be ultra manageable. This flexible recipe fits the bill.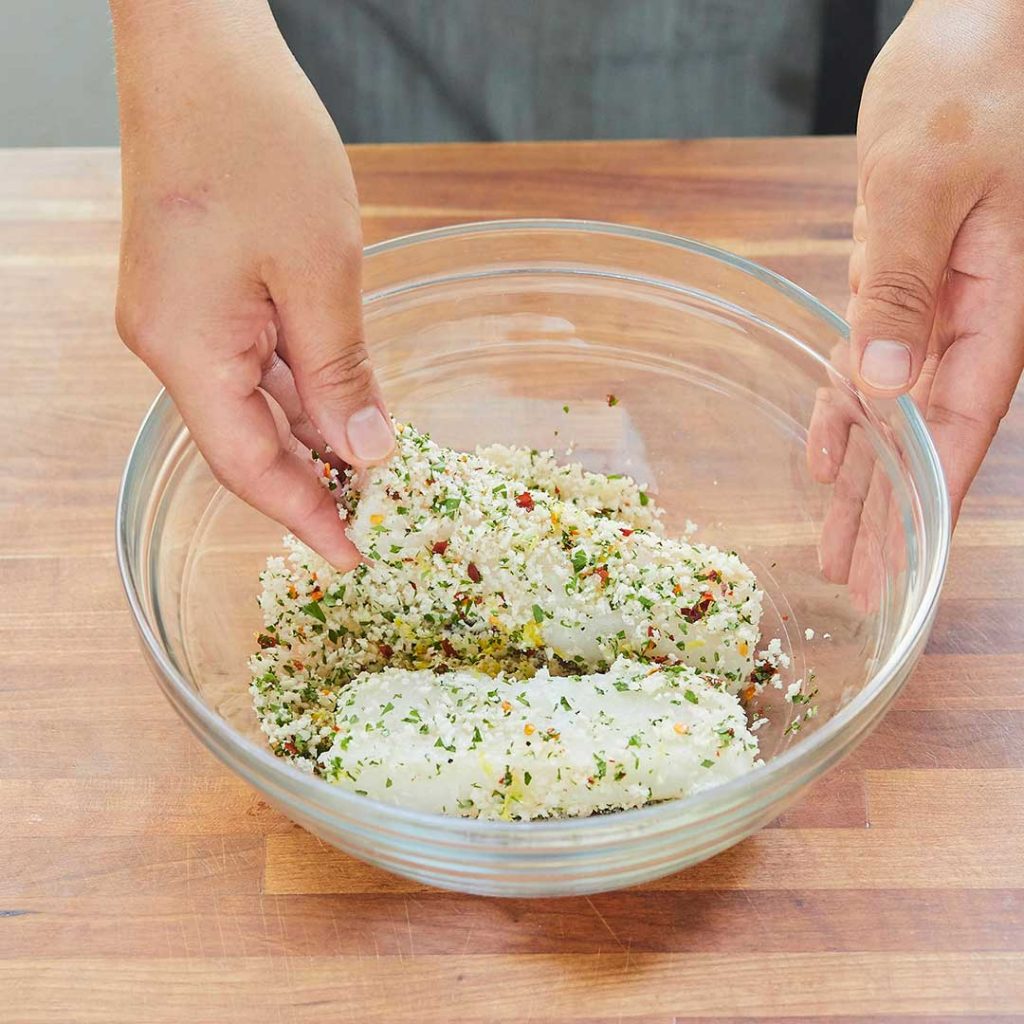 Easy Supper
In this fast and flavorful sheet pan supper, crispy, panko-crusted fish filets bake alongside tender asparagus and juicy cherry tomatoes. The fish is mild yet firm, and pairs perfectly with a Spicy Rémoulade made with zesty lemon, fresh garlic and herbs, and a pop of heat.  
Rémoulade (reh-moo-lahd) is a classic French mayonnaise-based sauce that often includes mustard, garlic, and spices. It is usually served cold with cold meat, fish, and seafood dishes, especially breaded ones such as this. Think sexy tartar sauce. (If you want to lighten things up a bit, use 1/2 mayo and 1/2 0% Icelandic yogurt.) 
The key is timing — it only takes about 8 to 10 minutes to cook a fish filet that is an inch or so thick. The asparagus take only a little time, as well. Lastly, the grape tomatoes soften just enough. You can serve this with or without a starchy side.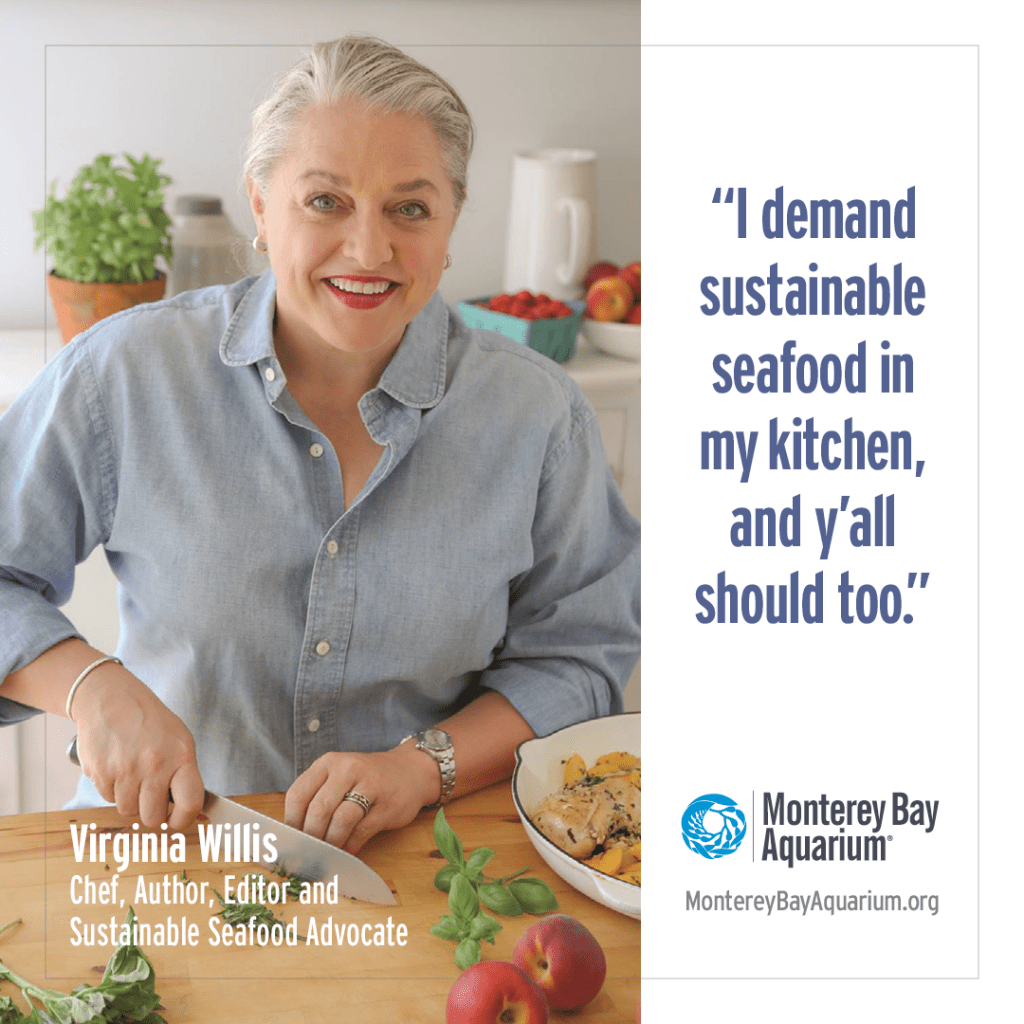 Sustainable Seafood
I am proud to be a Blue Ribbon Chef Task Force Member and pretty fanatical about sustainable seafood. It's been a journey my entire life. Here's a beautiful video about passion for sustainable seafood by Rabbit Hill Distillery about my story. It's in their Raise a Glass series and titled "Fishing, Nature and the Stewardship of our Beautiful World." 
When choosing fish for this recipe, make sure to choose a fish filet that gets the "green or yellow light." For more about that, make sure to download the Seafood Watch App. You need species that are harvested from abundant fisheries and deemed sustainable by the Monterey Bay Aquarium Seafood Watch Program. 
Wild Alaskan Company 
Wild Alaskan Company is a seafood membership subscription that delivers wild-caught, sustainable seafood to your doorstep. I am ordering a lot more food online and this resource has been fantastic. They sell incredible fish and shellfish and I am thrilled at their commitment to sustainable seafood.
They ship a wide variety of wild-caught species from Alaska and the Pacific Northwest including sockeye salmon, coho salmon, pacific cod, pacific halibut, and wild Alaska pollock.
 Individually-Sealed (Avg. 6 oz. Each)
 Ready-to-Cook
 Sustainably Harvested
 Caught and Processed in the USA
 Wild Caught
 Never Farmed or Genetically Modified
We have partnered together and anyone that orders from Wild Alaskan Company and uses the promo code VIRGINIA gets 25$ off! I've ordered a subscription and many of my friends have, too. They offer a flexible delivery program and it's delivered frozen in an eco-friendly, insulated cooler with dry ice that keeps the fish frozen even in the hottest conditions.
Instagram
Here's an IGTV video of me opening my first box — and make sure to follow along my IG feed for pix!
I have truly been astonished at the quality. Please check it out and if you have any questions, don't hesitate to contact customer service or shoot me a note to info@virginiawillis.com with the subject heading seafood.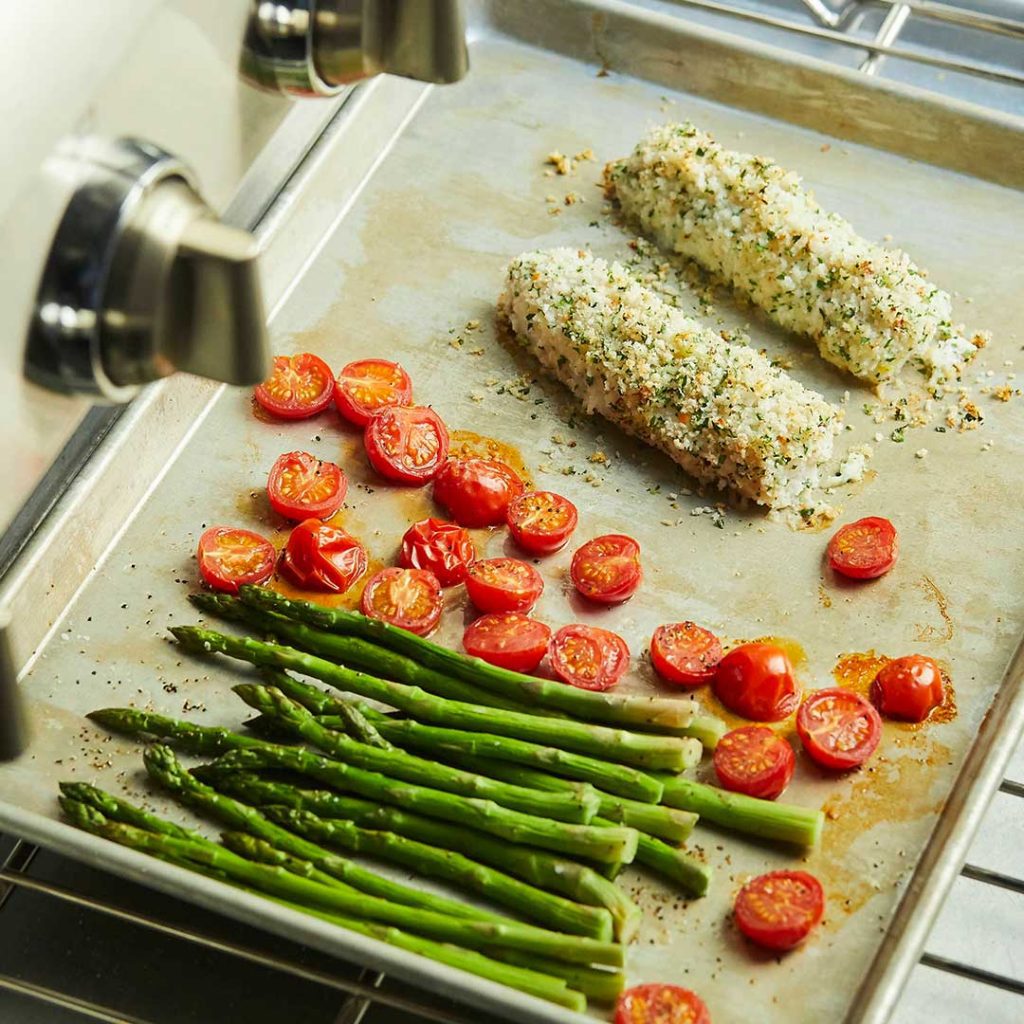 Flexibility
A sheet pan supper can also be flexible as long as you are smart about cooking time and size. Don't have any asparagus? Try par-cooked green beans or long strips of zucchini. No cherry tomatoes? We're about to be in high tomato season, slice a juicy one into chunks, and add that to the sheet pan, instead. And, of course, you can use pretty much use any fish filet — as long as it's sustainable! For this recipe, I suggest using cod, halibut, salmon, or mahi mahi. You need a firm thick filet. It's good, good for you, and good for the ocean!     
Thanks so much for reading. Let me know what you think. Stay safe and take care.
Bon Appetit, Y'all!
Virginia Willis
Need another sheet pan supper? Check out my Chicken and Vidalia Onion Tacos.
Panko Crusted Fish Filet with Spicy Remoulade with Oven Roast Asparagus and Grape Tomatoes
Ingredients
For the Spicy Remoulade: (Makes about 1 cup)
1/2

cup

mayonnaise

2

teaspoons

whole-grain Dijon mustard

2

teaspoons

freshly squeezed lemon juice

1/2

stalk celery,

very finely chopped

2

green onions,

white and pale green parts only, finely chopped

1

clove

garlic

finely chopped

1/4

teaspoon

hot sauce

or to taste

Coarse kosher salt and freshly ground black pepper
For the Fish and Asparagus:
3

tablespoons

extra-virgin olive oil

divided

1

pound

asparagus

tough ends trimmed

½

cup

panko breadcrumbs

¼

cup

freshly chopped flat-leaf parsley

3

small cloves garlic

very finely chopped

1/2

teaspoon

red pepper flakes

or to taste

Grated zest of 1 lemon

4 5-

ounce

pieces fish filet

1

cup

grape or cherry tomatoes

halved

Coarse salt and freshly ground black pepper
Instructions
Heat the oven to 450°F. Spray a baking sheet with nonstick cooking spray. Spread out the asparagus spears in a single layer on a rimmed baking sheet. Drizzle with 1 tablespoon of the oil and shake the pan to evenly coat the spears. Season with salt and pepper.

Move the asparagus to one side of the baking sheet. Place the tomato halves adjacent to the asparagus; set aside.

Combine the breadcrumbs, parsley, garlic, red pepper, and lemon zest in a small bowl. Brush each fish with some of the remaining olive oil, then add to the breadcrumb mixture. Season the breadcrumb mixture with salt and pepper and stir to combine.

Place the fish on the other side of the baking sheet from the asparagus. Divide the breadcrumb mixture on the topside of each fillet. Roast until the breadcrumbs are browned and the fish is opaque, about 8 minutes. (Cook salmon to 125°F and halibut and cod to 130°F when measured with an instant read thermometer.) 

If the asparagus isn't quite done remove the fish to a serving plate and increase the heat of the oven to broil. Continue to cook the asparagus until lightly charred, 1 to 2 minutes. Serve immediately on warmed serving plates.
Please note that this post may contain affiliate links. (That means I make a commission if you use my affiliate link to buy the product.) 
If you are interested in hosting me for a speaking engagement, event, cooking class, or a book signing, let me know! Send an email to jona@virginiawillis.com and we'll be back in touch as soon as possible.
Please be nice. Unauthorized use and/or duplication is prohibited. All photos and content are copyright protected. If you wish to republish this recipe, please link back to this recipe on virginiawillis.com. Thanks so much!
Let's connect on Facebook , Twitter, Instagram, and Pinterest!

Please note that this post may contain affiliate links.