Please note that this post may contain affiliate links.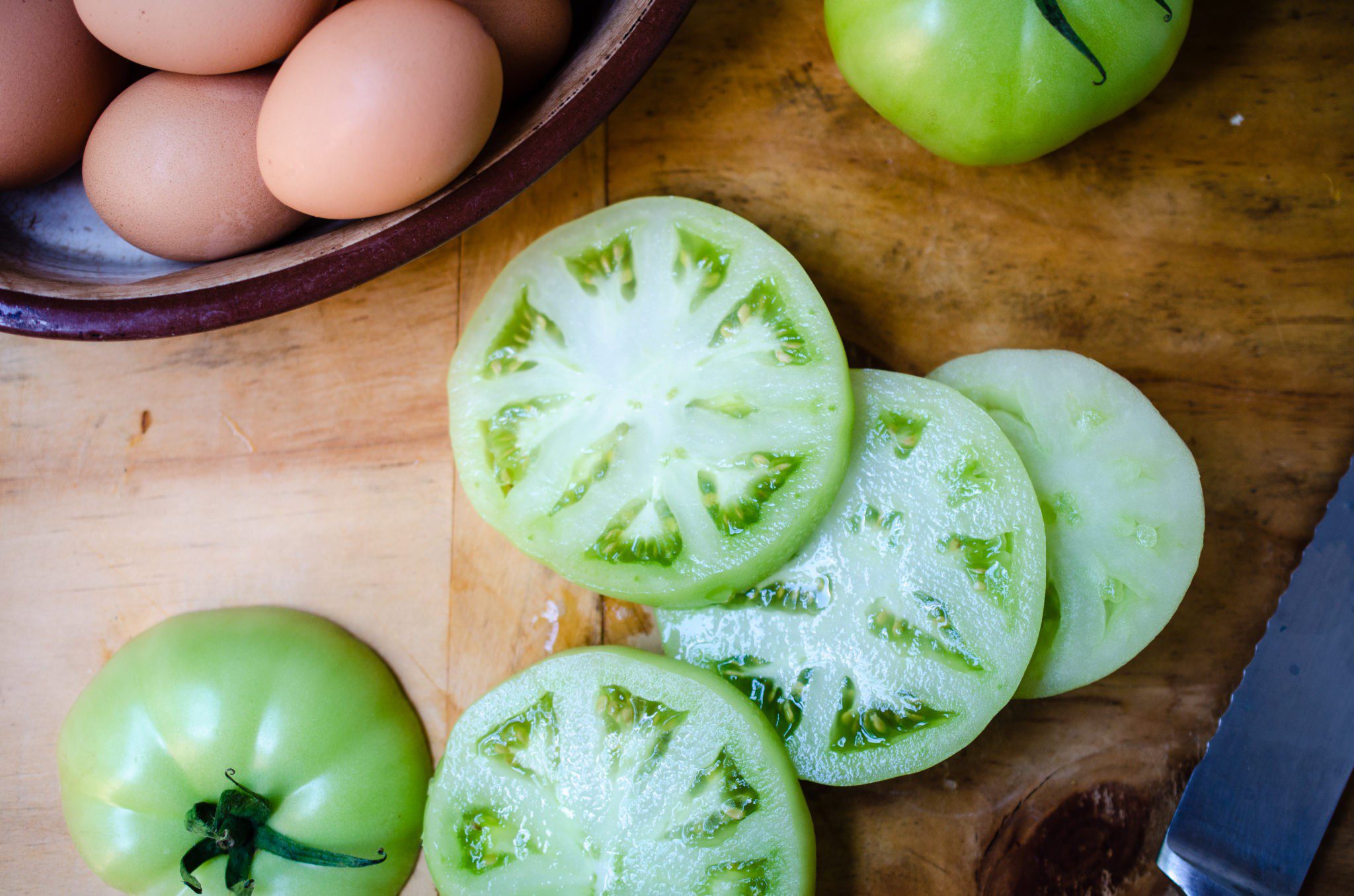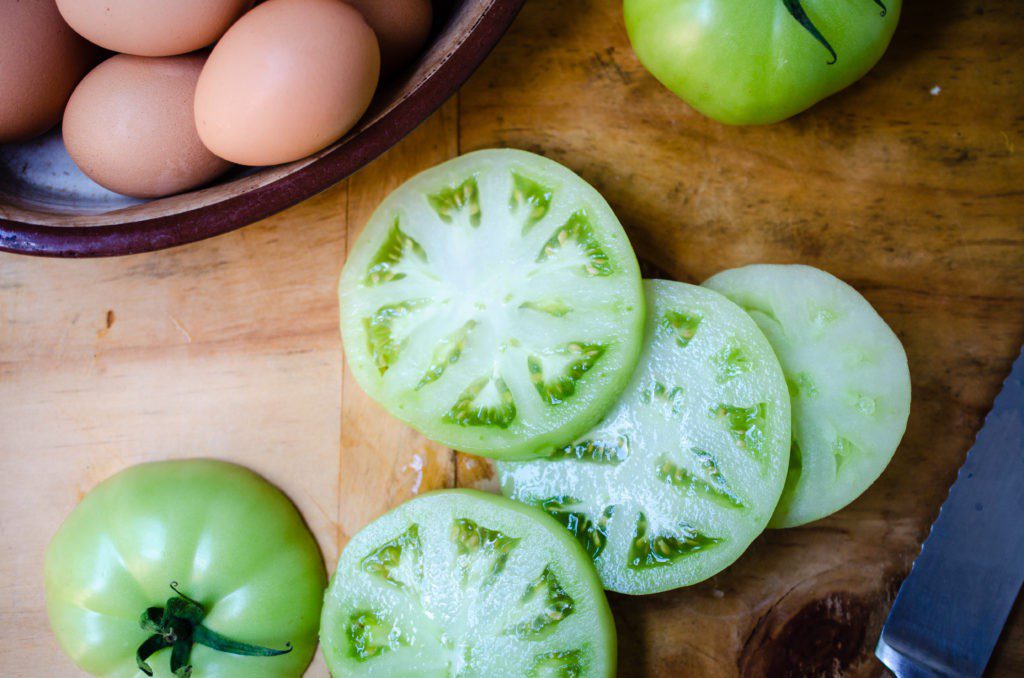 Fried Green Tomatoes are as deeply rooted in Southern culture as a field of kudzu. I have a confession. I am not a huge fan of Fried Green Tomatoes, the vegetable. (I love the movie!) Fried Green Tomatoes served piping hot and fresh out of the skillet can be pretty good. But, usually, sadly they always seem to be soggy, greasy, and dull, best suited as a delivery device for rémoulade (old school) or goat cheese (new school). Ha! Are you ready to take away my "Southerner" card? Well, read on…you won't believe it.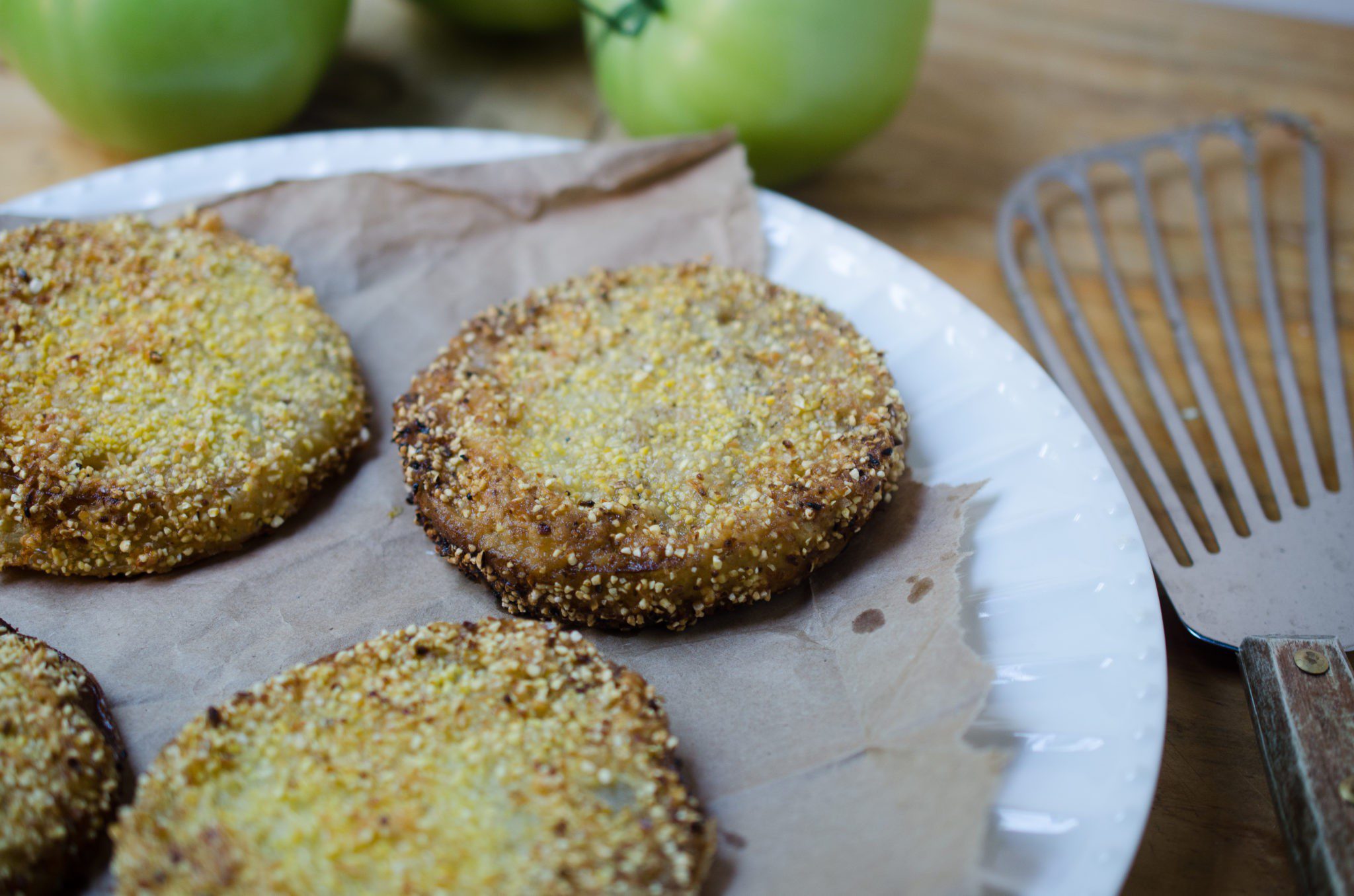 Whistle Stop Cafe
The movie Fried Green Tomatoes at the Whistle Stop Café is a sweet story, and unlike most "Southern movies," the accents are not too bad. One of my favorite scenes is when the Kathy Bates character, Evelyn Couch, takes a plate of fried green tomatoes to Ninny Threadgoode, played by the incomparable Jessica Tandy, for her birthday. I have to admit – and I am not kidding – all I can think about when she delivers those tomatoes is how soggy they must taste.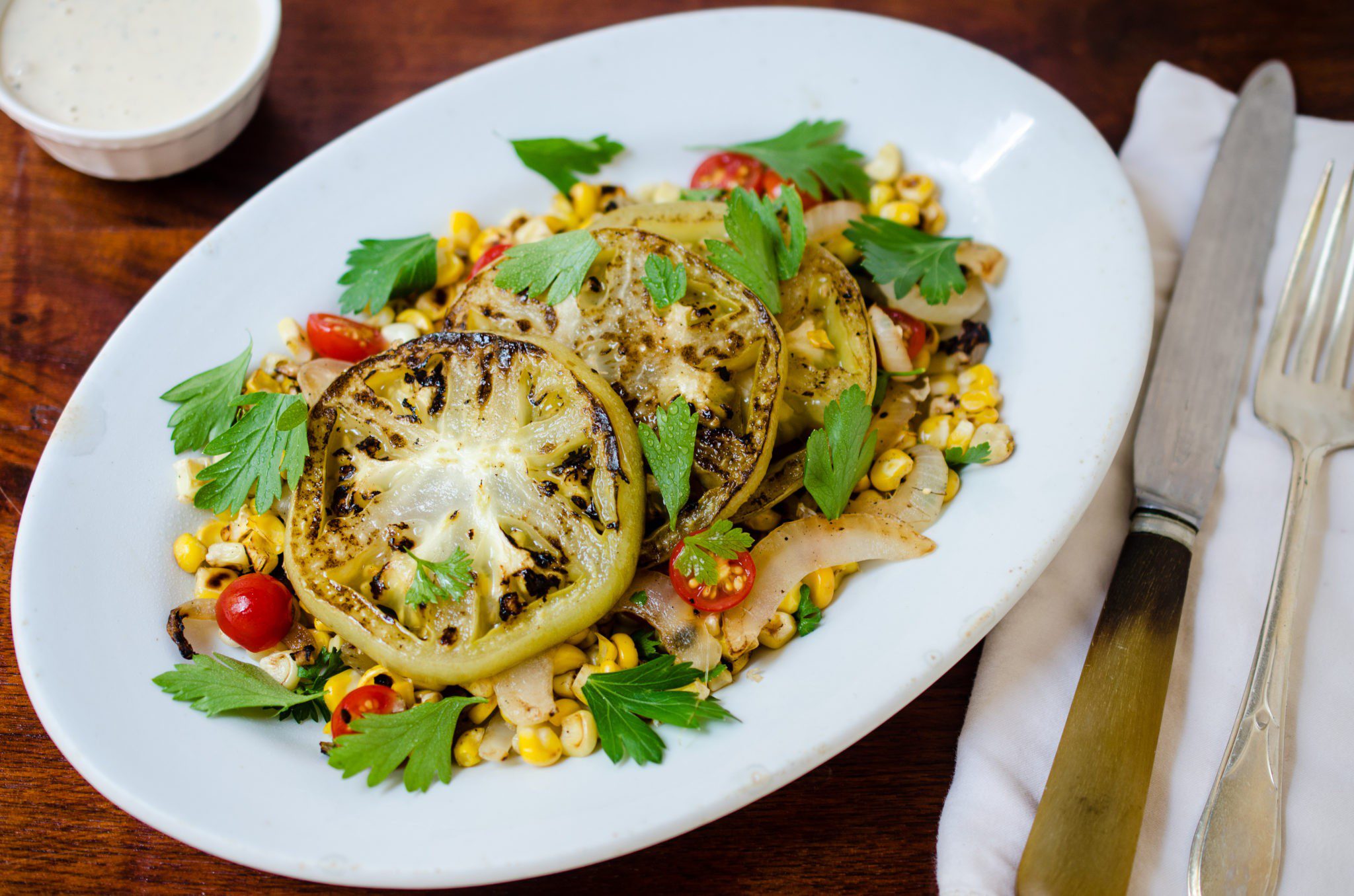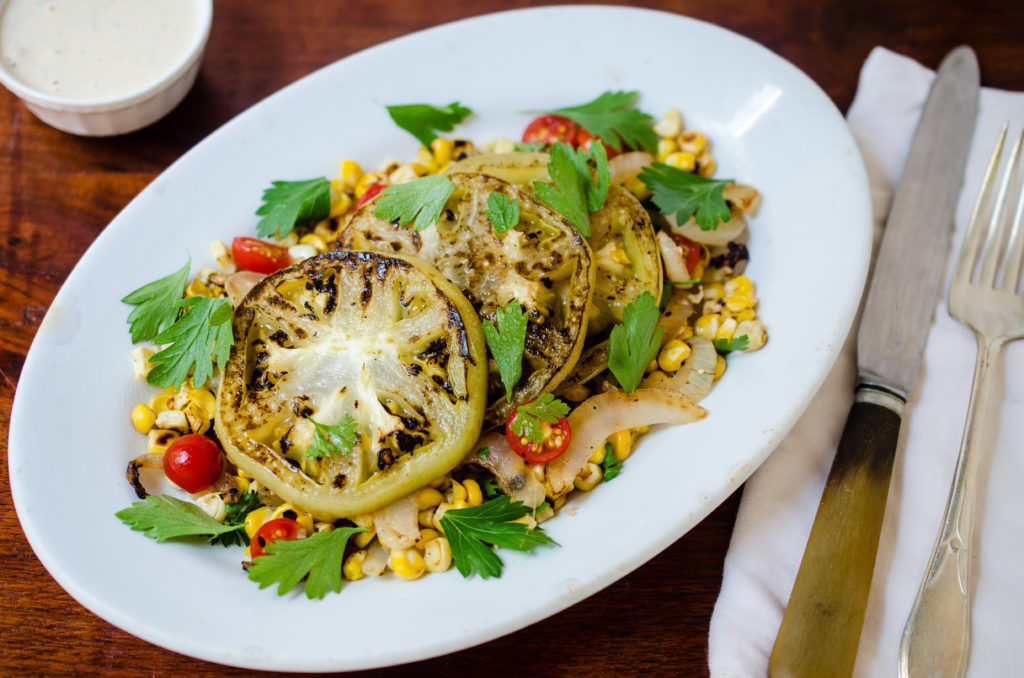 Recipe Inspirations
Recently, I needed to prepare a batch of Fried Green Tomatoes for a photoshoot. When the shoot was over I had worked up an appetite! I grabbed a fork and took a few bites. The tomato was still warm. "Hmm, that's pretty good." Cleaning up the kitchen and still noshing, I snagged up a stray piece of raw tomato on the cutting board. Wow! It was so different from the fried slice. The bite was tangy, crisp, and sharp. I loved the bright lemon-like acidity and the crunch.
Usually, when I have a moment like that in the kitchen, one that gets my taste buds that excited, also means I also start thinking about how to use that flavor or ingredient in a dish. I wondered, wonder what that would taste like simply cooked without the egg, flour, cornmeal, and oil? How can let this vibrancy shine? Tasting the firm, green tomato raw, I thought, "Why not simply griddle them?"
I quickly grabbed a skillet and spritzed it with a misting of oil. Slipping a slice of unseasoned tomato into the pan I left it untouched until it was dappled with brown spots on the underside. (unsalted because salt pulls the moisture out and it needed to be as dry as possible.) I flipped it and cooked it for a few more minutes until the slice of green tomato was tender to the point of a knife. Excited, I sprinkled over a few grains of sea salt and cut off a piping hot bite to give it a taste. It was vibrant and bright, tender yet toothsome. It was a revelation. I added a bit of corn to mirror the taste of the cornmeal and charred a Vidalia onion for sweetness. A new vegetable dish was born. Sour, salty, bitter, sweet, and savory. It's the quintet that makes a dish really sing.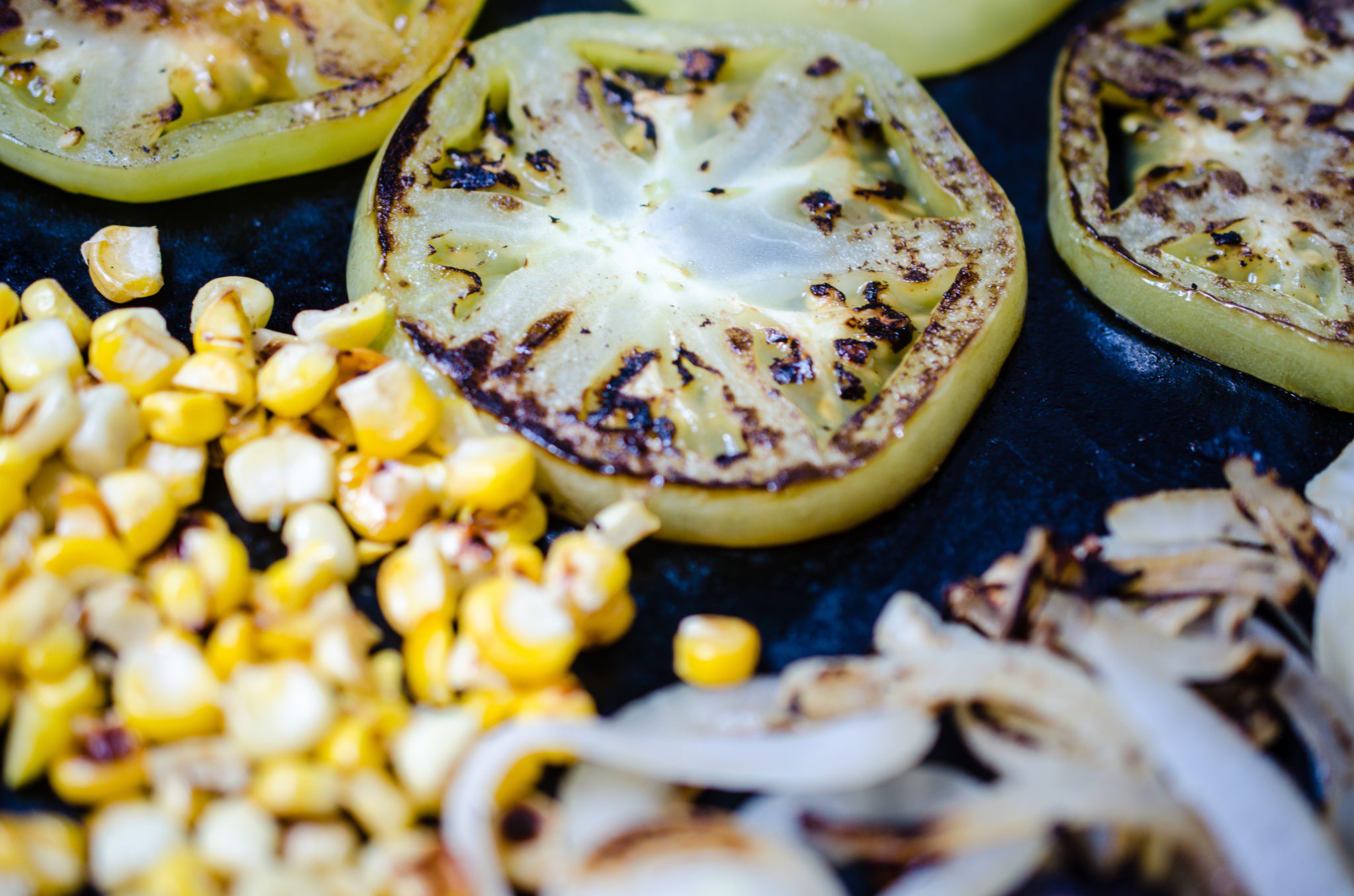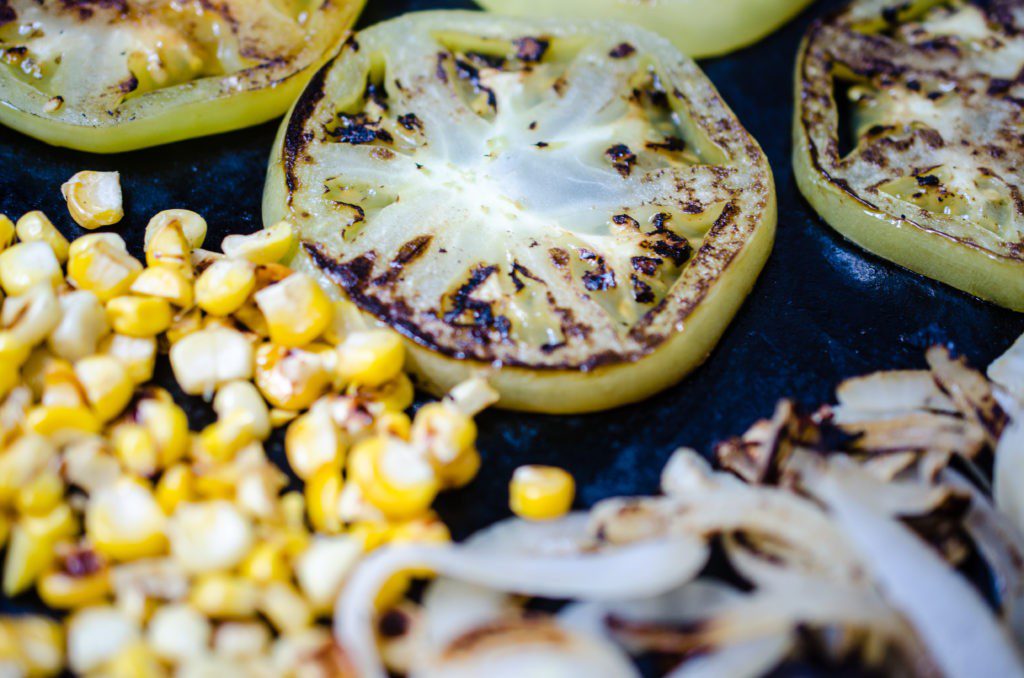 Blistered, not Burnt
There's a technique often used in Latin American cooking in that tomatillos, tomatoes, and onions are cooked in a hot skillet until charred and blistered. The vegetables are then pureed to create the base of salsa or soup such as tortilla soup or posole. The heat tempers the acidity in the tart tomatillo and the crispy bits add both flavor and texture. The vegetables are imbued with a subtle smokiness. It's one of my favorite cooking techniques for building layers of flavor.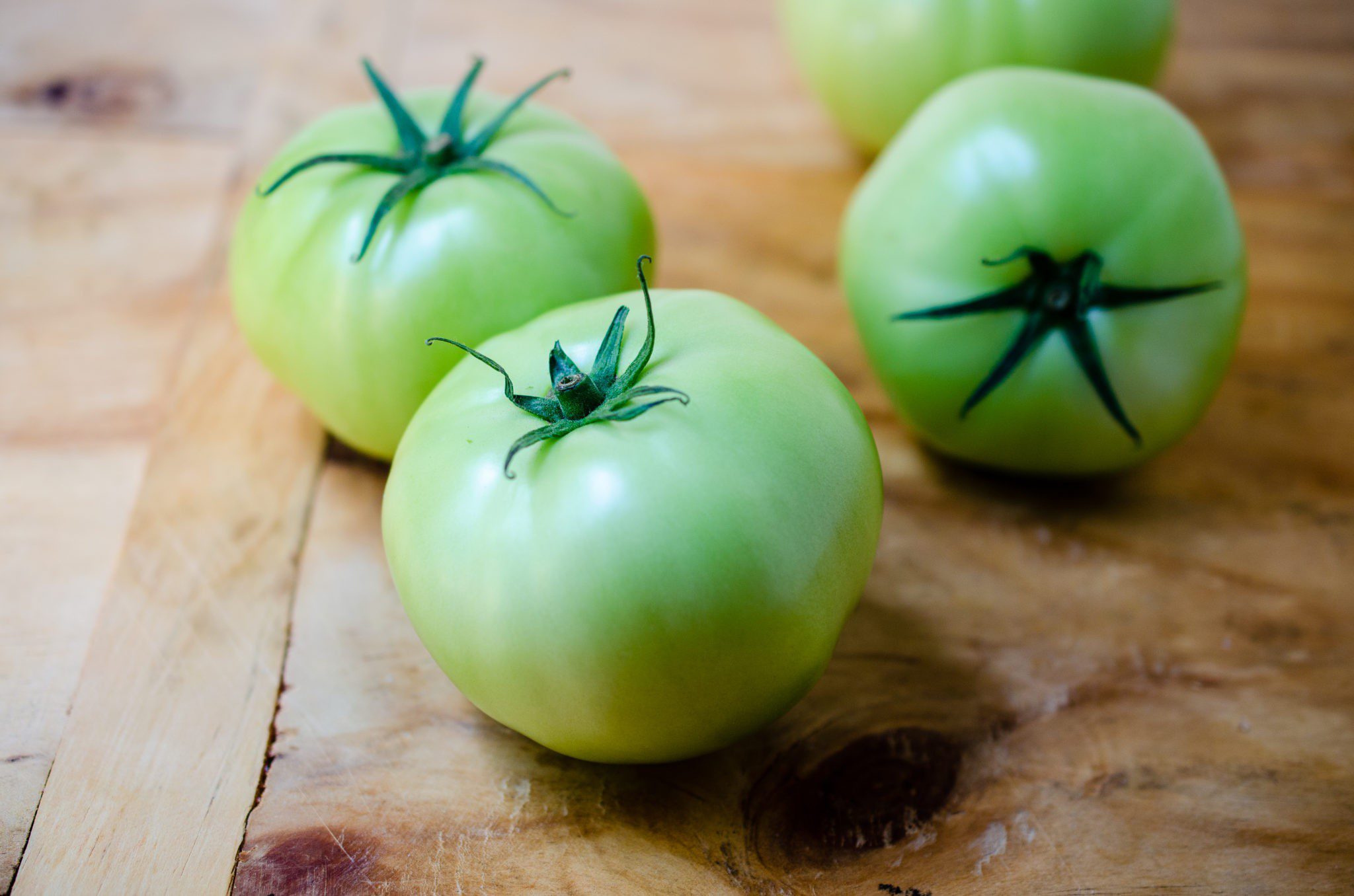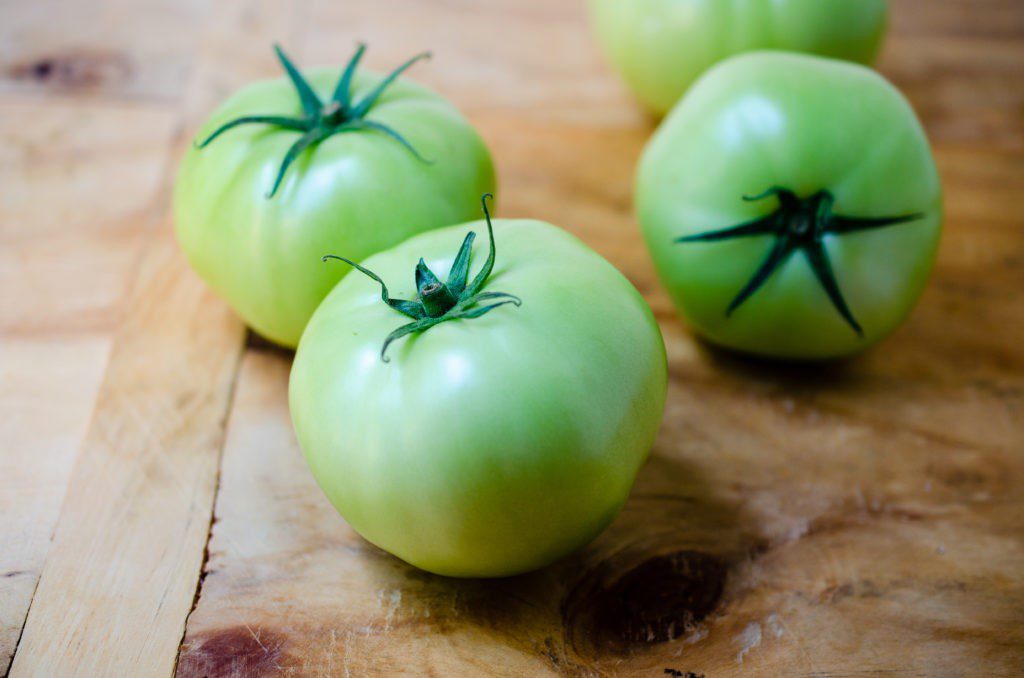 Southern Food
Discoveries like this are a pure joy to me in the kitchen. I also love looking at traditional recipes and ingredients and flipping them on their head. I insist that Southern food is a living, breathing, changing cuisine. Southern food doesn't belong in a museum and is not only the realm of twinkly-eyed grandmothers. I'll take my "Southerner" card back! How is it that I have never had green tomato any other way but fried?! And, you know what? I feel absolutely certain that Ninny would like my new version of Green Tomatoes, too.
I'm including recipes for both old-fashioned Fried Green Tomatoes and my new Griddled Green Tomates. Give one or both a try and please let me know what you think!
Bon Appétit, Y'all
Virginia Willis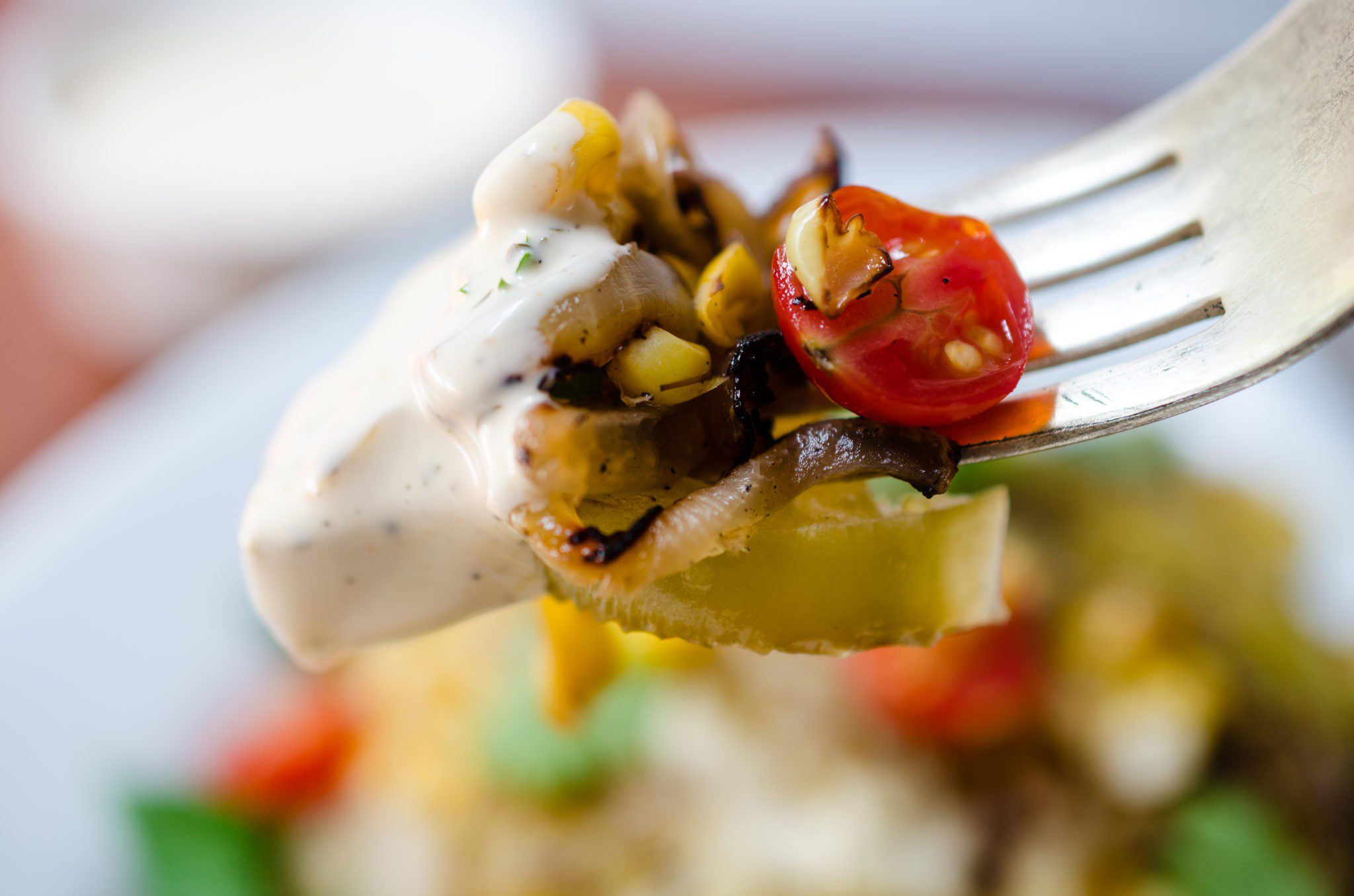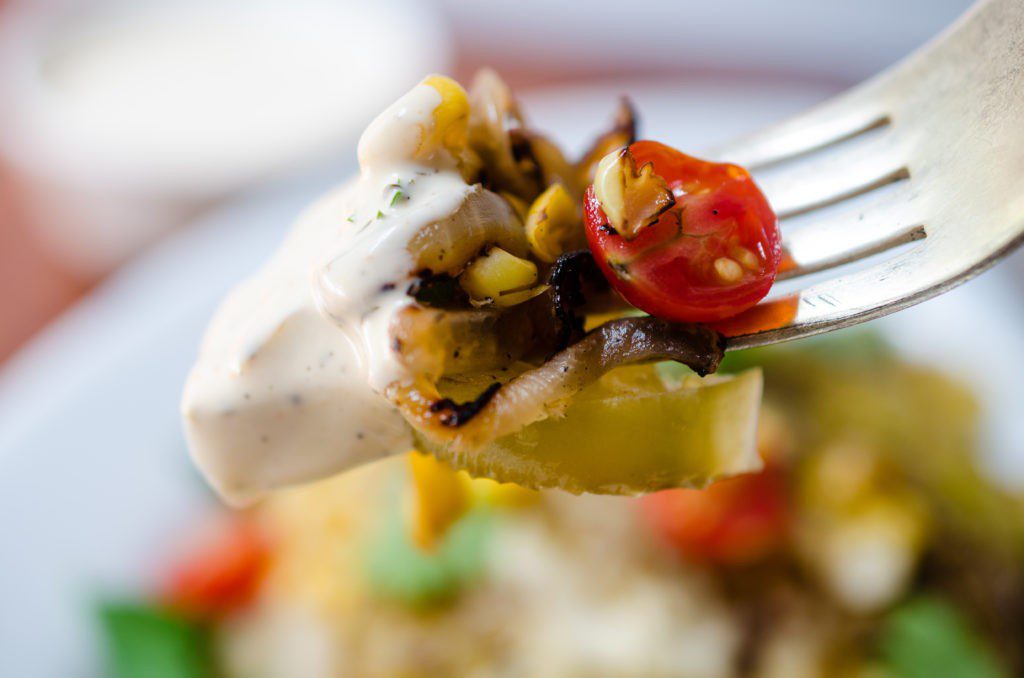 Warm Griddled Green Tomato Salad
Ingredients
Nonstick cooking spray

2

large green tomatoes

sliced ¼-inch thick

1

Vidalia onion

sliced

2

ears corn

kernels removed

1

tablespoon

apple cider vinegar

1

tablespoon

sunflower oil

12

or so cherry or grape tomatoes

halved

handful of herbs such as basil

parsley, and cilantro

Rémoulade, Ranch Dressing, or Creole Ranch, for serving

Sea salt and freshly ground black pepper
Instructions
Heat a large cast iron skillet over high heat. Spray with nonstick cooking spray. Add the sliced tomatoes without crowding. Cook on one side until the undersides are blistered, about 3 minutes. Flip and cook an additional 2 to 3 minutes until the tomatoes are tender and speckled on both sides. Set aside and keep warm.

Add the corn to one side of the skillet and the onions to the other. Cook until the vegetables are blistered and charred, 3 to 5 minutes. Transfer the corn and onions to a bowl. Season with salt and pepper. Add vinegar, oil, cherry tomatoes, and herbs. Toss to combine.

Transfer the corn and onions to a platter. Top with griddled tomatoes. Serve immediately with dipping sauce on the side.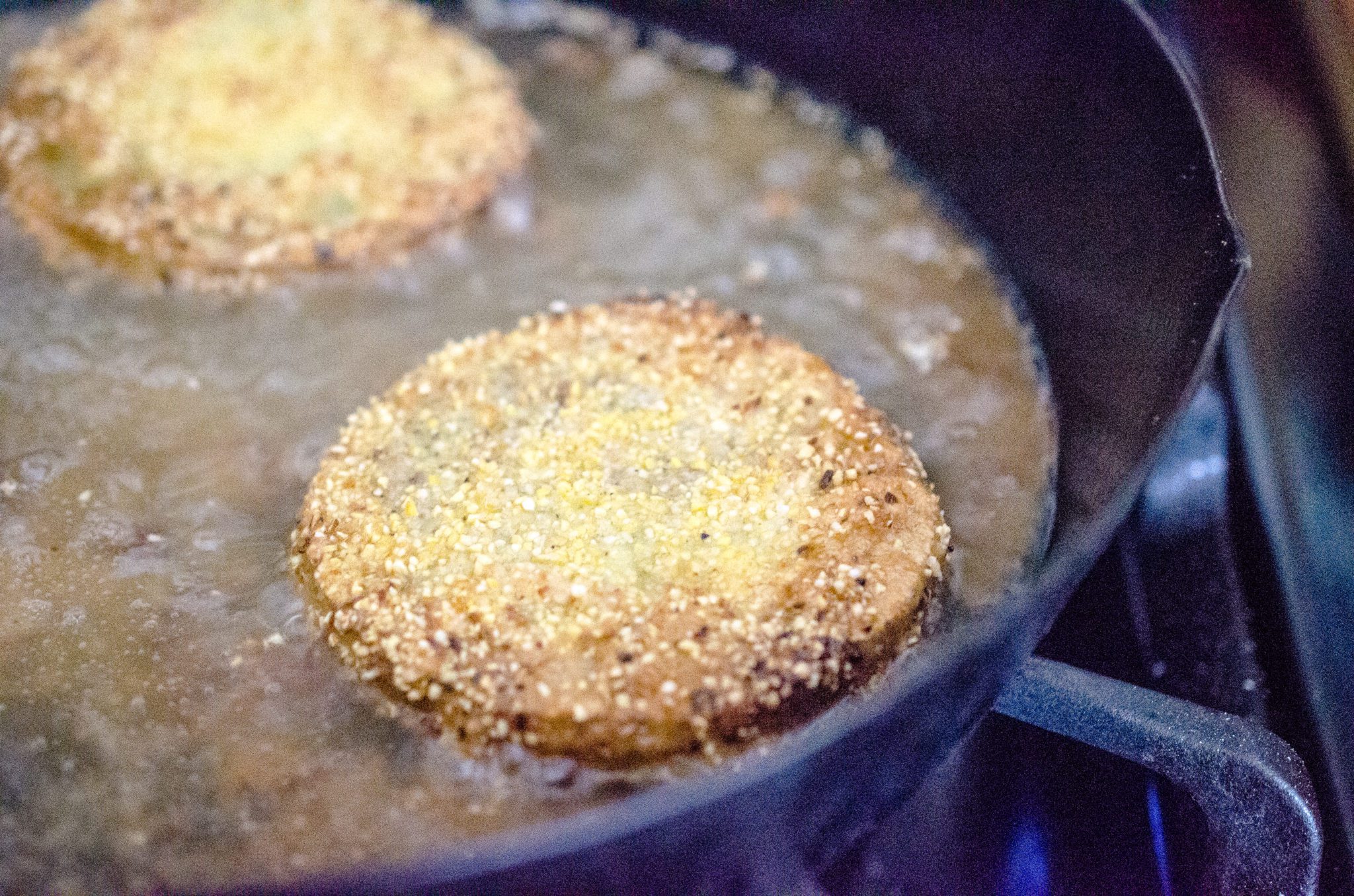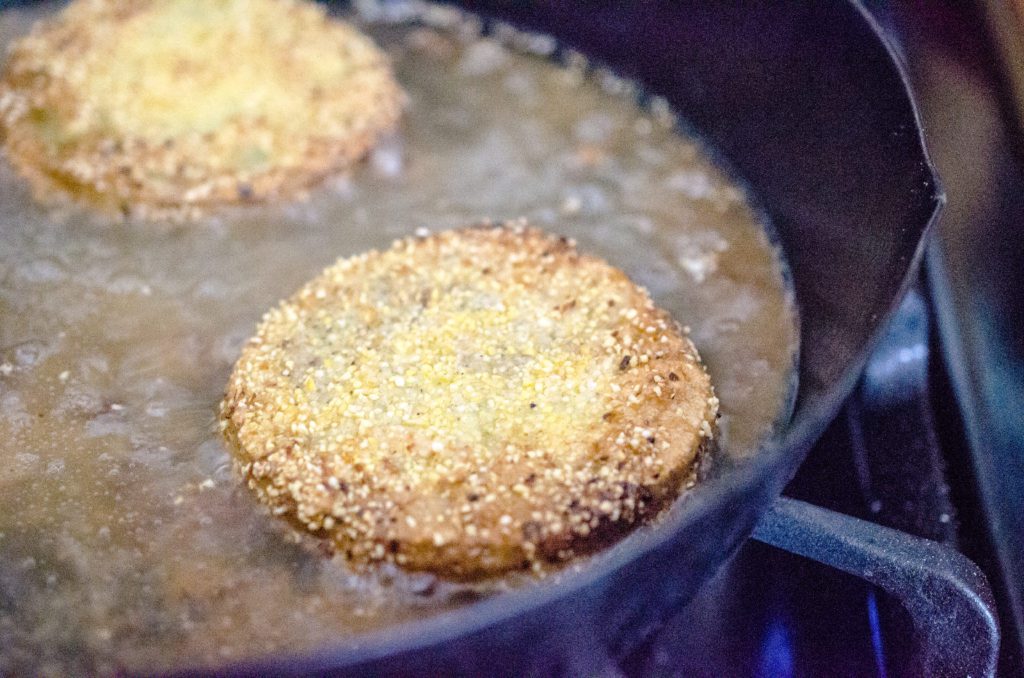 Fried Green Tomatoes
Ingredients
2

large eggs

lightly beaten

Coarse salt and freshly ground black pepper

3/4

cup

fine white or yellow cornmeal or a combination of both

3/4

cup

all-purpose flour

1

cup

peanut or canola oil

4 to 6

medium firm green tomatoes

cored and sliced 1/4 inch thick
Instructions
Break the eggs into a shallow bowl and season with salt and pepper. Combine the cornmeal and flour in a second shallow bowl and season with salt and pepper.

Line a plate with paper towels and set near the cooktop.

Heat the oil in a large skillet over medium heat. Working a few at a time, season the tomato slices lightly on both sides with salt and pepper. Dip the tomato slices into the egg mixture and shake off the excess. Place the dipped slices in the cornmeal mixture, sprinkle breading over, and press to adhere. Turn over and repeat to coat on both sides. Gently shake off the excess and place without crowding in the heated skillet.

Fry the tomato slices until they are golden on one side, about 3 minutes, then gently turn them with an offset spatula or metal turner and continue cooking until golden on the other side. Remove them to the prepared plate. Season with salt and pepper and serve immediately.
Please note that this post may contain affiliate links. (That means I make a commission if you use my affiliate link to buy the product.) 
If you are interested in hosting me for a speaking engagement, event, cooking class, or a book signing, let me know! Send an email to jona@virginiawillis.com and we'll be back in touch as soon as possible.
Please be nice. Unauthorized use and/or duplication is prohibited. All photos and content are copyright protected. If you wish to republish this recipe, please link back to this recipe on virginiawillis.com. Thanks so much!
Let's connect on Facebook, Twitter, Instagram, and Pinterest!

Please note that this post may contain affiliate links.