Please note that this post may contain affiliate links.

This recipe is so simple and quick! And, best of all during these trying times, it's flexible. I baked them three ways: immediately after assembling, straight out of the mixing bowl; scooped the dough into balls and chilled them before baking; and chilled the dough in the mixing bowl before scooping and baking, as well. All three baking techniques were a success! These buttery bites are also amenable to being rolled in various things or topped before baking.  Tender, buttery, and crisp all at the same time. No rolling or shaping into logs. These Easy Butter Cookies are the cookie you need in your go-to list of recipes.

Easy as 1-2-3
My neighbor asked about adding vanilla extract and sure, you could add extract, flavoring, spices, and citrus zest — but the real beauty is that this recipe is only three ingredients, can be whipped up in 5 minutes, and they bake for 10.  No rolling, punching, or shaping the dough into logs. It's a simple dump-and-stir dough that is scooped then baked. You can have warm cookies in less than 20 minutes.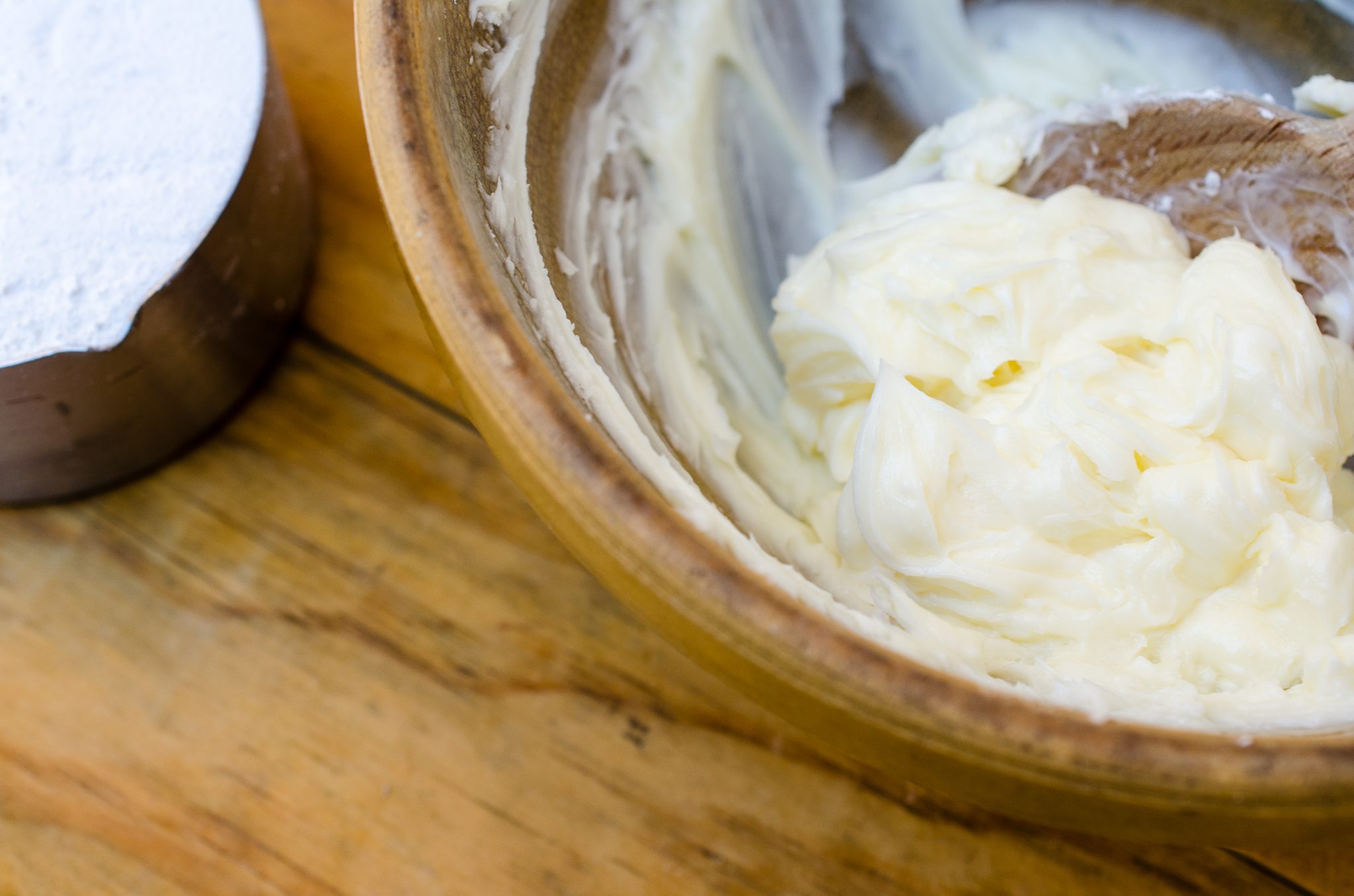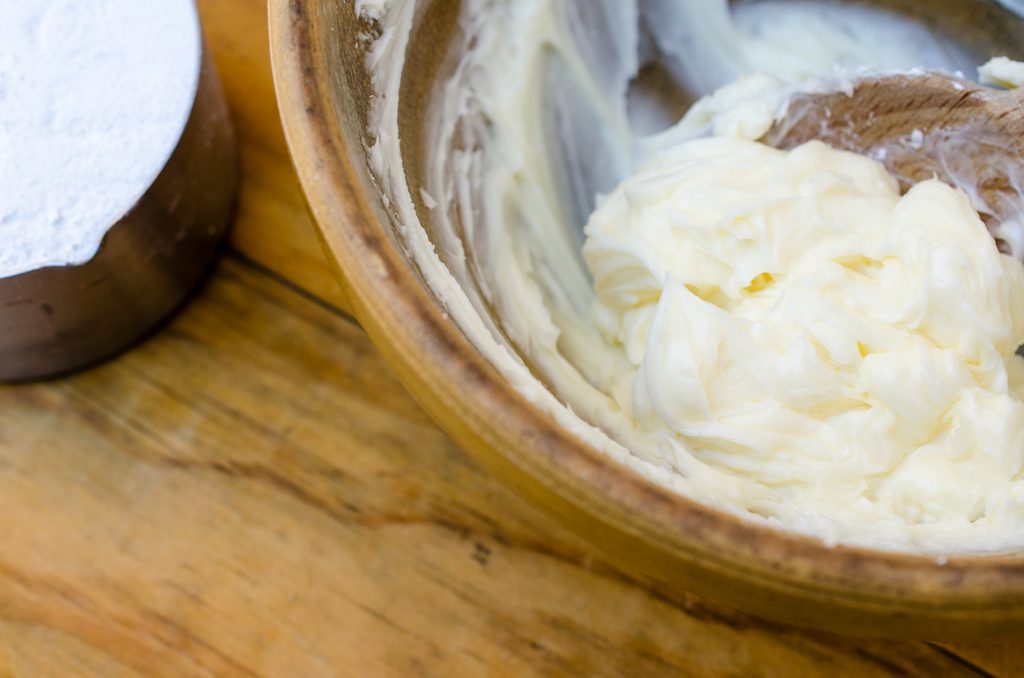 Why do Cookie Recipes call for Room Temperature Butter?
One key to being able to whip this recipe together is having the butter at room temperature. Why do some cookie and cake recipes call for room temperature butter? When you cream room-temperature butter with sugar the mixture becomes light and fluffy. The grains of sugar are forced through the butter, creating tiny pockets of air and giving the mixture more volume. In the heat of the oven, those tiny air bubbles expand. If the butter is too cold, the sugar can't create air bubbles. If it's too warm, the bubbles collapse. Room temperature butter creates a cakey texture; melted butter leads to a denser texture.
When I know I am baking later in the day I will remove the butter from the refrigerator in the morning while I am having my coffee. This simple step makes all the difference! Place it on a plate on the counter —  or in the microwave if you have a dog or a cat. It will be ready when you are ready to bake later in the day.
I tell you this because patience is a virtue and sadly, we're often not patient enough for a stick of cold butter to come to room temperature. So, you will try to microwave it, and that just doesn't work. You'll need pliable, soft butter for these cookies. I've seen suggestions for measuring the temperature of the with a thermometer. Granted, room temp in Georiga is different in July than room temp in Maine. This is science, but not rocket science. Don't overthink it. Want it to happen faster? Chop the butter into 1/2-inch cubes and it should come to room temperature in about 15 or 20 minutes.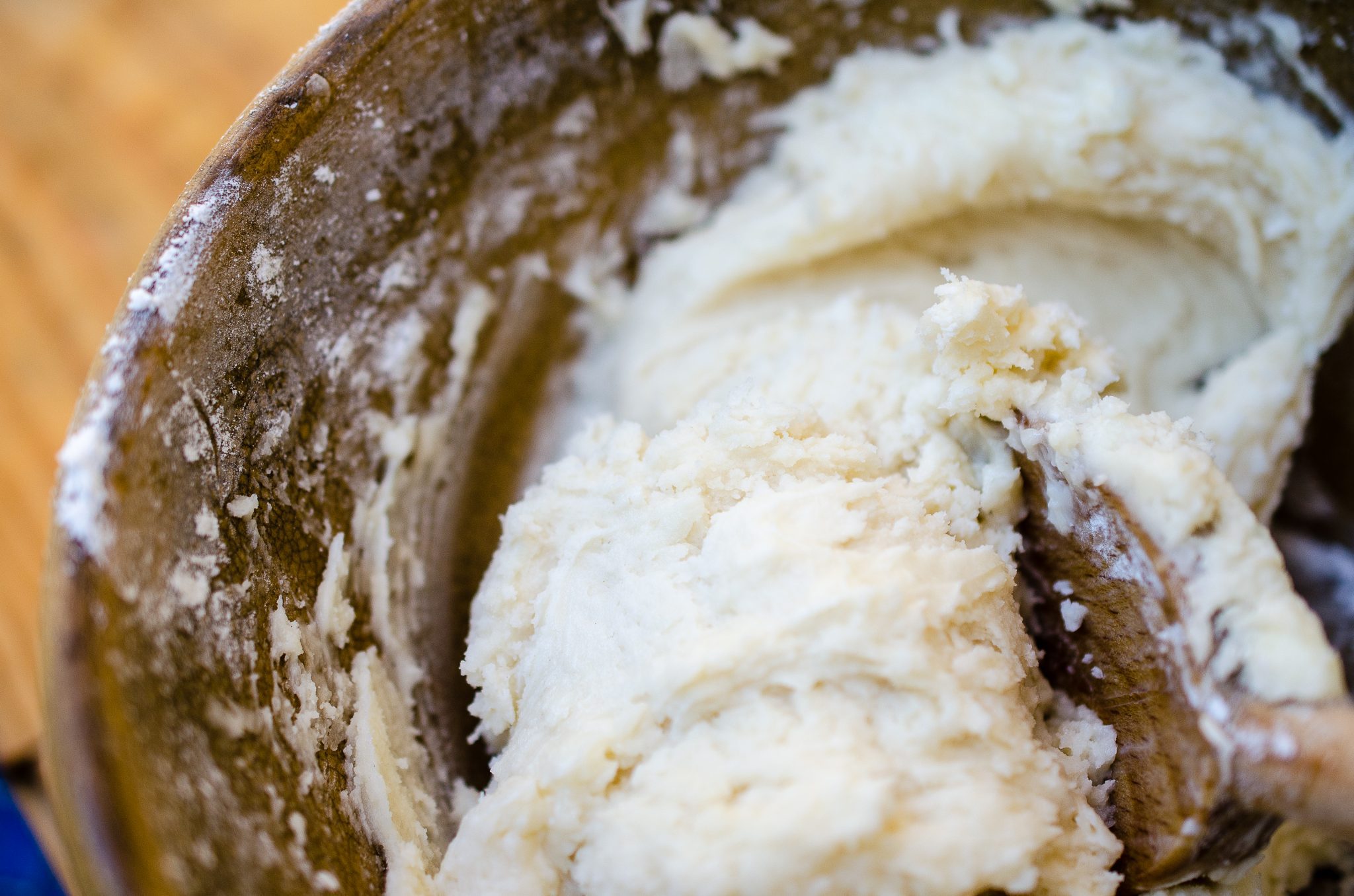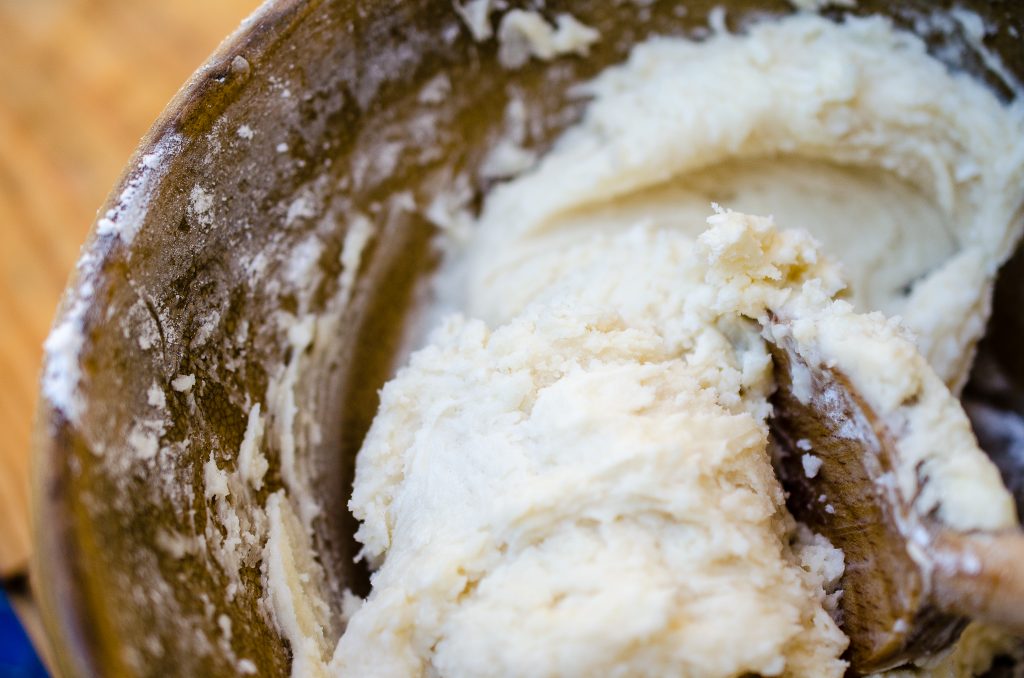 Cookie Recipes
As you can see, the comes together very easily and you don't need a mixer or a food processor. It's like an edible Play-Doh! I like using White Lily All-Purpose flour for these cookies. White Lily is a soft winter wheat flour and is closer to pastry flour that some of the national brands of all-purpose flour.
Wheat flour contains two proteins, glutenin and gliadin. As a result, when you combine flour with water, the proteins create a strong and elastic sheet called gluten. Flours vary in their protein levels, which affects the texture of baked goods. Gluten gives structure to yeast breads, but is not recommended for tender cakes, biscuits, and quick breads. Southern all-purpose flour is milled from soft red winter wheat that has less gluten-forming protein. It makes for an especially tender and delicate cookie. (Read more about flour and gluten here.) 

Roll Around in It
Elegant and simple, these Easy butter Cookies truly need no additions, but who doesn't like to accessorize? You've got options to dress them up. Try them rolled in various ingredients such as turbinado sugar, benne seeds from Anson Mills, chopped pecans, and funky and fun sugary bits like these country club sprinkles from the Yum Yum Smile Shop. The benne seeds were a bit hit! The butteriness of the cookie combined with the savory flavor of the benne seeds was a great combination.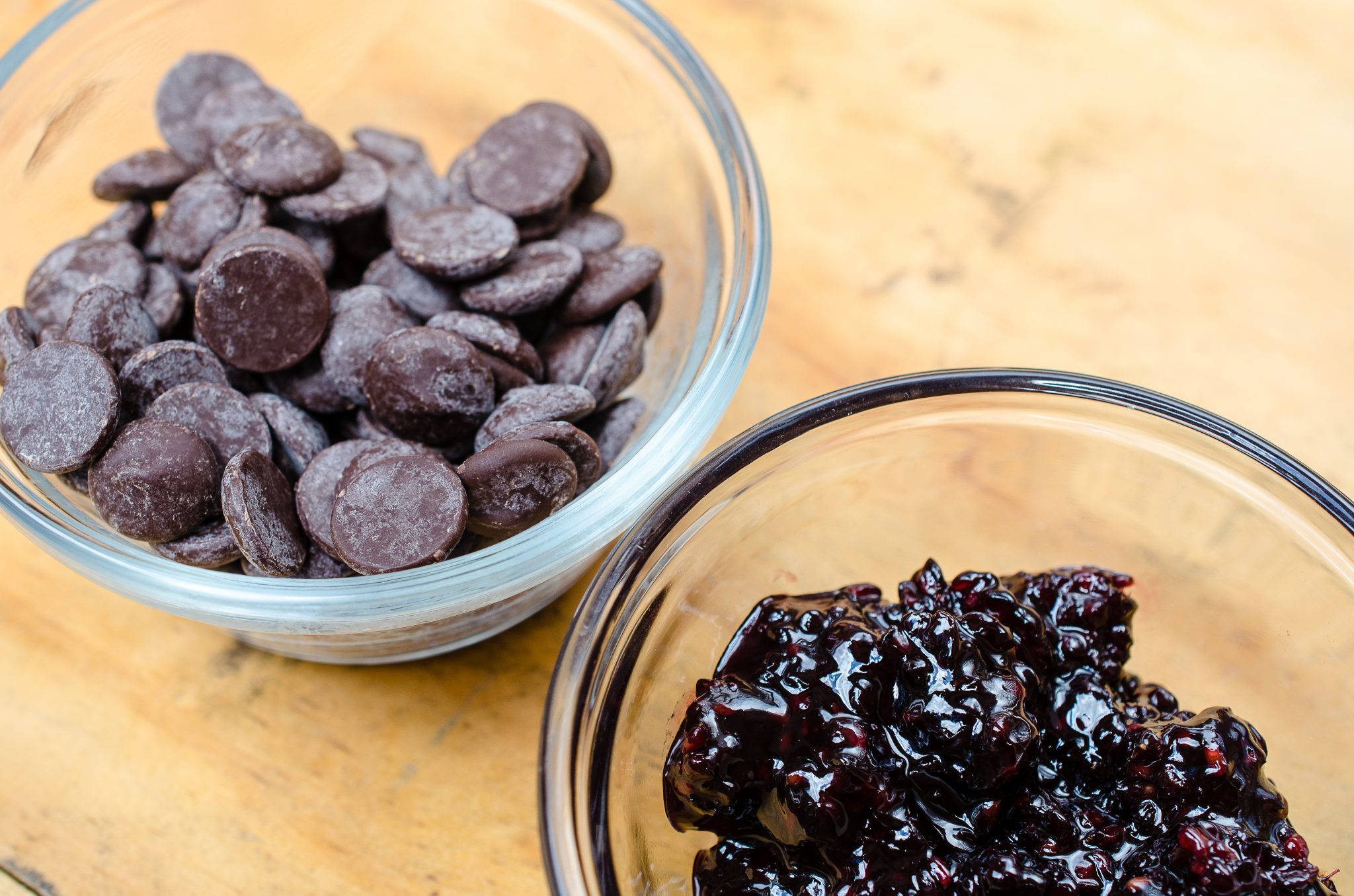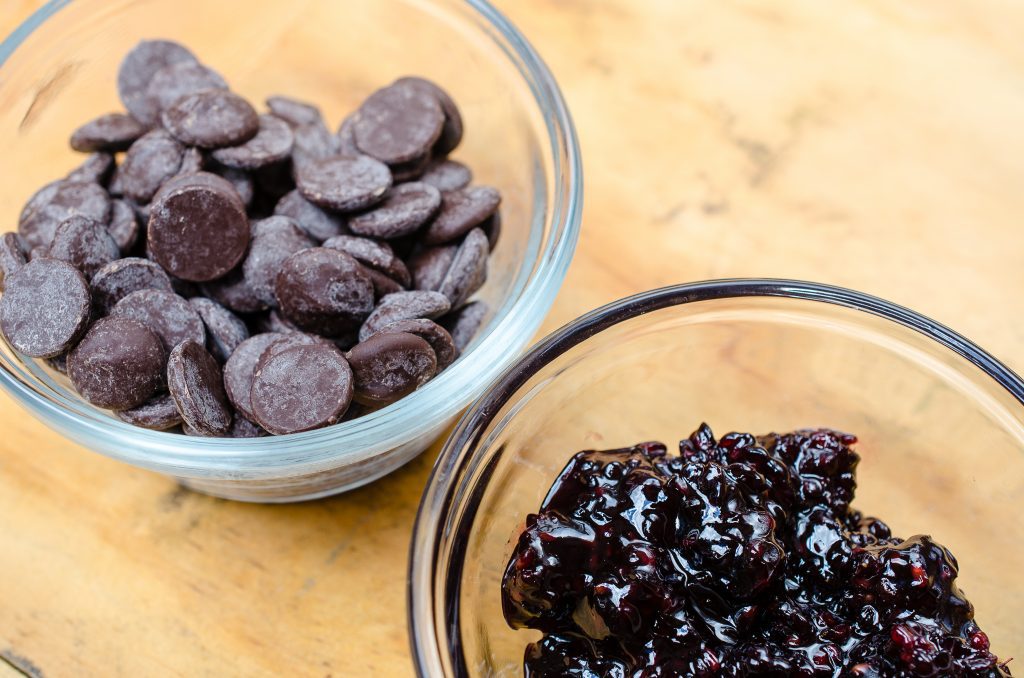 Top it Off
And, the dough can also be hand-studded with chocolate chips or made into thumbprint cookies with a dollop of jam. The recipe makes just about 20 tablespoon size cookies, so you can actually mix and match or put out a selection and let everyone create their own. Who doesn't like a cookie party?

Scoop 'em Up
One of my favorite baking tools is a stainless steel scoop aka ice cream scoop. I have them in sizes from 1-tablespoon to 1/2 cup. Using a scoop and measuring everything exactly is the key to consistency. If the cookies are all the same size they will bake at the same rate of speed. It's not solely about being hung up on the same size cookie. 😉

How to Make Flat Cookies
There's not enough sugar or fat in the dough for these cookies to spread too much. If you want a flat butter cookie, you will need to press the scoop of dough. Find a smooth, flat-bottomed glass in your cupboard. Depending on the temperature of the dough, you make want to use a splash of cold water or a "psst" of non-stick cooking spray to help prevent the cookie dough from sticking to the glass.
How to Make Butter Cookies
Round or flat, plain, rolled and coated, or topped these Easy Butter Cookies are certain to be a go-to recipe for you and your family. Thanks so much for reading! Stay safe and well.
Bon Appétit, Y'all
Virginia Willis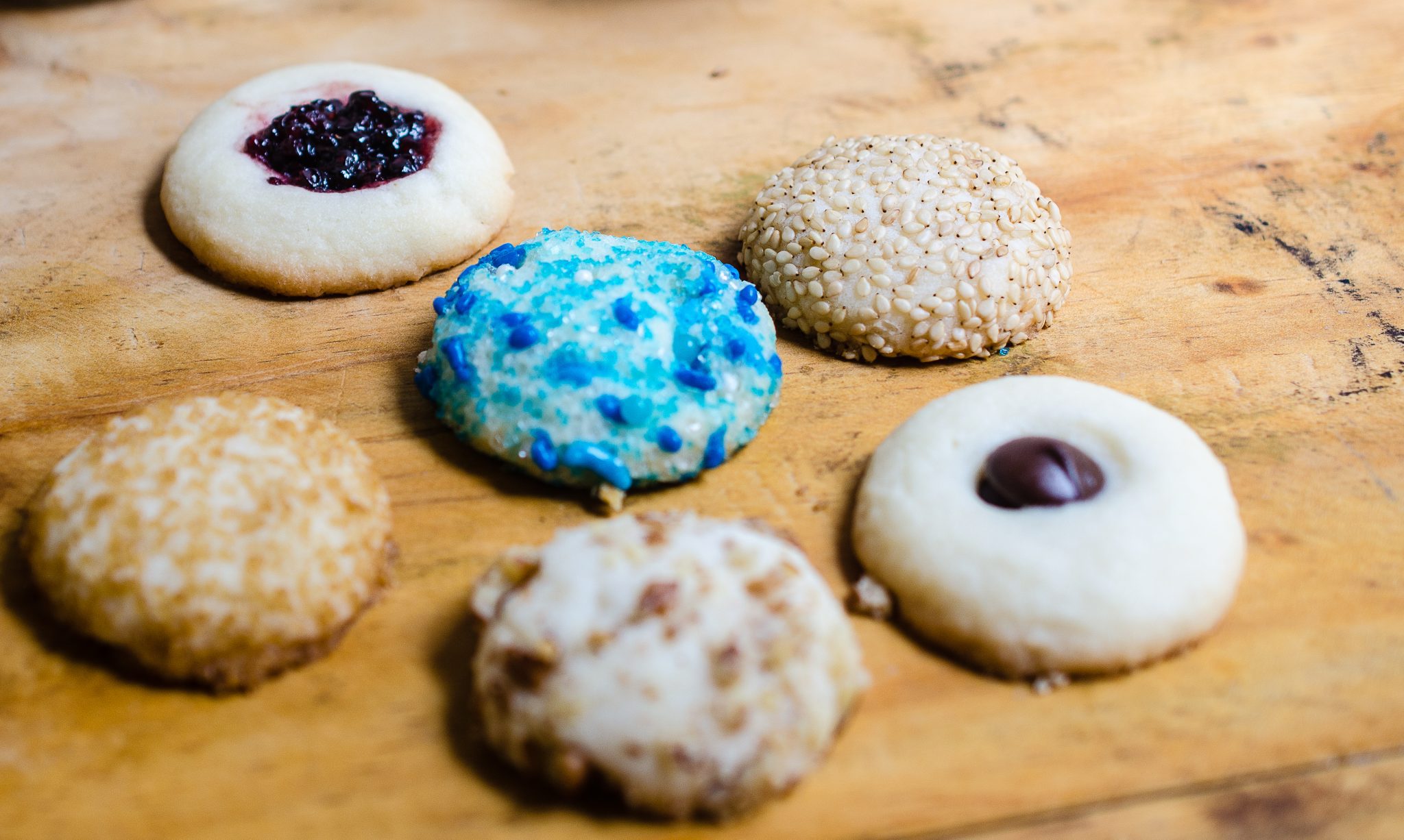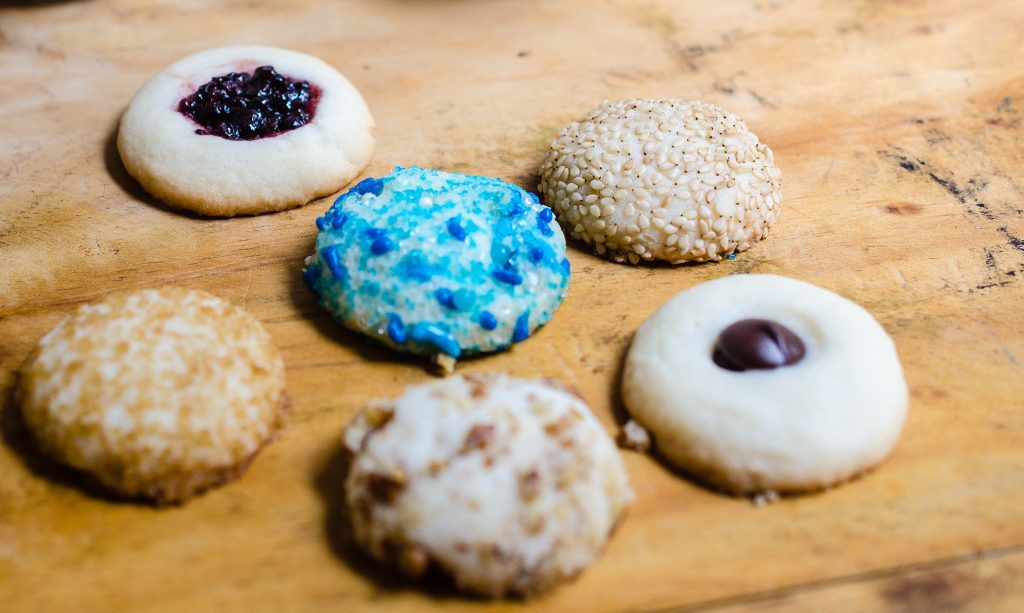 Easy Butter Cookies
Made with only three ingredients, this butter cookie is a breeze to make. And, it only makes about 20 cookies. Having said that, if you only want a few cookies - you can halve the recipe! It's as simple as simple can be.
Ingredients
1/2

cup

salted butter (8 tablespoons)

6

tablespoons

confectioner's sugar

1

cup

all-purpose flour
Instructions
Heat the oven to 350°F. Line two baking sheets with parchment paper or a non-stick silicone baking sheet. Place the butter in a bowl and stir with a wooden spoon until smooth and creamy. Add sugar and flour and stir to combine.

Using a 1-tablespoon measure or scoop, scoop the dough into onto the prepared baking sheet about 2-inches apart. Flatten, if desired. Top with add-ins, if desired. Bake until golden brown, about 10 minutes.
PS If you are interested in hosting me for an online speaking engagement, virtual event, or cooking class, let me know! Send an email to jona@virginiawillis.com and we'll be back in touch as soon as possible. 
Please be nice. Unauthorized use and/or duplication is prohibited. All photos and content are copyright protected. If you wish to republish this recipe, please link back to this recipe on virginiawillis.com. Thanks so much!
Let's connect on Facebook, Twitter, Instagram, and Pinterest!

Please note that this post may contain affiliate links.