Please note that this post may contain affiliate links.

 Cool as a Cucumber
Did you know that cucumbers are more than 90% water AND the phrase "cool as a cucumber" is a scientific fact! The inside temperature of a cucumber can be up to 20 degrees cooler than the outside air. I love cucumbers and will snack on them, especially during the summer. They are good and good for you! Cucumbers are low in calories and contain a good amount of water and soluble fiber, making them ideal for promoting hydration and aiding in weight loss or maintaining a healthy weight. They are available year-round from "somewhere else" or grown in a hothouse, but they are, like much other summer produce best at peak season. I love their crisp, juicy, and refreshing texture and grassy melon-like flavor.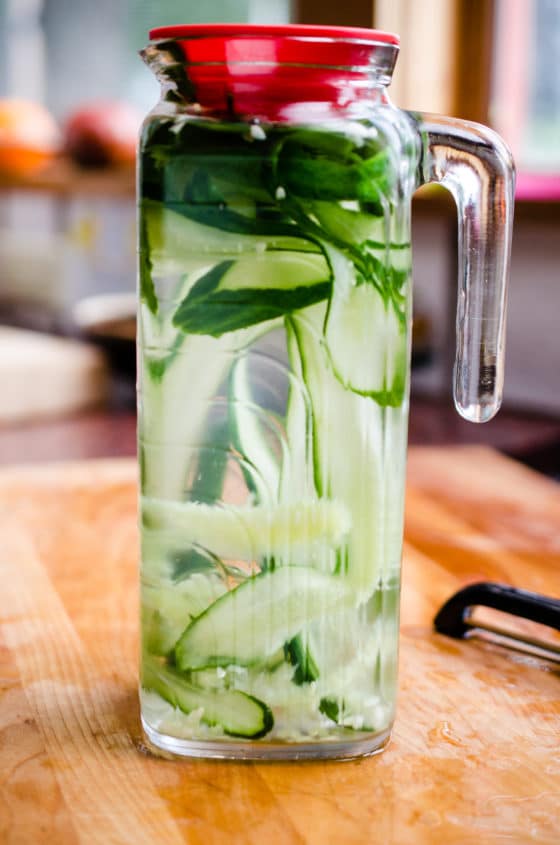 How to Seed a Cucumber
Frequently cucumbers are peeled because the rough outer skin can be difficult to chew and digest. However, most of the beneficial nutritional value of cucumbers is contained in the peel. The peels are rich in insoluble fiber, a type of fiber that sweeps through your digestive tract. So, leave the peel on to reap all of the benefits. However, if the skin is mildly tough or bitter, I might peel the cucumber in what I call "racing stripes," alternating between peeled and unpeeled. And, if it's really bitter, then I suggest peeling it completely.
Some cucumbers have robust, full seed channels. While it depends on the recipe usage, the seeds can add too much additional moisture if they're left intact and the seeds in large, mature cucumbers can be tough or bitter. To remove the seeds from a cucumber, cut the cucumber in half lengthwise. Place a spoon at one end of each half of the cucumber at the start of the seed channel. Press the spoon down gently into the seed channel, facing down. Pull it toward you to scoop out the seeds. Repeat as necessary to remove them all, but you can usually get all the seeds in just a few scoops.
I add the peels and seeds to a pitcher of water. It uses up every last bit, preventing food waste. And, cucumber water can help soothe your skin from the inside out. Staying hydrated helps your body to flush out toxins and maintain a healthy complexion. It tastes great — and you can pretend you're at the spa.

The Difference between Fruits and Vegetables
Cucumbers are actually related to melons and are one of those vegetables that we think are vegetables, but are actually a fruit. According to botanists, a fruit is the part of the plant that develops from a flower and contains the seeds. The other parts of plants are considered vegetables — including the stems, leaves, and roots. It's expected in a way because we're used to such trickery with fruit and vegetable terminology.
The following are technically fruits: avocado, beans, peas, cucumbers, grains, olives peppers, pumpkin, squash, and tomatoes. Vegetables include celery (stem), lettuce (leaves), cauliflower and broccoli (buds), and beets, carrots, and potatoes (roots). However, from a culinary standpoint, vegetables are usually less sweet, more savory, and usually served as part of the main dish or as a side dish. Fruits are sweeter and are most often served as a dessert.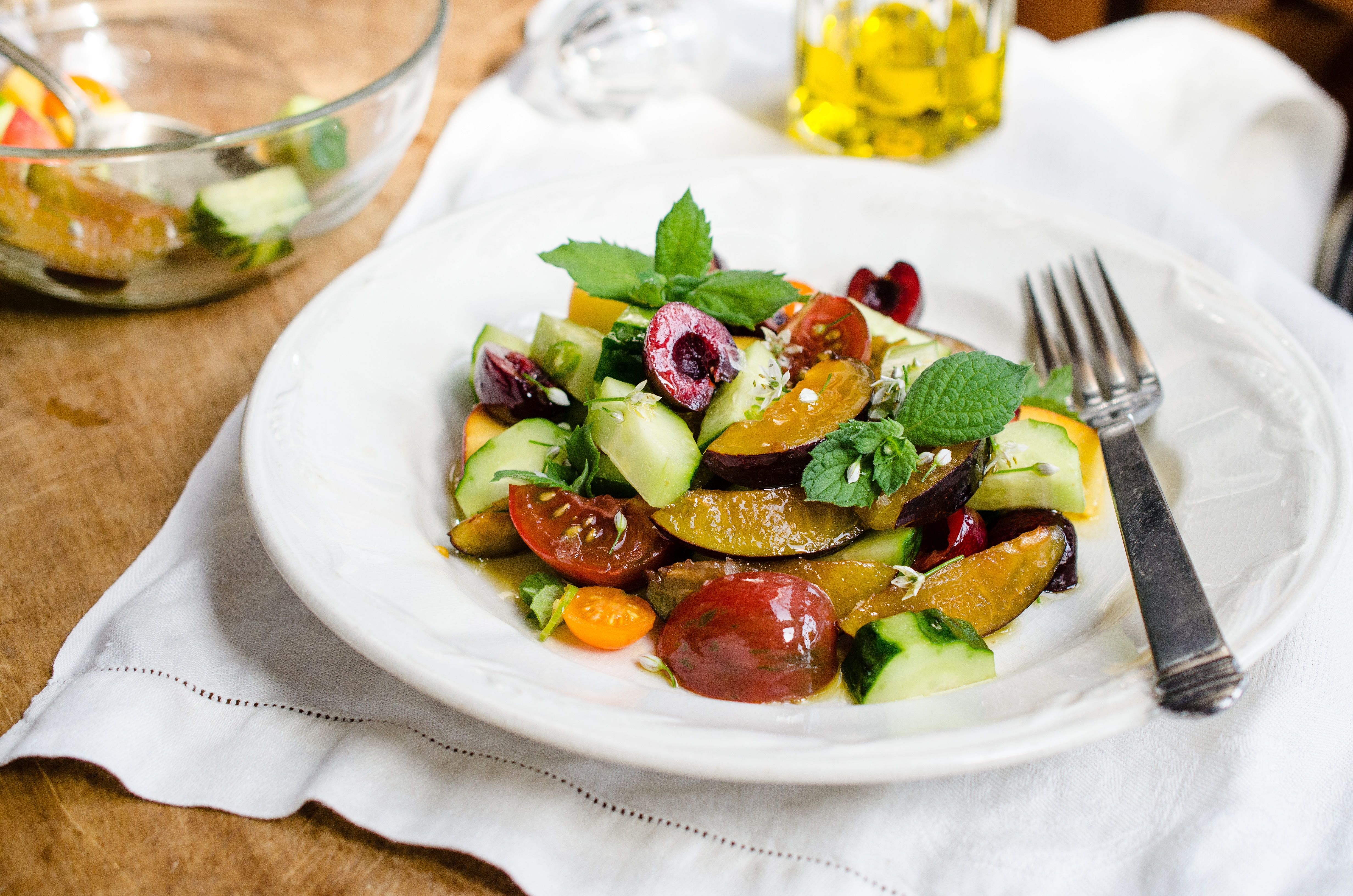 Cucumber Fruit Salad
This Cucumber Fruit Salad puts all those definitions in the salad spinner and really mixes things up!
Several years ago I was in Maine and enjoyed the most incredible summer salad with tomato, cucumber, and stone fruits by Chef Romann Dumorne at Northern Union in Ogunquit. It was amazing and absolutely bursting with flavor. And frankly, it was kinda weird and unexpected — and yet completely worked! I often said, "what grows together, goes together." I've taken his wonderful salad as inspiration and am sharing it with you here.
It's as simple as you can imagine. Pick up a selection of the freshest fruit you can find and chop it up into similar size bits along with a ripe, crisp cucumber or two and a handful of tomatoes. Toss it with a bit of best-quality extra-virgin olive oil, fine sea salt, and herbs such as mint, chives, and parsley. I also added just a tad of freshly sliced chili pepper to give the dish a subtle hint of sweet-heat. The fruit and oil co-mingle to make the juices of the salad and no additional dressing is required. I absolutely love it and am sure you will, too.
Bon Appétit Y'all! 
Virginia Willis
Cucumber Fruit Salad
Ingredients
2

cucumbers

seeded and diced

1

peach

pitted and diced

2

plums

pitted and diced

2

small tomatoes

quartered

1

handful cherries

pitted and halved

1

handful cherry tomatoes

halved

¼

chile pepper

very thinly sliced, or to taste

2

tablespoons

extra-virgin olive oil

or to taste

2

tablespoons

freshly picked herbs such as mint

chives, and parsley

Best quality sea salt and freshly ground black pepper
Instructions
Combine the cucumber, peaches, plums, cherries, tomatoes, and chile pepper. Drizzle over the olive oil and season with salt and pepper. Spoon onto a serving plate and garnish with herbs. Serve immediately.
If you are interested in hosting me for a speaking engagement, event, cooking class, or a book signing, let me know! Send an email to jona@virginiawillis.com and we'll be back in touch as soon as possible.
Please be nice. Unauthorized use and/or duplication is prohibited. All photos and content are copyright protected. If you wish to republish this recipe, please link back to this recipe on virginiawillis.com. Thanks so much!
Let's connect on Facebook , Twitter, Instagram, and Pinterest!

Please note that this post may contain affiliate links.