Please note that this post may contain affiliate links.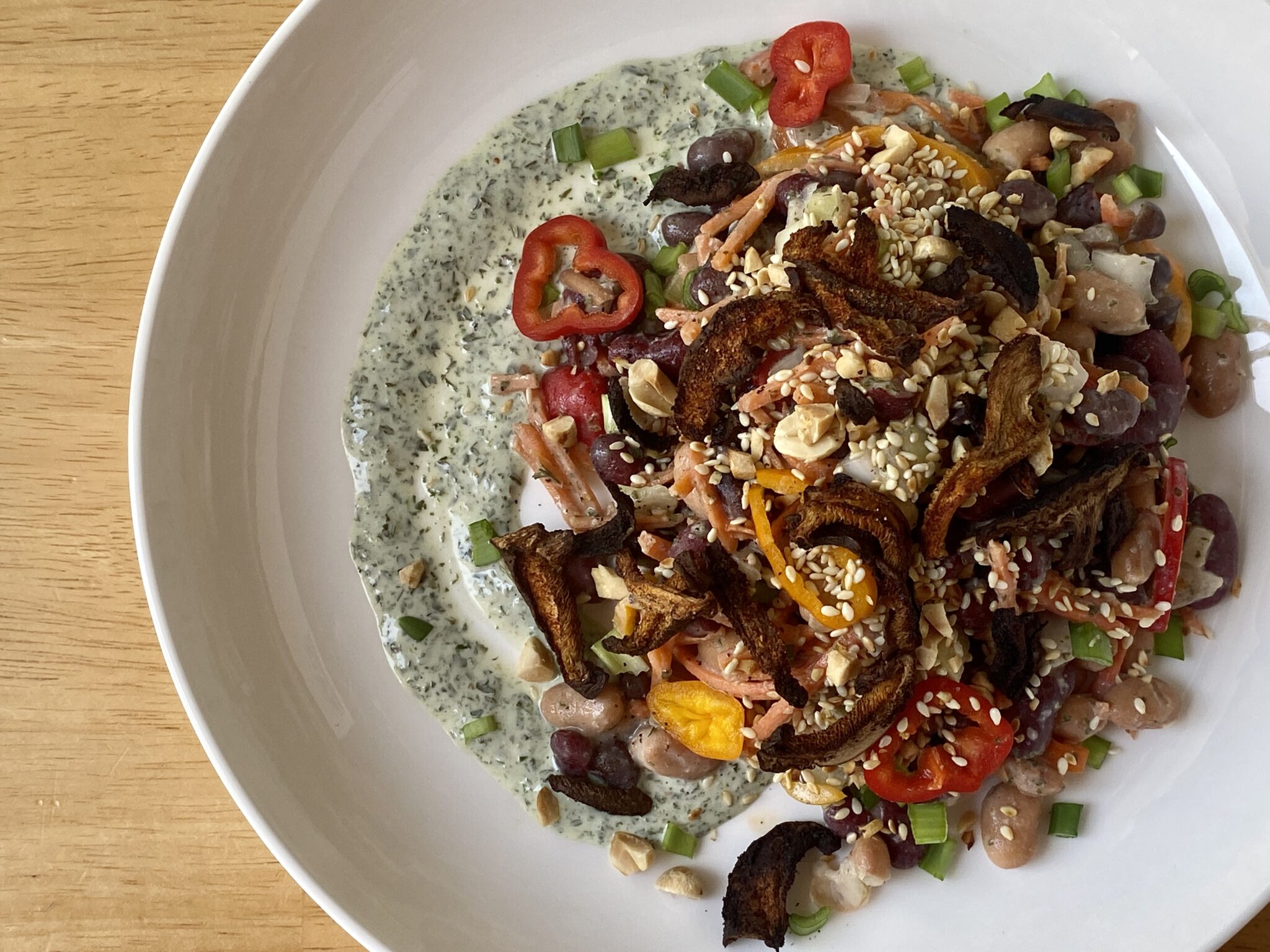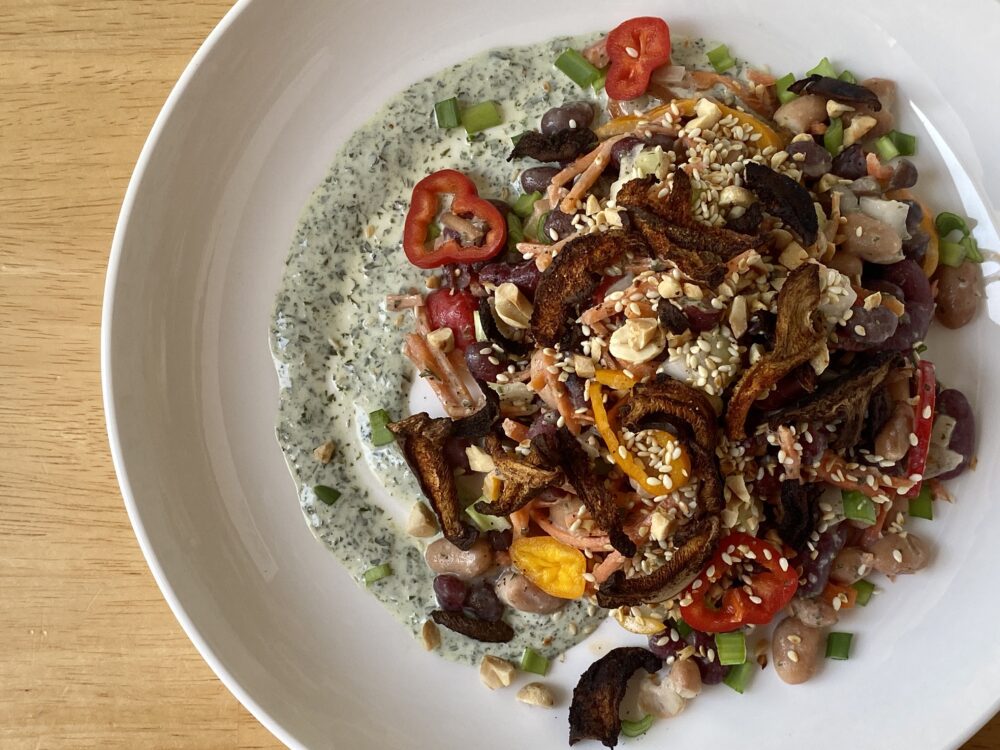 Mixed Bean Glow Bowl sounds a lot sassier than Three Bean Salad, doesn't it? Retro Three Bean Salads are often a soggy bowl of limp, canned snap beans swimming in a semi-pungent sugary dressing. It's far more lunchroom than luminating. So, what the heck is a glow bowl? It's a bowl loaded with good and good-for-you beans, herbs, nuts, seeds, and colorful veggies.
Glow bowls are filling and bursting with flavor! They're what I call "hidden healthy" — good you don't even know it. And, you can feel virtuous even if you have a second helping. Read on for the recipe for my Mixed Bean Glow Bowl with Herb Yogurt Dressing and Peanut Dukkah.

Healthy Glow
Canned green beans are a part of my childhood. My grandfather always had an enormous garden with rows upon rows of green beans. He and my grandmother would process the harvest in mason jars for the family to enjoy throughout the year. While I love crisp, fresh green beans undoubtedly there's a special place in my heart and stomach for old-fashioned canned beans slow-cooked with bacon. Nonetheless, I am not a big fan for use a salad.
Enter canned beans. Beans have been shown to have an important role in preventing illnesses such as cancer, diabetes and heart disease. They are a low-fat source of protein, with high fiber content and low glycemic index. And they contain both soluble and insoluble fibers. The former helps to decrease blood cholesterol levels and control blood sugar levels; the latter helps with digestion and gut regularity. Think of it as an inner glow!
While I prefer cooking with dried beans, having a few cans of beans in the pantry is always a great idea. Not only do they make a tasty, hearty, and nutritious Mixed Bean Glow Bowl, but they are also easy on the pocketbook, too. I find that being supplied with good and healthy ingredients allows me to more easily cook good and healthy dishes.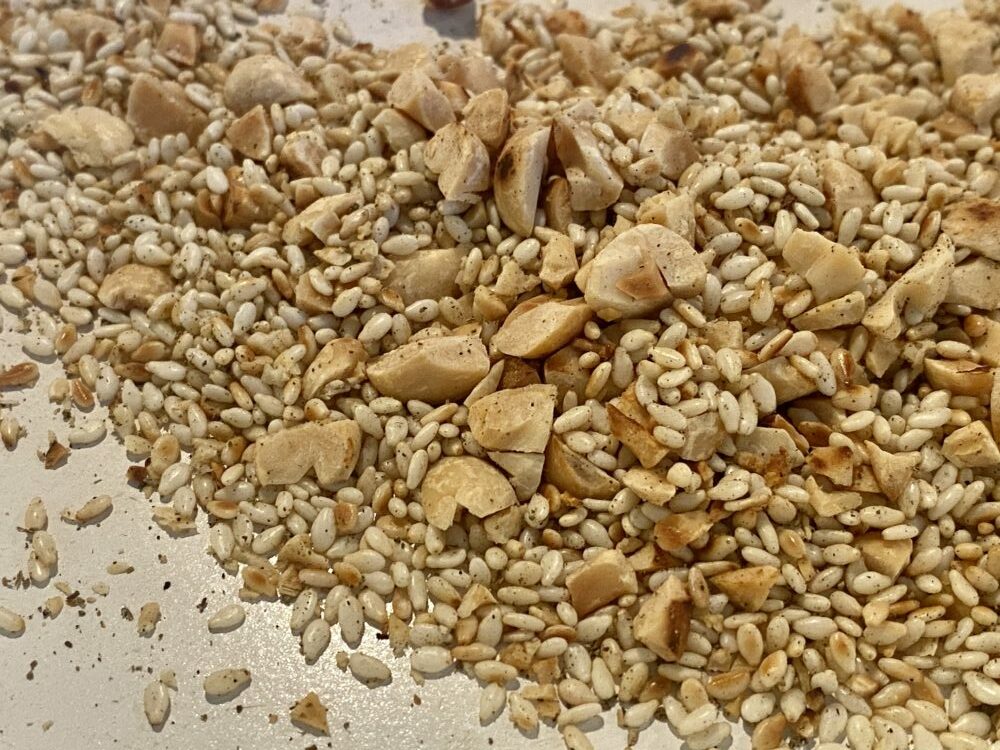 What is Dukkah?
Dukkah is a Middle Eastern spice blend. Spices, seeds, and nuts are ground to a coarse powder. The flavor of dukkah varies depending on the types of nuts and spices in your blend, but dukkah should always have a crunchy texture. Many different kinds of nuts may be used including the more traditional almonds and hazelnuts. Dukkah is not typically spicy hot but warm with fragrant spices and buttery rich from the chopped toasted nuts and seeds. Seeds and nuts are highly nutritious with fiber, protein, and healthy fats. This version is stream-lined a bit as I am using pre-ground spices. Dukkah is fantastic as a topping for vegetables and salads. Health benefits aside, you'll want to sprinkle over just about everything! Make a batch and store it in the fridge.
Peanuts are a go-to in my kitchen.  Foods with a lot of protein can help you feel full with fewer calories. And among nuts, peanuts are second only to almonds when it comes to protein. According to WebMD, studies have shown that people who include a moderate amount of peanuts in their diet will not gain weight from peanuts. In fact, peanuts could help them lose weight! And, peanuts help prevent heart disease by lowering cholesterol levels and can reduce your risk of having a heart attack or stroke.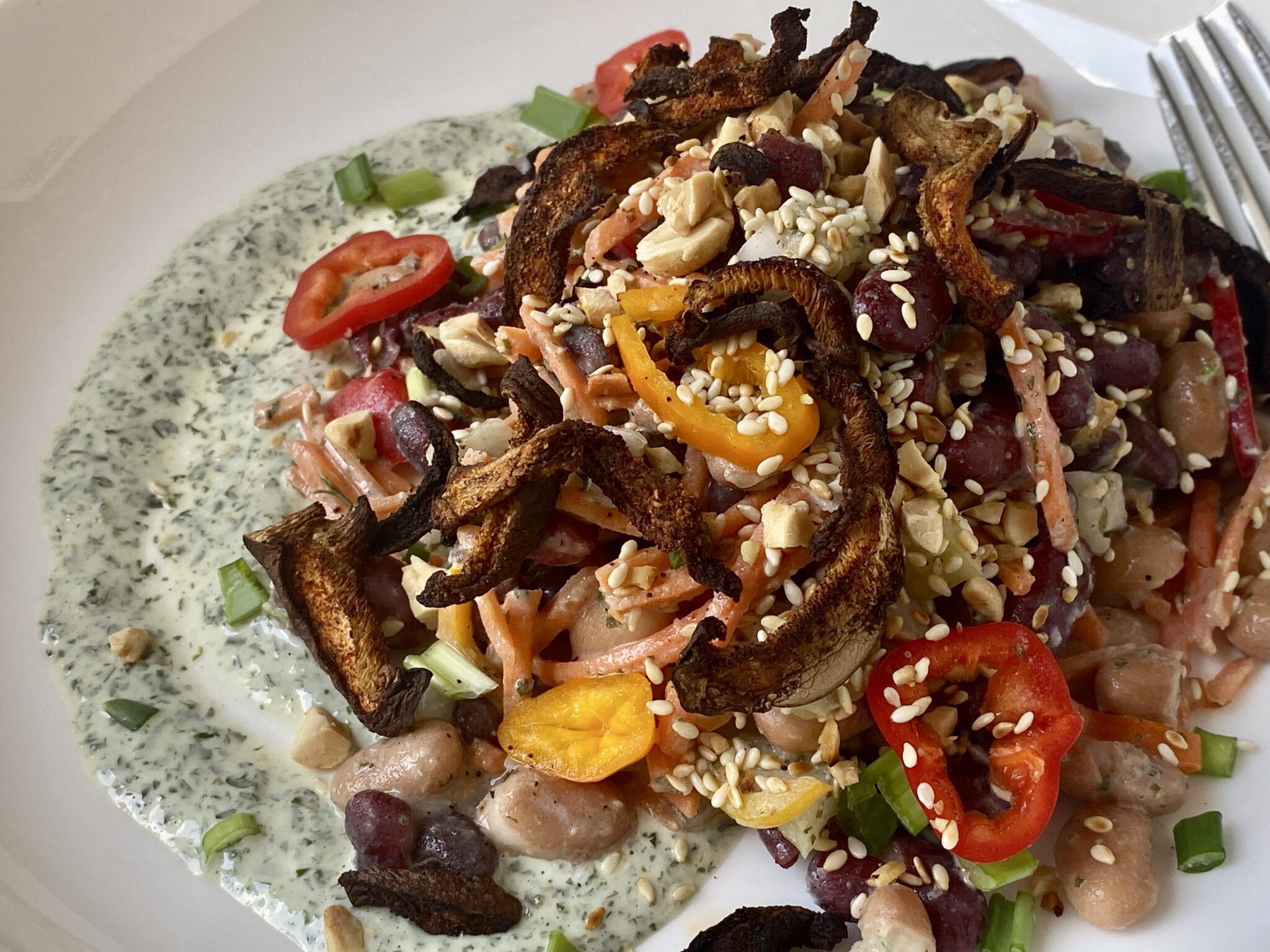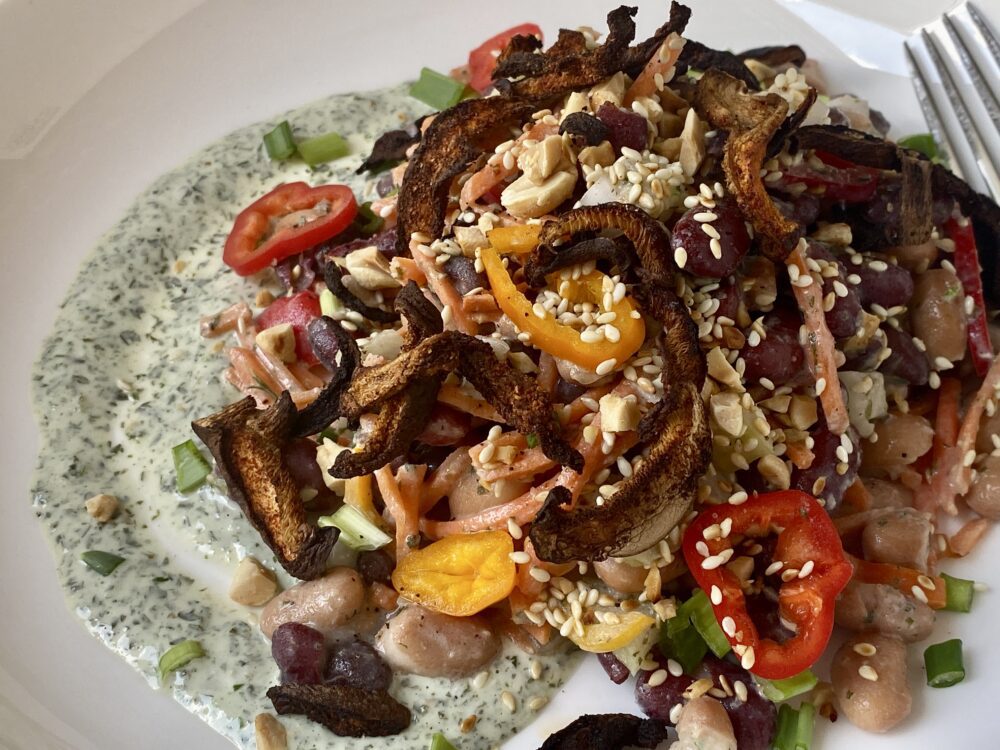 How to Make Healthy Homemade Creamy Salad Dressing
Yes, it can be done. And it can be done better and cheaper than what you can buy. My Herb Yogurt Dressing is a modernized Green Goddess that eliminates the oil, uses reduced-fat mayo, and contains a heaping dollop of yogurt for creaminess.
Salad dressings are one of the most expensive items in the grocery store. Think about it, my favorite bottle of store-bought dressing is Bolthouse Farms® Classic Ranch Yogurt Dressing at $4 for 12 ounces. Granted, I do love having a bottle of store-bought dressing at the ready because I don't always have the time or energy to make it from scratch. However,  that works out to be $42.67 a GALLON for Ranch Dressing. And you thought gas was expensive!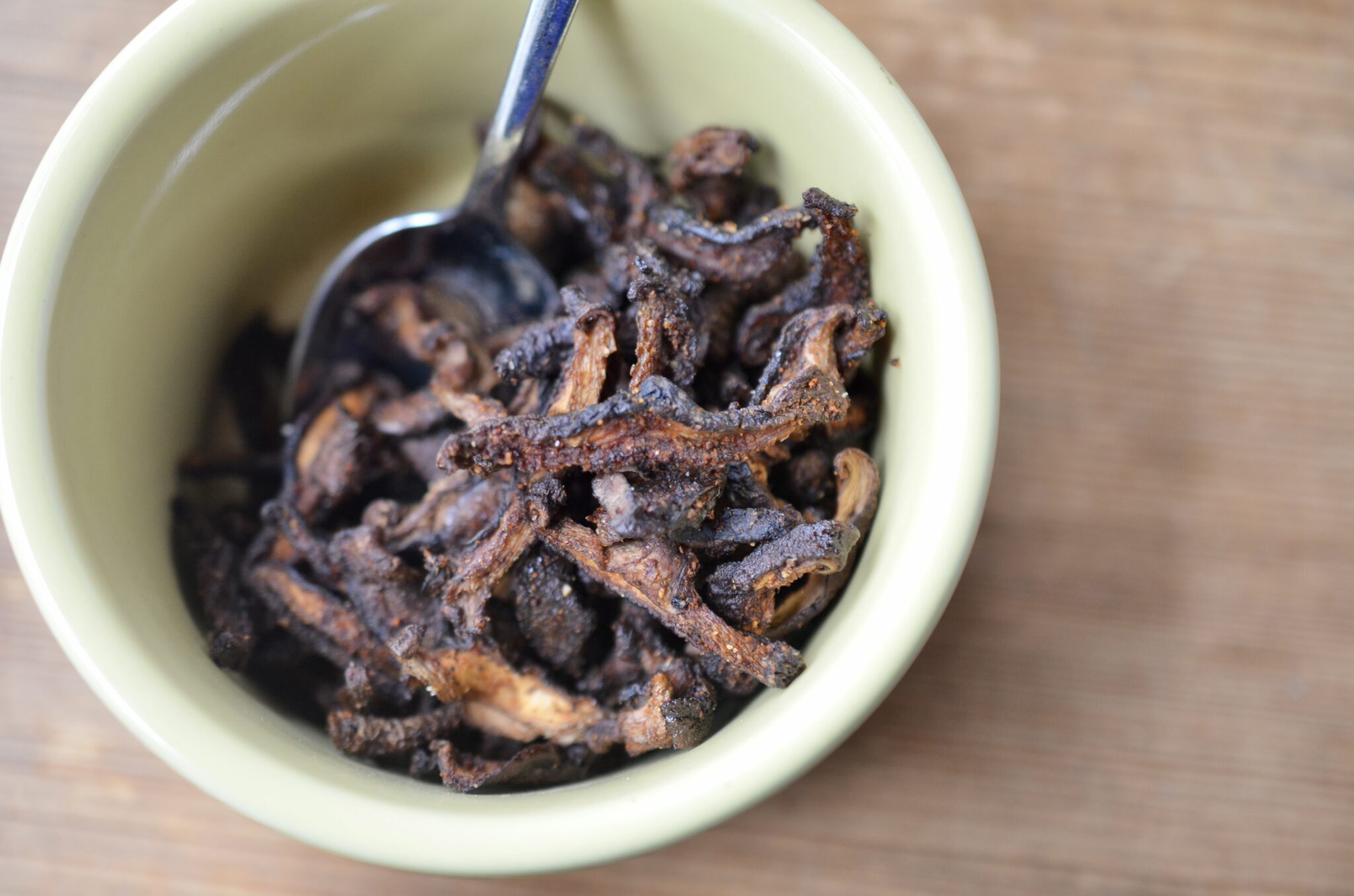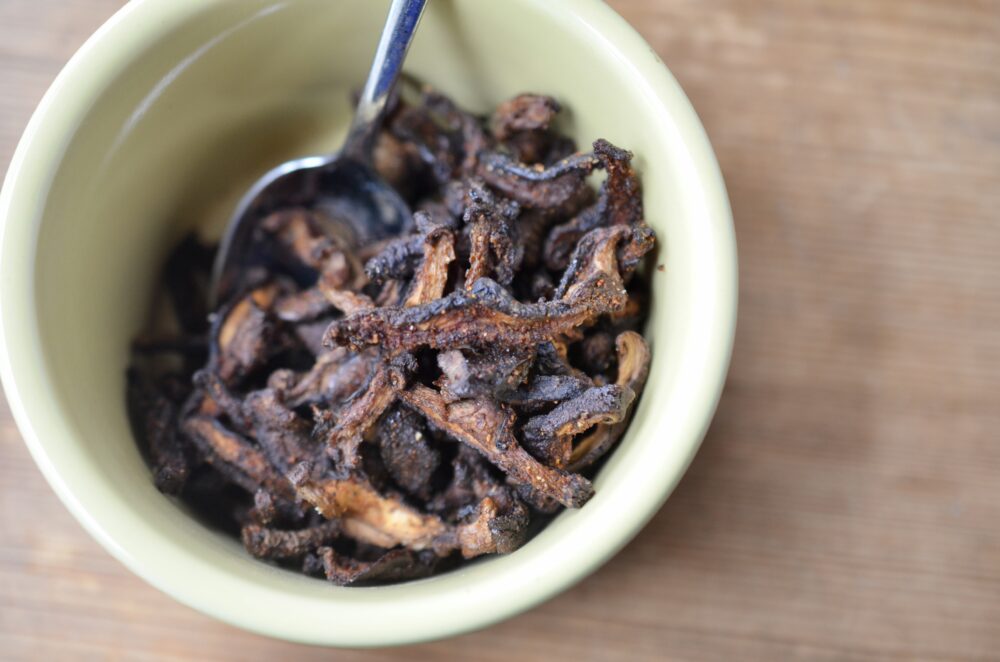 Shiitake Bacon
Nope, this isn't bacon. But it is salty, smoky, and crunchy like crisply fried bacon — and the name gets people's attention. It's a great plant-based swap. You'll notice I didn't use the word replacement or substitute. Really, what could replace bacon? Instead of considering this shiitake bacon an inferior replacement by default simply because it's more healthy and vegan isn't really fair to real bacon or shiitake bacon. Shiitake bacon stands on its own!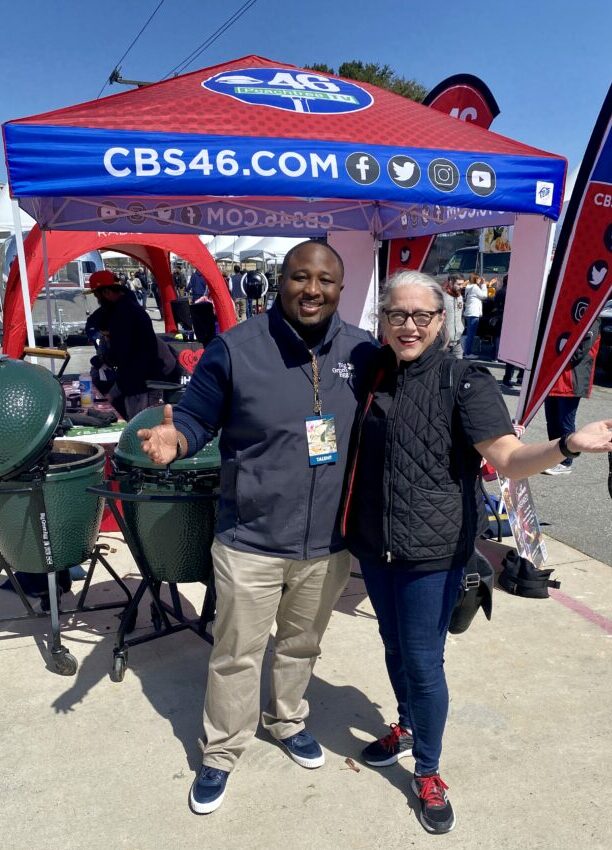 Point it Out!
Recently I demonstrated this recipe at the Georgia Food + Wine Festival. It was a great success. I love it and hope you do, too! Thanks so much for reading! For those of you new to the blog, this recipe has a few more components than most of my posts — but that is because I was "cheffing it up." 😉
In terms of WW points if you are a follower of the points program, according to my plan,  the beans, vegetables, and shiitake bacon are 2 points per serving if you use the full amount of oil in the beans. The dressing comes in at about 1 point a tablespoon. Finally, the dukkah is about 1 point a tablespoon, too. This all equals about 4 points a serving! Yay us!
Bon Appétit, Y'all
Virginia Willis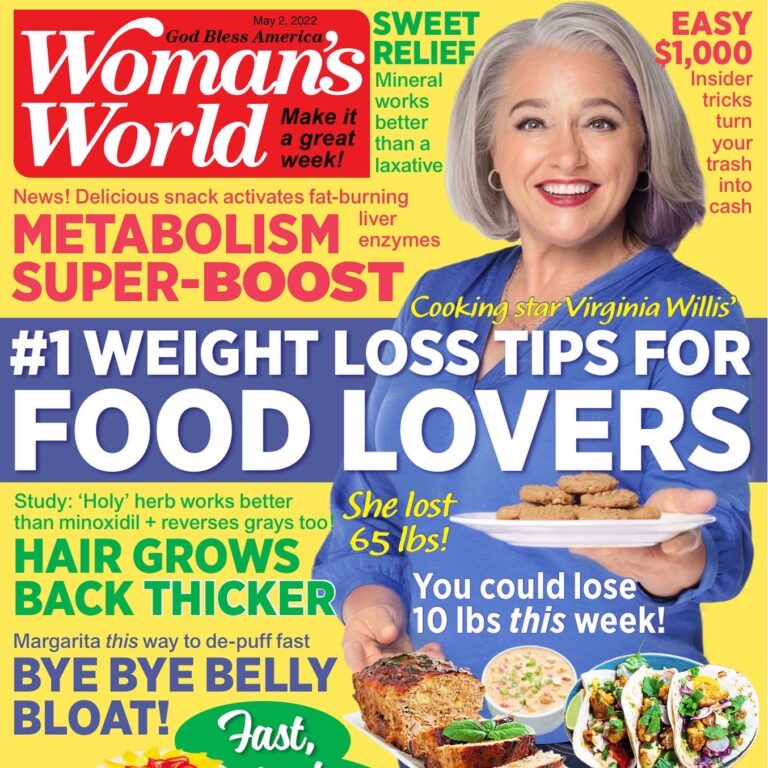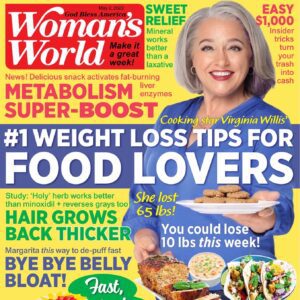 PS. For those of you that missed it, I was featured in Woman's World Magazine last week! Thrilled to share my health journey and weight loss story with so many people.
I have one thing to say, "If a post-menopausal French-trained Southern chef can lose 65# and keep it off then you can, too!
It's been AMAZING to hear from SO many of you!! Thank you so much for your support!  I am more than happy to be your cheerleader! My health journey has changed my life so much for the better. If you had told me I would feel this good, I would not have believed you.
Last little bit — don't get overwhelmed and quit before you start. 😉 OF COURSE, YOU WILL BE OVERWHELMED. It's okay. You can do it!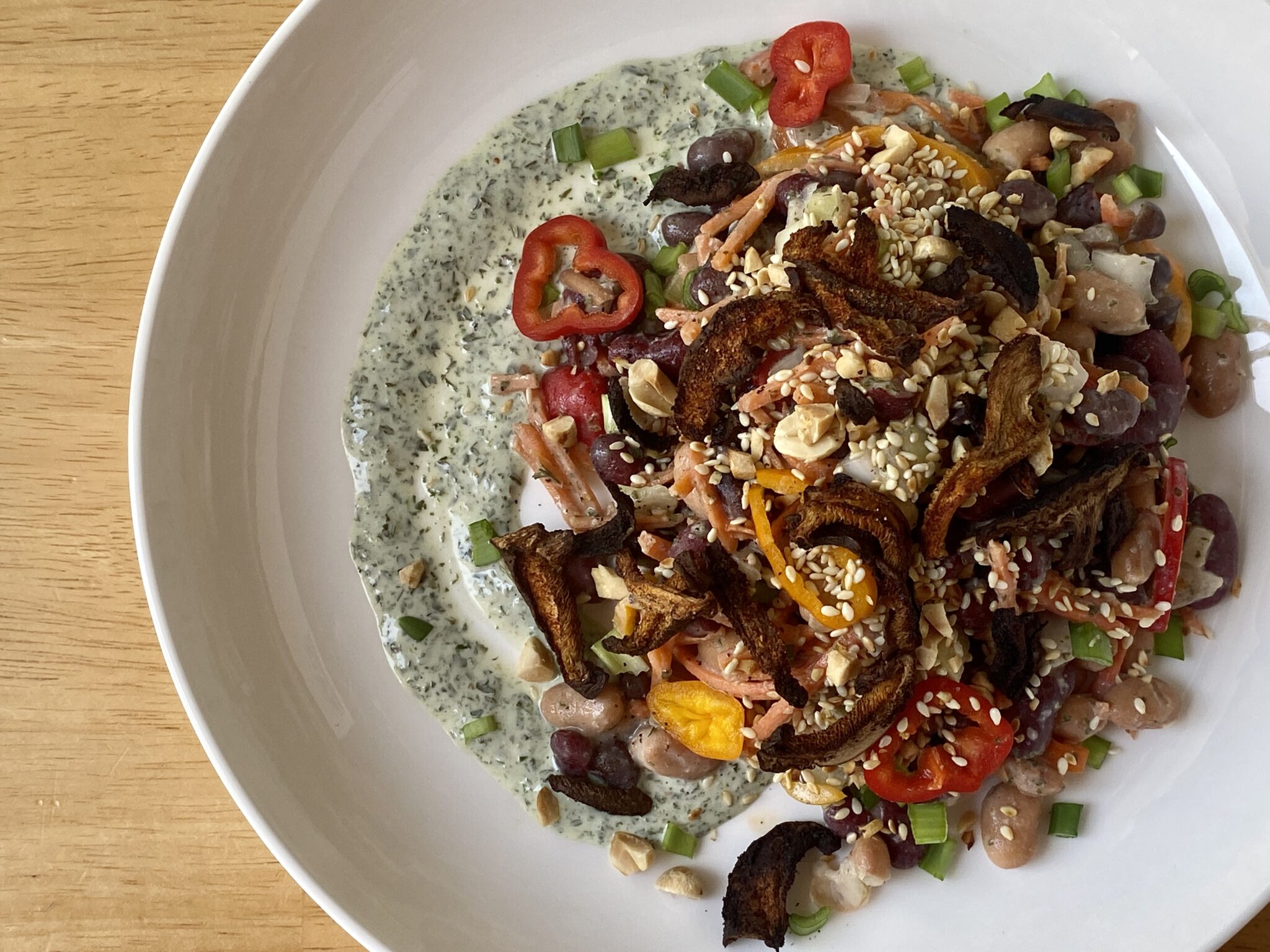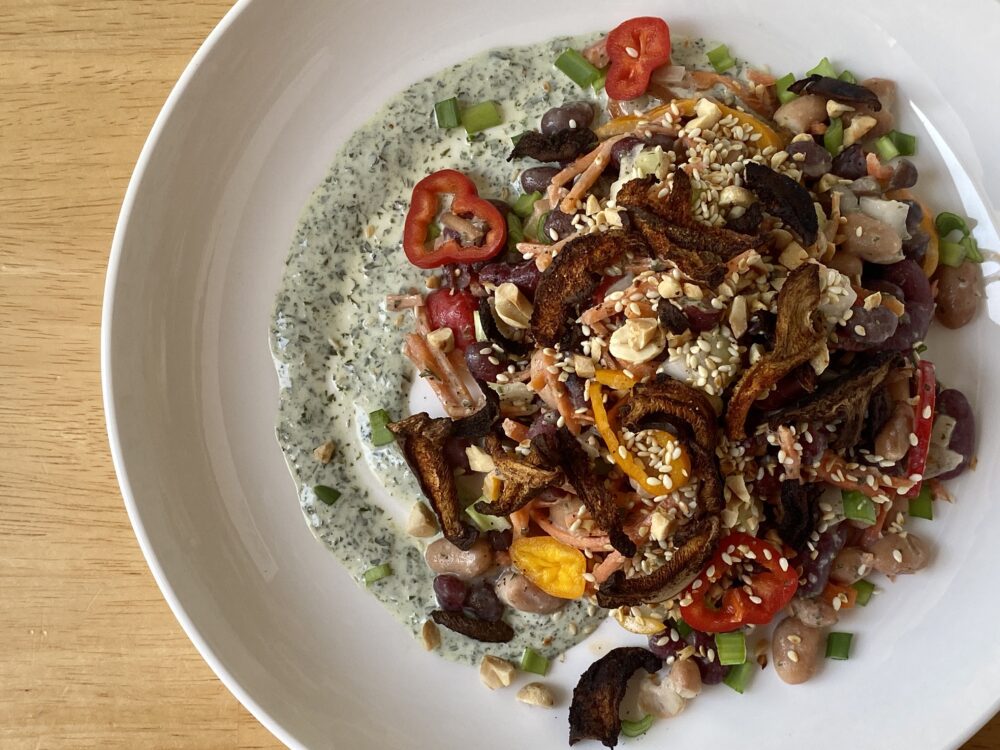 If you try this recipe, please let me know! Leave a comment, rate it, and don't forget to tag a photo #virginiawillis on Instagram.
Heads up! I am not a doctor, RD, or health professional nor am I an official WW ambassador or representative. I am simply sharing what works for me. Thanks for reading!
If you are interested in hosting me for a speaking engagement, event, cooking class, or a book signing, let me know! Send an email to jona@virginiawillis.com and we'll be back in touch as soon as possible.
Please note that this post may contain affiliate links and I may make a commission if you use my affiliate link to buy the product.
Please be nice. Unauthorized use and/or duplication is prohibited. All photos and content are copyright protected. If you wish to republish this recipe, please link back to this recipe on virginiawillis.com. Thanks so much!

Please note that this post may contain affiliate links.