Please note that this post may contain affiliate links.

Fresh from the Garden
A garden-ripe, fresh tomato is the absolute ultimate in summer produce. Out of season tomatoes are flavorless rock-hard orbs shipped from some other hemisphere. Out of season tomatoes are nothing if not a pure disappointment. In season, tomatoes are bursting with flavor, juicy and luscious. Fresh tomatoes are only ever good in summer. There is nothing as wonderful as the full, rich, almost wine-like flavor of a vine ripe tomato. So, when it's tomato season, I heartily endorse eating those glorious ripe ones as often as possible.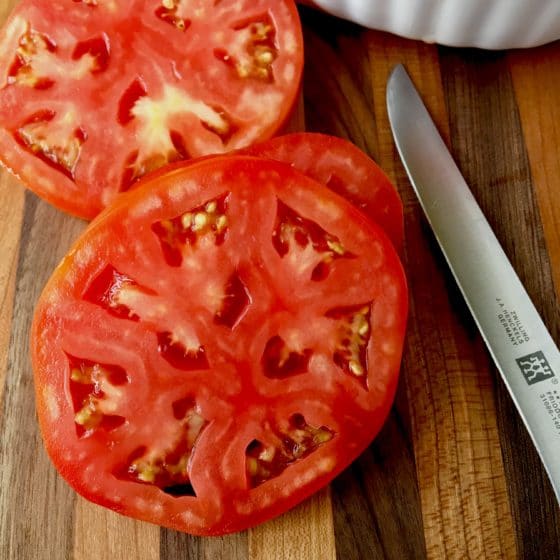 Tomato Sandwich
There's not a gardener that hasn't been tempted to devour one fresh off the vine, still warm from the hot summer sun. Southerners for generations have basked in the spell-binding glory of a Tomato Sandwich, the magnificent sum that is far grander than its simple parts of cheap squishy white bread that sticks to the roof of your mouth, sliced beefsteak, and mayonnaise. (BTW I am convinced tomato sandwiches are served as a welcome snack at the Pearly Gates — or at least the Southern entrance.) Salads made of thickly sliced tomato with sweet rings of Vidalia onion have been a key element in many picnics and now, with better markets and cheese selections, sit side-by-side with platters filled with sliced tomato, fresh mozzarella and drizzled with Balsamic vinegar. A slice of ripe tomato on a grilled burger transforms it from a simple sandwich to something spectacular. The holy trinity BLT can be truly rapturous. The month of August is high season, the perfect time to celebrate summer.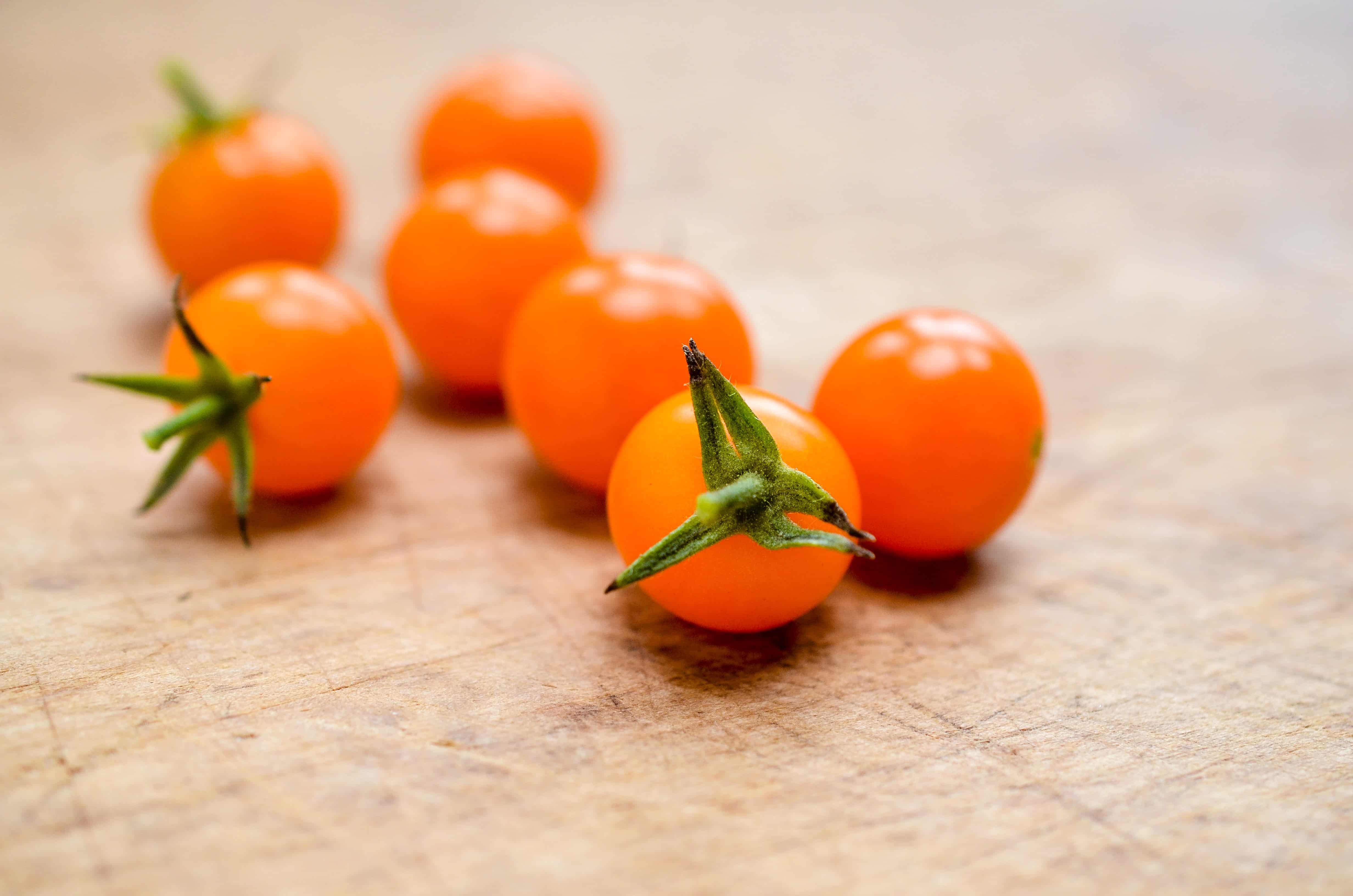 Tomatoes and Mayonnaise
In my opinion, there is nothing as wonderful as sliced tomato and mayonnaise with a simple sprinkling of salt and a grind or two of pepper. Undoubtedly, the star is the tomato, but the supporting actor that carries the show is mayonnaise. First of all, you have to recognize that mayonnaise is a food group in the South. And, let's face it — Tomato Pie is mayonnaise and tomatoes topped with melted cheese. There's a reason that heart attack on a plate tastes so good. While I now douse my tomatoes in olive oil and vinegar and sprinkle them with herbs, when I want that taste that instantly satisfies, I reach for a jar of mayonnaise. Just in case that's not your thing here's a smattering of other recipes for you to try:
Mashama Bailey's Green Tomato Chowchow
Nathalie Dupree's Tomato Conserve
Sandra Gutierrez Shrimp and Tomato Empanadas
Rebecca Lang's Cathead Biscuits with Tomato Gravy 
Ronni Lundy's Tomato Pie 
Anne Quatrano's Tomato Toast
I'm sharing with you a recipe for panzanella. Panzanella is an Italian bread salad typically made with stale bread, chunks of tomatoes, and herbs. Some fancy Southern magazines and websites will try to make panzanella extra-Southern by making it out of cornbread. I like that fine, but I think we will all agree, there's something magical about white bread and tomatoes — and you can't get much more Southern than adding mayonnaise.  I hope you enjoy it and let me know what you think!
Bon Appétit, Y'all!
Virginia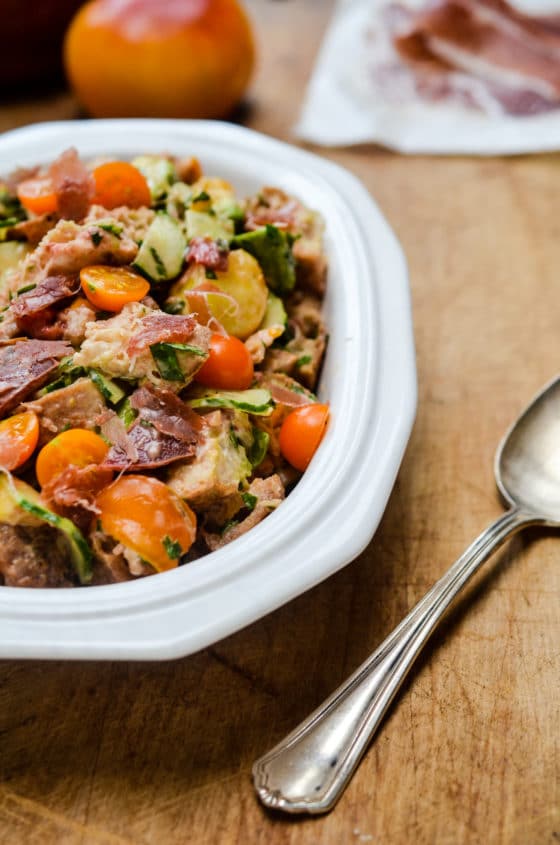 Southern Panzanella
Ingredients
½

loaf stale white country bread

diced

2

large ripe tomatoes

diced

1

cucumber

halved lengthwise and thinly sliced

1

avocado

diced

1

green onion

sliced

1

small sweet pepper

seeded, cored, and diced

4

slices

very thinly sliced country ham or prosciutto

chopped more for garnish

¼

cup

mayonnaise

or to taste

¼

cup

chopped fresh herbs

such as parsley, basil, and chives

handful cherry tomatoes

halved, for garnish

Coarse kosher salt and freshly ground black pepper
Instructions
Put everything in a bowl. Stir to combine. Season with salt and pepper. Transfer to a bowl. Top with some of the reserved ham and cherry tomatoes. Serve once the juices have been absorbed a bit, at least 30 minutes.
Let's cook something up! If you are interested in hosting me for a speaking engagement, event, cooking class, or a book signing, let me know! Send an email to jona@virginiawillis.com and we'll be back in touch as soon as possible.
I am not a doctor, RD, health professional, or WW representative. I am simply sharing what works for me. My blog is for informational or educational purposes only and does not substitute professional medical advice or consultations with healthcare professionals.
Note that this post may contain affiliate links and I may make a commission if you use my affiliate link to buy the product.
Please be nice. Unauthorized use and/or duplication is prohibited. All photos and content are copyright protected. If you wish to republish this recipe, please link back to this recipe on virginiawillis.com. Thanks so much!

Please note that this post may contain affiliate links.