Please note that this post may contain affiliate links.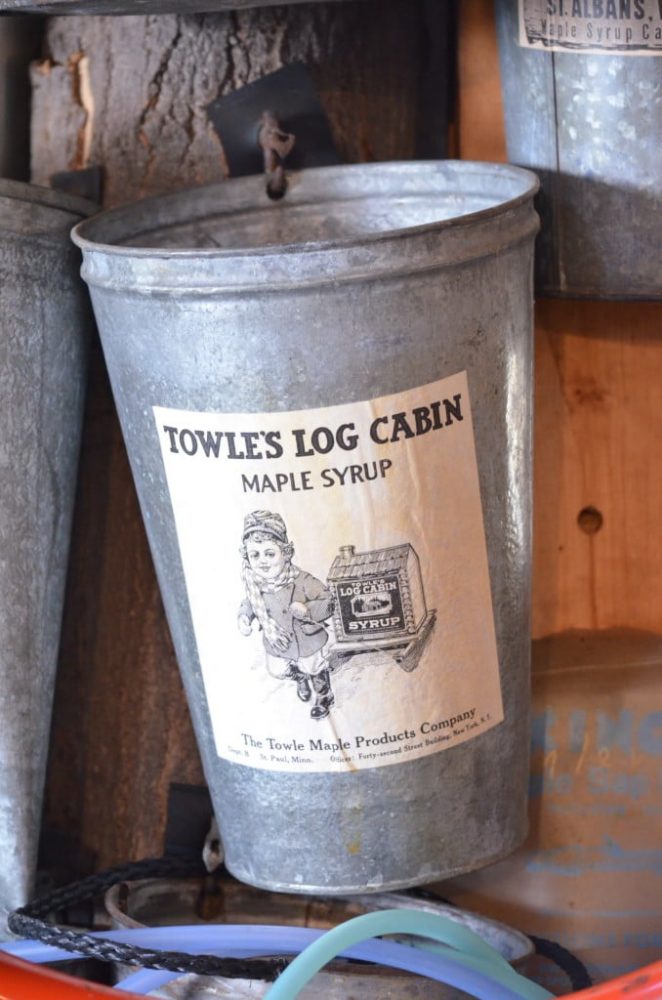 Maple syrup is one of nature's greatest gifts and mysteries. Doesn't it absolutely boggle your mind to consider who first thought it would be a good idea to drain sap from a tree and boil it down into syrup? Did you know it takes about 40 gallons of sap to produce 1 gallon of syrup? We all know maple syrup is blissful on pancakes and waffles, but it is also great for baking and as an all-purpose sweetener, too. Maple syrup as a sweetener fits beautifully into my "better-for-you-baking" approach. Read on to learn all about maple syrup and more about better-for-you-baking.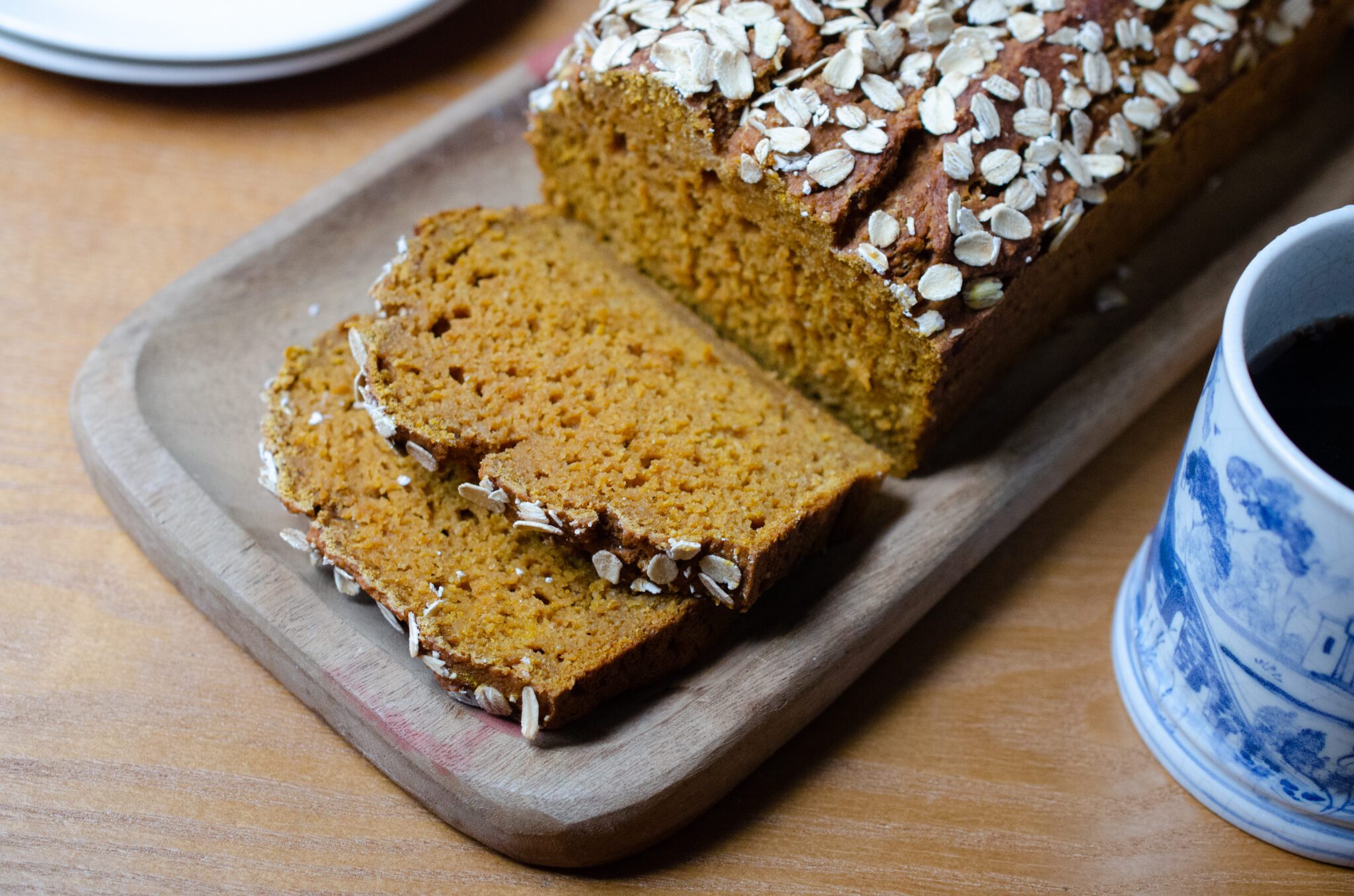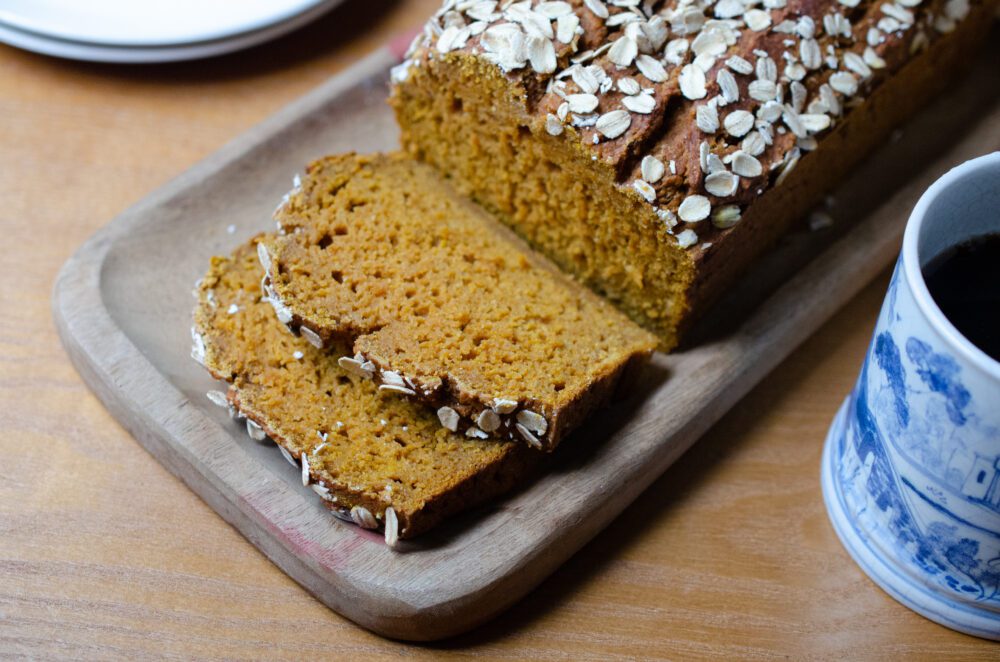 Better-for-You-Baking
I love to bake — and I love to eat sweets and desserts. However, with my weight loss and the big changes in what I eat I need to make adaptations.  I firmly believe desserts belong on a healthy, healthier, or "healthyish" meal plan. Don't tell me I can't have something! It only makes me want it more. Enter "better-for-you-baking!"
Better-for-you-baking is a style of baking that uses ingredients in a way that is a little bit better for you than the traditional combinations of ingredients as well as the use of slightly different ingredients. It also includes smaller batches and smaller bakes. Who needs 4 dozen tantalizing temptations, I mean cookies, hanging about? What about a Chocolate Chip Cookie recipe that makes 8 as seen in this month's Eating Well magazine?
My approach boils down to when and if I can make a recipe a little bit healthier without compromising the integrity of the recipe or the way it tastes, then why not do it? However, let's get one thing clear. There are absolutely zero reasons for me to change my Mama's Poundcake or my Peach Upside Down Cake Not everything needs to be "fixed." In those instances, I leave the recipe alone and make adjustments with my serving size through portion control.

What does Glycemic mean?
Maple syrup fits in perfectly as a sweetener with my better-for-you-baking.  Maple syrup is a type of low glycemic sugar. What does glycemic mean? Blood sugar and insulin levels rise when you eat something containing carbohydrates. How fast and how high how fast depends on the food.  The glycemic index measures how quickly a certain food raises blood sugar levels. Pure maple syrup has a glycemic index of 54! White table sugar has a glycemic index of 64 or 65. Foods with a glycemic index of 55 or below are considered to be low glycemic foods.
According to the Harvard Medical School low glycemic foods help you feel full longer; help keep blood sugar more even. The glycemic index of a diet can affect health in various ways. Some of the latest studies suggest that:
a low glycemic index diet can help maintain weight loss.
a high glycemic index increases the risk of breast, prostate, colorectal, and pancreatic cancers.
a high glycemic index diet increases the risk of developing type 2 diabetes and cardiovascular disease.
How to Make Maple Pumpkin Bread on Instagram

Weight Loss and Health
It's important to remember that "healthy" is NOT solely about weight loss. I am much happier in my new body. I am thrilled my weight loss has resulted in a lower number on the scale and a smaller pants size– but the numbers that really matter are the numbers on the bloodwork results. My numbers are better than they were over 10 years ago! That's what really matters.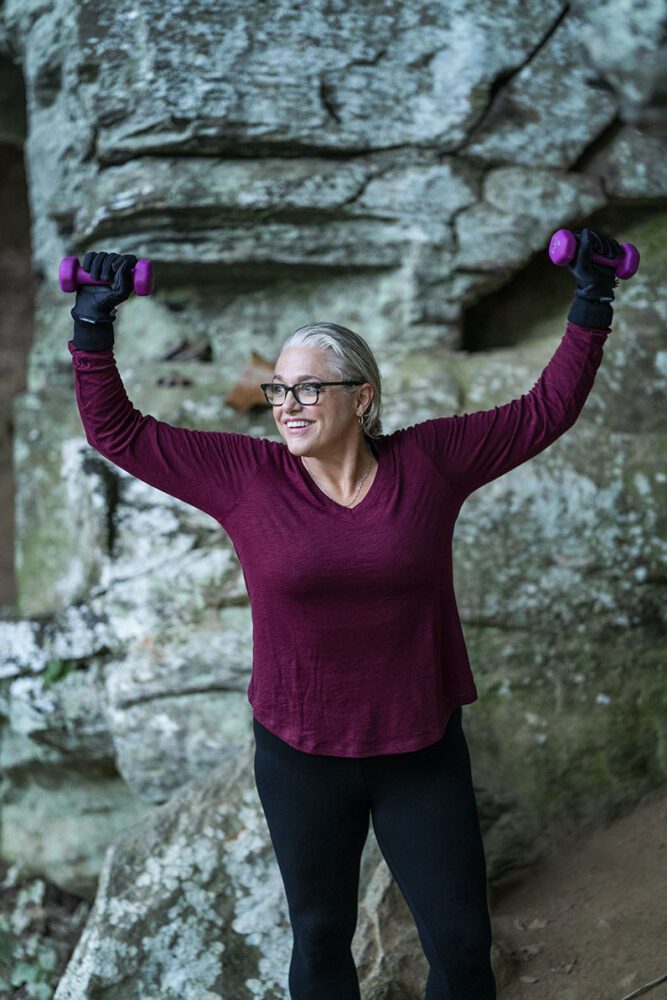 Point it Out
Thanks so much for reading. I hope you enjoy my recipe for Maple Pumpkin Bread! DO know that it is more savory than sweet. It's great for as a breakfast bread or as a nibble with a cup of tea. It could most certainly work as dessert, too with a dollop of maple-sweetened whipped cream or yogurt.
WW aka Weight Watchers has changed the point system and it's more individualized, now. SO, I am not sure how it will work out for you, but for my plan, it's about 4 points a slice.
Lastly, make sure to check out the Zoar Tapatree website. I love what they are doing. You can use their artisan small-batch crafted maple syrup in all sorts of things — yes, even sweet tea!
Bon Appétit, Y'all
Virginia Willis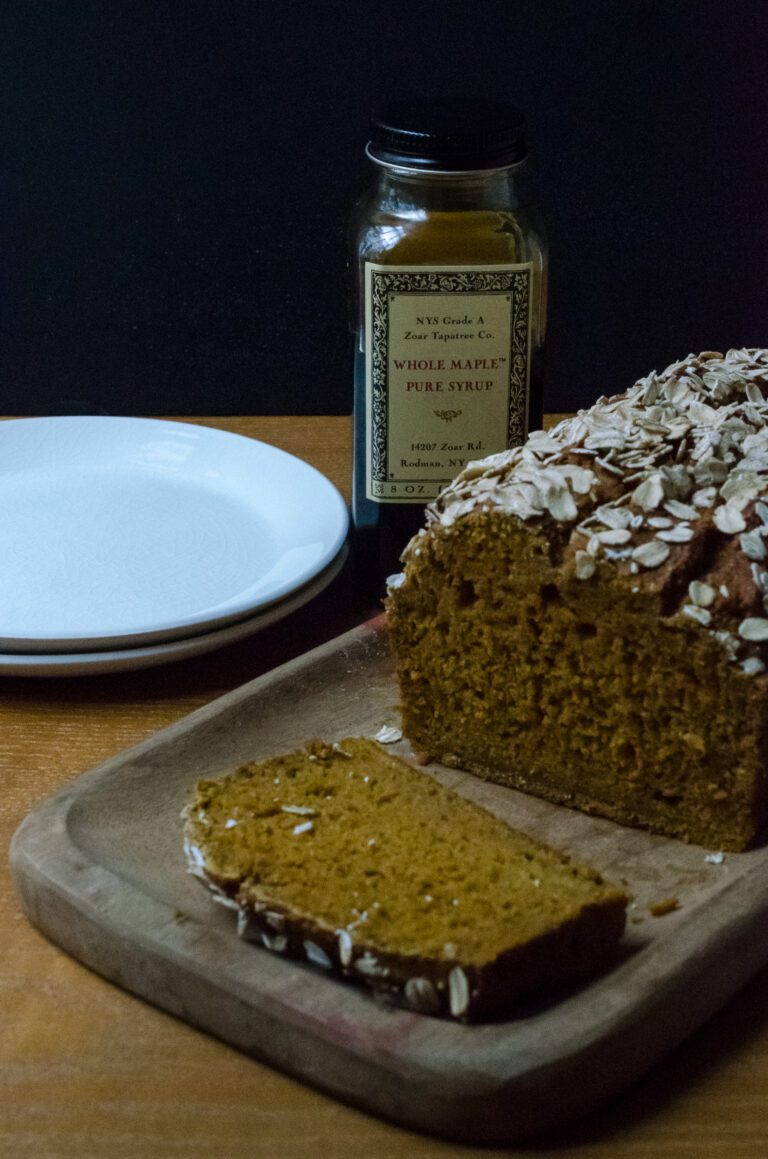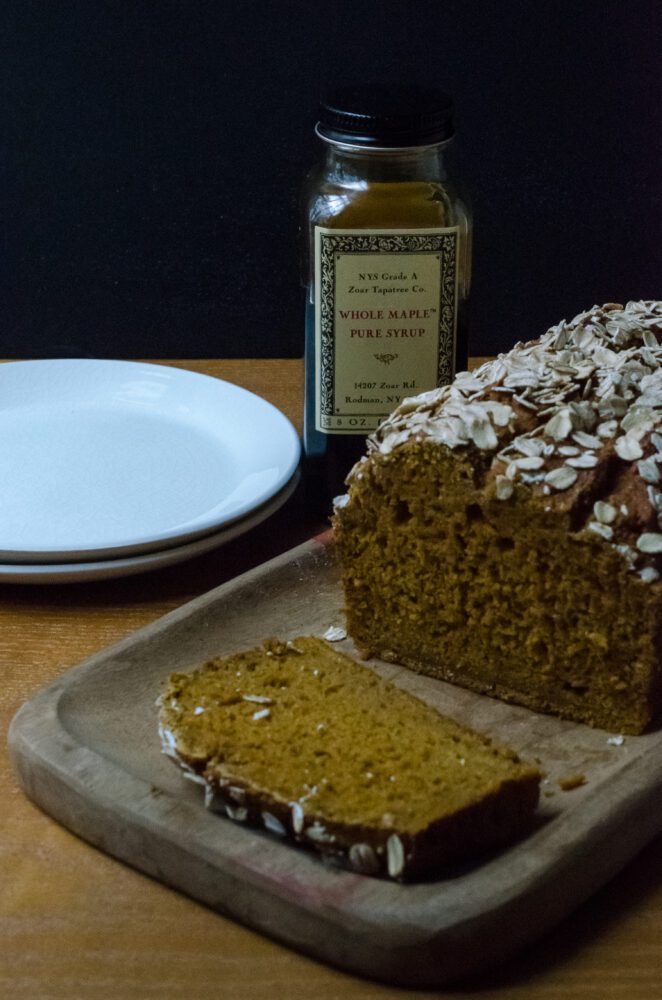 Better-for-You Maple Pumpkin Bread
This dump-and-stir quickbread is good and good for you thanks to my better-for-you-baking approach. It's lovely for breakfast with a judicious swipe of unsalted butter. The recipe calls for pumpkin spice, but you can also use cinnamon or quatre epice, a pepper heavy French spice blend available through Penzey's.
This bread comes in around 4 points a slice on my WW points plan.
Ingredients
Baking spray

1 1/2

cups

pumpkin puree

2

tablespoons

butter

melted

1

large egg

1/4

cup

plain non-fat Greek yogurt

1/2

cup

maple syrup

1

teaspoon

pure vanilla extract

1

teaspoon

baking soda

1

teaspoon

pumpkin pie spice, cinnnamon, or quatre epice

1/4

teaspoon

kosher salt

1 1/2

cups

white whole wheat flour

2

tablespoons

old fashioned rolled oats
Instructions
Heat the oven to 350°F. Spray a 9 x 5 loaf pan with baking spray. In a large bowl, combine the canned pumpkin, butter, egg, yogurt, maple syrup, vanilla, baking soda, spices, and salt. Stir until smooth. Add the flour and stir to combine. Transfer to prepared loaf pan. Using a spatula, smooth the batter, then scatter the oats over the top. Transfer to the heated oven and bake, rotating once, until risen and dark golden brown, about 1 hour. (The temperature should register above 200°F when measured with an instant read thermometer.) Remove to a rack to cool slightly. Stores in an airtight container for 3 to 5 days.
If you try this recipe, please let me know! Leave a comment, rate it, and don't forget to tag a photo #virginiawillis on Instagram.
Heads up! I am not a doctor, RD, or health professional nor am I an official WW ambassador or representative. I am simply sharing what works for me. Thanks for reading!
If you are interested in hosting me for a speaking engagement, event, cooking class, or a book signing, let me know! Send an email to jona@virginiawillis.com and we'll be back in touch as soon as possible.
Please note that this post may contain affiliate links and I may make a commission if you use my affiliate link to buy the product.
Please be nice. Unauthorized use and/or duplication is prohibited. All photos and content are copyright protected. If you wish to republish this recipe, please link back to this recipe on virginiawillis.com. Thanks so much!

Let's connect on Facebook, Twitter, Instagram, and Pinterest!
Please note that this post may contain affiliate links.