Please note that this post may contain affiliate links.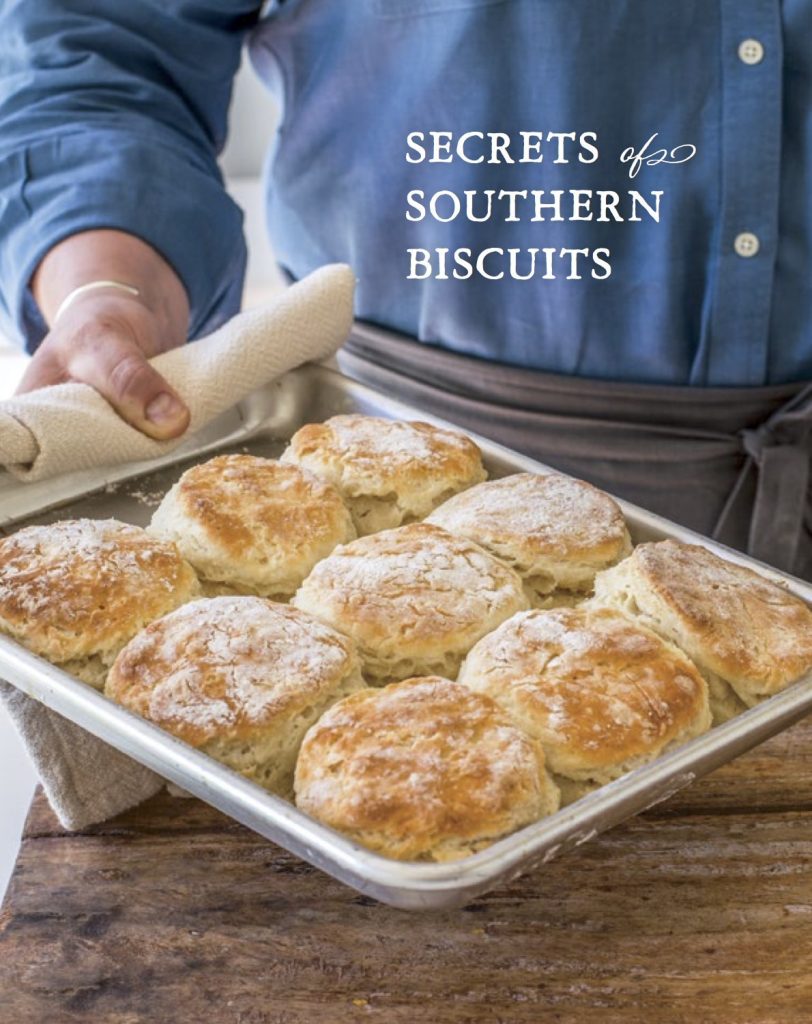 Look at those biscuits! September is National Biscuit Month. Of course, in my world, this is pretty much every month! And, I love to make all different kinds – cakey, flakey, lard, butter, buttermilk, shortcakes, two-ingredient, sweet potato, and many more.  I like to say there are as many different recipes as there are grandmothers. It doesn't matter what kind – there are three universal truths that apply to all. Read on to learn the secrets….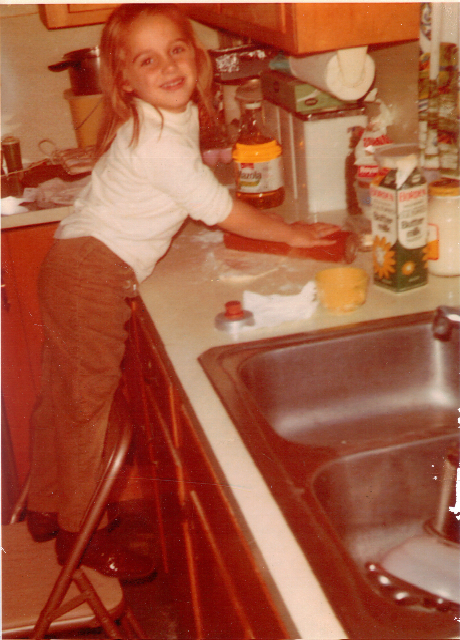 Bread of My People
As you can see above, I've been making these for more than a minute. 😉 Some of my oldest memories involve being in the kitchen with my grandmother and mother making biscuits. Here are a few of my favorites: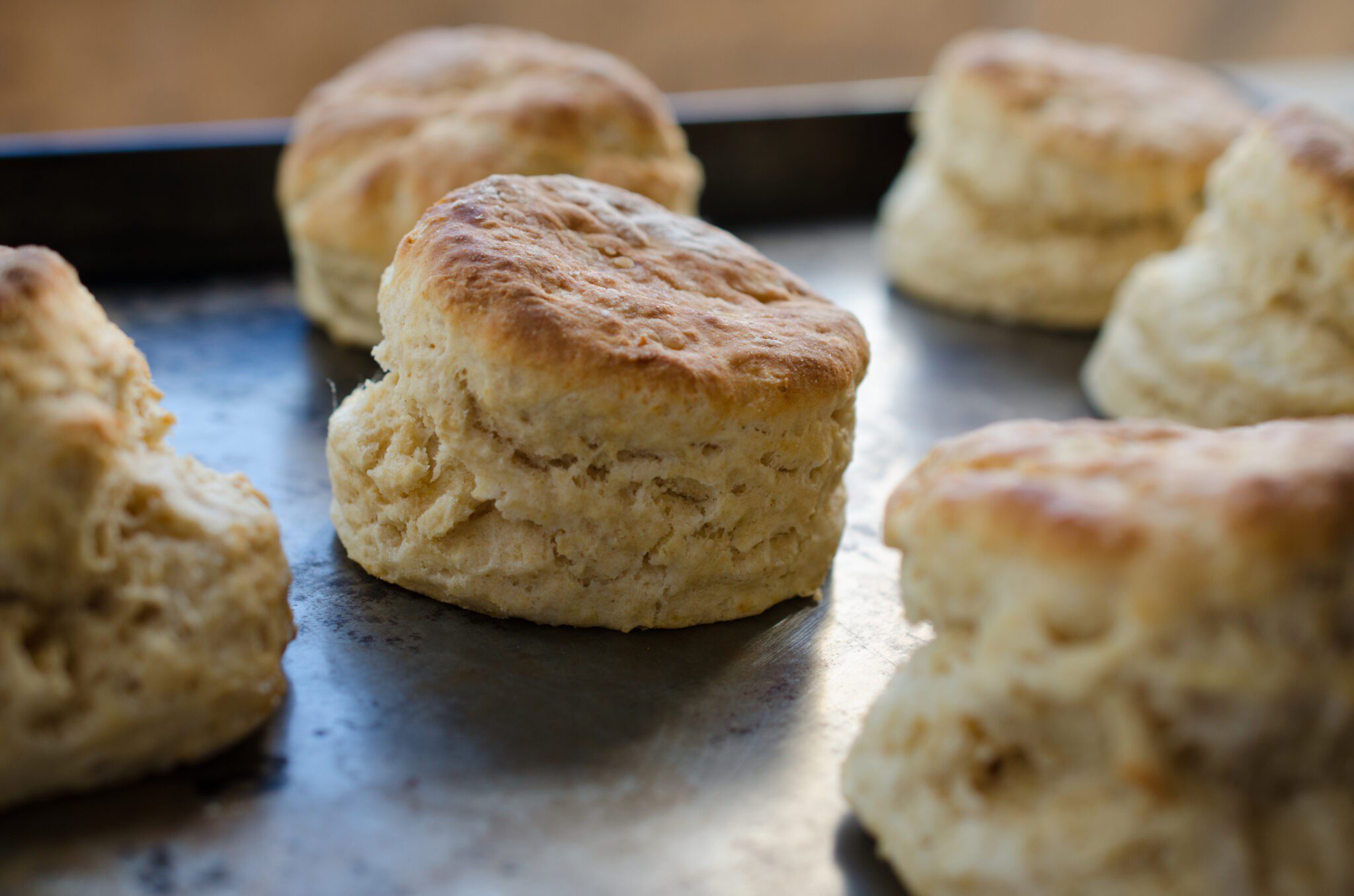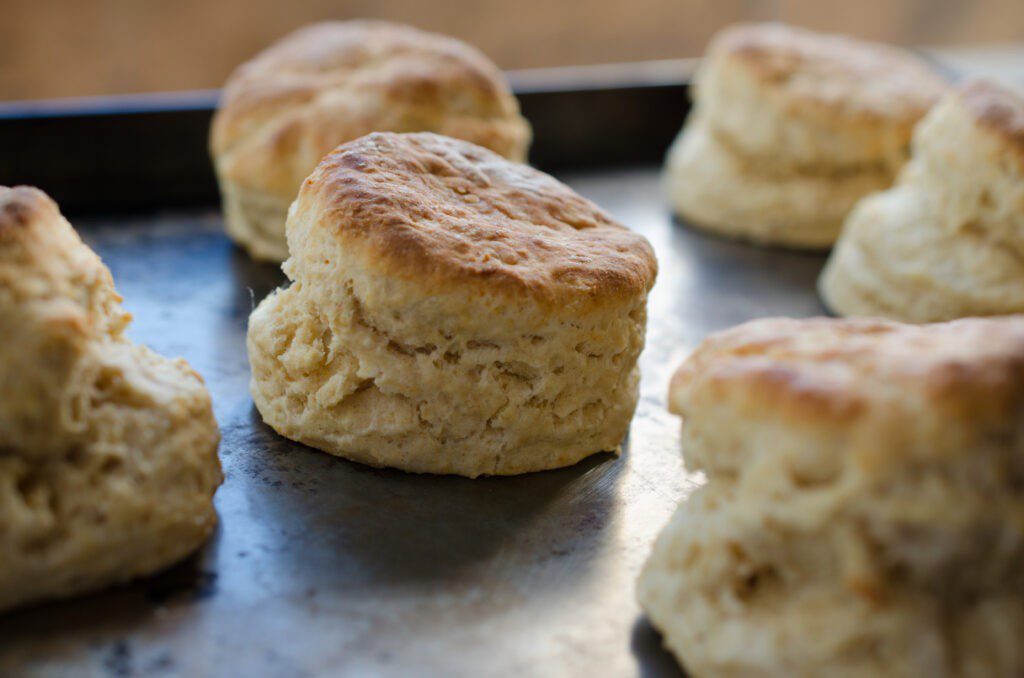 Baking Secrets
I write more in-depth about the secrets in this post, Baking Secrets with Five Recipes but if you want to know the nitty-gritty, there are three main points.
Flour  – the key to "light and fluffy" is soft winter wheat. The time-honored favorite flour in many families, including my own, is White Lily. When I am "cheffing it up" a bit I make a blend of White Lily and

Anson Mills Colonial Style Cloth Bolted Pastry Flour

. I love the combination. White Lily is nice and light and the Anson Mills is a very, very finely ground whole wheat flour that's nutty and rich. All wheat flour contains gluten that is activated by moisture and motion. Both the White Lily and Anson Mills are naturally low protein flours that make excellent biscuits.
Activating Gluten – Kneading the dough is a no-no. Kneading activates the gluten, which is great when you are making yeast bread, but not so great when you are making biscuits. A tender hand is the way to go when making biscuits.
Temperature – Fire it up! Biscuits should be baked between 400°F and 500°F. The hot oven melts the fat and produces steam, helping biscuits rise.
You can check it all out in this demo for IGTV. The giveaway has ended, but I hope you will still enjoy my How to Make Buttermilk Biscuits video. Can you imagine how happy this made me?
WW What?  
SO many folks have asked me about the "bread of my people" and Weight Watchers. Here are my thoughts — I'd rather have a really good biscuit, count the points, and plan for the splurge than go without. It's just that simple. Does that mean that a biscuit is more of a special occasion? Yes, it does. Does that mean that I only eat really good biscuits and leave inferior ones alone? Yes, it does. My regular size recipe makes one that is about 6 points and the Cathead recipes is about 12. I think both are 100% worth it.
I've got a funny story about making this recipe at Twitter a few years ago. I hosted a Biscuit Bar at the NYC HQ. Let's just say they went over well. I woke up the next day and had a coveted blue check by my name. Thanks so much for reading and watching.
Bon Appétit, Y'all
Virginia Willis
PS Want to learn more about buttermilk and baking? Check out my post Cooking with Buttermilk.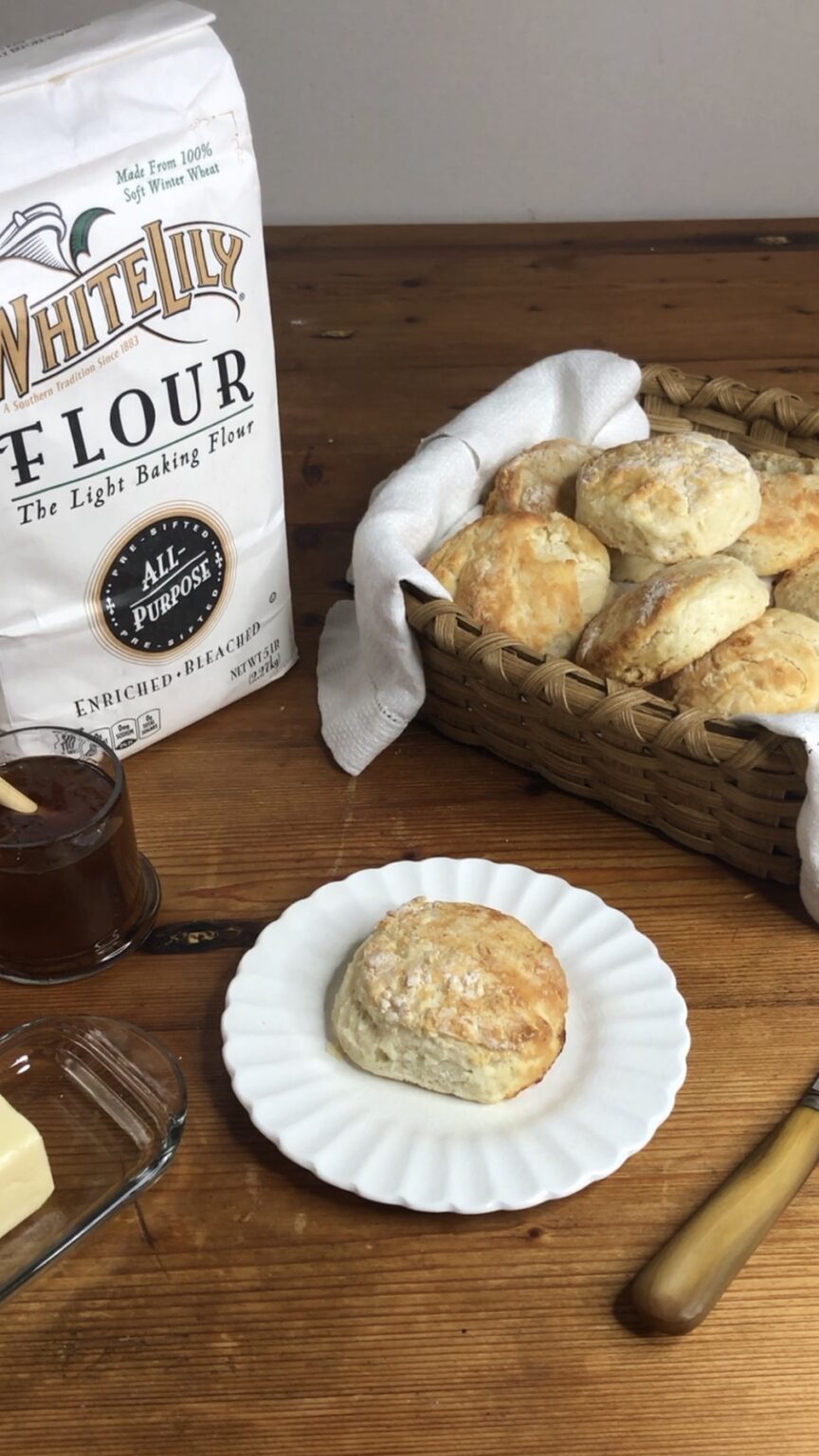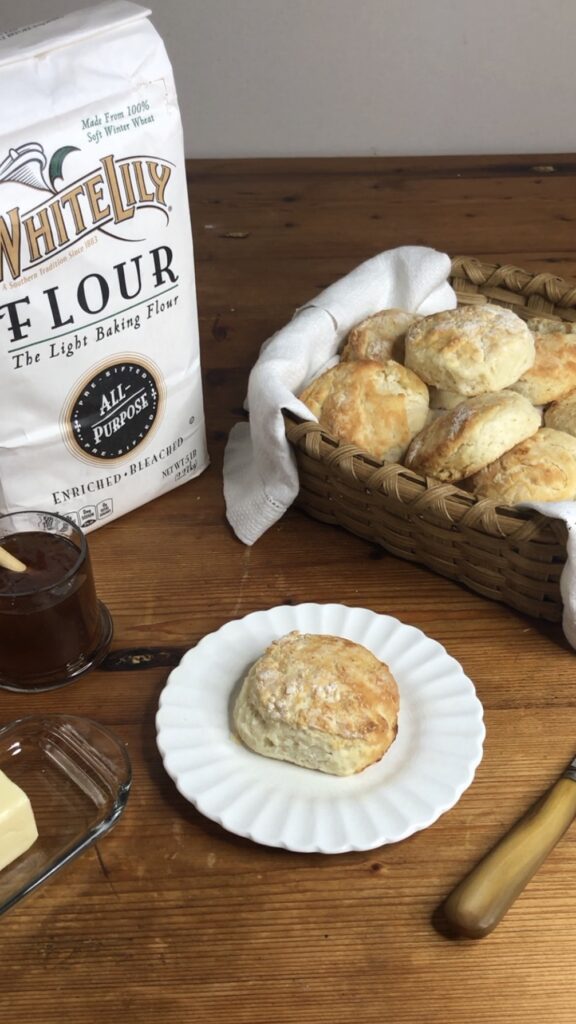 Buttermilk Biscuits
Ingredients
2

cups

all-purpose flour

more for rolling out

1

tablespoon 

baking powder

1

teaspoon 

fine sea salt

4

tablespoons 

1/2 stick cold unsalted butter, cut into bits and chilled

3/4 to 1

cup

 buttermilk
Instructions
reheat the oven to 500°F. In a bowl, combine the flour, baking powder, and salt. Using a pastry cutter or two knives, cut the butter into the flour mixture until it resembles coarse meal. Pour in the buttermilk, and gently mix until just combined.

Turn the dough out onto a lightly floured surface. Knead lightly, using the heel of your hand to compress and push the dough away from you, then fold it back over itself. Give the dough a small turn and repeat 8 or so times. (It's not yeast bread; you want to just barely activate the gluten, not overwork it.) Using a lightly floured rolling pin, roll the dough out 1/2 inch thick. Cut out rounds of dough with a 21/4-inch round cutter dipped in flour; press the cutter straight down without twisting so the biscuits will rise evenly when baked.

Place the biscuits on an ungreased baking sheet or in an 8- by 2-inch round cake pan. If the biscuits are baked close together the sides will be moist. If the biscuits are baked further apart, the sides will be crisp.

Bake until golden brown, 8 to 10 minutes. Transfer to a rack to cool just slightly. Serve warm.
Disclaimer: When there's an appropriate mutually beneficial opportunity I may partner with brands. In full disclosure, I was provided product to work with by White Lily and compensated for the IGTV video. 
If you are interested in hosting me for a speaking engagement, event, cooking class, or a book signing, let me know! Send an email to jona@virginiawillis.com and we'll be back in touch as soon as possible.
Please be nice. Unauthorized use and/or duplication is prohibited. All photos and content are copyright protected. If you wish to republish this recipe, please link back to this recipe on virginiawillis.com. Thanks so much!
Let's connect on Facebook, Twitter, Instagram, and Pinterest!

Copyright © 2021 Virginia Willis Culinary Enterprises, Inc.
Please note that this post may contain affiliate links.