Please note that this post may contain affiliate links.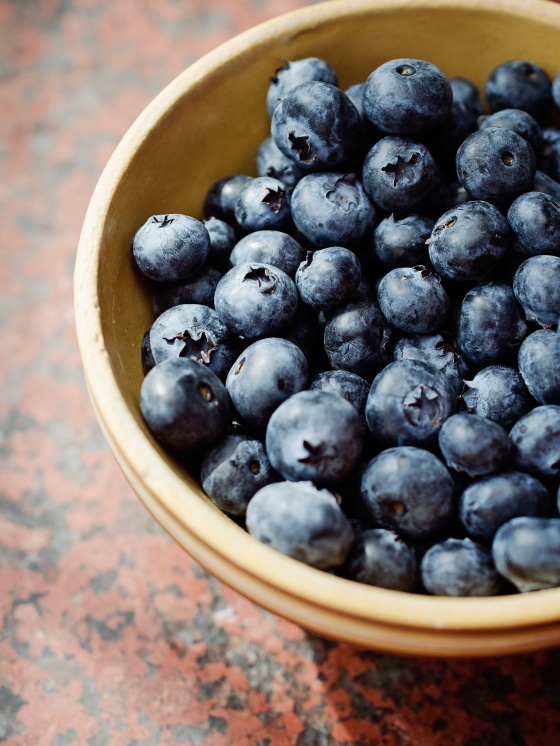 Blueberries are the Doris Day of summer fruit – happy-go-lucky, bright bouncing balls of flavor. Blackberries are moody, musky, and more complex. Watermelon is refreshing, juicy, and crisp. Cantaloupe is just a bit exotic. Peaches are downright racy — seductive, sexy, and sensual. We don't get much in the way of cherries in the Deep South, but they, too, seem to be a very grown-up fruit. Blueberries however, are rated G. Blueberries are all-American. Blueberries are summer. Blueberries are healthy. Blueberries will put a smile on your face. 
Blueberry Binge
When blueberries are in season, I enjoy them on a daily basis. When shopping, I always buy an extra pint just for the ride home from the farmer's market. I'll often buy a pint to throw in my carry-on bag for healthy snacking or a good-and-good-for-you breakfast.  Sometimes I can get a little carried away. I laugh at myself binge-eating on blueberries, but hey, that's heck of a lot better than a bag of potato chips!

High Bush vs Low Bush Blueberries
There are two basic kinds of blueberries: high bush and low bush. High bush blueberries belong to the same family of plants as cranberries, rhododendrons, and azaleas and will grow up to eight feet! My home state of Georgia is in the top 5 high bush blueberry producing states in the nation. Low bush blueberries will only grow up to 24 inches. These wild bushes are native to eastern and central Canada and the northeastern United States, growing as far south as West Virginia and west to the Great Lakes region, Minnesota and Manitoba. Generally low bush blueberries are smaller. I Both high and low bush blueberries are low in fat and sodium, have just 80 calories per cup and contain a category of phytonutrients called polyphenols.  This group includes anthocyanins, which are compounds that give blueberries their blue color. Anthocyanins have demonstrated ability to protect against a myriad of human diseases.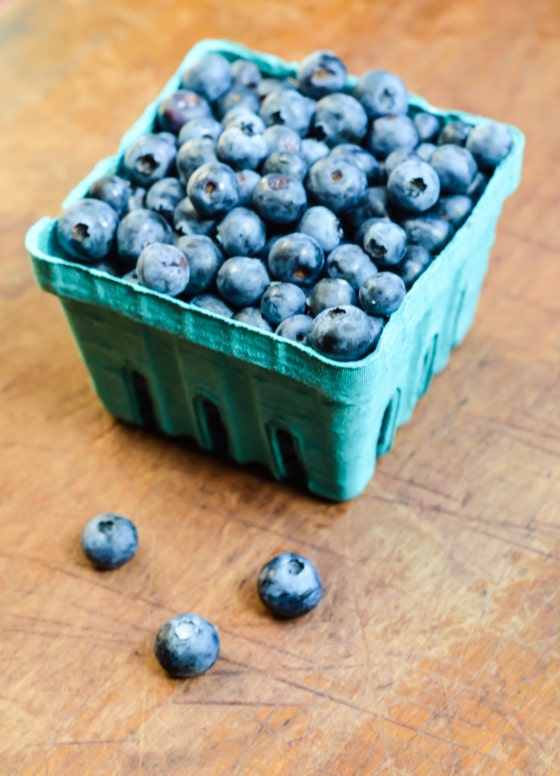 Hot as Georgia Asphalt
A few years ago, a friend and I drove a few hours south of Atlanta to pick some of those delicious Georgia blueberries so that we could put up some jam. Let me tell you, it was hot as absolute blue blazes in that blueberry patch. The sun mercilessly beat down on our efforts for a farm-fresh harvest. Sweat dripped, no, ran in rivulets into our stinging eyes. Sunscreen washed off of us in waves. Gnats buzzed about our faces, pestering our eyes, ears, nose, and mouths. Birds dive-bombed our heads in competition for the fruit. Mosquitoes freely fed at our ankles like they were at a Las Vegas buffet. The combination of the smothering humidity and brutal sun caused our clothes to adhere to our flushed skin in awkward, uncomfortable configurations much like misdirected plastic wrap. It was 100% pure misery.
My second attempt at harvesting blueberries came a few summers ago while living in New England. We had blueberry bushes and I'd carefully covered them in tight-grid plastic mesh to keep the birds away. I diligently weeded and watered the soil, rich and teeming with earthworms. I braved terrified birds that had become trapped in the mesh. Slowly and surely, the unripe green orbs began to blush pink, then turned purple red. As they fully ripened the fruit turned deep blue in color, seemingly magically dusted in silver powder. The branches were bent heavy with fruit and it looked to be a great harvest. I was beyond excited, eagerly anticipating the two of us harvesting the fruit from the land. I had visions of jewel-toned quilted jelly jars lined up on the shelves in our pantry, premonitions of thirst-quenching blueberry lemonade, and lofty dreams of healthy blueberry smoothies to start our upcoming mornings.
Finally, the time came to harvest. The evening wasn't nearly as hot as my experience in Georgia. There were no gnats or mosquitoes, no sunscreen was required, and the birds stayed a respectful distance away. It was looking pretty good. As we descended to the field, I was channeling equal parts Laura Ingalls Wilder and P. Allen Smith, two folks I immensely admire. We started our harvest. Birds chirped in the adjacent willow tree. Butterflies flitted in the air. There may have been a bunny at the edge of the meadow nibbling on grass.
Then, the horrific nightmare began. As we removed the protective mesh, we found not one, not two, but two-and-a-half dead snakes entangled in the mesh. Why dead? They'd slipped under the mesh and had become trapped. They were harmless garter snakes, but I come from a long line of snake-fearing women. All 5 deadly snakes that inhabit the North American continent live, nay, flourish and thrive in Georgia. I am positively terrified of snakes – harmless, deadly, live, dead, fake, and yes, halved. I basically lost my, well, stuff. I ceased to be helpful or cooperative. I moved to a safe distance of 25 feet from the flaccid, lifeless serpents.
Oh, hell no.
I have now officially decided buying blueberries nicely packaged in containers will be the way to go.
Blueberry Recipes
You can keep it keep it wholesome like Doris Day or jazz it up with chilled vodka. As for me, on this incredibly momentous day, I think Blueberry Lemonade might go really well with champagne!
Thanks so much for reading.
Bon Appétit Y'all!
Virginia Willis
Blueberry Mint Lemonade
Serves 8
Ingredients
½

cup

sugar

3 ½

cups

water

½

pint

blueberries

4

sprigs mint

more for garnish

Juice 4 lemons

Lemon slices

for garnish

Chilled Vodka

optional
Instructions
Combine the sugar and ½ cup of the water in a small saucepan. Stir to combine. Cook over medium heat, just until the sugar melts. Set aside.

In the bottom of a pitcher combine the blueberries and the mint. Using the end of a spoon or a muddler, crush the berries and the mint until pulpy and smashed. Add the juice of 4 lemons, the remaining 3 cups of water, and the reserved simple syrup. Stir to combine. Add ice to fill the pitcher and chill the lemonade.

To serve, fill a glass with ice. Pour over lemonade and additional mint and lemon slices to garnish. For an adult version, fill glass with ice and add 1 ½ ounces vodka, or to taste, and top off with lemonade, mint sprigs, and lemon slices.
If you are interested in hosting me for a cooking class or a book signing, let me know! Send an email to info@virginiawillis.com and we'll be back in touch as soon as possible.
Please be nice. Unauthorized use and/or duplication of this material without permission is prohibited. All photos and content are copyright protected. Please do not use photos without prior written permission. If you wish to republish this recipe, please rewrite the recipe in your own words and link back to this recipe on virginiawillis.com. Thanks so much.
photography by Virginia Willis
Want to keep up with my culinary wanderings and wonderings?
Lets connect on Facebook , Twitter, Instagram, and Pinterest!

Please note that this post may contain affiliate links.