Please note that this post may contain affiliate links.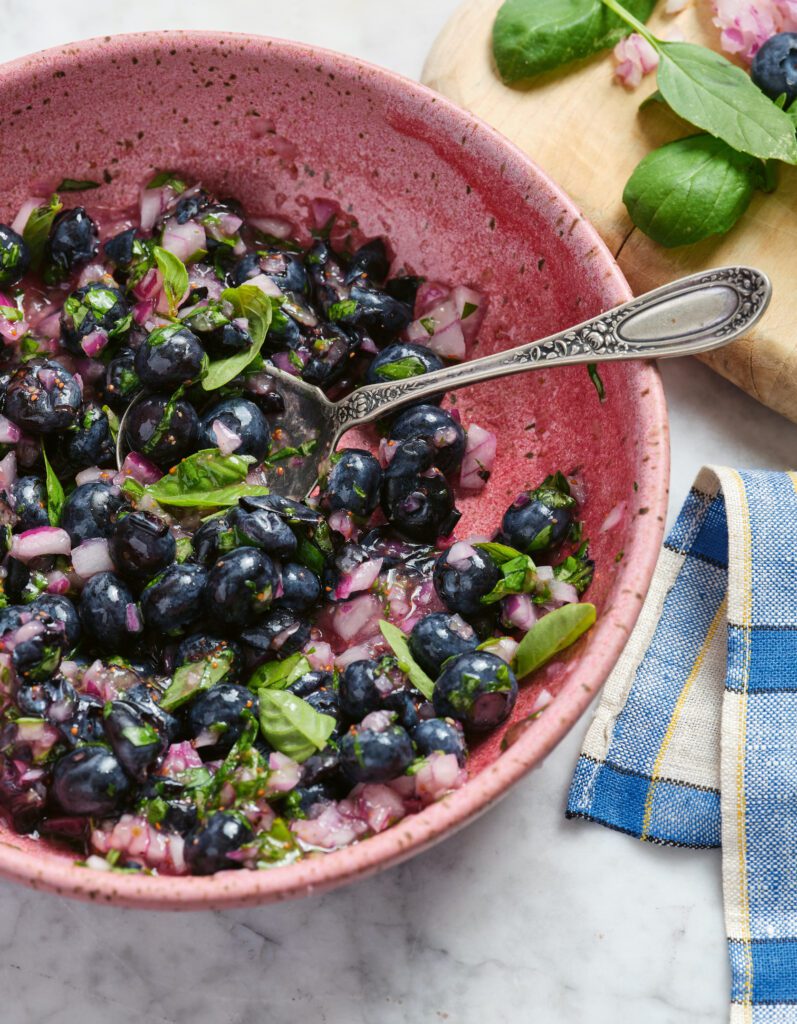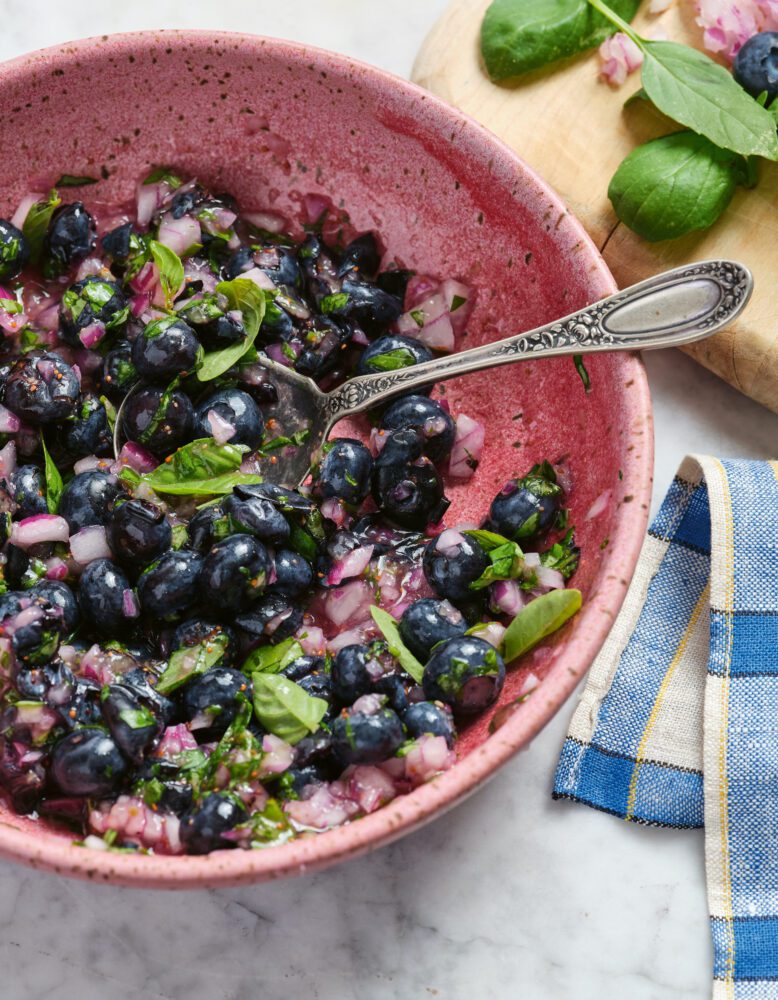 Blueberries are more than healthy — they are a superfood! They are also joyful, conjuring thoughts of summer desserts like bubbling cobblers, purple-stained crusty pies, buttery crisps, tender sweet muffins, and Sunday morning pancakes. Blueberries will put a smile on your face. They are familiar, friendly, and fun. Bouncy, happy orbs bursting with flavor, blueberries are good and good for you, too. Pretty much everybody loves a blueberry muffin — and that's just the beginning! Read on for how to easily incorporate this superfood into your diet with recipes both savory and sweet — including how to turn a bowl of cereal upside down!

Are Blueberries a Superfood?
Superfood is a term that identifies food that contains an abundance of health benefits in comparison to other foods.  There is no specific requirement for a food to reach "superfood" status. Generally, superfoods are all-natural foods that are nutrient-dense while generally being low in calories.
Why does it seem like superfoods are from halfway around the world and names you may not be sure how to pronounce? Açaí, feijoya,  and ka'chava come to mind. (By the way, açaíis pronounced ah-sah-EE.) It's good copy for food-writing to brandish names of unusual-sounding produce, but there are many common Western vegetables that are also superfoods including arugula, broccoli, Brussels sprouts, and cabbage, cauliflower, kale, radishes, and turnips. All superfoods, from the lowly head of cabbage mundane to the tropically alluring açaí have long lists of nutritional properties and health benefits.
Do you know what else is a superfood? The tiny but mighty blueberry!
Did you know that blueberries are one of the only foods that are truly naturally blue? How fun is that? Anthocyanin, a naturally occurring chemical compound called a is what gives them their color — and what makes them so healthy.

Emotional Eating
According to the Mayo Clinic, "Sometimes the strongest food cravings hit when you're at your weakest point emotionally. You may turn to food for comfort — consciously or unconsciously — when facing a difficult problem, feeling stressed or even feeling bored."
Sound familiar? HA! That's a BIG YES for me! I am often asked about what I eat for breakfast, lunch, and general "snackage."
When in season, blueberries are my absolute go-to car snack and mid-afternoon pick me up. I always include them in cereal for breakfast and in lunch in a salad or sandwich.  And, if I feel like grazing or am indulging in emotional eating, I reach for blueberries. The way I look at "mindless eating" is that you may as well be mindlessly eating something that is good and good for you. I know it's better to not be mindless about eating, but I do it and know I do it. I may as well plan accordingly.

Tips on buying and storing blueberries?
Look for blueberries that are plump and firm with deep blue skin.
Blueberries should be washed just before eating. I generally give them a quick rinse in the perforated plastic container on the way out the door.
If you are storing them for a few days, take them out of the plastic container. Place them in a shallow vessel lined with paper towels or a clean kitchen cloth. Leave them unwashed in the refrigerator until just before serving. Blueberries can stay in the refrigerator for up to 10 days.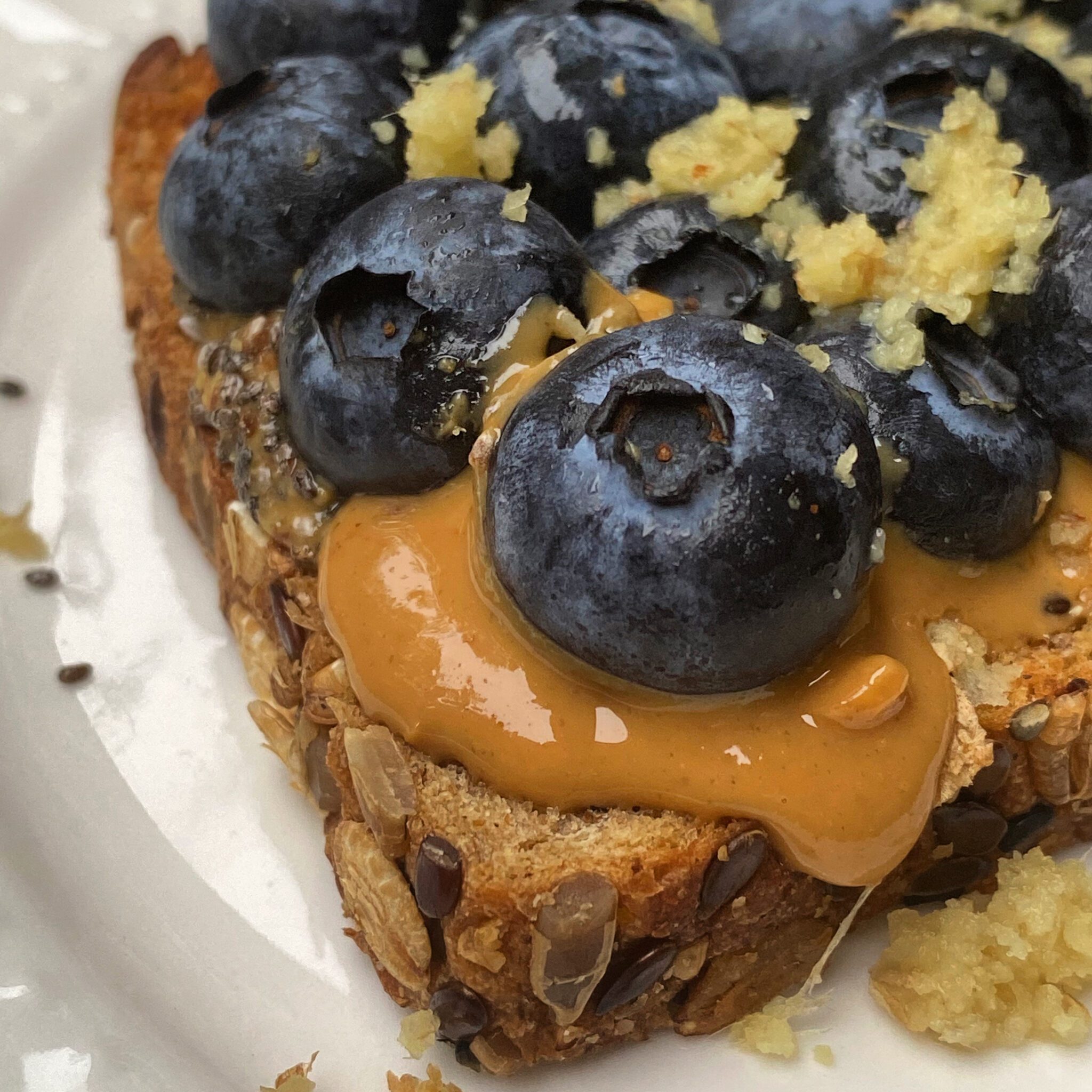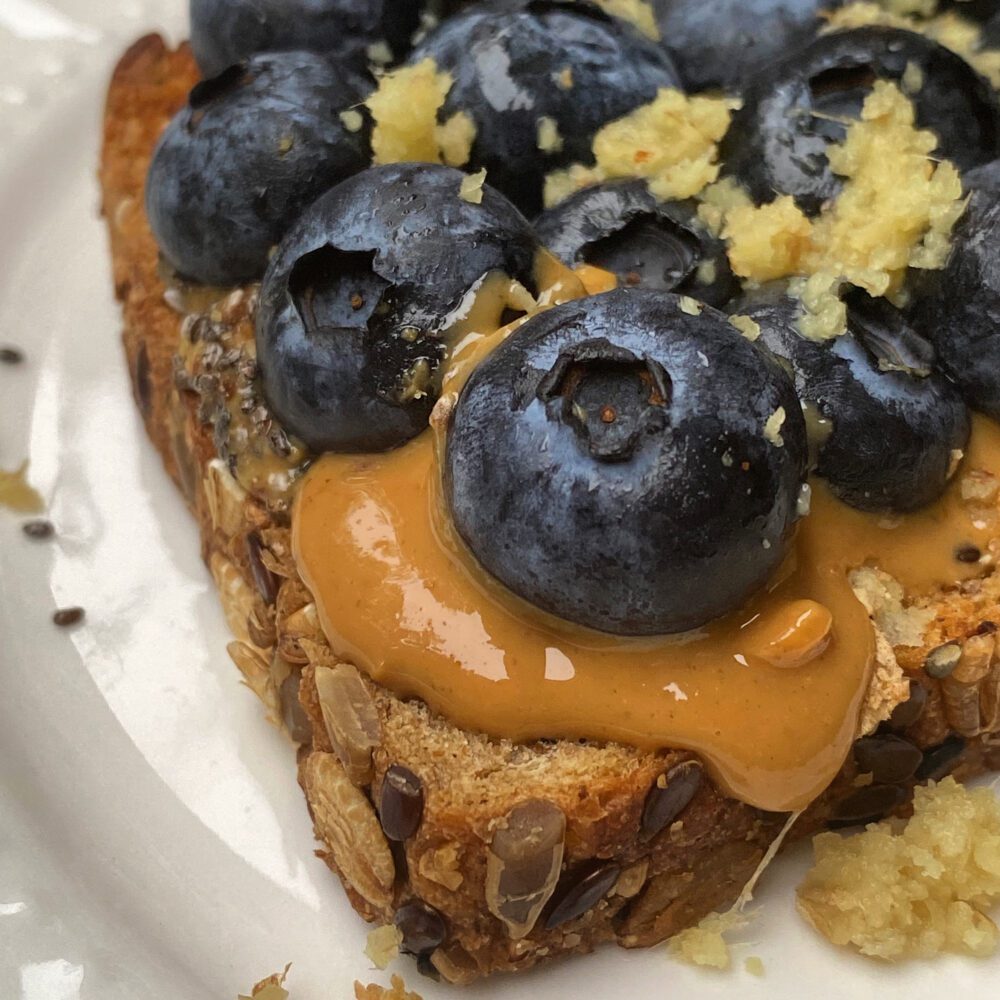 5 Ways to Eat More Blueberries
Blueberries sing in desserts and baked goods. Who doesn't like Blueberry Pie, for goodness sakes? But what about deliberate ways to bump up the mood with blues-blasting blueberries?
Use them whole instead of jam or jelly for a PBBB instead of a PBJ
Muddle fresh or frozen into lemonades, boozy drinks, or AF cocktails for a  fun and festive garnish.
Toss a handful into green, fruit, and vegetable salads for a burst of sweet flavor.
Make a blueberry shrub for seltzer and sparkling water.
Turn cereal "upside-down." Check out my IG video below. 😉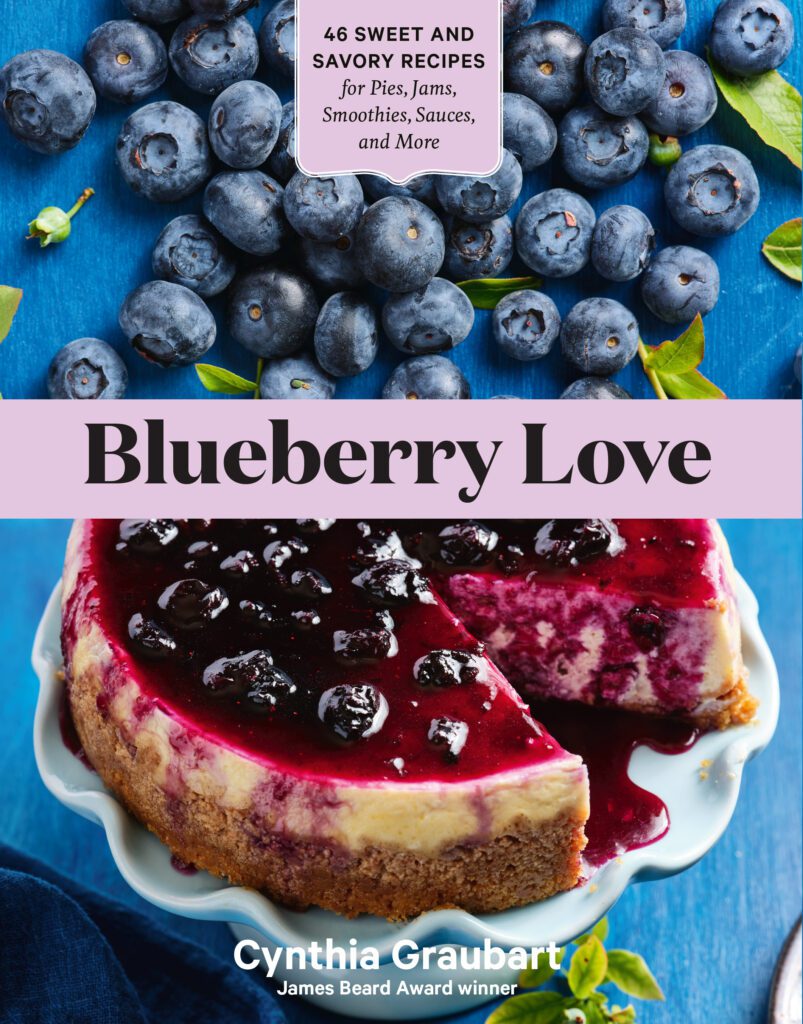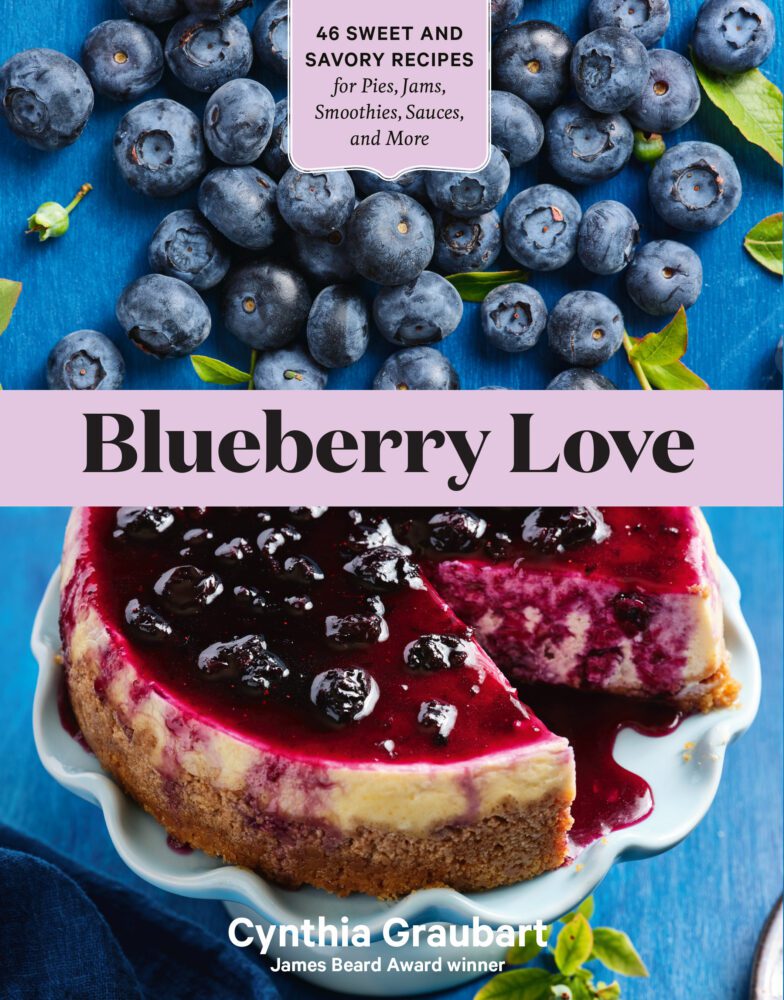 Blueberry Love
My dear friend and colleague Cynthia Graubart has a book alllllll about blueberries, Blueberry Love. It's a wonderful, tight little book of well-tested and well-written recipes. Cynthia has long spent summers in Maine, in the heart of blueberry country. (Read here for the difference between high bush and low bush blueberries.) Some of these recipes were trotted out in contest and are indeed bonified blueberry blue ribbon winners.
Blueberry Love celebrates the sweet-tart summer superfruit with 46 recipes for enjoying blueberries, fresh or frozen. From breakfast treats (Blueberry Bread Pudding and Blueberry Granola) to salads (Blueberry, Watermelon, Feta, and Mint), from main courses (Skirt Steak with Blueberry Port Sauce) to desserts (Whoopie Pies with Blueberry Cream Filling), this colorful book is brimming with classic and creative ways to put blueberries to use.
Blueberries are a true superfruit, prized for their sweet and tangy taste as well as their health benefits. Award-winning author Cynthia brings you her best and easiest recipes for enjoying these blue beauties. Whether you've picked pints of fresh berries or have a bag stored in your freezer, you'll find the perfect recipe in her book, Blueberry Love. 
I'm sharing Cynthia's recipe for Blueberry Salsa. And, if you try this recipe, please let me know. Leave a comment, rate it, and don't forget to tag a photo #virginiawillis on Instagram.
Bon Appétit, Y'all!
Virginia Willis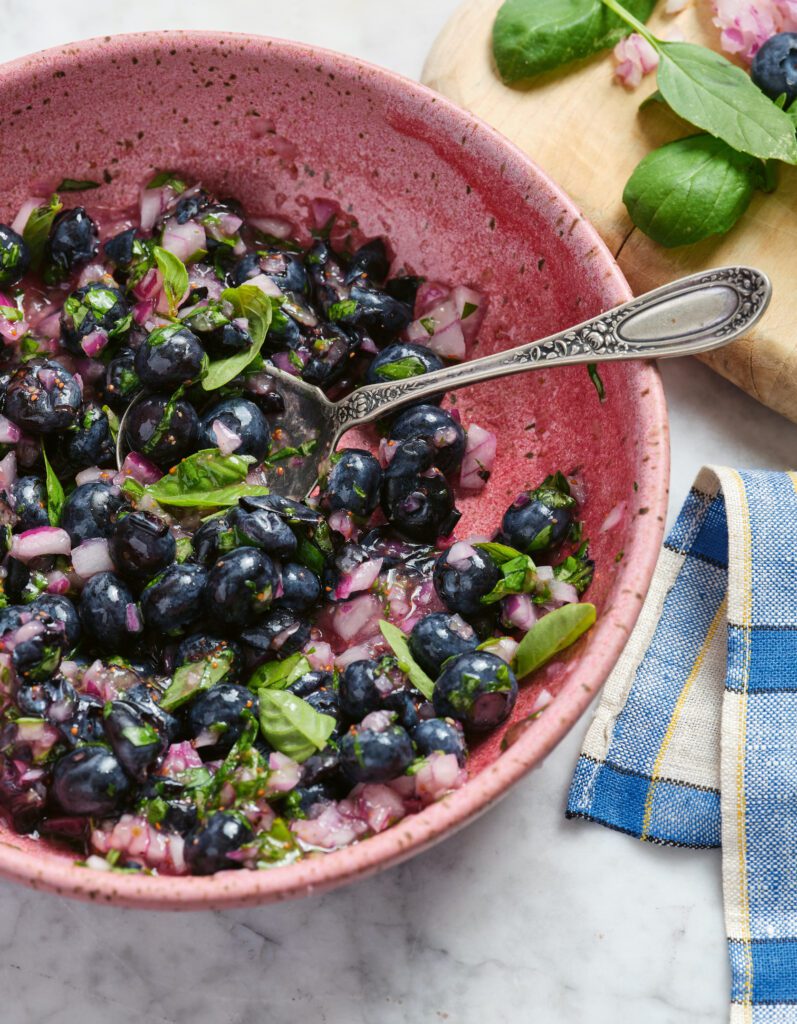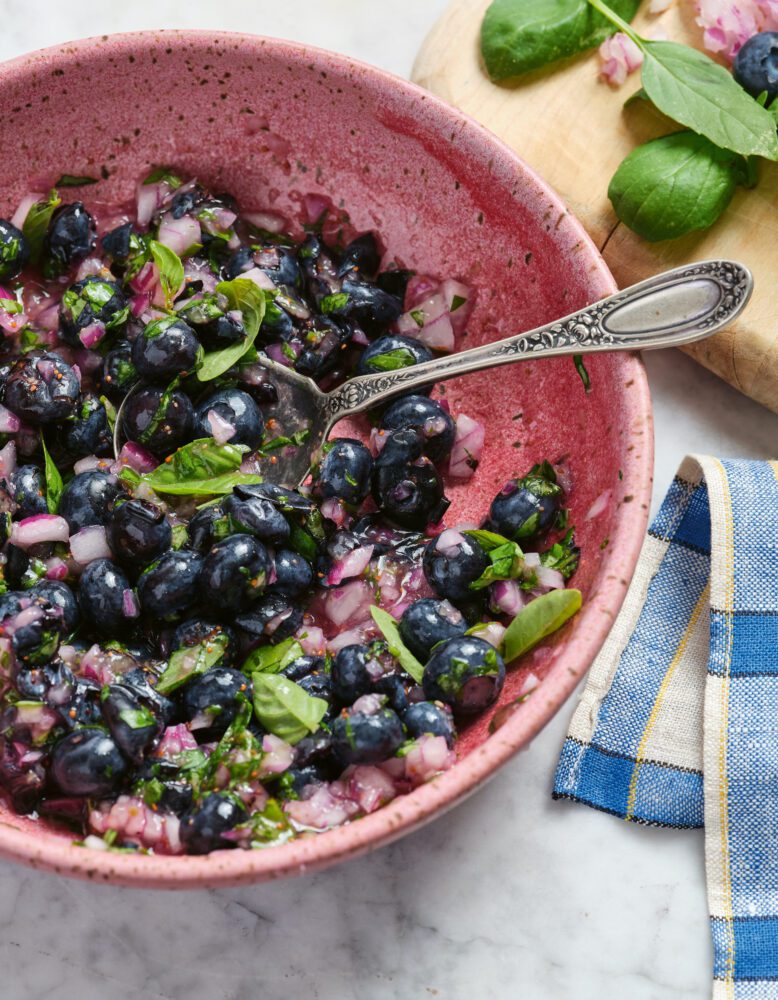 Cuisine: American
Cynthia Graubart's Blueberry and Red Onion Salsa
Grab the chips and enjoy this special summertime salsa. Reserve a small basil leaf or two for garnishing the top of the salsa. Substitute white wine vinegar or another light vinegar if white balsamic is not available. 
Ingredients
1

cup

fresh blueberries

3

tablespoons

minced red onion

2

tablespoons

chopped fresh basil

2

teaspoons

white balsamic vinegar

Salt and freshly ground black pepper
Instructions
Smash half of the blueberries in the bottom of a small bowl with a potato masher or other implement.

Add the remaining blueberries, the onion, basil, and vinegar, and toss to combine. Season to taste with salt and pepper.

Refrigerate until serving. This may be made up to 8 hours in advance.
Heads up! I am not a doctor, RD, or health professional nor am I an official WW ambassador or representative. I am simply sharing what works for me. Thanks for reading!
If you are interested in hosting me for a speaking engagement, event, cooking class, or a book signing, let me know! Send an email to jona@virginiawillis.com and we'll be back in touch as soon as possible.
Please note that this post may contain affiliate links and I may make a commission if you use my affiliate link to buy the product.
Please be nice. Unauthorized use and/or duplication is prohibited. All photos and content are copyright protected. If you wish to republish this recipe, please link back to this recipe on virginiawillis.com. Thanks so much!

Please note that this post may contain affiliate links.