Please note that this post may contain affiliate links.

The smells, sights, and colors of fall are brilliant, vibrant, and comforting. However, once the leaves change and the days grow shorter, to many it can feel dreary, grey, and sad. We all know 2020 has been a tough one. One of my favorite winter combinations to serve during the holiday season is Bourbon Apple Cider. It's delicious warm or chilled over ice.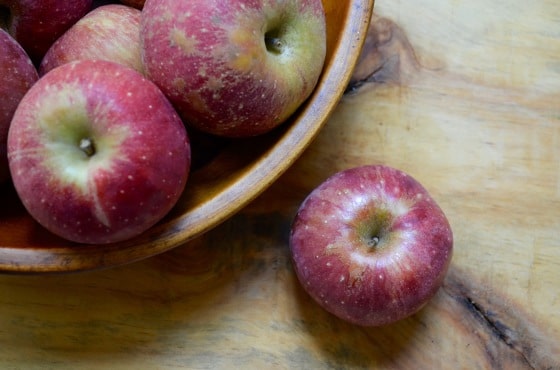 History of Apple Cider
Bourbon and apple cider are both early American beverages. Bourbon's roots go back to the late 1700s when Scotch-Irish settlers started making whiskey in Kentucky. In 17th century Colonial America, hard cider and whiskey were consumed more often than water. In the cities, water was often contaminated and alcohol-based drinks were less likely to spread disease and had a longer shelf life than non-alcoholic beverages.
You've likely heard of Johnny Appleseed? He's not just a children's fairy tale, but a real person whose name was John Chapman. In the late 1700s he traveled the frontier planting apple orchards, then would return several years later to sell the orchard and the surrounding land. The small, tart apples his orchards produced were used primarily to make hard cider and applejack.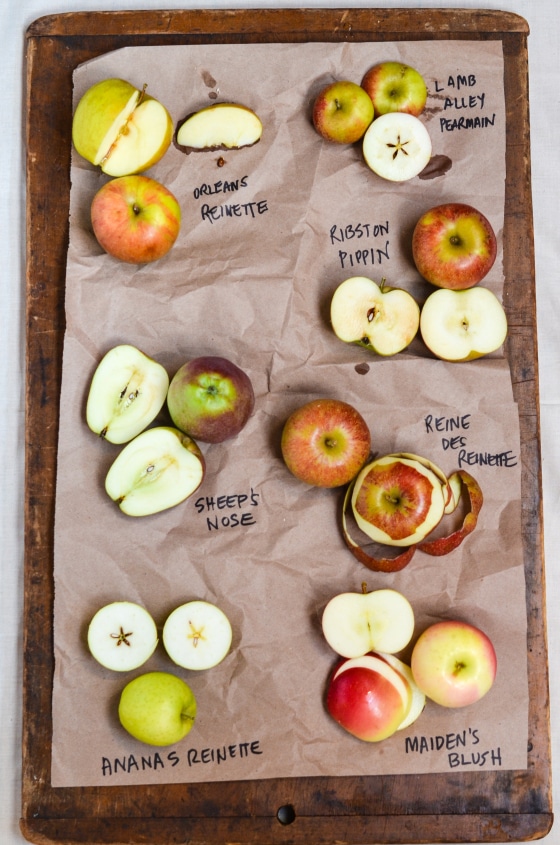 Heirloom Apples
There are many different cultivars of apples and I often use apples as an example to explain plant diversity. When we walk into the grocery store we see five or so kinds of different apples — whereas we don't normally see five different types of lemons or five different types of yellow squash. Yet, many produce departments often contain Red and Golden Delicious, Granny Smith, Honey Crisp, and McIntosh apples.
Now, it looks like diversity, but in reality, it's not. In the mid-1800s, there were thousands of unique varieties of apples in the United States. Prohibition had a lot to do with the eradication of some of those early nurseries as they were planted with apples used to make alcohol. The apple industry settled on a handful of varieties, such as the ones found in the grocery store today, to promote worldwide, and the rest was forgotten and became commercially extinct. However, apple trees can last several hundred years. The apple glossary above features a smattering of heirloom apples. Each of them was wildly different in flavor and texture. From top to bottom, here's a bit about each.
Orleans Reinette is a good cooking apple and has both citrus and nutty flavors.

Lamb Abbey Pearmain is a dessert apple, small and intensely flavored with a hint of pineapple which becomes more pronounced as the harvest moves later into the fall.

Ribston Pippin was a very popular dessert apple during Victorian times due to its bold flavor, juiciness, aroma, and firm texture.

Sheep's Nose is a New England variety from the early 1800s and is traditionally used as a cooking apple due to it's rich flavor and aromatic quality. It's known as a "Sheep's Nose" due to it's unusual shape which tapers toward the base.

Reine de Reinette is a French apple from the 1700s with a high sugar content that is balanced with acidity. It's a very juicy apple, great for eating out of hand, and is considered the best apple in Normandy France for producing apple cider.

Ananas Reinette was grown in France in the 1500s. It has a zesty pineapple citrus flavor and a fine grain textured flesh. Translated into English, this means "Royal Pineapple."

Maiden's Blush  originated in the 1700s and was traditionally used for dried apples.
Raise a Toast
This holiday season I am sharing with you a recipe for Bourbon Apple Cider marrying wonderful winter flavors in one glass. I find most mulled apple ciders too sweet and prefer to bring out cider's richer qualities with lemon, cinnamon, and thyme. The lemon gives it zest and tempers the sweetness, fresh apple slices layer the flavors, and cinnamon and thyme round it out with savory aroma.
I also suggest a bourbon with a heavy blend of rye on the mash to give cider a little heat. This Bourbon Apple Cider can be served over ice or warmed and ladled into a mug. Make sure to raise a glass (or a mug) this holiday season.
Bon Appétit, Y'all
Virginia Willis
Bourbon Apple Cider
Serves 4
Ingredients
4

cups

apple cider

4

ounces

bourbon

juice of 1/2 lemon

Pinch

of cinnamon

thyme

for garnish
Instructions
For a chilled cocktail combine chilled cider, bourbon, lemon juice, and cinnamon. Stir to combine. Pour over ice and garnish with thyme.

For a warmed beverage combine the cider, bourbon, lemon juice, and cinnamon, and thyme in a small saucepan. Bring to a gentle simmer over medium heat. Pour into mugs and serve.
Please note that this post may contain affiliate links. (That means I make a commission if you use my affiliate link to buy the product.) 
If you are interested in hosting me for a speaking engagement, event, cooking class, or book signing, let me know! Send an email to jona@virginiawillis.com and we'll be back in touch as soon as possible.
Please be nice. Unauthorized use and/or duplication is prohibited. All photos and content are copyright protected. If you wish to republish this recipe, please link back to this recipe on virginiawillis.com. Thanks so much!
Let's connect on Facebook, Twitter, Instagram, and Pinterest!

Please note that this post may contain affiliate links.