Please note that this post may contain affiliate links.

Buffalo Meatballs are a glorious marriage of two of America's favorite football foods — meatballs and wings. What's not to love? Finger food, bite-size nibbles, and casual entertaining go hand in sticky hand.  Are these Baked Turkey Buffalo Meatballs the same as butter-soaked, hot sauce-drenched, deep-fried Buffalo Chicken Wings? Well, no. No, they are not. Let's not kid ourselves. Are they good? Yes! I guarantee this recipe mashup-makeover for Baked Turkey Buffalo Meatballs will "scratch that itch." Read on for more about "delayed gratification" and making it work for you.

Recipe Makeover for Meatballs
Whenever I have a hankering for something super-indulgent like a double cheeseburger, wings, or nachos I will first try to delay that urge with a recipe makeover. I'll go for a turkey burger, air-fried chicken tenders, and baked tortilla chip nachos.
Often, that switch will "scratch the itch" and abate my craving. If I can't trick my mind, then eventually I go ahead and satisfy my urge with the real deal. This is why I call it "delayed gratification." However, the good news is that often, my plan works and I'm satisfied with the healthier version.
My eating habits revolve around the fact that food has to taste good. Who wants sad food? Nobody. Healthy food, healthier food, or even healthyish food does NOT have to taste sad or boring.
The same mind game bait-and-switch philosophy is what inspired these Buffalo Turkey Meatballs. They're so good, you won't miss those fatty wings! The recipe can be easily doubled and, unlike wings, they can be easily made ahead and reheated.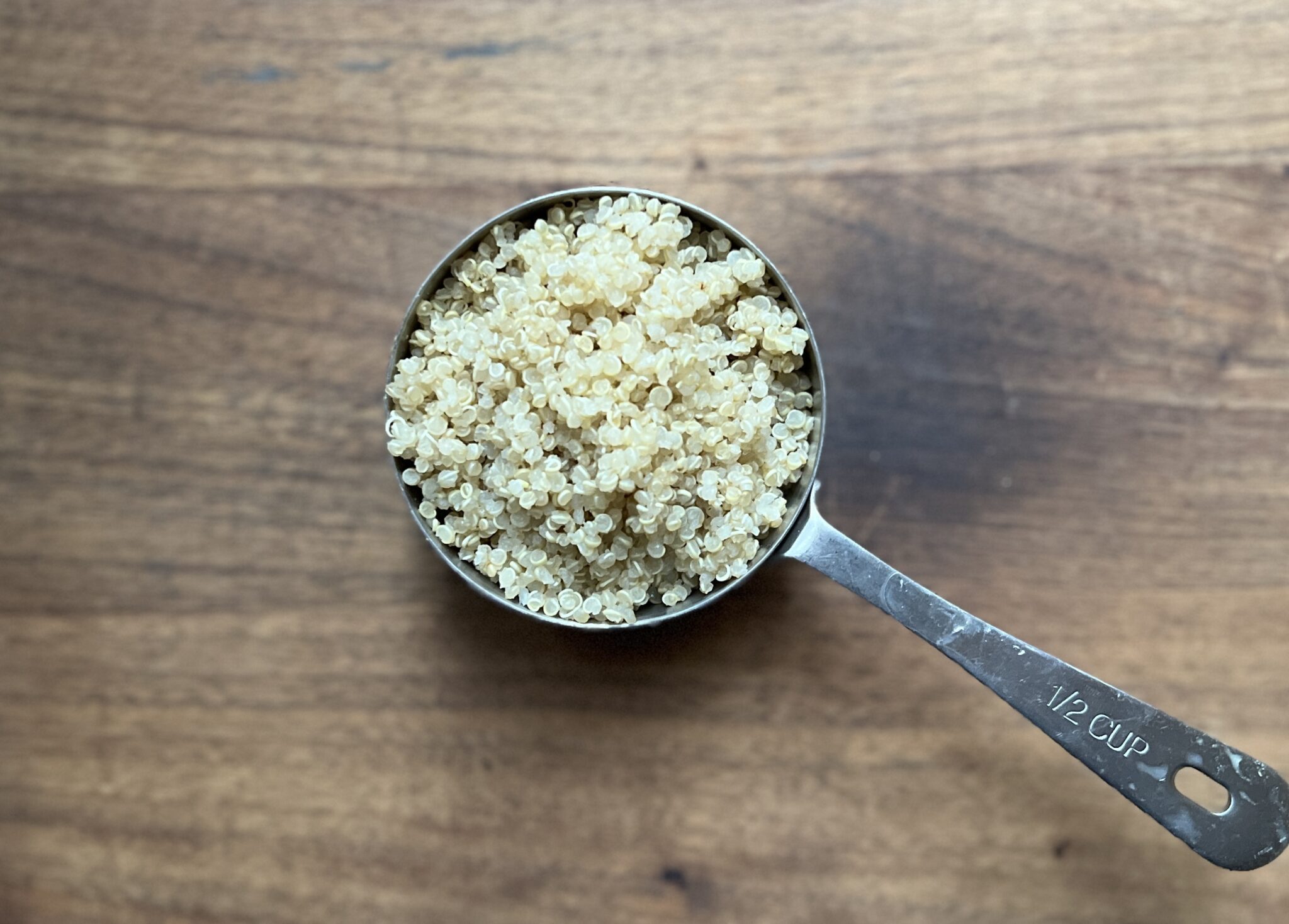 Ingredient Swaps  
Meatballs are always a popular appetizer. Who doesn't love something you can't stab with a toothpick?
In these Buffalo Turkey Meatballs, I sub the super grain quinoa in place of breadcrumbs. Quinoa is a complete protein containing all eight essential amino acids. It's light and fluffy in texture but has that whole-grain power to help fill you up. I'm not against bread or gluten-free; subbing out quinoa makes the meatballs more nutritionally dense and better for you.
The other big swap is ditching the blue cheese dipping sauce. Simply sprinkle the blue cheese crumbles on top.  You'll get the flavor with a lot less fat and calories. And, it looks great on the plate. (If you love the buffalo-blue cheese combo, check out my recipe makeover for Buffalo Chicken Dip. Lawd.)
Check out my video on how to make Buffalo Turkey Meatballs — and what this awesome recipe has to do with #LoveYourself
View this post on Instagram
Join me on Instagram
Hope you enjoy the recipe. Catch more of my real-life recipes, tips, and techniques on  Instagram. I'd greatly appreciate the follow. Thanks so much for reading!
Bon Appétit Y'all!
Virginia Willis
PS Need a dessert recipe for the weekend? It's better-for-you baking! Check out my Lower Fat Carrot Cake in AARP.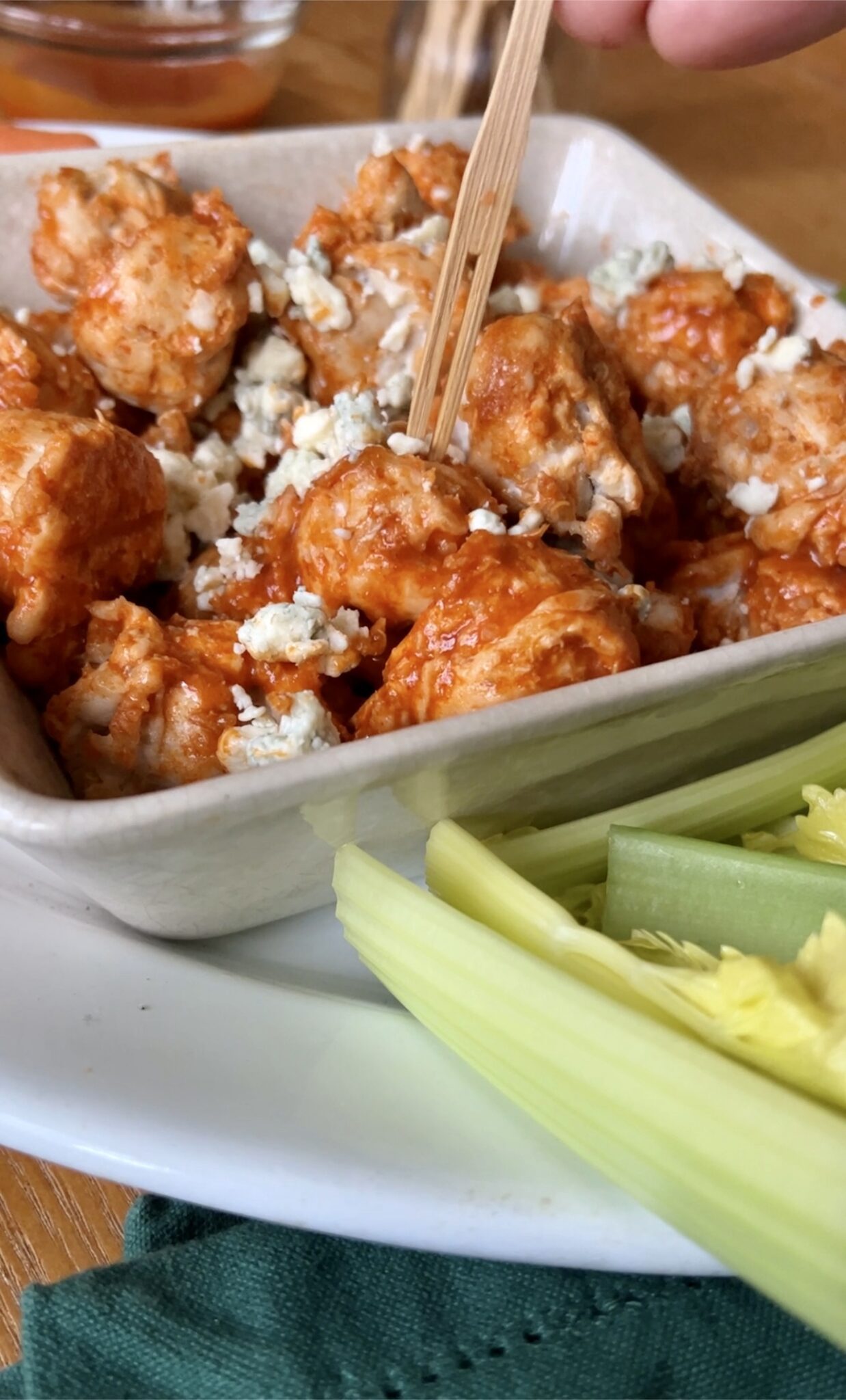 Buffalo Turkey Meatballs
This entire recipe comes in at about 15 WW points for 32 meatballs if you use ground turkey breasts -- so only about 4 points per serving!
Ingredients
For the Buffalo Hot Sauce:

1/2

cup

hot pepper sauce

2

tablespoons

unsalted butter

melted

1

teaspoon

Worcestershire sauce

1

teaspoon

garlic powder

For the Meatballs:

1

pound

ground turkey breast

1/2

cup

cooked quinoa

2

tablespoons

reserved Buffalo Hot Sauce

2

tablespoons

chopped onion

1

teaspoon

garlic powder

Coarse salt and freshly ground black pepper

Baby carrots and celery sticks

for serving

Blue cheese crumbles

for serving
Instructions
Heat the oven to 350°F. Line a baking sheet with a cooking rack. Spray with nonstick cooking spray. Set aside.

In a small bowl combine the hot pepper sauce, butter, Worcestershire sauce, and garlic powder. Reserve 2 teaspoons of sauce. Set aside.

In a large bowl combine the ground turkey, quinoa, onion, reserved hot sauce, and garlic powder. Season with salt and pepper. (To taste and adjust for seasoning, simply cook a teaspoon or so of the mixture in the microwave.)

To form the meatballs, using a 1/2-ounce ice cream scoop or a tablespoon measure, scoop out the meat mixture and place onto the prepared baking sheet. Repeat until all the meat mixture is used up.

Transfer to the oven and cook until firm and the temperature reads 165°F on an instant-read thermometer, about 15 minutes. Remove from the oven and let cool slightly. (These can be made ahead up to this point and stored in an airtight container in the refrigerator for up to 3 days.)

Using a spatula, transfer the meatballs a large bowl. Drizzle with enough Buffalo Hot Sauce to coat. Stir to combine. Serve immediately with toothpicks or skewers, baby carrots, celery, blue cheese crumbles, and remaining hot sauce on the side.
Let's cook something up! If you are interested in hosting me for a speaking engagement, event, cooking class, or book signing, let me know! Send an email to jona@virginiawillis.com and we'll be back in touch as soon as possible.
I am not a doctor, RD, health professional, or WW representative. I am simply sharing what works for me. My blog is for informational or educational purposes only and does not substitute professional medical advice or consultations with healthcare professionals.
Note that this post may contain affiliate links and I may make a commission if you use my affiliate link to buy the product.
Please be nice. Unauthorized use and/or duplication is prohibited. All photos and content are copyright protected. If you wish to republish this recipe, please link back to this recipe on virginiawillis.com. Thanks so much!