Please note that this post may contain affiliate links.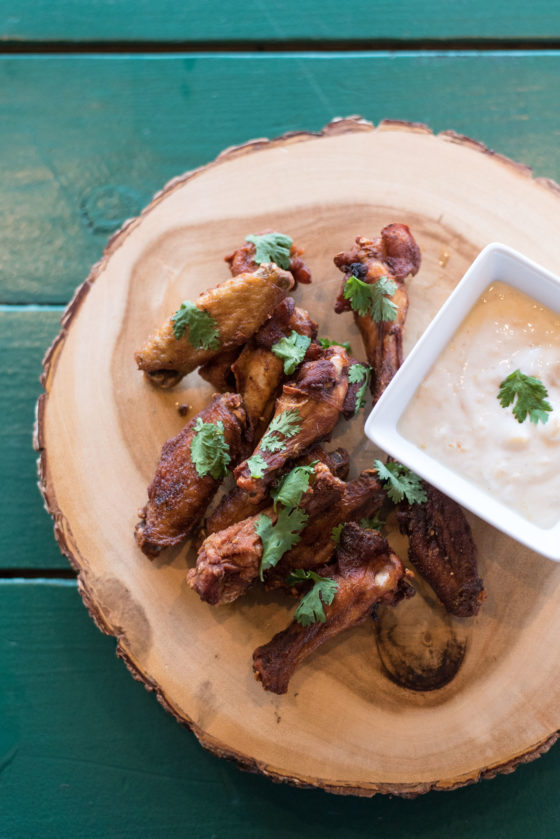 Are you a flat or a drum? I am a flat — I love the two-bone piece of wing. Whole chicken wings are composed of three parts. The flat, the drum, and the tip. Flats get their name because simply put, they're flat with two small bones that run the length of the wing. They have tender dark meat and are completely covered with skin — which is probably why I like them! Drums, or drumettes, resemble small chicken legs, with a single bone running down the middle. Drum are rounded and meaty at one end and there's a high ratio of meat to skin. The tips are the tiny, pointy pieces and are almost completely skin, bone, and cartilage.
When buying wings, it's more often cheaper to buy whole wings and separate them yourself than purchasing pre-cut flats and drums. I also like purchasing whole wings and cutting them myself as I save the tips for making chicken stock.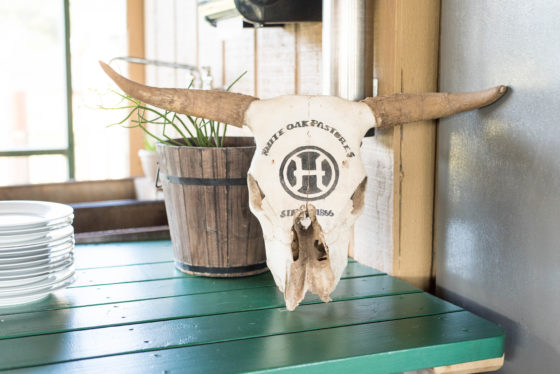 White Oak Pastures
Several years ago I prepared these wings as part of a feast at White Oak Pastures with some folks visiting South Georgia to see the fall harvest with the National Peanut Board. (Lordy mercy was it hot, even in November!) But, the guests had a great time and we did, too. (BIG thanks to Cynthia Graubart for all her help.) I love the Harris family and the work they do in the good food movement. It was so exciting to share that experience with people. I am very proud to be from Georgia; some visitors had never been to the South and most had never seen anything like a regenerative farm such as White Oak Pastures.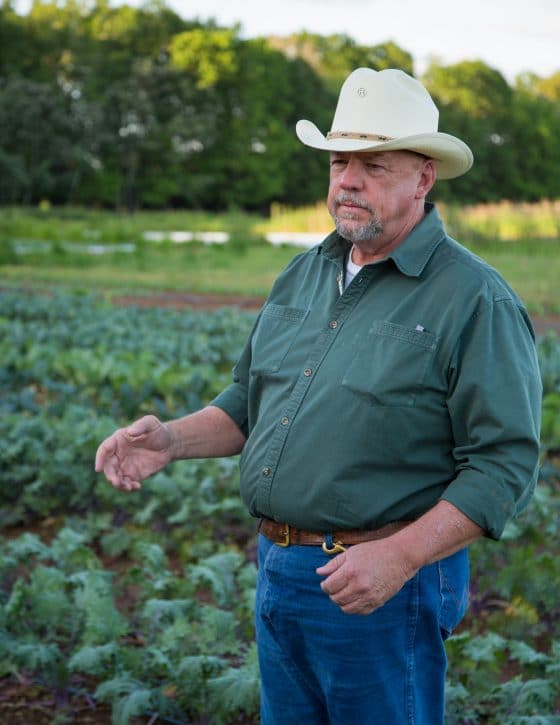 Pastured Poultry
The farm doesn't grow peanuts, but they do raise pastured poultry.  As Will says, "Chickens were meant to hunt and peck, cows were meant to chew."  He also refers to his chickens as "aaa-thu-leetes." (Read more about this fine flock.) Pastured poultry have access to grass or pasture. Pastured poultry is better for the chickens, the land, and the people, reducing the need for antibiotics and other medications. From a taste standpoint, the meat has a deeper flavor and firmer texture.
Peanuts
Peanut production in Georgia is concentrated in the flat Coastal Plain in the lower half of the state. Georgia is the number-one peanut-producing state in the US. My home state produces almost half of the total United States peanut crop and more than 50 percent of peanuts used in the production of peanut butter! The sandy soil and subtropical climate are ideal for producing peanuts.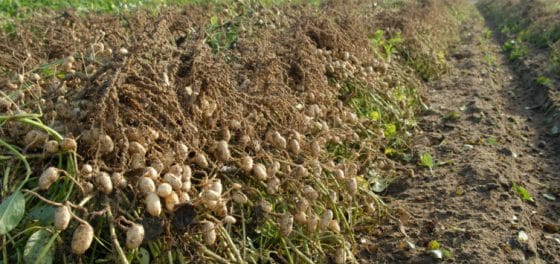 Peanut Powder
The secret ingredient to amping up the flavor in these wings is peanut powder! Peanut powder is essentially powdered peanuts that have been pressed to remove much of the oil and fats. It can be reconstituted in water to make a spread or peanut butter. It's also widely used by athletes in protein shakes. It's become a pantry staple in my home, and I really like using it as a flavor-boosting ingredient, as with these chicken wings.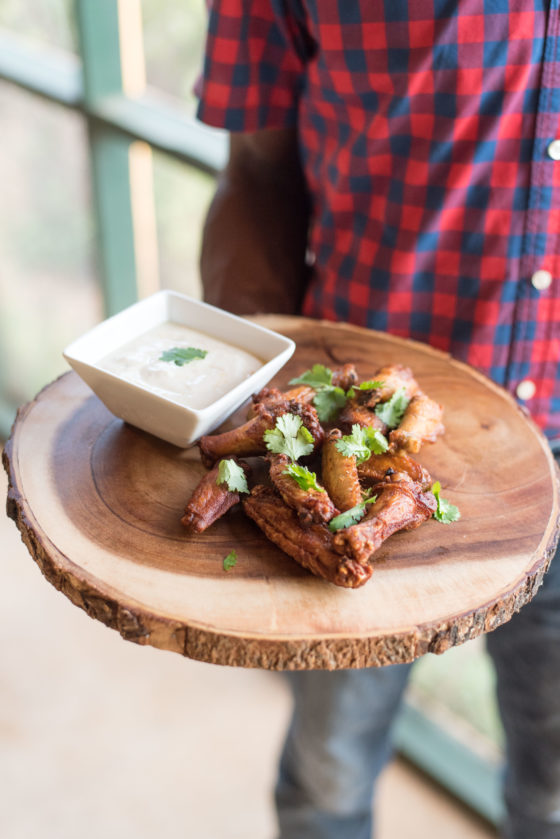 Peanut = Umami
Peanut powder is a great flavor booster and high in umami. The word umami means "yummy" or "delicious" in Japanese. It's also known as the "fifth taste" and is sometimes described as "savory" to go along with sour, salty, bitter, and sweet. That savoriness comes from the presence of glutamate, amino acids that occur naturally in food. While most often associated with soy sauce, bacon, and other processed ingredients, umami also occurs naturally in whole foods. Think of the meaty flavor of mushrooms, the richly vegetal flavor of winter greens, the natural saltiness of a tomato — and the earthiness of peanuts. Whole peanuts are high in umami and peanut powder packs a double whammy.
I hope you enjoy these Peanut Crusted Chicken Wings with Curried Yogurt Dipping Sauce — fried, air-fried, or broiled. Let me know what you think!
Bon Appétit, Y'all!
Virginia Willis
PS — Want another one?  Check out my Coca Cola Glazed Chicken Wings 

Peanut Powder Chicken Wings
Ingredients
3

pounds

chicken wings

1

teaspoon

Madras or spicy curry powder

½

teaspoon

ground turmeric

1/4

teaspoon

cayenne pepper

or to taste

2

tablespoons

soy sauce

2

tablespoons

canola oil

1

tablespoon

garlic powder

½

cup

plain low-fat Greek-style yogurt

3

tablespoons

peach preserves

¼

teaspoon

hot sauce

or to taste

1

cup

dried peanut powder

Canola oil

for frying

Cilantro sprigs

for garnish

Coarse kosher salt and freshly ground black pepper
Instructions
In a large bowl, combine the wings, curry powder, turmeric, cayenne, soy sauce, canola oil, garlic, salt, and pepper. Toss to coat. Cover and refrigerate for at least 1 hour, or overnight.
Meanwhile, to make the sauce, combine the yogurt, preserves, and hot sauce. Season with salt and pepper. Cover and refrigerate until serving.
Line a rimmed baking sheet with paper towels. Remove the marinated wings from the refrigerator and let come to room temperature. Add peanut powder and toss to coat. Heads up -- It won't be breaded as for fried chicken. The peanut powder almost melts into the wings.
For frying: Pour the oil into a heavy-bottomed saucepan, deep fryer, or Dutch oven, filling it no more than one-third full. Heat the oil over medium heat until it reaches 350°F. Carefully add the wings to the oil, a few pieces at a time. Cook until golden brown and crispy, 8 to 10 minutes. Serve immediately.
For broiling: Place wings on broiler pan. Broil 10 minutes, turn over and broil another 10 minutes or until juices run clear. Remove wings from oven and serve immediately.
If you are interested in hosting me for a speaking engagement, event, cooking class, or a book signing, let me know! Send an email to jona@virginiawillis.com and we'll be back in touch as soon as possible.
Please be nice. Unauthorized use and/or duplication is prohibited. All photos and content are copyright protected. If you wish to republish this recipe, please link back to this recipe on virginiawillis.com. Thanks so much!
Let's connect on Facebook, Twitter, Instagram, and Pinterest!
Peanut photos courtesy of the National Peanut Board. Will Harris Photo by Angie Mosier.

Please note that this post may contain affiliate links.