Please note that this post may contain affiliate links.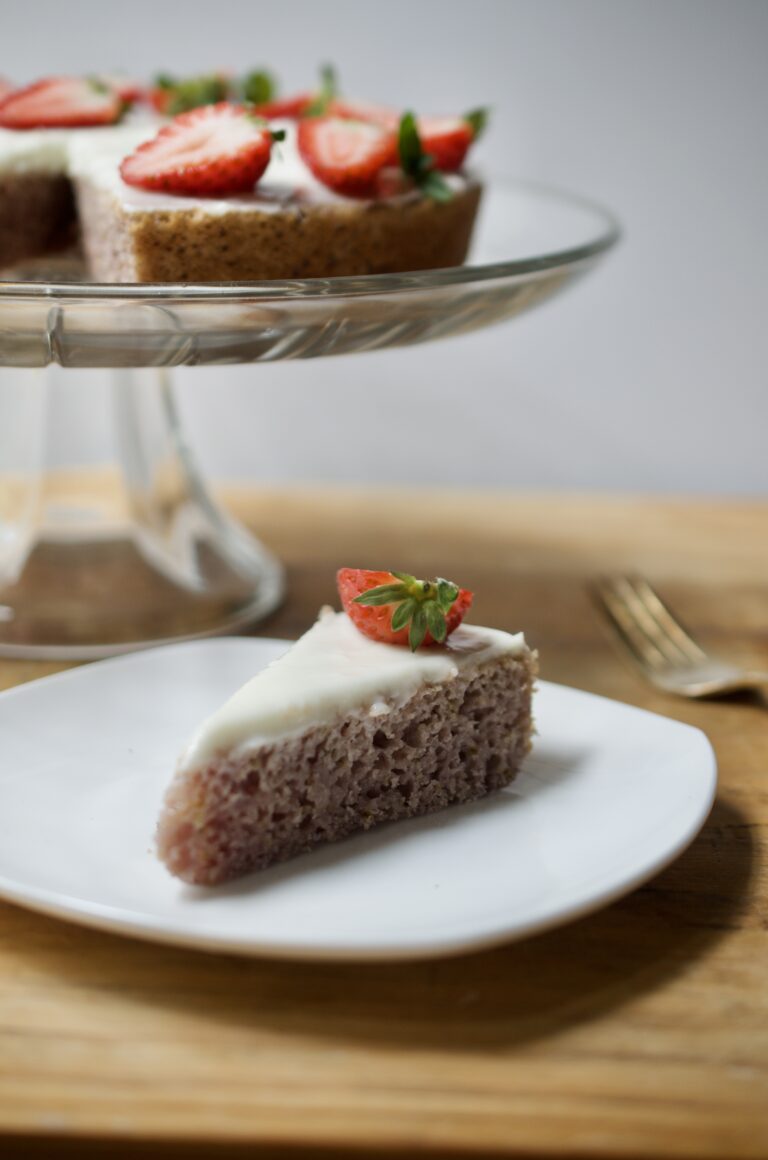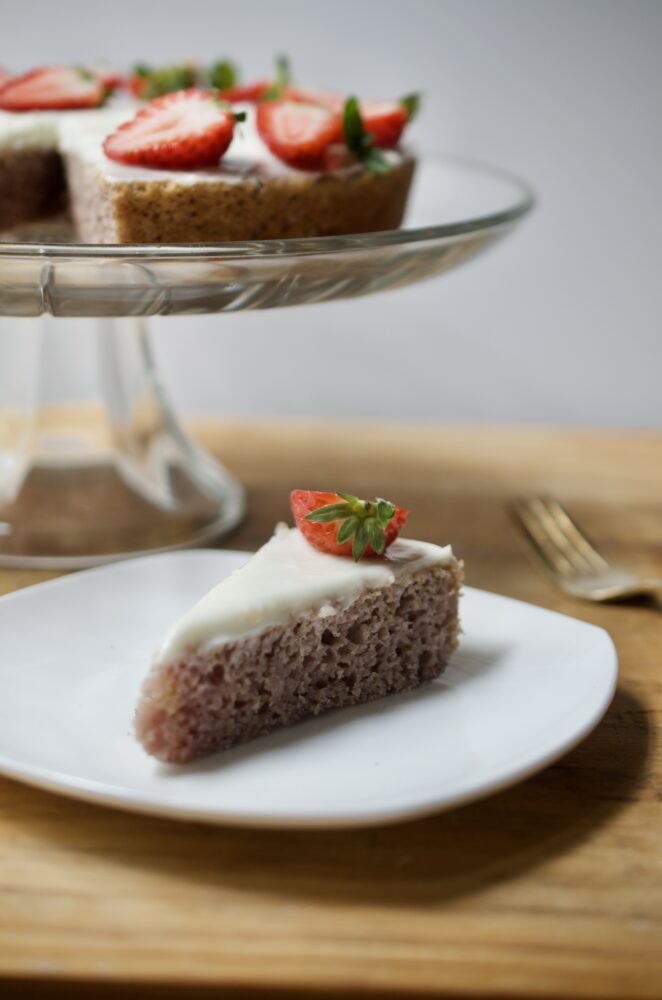 Strawberries are some of the first fruits of spring in Georgia. I love them and when they are in season, I eat them nearly every day.  One of my favorite breakfasts is strawberries and buttermilk. Yes, I know how country-sounding that is, but if you like yogurt you will like buttermilk! It's the same flavor profile. Plus, red Chanel lipstick or not, I am really a country girl. I am certain you are going to love my Strawberry Buttermilk Cake. Since it contains buttermilk and pureed strawberries, I was able to eliminate adding butter or oil — and it's still super tender and moist. And, best of all — I make it in the food processor!

Baking with Buttermilk
Buttermilk is a staple in my refrigerator. And, before you ask — if it's past the date, I keep it. As long as it pours I consider it usable. 😉 Buttermilk can give baked goods a fuller body and a hint of tartness due to lactic acid. The lactic acid helps keep baked goods moist and tender by breaking down long, tough strands of gluten. It also produces a chemical reaction when combined with baking soda, producing carbon dioxide gas, contributing to the leavening or rise of many baked goods.

Strawberry Health Benefits
According to WebMD, strawberries increase HDL (good) cholesterol, lower your blood pressure, and guard against cancer. Packed with vitamins, fiber, and particularly high levels of antioxidants known as polyphenols, strawberries are a sodium-free, fat-free, cholesterol-free, low-calorie food. One of my go-to recipes is this Strawberry Shrub. It is so refreshing!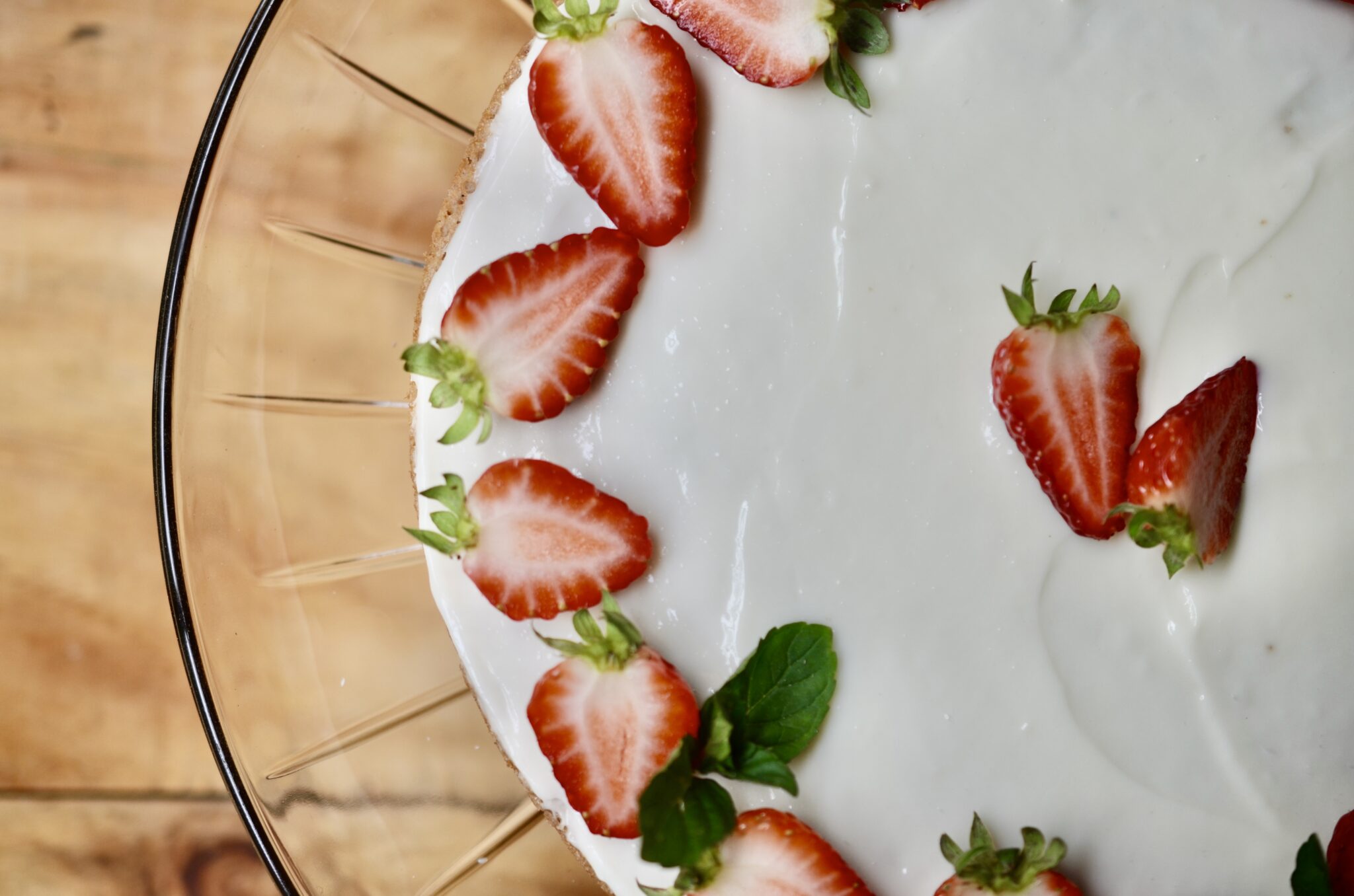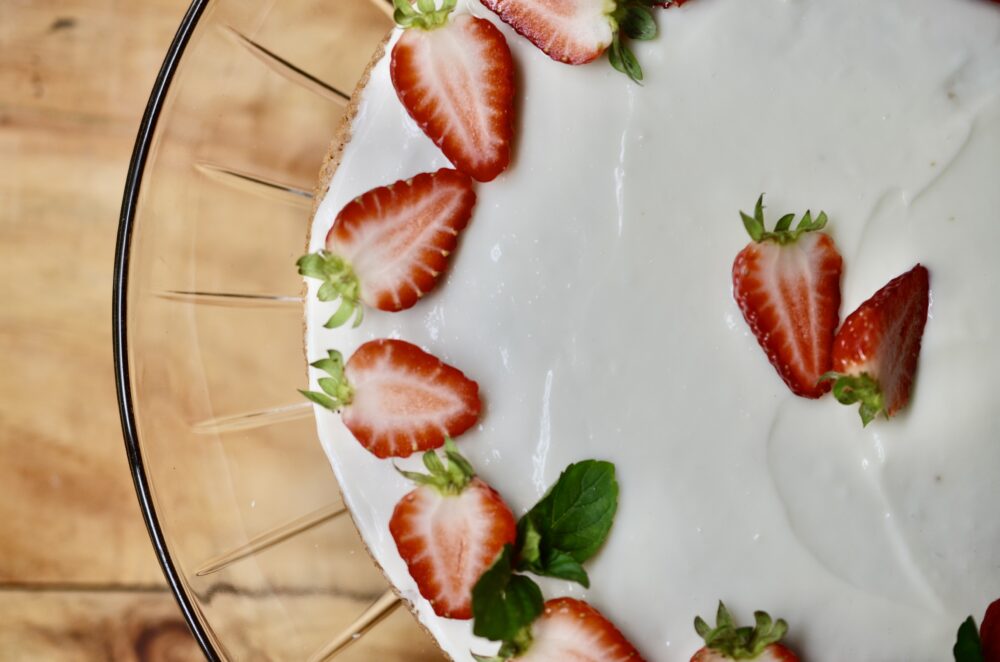 Cookbooks with Virginia
A few folks asked me to feature my new ebook Fresh Start on my weekly Livestream, Cookbooks with Virginia. You can check out the IGTV video below. I share my 7 tips on healthy eating and weight loss. Heads up, I get a little emotional. Weight is a very intense subject — my new expression is that it is a "minefield of mind feels." Check it out….
Point it Out
This cake comes in at only 5 points a slice! It surprised me, too! I was going to substitute applesauce, but then I considered that the pureed strawberries would act the same way and gave it a shot. It's incredible how it worked so well! Woo-hoo!! I hope you enjoy it – so moist, tender, and delicious. If you give it a try, please tag me if you post on social. I'd love to see it! Thanks so much for reading.
Bon Appétit, Y'all
Virginia Willis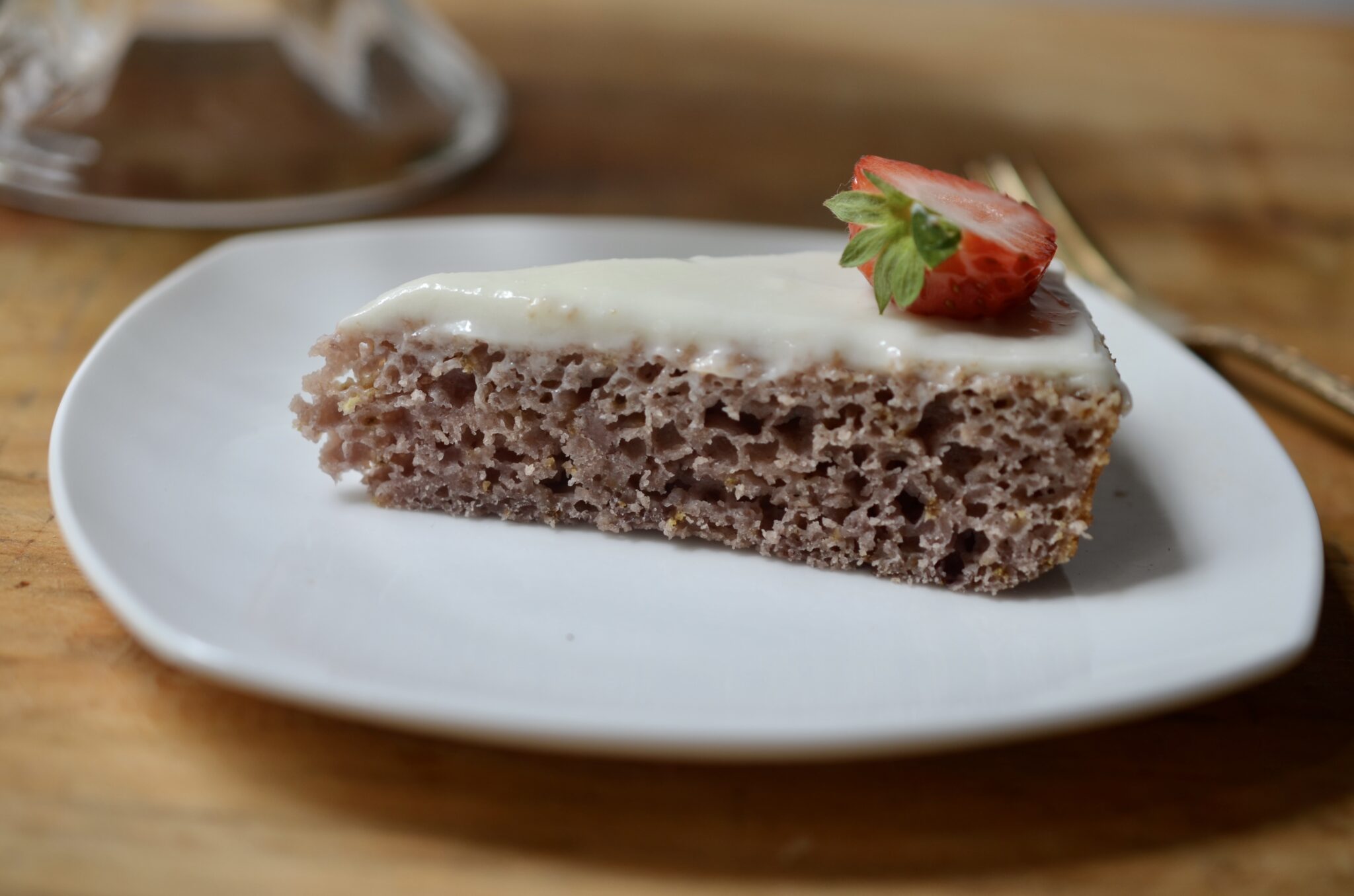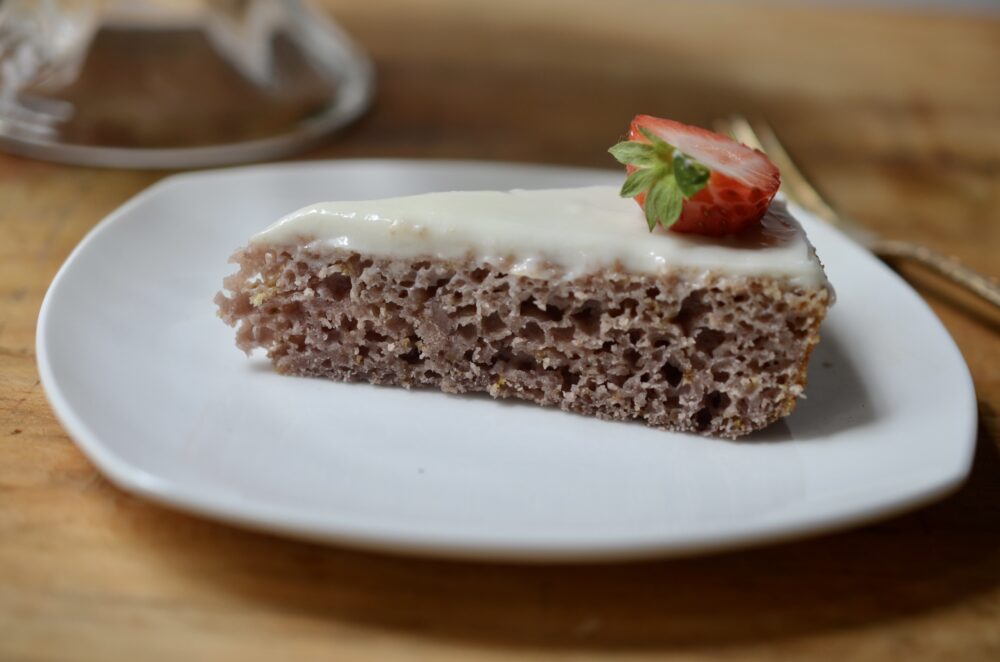 Strawberry Buttermilk Cake
This comes in at only 5 WW green points a slice!
It does bake more purple than pink, so if you want to you can add a drop or two of red food coloring.
Ingredients
Nonstick baking spray

15

medium strawberries

hulled, plus some halved for garnish

1/3

cup

sugar

1

cup

all-purpose flour

1

teaspoon

baking powder

1/2

teaspoon

baking soda

1/4

teaspoon

salt

1

large egg

room temperature

2/3

cup

low-fat buttermilk + 1 Tablespoon

1

teaspoon

pure vanilla extract

Zest of 1 lemon

1

cup

of confectioner's sugar

4

ounces

Neufchatel
Instructions
Heat the oven to 350°F. Spray an 8-inch cake pan with nonstick baking spray. Set aside.

Combine the strawberries and sugar in the bowl of a food processor fitted with the blade attachment. Puree until smooth.

Add the flour, baking powder, baking soda, salt, egg, 2/3 cup buttermilk, and vanilla. Puree until smooth. Transfer the batter to the prepared pan. Bake until the cake comes away from the side of the pan and a toothpick inserted into the center is dry, about 25 minutes.

Meanwhile, combine the confectioner's sugar, Neufchatel, and remaining tablespoon of buttermilk in a bowl. (You can do it by hand or with a hand mixer.)

Ice the top of the cake and decorate with additional halved strawberries.
Please note that this post may contain affiliate links and I may make a commission if you use my affiliate link to buy the product.
Heads up! I am not a doctor, RD, or health professional nor am I an official WW ambassador or representative. I am sharing here what works for me. Thanks for reading!
If you are interested in hosting me for a speaking engagement, event, cooking class, or a book signing, let me know! Send an email to jona@virginiawillis.com and we'll be back in touch as soon as possible.
Please be nice. Unauthorized use and/or duplication is prohibited. All photos and content are copyright protected. If you wish to republish this recipe, please link back to this recipe on virginiawillis.com. Thanks so much!
Let's connect on Facebook, Twitter, Instagram, and Pinterest!

Please note that this post may contain affiliate links.