Please note that this post may contain affiliate links.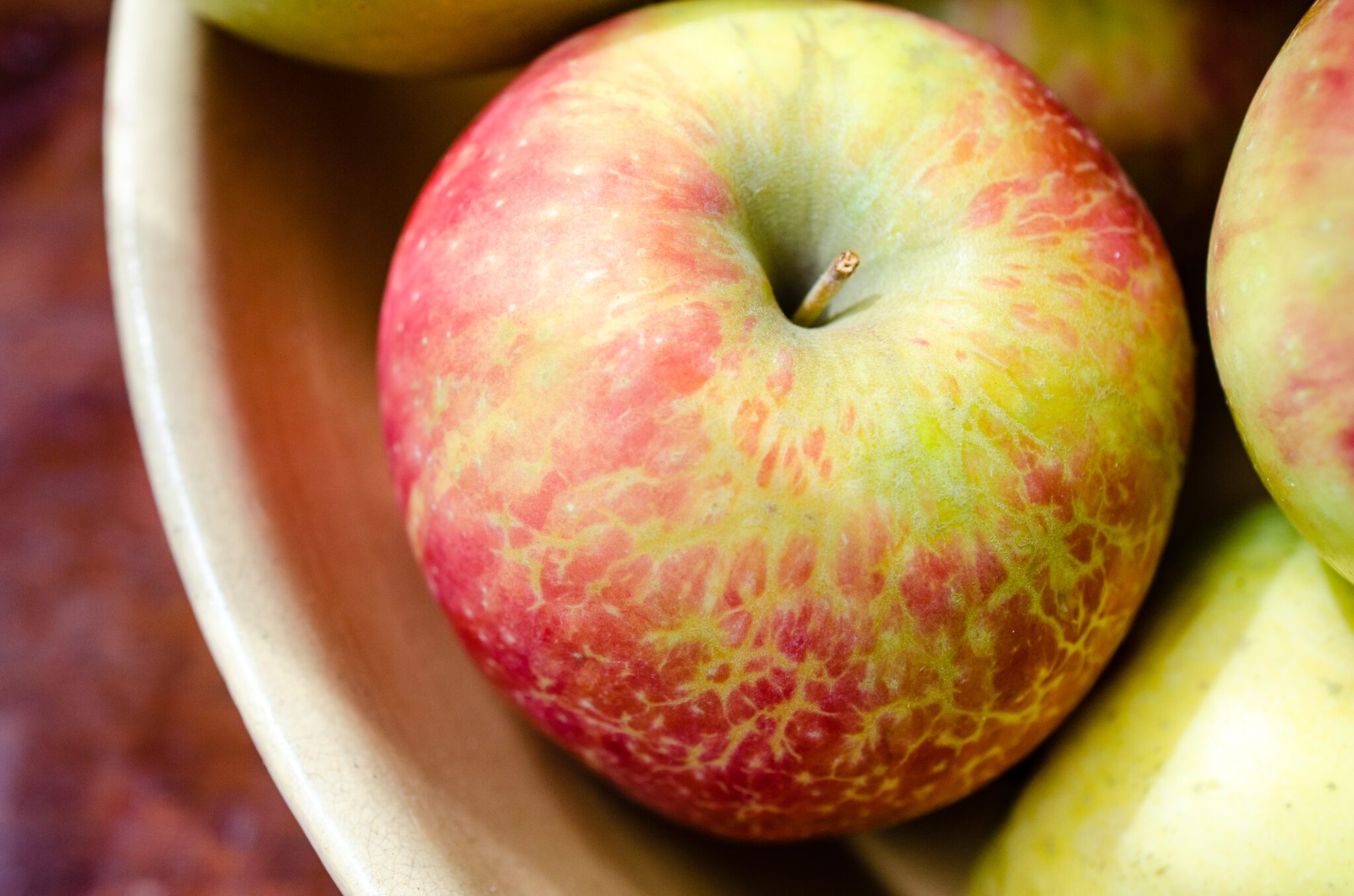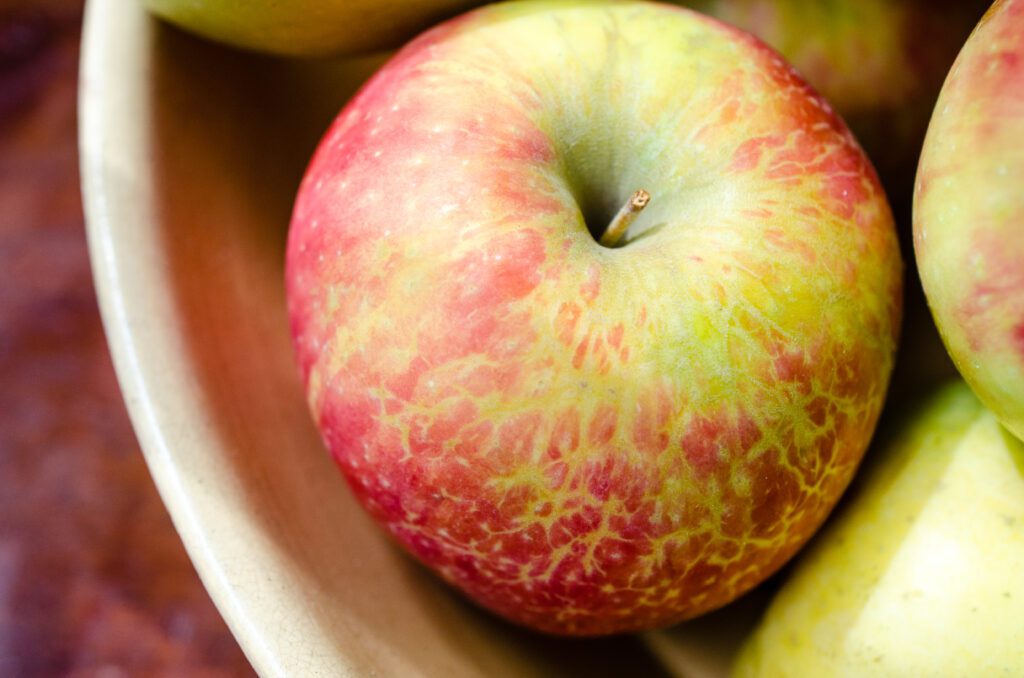 Apples are one of fall's most iconic foods. Raw, dried, sauteed, simmered, baked, jammed, jellied, pressed into cider or juice, or cooked down into unctuous butter – apples are an awesome addition to your autumn kitchen repertoire. Of all the apple dishes that may come to mind, Apple Pie is perhaps the most iconic.  However, sometimes I want a simple apple dessert. Not much is as easy in the kitchen as a one-bowl cake! Read on to learn how to make my One Bowl Apple Snack Cake fragrant with warm spices that's good for breakfast, snacking, or topped with something decadent for dessert.

Baking is Easy
When it comes to baking, one of the most alluring terms used is "one bowl." Folks hear the word "cake" and visions of mountains of flour, sugar, and eggs come to mind like some sort of Willy Wonka baking nightmare. (I admit that both movies scared the dickens out of me, but not the baking part….) Yes, baking can be intimidating for some people and my goal is to coach them off the scared-of-baking-ledge and get them in the kitchen. This one-bowl cake fits the bill!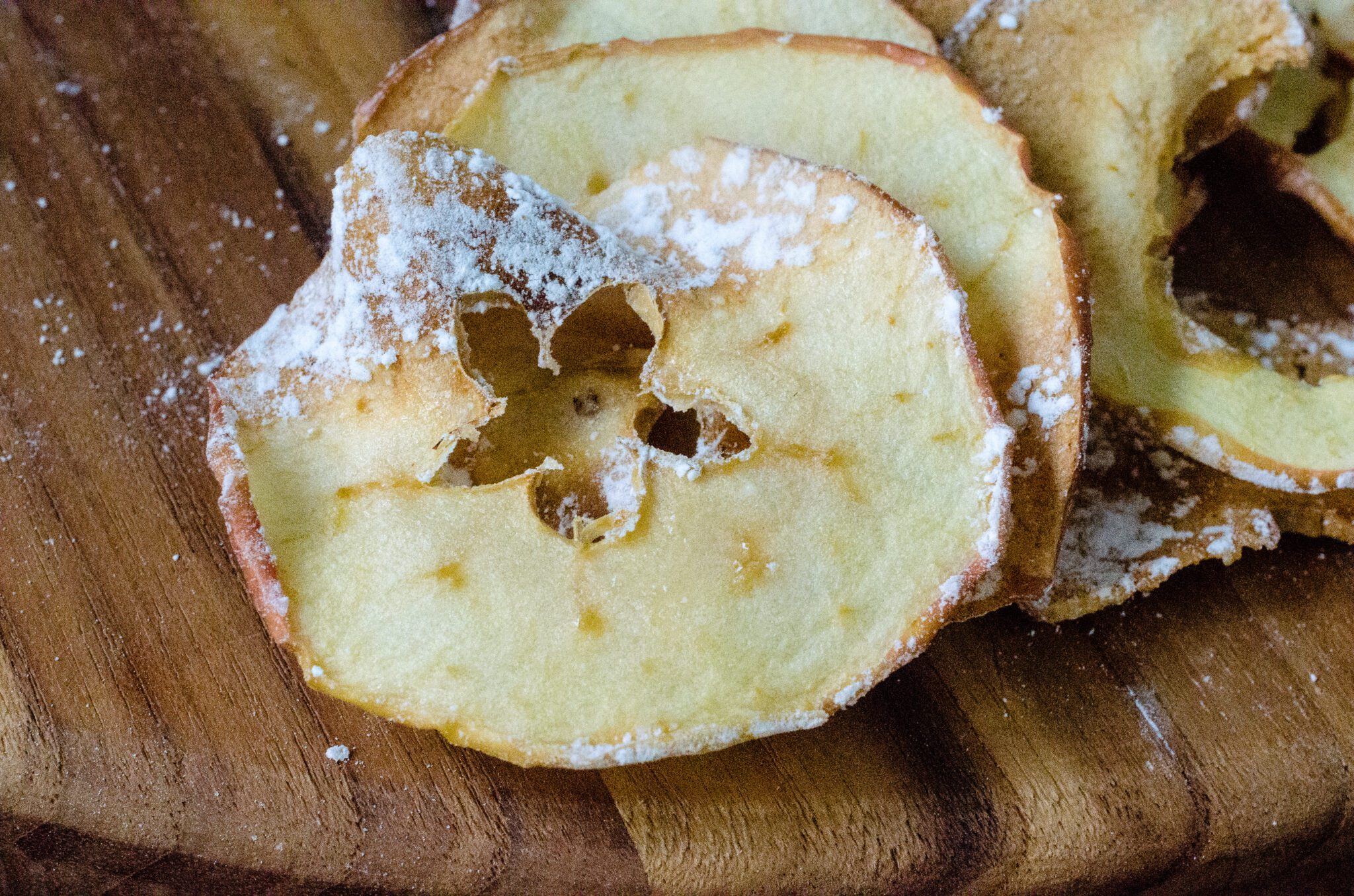 Apples in Southern Cooking
Georgia may be known as the peach state, but apples became a major commercial crop in parts of the South in the late 1800s. Since before the founding of the country, Southerners have grown apples as a year-round food source, developing varieties adapted to the various climates and soils of the region, as well as tailoring cultivars for winter storage, apple butter and preserves, drying, and hard cider. Dried apples are a touchstone of Appalachian cooking, and cider has a long history in the South. Maybe we can even go so far as to say, "As American as Apple Pie, Y'all."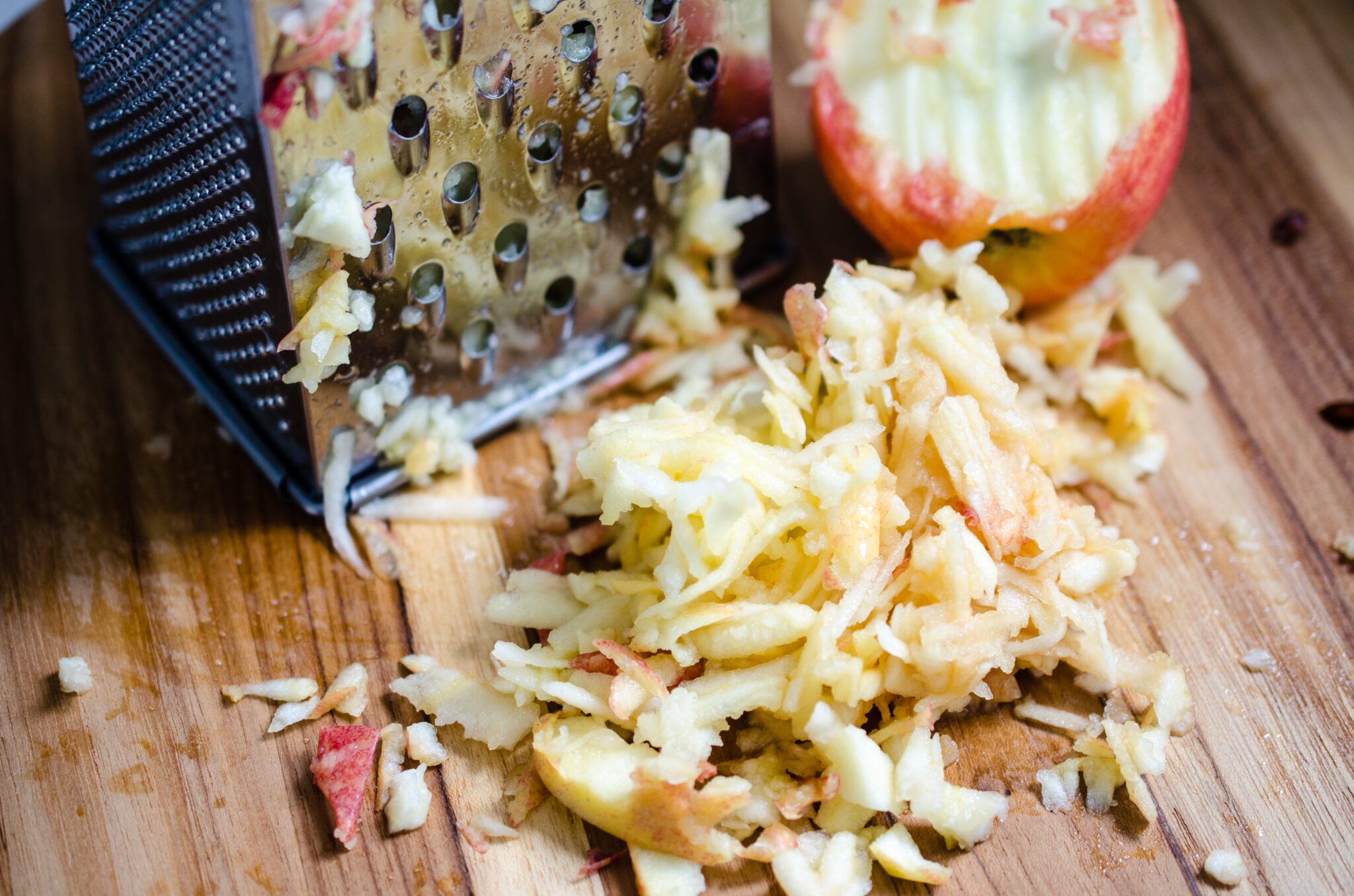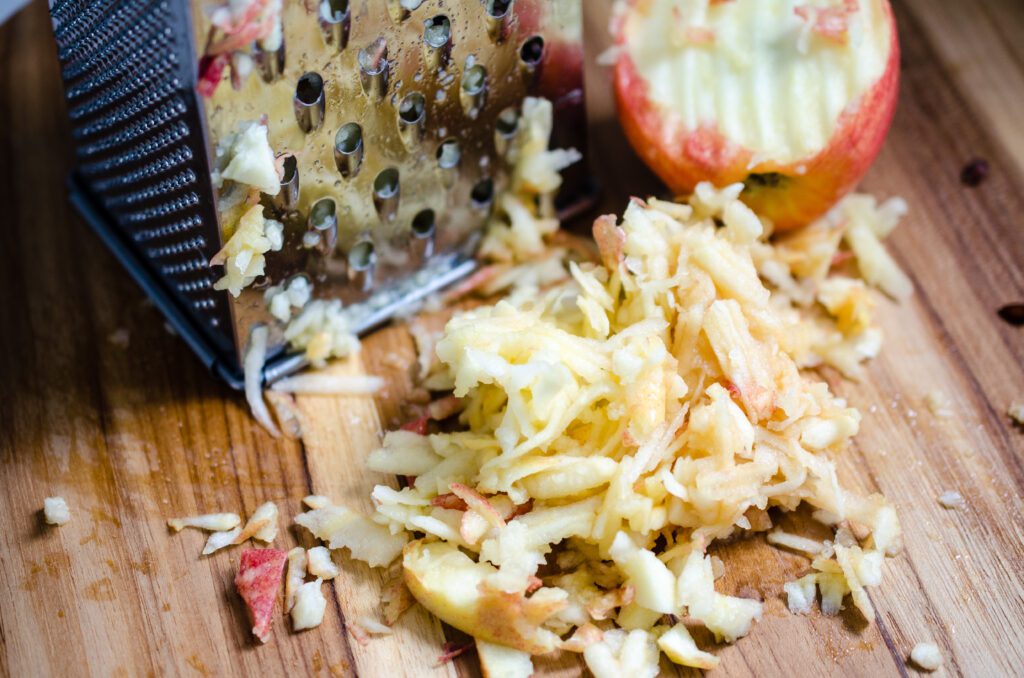 Healthy Apple Recipes
Apple desserts can be indulgent, but don't have to be. When developing this recipe, I made a decision to use butter instead of oil. I also gave it a try with applesauce, often a great replacement for fat in baking recipes. However, the flavor that butter gives baked goods is like no other. So, I included butter in this recipe. At 4 tablespoons for the whole cake it works out to 1 1/2 teaspoons of butter per slice of cake. To make up for the lesser amount of butter, I grated the apples instead of dicing them. The grated apple melts into the batter and creates a very moist, fully flavored apple cake.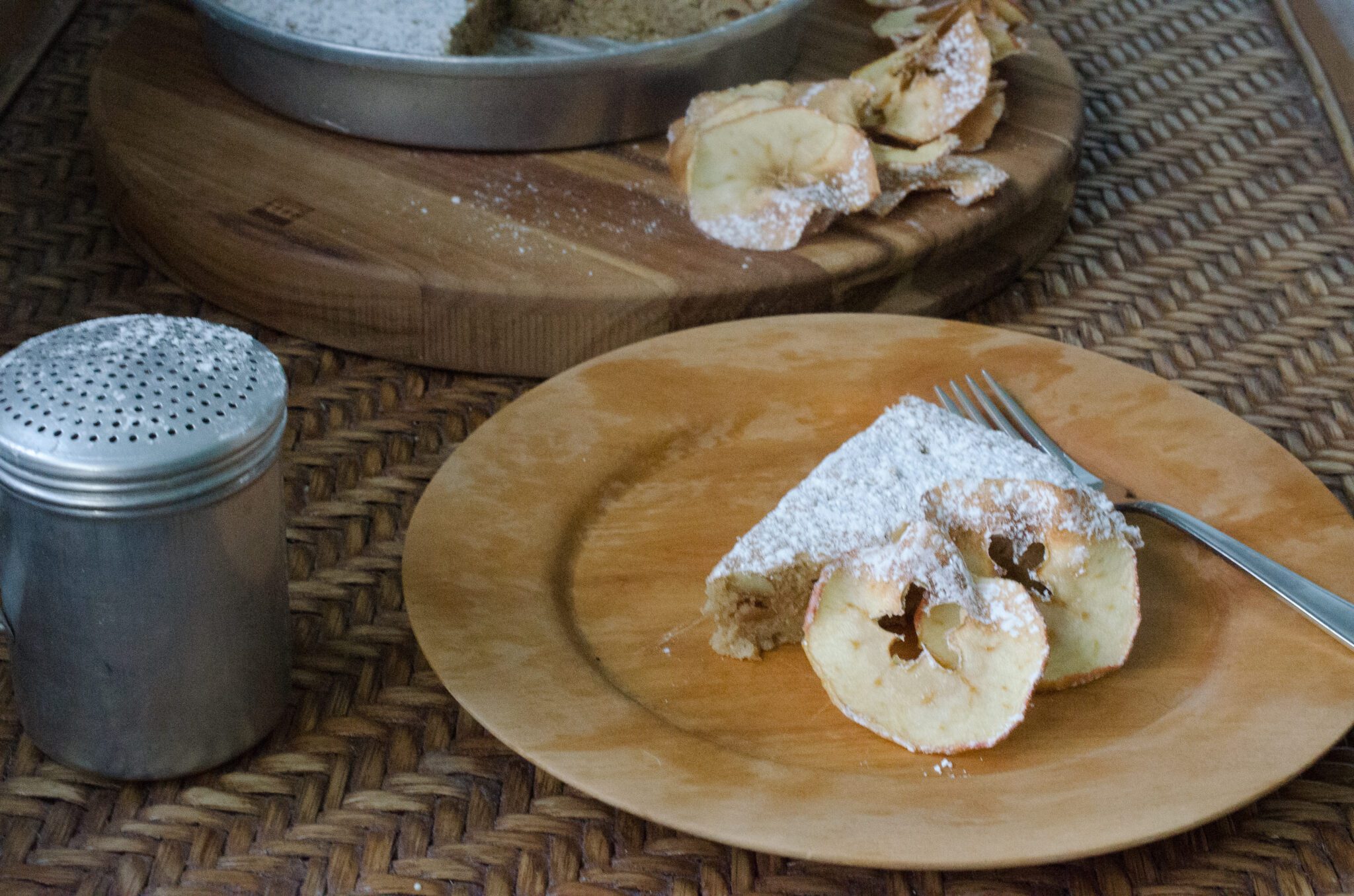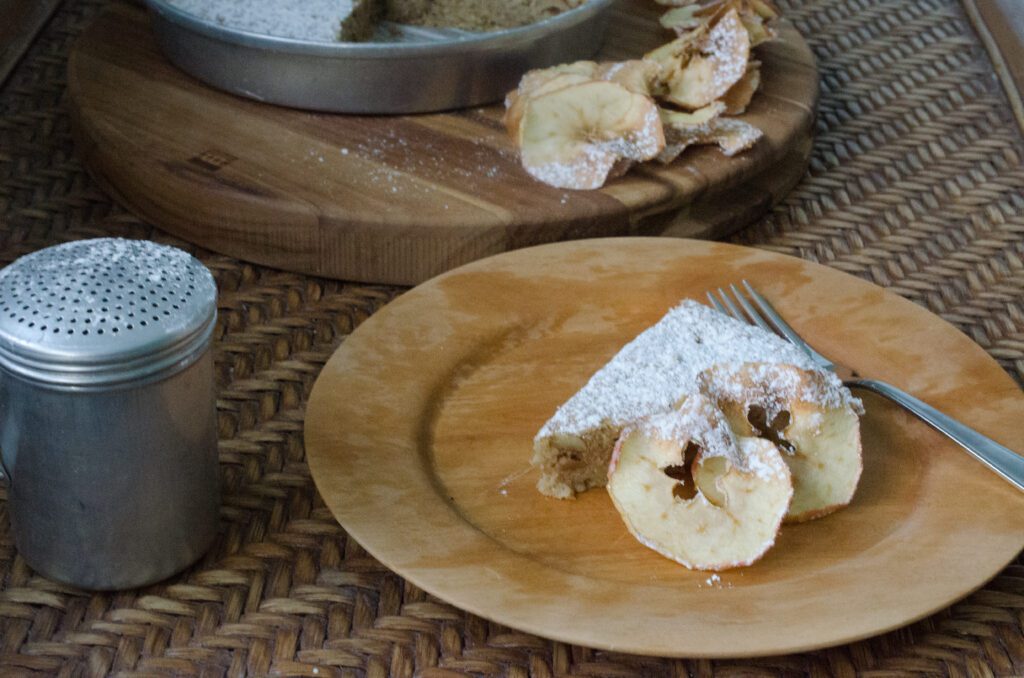 Look at the Big Picture
I take the big picture approach with health and wellness. I'd rather have a nice slice of delicious cake and than have a big piece of something that's not nearly as good or satisfying. If you are counting blue points, this cake works out to 8 points per serving if the cake is cut to serve 8. (That's a nice, regular size piece of cake, not a skinny little aggravating slice.) It's sweet, but not too sweet and can be served for breakfast, a snack, as a nibble with afternoon tea, or dolloped with something decadent for dessert.
I'm also serving this with homemade Apple Crisps. It's a darling garnish and super easy to make. You can see my Apple Crisp How-to Video on Instagram Reels. I hope you and your family enjoy my One Bowl Apple Snack Cake. If you make it, please let me know what you think. Thanks so much for reading and stay safe!
Bon Appétit, Y'all
Virginia Willis
PS Need even MORE apple recipes PLUS an apple glossary? Check out APPLE RECIPES!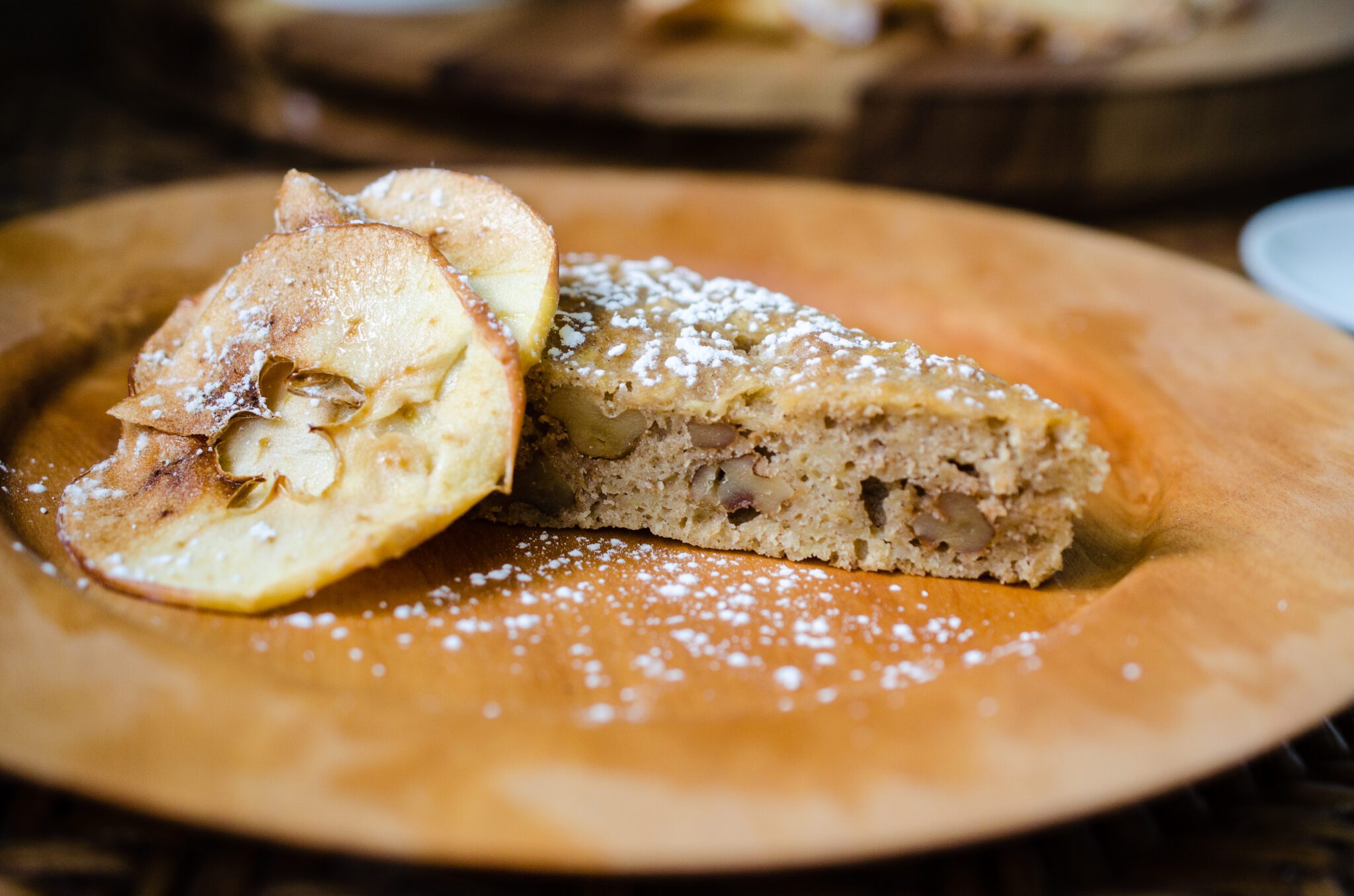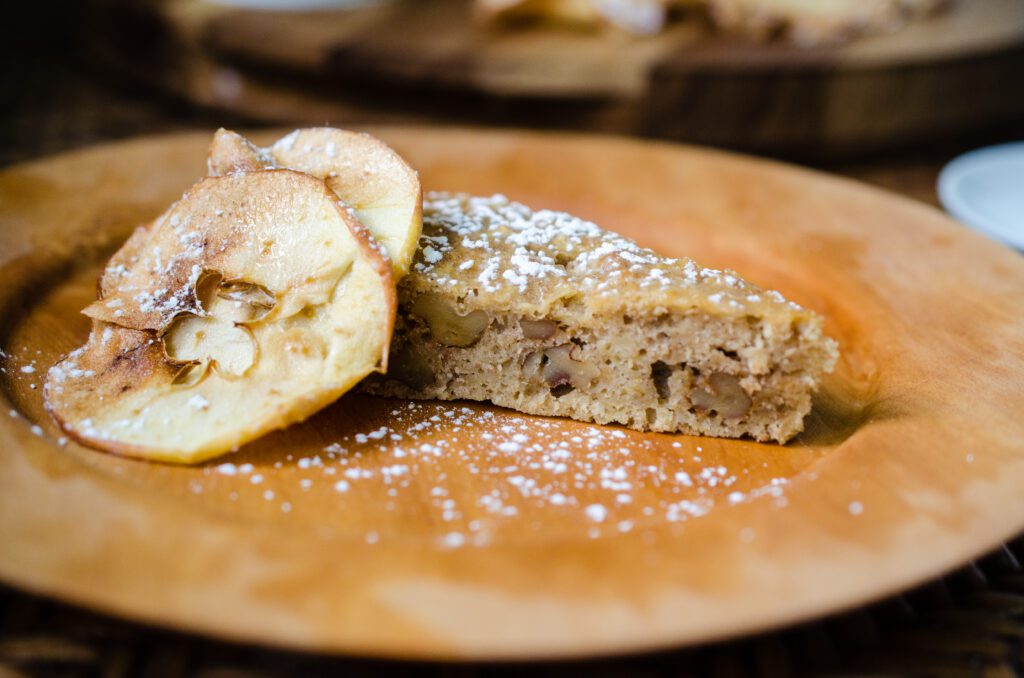 One Bowl Apple Snack Cake
At 8 points a slice, this is not remotely "point free." If you want to trim some points you can back off on the nuts. If you reduce the amount of nuts to 1/4 cup it will take the points per serving down to 7 points per slice.
Ingredients
4

tablespoons

unsalted butter

melted and cooled

1

cup

all-purpose flour

1

teaspoon

baking powder

½

teaspoon

ground cinnamon

½

teaspoon

ground ginger

¼

teaspoon

allspice

Pinch

of salt

2

medium apples

grated

2

large eggs

½

cup

brown sugar

packed

½

teaspoon

vanilla extract

1/2

cup

chopped walnuts

Confectioners' sugar

for sprinkling
Instructions
Heat the oven to 350°F. Brush an 8 or 9-inch cake pan with some of the butter. Combine in a bowl all the ingredients, including the remaining butter. Stir to combine. Pour into the prepared pan. Bake until the cake pulls from the sides of the pan, about 30 minutes. Remove to a rack to cool slightly. Dust with confectioners' sugar. Slice with a serrated knife. Serve garnished with apple crisps.
Apple Crisps
Ingredients
1

apple

1/4

cup

Confectioners' Sugar
Instructions
Heat the oven to 325°F. Line a baking sheet with a nonstick silicone baking mat. Thinly slice the apples on the mandolin. Sprinkle with sugar. Bake for 10 minutes. Flip each slice and dust with more sugar. Bake for an additional 10 minutes. Remove from the oven to crisp. Depending on humidity, may store in an airtight container for 2 days.
Please note that this post may contain affiliate links. (That means I make a commission if you use my affiliate link to buy the product.) 
If you are interested in hosting me for a speaking engagement, event, cooking class, or a book signing, let me know! Send an email to jona@virginiawillis.com and we'll be back in touch as soon as possible.
Please be nice. Unauthorized use and/or duplication is prohibited. All photos and content are copyright protected. If you wish to republish this recipe, please link back to this recipe on virginiawillis.com. Thanks so much!
Let's connect on Facebook, Twitter, Instagram, and Pinterest!

Please note that this post may contain affiliate links.