Please note that this post may contain affiliate links.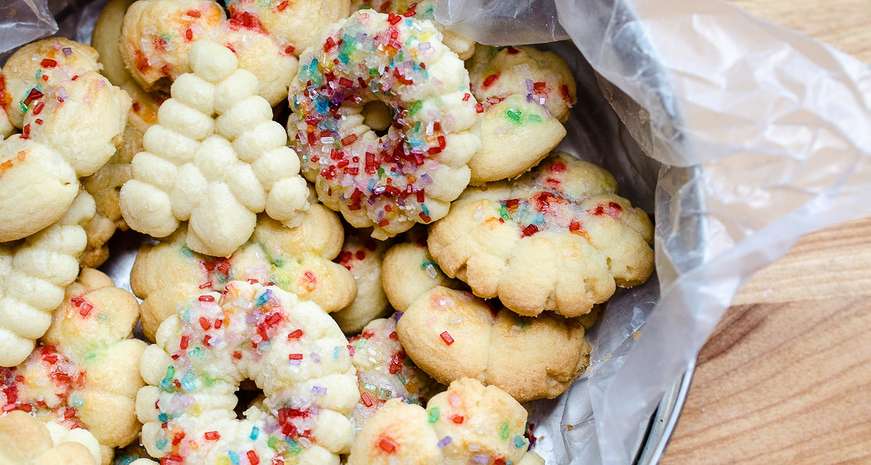 Every year of my childhood, without fail, one or more of those iconic tins of butter cookies would appear at my grandparents' home during the holidays. Those very tins, now a bit worn for wear, still float about our lives, having been re-purposed as button tins, thread containers, and receptacles for various nails and screws in the handyman department of the garage.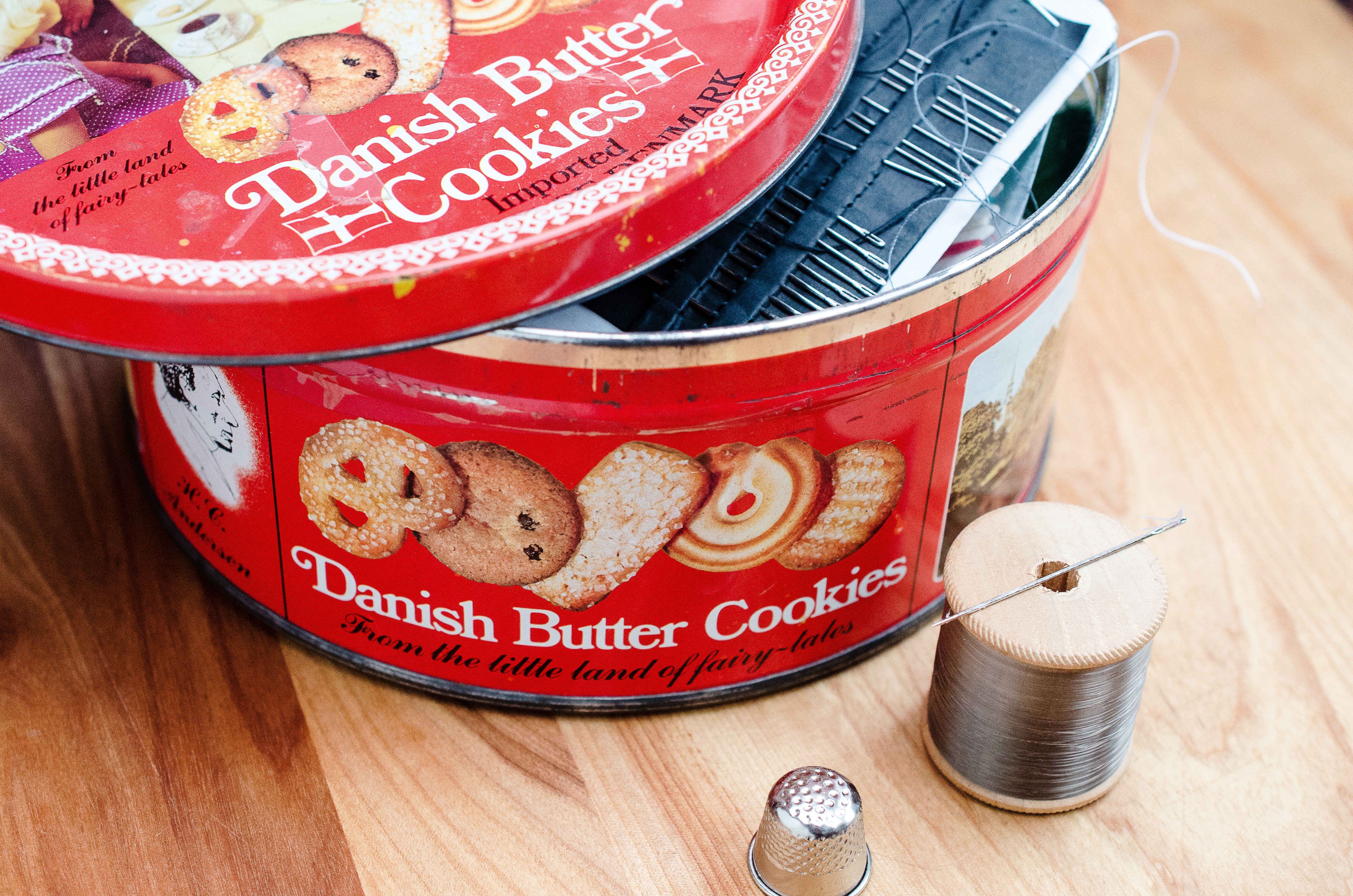 Spritz Cookies
The cookies were most often Danish butter, a traditional sweet that is sometimes piped into a wreath or even a pretzel. Very similar to German spritz cookies, they're made from a simple combination of butter, flour, sugar, and eggs. Indeed, the word spritz originated from the German word, "spritzen," which translates "to squirt" in English. They are made by dough being "pushed" or "squirted" from a cookie press. The egg in both recipes makes the dough more pliable and therefore easier to press into a variety of shapes and designs.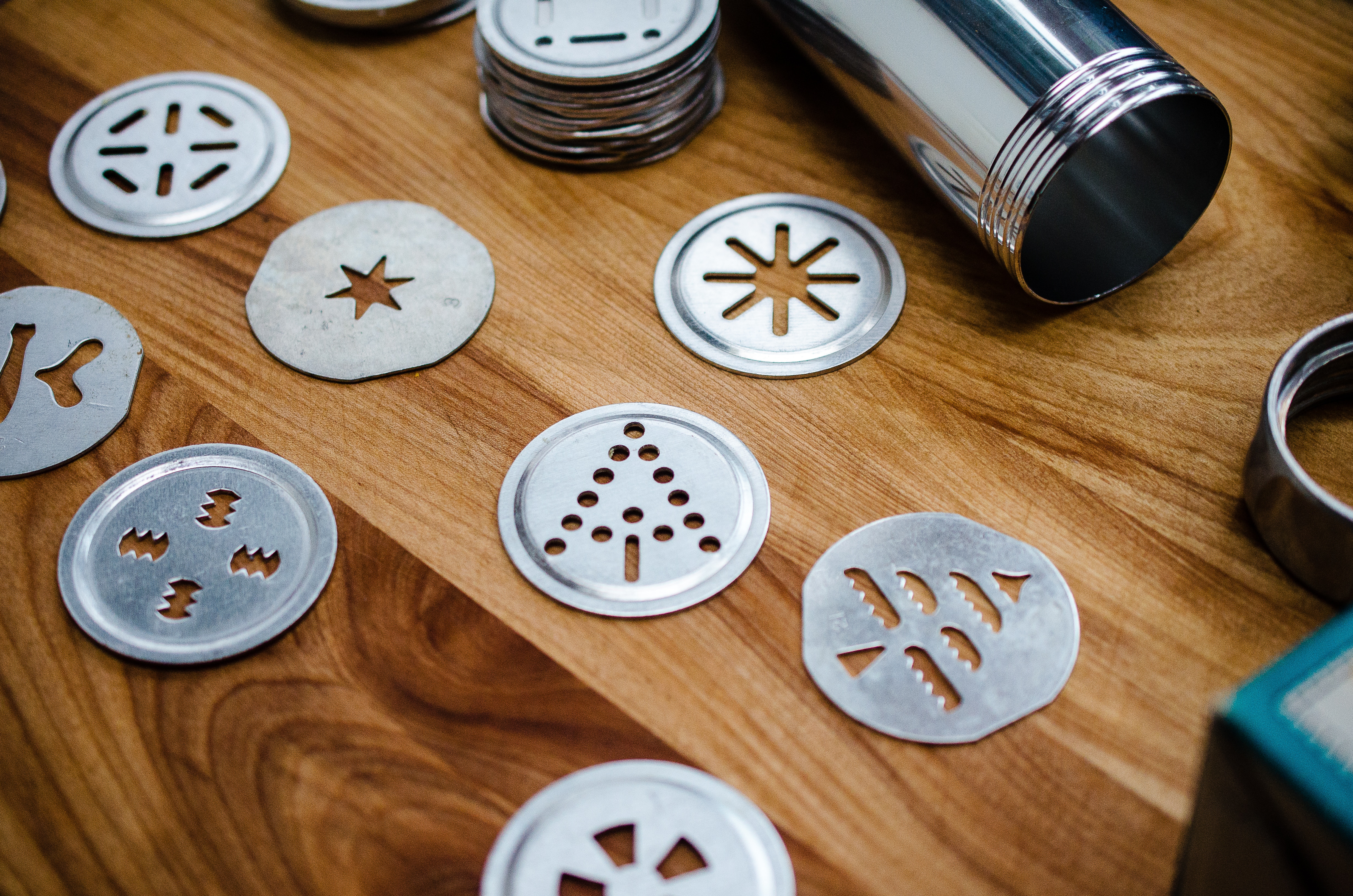 Ready, Set, BAKE!
Homemade baking was and still is a very important part of our family holiday. Cookies, candy, cakes, and cheese straws are for gift-giving, church bazaars and to welcome guests. Thankfully, we've ceased making my grandfather's fruitcake cookies, boozy blobs studded with candied fruit. (I'm not sure if they were meant to be some sort of adverse cookie therapy, but much like the cake for after which they were named I steered clear of those as a child.) Other family favorites include wedding cookies, chocolate snowcaps, and spicy golden gingersnaps.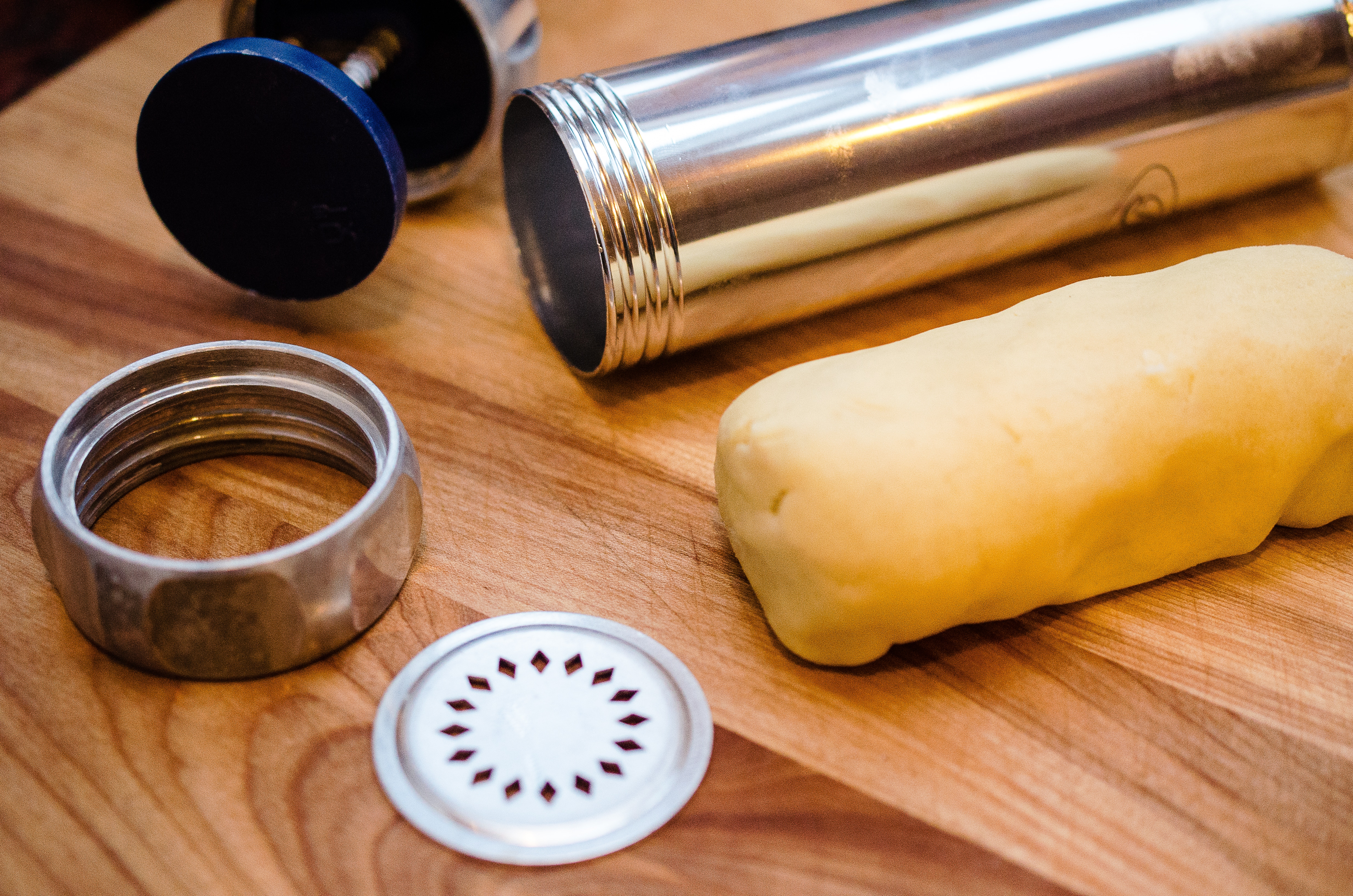 I hope you and your family will give them a try. If you don't have a cookie press you can still make a delicious buttery cookie. Simply scoop the dough into a small ball and flatten with the bottom of a glass. Or, with a bit of elbow grease, you can also use a pastry bag with a star tip. Best wishes for a joyful holiday!
Bon Appétit, Y'all!
– Virginia Willis
PS Want to really stretch your baking skills? Give this Old Fashioned Caramel Cake or check out my Chrismas Coconut Cake on Food Network.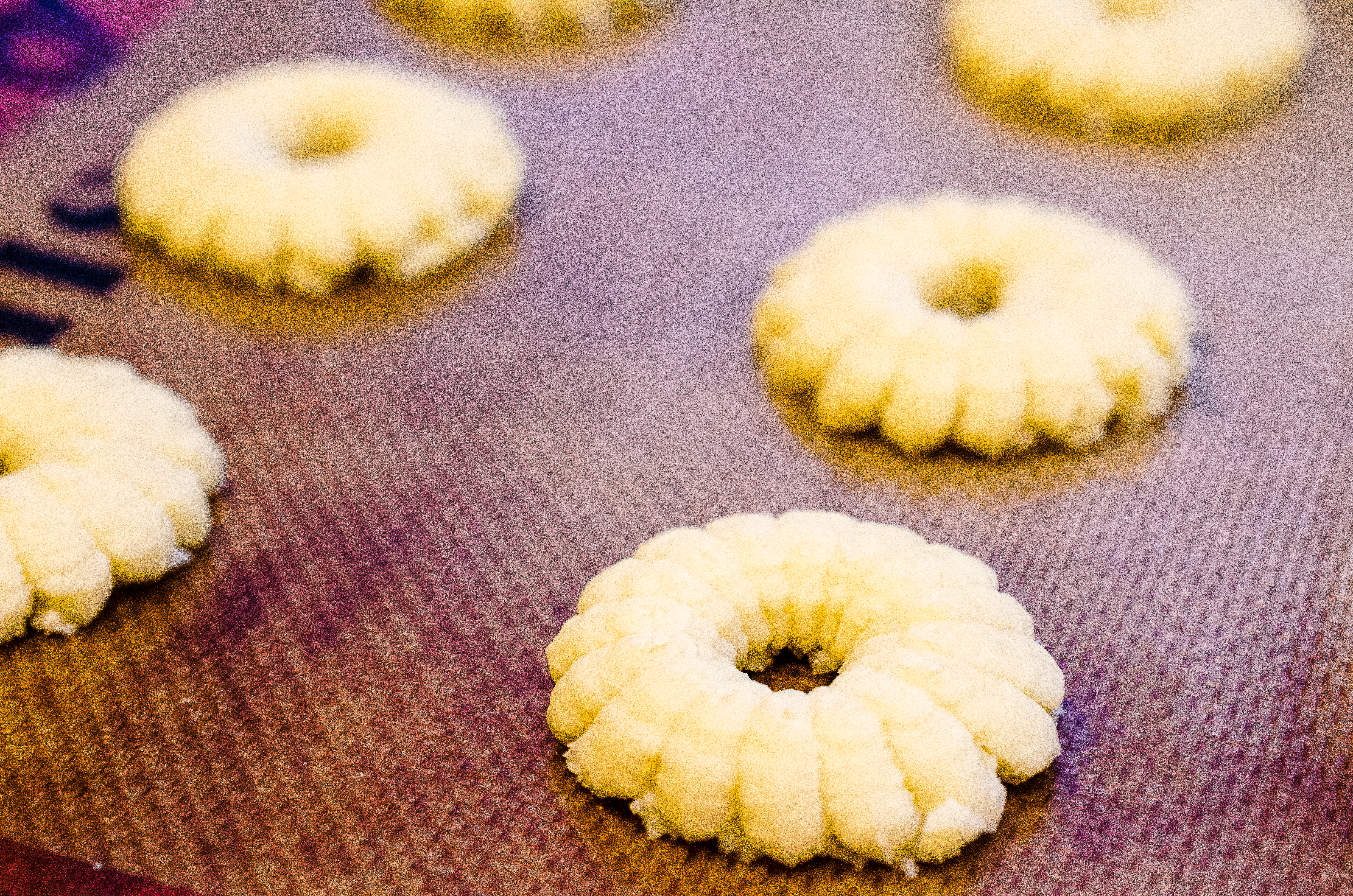 Danish Butter Cookies
You can bake the cookies on an unlined baking sheet or on a baking sheet lined with a silicone baking mat. Cookies baked on an unlined sheet will be slightly crisper and darker than cookies baked on a mat. Cookies baked on a mat will also take a few minutes longer to bake.
Materials
1 1/2

cups

(3 sticks) unsalted butter, at room temperature

1

cup

granulated sugar

2

large egg yolks, at room temperature

1

tablespoon

pure vanilla extract

3 3/4

cups

all-purpose flour, sifted

1/4

teaspoon

fine salt

1

large egg white, beaten with 2 teaspoons of water (optional)

Sanding sugars, dragées, or sprinkles (optional)
Instructions
Heat oven to 350°F. In the bowl of a stand mixer fitted with the paddle attachment, cream the butter and sugar until light and fluffy. Mix in the egg yolks and vanilla, followed by the flour and salt. Mix thoroughly to combine. The dough should be very soft and pliable.

Fill a cookie press with the dough, and turn out cookies 1 to 2 inches apart onto either an unlined baking sheet or a baking sheet lined with a silicone baking mat (see note).

If pressing the dough is too difficult, it is not soft enough. If that is the case, use your hands to work the dough, a little at a time, until it is very soft and pliable. Sprinkle the cookies with colored sanding sugars or decorate with dragées or sprinkles.

Bake until the cookies are lightly browned, 7 to 10 minutes. To ensure even baking, rotate the sheet halfway through the baking process. Transfer to a wire rack and let cool completely. Store in an airtight container for up to 2 weeks.
If you are interested in hosting me for a speaking engagement, event, cooking class, or a book signing, let me know! Send an email to jona@virginiawillis.com and we'll be back in touch as soon as possible.
Please be nice. Unauthorized use and/or duplication of this material without permission is prohibited. All photos and content are copyright protected. Please do not use photos without prior written permission. If you wish to republish this recipe, please rewrite the recipe in your own words and link back to this recipe on virginiawillis.com. Thanks so much.
Let's connect on Facebook , Twitter, Instagram, and Pinterest!

Please note that this post may contain affiliate links.