Please note that this post may contain affiliate links.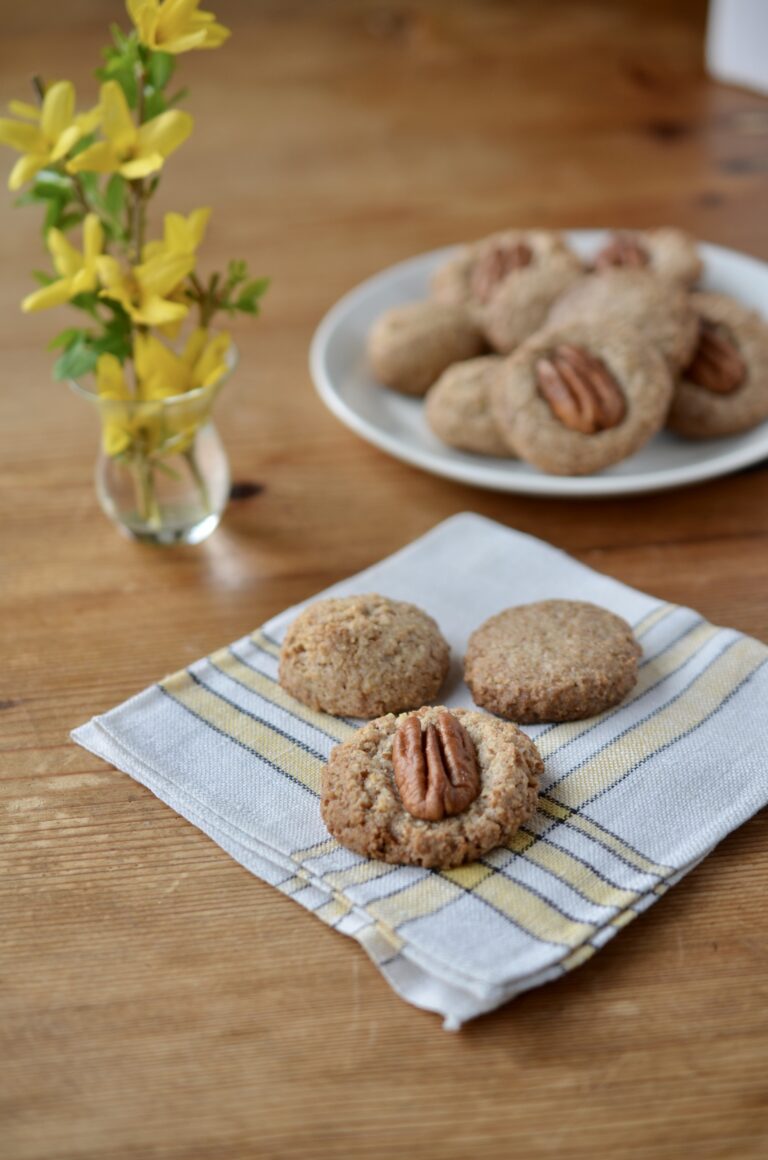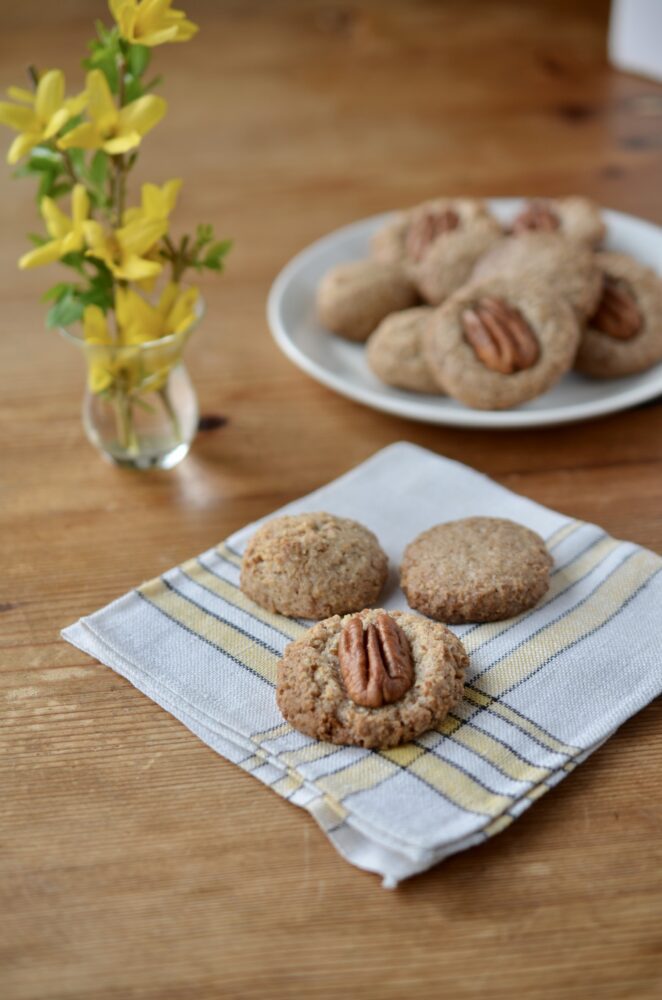 These cookies are crispy, chewy, and buttery, yet made with only four ingredients. They're gluten-free and dairy-free if you need it, and so good you won't care if you don't. You'll love the small-batch, small-bake — and the fact they're completely made in the food processor!

Macaron vs Macaroon
French macarons (pronounced "mack-ah-ROHN") are sweet meringue-based confection made with egg white, sugar, and almond meal.  They are often brightly colored, prissy little sandwiched cookies. Macaroons (pronounced "mack-ah-ROON") are mostly seen around Passover and are made from egg white, sugar, and grated coconut.
However, there is a third French macaroon known as macaron rustique or macaron à l'ancienne. They are descended from almendrados, a Spanish almond cookie. Jewish culinary authority Joan Nathan wrote in the New York Times that almendrados date from the 15th century or earlier. I love that sort of food history!
It was this third type of macaroon that inspired my Small Batch Pecan Macaroon. (Yes, I will admit I'd been hoping to post them for Passover, but I am not always the woman I wish I was and these cookies are delicious, regardless.)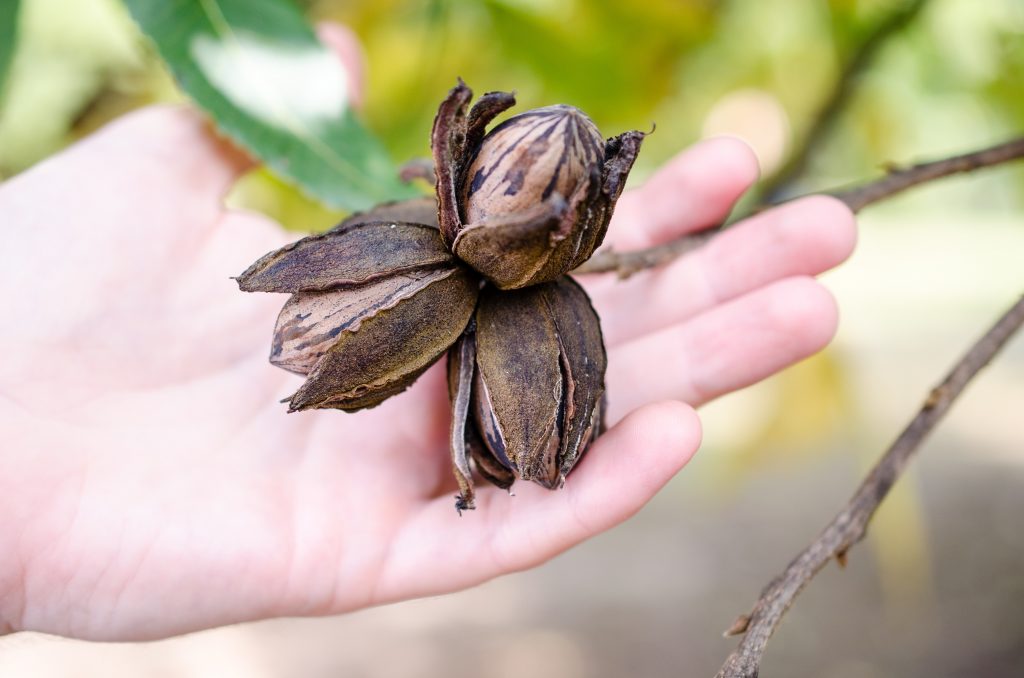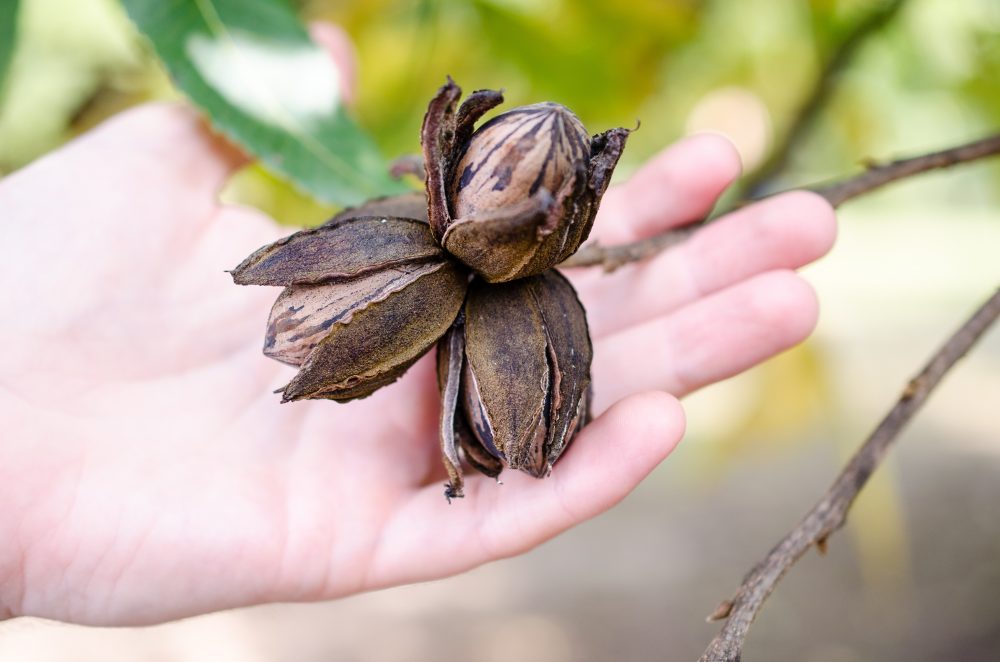 Georgia Grown
Being a Georgia girl, I love pecans. I grew up in the middle of pecan, peanut, cotton, and peach country.I always feel true sorrow and empathy when I consider just how many people have not had a properly Southern-grown, fresh, properly stored pecan. A famous French rock star pastry chef I follow on Instagram showed terrible, dry, rancid-nasty pecans in a reel. I DM-ed him so that I could send him some. He did not respond. Truly his loss.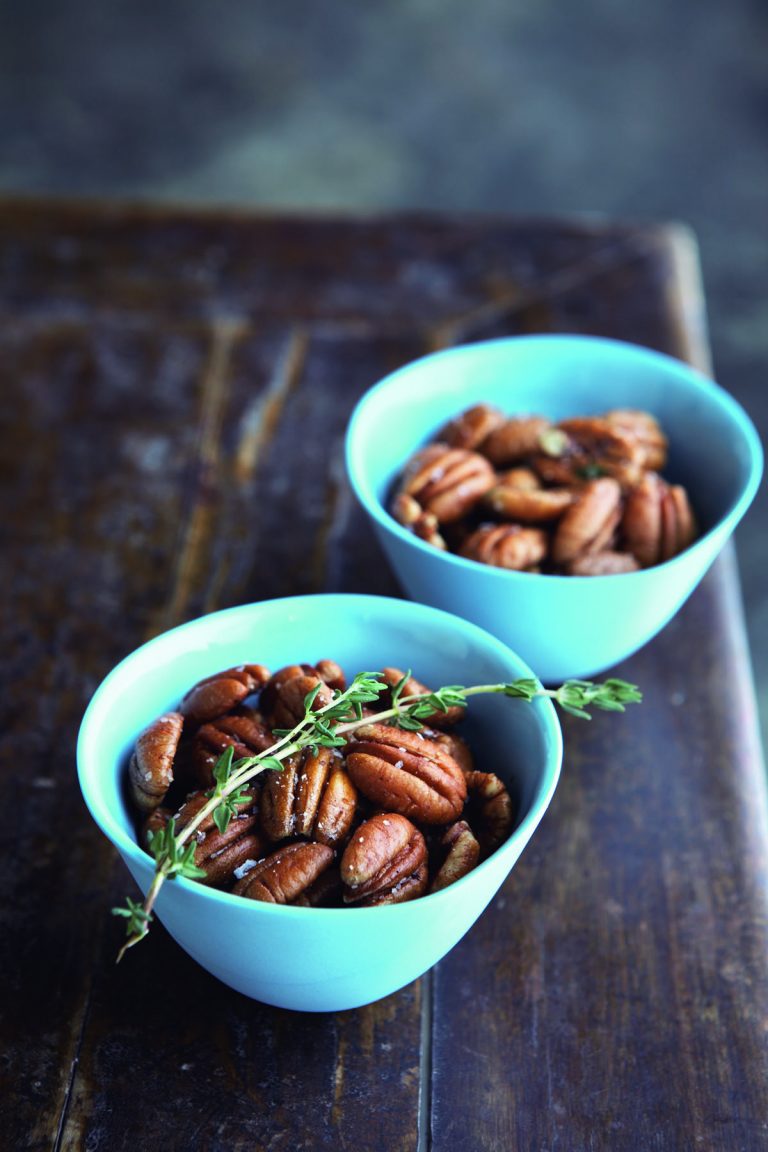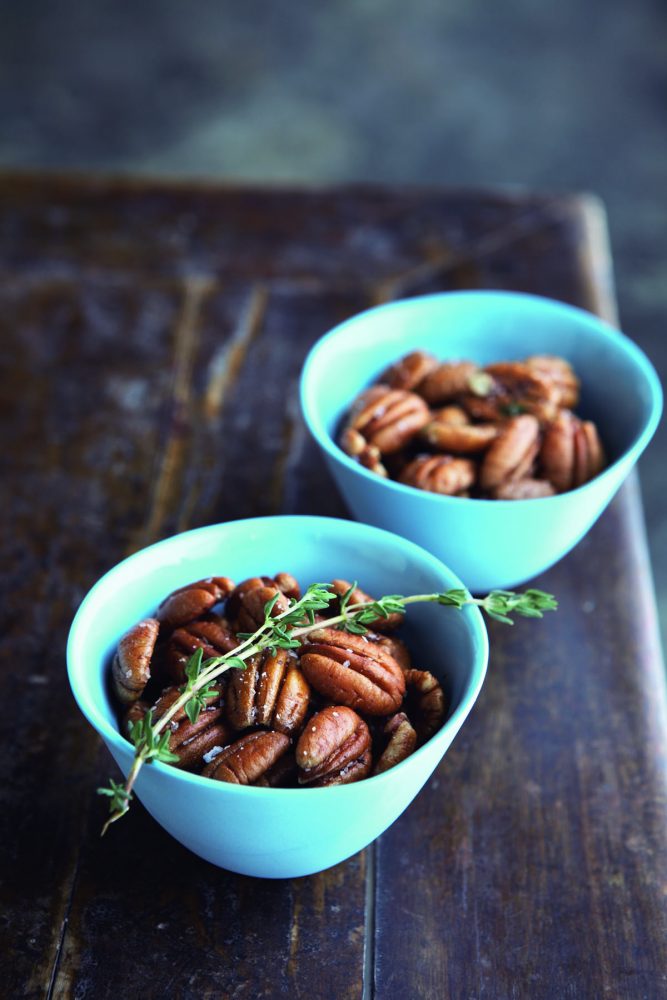 An Ounce of Prevention
Nuts are part of a well-rounded diet. According to the Mayo Clinic and the Harvard School of Medicine, nuts are a powerhouse of good nutrition that can dramatically reduce the risk of heart disease. Nuts contain unsaturated fatty acids and other nutrients. And they're a great snack food — inexpensive, easy to store, and easy to pack when you're on the go. I always have pecans and peanuts on hand.
Studies have shown the health benefits of nuts which contain monounsaturated fats, vitamin E, folic acid, magnesium, copper, protein, fiber,  and antioxidant phytochemicals. They've been shown to play an important role in helping to lower "bad" cholesterol levels and raise "good" cholesterol levels. In addition, they can help dilate blood vessels and prevent hardening of the arteries.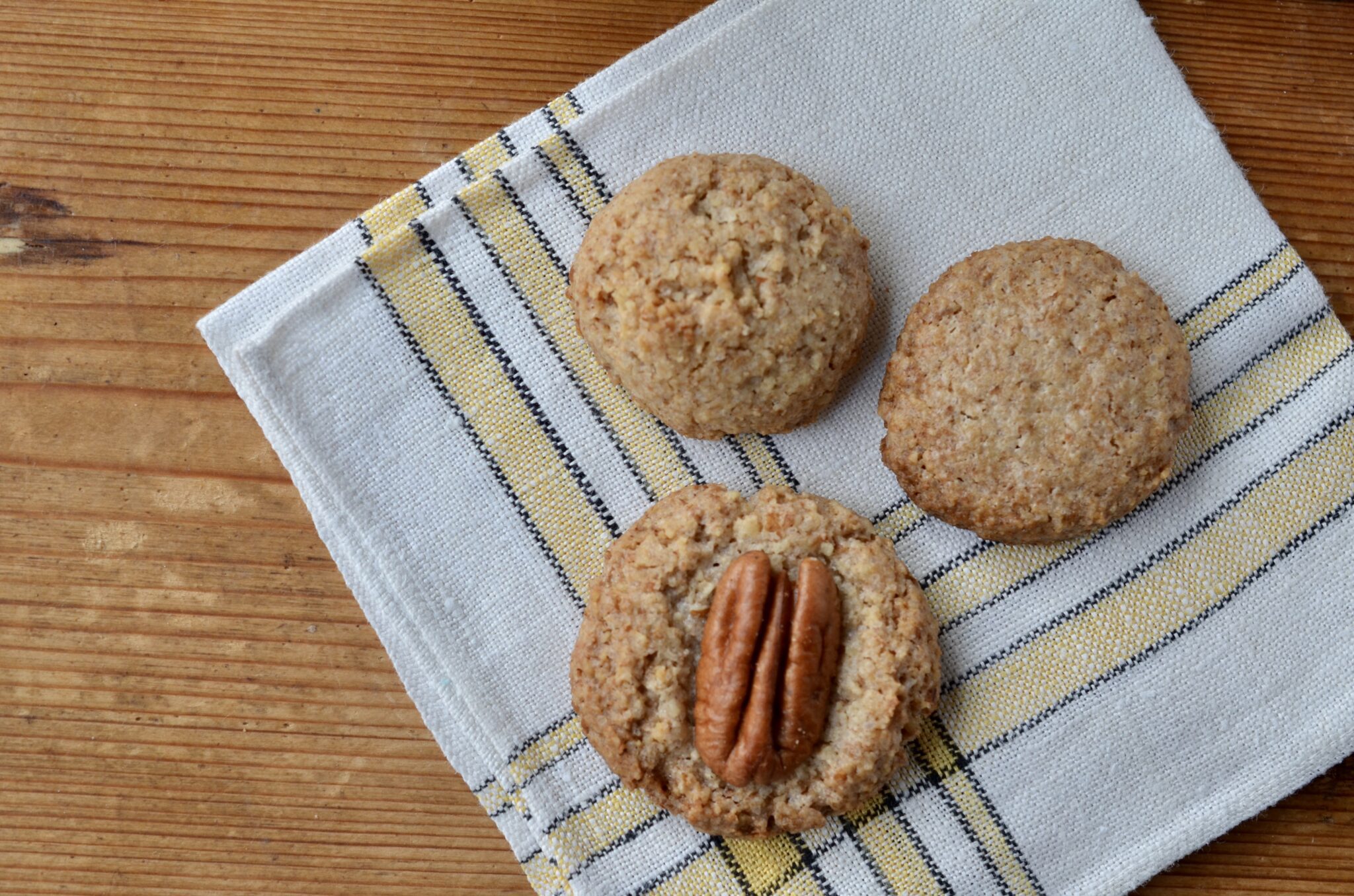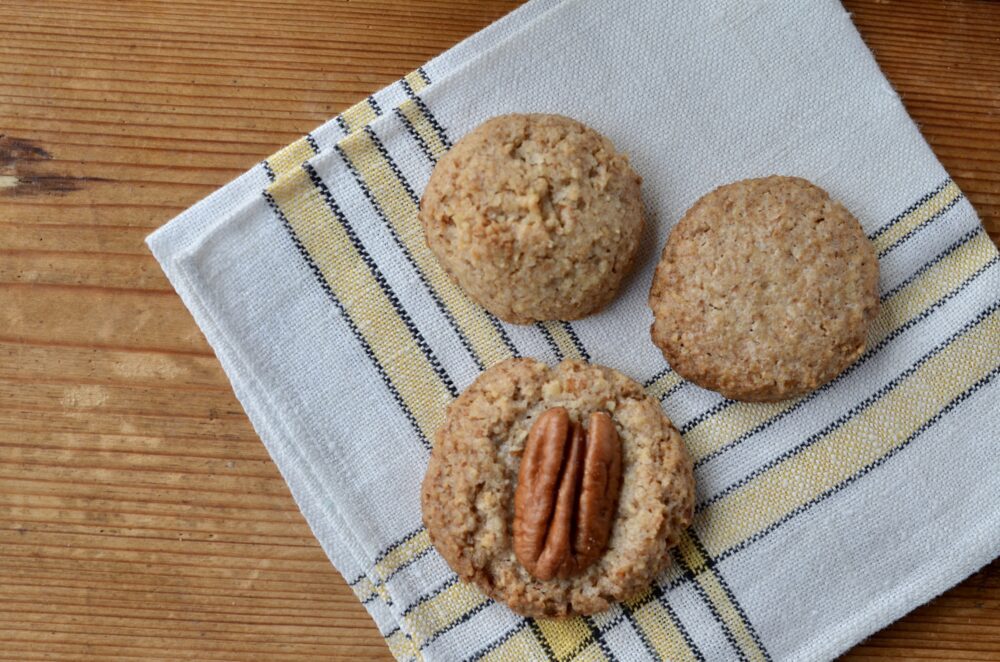 Small Bakes
Another part of my healthy eating plan and my intention of sharing good-and-good-for-you WW-friendly recipes with you is creating recipes with smaller yields. I think small bakes are a thing.  It may be partially COVID-related with people living in smaller pods. I baked a batch, reserved them and now have them in the freezer.  It's nice to have a little something sweet around the house, but not so much that you get tired of it or it goes bad.
Enter  "Small Bakes" and "Small Batch" cookies and desserts. It's super practical and limits temptation. Having a small batch of homemade cookies around, especially ones that store and freeze well works well for me.
Although not gluten-free, I have been working with almond flour and peanut powder or flour, so I thought I also needed to give pecan flour a try. However, almond flour and peanut powder or flour are widely available and pecan flour is not. Therefore, this recipe starts with pecan halves, not flour or meal. And, boom. The entire recipe is prepared in the food processor. It couldn't be easier.

Pointing Things Out
Thanks so much for reading. I hope you enjoy it! These cookies come in at 2.6 WW points with or without the one extra pecan so I round up to 3 blue points per cookie.
I want to clarify that I am sharing what has worked for me. I am not a doctor or a registered dietician. Also, I hope these recipes are helpful in your health. I will also say this is not ALL about weight loss. For me, it's been about becoming healthy and strong. Happiness cannot be found in a number.
I have a BIG favor I would like to ask if you are enjoying my new ebook Fresh Start or just the recipes here on my blog.  Please post and share on social, especially if you are in a like-minded or WW group on Facebook. I would greatly appreciate it. Thanks in advance!
Bon Appétit, Y'all
Virginia Willis
(Fresh Start is a whole new collection of recipes and non-recipes. There's only one or so that has been on this blog.)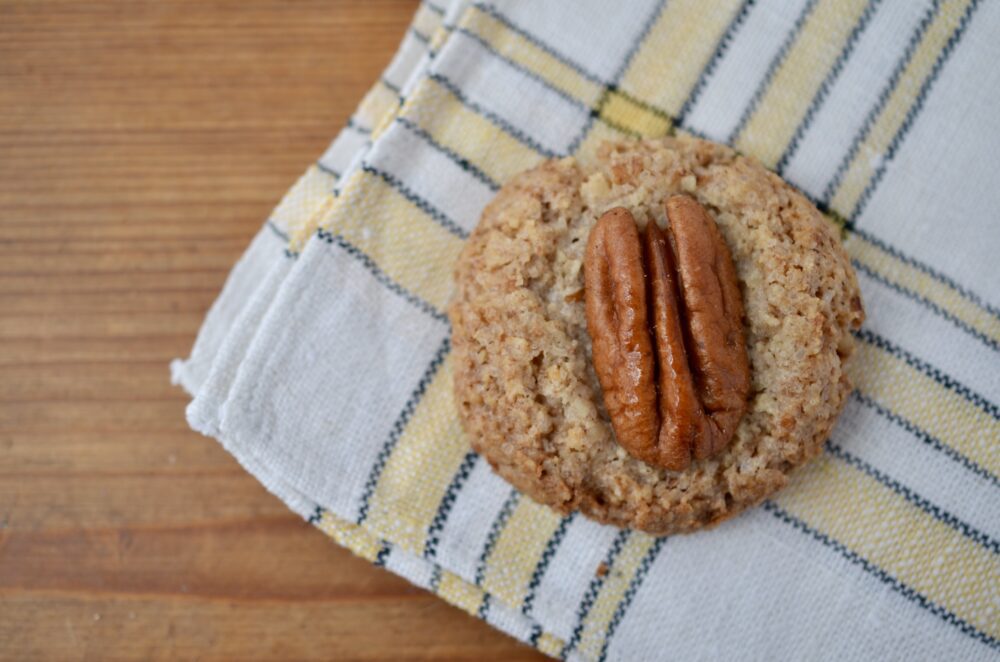 Small Batch Pecan Macaroons
3 WW BLUE POINTS PER COOKIE
Although, I love these splendidly fragrant with floral cardamon you could also use ground cinnamon a dash of vanilla extract.
Ingredients
1 ½

cups

pecan halves

about 6 ounces, plus more for garnish.

½

cup

sugar

½

teaspoon

ground cardamon

Pinch

fine sea salt

1

large egg white
Instructions
Heat the oven to 350°F. Line a baking sheet with a nonstick silicone baking mat. Place the pecans, sugar, cardamon, and salt in the bowl of a food processor fitted with the blade attachment. Process until finely ground and combined. Add egg white and pulse to combine.

Using a 1-tablespoon ice cream scoop or a tablespoon, place the cookies on the prepared baking sheet about 1-inch apart.

You can bake these cookies 1 of 3 ways: Scooped and plain; scooped and flattened with the bottom of a moistened glass; or scooped, flattened, and topped with an additional pecan half.

Bake until browned and crisp, about 15 minutes. Remove the baking sheet to a rack to cool slightly before transferring the individual cookies to the rack to cool completely. Store the cookies for up to 1 week in a sealable airtight container.
Please note that this post may contain affiliate links. (That means I make a commission if you use my affiliate link to buy the product.) 
If you are interested in hosting me for a speaking engagement, event, cooking class, or a book signing, let me know! Send an email to jona@virginiawillis.com and we'll be back in touch as soon as possible.
Please be nice. Unauthorized use and/or duplication is prohibited. All photos and content are copyright protected. If you wish to republish this recipe, please link back to this recipe on virginiawillis.com. Thanks so much!
Let's connect on Facebook, Twitter, Instagram, and Pinterest!

Please note that this post may contain affiliate links.