Please note that this post may contain affiliate links.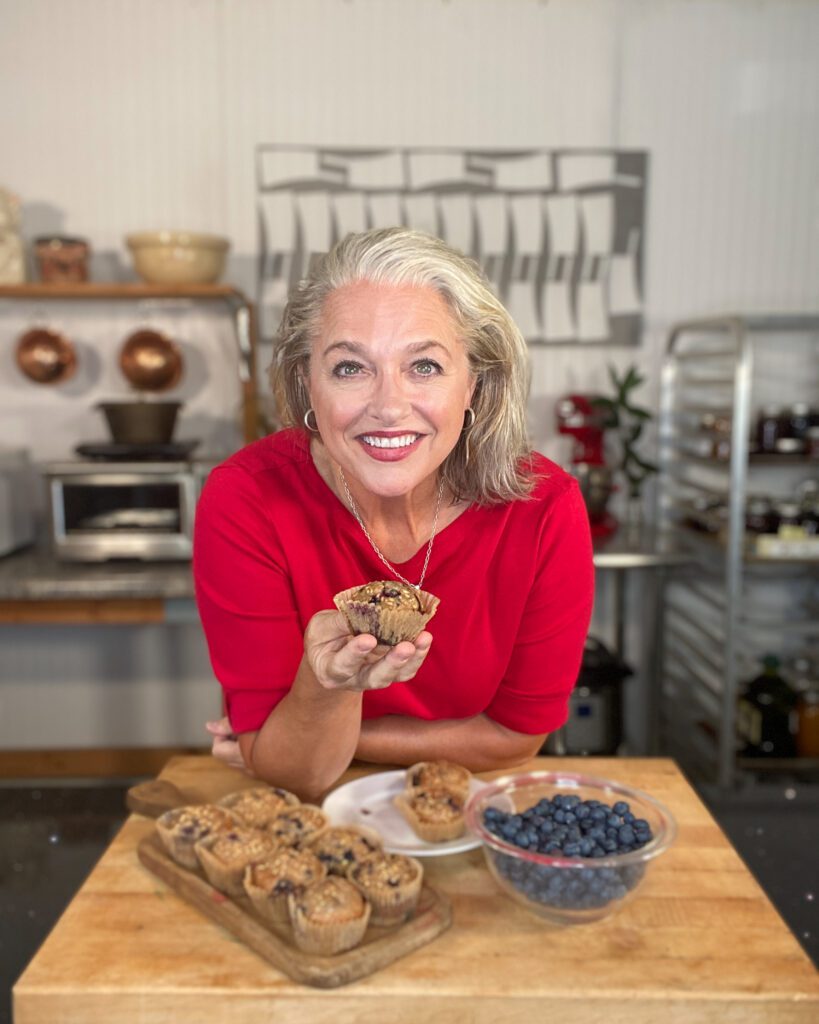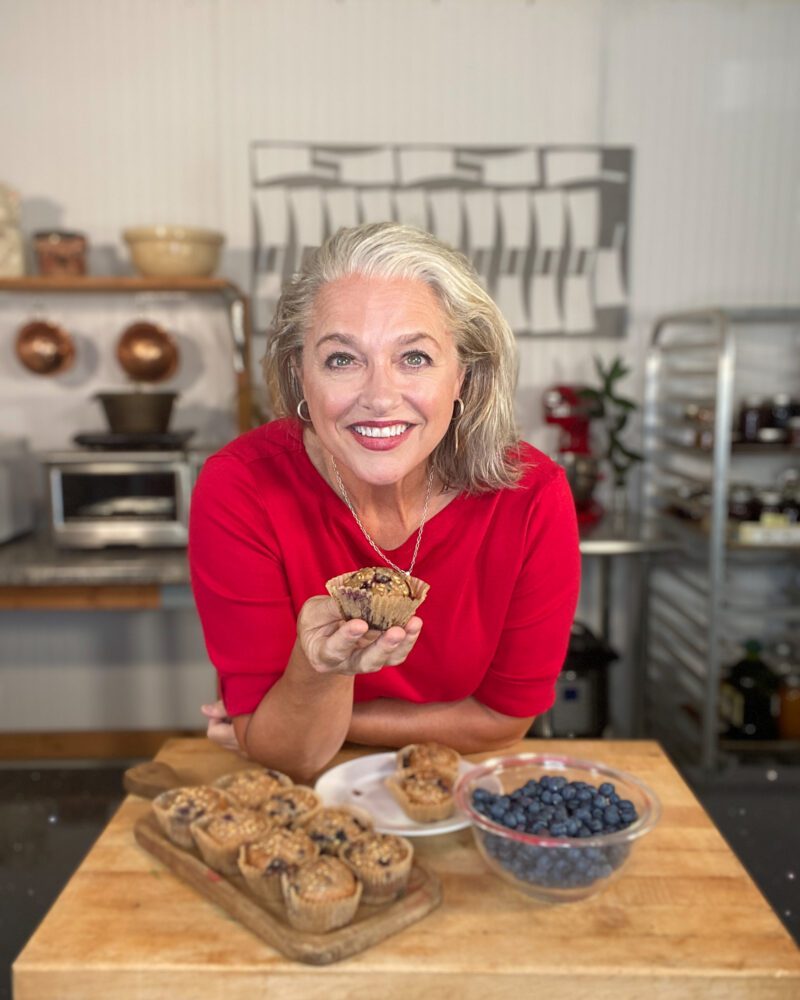 Easy one bowl, dairy-free, oil-free, egg-free, reduced sugar blueberry flaxseed muffins. Wait, what? How can that possibly taste good?! Y'all. They are so good, you will not believe it. The flaxseed acts as an egg replacement and the banana acts as both an oil replacement and takes the place of some of the sugar. It seems like magic, but it's really just better-for-you baking science. Read on for more information on how to incorporate flax into your diet.

Health Benefits of Flaxseed
Flaxseed can feature up to 100 times the amount of protein and other nutrients found in wheat bran. Flaxseed also delivers:
Omega-3s for heart health.
Soluble fiber absorbs water slows down digestion and helps make you feel full.
Plant compounds called lignans that act as antioxidants that prevent or delay some types of cell damage.
The best part is that flaxseed tastes good! Flax has a mild, nutty flavor. Check out my IG video to learn more about it.
How to Add Flaxseed to Your Diet
I add flaxseed to yogurt, sprinkle it on my cereal, add it to overnight oats, and add it to salads, too! It's a great nutritional boost for all kinds of dishes. According to the Mayo Clinic, most nutrition experts recommend ground over whole flaxseed because the ground form is easier to digest. Whole flaxseed may pass through your intestine undigested, which means you won't get all the benefits.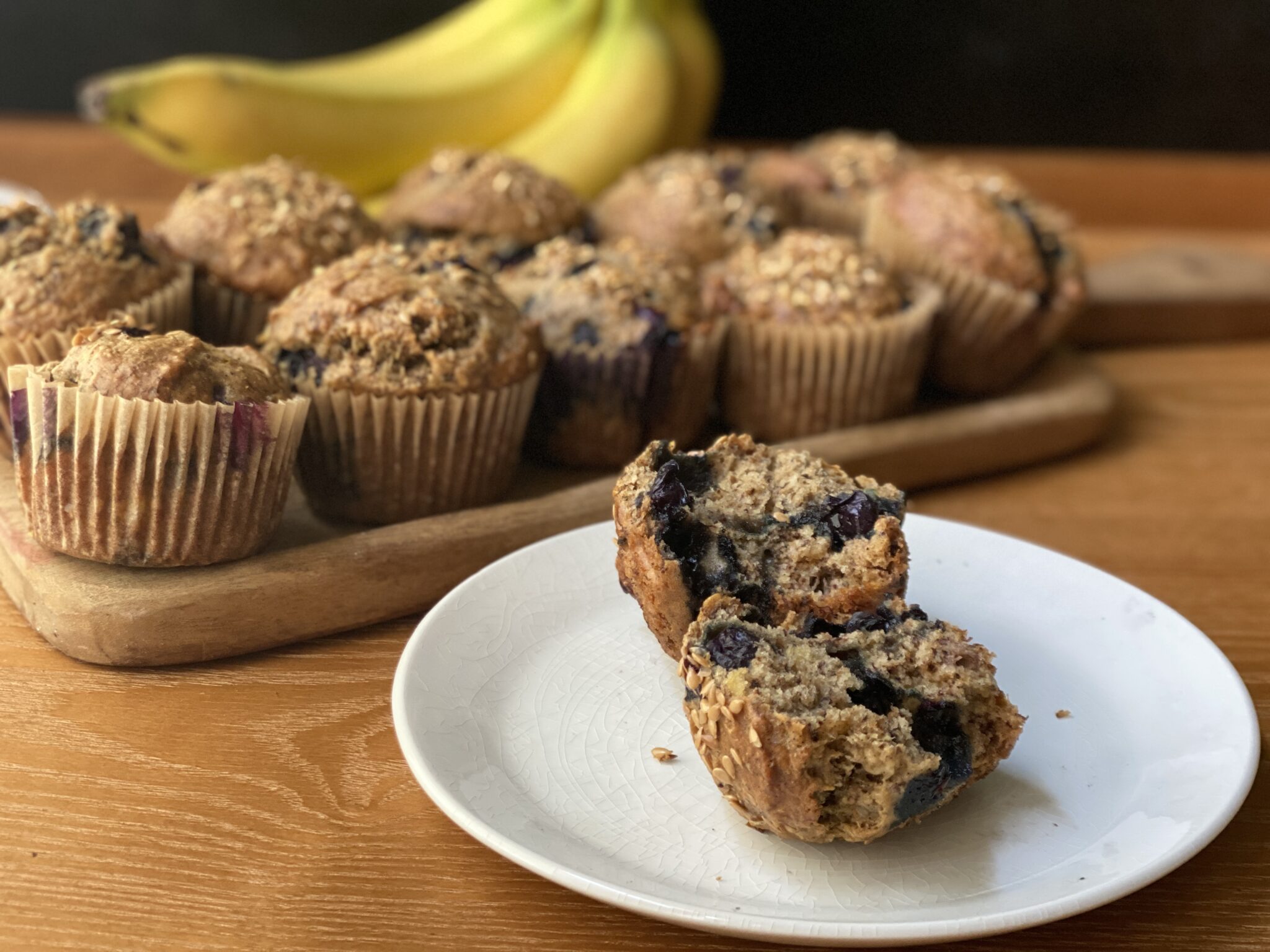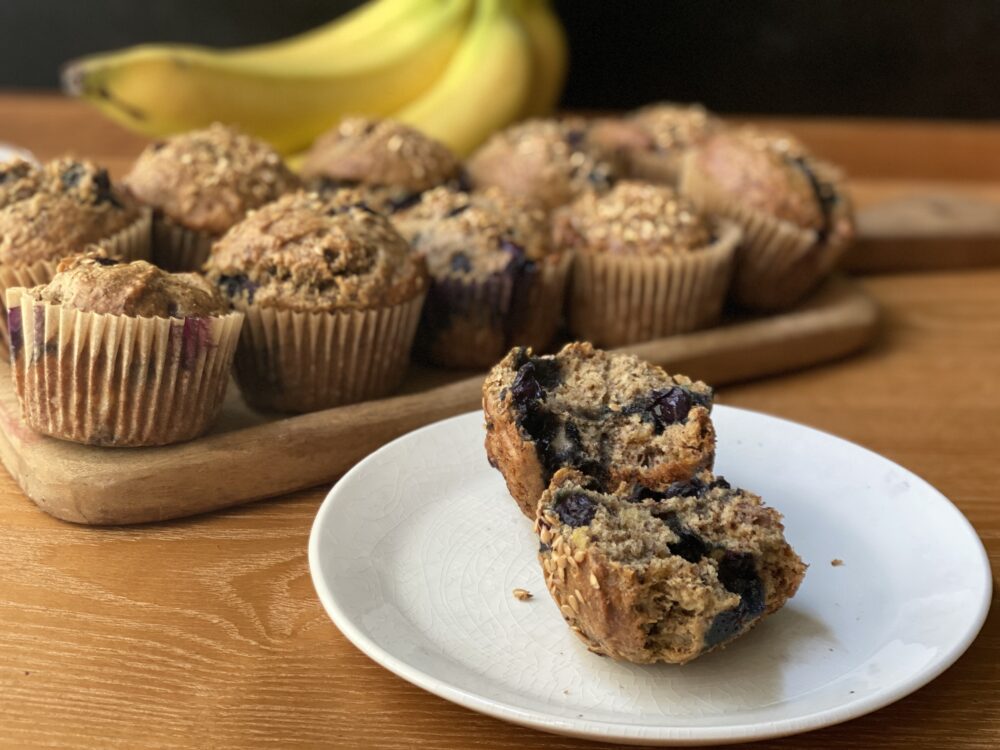 Flaxseed as an Egg Substitute
Most recipes call for combining one tablespoon of flaxseed meal and three tablespoons of water and allow to sit for about 5 minutes. Add this ingredient to your recipe as you would an egg. In this instance, I simply add it to the batter. How does it work? There is a gum in the seed coating that becomes thick and gelatinous when the seeds are ground and combined with moisture. This combination makes a good emulsifier and will help the structure of baked goods, much like eggs.

Point it Out
I hope you enjoy this recipe. I am so pleased with the results. It's part of what I call "better-for-you-baking." I love baked goods and desserts, but want them to work with my healthy eating plan for daily treats so I can save the high-fat indulgences for more special occasions. These Blueberry Banana Flaxseed Muffins do the trick! If you are following WW these come in at about 5.5 points per serving. (And, if you want to join WW click HERE and we'll both get a discount!) Thanks for reading.
Bon Appétit, Y'all!
Virginia Willis
PS Need another healthy overripe banana user-upper recipe? Try my Gluten-Free Pear Almond Cakes! 
One Bowl Blueberry Banana Flaxseed Muffins
Dairy free, oil free, egg free, and reduced sugar – and they still taste delicious! What? For real! Yes! It's "better-for-you-baking" science! The banana acts as a sugar replacement as well as a moisturizing agent, instead of oil. And, the flax replaces the egg. I have to admit, I was pretty incredulous that this worked, but it does and they are delicious!
Ingredients
4

ripe bananas

1

cup

all-purpose flour

½

cup

whole wheat flour

¼

cup

flax meal

¾

cup

sugar

1

teaspoon

baking soda

½

teaspoon

salt

1

cup

blueberries

1

tablespoon

whole flax seeds

for topping
Instructions
Heat the oven to 350°F. Line a 12-cup muffin tin with paper liners. Mash the bananas in a bowl. Add the flour, flax, sugar, baking soda, and salt. Stir to combine. Fold in blueberries. Scoop the batter into the prepared tin. Top each muffin with a sprinkling of whole flax seeds. Bake until golden brown, about 20 minutes. Remove to a rack to cool. Store in an airtight container in the refrigerator for up to 5 days. (Store in the fridge b/c with the high moisture content they are more likely to mold and spoil on the counter.)
Let's cook something up! If you are interested in hosting me for a speaking engagement, event, cooking class, or book signing, let me know! Send an email to jona@virginiawillis.com and we'll be back in touch as soon as possible.
I am not a doctor, RD, health professional, or WW representative. I am simply sharing what works for me. My blog is for informational or educational purposes only and does not substitute professional medical advice or consultations with healthcare professionals.
Note that this post may contain affiliate links and I may make a commission if you use my affiliate link to buy the product.
Please be nice. Unauthorized use and/or duplication is prohibited. All photos and content are copyright protected. If you wish to republish this recipe, please link back to this recipe on virginiawillis.com. Thanks so much!
Please note that this post may contain affiliate links.