Please note that this post may contain affiliate links.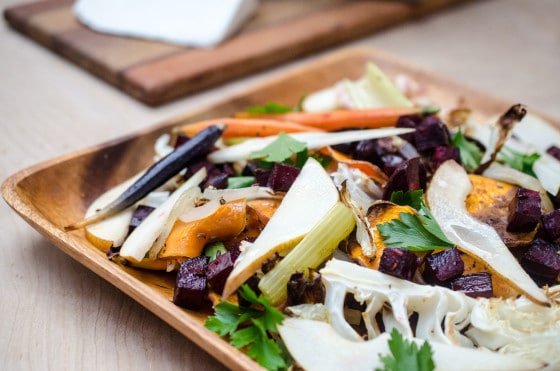 Summer salads are easy. A couple of chops of straight-from-the-garden fresh vegetables and you're good to go. Winter salads require slightly more thought, but it's a misconception that winter salads must be made from ingredients that are out of season. Winter salads can be made of deliciously bitter greens, earthy root vegetables, and sweet winter squash.
Cooked dried beans and whole grains add nutrition, flavor, and substance. Toasted nuts and seeds provide the crunch. And, don't forget tart, vibrant citrus. Winter salads offer the opportunity to look at ingredients beyond lettuce and change the way you think of what makes a salad. And, face it, how much stew, chile, and low-and-slow braised meat dishes can you eat? Banish those flavorless tomatoes and flaccid cucumbers harvested on the other side of the globe and give winter salads a try.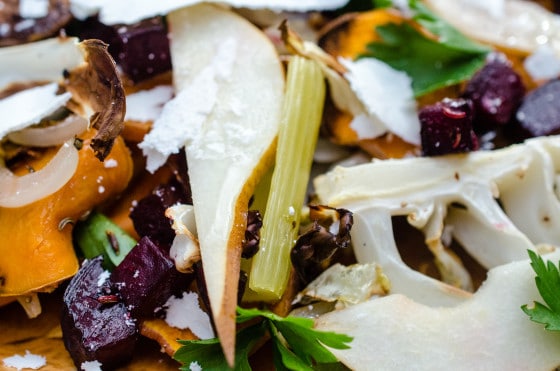 Helpful Hints for Winter Salads
1.Explore cold-weather greens in the raw like kale, collards, cabbage, and Brussels sprouts.
2. Be aggressive with dressing and vinaigrette qualities with flavor forward ingredients like ginger, garlic, and chili peppers.
3. Add seeds and spices for improved flavor and crunch.
4. Play with cooked whole grains and beans to give winter salads more depth and heft.
5. Citrus juice, zest, and segments are guaranteed to add brightness to nearly any winter salad.
6. Pair combinations of warm cooked and chilled raw ingredients for a variety of textures and temperatures.
7. Rehydrate dried fruits in warmed juice, vinegar, or dressing before adding to winter salads.
8. Add big, bold, bursts of flavor with intense cheeses such as Feta, Pecorino Romano, Parmigiano-Reggiano, and Ricotta Salata.
9. Blistering roasted root vegetables brings out their sweetness. Make sure to roast root vegetables in one layer in a hot oven so they will crisp and char, not steam.
10. Roast vegetables and dress them while warm to amp up their flavor.
Thanks for reading. Let me know your ideas for winter salads.
Bon Appétit Y'all! 
Virginia Willis
Roasted Vegetable Winter Salad
Serves 6
Ingredients
3

small beets

peeled and diced

4 to 6

small carrots

peeled

2

stalks celery

ends trimmed and cut into 3-inch lengths

1

sweet potato

peeled and sliced

1/2

cabbage

cut into eighths

2-3

tablespoons

pure olive oil

more if needed

Coarse kosher salt and freshly ground black pepper

1

teaspoon

fennel seeds

1/2

pear

cored and thinly sliced

1/4

cup

loosely packed whole parsley leaves

2-3

tablespoons

sherry wine vinegar

Ricota Salata

shaved for garnish
Instructions
Heat the oven to 400°F. Line a rimmed baking sheet with a nonstick silicone baking mat. Place the beets at one end of the baking sheet (so as not to color the entire salad red.) Place the carrots, celery, sweet potato, and cabbage on the rest of the prepared baking sheet. Drizzle over the olive oil. Season with salt and pepper and sprinkle over the fennel seeds. Transfer to the oven and roast until the vegetables are blistered and tender, about 45 minutes. Remove to a rack to cool slightly. While warm, drizzle over the sherry vinegar. Add pear and parsley. Use a pair of tongs to toss and combine. Transfer to a serving dish and top with shaved Ricotta Salata. Taste and adjust for seasoning with salt and pepper. Serve immediately.
Please note that this post may contain affiliate links. (That means I make a commission if you use my affiliate link to buy the product.) 
If you are interested in hosting me for a speaking engagement, event, cooking class, or a book signing, let me know! Send an email to jona@virginiawillis.com and we'll be back in touch as soon as possible.
Please be nice. Unauthorized use and/or duplication is prohibited. All photos and content are copyright protected. If you wish to republish this recipe, please link back to this recipe on virginiawillis.com. Thanks so much!
Let's connect on Facebook, Twitter, Instagram, and Pinterest!

Please note that this post may contain affiliate links.