Please note that this post may contain affiliate links.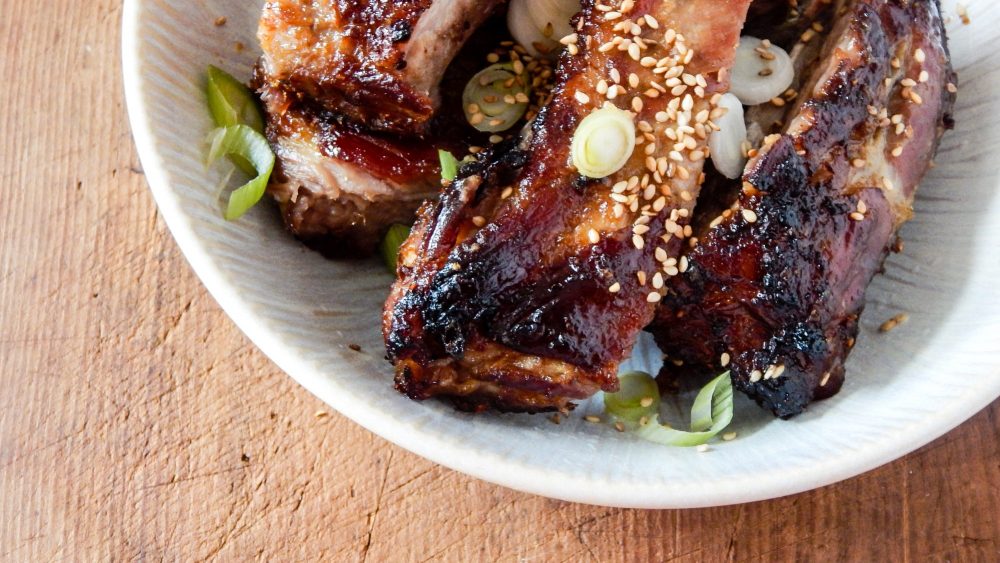 Ah, late summer. It's still high barbecue and grilling season. This means pork butts slowly smoking on a kamado cooker; burgers, brats, and chops sizzling over a precise pyramid of red hot embers in a kettle grill; and the juicy staccato of fat dripping from tender, succulent racks of ribs into the blue flame of a gas grill.
Ah, late summer. There's a heat index of 112 degrees and midday feels like the surface of Mars. Rumor has it hell is cooler. Your back patio is hotter than Georgia asphalt and it's quite possible the wooden deck might spontaneously combust. When it's as hot as blue blazes, who the heck wants to stand in front of a grill for hours on end or babysit an egg for a half a day? There's a reason air conditioning was invented in the South!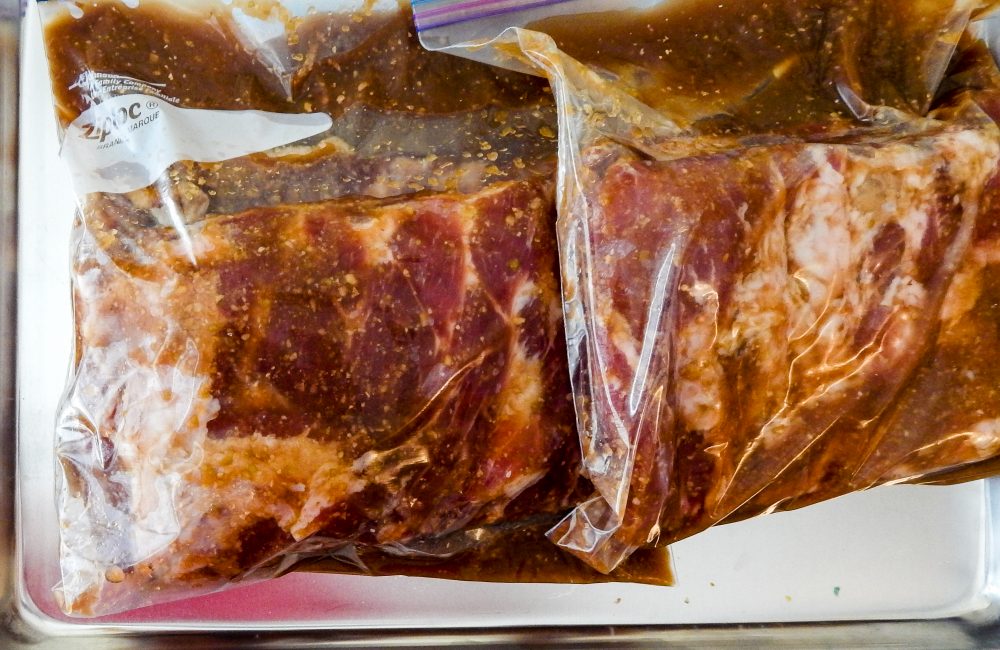 How to Cook Ribs in the Oven
Still, it's high barbecue season. What to do? The answer to this steamy Southern situation is going low and slow in the oven. Discovering low-temperature oven roasting was an absolute revelation for me. Yes, there's absolutely nothing that evokes the sensation of the taste of meat that's been kissed by fire and bathed in smoke. But, hello? The hot, humid Instant Pot of a Southern summer can make it too darn hot to cook outside. Believe me, you can wait until the nuclear heat of summer ends to crank up the grill again. Console yourself while drinking an ice cold beverage from the comfort of brisk living room.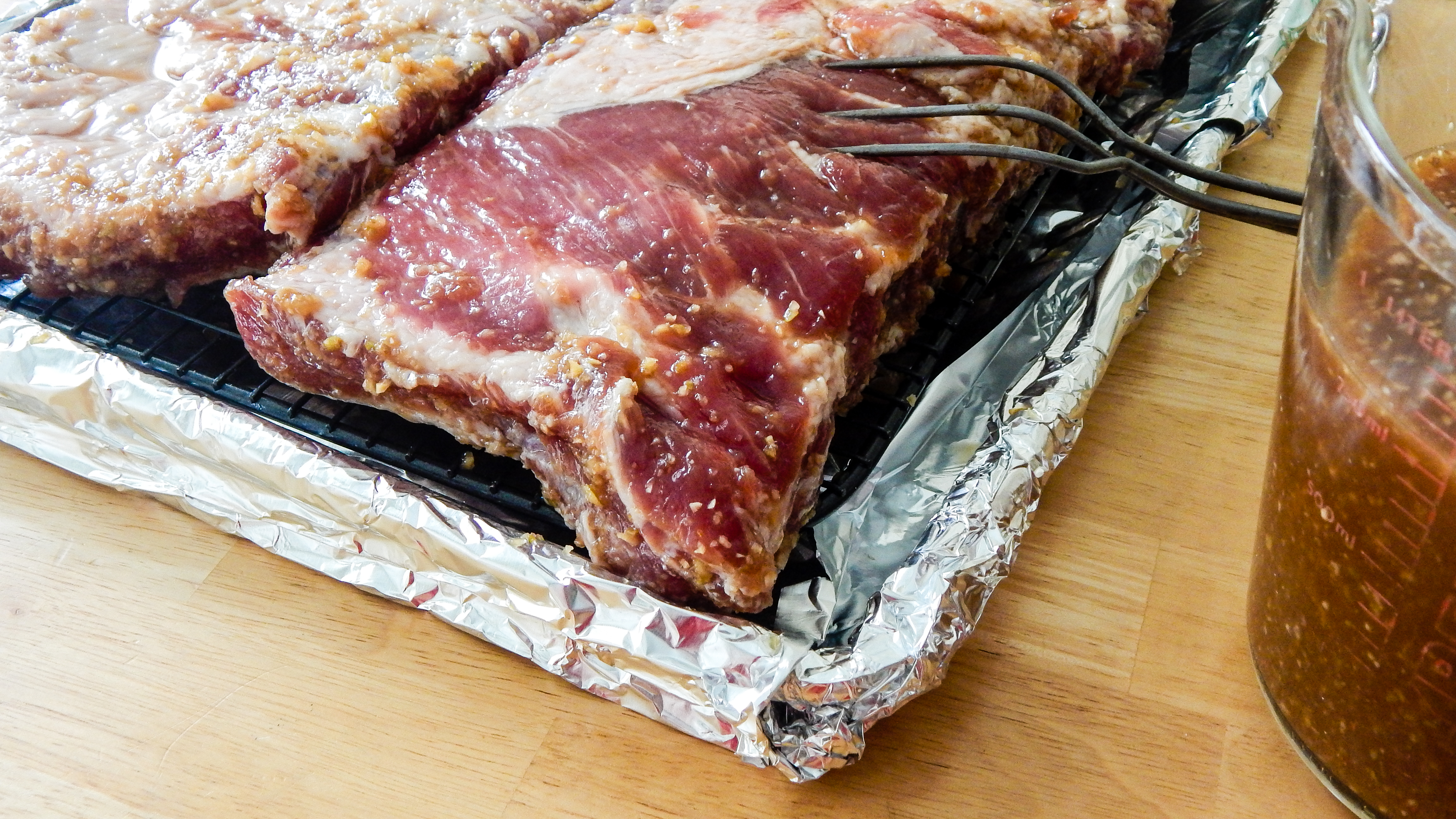 Rib Overload?
For a bit of inspiration for indoor barbecuing, I am sharing a Korean-inspired rib recipe. First of all, I know. I've been on quite the rib kick and featured Rib Recipes for the 4th of July. The deal is ribs are not only good, they are also a practical recipe for a crowd. A slab of ribs has 13 or 14 ribs and will feed 2-3 people. Two or three racks will fit on most grills and two can easily fit on a rimmed baking sheet. So, there you have it. Two racks can feed 6 or so people. Add a couple of sides, and you're in business. It's a heck of a lot easier than tending to 15 pieces of chicken.
When it comes to deciding what type of ribs to cook, you have basically two choices: spare ribs and baby back ribs. Spare ribs are cut from the ribs closest to the belly and are meaty, bony and thick. Baby back ribs are cut from where the rib meets the spine. They're only called "baby" because they are shorter and thinner than spareribs; they don't refer to the age of the pig. Either will work in this recipe. Baby back ribs are leaner and take less time to cook.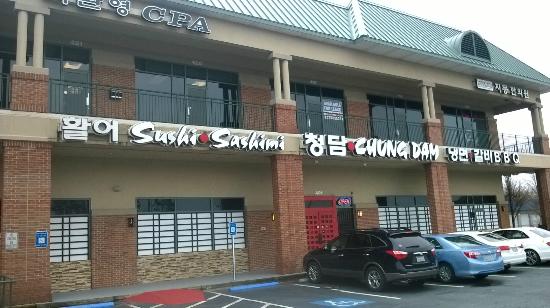 K-Town in the ATL
As I learned in the research for my latest cookbook, Secrets of the Southern Table: A Food Lovers Tour of the Global South, Georgia is home to the fastest-growing Korean community in the U.S., increasing at a rate of nearly 90% in the last decade of the 20th century. Duluth, about 25 miles northeast of Atlanta, has become Georgia's Koreatown, known as K-Town or the "Seoul of the South." Increasingly, successful Korean-Americans are moving from larger cities such as Los Angeles, New York, and Chicago to the sunny South for a better quality of life at a cheaper cost of living. Excellent Korean restaurants proliferate in the Atlanta suburb, some serving these sweet, sticky, and mouthwatering Korean BBQ. (BTW Atlanta Magazine just reported on de-stressing at the Korean spas in the ATL.)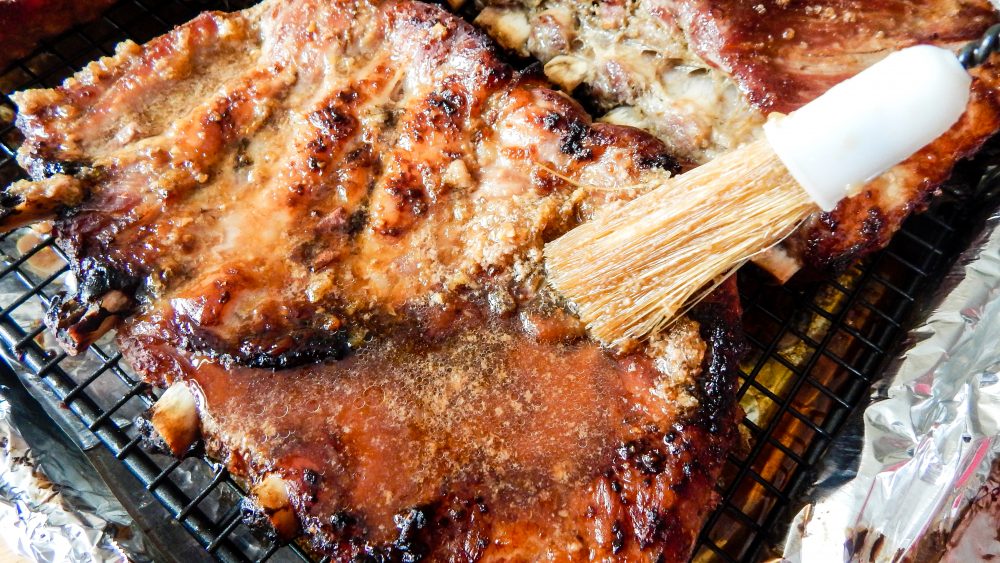 Sour, Salty, Bitter, Sweet — and Umami
Umami is imparted by glutamate, a type of amino acid, and ribonucleotides, including inosinate and guanylate, which occur naturally in many foods. Whoa. What? How the heck to do even say that word?!
How about this? The word umami means "yummy" or "delicious" in Japanese. Much better, right? It's also known as the "Fifth Taste" and is sometimes also described as "savory" to go along with sour, salty, bitter, and sweet. When considering umami, think of the meaty flavor of mushrooms, earthy sweet potatoes, the richly vegetal flavor of winter greens, and the natural saltiness of a tomato. Other foods that are intensely savory include cured meats and cheeses.
Three ingredients in this recipe are high in umami: soy sauce, sesame oil, and sesame seeds. In the natural brewing process for soy sauce, the proteins are split and natural glutamate is released, giving the soy sauce its high umami content. Nutty sesame seeds and dark sesame oil are also high in umami. 
Perhaps the most famous Korean barbecue is made from thinly sliced beef short ribs, known as bulgogi, that have been marinated in a sweet, salty umami-packed marinade with garlic, ginger and sesame oil. This intoxicating liquor is also sometimes used with thinly sliced pork. I love the sticky sweetness of the marinade, and I knew it would marry well with pork ribs.
Thanks for reading! Let me know if you give these Korean-Style Oven Roasted Barbecue Pork Ribs a try. And, if you want a more traditional slab, check out my Rainy Day Ribs recipe in Garden & Gun. Lastly, there is a lot of rain heading to the East Coast. If you're in the path of the storm, stay safe!
Bon Appetit, Y'all!
Virginia Willis
PS I am still booking events for late fall and early next year. If you are interested in hosting me for a speaking engagement, event, cooking class, or a book signing, let me know! Send an email to info@virginiawillis.com and we'll be back in touch as soon as possible.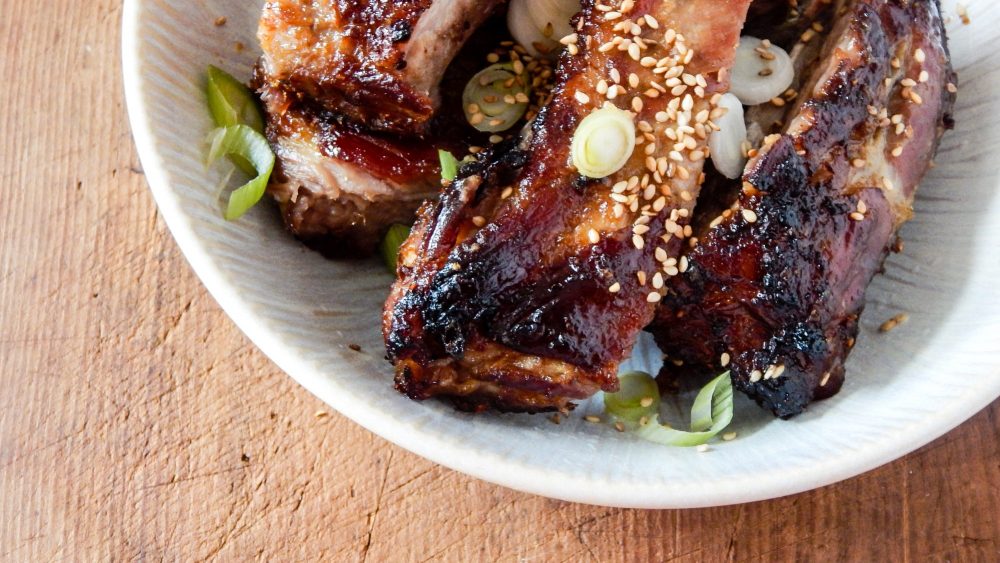 Korean-Style Oven Roasted Barbecue Pork Ribs
Ingredients
1

sweet onion,

coarsely chopped

1

pear,

cored and coarsely chopped

5

cloves

garlic,

peeled

1

1-inch piece ginger,

sliced into thin coins

3/4

cup

firmly packed dark brown sugar

3/4

cup

soy sauce

1/2

cup

water

2

tablespoons

dark sesame oil

Freshly ground black pepper

2

rack St. Louis-style spare ribs or baby back ribs

halved

3

scallions

thinly sliced on an angle

1

tablespoon

sesame seeds
Instructions
In a food processor, puree the onion, pear, garlic, ginger, brown sugar, water, soy sauce and sesame oil until smooth. Transfer to a resealable container or large zipper-lock bag. Season the ribs on both sides with pepper and then add them to the container with the sauce. Turn to coat. Cover and refrigerate for at least 4 hours, turning the ribs periodically in the marinade.

Adjust the oven rack to the middle position and heat the oven to 300 degrees. Line a rimmed baking sheet with aluminum foil and set a wire rack on the sheet. Spray the rack with nonstick oil spray.

Place the ribs side by side on the prepared baking sheet and transfer the marinade to a small saucepan. Bring to a boil over high heat and then reduce the heat to a simmer.

Place the ribs in the oven and roast, brushing occasionally with the reserved marinade, until the ribs are done and a knife slides easily into the thickest part of the rib meat, 2 hours for baby back ribs and 3 hours for St. Louis spare ribs.

Remove from the oven and let the ribs rest, covered loosely in aluminum foil, for about 10 minutes, and then cut between the bones to separate the individual ribs. Serve immediately with the remaining reserved sauce for dipping. Garnish with thinly sliced green onions and sesame seeds.
Please be nice. Unauthorized use and/or duplication of this material without permission is prohibited. Please do not use photos without prior written permission. If you wish to republish this recipe, please rewrite the recipe in your own words and link back to this recipe on virginiawillis.com. 
Let's connect on Facebook , Twitter, Instagram, and Pinterest!

Please note that this post may contain affiliate links.