Please note that this post may contain affiliate links.

My mother has a large square of rose-colored marble for making such as brittle and butterscotch on her kitchen counter. Most likely Etowah marble from North Georgia, it has been in the family for years and originally belonged to my great-great-grandmother, Victoria Virginia Wingate. The sheen of the marble is a dull from age – or perhaps the amount of butter that it has absorbed in the past century  — and it's still absolutely beautiful. Mama has used it for as long as I can remember to make old-fashioned peanut brittle, as did my grandmother, before her and her grandmother, as well. I love the history in that this simple kitchen tool has brought so love and joy into my family's home for generations.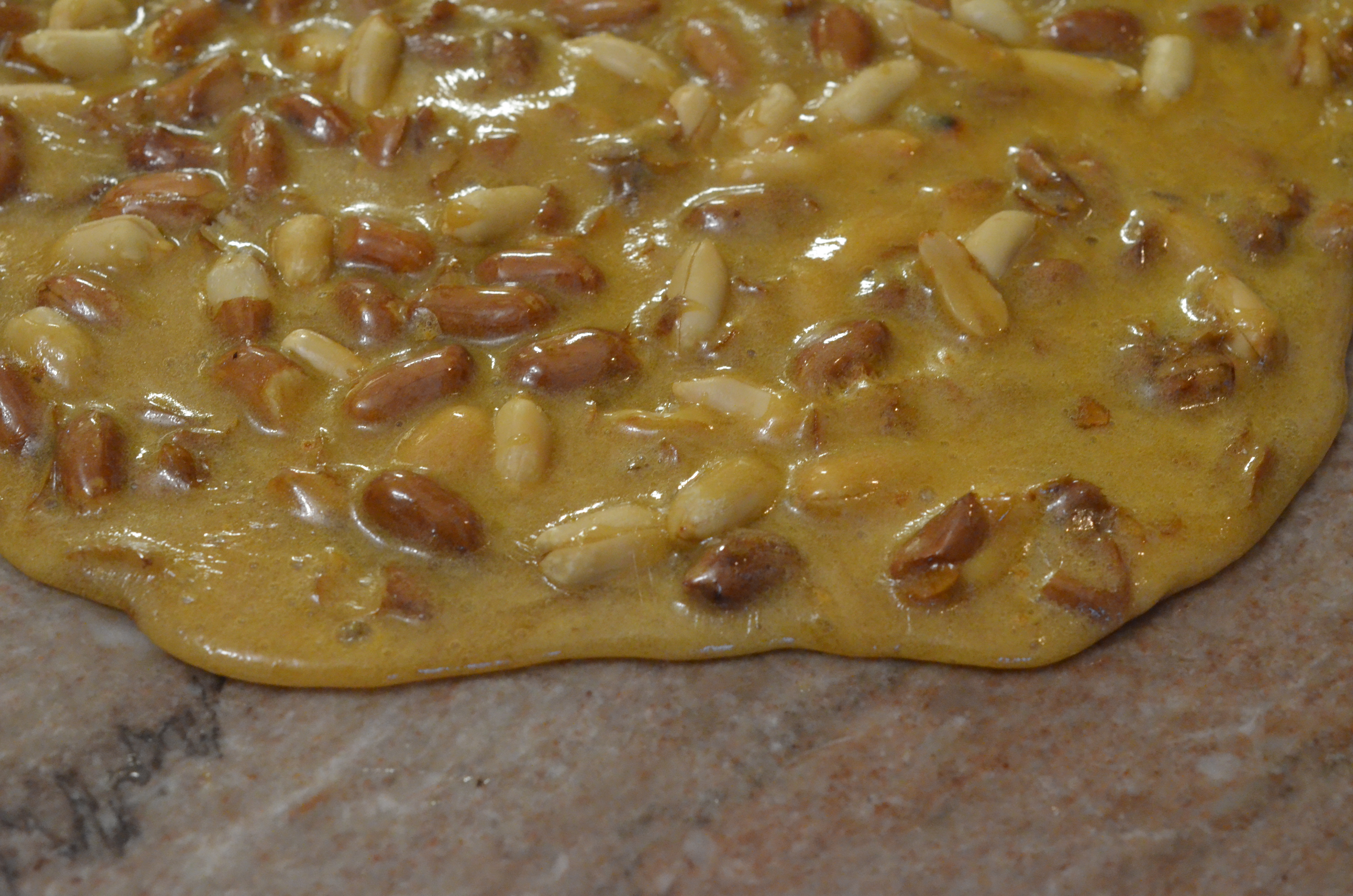 Why is Marble Used for Candy-Making?
Natural stone such as marble is an ideal work surface for producing candy such as peanut brittle because it retains  heat during the cooling process. Stone has excellent insulating properties and when making candy, the cooling phase is critical. Cooling down too quickly can prevent the candy from becoming hard. When candy cools slowly on a stone slab, more crystals have a chance to form. With a higher number of micro-crystals, the sugar has more sites on which to crystallize, and so crystallization ultimately happens faster. Having said all of that — if you don't have a piece of stone, you can used a buttered rimmed baking sheet or one lined with a nonstick silicone baking sheet.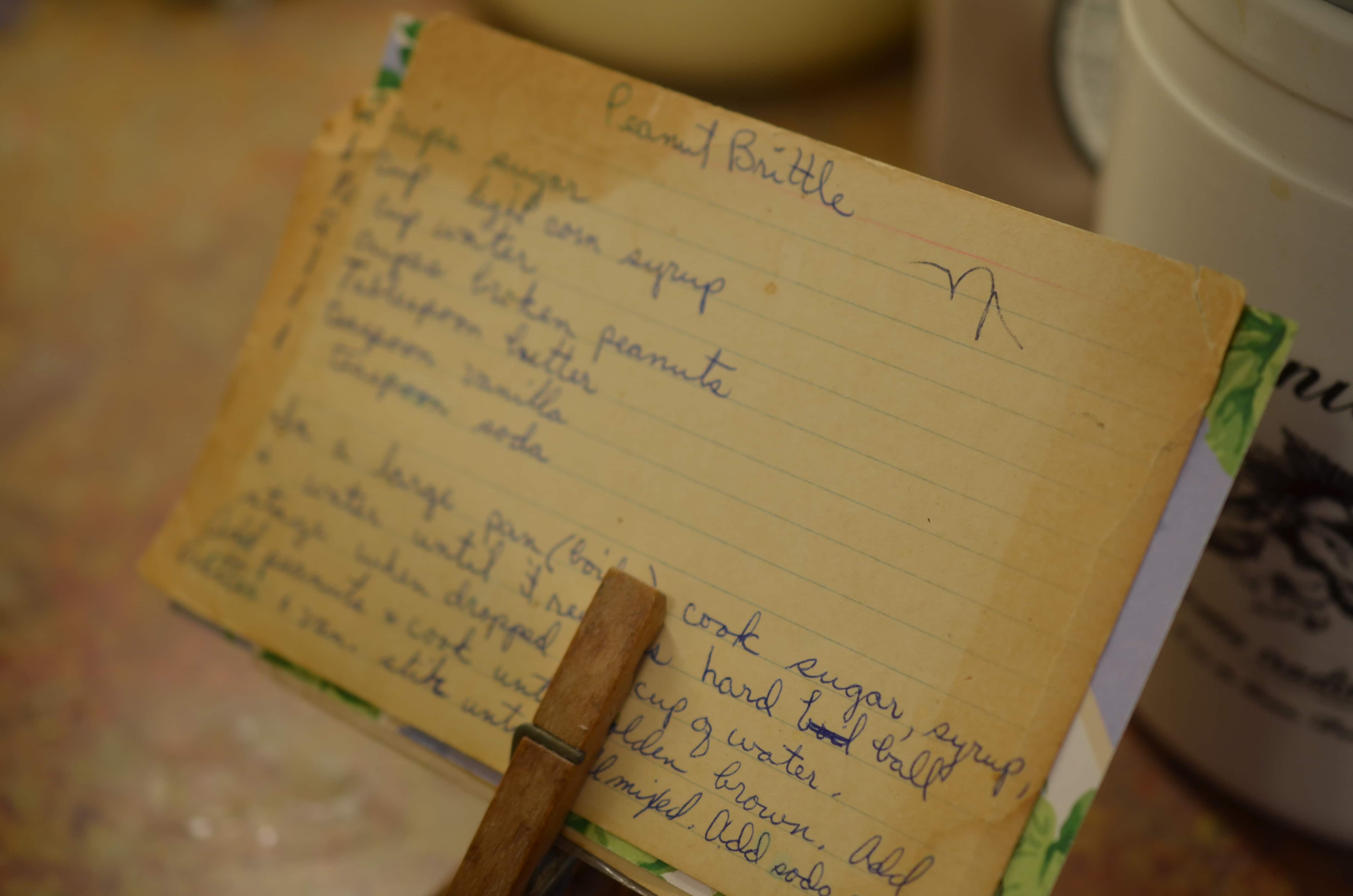 Holiday Traditions
Peanut brittle is as much a part of holidays as the Christmas tree in our family. In fact, we often decorate the tree the day after Thanksgiving and make peanut brittle, too. It was my grandfather's favorite holiday treat. The Southern sweet tooth reigns in supreme glory during the holidays. Divinity, fudge, mints, melt-aways, cookies, cakes, and pies all have their place, but peanut brittle is what my family loves most.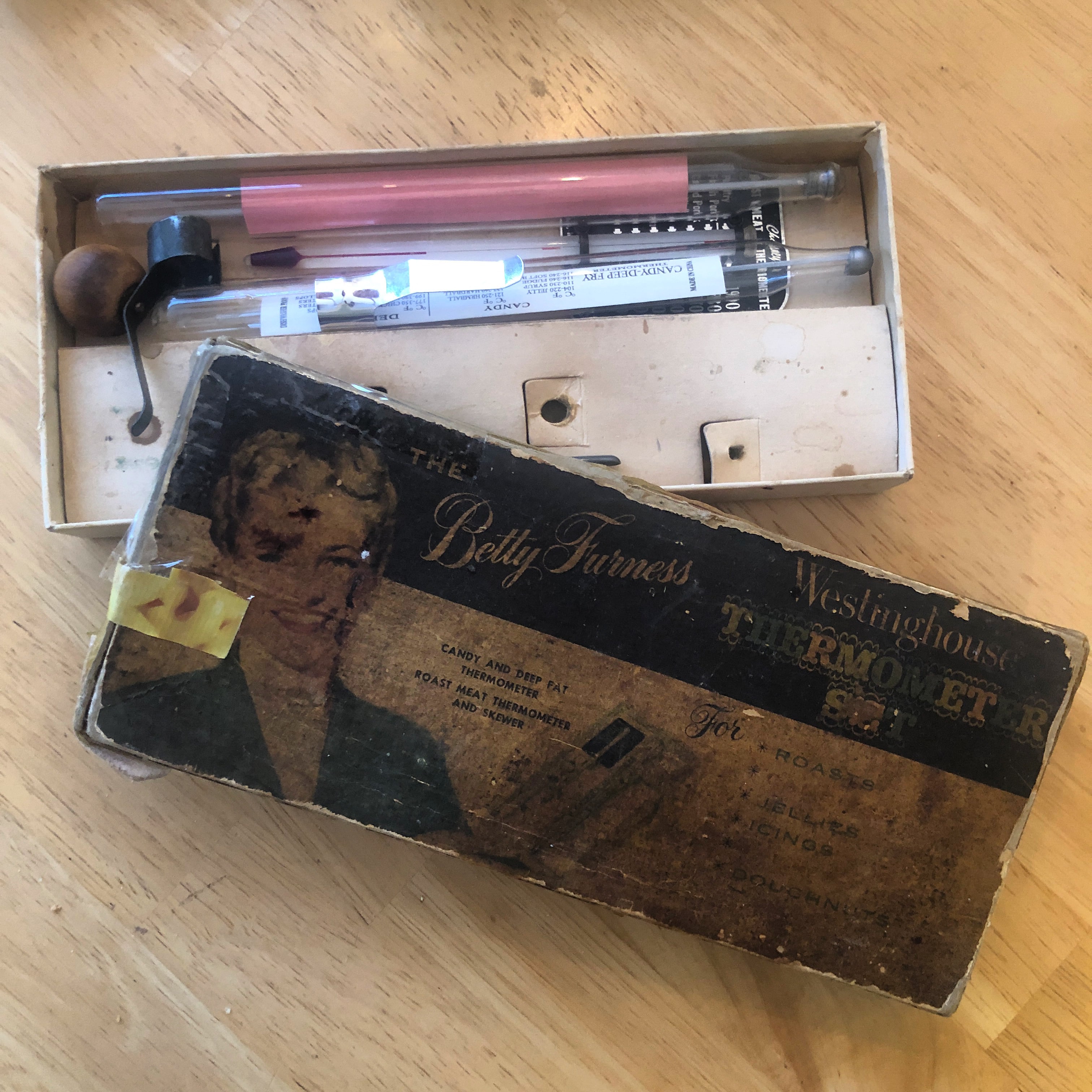 Sweet Memories
During the holidays on an afternoon when the weather is clear, Mama pulls out her ancient candy thermometer. (It has to be a sunny day as sugar is hygroscopic, which means it attracts water. This also means making brittle, candy, divinity, and meringues can be notoriously difficult when it rains.)
The candy thermometer was originally my grandmother's. It's from the 1950s and is still stored in its original box, which is tattered and held together with tape. She then butters the marble slab, measures out her ingredients, and makes peanut brittle in a large heavy-bottomed saucepan. The aroma of sugar cooking, nuts toasting, and warm butter fills the air. Once the candy hits the right temperature she pours it out and flattens the molten mass with a buttered spatula.
If you don't have a candy thermometer, you can use a reliable heatproof thermometer that goes up to 350F or so. Or, you can also do dribble some of the cold sugar into ice water. The sugar will react appropriately for the stage it has reached.

Stages of Cooking Sugar
That last sentence terrified a lot of people. Folks are terrified of making brittle, candy thermometer or not.  Other than simply avoid getting burned, the key to sugar work is temperature. The final texture of candy depends on the sugar concentration. As the syrup boils the water evaporates, the sugar concentration increases, and the boiling point rises. A given temperature corresponds to a particular sugar concentration.
The stage refers to the reaction of spoonful of sugar syrup that has been drizzled into ice cold water.  Peanut brittle has to reach the hard-ball stage, which means that strands of sugar break easily and feel dry, not sticky. To understand, let's walk through the stages of cooking sugar.
Thread Stage – 230°F to 235°F
At this relatively low temperature, there is still a lot of water left in the syrup. When you drop a little of this syrup into cold water to cool, it forms a liquid thread that will not ball up, but simply dissolves in the water. Cooking sugar to this stage simply produces syrup, not candy.
Soft-Ball Stage – 232°F to 240°F
At this temperature, sugar syrup dropped into cold water will form a soft, flexible ball. Fudge, classic pralines, and fondant are made by cooking sugar to the soft-ball stage.
Firm-Ball Stage – 242°F to 250°F
Drizzle a little of this syrup in cold water and it will form a firm ball, that will retain it's shape when you take it out of the water, but remains pliable and will flatten when squeezed between your fingers. Caramels are cooked to the firm-ball stage.
Hard-Ball Stage – 250°F to 268°F
At this stage, the syrup will form thick threads as it drips from the spoon. Very little water remains and the sugar concentration is rather high. The syrup drizzled into cold water will form a hard ball. If you take the ball out of the water, it won't flatten, but you can still change its shape by squashing it. Nut brittles, nougat, marshmallows, and divinity are cooked to the hard-ball stage.
Soft-Crack Stage – 270°F to 290°F
As the syrup reached soft-crack stage, the bubbles on top will become smaller and closer together. When you drop a bit of this syrup into cold water, it will solidify into threads that, when removed from the water, are flexible, not brittle. They will bend slightly before cracking and breaking. Butterscotch is cooked to the soft-crack stage.
Hard-Crack Stage – 300°F to 310°F
The hard-crack stage is the highest temperature before caramel. If you spoon a little of the molten syrup in cold water and it will form hard, brittle threads that crack and break when bent. Toffee and lollipops are cooked to the hard-crack stage.
Caramel – 330° – 350° F
At the lower end of the temperature range of caramel all the water has boiled away and the pure sugar is liquid and light amber in color. As the temperature rises the sugar becomes richer and darker. Caramelized sugar is used for spun sugar and can also be used to give a candy coating to nuts. Above 350° caramel tastes burnt and bitter.
Hard Candy Christmas
I've always liked the glasslike thin threads of candy that are created as the spoon is pulled away from the brittle. They dissolve instantly when placed on the tongue, whispers of sweetness. While the candy is cooling we line a collection of tins with waxed paper. Some of the tins are new and somewhat stylish with Christmas motifs, some are years older, the familiar blue store-bought butter cookie tins, dinged and bent. The newer tins are used for holiday gift-giving and the well-used ones stay home. Once the candy is cooled completely she lifts it with a spatula and cracks it into individual pieces. As we nibble the bits and pieces of brittle, the antique marble slab is then wiped clean with warm soapy water and carefully dried. It's set aside once again. We laugh and giggle, hang the ornaments, and yes, it's Christmas.
Thanks for reading! I hope you and yours have a beautiful, safe holiday season.
Bon Appétit Y'all!
Virginia Willis 
PS. Want a candy recipe that doesn't involve lava-like sugar? Check out my Easy Peppermint Fudge!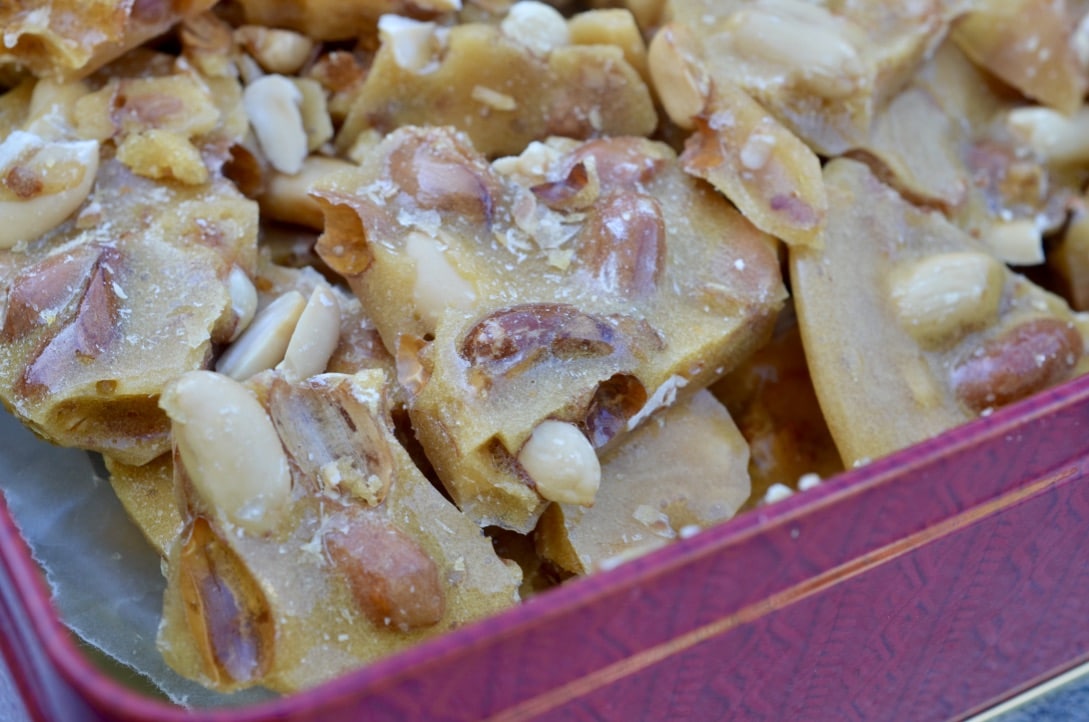 Peanut Brittle Recipe
Ingredients
2

cups

sugar

1

cup

light corn syrup

½

cup

cold water,

plus more for brushing the pan

Pinch

of fine sea salt

3

cups

unsalted raw peanuts

1

tablespoon

unsalted butter,

at room temperature, plus more for the marble or baking sheet

1

teaspoon

pure vanilla extract

1

teaspoon

baking soda
Instructions
Butter a rimmed baking sheet or marble slab, or line a rimmed baking sheet with a silicone baking liner.

In a heavy saucepan, combine the sugar, corn syrup, water, and salt and bring to a boil over medium-high heat, stirring until sugar has dissolved. Continue cooking, without stirring, until the mixture reaches the hard-ball stage on a candy thermometer (250°F to 268°F) swirling the pan occasionally; wash down the sides of the pan with a pastry brush dipped in water to prevent crystals from forming. Depending on your pan and burner strength, this could take 8 to 15 minutes. Do not walk away! Stir in the nuts and continue cooking, stirring frequently to prevent the nuts from burning, until the mixture is light amber and the nuts are golden brown, about 5 minutes.

Remove the pan from the heat; stir in the remaining 1 tablespoon butter and the vanilla. Carefully stir in the baking soda; the mixture will foam up in the pan. As soon as it is combined, pour it onto the prepared baking sheet or marble slab.

Using an oiled offset spatula, quickly spread into an even layer about ½ inch thick. Slip the oiled spatula under the hot candy to loosen the edges and bottom. Let stand until completely cool, 45 to 60 minutes.

Break the brittle into large pieces, and layer between pieces of waxed paper in an airtight container. Store at room temperature up to 1 month.
Notes
Chef it Up: Chocolate-Dipped Nut Brittle Recipe
Line a baking sheet with waxed paper. Combine 6 ounces semisweet chocolate chips and 1 tablespoon vegetable shortening, in a microwave-safe bowl. Microwave, uncovered, on medium-high for about 1 minute. Remove and stir with a rubber spatula. Some chips may not have melted, so microwave again in 10-second intervals, stirring after each interval, until the chocolate and shortening are smooth and just melted. Let cool slightly. Dip the cooled brittle in the melted chocolate and shake off the excess. Sprinkle with additional chopped nuts, if desired. Place on the prepared baking sheet. Refrigerate until set.
If you are interested in hosting me for a speaking engagement, event, cooking class, or a book signing, let me know! Send an email to jona@virginiawillis.com and we'll be back in touch as soon as possible.
Please be nice. Unauthorized use and/or duplication of this material without permission is prohibited. All photos and content are copyright protected. Please do not use photos without prior written permission. If you wish to republish this recipe, please rewrite the recipe in your own words and link back to this recipe on virginiawillis.com. Thanks so much.
Let's connect on Facebook , Twitter, Instagram, and Pinterest!

Please note that this post may contain affiliate links.