Please note that this post may contain affiliate links.

When I decided to share this recipe for GF Pear Banana Almond Cakes it was a surprise to me. It would seem like the Banana Bread of 2020 obsession is long over and I am at best, late to the party. The revelation came when I married a bite of this little golden cake with a sip of hot coffee. It was a sweet-bitter kiss of flavor and aroma, quite the edible delight for a late-night food waste prevention project — especially since they are gluten-free, sugar-free, and made in a food processor!

Food Waste Prevention
Quarantine cooking, the baking explosion, and food waste prevention is what lead to the proliferation of banana bread on the internet last spring and summer. I, too, got in on the banana loss prevention team with my recipe for Chocolate Peanut Butter Soft Serve Frozen Dessert.
This recipe for GF Pear Banana Almond Cakes came about as a result of having both a pear and a banana on the verge. Instead of chucking them in the trash, I threw together a quick batter. The next morning, I was astonished at how sweet and moist the cake was, even without added sugar. Enough so that I wanted to play around with the recipe a little bit. I firmly believe it's possible to eat really good food that's healthy, too — including bread and dessert.  Who doesn't love a little cake?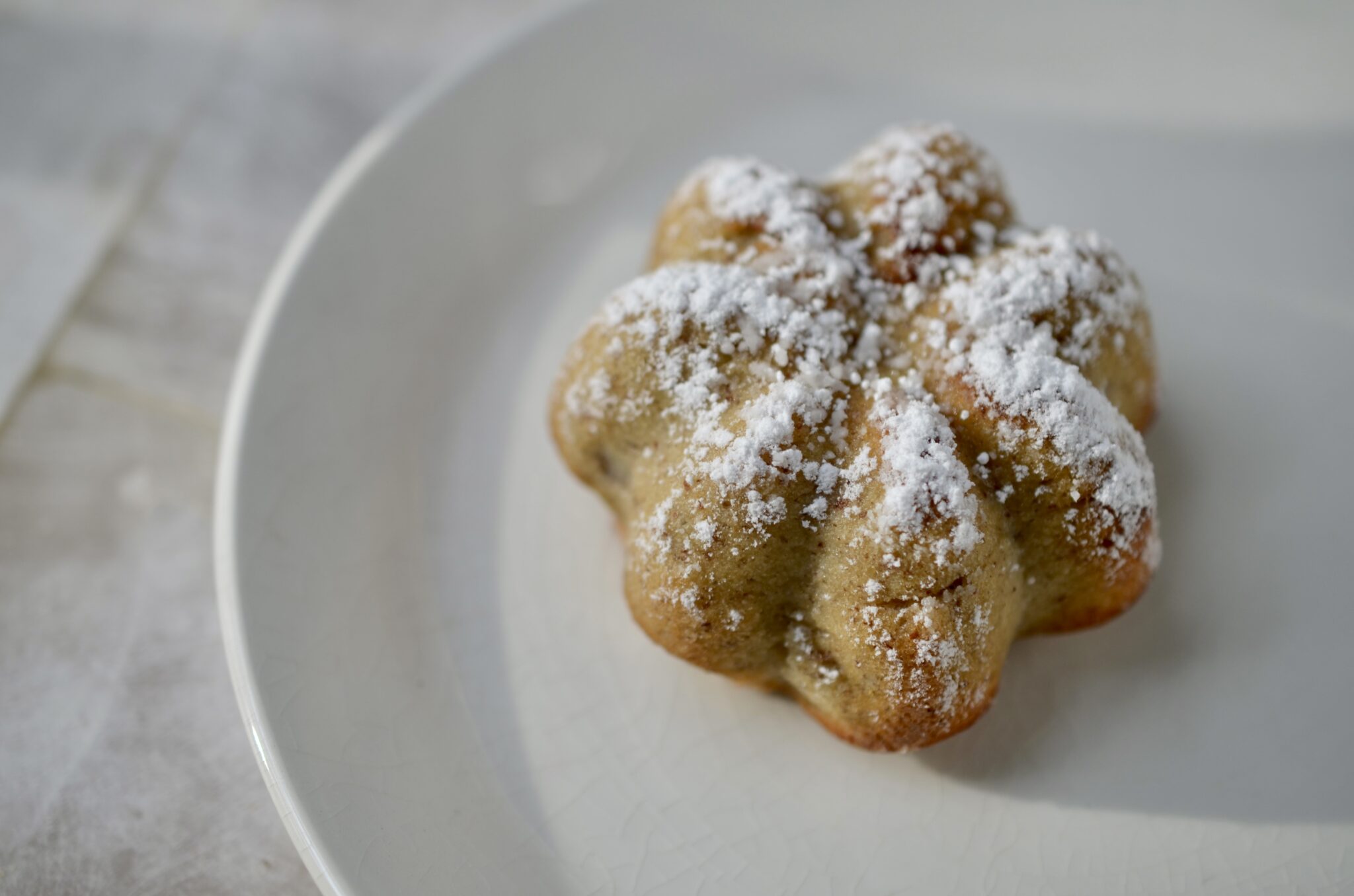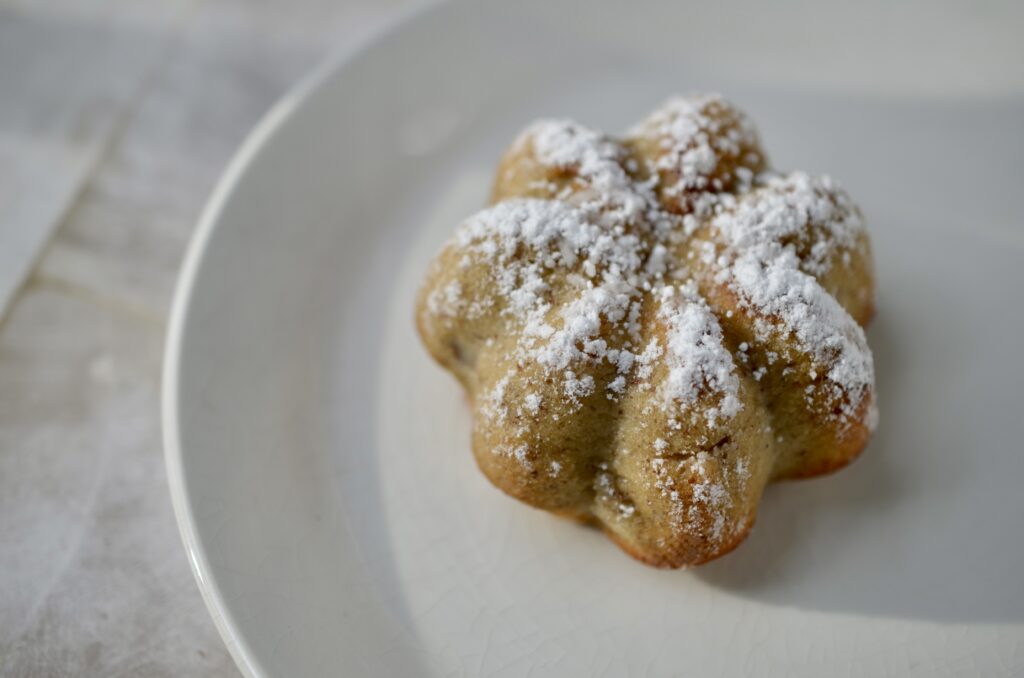 Is it a Muffin?
With that in mind, I have been experimenting with various nut flours. Nuts are good and good for you! I used Bob's Red Mill almond flour, which is super fine and not heavy.
Warning. Big huge warning. Red flashing light. Almond flour does not contain gluten. Gluten gives wheat bread structure. You cannot often swap almond flour for all-purpose flour without making adjustments. In this recipe, the egg effectively gives the cake structure. I have not tried it with chia seeds or any other non-chicken egg substitute. And, in reverse, I have not made these with all-purpose flour.  I know the texture would be different, for certain, but I am not here to give you yet another banana bread muffin. I wanted to do something different.
The resulting texture reminds me of a little french nut cake called a financier.  is not a hearty muffin with a firm crumb, and more like a petit flourless cake. They bake "just sweet enough" from the combination of very ripe fruits.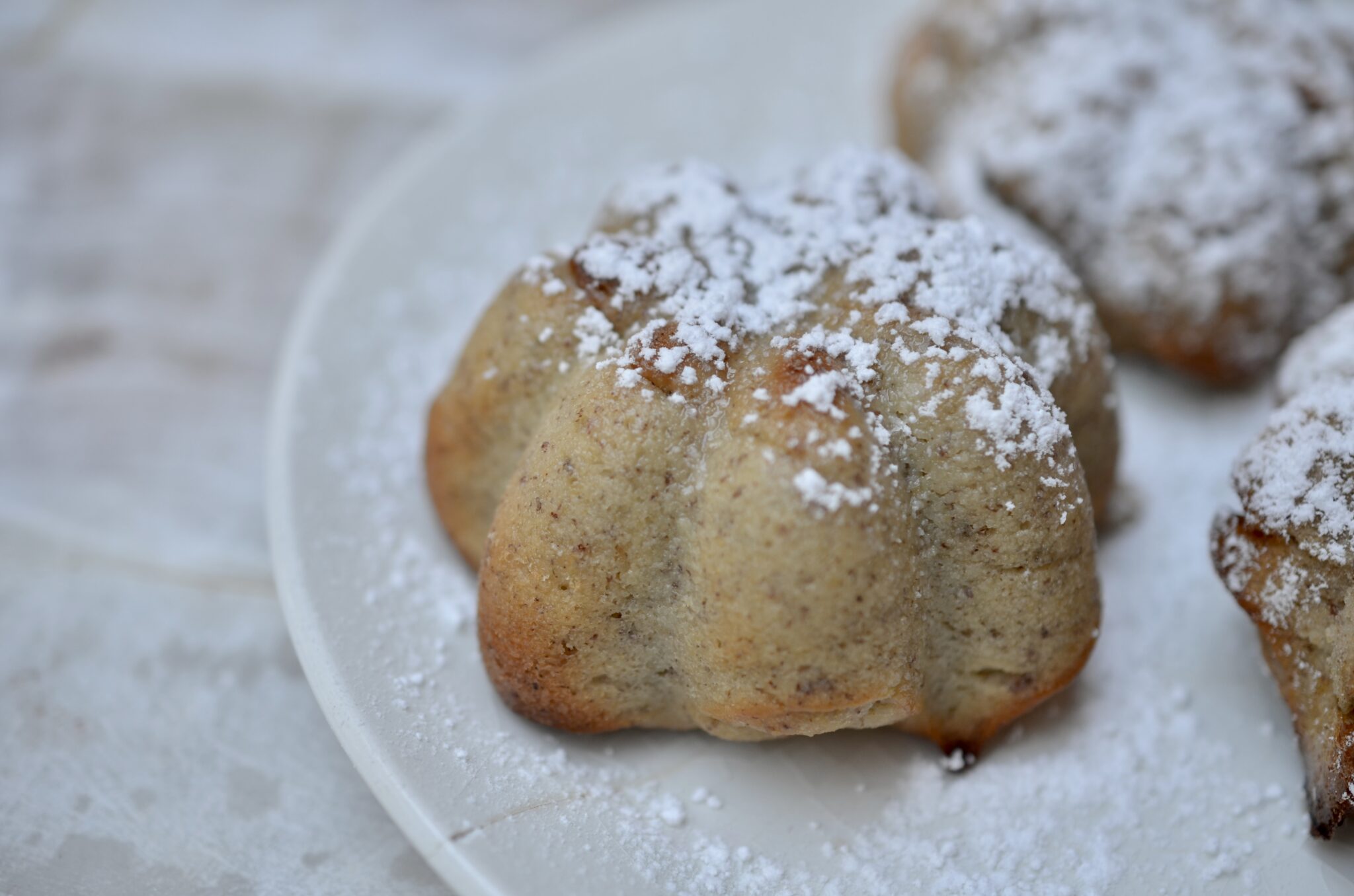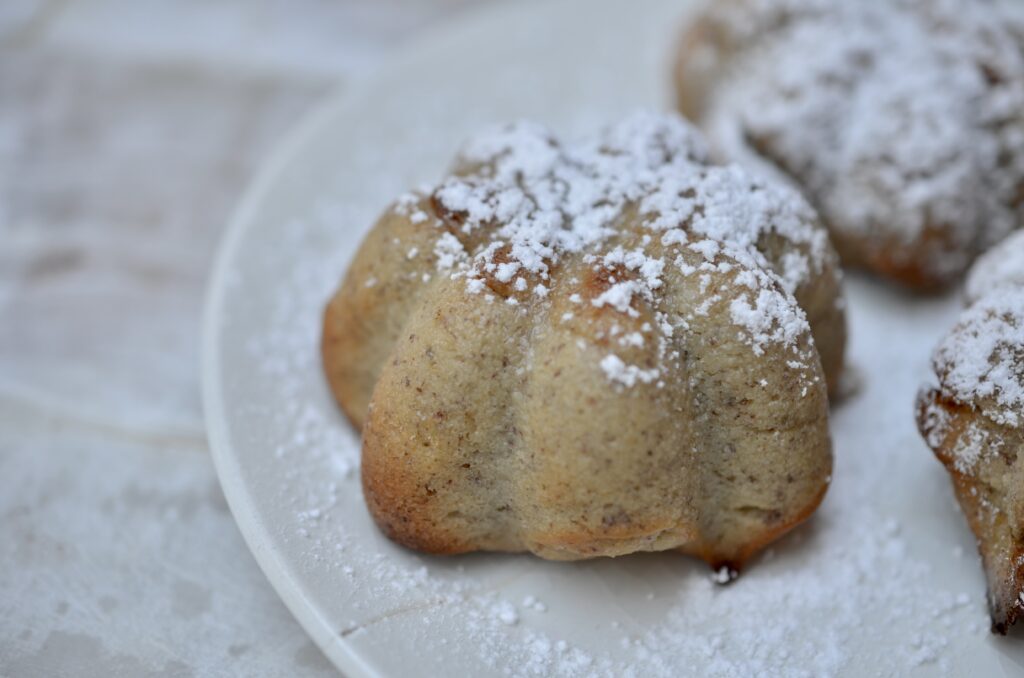 Healthy Baking Recipes
Every recipe I make is not a recipe makeover, but frankly, I was astonished when these cakes clocked in at only 2 WW points each. Lightly dusted with powdered sugar, these tender, moist cakes are lovely for a wholesome breakfast muffin, afternoon snack with tea, or as a sweet nibble for dessert.
Thanks so much for reading. I know I will appreciate having a light and healthy little cake amidst all the indulgences over the holidays and I hope you will, too.
Bon Appétit Y'all
Virginia Willis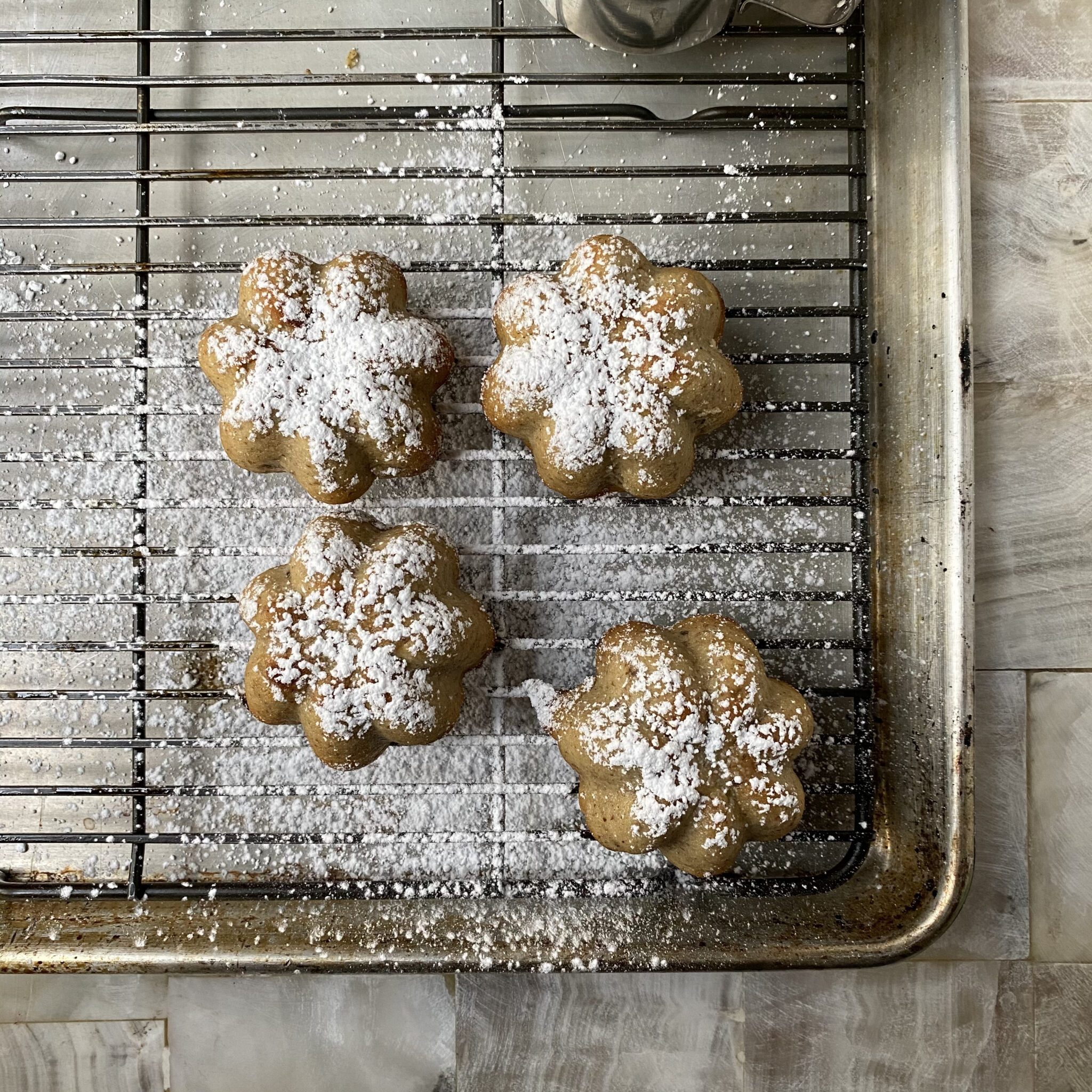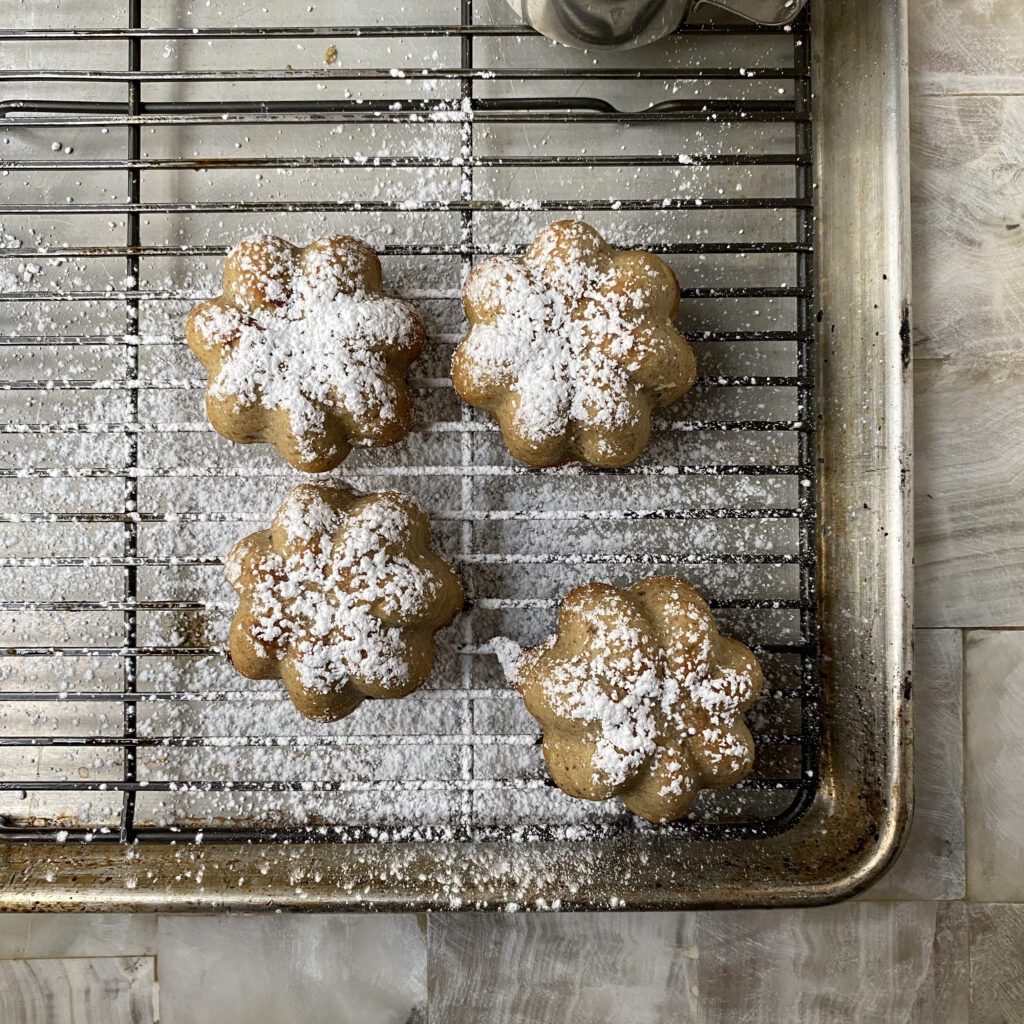 GF Pear Banana Almond Cakes
The sizes of the banana and pear may effect the amount of batter produced. I've baked them at 1/4 cup a batter each and produced 8 as well as 1/3 cup of batter each for 6. If you bake the larger version, you may need to bake them an additional 5 minutes.
Ingredients
1

ripe banana

1

ripe pear

cored and chopped

1

egg

1

cup

almond flour (I used Bob's Red Mill)

1/2

teaspoon

baking powder

1/4

teaspoon

salt

1/4

teaspoon

ground cinnamon

Confectioner's Sugar

for serving
Instructions
Heat the oven to 350°F. Spray a muffin tin, silicone cake mold, or individual molds with nonstick spray. Combine the banana, pear, egg, almond flour, baking powder, salt, and cinnamon in the bowl of a food processor fitted with the blade attachment. Puree until smooth.

Spoon about ¼ cup into each, filling no more than 2/3 full into the prepared pans. Transfer to the oven and bake, rotating once, until golden brown, 30 minutes. Remove to a rack to cool slightly. Unmold and let cool completely on the rack. Store up to three days in an airtight container.
Please note that this post may contain affiliate links. (That means I make a commission if you use my affiliate link to buy the product.) 
If you are interested in hosting me for a speaking engagement, event, cooking class, or a book signing, let me know! Send an email to jona@virginiawillis.com and we'll be back in touch as soon as possible.
Please be nice. Unauthorized use and/or duplication is prohibited. All photos and content are copyright protected. If you wish to republish this recipe, please link back to this recipe on virginiawillis.com. Thanks so much!
Let's connect on Facebook, Twitter, Instagram, and Pinterest!

Please note that this post may contain affiliate links.