Please note that this post may contain affiliate links.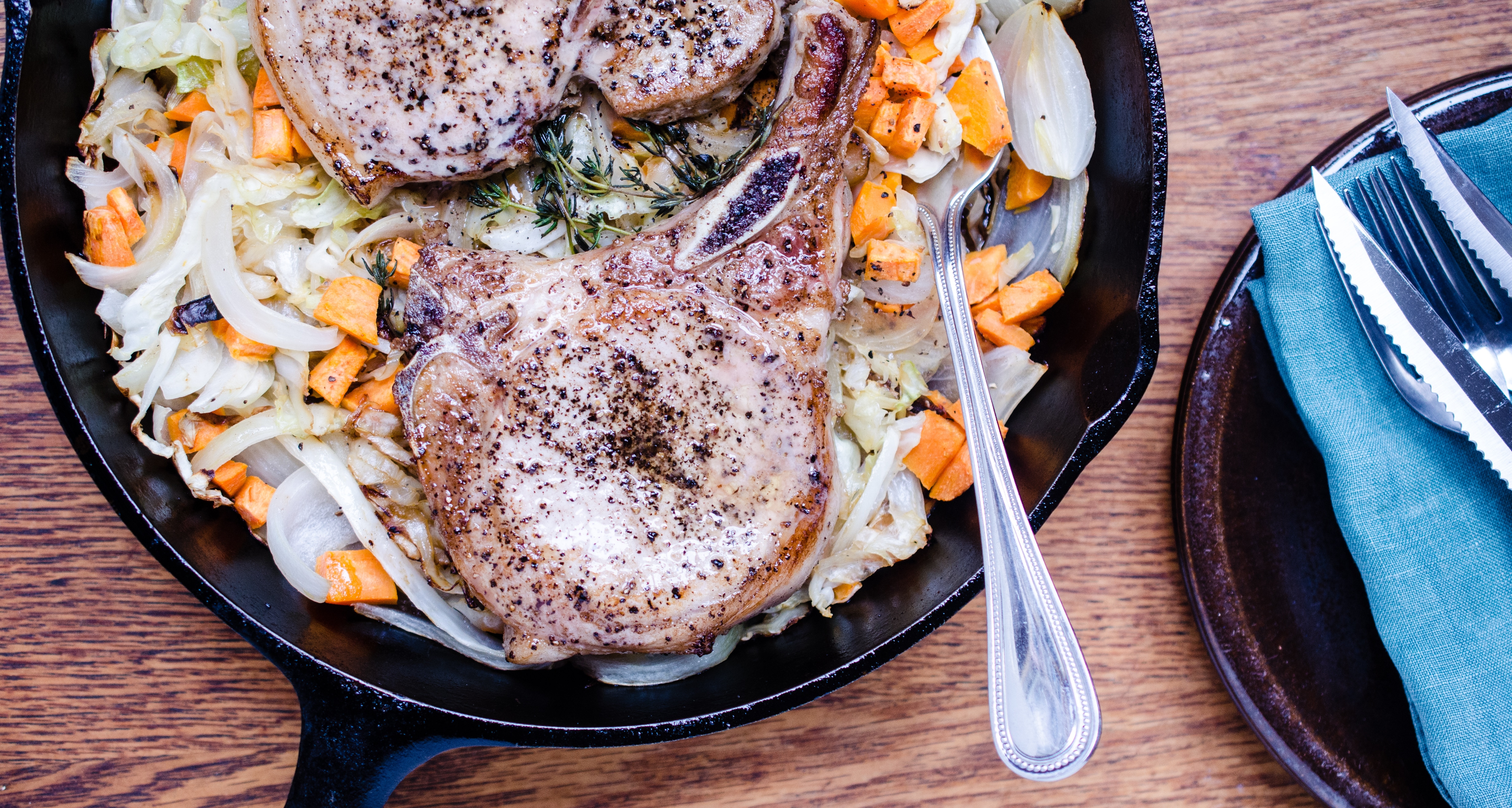 Skillet suppers, one-pot meals, sheet pan suppers — I'm sure you hear these terms all the time. They're popular not only for their simplicity but also, of course, the easy cleanup. But choosing the right cooking vessel is key.

As a professional cook, I have a wall of cookware: hand-hammered copper I brought home from France; enamel-coated ovens; high-tech, stainless steel sauté pans; highly designed modern skillets that look more like works of art, and even thin aluminum stockpots for boiling water. Different cookware is needed for different reasons. (Indeed, if I am a guest in a fancy, designer kitchen, and there's a rack with a shrine of all matching pots, I know that person doesn't actually cook!)
Still, I've got to admit even that with all of my expensive professional cookware, the pan I reach for the most is — without hesitation — my grandmother's cast-iron skillet.
Cast Iron Cooking
I am now the proud owner of that skillet and calculate that it very well may be 100 years old. To say it's well seasoned is an understatement. It's black and shiny like satin, and water beads on it when I wash it, the result of absorbing so much oil through the decades. I know it sounds cliché, but it's true. This cast iron skillet is hands-down, my absolute most precious possession.
Cast iron gets better the more you use it, because cooking seasons the skillet, giving it a slick surface. In fact, if well-seasoned, you can even use a cast-iron pan to cook delicate dishes like sunnyside-up eggs. Perhaps the very best quality of a cast-iron skillet is its versatility. They can be used for everything from roasting a whole chicken to baking a cake or cobbler, and vegetable cooking, making cast iron a great fit for folks with limited storage. You can see why these pans are treasures passed down from generation to generation.

What is Seasoned Cast Iron?
Not only does cast iron carry valuable memories, but it is also the perfect vehicle for making this one-dish supper sing, along with just about any other kitchen task you can throw at it. It's slow to heat up, but once it does, it stays hotter longer. When properly seasoned over time, cast iron takes on nonstick properties, which only improve with use.
But let's back up for a second: What is seasoning, anyway? Here, I'm not talking about salt and pepper. Cast iron seasoning refers to both the initial finish of the cookware as well as the ongoing process of maintaining that finish. It's not just a thin layer of oil, it's an oil that's been baked onto the iron to form a thin, polymerized layer, which prevents rust and provides an easy-release finish that continues to improve with use. Most cast iron skillets these days come pre-seasoned, but they're still bettered by regular seasoning in your kitchen.

How to Clean Cast Iron
Some folks say not to wash your cast iron pans with detergent, but my grandmother did and so do I. I can't imagine not cleaning a skillet! Good grief. (I do, however, avoid metal scouring pads, which can remove the layers of seasoning and expose the metal.) After cooking, I carefully wash it in warm soapy water and dry it thoroughly, and then I return it to the oven for keeping. This procedure is as much kitchen housekeeping as sacred ritual.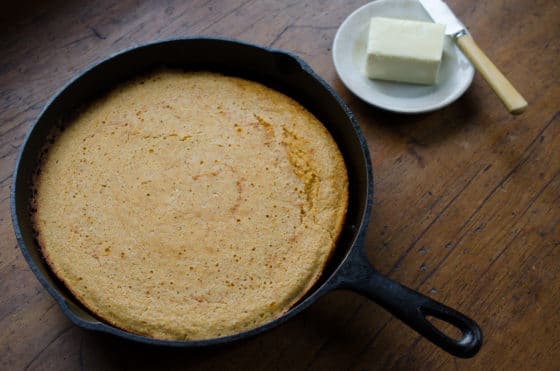 How to Season Cast Iron
If your pan needs extra loving because you've damaged its seasoning, or you've found one at a garage sale that needs to be reinitiated into the kitchen, you can re-season it by scrubbing it clean and applying a film of oil all over the pan's interior and exterior, then placing it in a 350°F  oven with a rimmed baking sheet pan underneath to catch drips. Let it "bake" for one hour, and then cool the pan completely in the oven. Before storing, make sure it is completely dry to prevent rust. (I actually store my cast iron skillet in my oven between use.)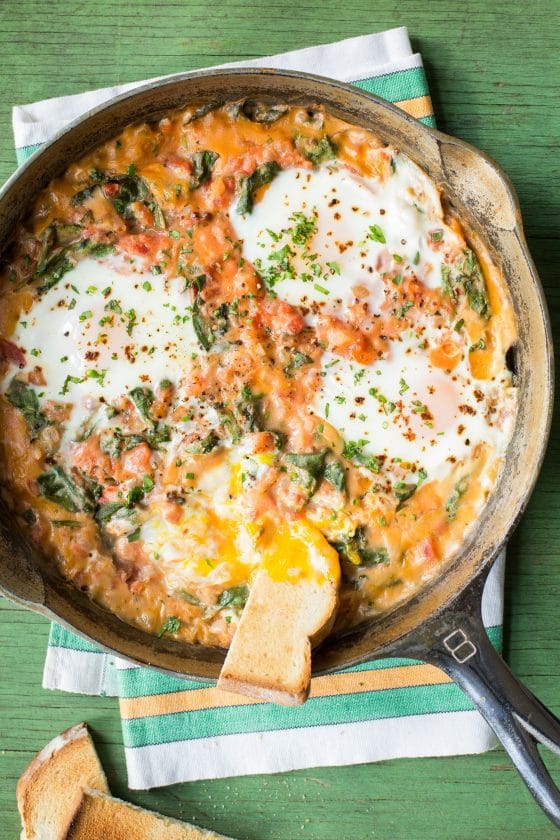 Five Tips for Creating Quick and Easy 30 Minute One Pot Meals
Why should something as simple as a skillet supper have tips? Because it's actually not as easy as just tossing a bunch of stuff in a skillet and throwing it in the oven. You want to end up with all the ingredients properly cooked and ready at the same time. In other words, these tips will help you avoid overcooked dry chicken with a side of undercooked raw veg– or worse, the other way around! Skillet suppers save time, make for easy clean-up, and don't require expensive equipment or fancy ingredients.
1. Use the Right Kind of Skillet You want a skillet with an ovenproof handle that can go in the oven. That's why cast iron is perfect. If you don't have cast iron, you can use another skillet, but it needs to be able to go from searing on the stovetop to finishing in the oven. (But seriously, you need a cast iron skillet. Keep your eyes open at garage sales and thrift shops.)
2. Sear the Main Most often I combine a protein with some vegetables for a skillet supper. Take the step of searing the meat on both sides in the skillet, then remove them. (They won't be cooked and that's okay.) Then, add your chopped vegetables and nestle the meat back on top. The fond or yummy brown bits created from searing the meat will help flavor the vegetables. Pop it all back in the oven and you're good to go!
3. Size it Right The goal here is to keep the cooking time under 30 minutes, so it won't work to place the meat under big pieces of potato or something that takes 30-45 minutes to cook. It will work to pop those chicken breasts, for example on top of diced potatoes. Know that a boneless skinless chicken breast takes about 25 minutes to cook. BUT that also includes the searing time of say, 5 minutes. SO, that means the chicken is only going to be in the oven for about 20 minutes. That means the vegetables should be cut no larger than about a 1/2-inch in size.(Check out the size of my sweet potatoes in the photographs, for example.)
4. Lean Proteins  I find that chicken and pork chops are the best for the meat and vegetable combination skillet suppers. In my mind, if I am cooking a steak then I want to make sure I can very carefully watch the internal temperature of the steak. On that note, bone-in chops are fine, but bone-in chicken thighs and those monster breasts take 35-45 minutes or so to cook. Once you've entered that kind of time frame, in my mind, it's just better to save yourself some worry and break out another pan. Skillet suppers are meant to be easy, not some kind of time struggle.
5. Green Things Sure, having everything cook in a skillet is great, but don't forget a side salad! And, it doesn't always have to be a meat and veg. You can also have a skillet supper that's all vegetarian or vegan. There are plenty of recipes in that pasta cooks in the skillet along with a super saucy tomato sauce. Or, check out my Southern Style Shakshuka from Secrets of the Southern Table, as seen above. This and a baguette and you are good to go!
One last thing, if you prefer boneless pork or pork tenderloin, give my Pork Tenderloin with Apples and Onions a try! Thanks so much for reading.
Bon Appétit, Y'all
Virginia Willis
PS: Join me on Facebook for fun food videos, good food news, and more tips, techniques, and recipes. I've got some really fun things I am about to announce. 
 Big Smiles! 
PSS: Head over to  Instagram for my weekly #FreeFriday for my Cookbook #Giveaway Contest!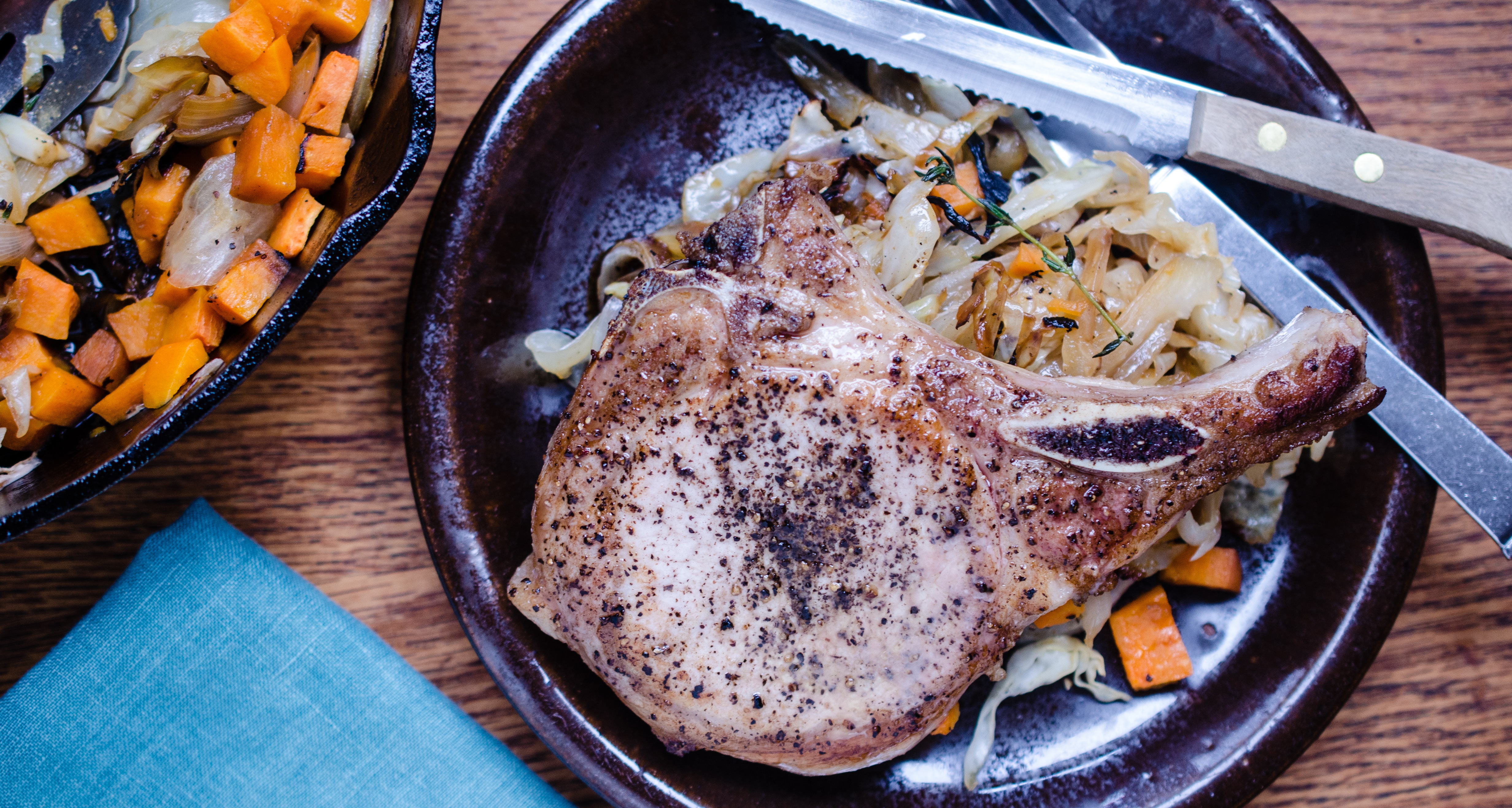 Skillet Pork Chops with Cabbage and Sweet Potatoes
Yes, I know brining does fly in the face of the idea of a 30-minute meal. You can certainly skip it OR you could brine the chops the minute you walk in the door and let them marinate during the news or while you sip on something.
Ingredients
2

cups

boiling water

1/3

cup

firmly packed dark brown sugar

Coarse kosher salt and freshly ground black pepper

3

cups

ice cubes

2

bone-in pork loin chops

3/4 to 1 pound total

1

tablespoon

vegetable oil

1/2

tablespoon

unsalted butter

1

sweet onion

sliced

1/2

green cabbage

cored and thinly sliced

1

sweet potato

peeled and diced

2 to 3

sprigs fresh thyme

1

bay leaf

preferably fresh

Dijon mustard

for serving
Instructions
In a medium heatproof bowl, whisk together the boiling water, brown sugar and 2 tablespoons salt until sugar and salt are dissolved. Stir in the ice cubes to cool the brine. Add the pork chops, the cover bowl with plastic wrap, and refrigerate for 30 minutes. Remove the chops from the brine, rinse well, and dry thoroughly with paper towels. (If you're really in a hurry you can skip the brining step, but I find it does make a difference for ultra moist and tender pork chops.)

Heat the oven to 350°F. In a 10-inch cast iron skillet, heat the oil over medium-high heat. When the oil is shimmering, add the pork chops and sear until well browned, about 2 minutes per side. Transfer to a plate and cover to keep warm.

To the same skillet, add the butter, followed by the onion, cabbage, sweet potato, thyme, and bay leaf. Season with salt and pepper. Cook, stirring often, until the cabbage and onions are wilted and caramelized, about 5 minutes.

Place the seared pork chops on top of the vegetables. Transfer to the oven and bake until the pork chops are cooked and the internal temperature registers 145°F when measured with an instant-read thermometer, 8 to 10 minutes.

Transfer the pork chops to serving plates. Taste the vegetables and adjust the seasoning as needed with salt and pepper. Stir to make sure all of the vegetables are coated with the buttery cooking liquid. Divide the vegetables between the plates and serve immediately with mustard, if desired.
Please note that this post may contain affiliate links. (That means I make a commission if you use my affiliate link to buy the product.) 
If you are interested in hosting me for a speaking engagement, event, cooking class, or a book signing, let me know! Send an email to jona@virginiawillis.comand we'll be back in touch as soon as possible.
Please be nice. Unauthorized use and/or duplication is prohibited. All photos and content are copyright protected. If you wish to republish this recipe, please link back to this recipe on virginiawillis.com. Thanks so much!
Let's connect on Facebook ,Twitter, Instagram, and Pinterest!
Please note that this post may contain affiliate links.