Please note that this post may contain affiliate links.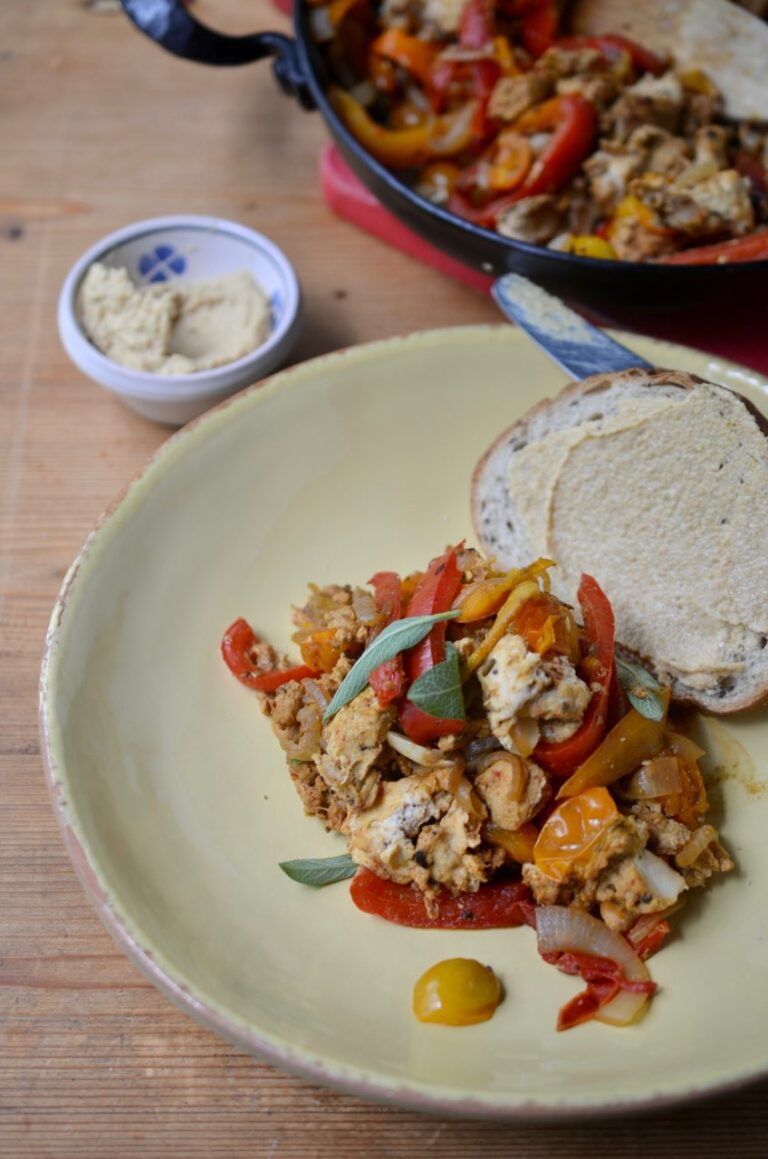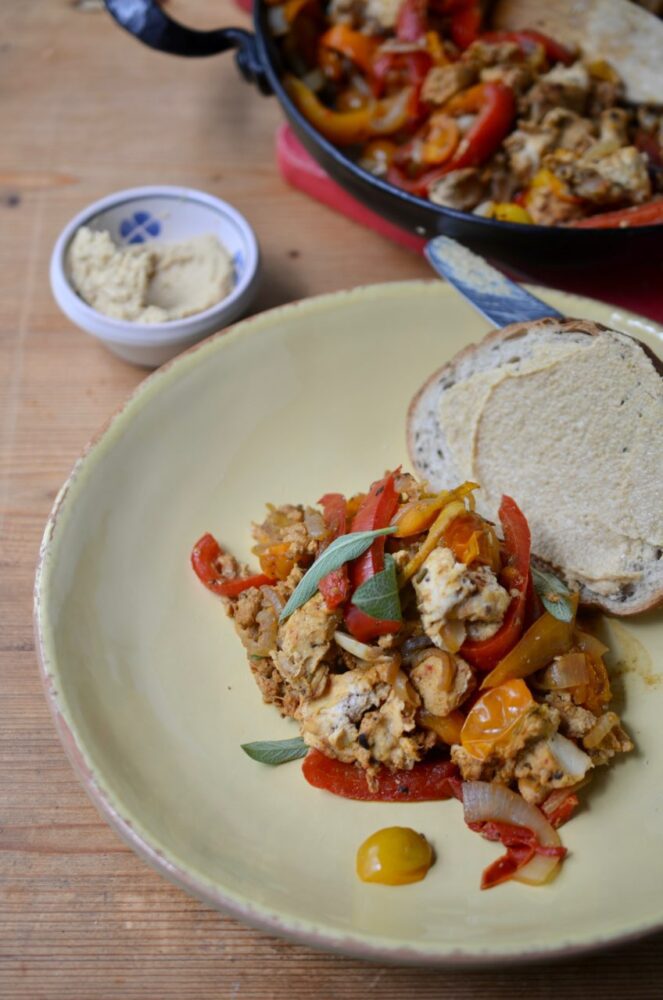 Sausage and Peppers have long been a regular meal in my supper rotation. The onions and peppers melt together to create a luscious confit bursting with fiery garlic and zesty spice. Add a couple of links of sausage and it's a super flavorful and very easy casual supper perfect for any day of the week. And, it can be a big huge fat bomb. Often this recipe starts with a few glugs of oil and one link of Italian sausage comes in at 260 calories a pop and a whopping 30% or more of recommended daily allowance of fat. Yikes. Even turkey sausage hits 170 calories per link. Who eats one link of sausage? Ha! Are you ready for the tantalizing aroma of fennel and roasted sweet peppers? You're going to love my recipe makeover for this modern comfort classic.

Food is Fuel
Food is for me, mostly about quality, not quantity. I am also a  "Live to Eat" not an "Eat to Live" type person. But let's face it when I am hungry and sit down to a little plate of tiny measured portions it just makes me sad. It makes me feel defeated. It makes me think, "why bother?" It makes me feel fat. I don't need an endless trough, but there's something to be said about a hearty, heaping plate of food — that is not broccoli or carrot sticks.
I mentioned the calories, but let's take a look at the WW points. On the blue plan, Italian pork sausage is 9 points a link and a single turkey link comes in at 4. I set out to make a lower WW point version that would be healthier and still flavorful. Even if you are not a WW fan or follower, you're going to love my recipe makeover for this modern comfort classic.
Often, I can easily eat 2 regular size sausage links for supper. They weigh in at about 3 ounces each and as I mentioned above, can be high in points and calories. I want this to be my regular supper, not an indulgent meal.
I like to weigh my heavier meals earlier in the day. Remember, food is fuel. You eat, then burn off what you eat. If you eat a big meal then settle in for a night of Netflix or cozy up with a book, you are not burning off fuel. I aim to have my lowest point, lowest-calorie meals later in the day. It's common sense.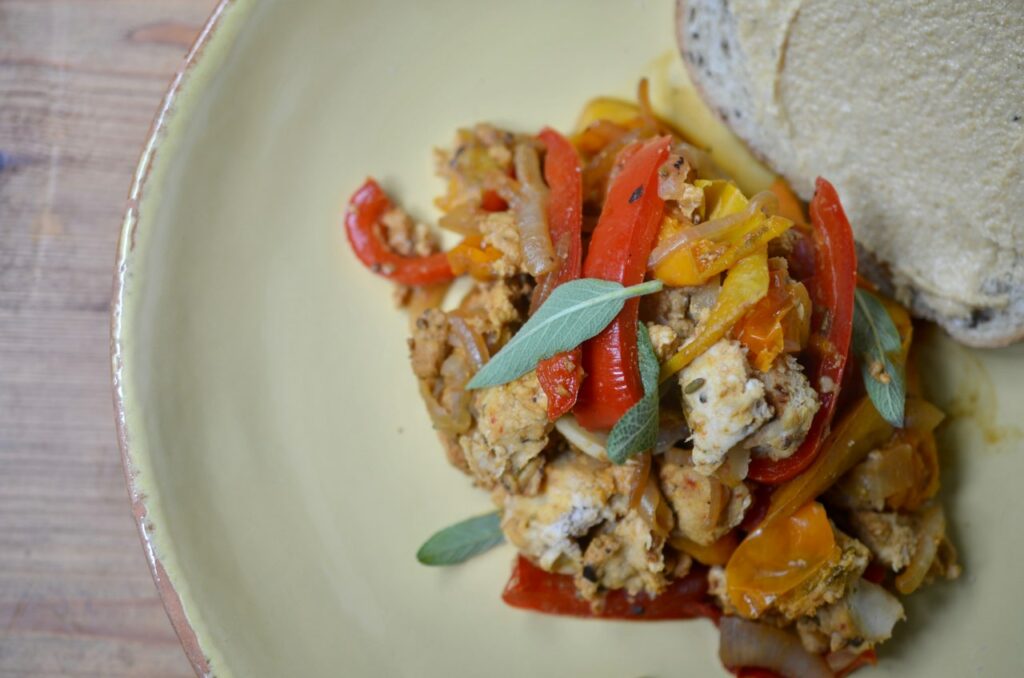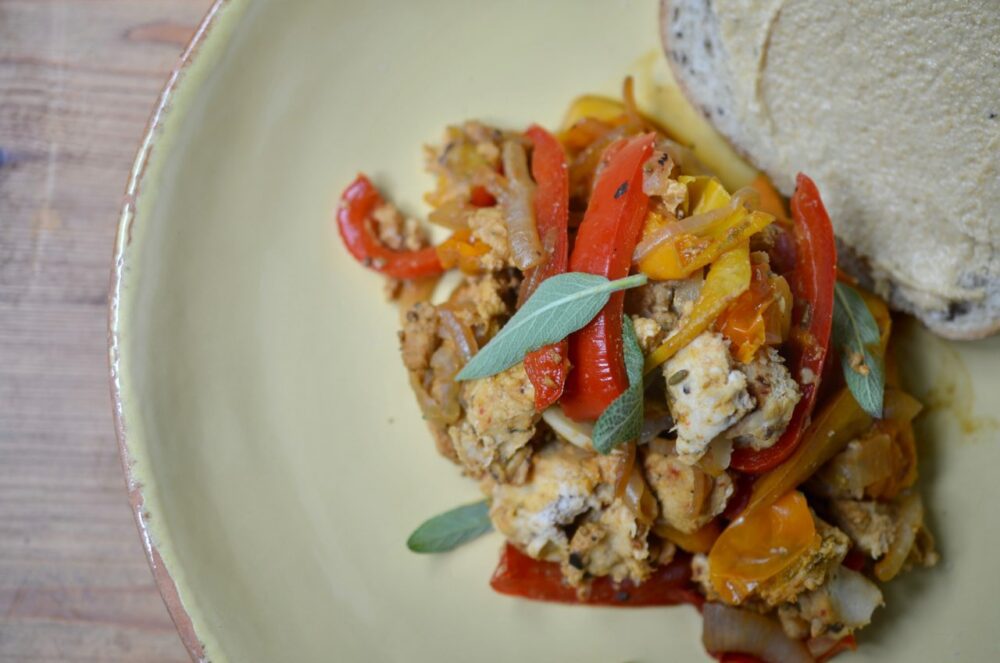 Daily Grind
Ground pork was rapidly eliminated as an option. Ground turkey has nearly replaced ground beef for me. When I do eat ground beef, I make sure it's really good beef I know is going to taste good, be good for me, and good for the environment. (My go-to is White Oak Pastures ground beef available online and in most Publix and Whole Foods Markets in the Southeast.)
Ground beef and turkey are both nutritious meats that provide protein, fat, and a variety of vitamins and minerals. Turkey is generally lower in saturated fat and a good choice for heart health. Ground turkey is generally available in 85%, 93%, and 98% or 99% lean to fat ratio. Fat-free turkey is also the lowest calorie option if you're interested in weight loss.
What about ground chicken? Dark meat pieces of chicken have slightly more fat and calories than dark meat cuts of turkey. The same is true for the white meat, as turkey is slightly leaner with fewer calories than chicken. I mix it up occasionally with ground chicken, but mostly my go-to ground meat is turkey. It has been a process to change my tastebuds to really like 99% fat-free turkey — and I'll warn you, this doesn't happen immediately.
One key tool that will absolutely change your cooking game is a reliable meat thermometer. Ground turkey is so low in fat it can go from succulent to dry-as-sawdust in an instant. I love to use my Thermoworks Thermapen. It's pricey but positively worth it. (FYI – I do not receive a commission off this sale – I am simply a huge fan.)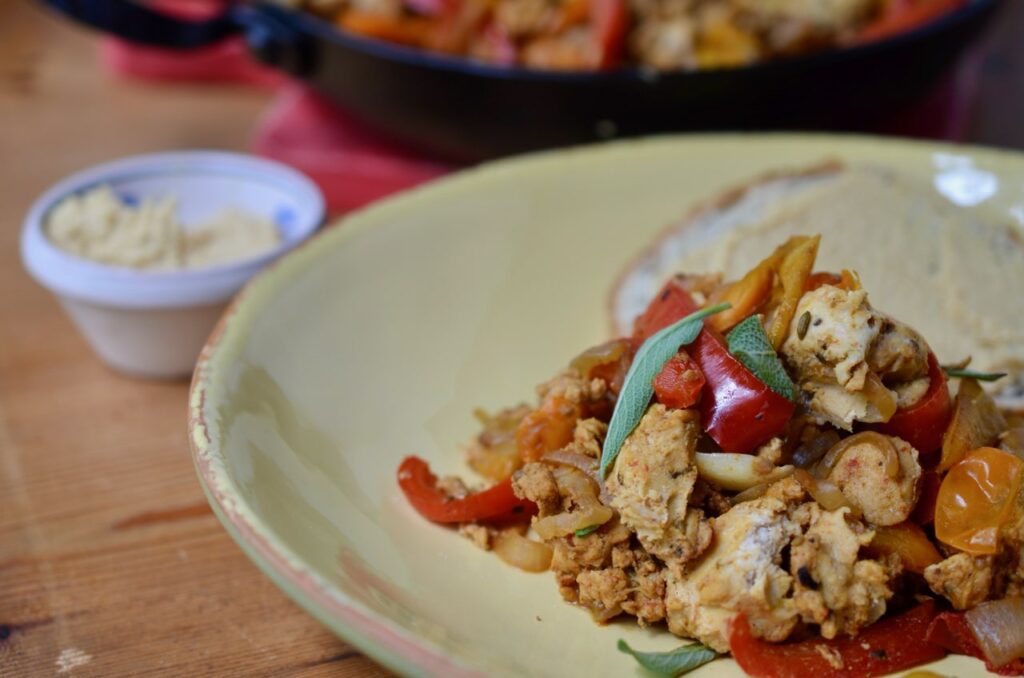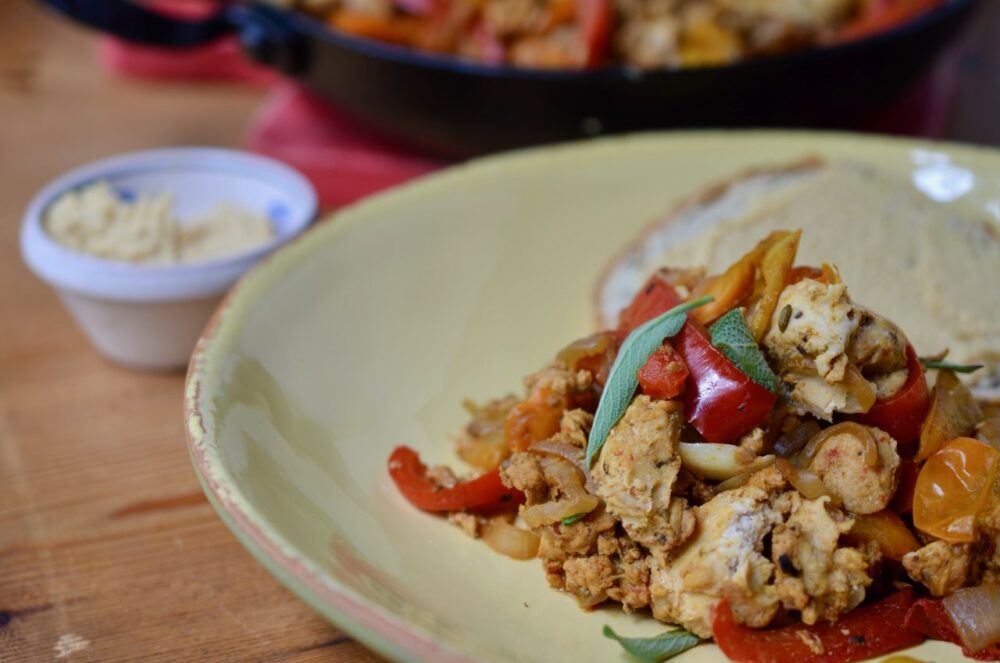 Point it Out
I will say it until I am blue in the face. You did not become unhealthy overnight. You did not put on this weight overnight and you are not going to get healthy or lose this weight overnight. But, you can do it! (If you want more pithy commentary and my real-life to healthy eating and weight loss, please check out my new ebook and print-on-demand book, Fresh Start.)
It's important in this particular recipe makeover to saute the vegetables just a bit before you add the ground meat. The cherry tomatoes burst in the heat of the oven and give it some juice! If you don't have any cherry tomatoes you can splash about a 1/4 cup of tomato sauce or heck, even a dollop of ketchup. Otherwise, the 99% fat-free turkey will dry out in the time it takes to cook the vegetables.
If you follow the recipe as it is written it is a ZERO POINT recipe makeover! WOO-HOO! If you use another percentage of ground turkey, then make adjustments according. And, of course, if you swap in tomato sauce or ketchup the same rules apply. I hope you enjoy my Sausage and Pepper recipe makeover.  You can serve it as is or with a bit of rice or potatoes. I love to enjoy a big plate with a toasted slice of rye bread and a big dollop of pungent mustard.
Thanks so much for reading. I really appreciate your support. If you would like to receive this blog once a week — and no more!! — then please sign up here.
Bon Appétit, Y'all
Virginia Willis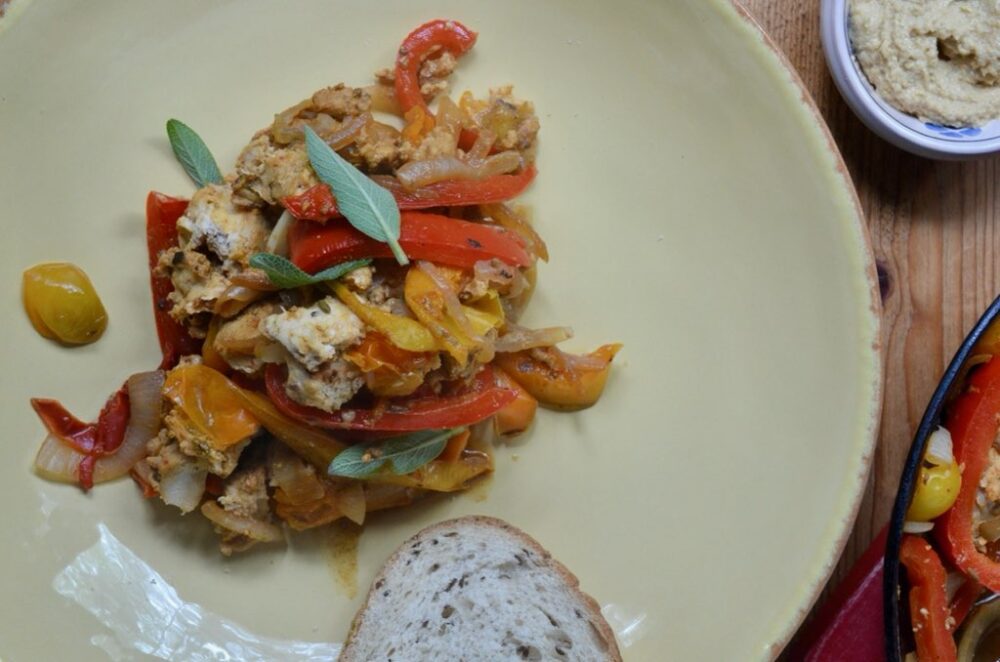 Recipe Makeover Sausage and Peppers
0 WW blue points
You can make this dish entirely on the stovetop or get it started on top and finish it in the oven. It comes together in a jiffy either way, but I tend to prefer to pop it in the oven so I can walk away for a few minutes.
Ingredients
Nonstick spray

1

onion

sliced

3

sweet peppers

cored, seeded, and sliced

2

cloves

garlic

sliced

1

cup

cherry tomatoes, halved

½

teaspoon

fennel seed

½

teaspoon

freshly ground black pepper

½

teaspoon

smoked paprika

½

teaspoon

red pepper flakes

or to taste

1

pound

ground turkey

preferably 99% fat free

6-8

leaves fresh sage

Rice

potatoes, or bread, for serving, optional

Mustard

for serving, optional

Coarse kosher salt and freshly ground black pepper
Instructions
If finishing in the oven, heat the oven to 350°F. Heat a large skillet over medium-high heat. Spritz with nonstick cooking spray. Add onion and peppers. Season with salt and pepper. Cook, stirring occasionally until the vegetables have slightly softened, 3 to 5 minutes.

Add the cherry tomatoes, garlic, fennel seed, pepper, smoked paprika, and red pepper flakes. Stir to combine. Add the turkey and using the side of a spoon, break it up into small bits. Stir to combine. Scatter in about half the sage leaves reserving the remainder for garnish.

If finishing in the oven, transfer and cook until the meat reaches 160°F on an instant-read thermometer, about 15 minutes. Or, reduce the heat to simmer and cover. Cook, stirring occasionally until the meat reaches 160°F on an instant meat thermometer, 12 to 15 minutes. Taste and adjust for seasoning with salt and pepper. Top with remaining sage leaves. Serve immediately with carb of choice or solo, but don't forget the mustard!
Please note that this post may contain affiliate links. (That means I make a commission if you use my affiliate link to buy the product.) 
If you are interested in hosting me for a speaking engagement, event, cooking class, or a book signing, let me know! Send an email to jona@virginiawillis.com and we'll be back in touch as soon as possible.
Please be nice. Unauthorized use and/or duplication is prohibited. All photos and content are copyright protected. If you wish to republish this recipe, please link back to this recipe on virginiawillis.com. Thanks so much!
Let's connect on Facebook, Twitter, Instagram, and Pinterest!

Please note that this post may contain affiliate links.