Please note that this post may contain affiliate links.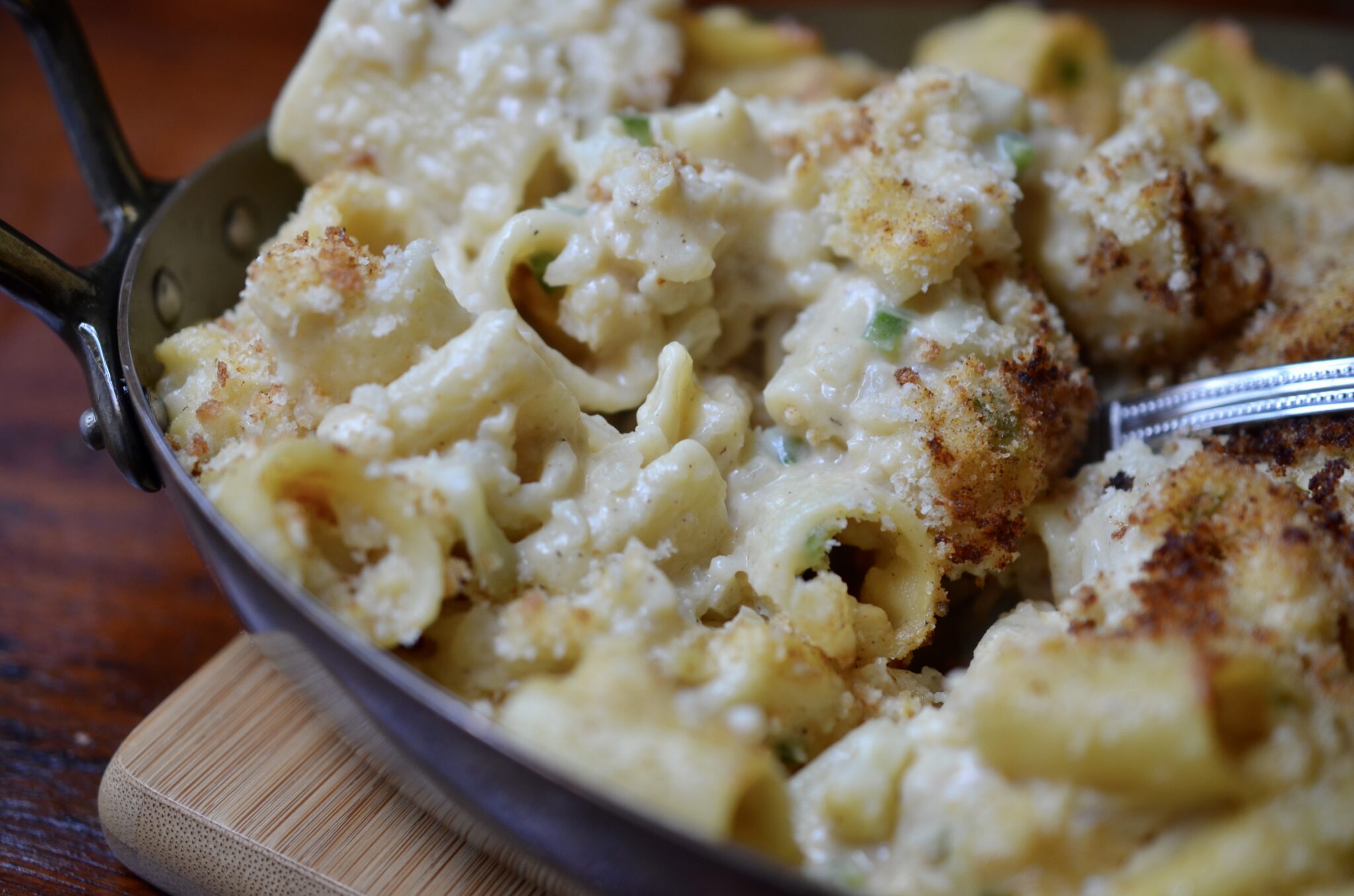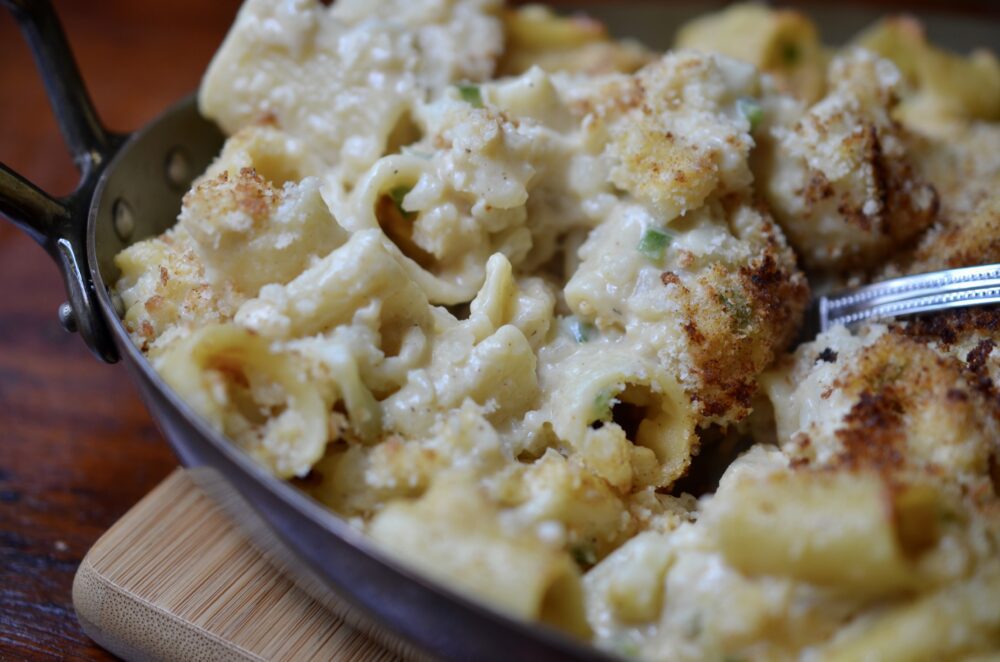 Do we really need another Macaroni and Cheese recipe? According to Restaurant News, "US consumers were eating 19% more cheese per capita at the end of the past decade than at the start, according to the USDA, and restaurants are finding new ways to feed the craving." That and 10 months of COVID is "Yes, yes we do." Pasta and cheese combined are one of the ultimate comfort foods — and often unhealthy fat bombs. Want to find out how to reduce calories and points, but not the rich, creamy flavor? Check out my Spicy Cauli-Mac and Cheese makeover.

Mother Sauces
Cheese consumption is up they say. No kidding. You need this Spicy Cauli-Mac and Cheese in your life. How do you get there? A good old-fashioned white sauce.
French chef Antonin Carême evolved an intricate methodology by which hundreds of sauces were classified under one of five "mother sauces": Béchamel, Velouté, Espagnole; Hollandaise, and Tomate.
Béchamel is a white sauce made by stirring heated milk into a butter-flour roux like in the photo above. The thickness of the sauce depends on the proportion of flour and butter to milk. The proportions for a thin sauce are 1 tablespoon each of butter and flour per 1 cup of milk; a medium sauce uses 2 tablespoons each of butter and flour; a thick sauce, 3 tablespoons each. Bechamel or white sauce is a great way to achieve cream-like consistency, even with thin low fat or plant-based milk.
The White Sauce is the primary or mother sauce. The moment we add cheese to the sauce it becomes an offspring known as Sauce Mornay.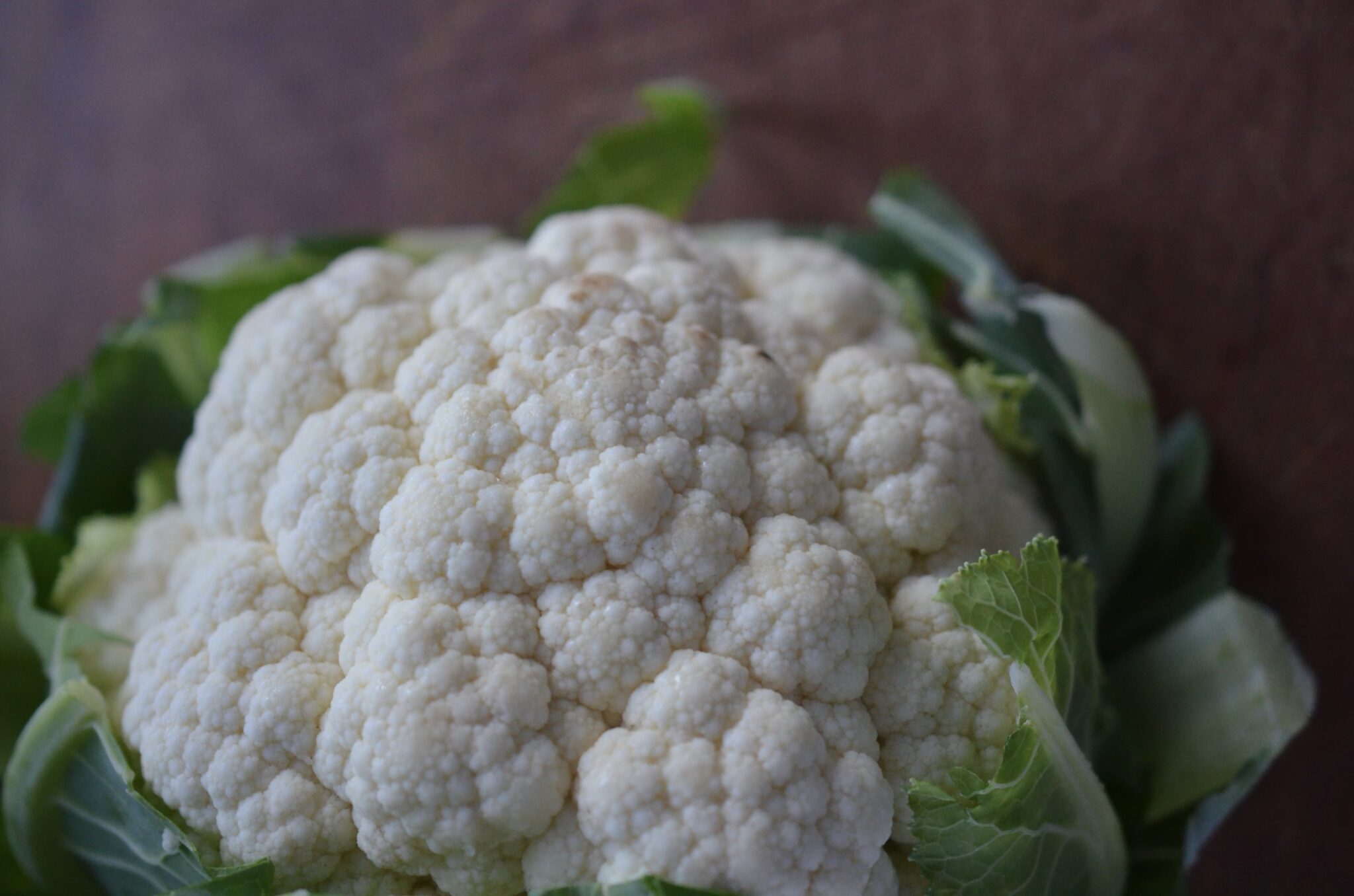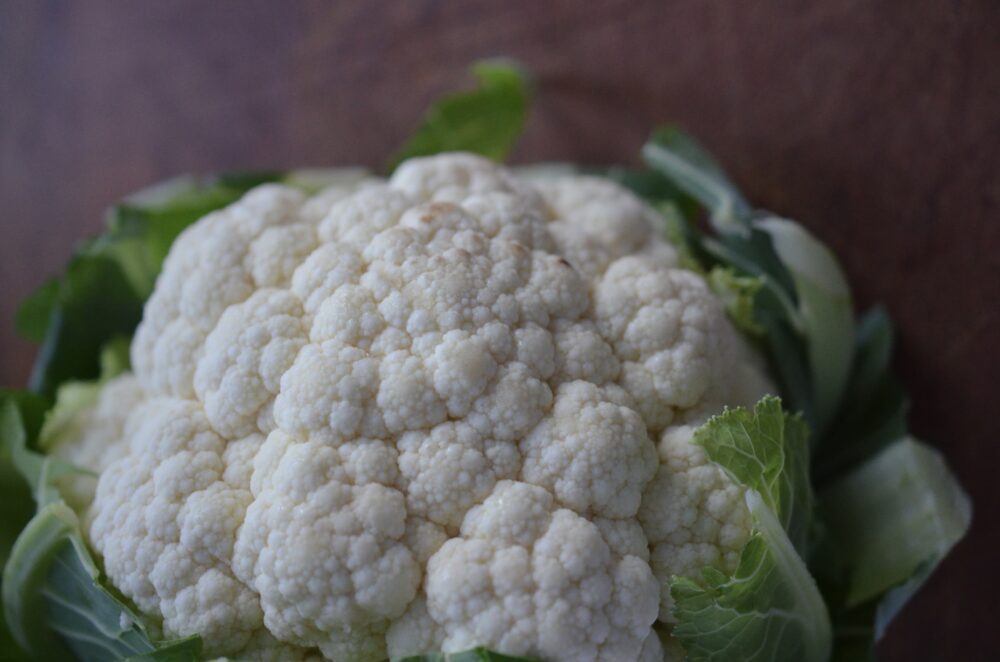 Crazy for Cauliflower
Pasta is a rarity for me, but when I have it — it has to be good. Very good. But, I want to do the best I can with calories, nutrients, and points. I sub out half of the pasta with cauliflower, bump up the flavor and spice, and top it with a crunchy topping. It's definitely still a splurge, but worth it. Cauliflower is great on its own, for certain. It's great roasted, sauteed, charred, steamed, seared — you name it. I also use it with pasta and potatoes to amp up the nutrition and lessen the points like with this Spicy Cauli-Mac and Cheese.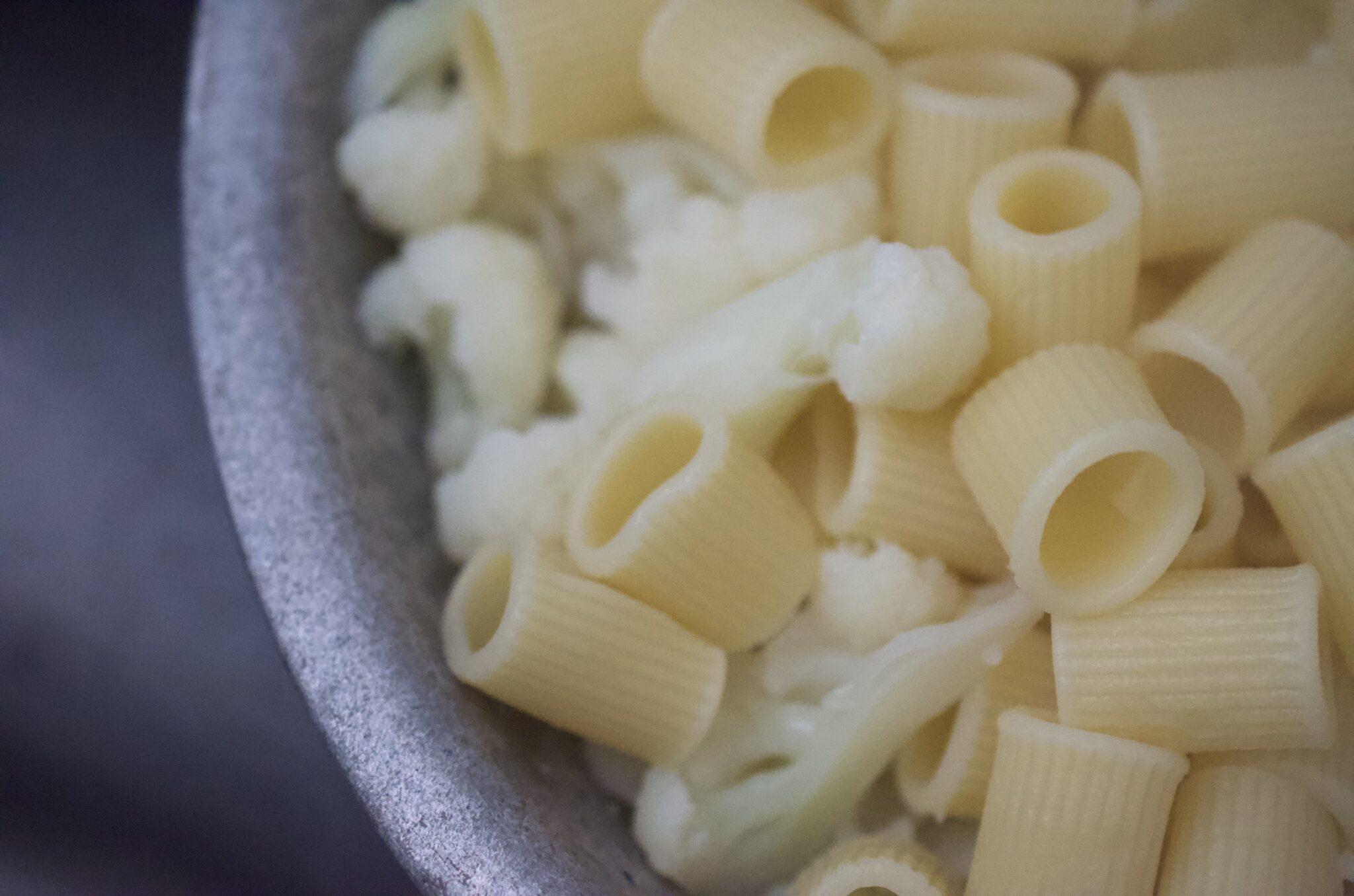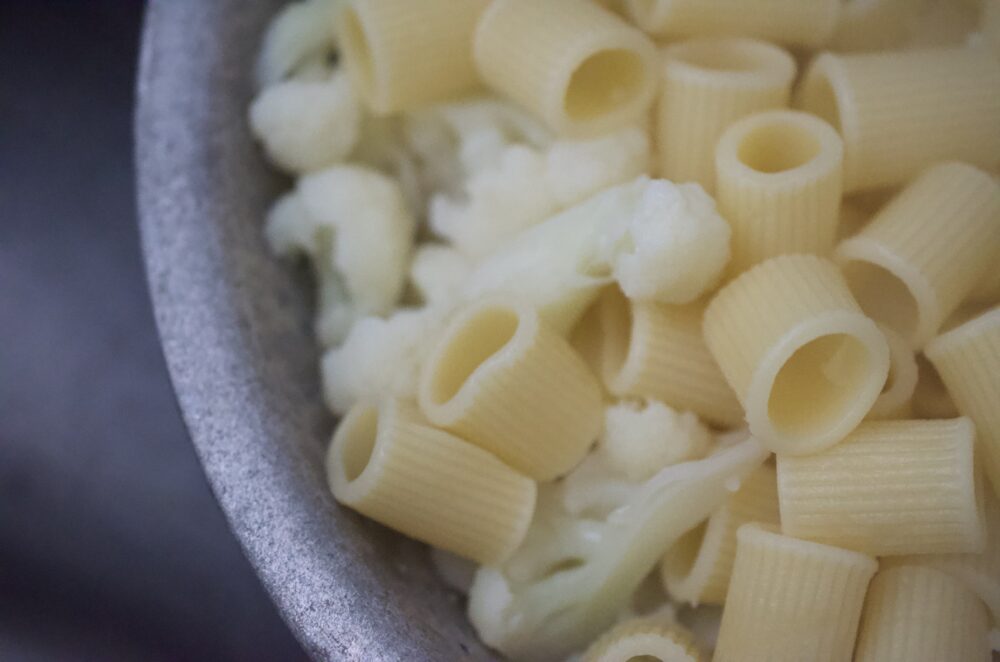 Point it Out
I am working on a project and recently solicited questions on my Facebook page. One of the questions was about feeling full. When I want pasta, and I want a nice amount of pasta. It seems like 7 strands of spaghetti are 5 points! I am exaggerating, but not by much. When I plan on pasta, I have an amount that will "scratch my itch." I don't enjoy dishes like this often, but when I do I want them to be creamy and cheesy like this Spicy Cauli-Mac and Cheese.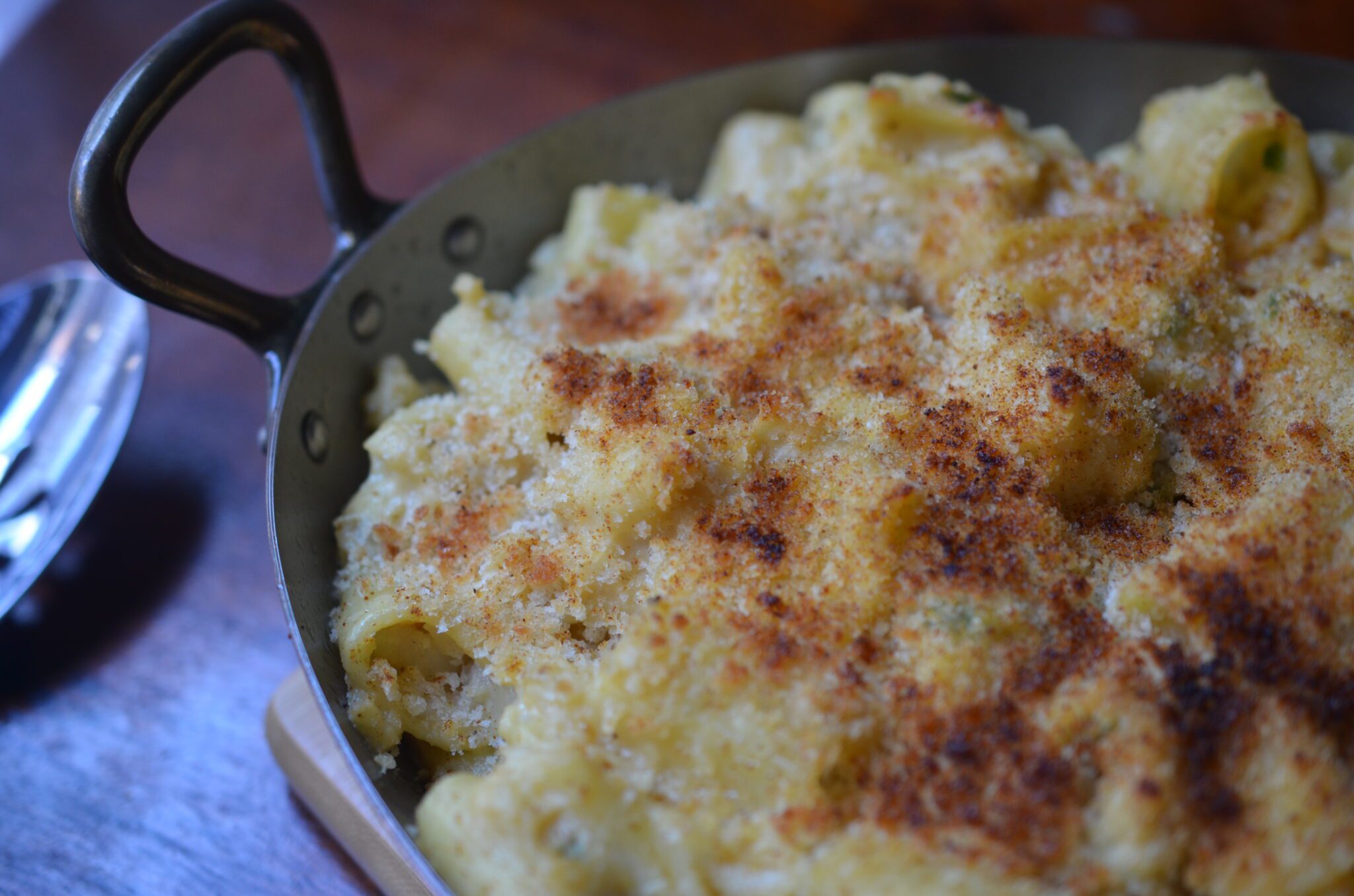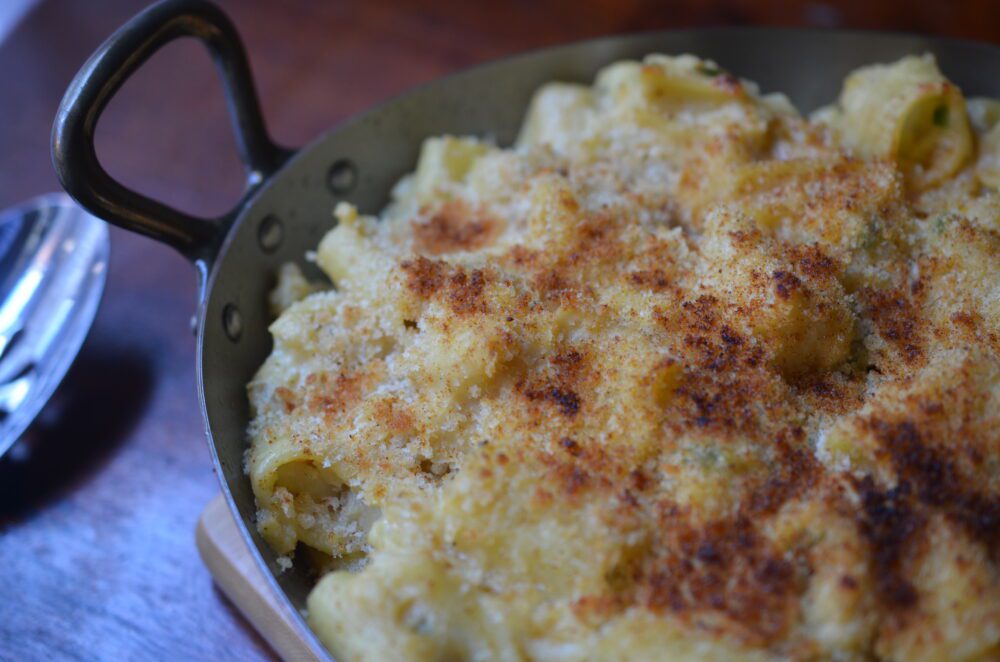 Mac Attack
I am not kidding myself. I am well aware of the decadent luxuries of Southern-style mac and cheese, Lobster Mac and Cheese, Truffled Macaroni and Cheese, and more made with rich sharp cheddar, nutty Gruyere, and smoky Gouda. This is not that, I am not going to lie to you, but it is really, really good. The flavor is bumped up with spicy jalapenos, cayenne pepper, hot sauce, and paprika. Oddly, it's not overly hot but full of bold flavor. Choose open-ended pasta or with nooks and crannies to catch the spicy, cheesy sauce.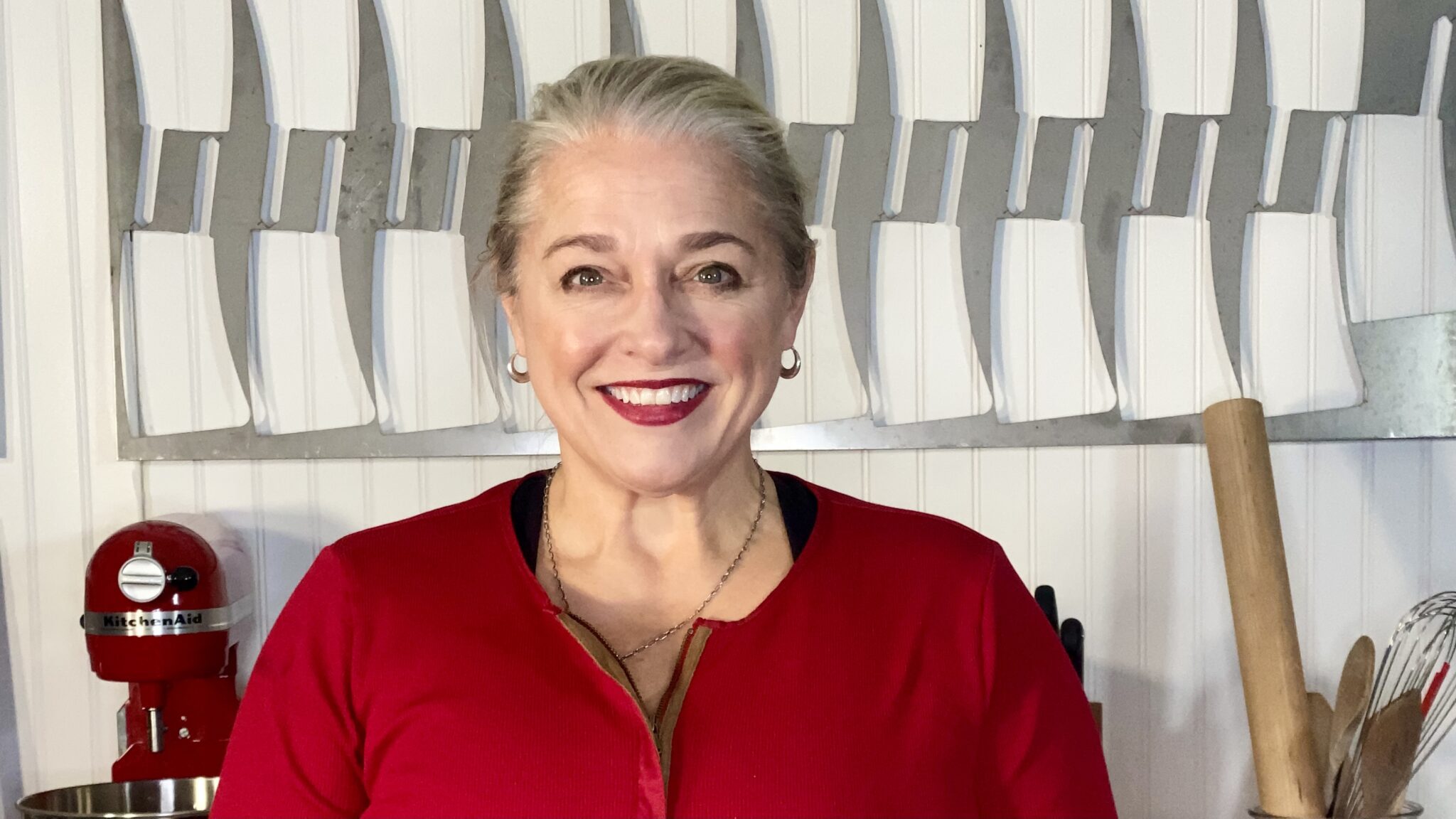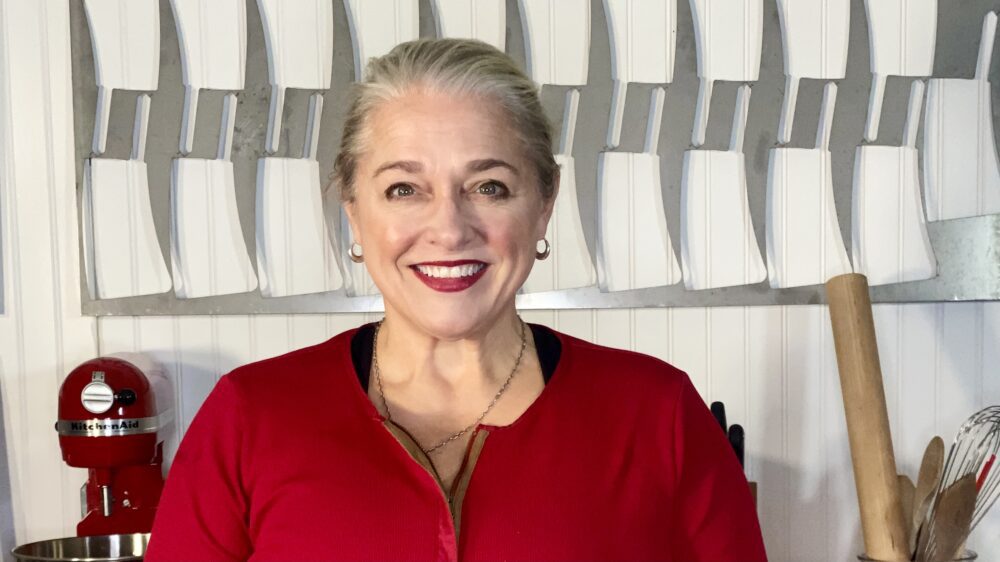 Cookbooks with Virginia
Many of you may know that I host a weekly cookbook review show, Cookbooks with Virginia every Friday at 11:30 am EST on my Facebook Page. There's also a corresponding cookbook giveaway on Instagram and you can win a free copy of the featured book of the week! Great news! We're expanding it to my YouTube channel, too. Please make sure to follow along and share among your network. First up is next week on 1/15/21 with my friend and colleague, James Beard Foundation award-winning food editor Shaun Chavis, CEO of LVNGbook. Please join us.
I hope you enjoy my makeover Spicy Cauli-Mac and Cheese. It comes in about 5 points a cup. It can be enjoyed on it's own, served with a salad for a main dish, or paired with roast chicken as a side dish. Thanks so much for reading! When you need cheesy comfort that you can feel good about eating – this is the way to go.
Bon Appétit, Y'all
Virginia Willis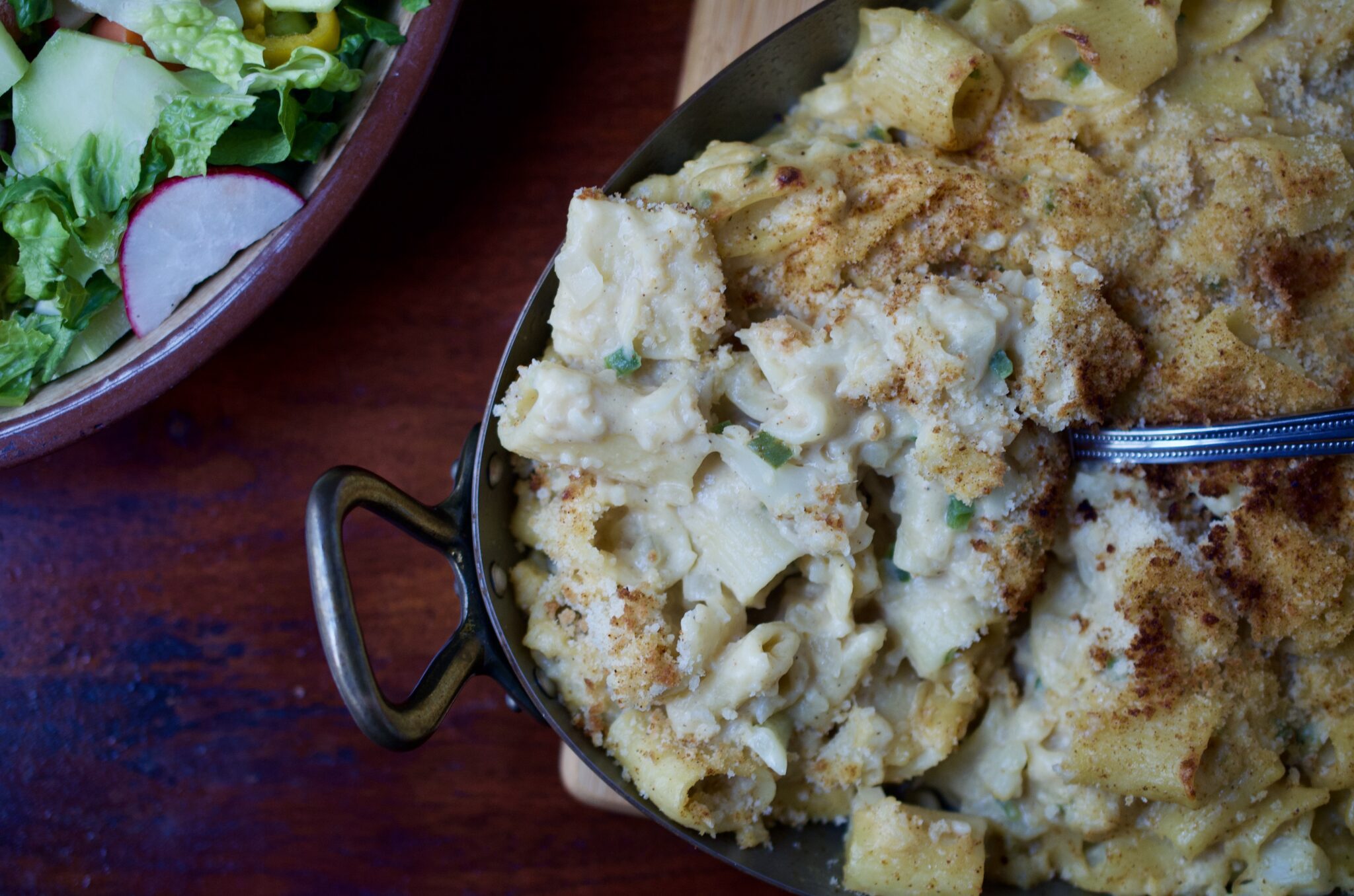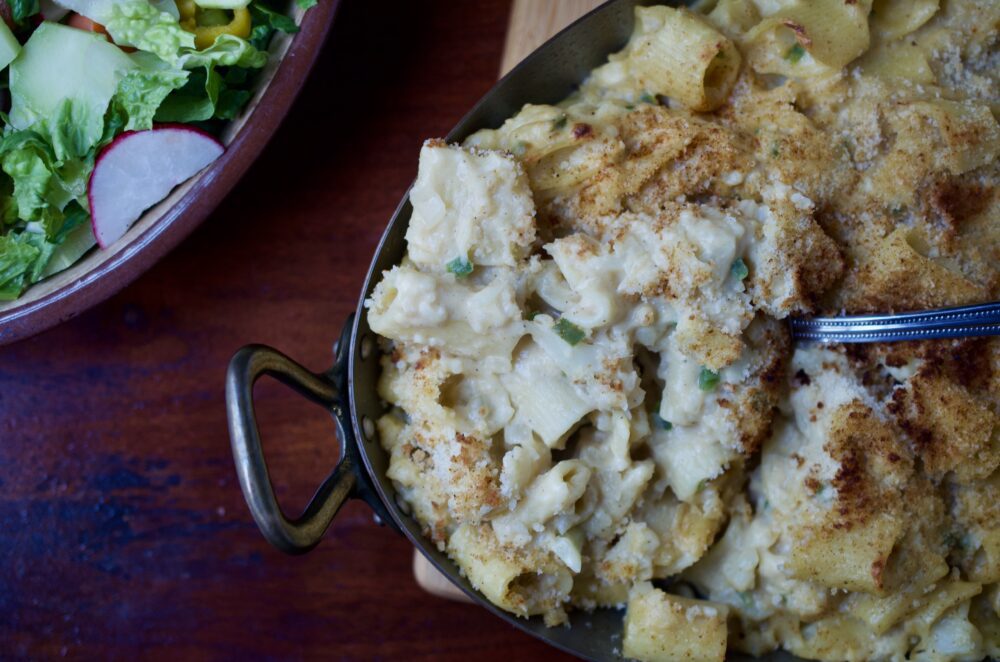 Spicy Cauli-Mac and Cheese
Ingredients
nonstick cooking spray

8

ounces

pasta

½

head cauliflower

chopped (12 ounces)

2

tablespoons

unsalted butter

1

onion

chopped

2

garlic cloves

very finely chopped

1

jalapeños

or to taste, seeded and chopped

2

tablespoons

unsalted butter

browned

2

tablespoons

all-purpose flour

2

cups

2% or whole milk

warmed

½

cup

fat free cheddar cheese

¼

cup

skim mozzarella cheese

1

tablespoon

dry mustard powder

1

teaspoon

cayenne pepper

or to taste

1

teaspoon

hot sauce

or to taste

2

tablespoons

panko bread crumbs

½

teaspoon

smoked paprika

Coarse salt and freshly ground black pepper
Instructions
Heat the oven to 350°F. Spray a large ovenproof casserole or baking dish with nonstick spray. Bring a large pot of water to a boil. Salt the water, add the penne, and cook according to the package directions. A few minutes before the pasta is finished cooking, add the chopped cauilflower. Drain well and return to the pot. ( You can also use the same pot for cooking, just keep the pasta and cauliflower in the colander.)

Meanwhile, melt the butter in a saucepan over medium heat until nutty golden brown, about 5 minutes. Add the onion and cook until soft and translucent, 3 to 5 minutes. Season with salt and black pepper. Add the garlic and jalapeños and cook until fragrant, 45 to 60 seconds. Add the flour and cook, stirring often, for 1 to 2 minutes. (This helps remove the raw taste of the flour.)

Whisk in the milk and increase the heat to medium-high. Bring to a gentle boil, stirring continuously, until the mixture thickens enough to coat the back of a spoon. Remove from the heat. Add the cheese, mustard powder, cayenne, and hot sauce. Taste and adjust for seasoning with salt and pepper. Combine sauce and cauliflower and pasta. Transfer the mixture to the prepared casserole. Sprinkle the panko topping evenly over the cheesy pasta. Season with paprika. Bake until golden brown, about 30 minutes.
Please note that this post may contain affiliate links. (That means I make a commission if you use my affiliate link to buy the product.) 
If you are interested in hosting me for a speaking engagement, event, cooking class, or a book signing, let me know! Send an email to jona@virginiawillis.com and we'll be back in touch as soon as possible.
Please be nice. Unauthorized use and/or duplication is prohibited. All photos and content are copyright protected. If you wish to republish this recipe, please link back to this recipe on virginiawillis.com. Thanks so much!
Let's connect on Facebook, Twitter, Instagram, and Pinterest!

Please note that this post may contain affiliate links.