Please note that this post may contain affiliate links.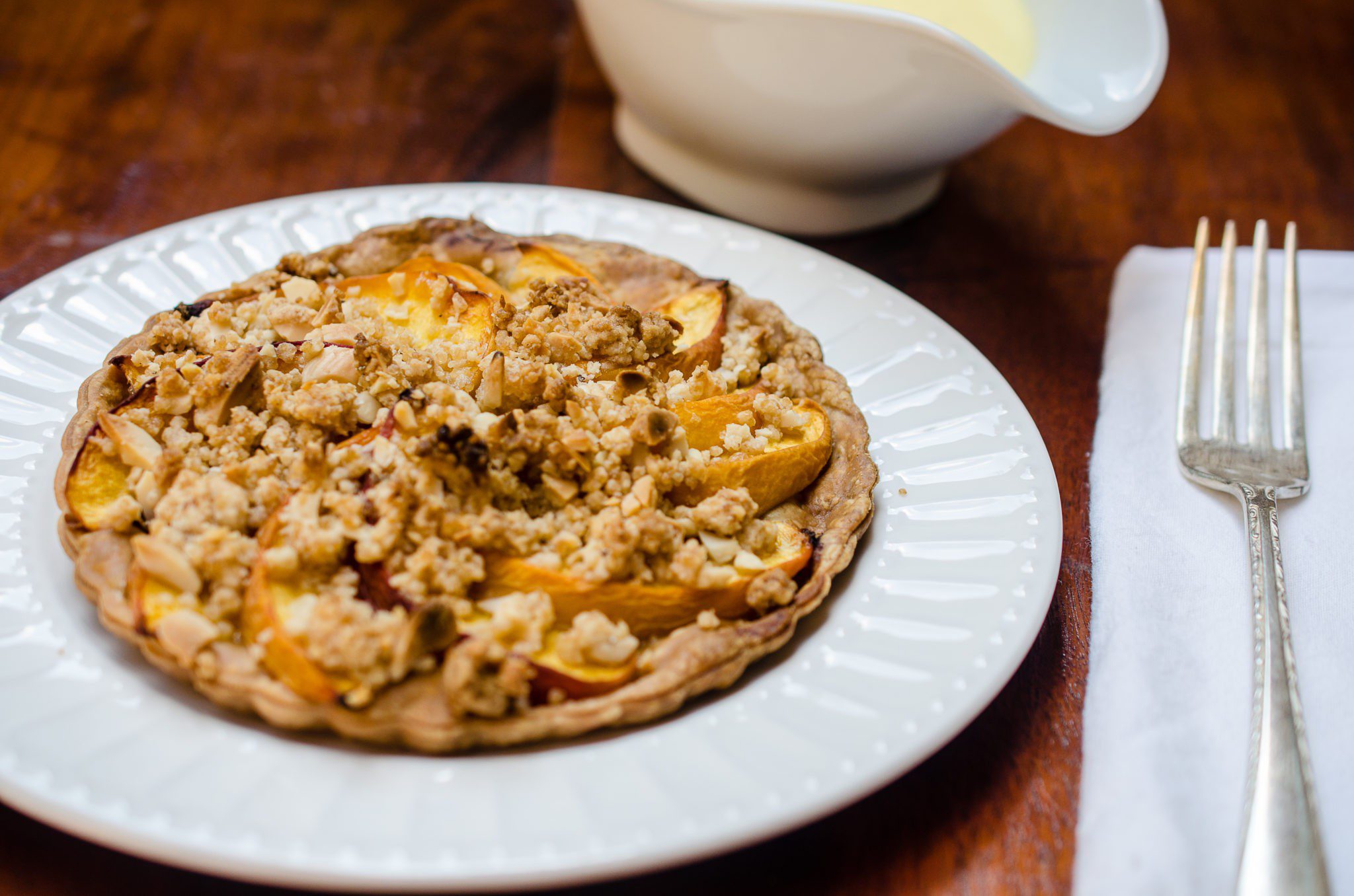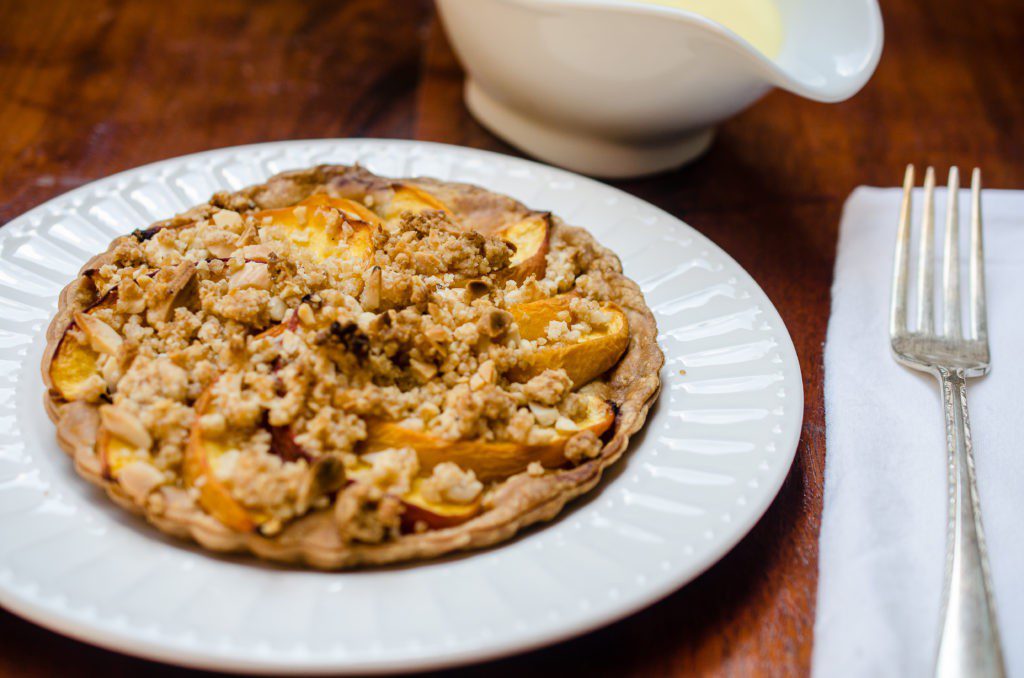 It's peach season!   I grew up in Macon County, adjacent to Peach County, home to The Big Peach, a glorious seventy-five-foot tall peach mounted on a hundred-foot tall pole. When I was in high school, my school breaks were dictated by the season, as many of my classmates were the sons and daughters of farmers. I know and love Georgia peaches! The best way to eat a peach over the sink, with sweet juices running down your wrists. Peaches are serious business in Georgia.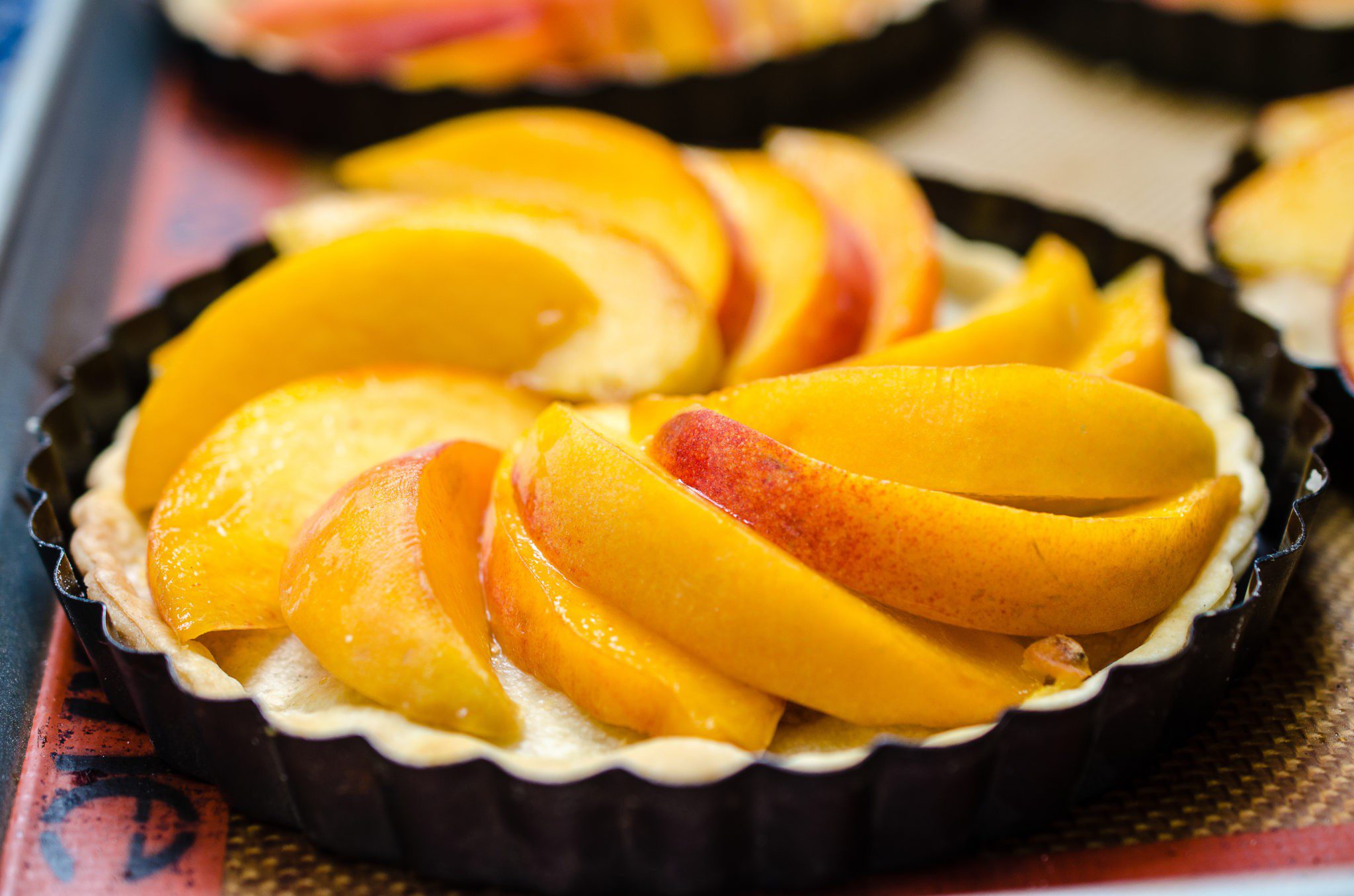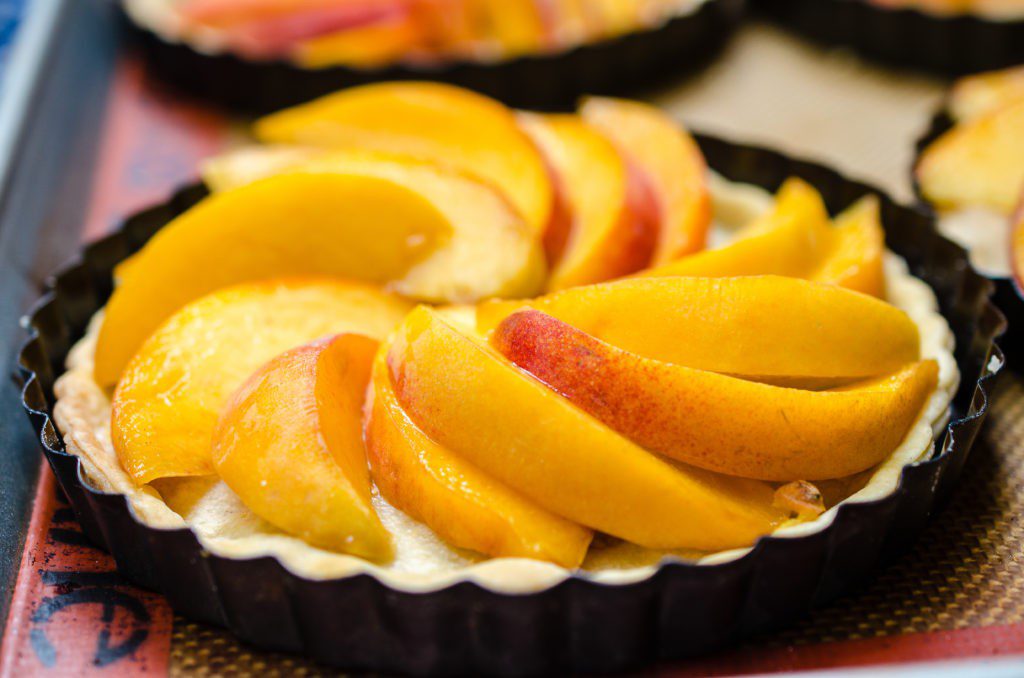 Hot as Georgia Asphalt
I've described that Austin Texas in the summertime is like walking around in a rotisserie. Well, consider a South Georgia peach orchard the Instant Pot. The air is hot, steamy, and thick. Your sodden clothes become vacuum-sealed to your body in giant wet flaps. Wiggly waves of heat emanate from the red earth. Infinitesimal gnats menace your eyes, mouth, and ears. The beautiful soft golden down of a peach inexplicably transforms into micro shards of fiberglass insulation. The hellish trio of heat, an indefensible attack of insects, and the relentless itch is an effective blend for guaranteed misery. Ah, but that subtropical sunshine and rich red clay make for one of nature's most precious gifts – the Georgia peach.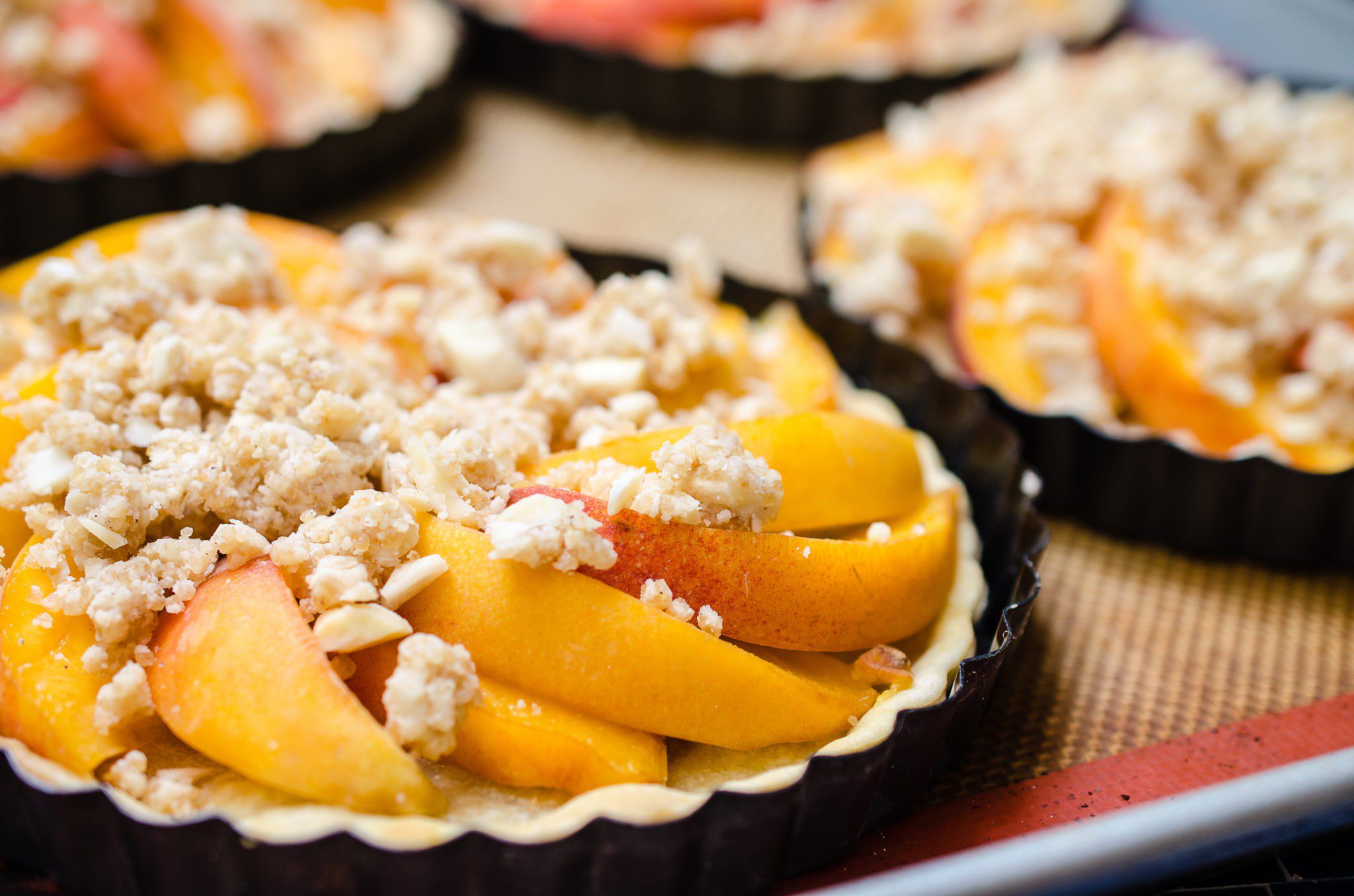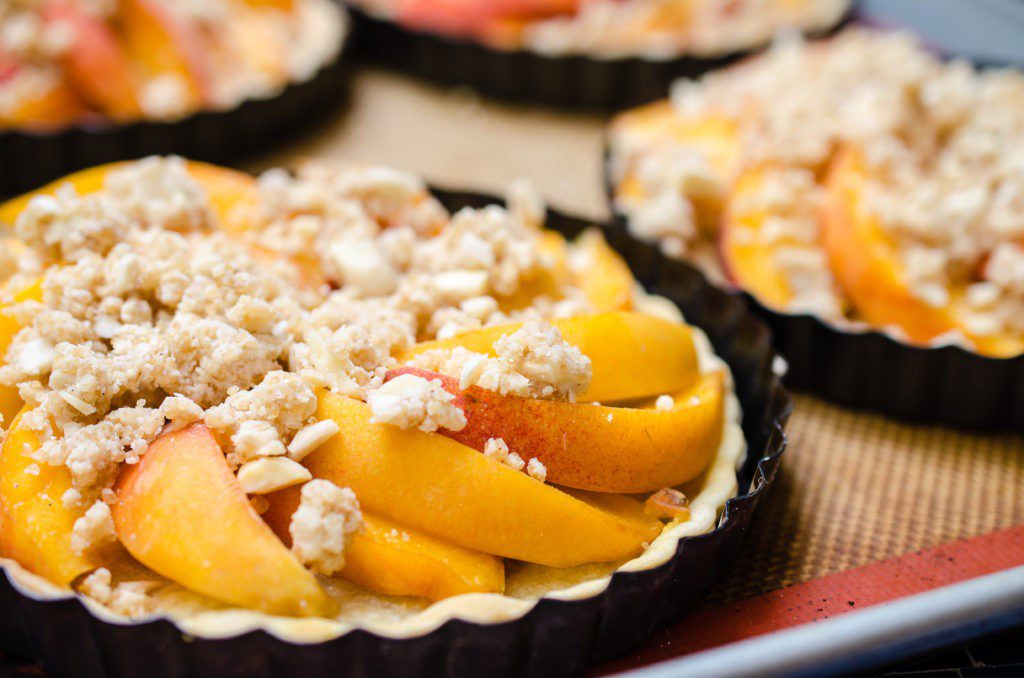 Where Do Peaches Come From?
According to the Clemson University Cooperative Extension, peaches originated in China over 3000 years ago. Spanish missionaries brought peaches to the New World in 1571 to what is now known as St. Simon's Island, Georgia. History also tells us that Cherokee Indians grew peaches in the mid 1700's. By the mid to late 1850s peaches were shipped by train out of the region. (Was this the beginning of the hard-as-a-rock grocery store peaches?)
Peaches are an important fruit crop in the agricultural economy of both Georgia and South Carolina. Both states have similar soil types and climate and grow many of the same cultivars. Georgia produces over 85 million pounds of peaches a year. Although Georgia doesn't grow as many peaches as some other states, including South Carolina and California, it is deservedly known as "The Peach State." In the late 1800s, a farmer in Marshallville (located about 20 minutes from where the Big Peach now stands) bred the infamous Elberta peach from the seed of a Chinese Cling peach. The peach industry took off from there, the state was tagged with the flavorful nickname, and the rest is sweet juicy history.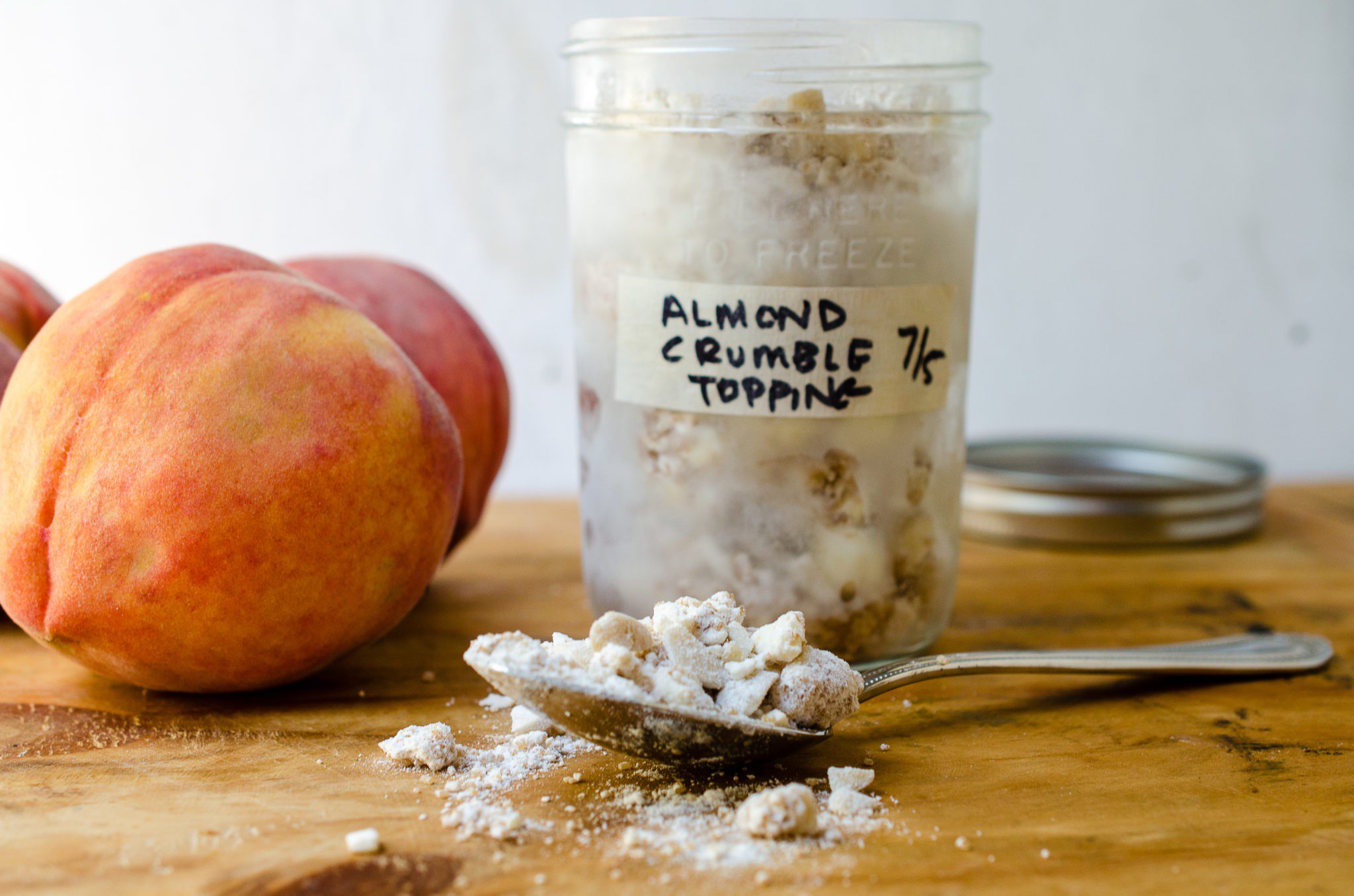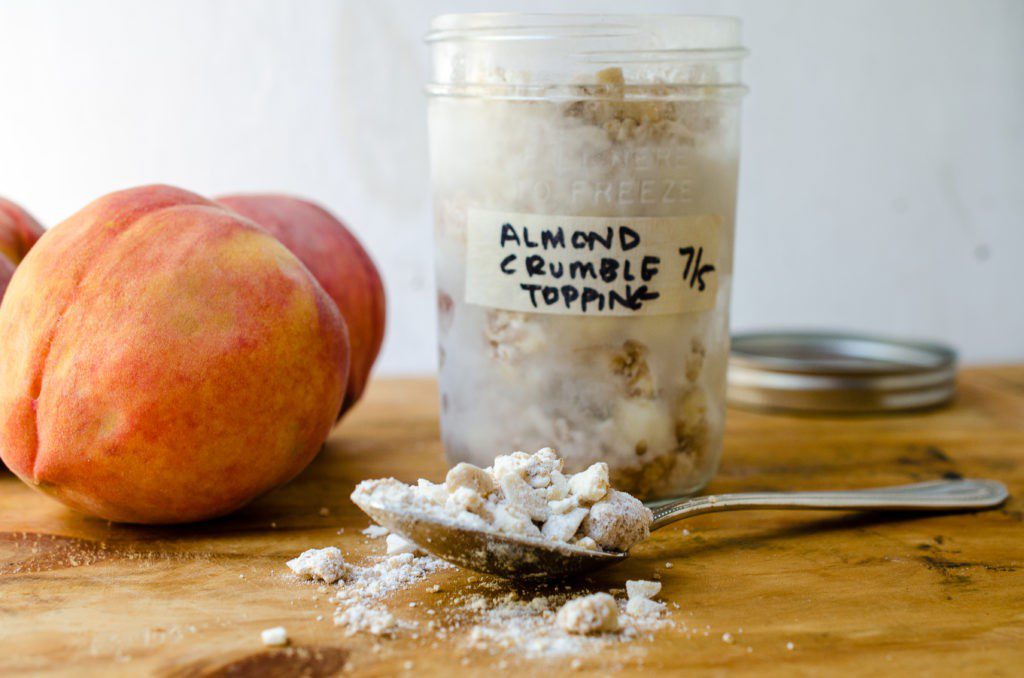 Make-Ahead Nut Crumble
Each summer the women of my family would "put up peaches". We'd can peaches, freeze peaches, and make peach jelly. Peaches are best to me eating out of hand or with a bowl of yogurt. I also like to add them to salads including this recipe for Chicken Salad. Sweet Peaches are tailormade to be an ingredient in BBQ Sauce, too. Check out my recipe for Bourbon Pork Chops with Peach BBQ Sauce.
On the sweet side, there is nothing like Homemade Peach Ice Cream and Peach Cobbler is a summer go-to dessert. In recent years I have tried to lighten things up a bit and have started keeping a jar of Make-Ahead Nut Crumble ready to go in the freezer to use as a topping. It may not seem like butter, sugar, flour, and nuts are actually lighter — but adding only a tablespoon of crumble topping per serving does exactly that and lets the sweet-tart floral flavor of the peaches shine through!
It's super handy to have a jar of the Make-Ahead Nut Crumble at the ready. I put together a couple of cups at a time and am always ready to whip up a dessert. In this recipe,  I sprinkle it atop of a peach tart, but it's delicious on nearly any summer fruit in a tart form, or just on top of fruit served in a ramekin. And, if you want to serve a larger crumble it can work, too. One word of caution — a ramekin or cup of fruit likely only needs a pinch of sugar and maybe a splash of vanilla. However, if you are going to use this Make-Ahead Nut Crumble on a larger casserole, you will need to toss the fruit with a few tablespoons of flour or cornstarch to help soak up the extra juices.
Check out my video of how to prepare the Make-Ahead Nut Crumble and Peach Tart!
When is Peach Season in Georgia?
Peach season lasts in Georgia thru late summer so you need to enjoy these amazing fruits while they are in season. I love to pair almonds with peaches. Almonds and peaches are very closely related. Both are stone fruits or drupes of the genus Prunus, which encompasses peaches, plums, apricots, nectarines, and cherries. Other nuts can be used, as well.
Thanks so much for reading. I hope you are able to enjoy some luscious Georgia peaches this summer. To ORDER TREE-RIPE GEORGIA PEACHES make sure to check out the William L. Brown Market. They ship nationwide! Let me know what you think about the crumble. Stay safe and take care.
Bon Appétit, Y'all
Virginia Willis
PS To celebrate my new partnership with the William L. Brown Market we're giving away a Baker's Dozen box of peaches on my Instagram cookbook giveaway starting Friday July 10. Make sure to follow along over the weekend and enter to win! Look for the cover of Just Peachy by Belinda Smith Sullivan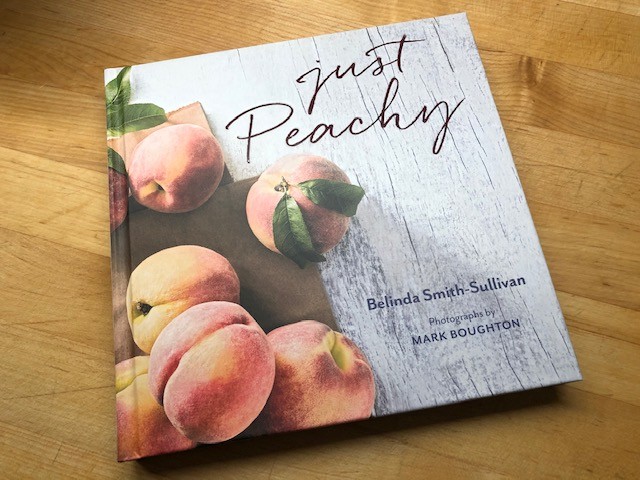 Make-Ahead Almond Crumble Peach Tart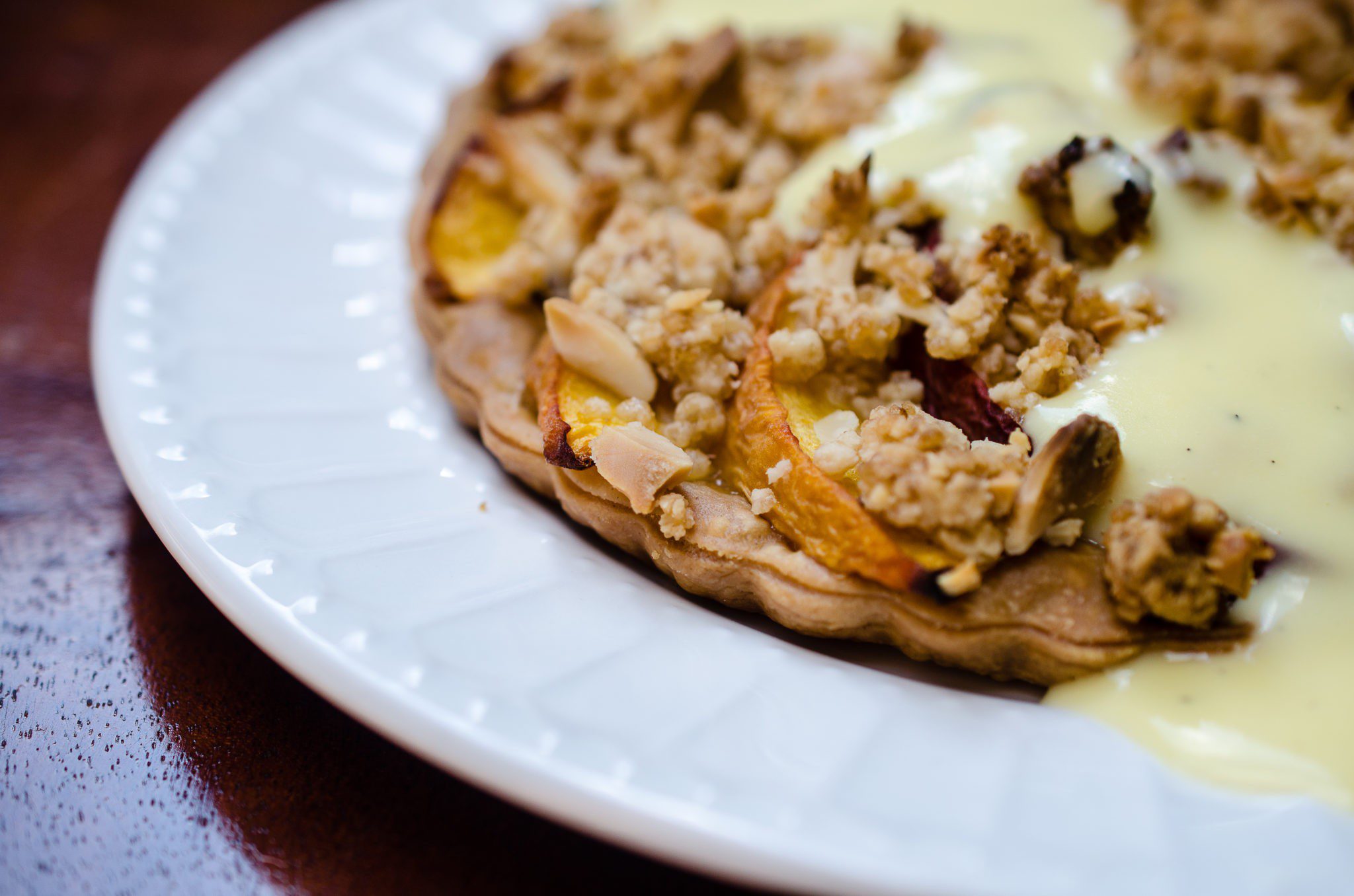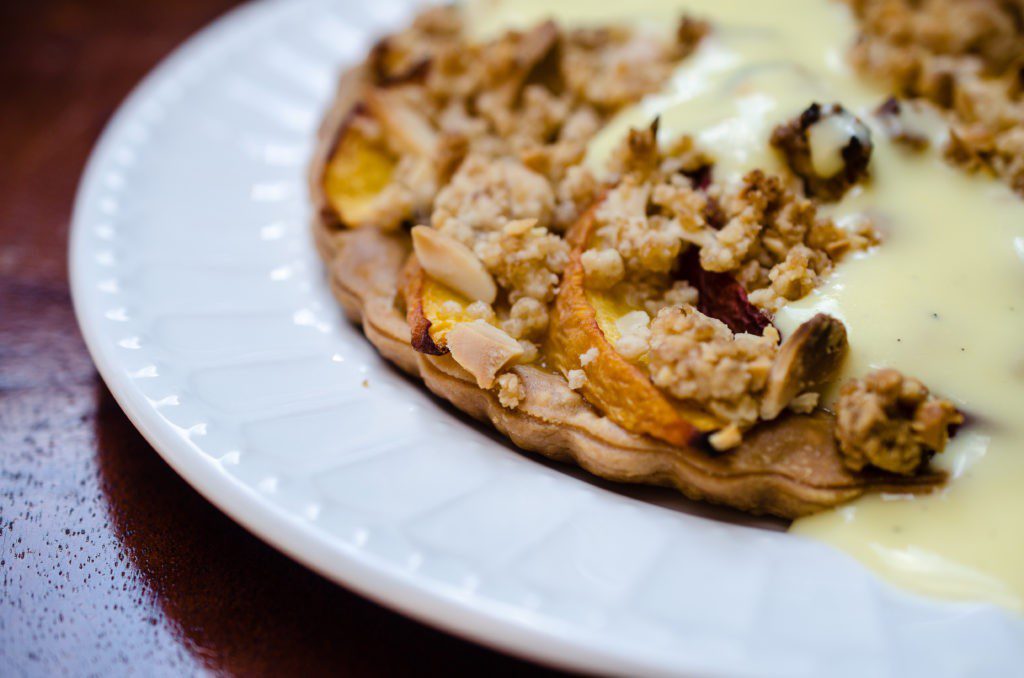 Disclaimer: When there's an appropriate mutually beneficial opportunity I partner for sponsored content. I am compensated by the William L. Brown Market for providing recipes for their blog as well as social media posts promoting the recipes. I do not receive additional compensation for peach or produce orders and this is not a sponsored post, however, I wanted to cover my bases. And, y'all know that no one has to pay me to profess my love of Georgia peaches! 
If you are interested in hosting me for a speaking engagement, event, cooking class, or a book signing, let me know! Send an email to jona@virginiawillis.com and we'll be back in touch as soon as possible.
Please be nice. Unauthorized use and/or duplication is prohibited. All photos and content are copyright protected. If you wish to republish this recipe, please link back to this recipe on virginiawillis.com. Thanks so much!
Let's connect on Facebook , Twitter, Instagram, and Pinterest!

Please note that this post may contain affiliate links.