Please note that this post may contain affiliate links.

Sweet, tree-ripe peaches and rich and creamy yogurt (or sour cream) are combined in this easy one-bowl Peaches and Cream Cake. Who doesn't love a one-bowl dump-and-stir cake that's also delicious? You can have this cake in the oven in 10 minutes or less. Read on to learn how to make this super simple, one bowl Peaches and Cream Cake (and only 8 points a slice on WW blue!)

Say No to Saying No
A lot of folks have asked me about losing 65#. Well, I won't lie and tell you I eat what I want all the time. I have to make choices. One of my choices is dessert! Real dessert in the form of an actual dessert, not a piece of fruit. Don't get me wrong, I love fruit, but fruit is not cake! The bottom line is that deprivation doesn't work for me.
I know I can't have dessert every night, and when I do have it I want it to be GOOD.
Bad cake is sad cake.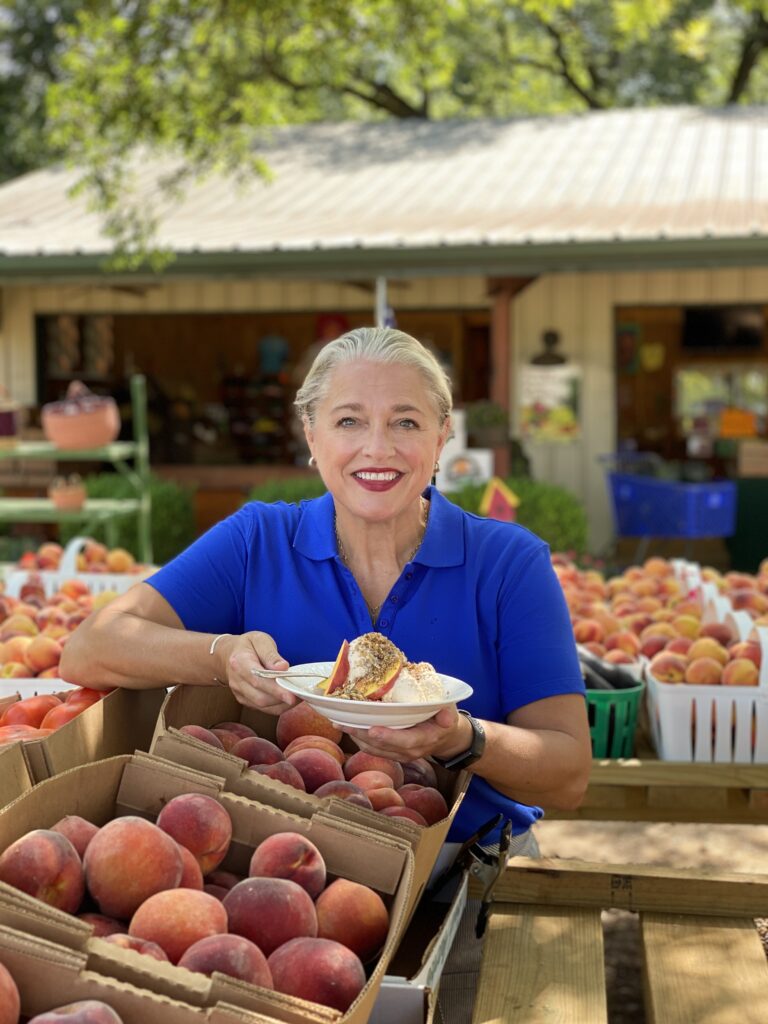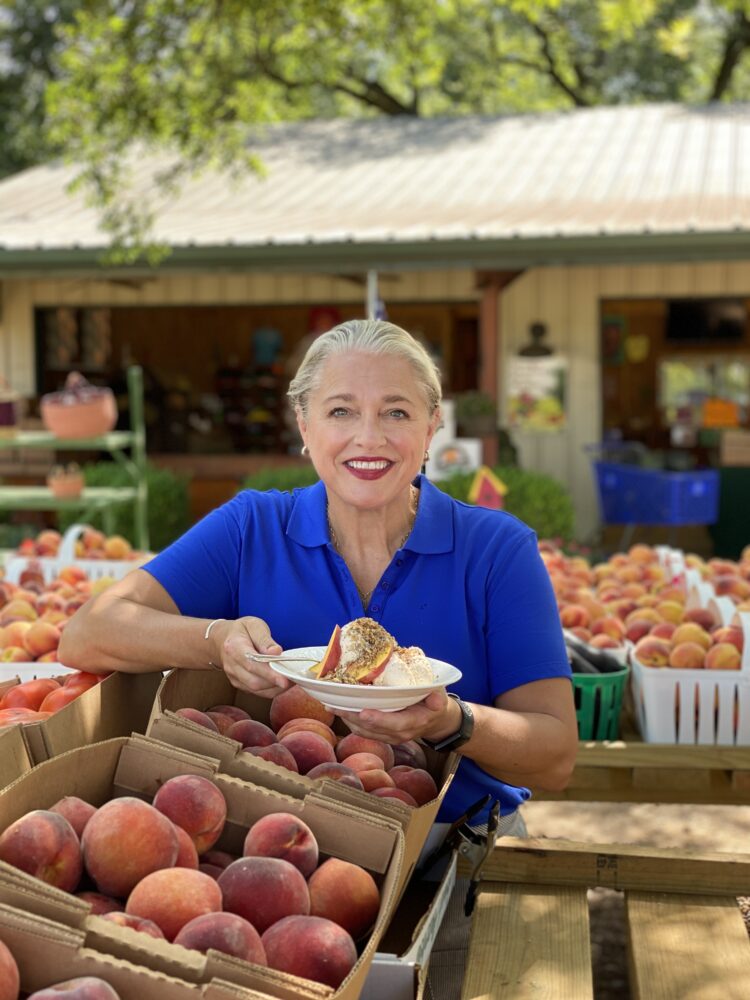 Skinny Baking
I love to bake! I've been a baker since I was three years old. I make cakes, cookies, and all sorts of baked goods. Over the past few years, while making changes in my mind, body, and spirit I am adapting my recipes to be smaller and more healthful. I've also been working on portion size. To set yourself up for success, I find it's better to have a decent portion instead of a micro portion that will still leave you wanting.
Instead of a two-layer cake, how about just a one-layer cake? Perhaps instead of 3 dozen cookies, what about making a modest dozen? Having less around means less temptation and it also can mean less food waste, too.
Healthful may also mean alternative flours and sugars, fat substitutions, and more.  It can also simply mean baking with just a *little* less sugar and fat. I like trimming off just enough that you can't tell the difference, like with this One Bowl Peaches and Cream Cake. (If you follow WW this cake is only 8 points a slice on the blue plan!)

I Get My Peaches Down in Georgia
Georgia produces over 130 million pounds of peaches a year. Did you know that one single peach tree can produce up to 150 pounds in a good year? That's a lot of peaches! I grew up in the heart of Georgia peach country and I absolutely love, love, love peaches.
Some states may grow more, including South Carolina and California, but Georgia is deservedly known as "The Peach State", the result of the efforts of a farmer in Marshallville, Georgia, who bred the Elberta peach from the seed of a Chinese Cling peach in the late 1800s. The peach industry took off, Georgia was tagged with the flavorful nickname, and the rest is sweet history.
Being from Georgia and literally growing up in the middle of it, my high school located in Marshallville, our school breaks dictated by peach season, and many of my classmates the sons and daughters of Georgia farmers, I am loyal to Georgia peaches.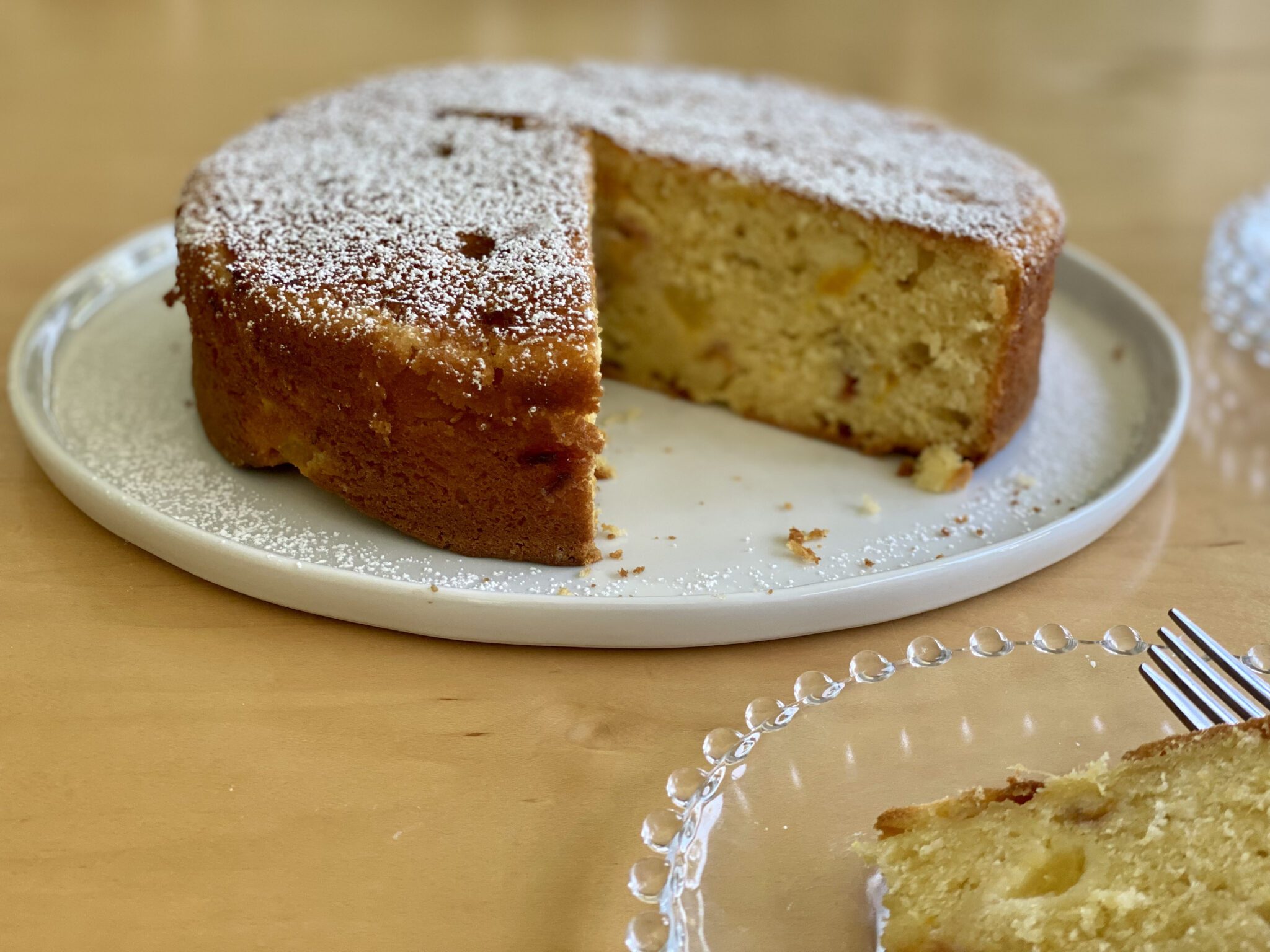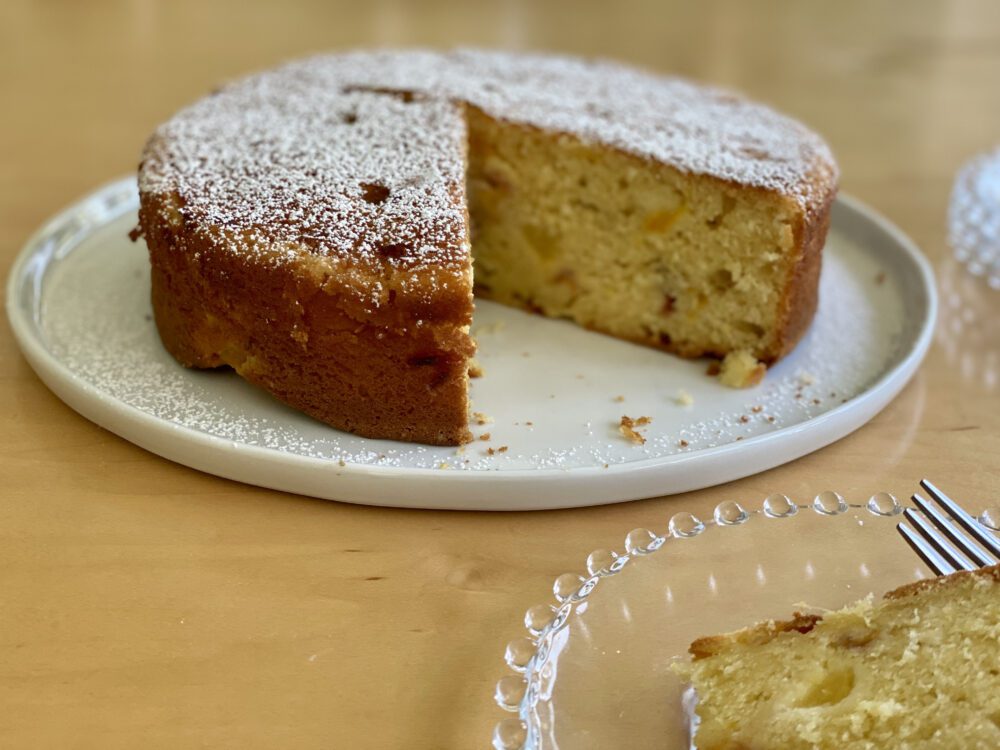 Food Network Kitchen
Excited to share that I've taped more Food Network Kitchen classes that are now streaming on the digital platform. They're all about Canning, Pickling, and Preserving.
Subscribe to Food Network Kitchen online at FoodNetwork.com for only $19.99/year. You can stream on your computer, phone, tablet, TV, Echo Show, Xfinity X1, or Xfinity Flex. And, of course, if you want the "big TV" experience you can cast it to your smart TV, too.
I'm super excited about what other shows we're cooking up! More great classes are coming soon.
Thanks so much for reading. I really appreciate your support and hope you love this One Bowl Peaches and Cream Cake. Please let me know if you cook this cake by tagging me on social.
Bon Appétit, Y'all
Virginia Willis
PS Want to check out another amazing Peach dessert? Head over to Tony Chachere's for my Sweet Heat Peach Mango Cobbler. OMG.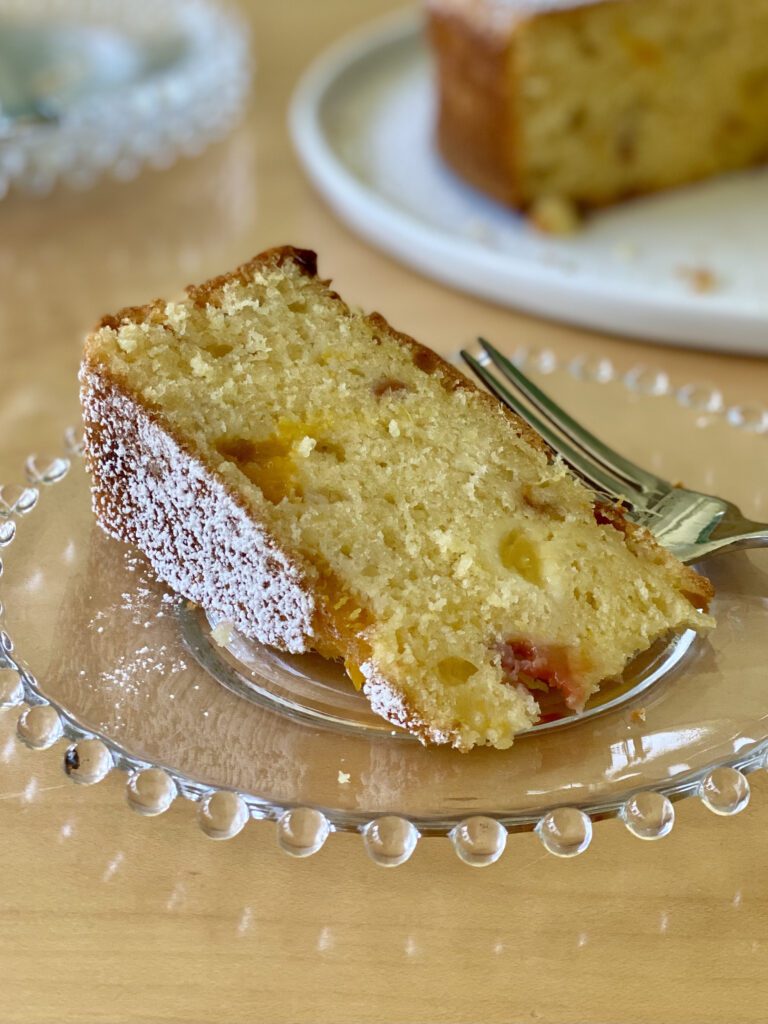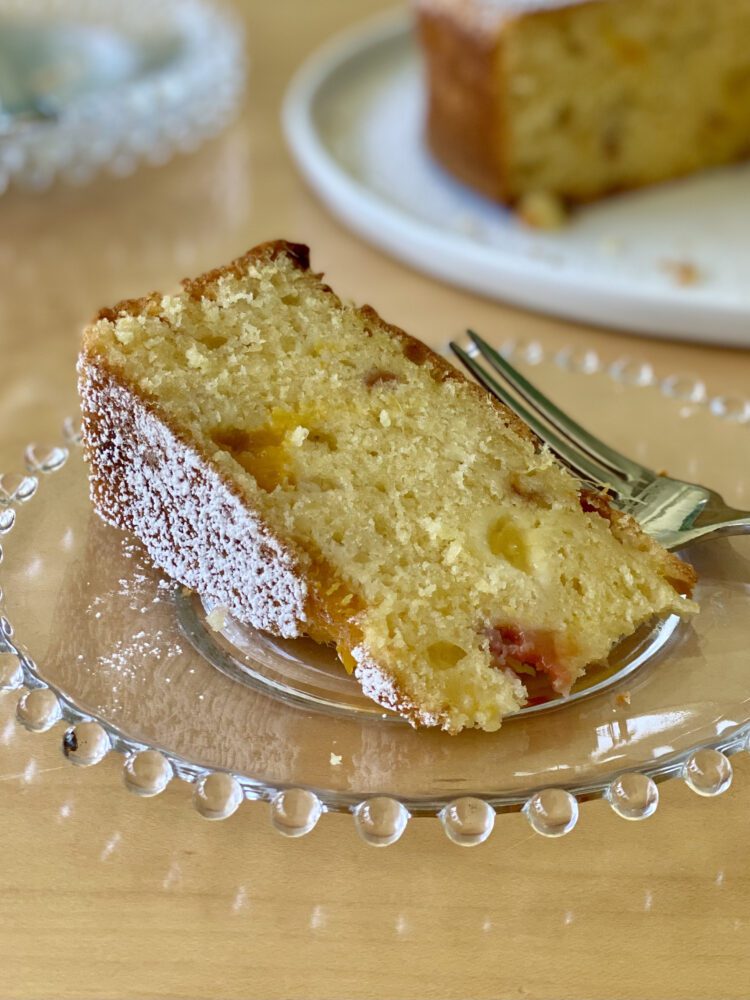 One Bowl Peaches and Cream Cake
Rich and indulgent tasting this this cake is only 8 points a slice on the WW blue plan! Serve solo or topped with more yogurt, sour cream, or with frozen yogurt.
Ingredients
Nonstick spray

1 ½

cups

all-purpose flour

¾

cup

sugar

2

teaspoons

baking powder

¼

teaspoon

fine salt

½

cup

% Icelandic yogurt or reduced fat sour cream

½

cup

flavorless oil

such as canola or grapeseed

3

large eggs

¼

teaspoon

pure vanilla extract

2

peaches

diced (about 1 ½ cups)

Confectioner's sugar

for garnish
Instructions
Place the rack in the center of the oven and preheat the oven to 350°F. Spray an 8-inch cake pan with nonstick or baking spray. Set aside.

Stir together the flour, sugar, baking powder and salt. Add yogurt, oil, eggs, and vanilla extract. Stir to combine. Fold in the chopped peaches. Transfer the batter into the prepared pan.

Slide into the oven until the cake begins to come away from the sides of the pan; it will be golden brown and a knife inserted into the center of the cake will come out clean, 55 to 60 minutes.

Transfer the pan to a rack, cool for 5 minutes, then run a blunt knife between the cake and the sides of the pan. Unmold and cool to room temperature right-side up. Dust with confectioner's sugar. Slice with a serrated knife. Keeps for up to 3 days in an airtight container.
Please note that this post may contain affiliate links and I may make a commission if you use my affiliate link to buy the product.
Heads up! I am not a doctor, RD, or health professional nor am I an official WW ambassador or representative. I am sharing here what works for me. Thanks for reading!
If you are interested in hosting me for a speaking engagement, event, cooking class, or a book signing, let me know! Send an email to jona@virginiawillis.com and we'll be back in touch as soon as possible.
Please be nice. Unauthorized use and/or duplication is prohibited. All photos and content are copyright protected. If you wish to republish this recipe, please link back to this recipe on virginiawillis.com. Thanks so much!
Let's connect on Facebook, Twitter, Instagram, and Pinterest!

Please note that this post may contain affiliate links.