Please note that this post may contain affiliate links.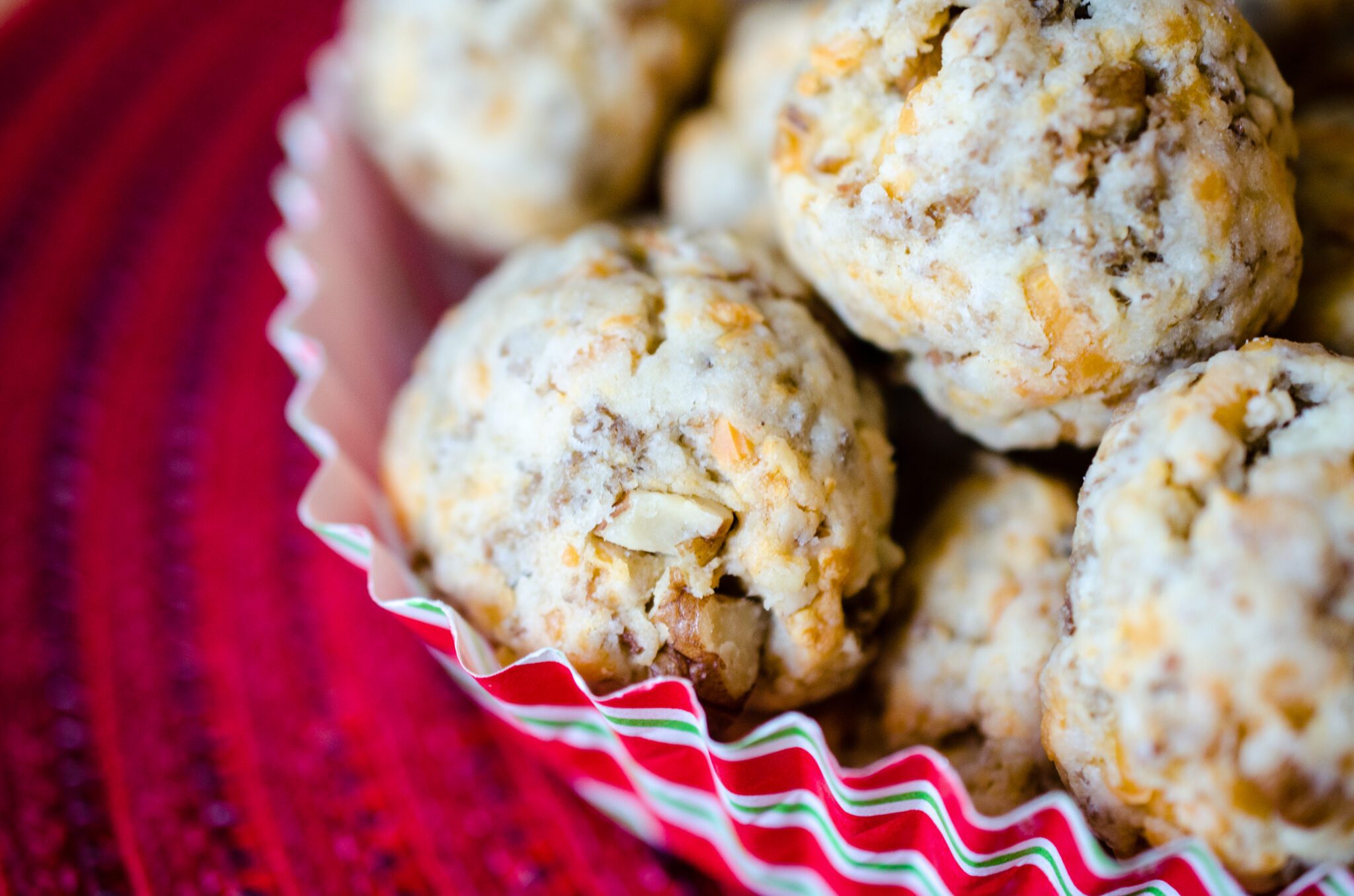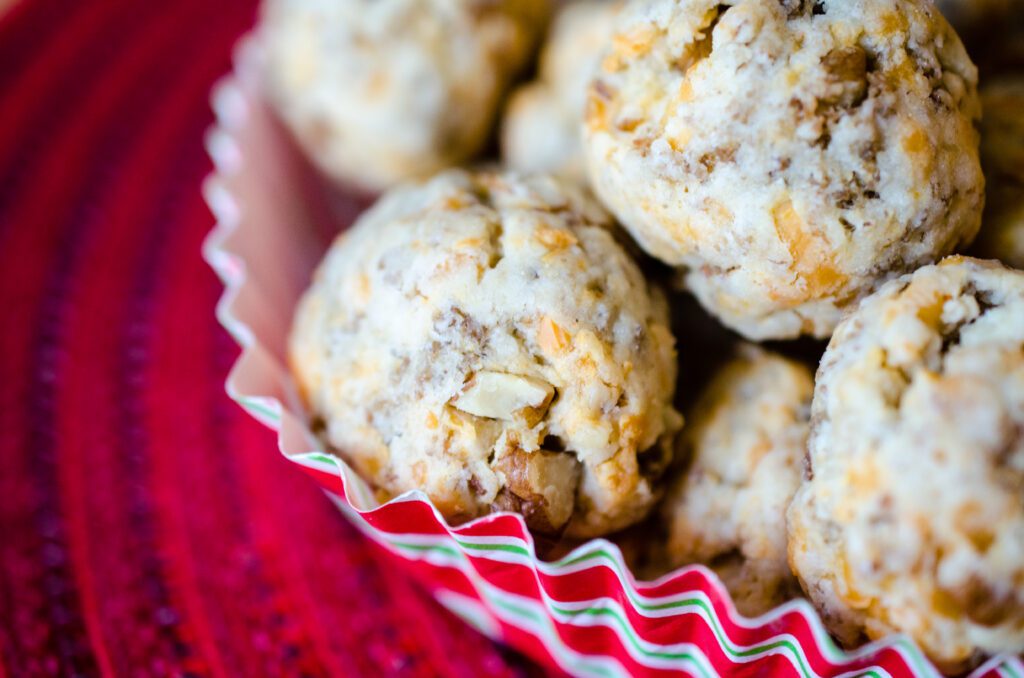 Everyone looks down their nose at sausage balls, pigs in a blanket, and meatballs in BBQ sauce, but the reality is that these popular nibbles are the first to go at a party.  The original recipe for sausage balls uses Bisquick. I've made a few changes and developed this "from scratch" version — as well as lightening things up with reduced-fat cheese and turkey sausage. Read on to learn how to make them!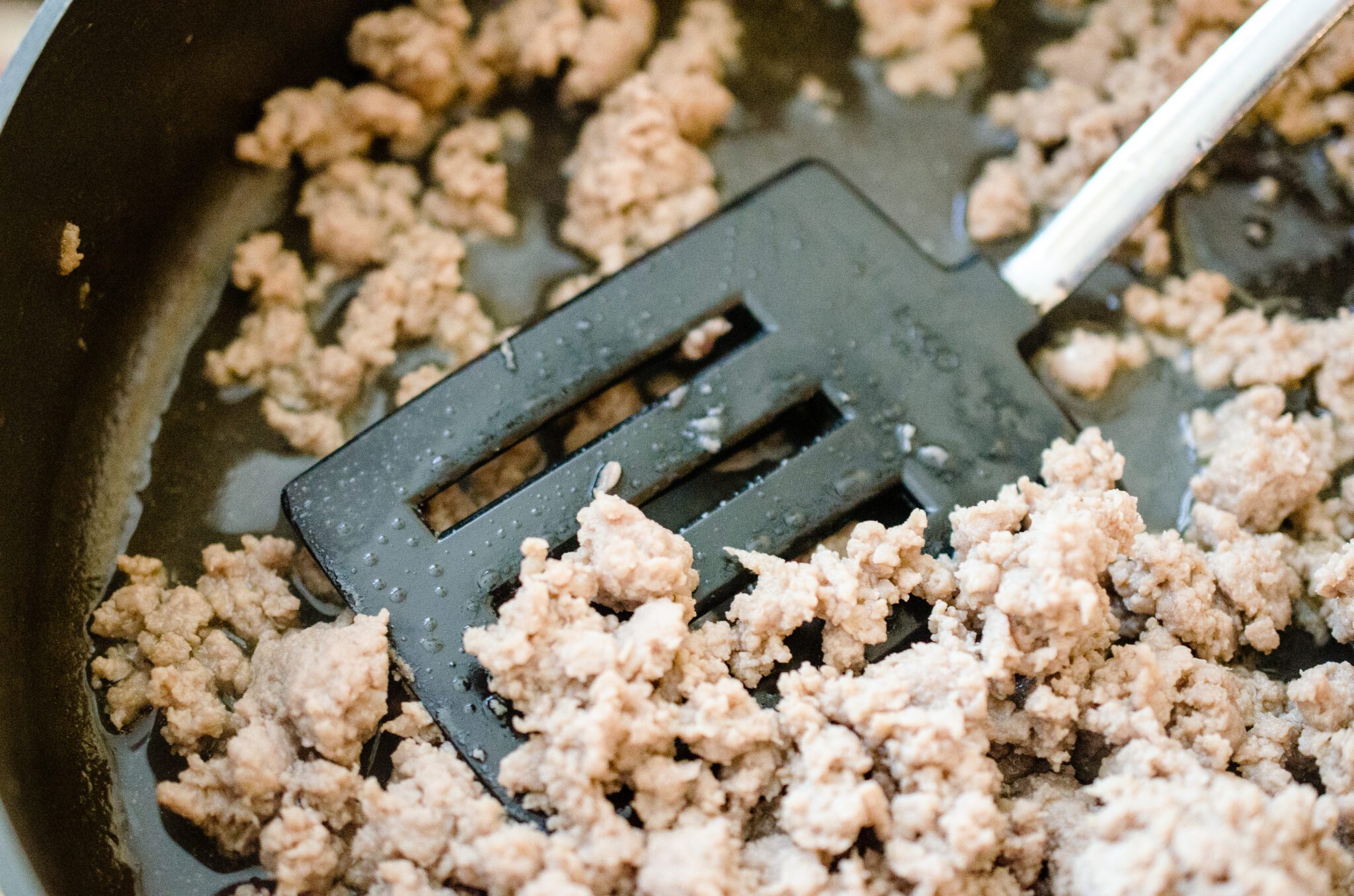 Lighten Up, Y'all!
As a chef and cookbook author, one of my favorite things to do is to lighten up my favorite dishes with makeovers that create more healthful versions without sacrificing flavor. It's just as simple as looking at each individual ingredient. There aren't many ingredients in Sausage-Pecan Balls — but it still can be done!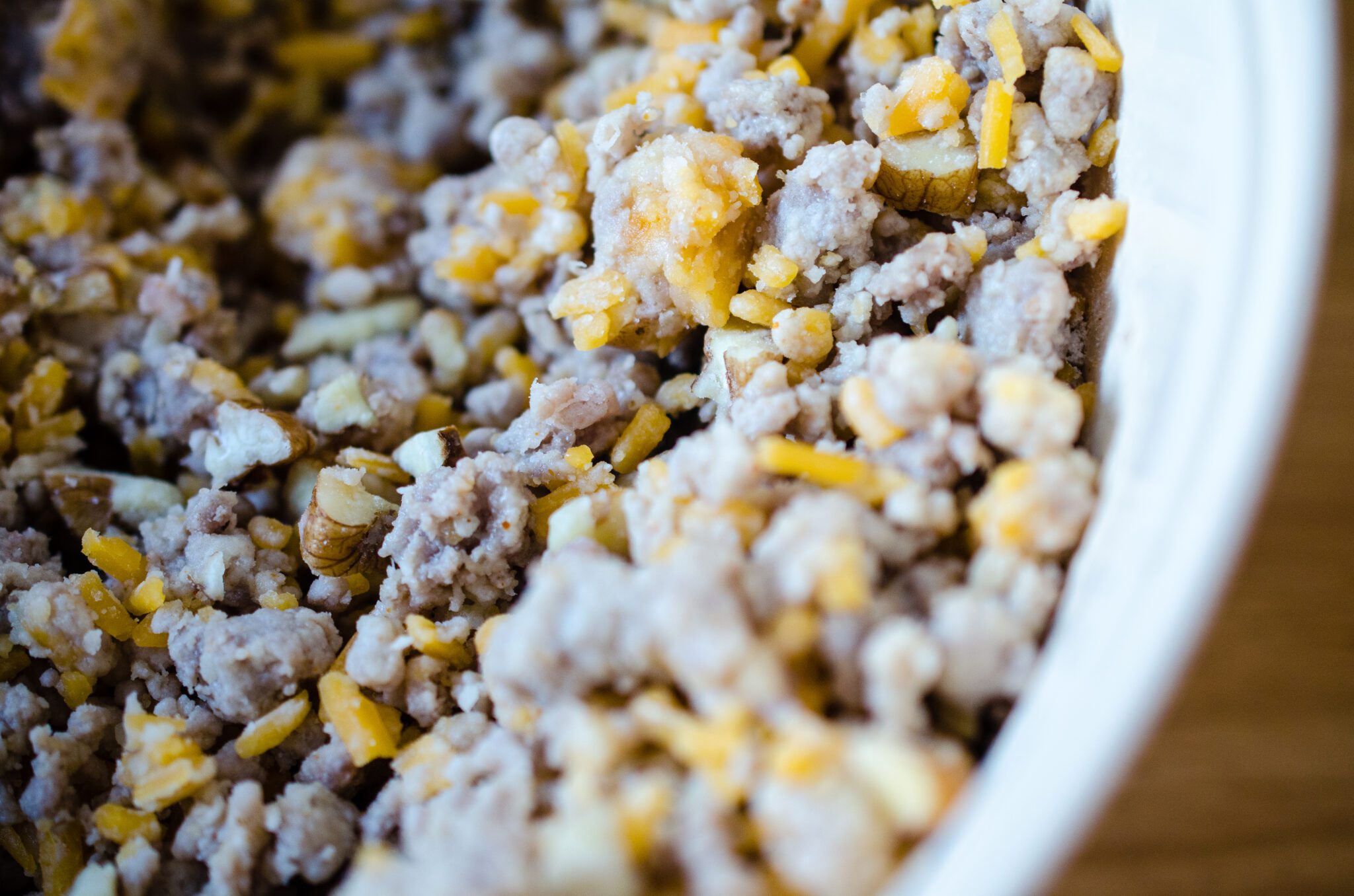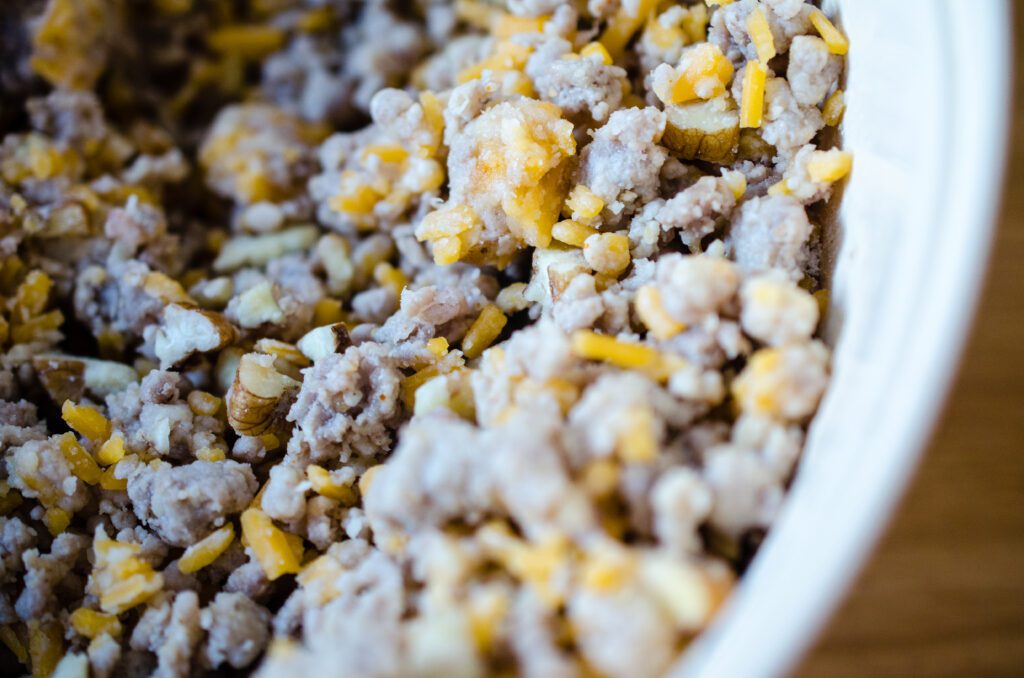 Recipe Makeover
First up, for our recipe makeover for Sausage-Pecan Balls, let's take a look at the sausage. Is turkey sausage healthy? Compared to pork sausage, absolutely. It's significantly lower in calories and saturated fat.
I've kept the all-purpose flour, but you could also substitute whole wheat pastry flour or "white wheat" for some or all of the flour. It won't lower the points or calories, but it will increase the nutritional density. Personally, I prefer using flour over a baking mix, but you do what you need to do.
Reduced-fat cheese can be tricky. Most of it is rubbery, fairly tasteless, and doesn't melt very well. I find that reduced-fat Cabot or Tillamook cheeses are the best of the bunch. Cabot makes  75% and 50% cheese with less fat than regular sharp cheddar. Either will work well in this recipe. Tillamook reduced-fat cheddar is about 1/3 less than regular sharp cheddar.
Many original recipes call for shortening. I've swapped that out with canola oil. Canola oil comes from the canola plant, a genetic variation of rapeseed. (Rapeseed oil is an industrial oil; canola was developed using traditional plant-breeding methods to make the rapeseed edible.) I often use canola oil because it's flavorless and allows the flavor of the food to shine through. Most canola in the US is genetically engineered — unless it is certified organic, so I make that choice. Look for Organic Expeller Pressed Canola Oil, which is a chemical-free mechanical process that extracts the oil. Canola is good all-purpose cooking oil and is excellent for sautéing, frying, and baking or for use in raw form in salad dressings, mayonnaise, and vinaigrettes.
I've kept the pecans in my Sausage-Pecan Balls. Sure, nuts are high in fat, but they are so good and good for you! Pecans are rich in protein, fiber, antioxidants, and heart-healthy nutrients. I love Georgia pecans!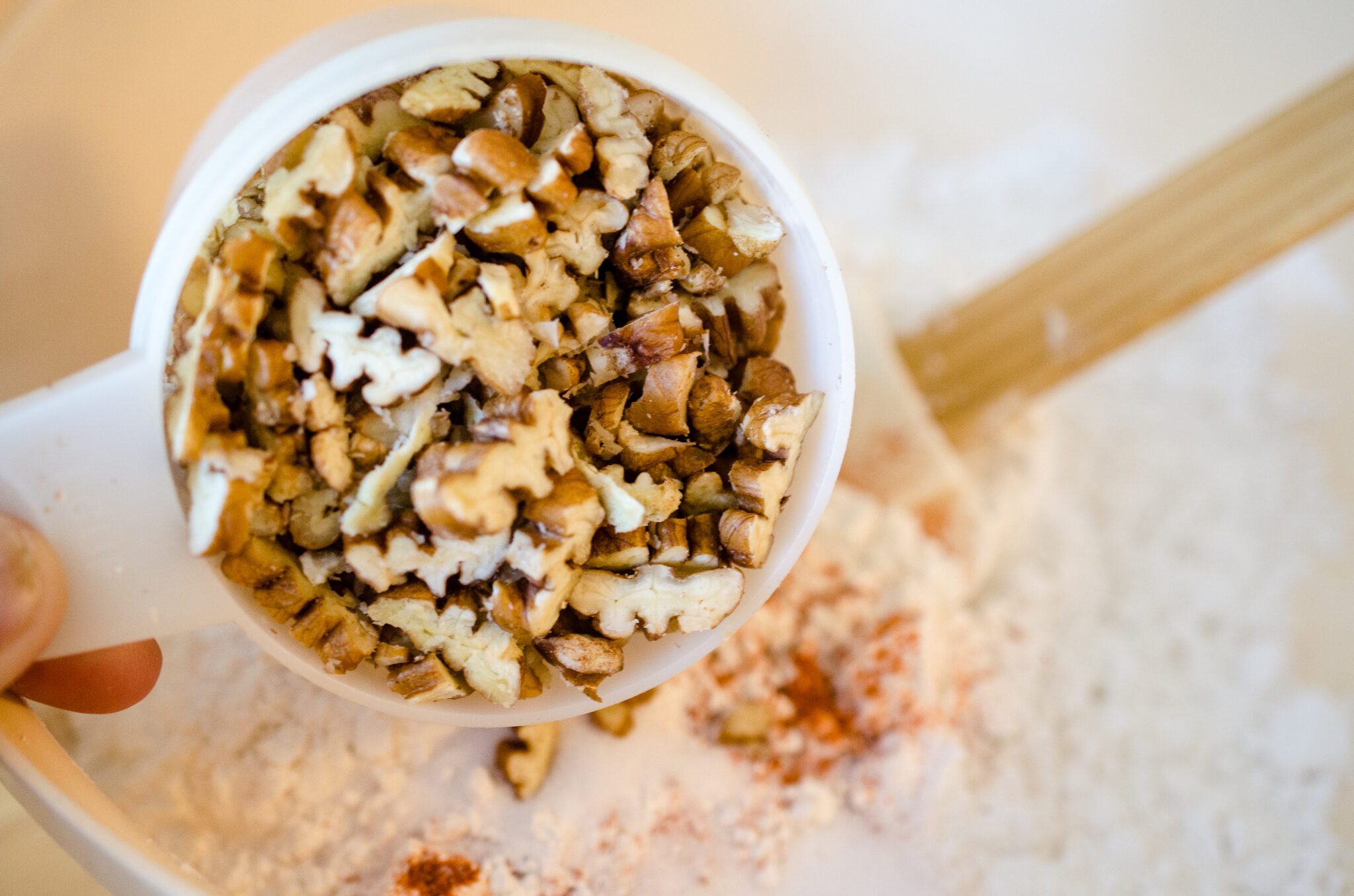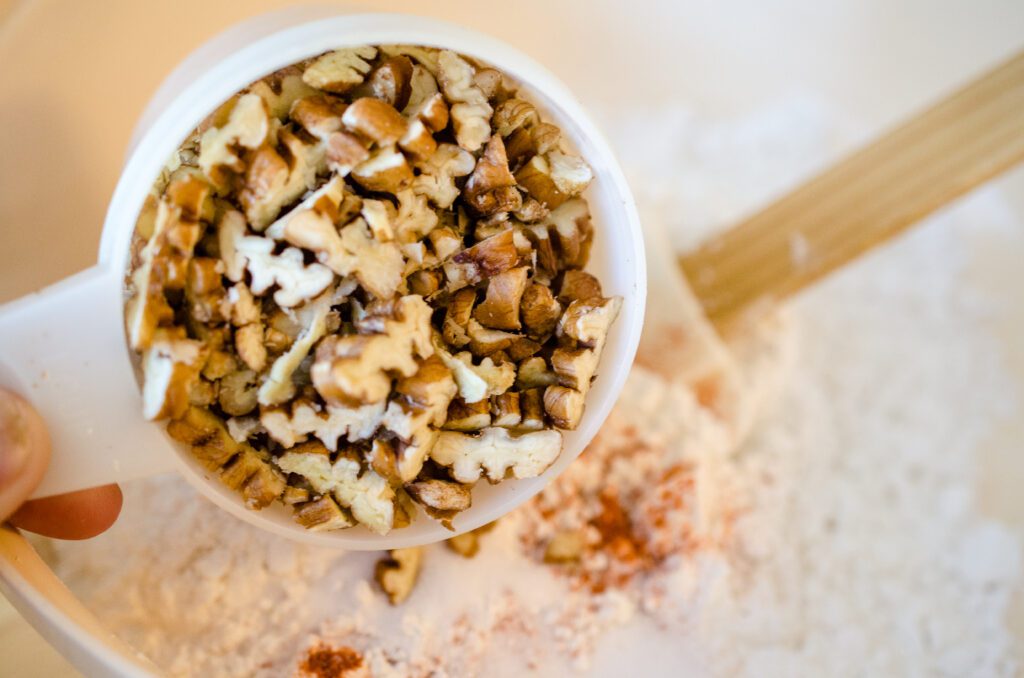 Holiday Nibbles
I hope you enjoy my updated version of Sausage-Pecan Balls that are full of flavor, not fat. I do not, however, have a magic wand in my kitchen so keep in mind they are still about 2 points each if you follow WW. Please let me know if you give them a try! If you need another lightened-up nibble, check out my Buffalo Chicken Dip.
Bon Appétit, Y'all
Virginia Willis
PS – my favorite tool for making these Sausage-Pecan Balls and holiday cookies is my stainless steel ice cream scoop. Take a look!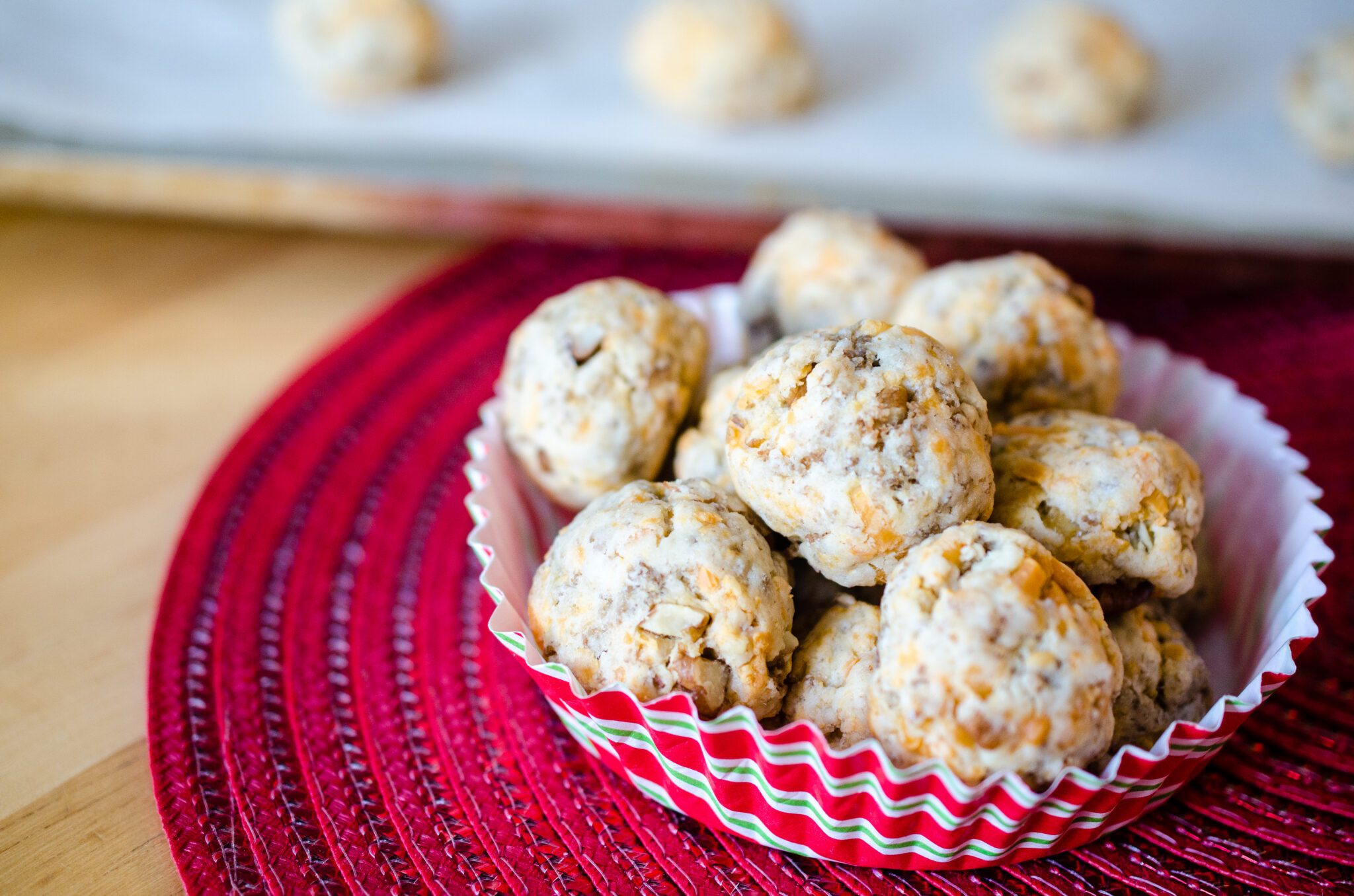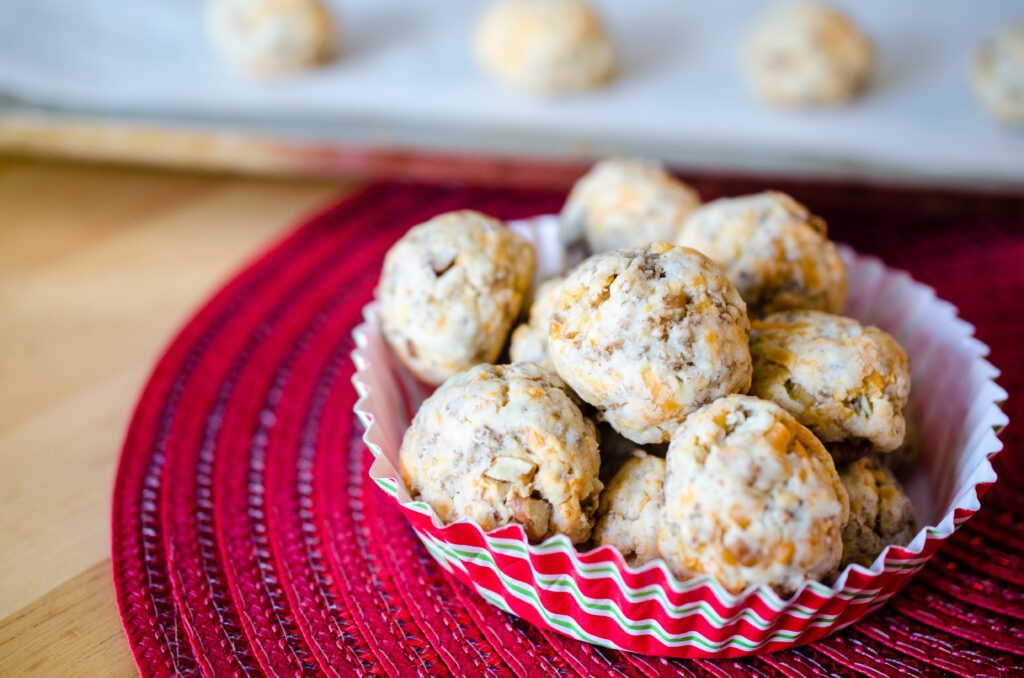 Sausage-Pecan Balls
Makes 40
Ingredients
16

ounces

raw turkey sausage

2

cups

all-purpose flour

3/4

cup

chopped pecans

2

teaspoons

baking powder

1 1/2

teaspoons

fine sea salt

1/4

teaspoon

cayenne pepper

1/4

cup

canola oil

8

ounces

sharp light Cheddar cheese

grated
Instructions
Heat the oven to 350°F. Line a baking sheet with a silicone baking sheet or parchment paper. Heat a nonstick skillet over medium-high heat. Add the turkey sausage and cook no longer pink and cooked through, about 5 minutes. Remove from the heat to cool slightly.

You can do this by hand with some elbow grease, with a handheld mixer, or in a stand mixer. Combine the flour, pecans, baking powder, salt, and cayenne pepper. Add the oil, grated cheese, and reserved sausage. Stir to combine. It will be quite crumbly, but you should be able to press it together into a ball.

To form the balls, using a small ice cream scoop or a 1-tablespoon measure and your hands, shape the mixture into 1-inch balls and place about 1 inch apart on the prepared baking sheet. Bake until browned, 20 to 25 minutes. Remove to a rack to cool.
Please note that this post may contain affiliate links. (That means I make a commission if you use my affiliate link to buy the product.) 
If you are interested in hosting me for a speaking engagement, event, cooking class, or a book signing, let me know! Send an email to jona@virginiawillis.com and we'll be back in touch as soon as possible.
Please be nice. Unauthorized use and/or duplication is prohibited. All photos and content are copyright protected. If you wish to republish this recipe, please link back to this recipe on virginiawillis.com. Thanks so much!
Let's connect on Facebook, Twitter, Instagram, and Pinterest!

Copyright © 2023 Virginia Willis Culinary Enterprises, Inc.
Please note that this post may contain affiliate links.