Please note that this post may contain affiliate links.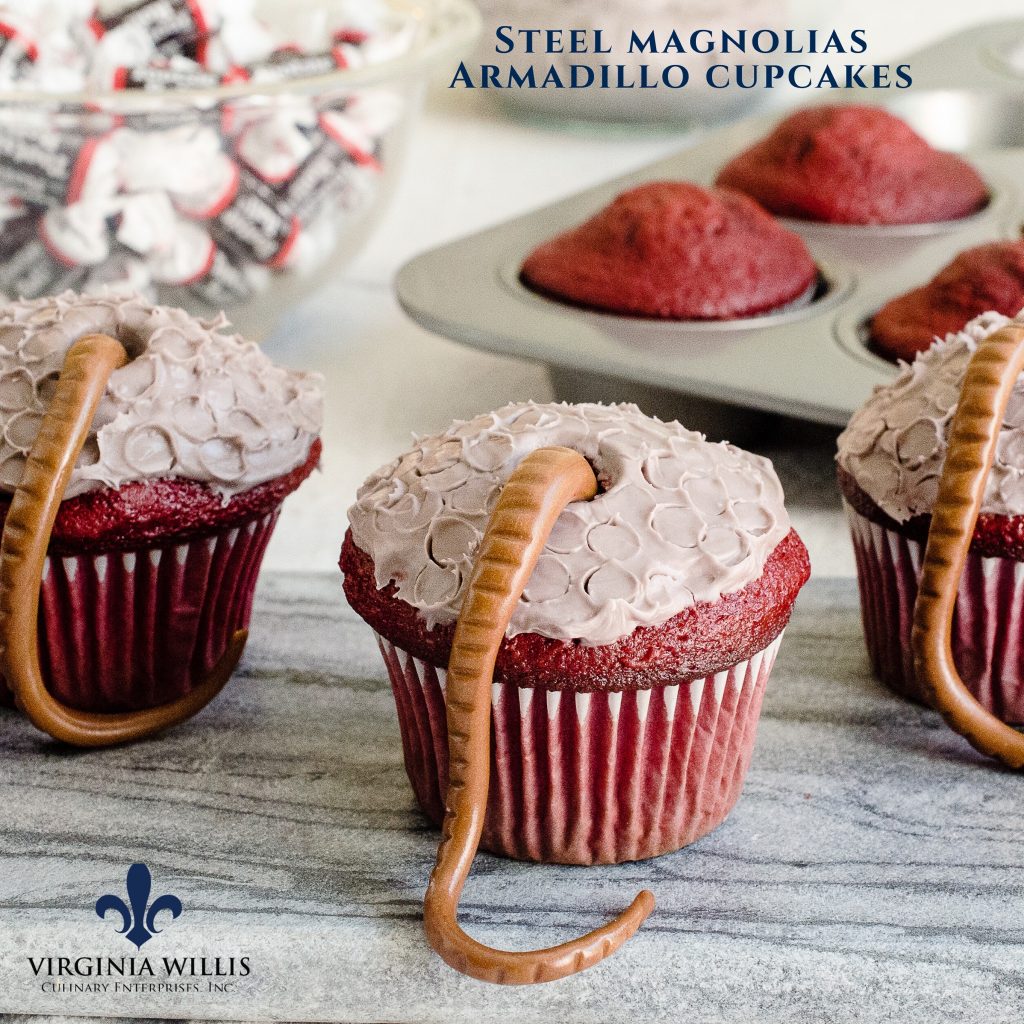 A couple of weeks ago cohosted the Sunday afternoon matinee of Steel Magnolias! (I also shared a recipe for a shrub I call "The Shelby.")  I loved that movie! Who doesn't love that movie! It's all just fun. Plus Dolly Parton. And, y'all know I love Dolly Parton. One of the scenes that have become legendary included the armadillo groomsman's cake. With it in mind, I came up with these cupcakes you can't leave behind! 😉 Armadillo Butt Cupcakes. They are super fun and you can use your favorite red velvet cake recipe or the one I am using here. (It's a fancy one using beets instead of food coloring.) Who doesn't love red velvet cake? My dear friend Angie Mosier says, who is an incredible baker in her own right, once very aptly described red velvet cake as "the Dolly Parton of cakes—she's a little bit tacky, but you love her.
Armadillo Cupcakes
The video says it all! This is a fun big baking project start to finish. If you want to skip the beets (no pun intended) you can replace them with ¾ cup of oil or unsweetened applesauce. Then, use food coloring to achieve the red color or just use your favorite red velvet cake recipe.
Who doesn't love cream cheese frosting? It's as easy as it can be. But, I'm not to judge. If you need to cheat and use store-bought icing, then you need to use store-bought icing. Let's be real. We're making armadillo behinds complete with twirled tootsie roll tail. #WWDD?
Y'all stay safe.
Bon Appetit, Y'all!
Virginia Willis
Need another weekend baking project? Check out my Cheesy Golden Onion Pull-Apart Biscuits! 
Virginia Willis' Armadillo Butt Cupcakes
Makes 1 ½ quarts batter for 24 cupcakes
Ingredients
3

medium beets

well-scrubbed

1

cup

canola oil

more if needed

½

cup

buttermilk

4

large eggs

1 ½

cups

flour

1 ½

cups

sugar

½

cup

cocoa

2

teaspoons

baking powder

1

teaspoon

baking soda

1

teaspoon

fine sea salt

8

ounces

cream cheese

at room temperature

1/4

cup

1/2 stick unsalted butter, at room temperature

1

16-ounce box confectioners' sugar

1

teaspoon

pure vanilla extract

2 to 3

teaspoons

whole milk

as needed

black gel food coloring

24

tootsie rolls
Instructions
Heat the oven to 350. Wrap the beets individually in aluminum foil. Place the beets on a rimmed baking sheet and roast until very tender, 1 to 1 hour 20 minutes. Remove and let cool until just warm to the touch in the foil. Peel the beets and coarsely chop.

Place the chopped beets in the large bowl of a large food processor fitted with the blade attachment. Process until chunky, stopping to scrape down the sides of the bowl with a rubber spatula. With the food processor running, add the oil and continue processing until very smooth. Add buttermilk and eggs. Puree until smooth.

Add the flour, sugar, cocoa, baking powder, baking soda, and salt. Pulse until well-combined. If you have a large food processor you can continue in the processor, if not, sift the dry ingredients in a large bowl and add the wet ingredients from the food processor to the dry and stir until combined by hand.

For cupcakes: Line the tin with cupcake liners. Using a ice cream scoop, a spoon, or a liquid measuring cup, fill the liners no more than 2/3 full. Transfer to the oven and bake until firm, about 10 minutes. Remove to a rack to cool.

Meanwhile, to prepare the frosting, in the bowl of a mixer fitted with the paddle or beater attachment or with a handheld mixer, cream the cream cheese and butter on medium speed until very smooth. Sift over the confectioners' sugar. Beat until light and fluffy. Beat in the vanilla. If too stiff, add the milk, 1 teaspoon at a time, to achieve the correct consistency. Add black food coloring and stir until pale grey.

Using an offset spatula, ice the cupcakes with the grey icing. Once the icing is slightly set, use a straw to make "plates" across the top of the cupcake.

To make the tails: Working with 1 at time, place a tootsie roll in a glass bowl and microwave until warm and barely soft, about 5 seconds, depending on the strength of the microwave. Roll the warm tootsie roll into a long-pointed tail. While warm, use a toothpick to notch and create the tail plates.

Think of Steel Magnolias and serve within 2-3 days.
Please note that this post may contain affiliate links. (That means I make a commission if you use my affiliate link to buy the product.) 
If you are interested in hosting me for a speaking engagement, event, cooking class, or a book signing, let me know! Send an email to jona@virginiawillis.com and we'll be back in touch as soon as possible.
Please be nice. Unauthorized use and/or duplication is prohibited. All photos and content are copyright protected. If you wish to republish this recipe, please link back to this recipe on virginiawillis.com. Thanks so much!
Let's connect on Facebook , Twitter, Instagram, and Pinterest!

Please note that this post may contain affiliate links.