Please note that this post may contain affiliate links.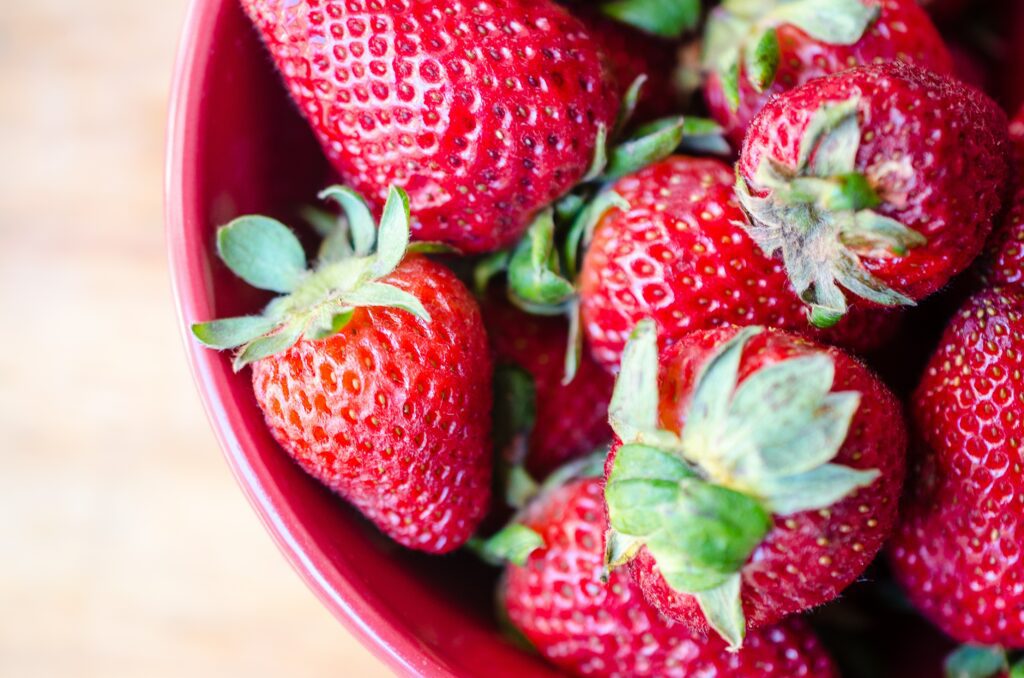 Are you concerned your liver might cry uncle before lockdown ends? Need an NA alternative? Or, you need to spritz up your afternoon cocktail? Check out my Strawberry Shrub! A shrub is a tart fruit syrup that dates back to hundreds of years ago. It's a combination made from fresh fruit, sugar, and vinegar.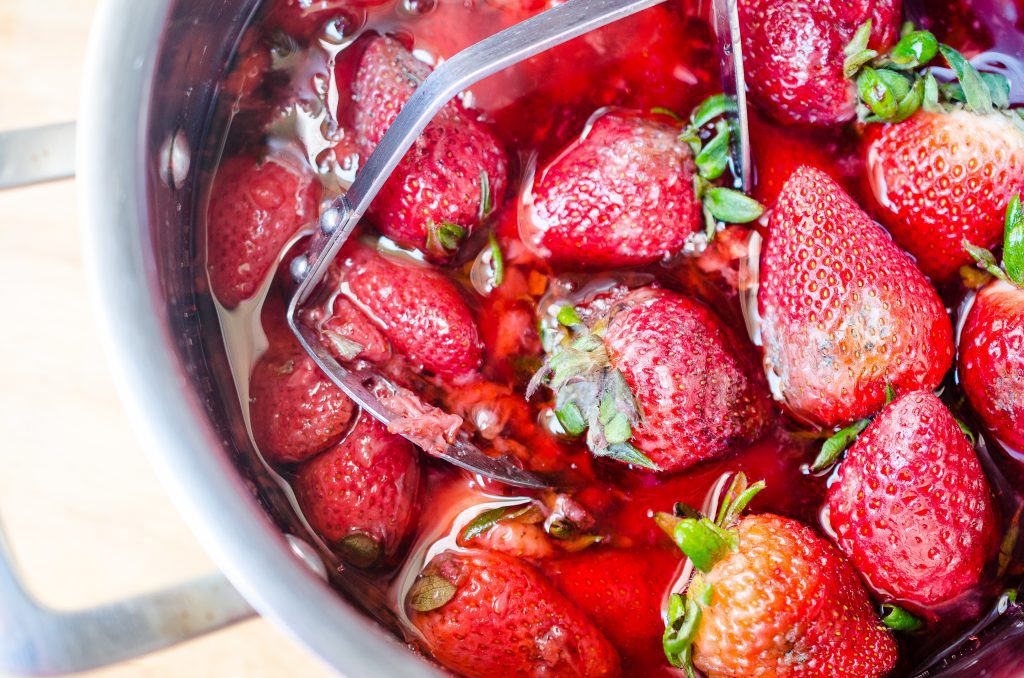 Food Waste Prevention
Prior to refrigeration, shrubs were a way to preserve the fruit harvest. Shrubs were popular in Colonial America, often mixed with water as a refreshing thirst quencher. (And, yes, they are good with vodka although back then I am sure they used rum.)
Making a fruit shrub is a great way to prevent food waste; I made this with some soft strawberries about to spoil. Right now especially, I want to prevent food waste! Of course, you don't want to use rotten fruit, but a few soft spots are fine. The result is a sweet, acidic base that can be enjoyed on its own or used in a variety of mixed drinks.  Other fruits to consider are blueberries, blackberries, plums, peaches, and cherries. I love using soft fruit, but other herbs and spices can be used, as well.
Shrubs are easy. It's loosey-goosey. Combine some fruit and add vinegar and sugar to taste. Simmer it a bit and let is steep. Sometimes I also simply use a cold maceration process, with no heat. One way or the other, strain it and you are good to go. It will keep in the refrigerator for a week or so. Delicious!
Steel Magnolias
I've named my shrub "The Shelby" in honor of Steel Magnolias — one of my favorite movies. Y'all remember the scene in Truvy's Beauty Parlor. It's not just pink! It might be blush or bashful.
Truvy (Dolly Parton): What are your colors, Shelby?

Shelby (Julia Roberts): They're blush and bashful.

M'Lynn (Sally Field): Her colors are pink and pink.

Shelby: My colors are blush and bashful, Mama.

M'Lynn: How precious is this wedding gonna get, I ask you?

Shelby: My colors are blush and bashful. I have chosen two shades of pink, one is much deeper than the other.

M'Lynn: But the bridesmaids dresses, they are really beautiful.

Shelby: Ceremony will be too. The walls are banked with sprays of flowers, and my two shades of blush and bashful. Pink carpets especially laid out for my service, and pink silk bunting, draped over anything that would stand still.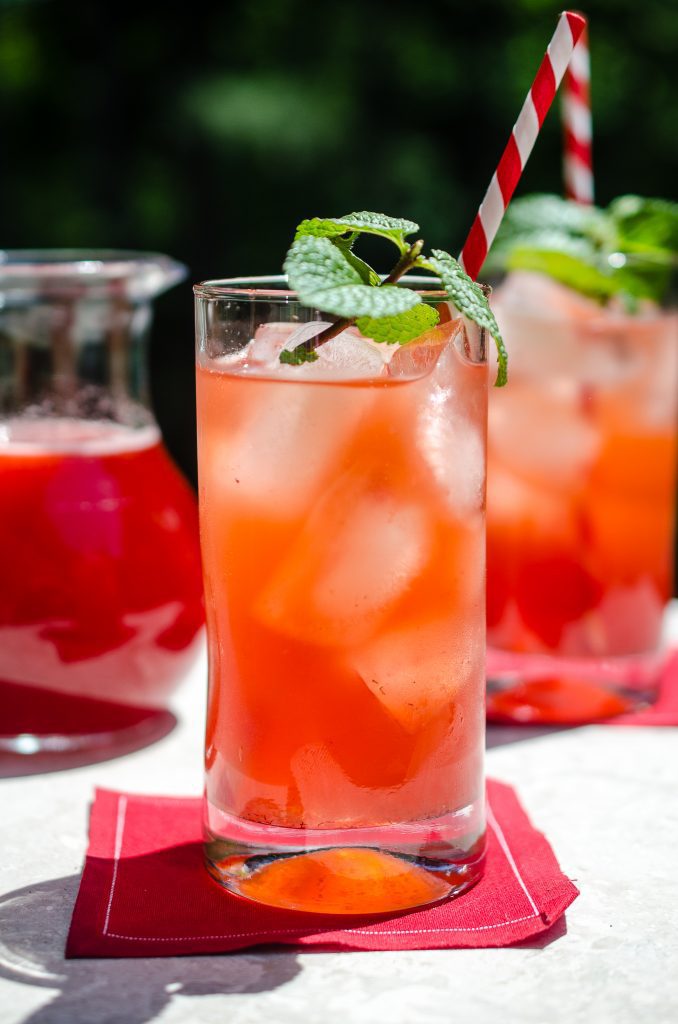 Raising Dough for No Kid Hungry
We all have to do what we can to help out in this time of need and crisis. I am excited to partner with NYT best-selling author Mary Kay Andrews for a Facebook Live on Thursday 23 April at 7 pm EST so we can raise some dough for No Kid Hungry! It's a live cooking demo and we're making a Fluffy Southern Chicken Biscuit with Hot Honey Mustard. Yum!
Make sure to watch on Mary Kay Andrews' Facebook page: https://www.facebook.com/marykayandrewsauthor/
1 in 7 children in America live with hunger. So we are sharing our passion for food because we want to end childhood hunger in America. Join us! Your gift of just $50 connects kids to 500 meals!
Donate during the event and be entered to win prizes from our generous sponsors: Big Green Egg, Yum Yum Smile Shop by Libbie Summers, The Old Mill in Pigeon Forge, TN, Lodge Cast Iron, Tony Chachere's, Stuckey's, St. Martin's Press, and Houghton Mifflin Harcourt. Please make sure to watch – I am sure it's going to be a blast!
Donate (and enter to win) HERE. 
I'm going to end with my absolute favorite quote from Steel Magnolias, "I would rather have thirty minutes of wonderful than a lifetime of nothing special." Y'all take care. Stay safe.
Bon Appétit, Y'all!
Virginia Willis
Need a mail-order source for sustainable seafood – use this link OR promo code VIRGINIA for $25 off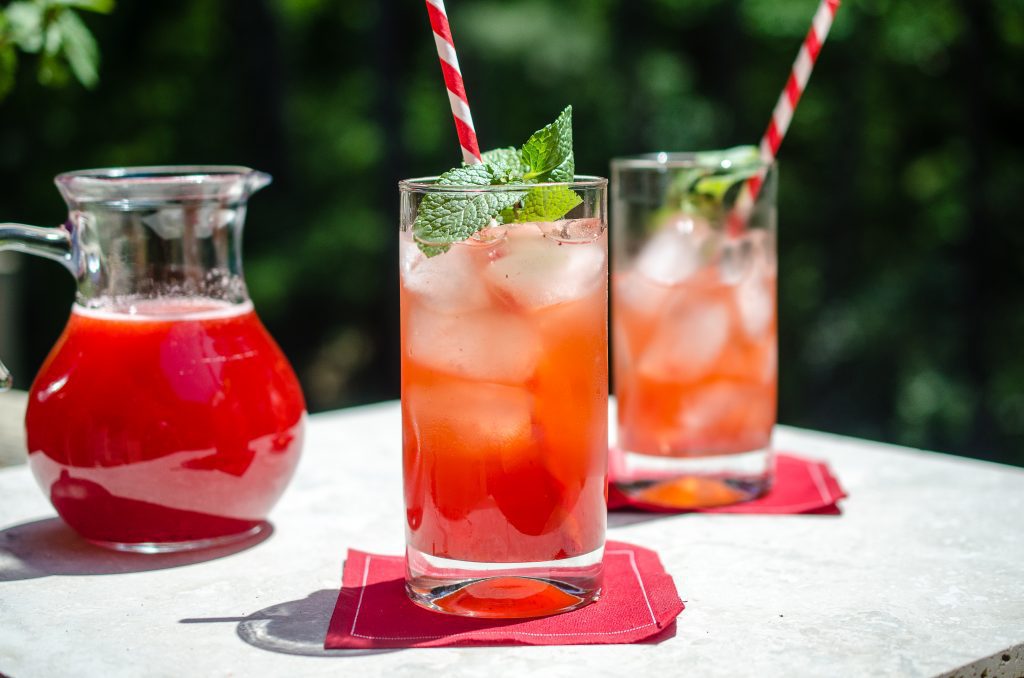 Print Recipe
Strawberry Shrub
Ingredients
8-10

strawberries

halved (1 cup)

1/2

cup

sugar

or to taste

1

cup

apple cider vinegar

Soda

for serving, optional

Vodka

for serving, optional

Mint

for serving
Instructions
Place the strawberries, sugar, and vinegar in a bowl. (I left the stems and leaves on.) Mash with a potato masher. Cover and refrigerate overnight. Strain and transfer to a sealable glass container. To serve, fill a glass with ice. Add a couple of tablespoons of shrub. Top with soda water, vodka -- or both. Garnish with mint. Think of Steel Magnolias and enjoy.
If you are interested in hosting me for a speaking engagement, event, cooking class, or a book signing, let me know! Send an email to jona@virginiawillis.com and we'll be back in touch as soon as possible.
Please be nice. Unauthorized use and/or duplication is prohibited. All photos and content are copyright protected. If you wish to republish this recipe, please link back to this recipe on virginiawillis.com. Thanks so much!
Let's connect on Facebook , Twitter, Instagram, and Pinterest!
Please note that this post may contain affiliate links.