Please note that this post may contain affiliate links.

We recently drove down to Montezuma, Georgia to buy a couple of cases of peaches. My favorite way to consume their summer sweetness is raw and held over the sink, perhaps the best place to eat a perfectly ripe Georgia peach. Cubes of golden fruit are also finding their way into a bowl of creamy buttermilk for breakfast, chicken salad for lunch, and this simple baked peach dessert. Here peaches are slow-roasted topped with almond flour, butter, and sugar topping. In my version, include a surprise ingredient, that amps up the flavor, but not the fat. Read on!

Baking Science
I saw a version of this dish on the Smitten Kitchen Instagram feed and tracked it to her blog. She credits Nigel Slater with brilliant recipe provenance. I wanted to lighten it up a bit and keep the ingredient list short. If I am working to take sugar, salt, and fat out of baked goods then I have to make sure I replace that flavor in a more healthy way. Peaches are floral, sweet, aromatic, and acidic.
The secret to this sumptuous dessert is soy sauce!
Soy sauce is highly flavored with umami. However, it's not solely the unami. We have a couple of things happening here. First, peaches and almond are related and ingredients match when they share key aromas. So, we have the match-up of peaches and almonds. Also, according to The Flavor Matrix by James Briscione and Brooke Parkhurst, stone fruit is a surprise pairing with soy sauce! Both peaches and soy sauce share certain molecular compounds and when that happens it lines up heightened flavor and aroma. There's an actual physical reason certain things taste good together. ( I LOVE this kind of stuff.)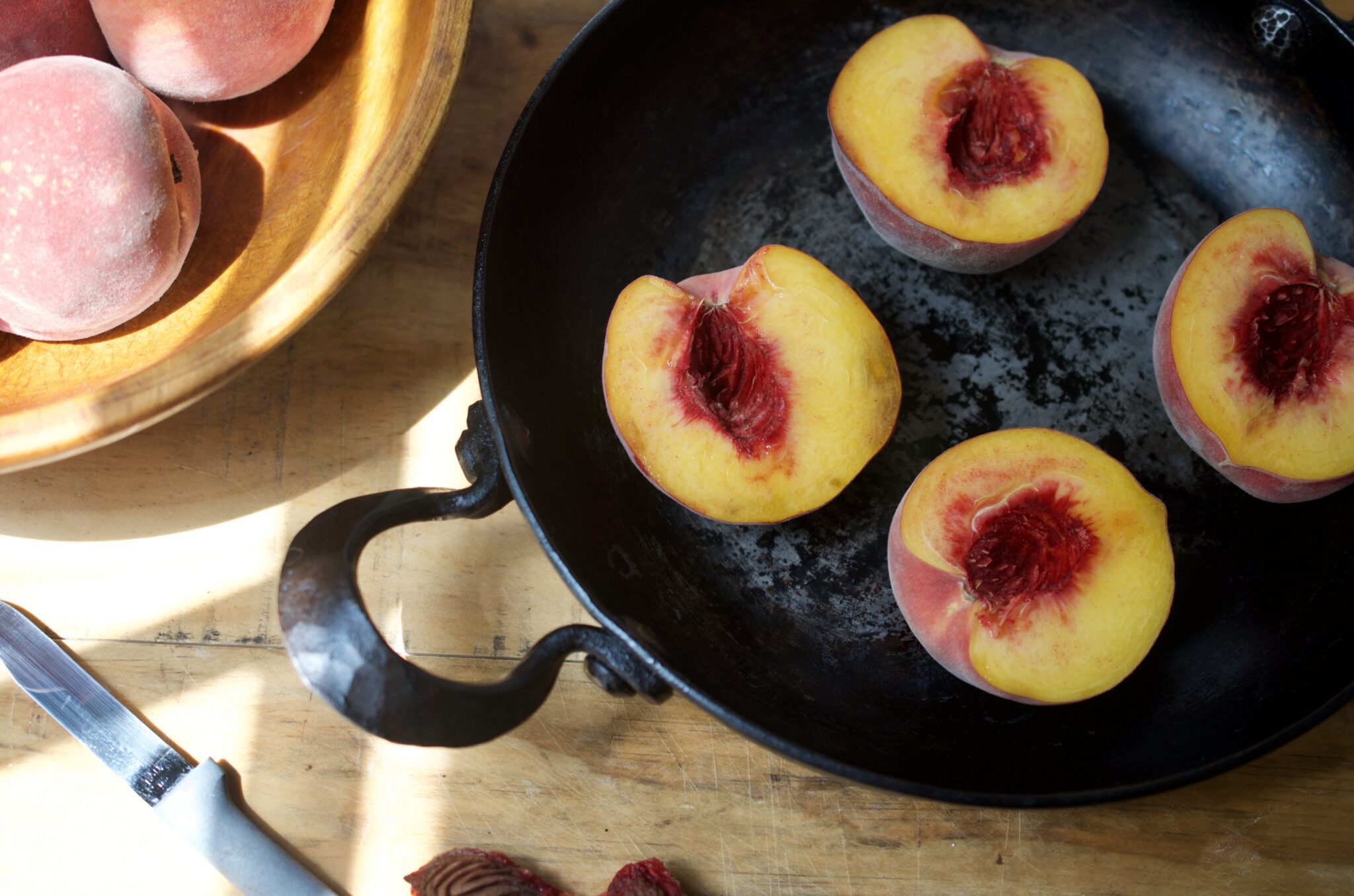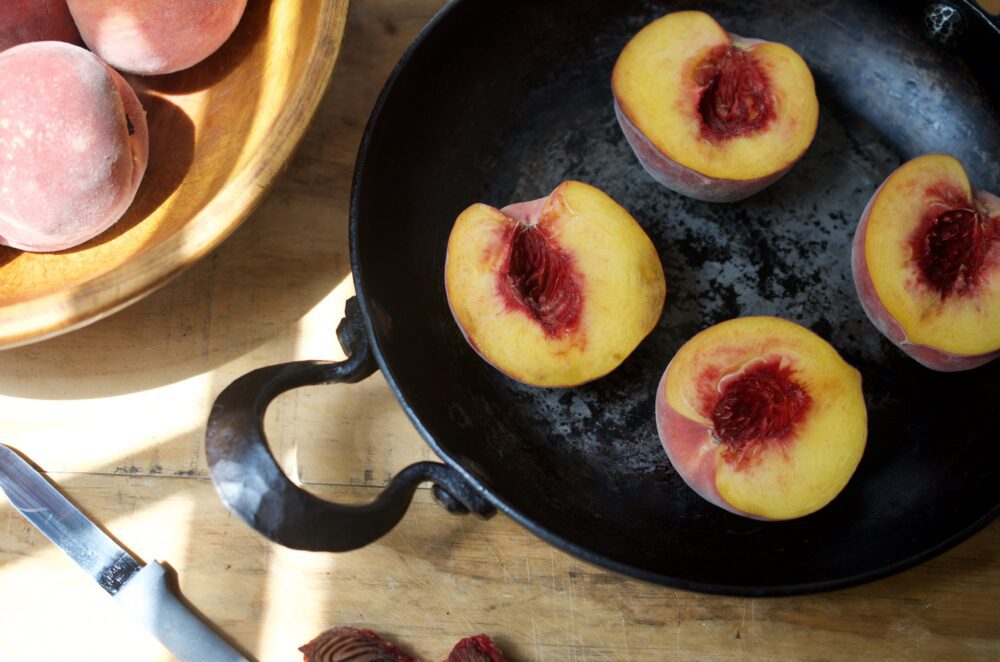 Small Bake
It's handy to have a new and easy recipe that can go be served warm, room temperature, or cold. These can be made more indulgent with ice cream or creme fraiche. Cobbler is one of my favorite recipes using peaches in the summer. It's usually rich and decadent, but sometimes worth the splurge. I've made lightened-up versions of cobbler, but often a cobbler recipe simply makes too much.
I loved when I saw this small bake on IG. It's scalable up or down. When a recipe is so simple, it's important the ingredients are of good quality. The peach becomes the pie as it cooks in its own juices. The paste is nut flour, fat, and sweetener. If you want to make it dairy-free, I suggest using a good quality oil with a light flavor. It's as simple as simple can be.
This recipe for baked peaches uses coconut sugar. I was able to get it at my local Publix. The non-traditional baking section has grown with leaps and bounds. Even though I don't require any special ingredients due to dietary concerns, I like exploring less familiar ingredients. And, coconut sugar can be swapped measure for measure with brown sugar. It's very savory, like an intense turbinado. The texture is slightly different, but if you do not have or do not want to order, you can use light or dark brown sugar.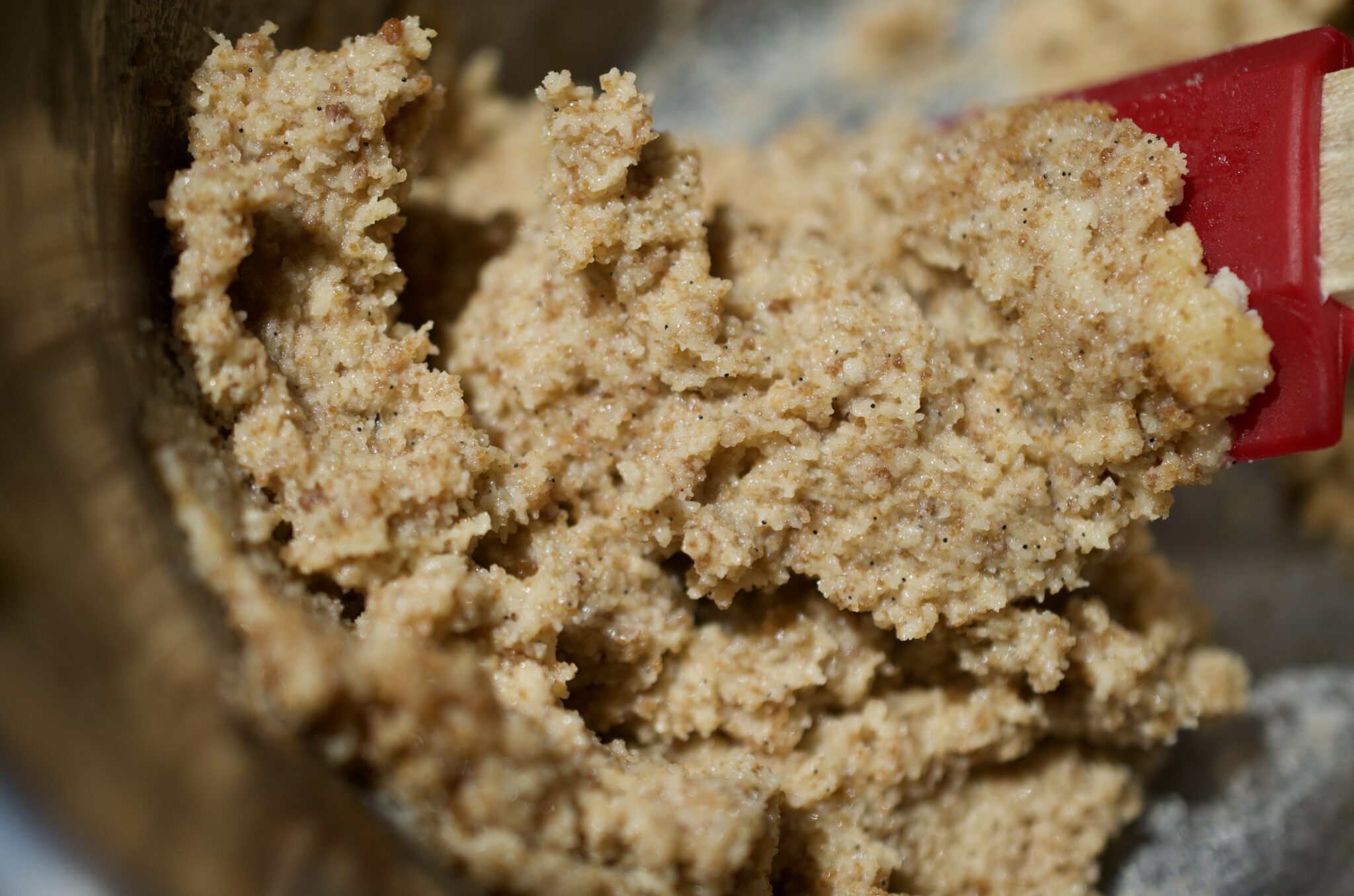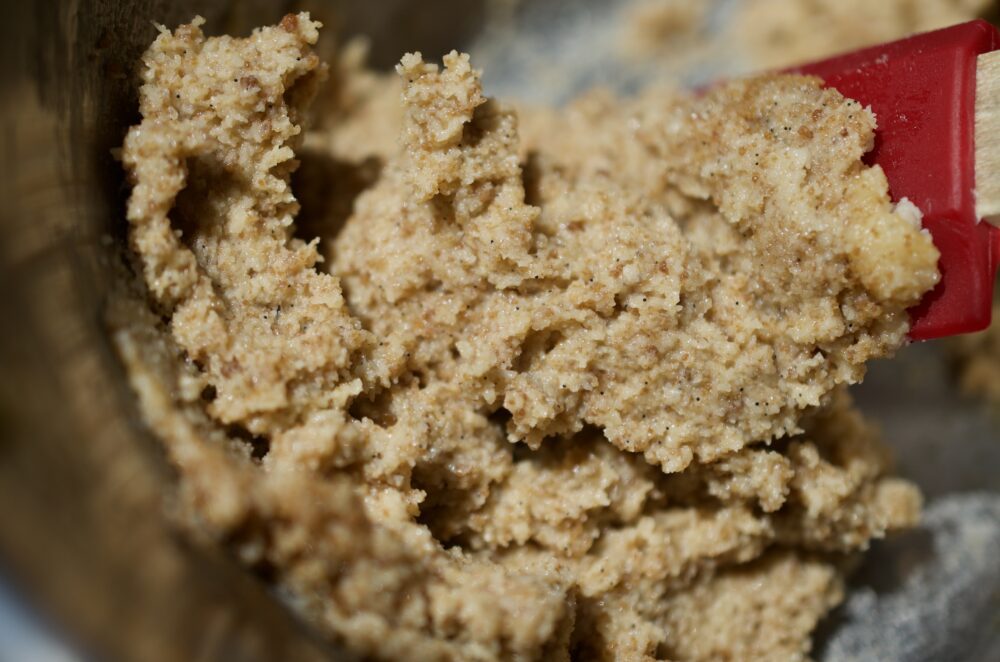 Point it Out
Happy to say that this simple, but flavorful dessert comes in at about 6 blue smart points per serving if you are following WW. That includes the skyr, honey, and candied ginger. One of the reasons this recipe is so successful is the built-in portion control with the small bake. I am a firm believer in having dessert and indulgent foods. I  make certain that my portion size is reasonable — and the recipe removes temptation.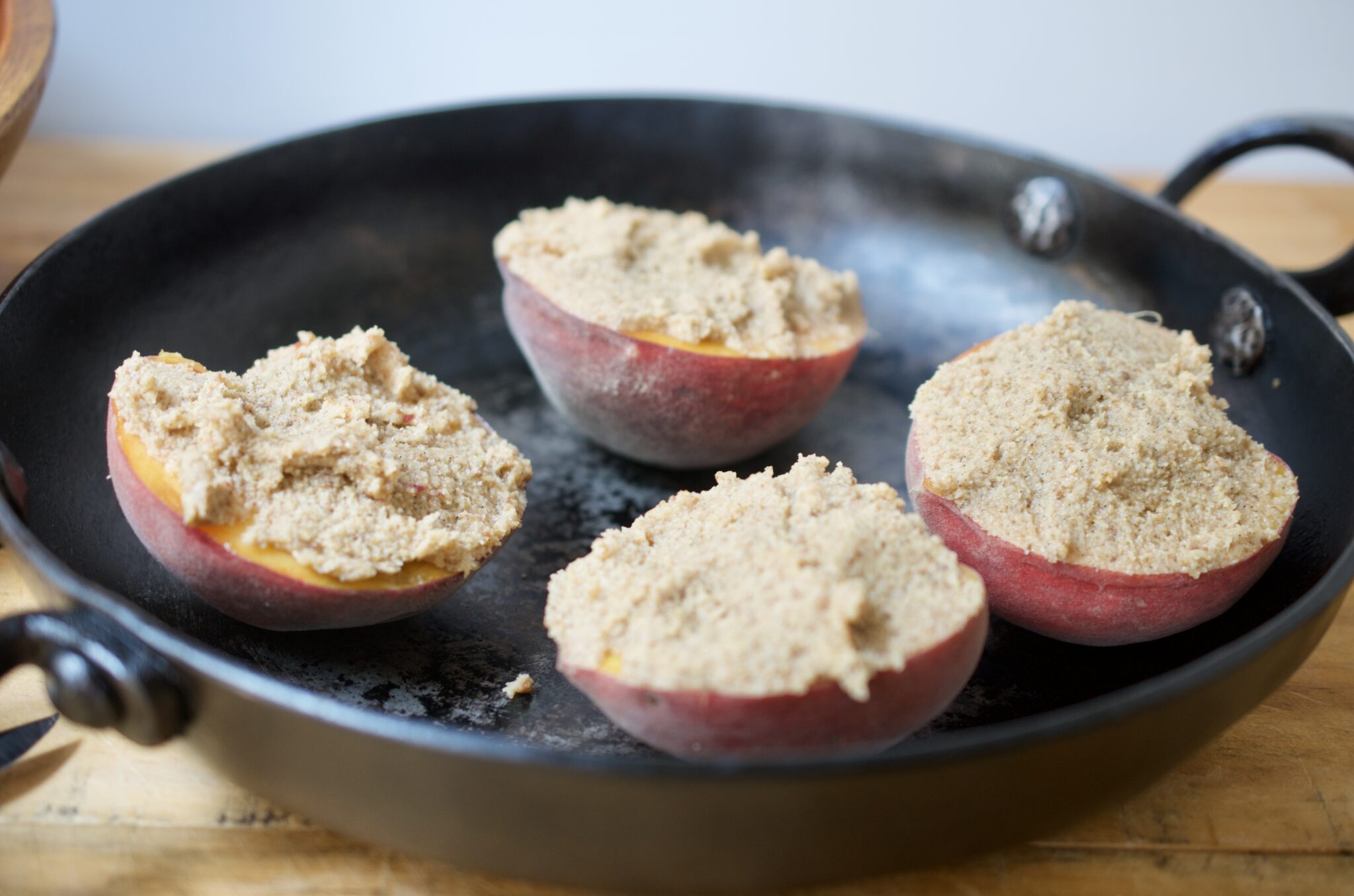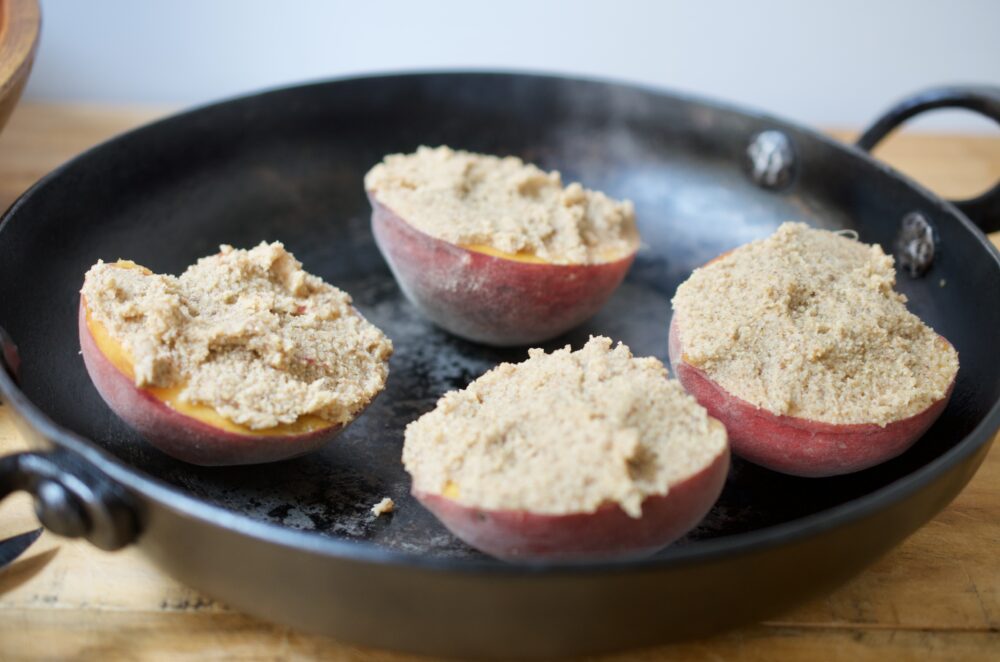 Food Network Kitchen
I'll definitely be making some peach jam with my bounty of peaches. Making preserves in the summer is a real joy for me. If you are nervous or scared, I promise you can do it. Peaches are a great place to start!
Check out my series on making jams and jellies, pickles, and preserves for the digital streaming platform Food Network Kitchen. (The recipes are online and accessible even without an app subscription.) Please also check out my articles on A Beginner's Guide to Canning on FoodNetwork.com and my Guide to Easy Canning on Food.com

In the News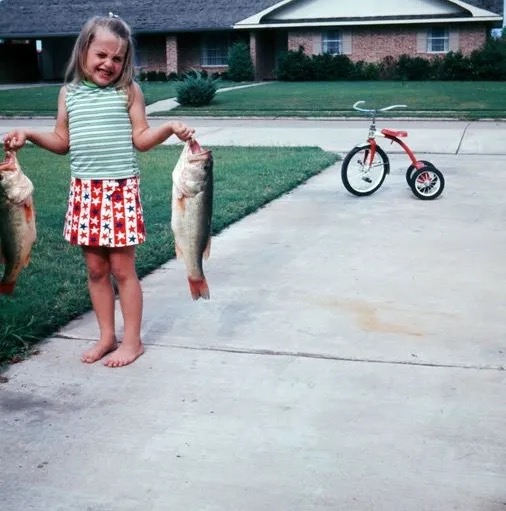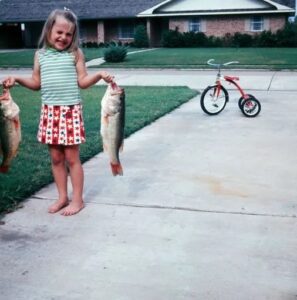 On a more serious note, I am tremendously honored to have an op-Ed in USA Today about illegal fishing and human rights abuses associated with it on behalf of the Monterey Bay Aquarium and Seafood Watch. I'm an advocate for bipartisan "Bait to Plate" legislation.
Did slave labor catch your catfish? It's a legitimate question. Did you know $2.4B of illegal seafood was imported to the U.S. in 2019? It is difficult for chefs and consumers to make informed choices if we do not know where the fish came from or whether it was harvested legally or sustainably. In some cases, we don't even know what species it is.
Thanks so much for reading. I hope to see you at Food Network Kitchen. If you try this recipe, please let me know! Leave a comment, rate it, and don't forget to tag a photo #virginiawillis on Instagram. 
Bon Appétit, Y'all
Virginia Willis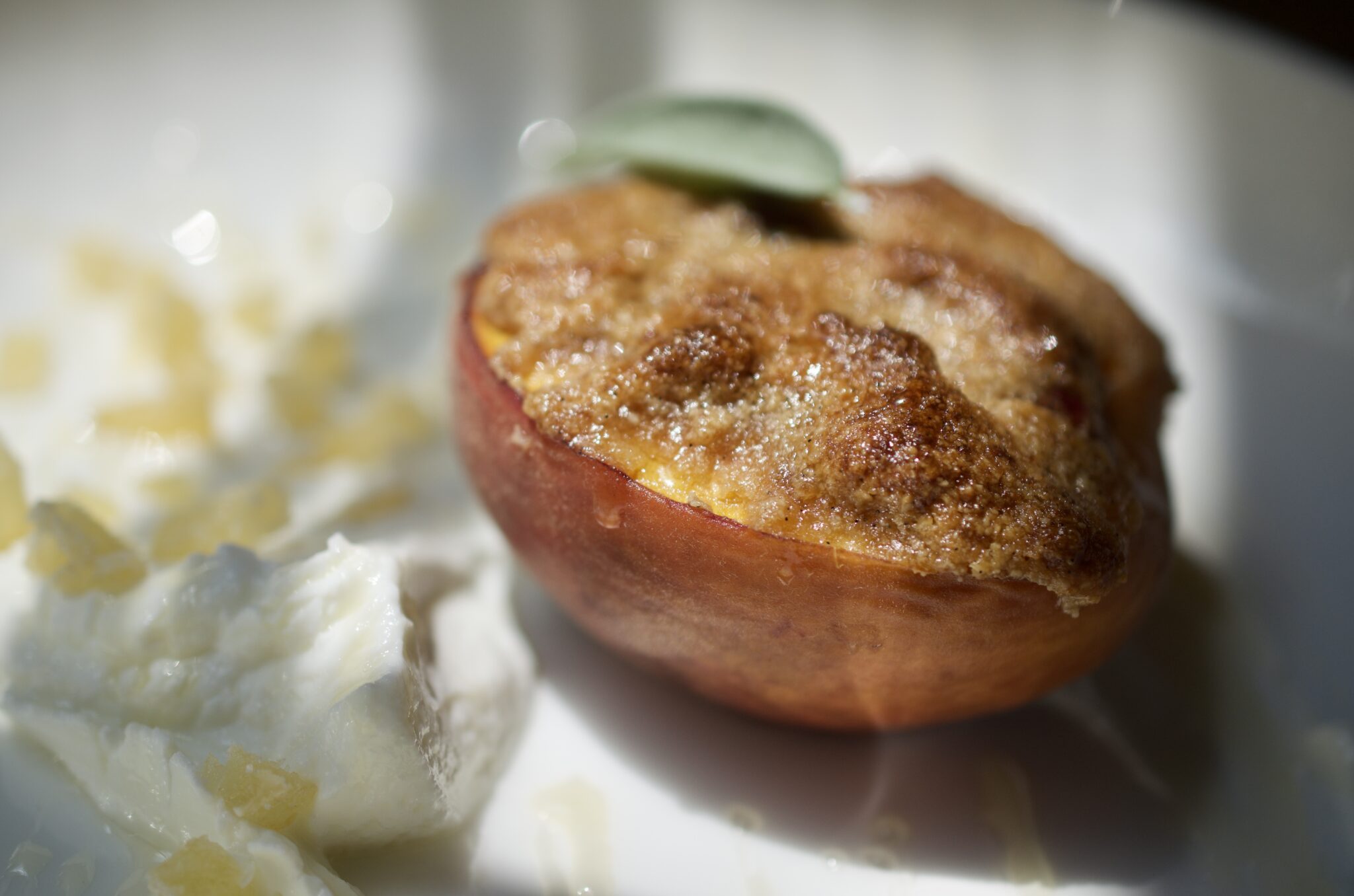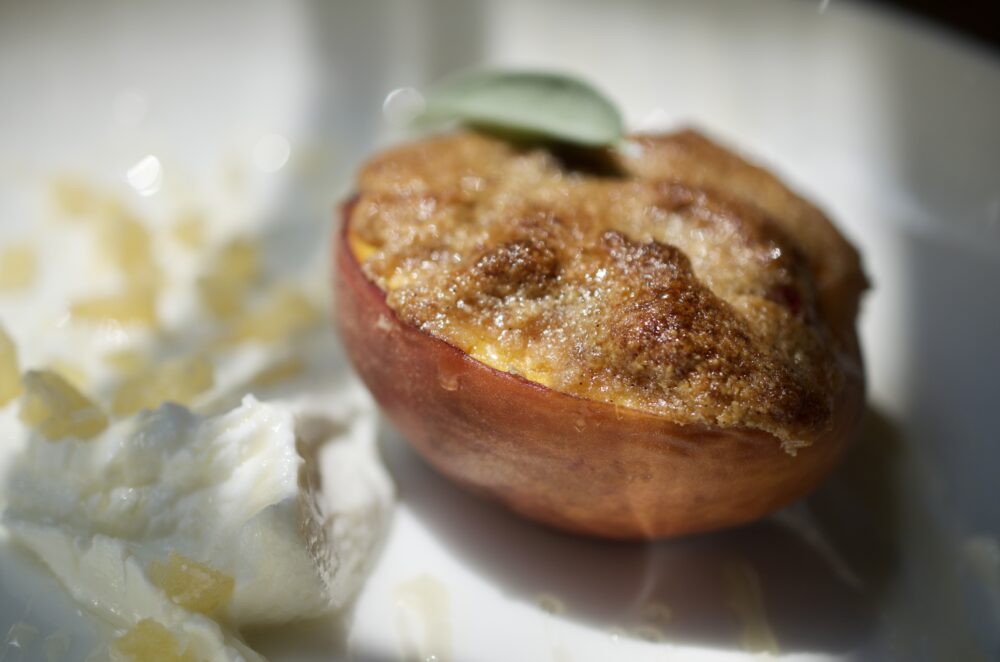 Almond Crusted Baked Peaches
A few staple pantry ingredients - including soy sauce - are combined in a buttery crumble topping for a baked peach. It's was easy as 1-2-3. Soy sauce shares molecular compounds and is a surprise pairing with stonefruit.
Ingredients
2

tablespoons

unsalted butter,

room temperature or 2 tablespoons mild oil such as sunflower

¼

cup

fine almond flour

2

tablespoons

coconut or brown sugar

½

vanilla bean,

split and scraped or 1 teaspoon pure vanilla extract

½

teaspoon

low sodium tamari or soy sauce

2

freestone peaches

Skyr or yogurt,

for serving

Candied Ginger,

for serving

Honey,

for serving

Sage leaves,

for garnish
Instructions
Heat the oven to 350°F. Combine the fat, flour, sugar, extract, and soy sauce. Stir until smooth. Halve the peaches and discard the stones. Divide the mixture between the peaches, about 2 tablespoons per peach. Spread it to evenly coat the peach. Place in an ovenproof casserole or skillet. Transfer to the oven and bake until the peach is tender to the point of a knife and the almond topping is golden brown, about 30 minutes. Meanwhile, garnish the plates with skyr, candied ginger, and honey. Rest the peaches on top and garnish with sage.
Heads up! I am not a doctor, RD, or health professional nor am I an official WW ambassador or representative. I am simply sharingwhat works for me. Thanks for reading!
If you are interested in hosting me for a speaking engagement, event, cooking class, or a book signing, let me know! Send an email to jona@virginiawillis.com and we'll be back in touch as soon as possible.
Please note that this post may contain affiliate links and I may make a commission if you use my affiliate link to buy the product.
Please be nice. Unauthorized use and/or duplication is prohibited. All photos and content are copyright protected. If you wish to republish this recipe, please link back to this recipe on virginiawillis.com. Thanks so much!
Let's connect on Facebook, Twitter, Instagram, and Pinterest!

Please note that this post may contain affiliate links.