Please note that this post may contain affiliate links.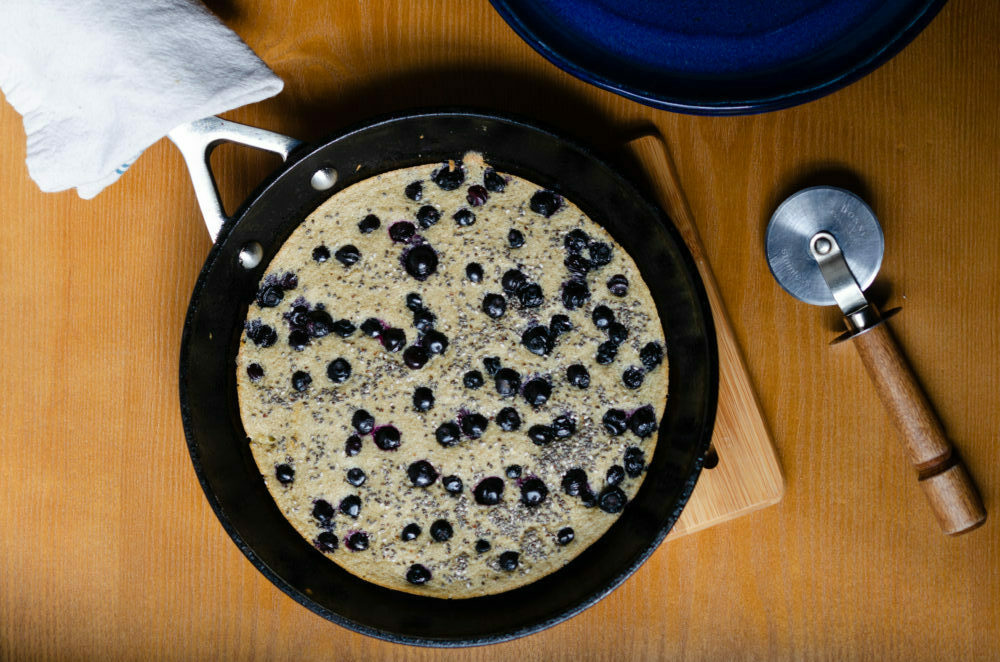 In comparison to a bowl of spartan fruit and yogurt or a kid-friendly bowl of cereal, pancakes are usually a pretty decadent breakfast. Rich with butter and doused with maple syrup, they can be an indulgent start to the day. They can also be time-consuming between making the batter, ladling out the individual cakes, and babysitting them in the skillet. Pancakes are an endeavor.
What about a good-and-good-for-you pancake made with whole grains that don't take all morning to make. What about a weekday pancake? Wait, what? My Baked Oat Pancake is a great fiber-rich, healthy start to any day! It's gluten-free, sugar-free, and made the food processor or blender. Best yet? It is absolutely delicious! Read on!

Pandemic and Banana Bread
Remember last year when everyone was making Banana Bread? Forever the pandemic will be linked foodwise to Banana Bread, Sourdough starters, and No-Knead Skillet Focaccia. I made banana bread a few times, but was quickly intrigued about using overripe bananas as a form of sugar replacement. One of the favorite recipes I developed last year were these GF Pear Almond Banana Cakes, (seen above) absolutely delicious with tea or coffee. (I will go on record by saying that an egg blended with a banana is not a pancake. Although it lit the internet on fire, I am not a fan and thought the combination tasted like sweet scrambled eggs.)
Eating after a Workout
Recently, I accidentally left a bunch of bananas in a grocery bag so was immediately faced with a batch of spotty bananas. Yikes. I can't stand food waste and so I decided I needed a recipe development project! I wanted the occasional pancake breakfast, but not one that would take too much time or be too high in fat, calories, carbs, and WW smartpoints.
In the morning, before I walk I generally have a coffee and a piece of fruit in the car. I save my bigger meal for after exercise. The right foods before and after exercise can help boost your results. Like a car uses gas, your body burns carbohydrates for fuel, giving you the energy to power through that walk or fitness class. Eating after a workout is important. When you're finished, refueling with a combination of protein and carbs can help you rebuild muscle.
All that is great, but my drive is always TASTE. It has to taste good. I would rather eat a full-fat, gluten-packed buttery pancake than something that tastes like deprivation and sadness. I didn't want to simply create a lighter, makeover pancake recipe, I wanted to re-engineer it.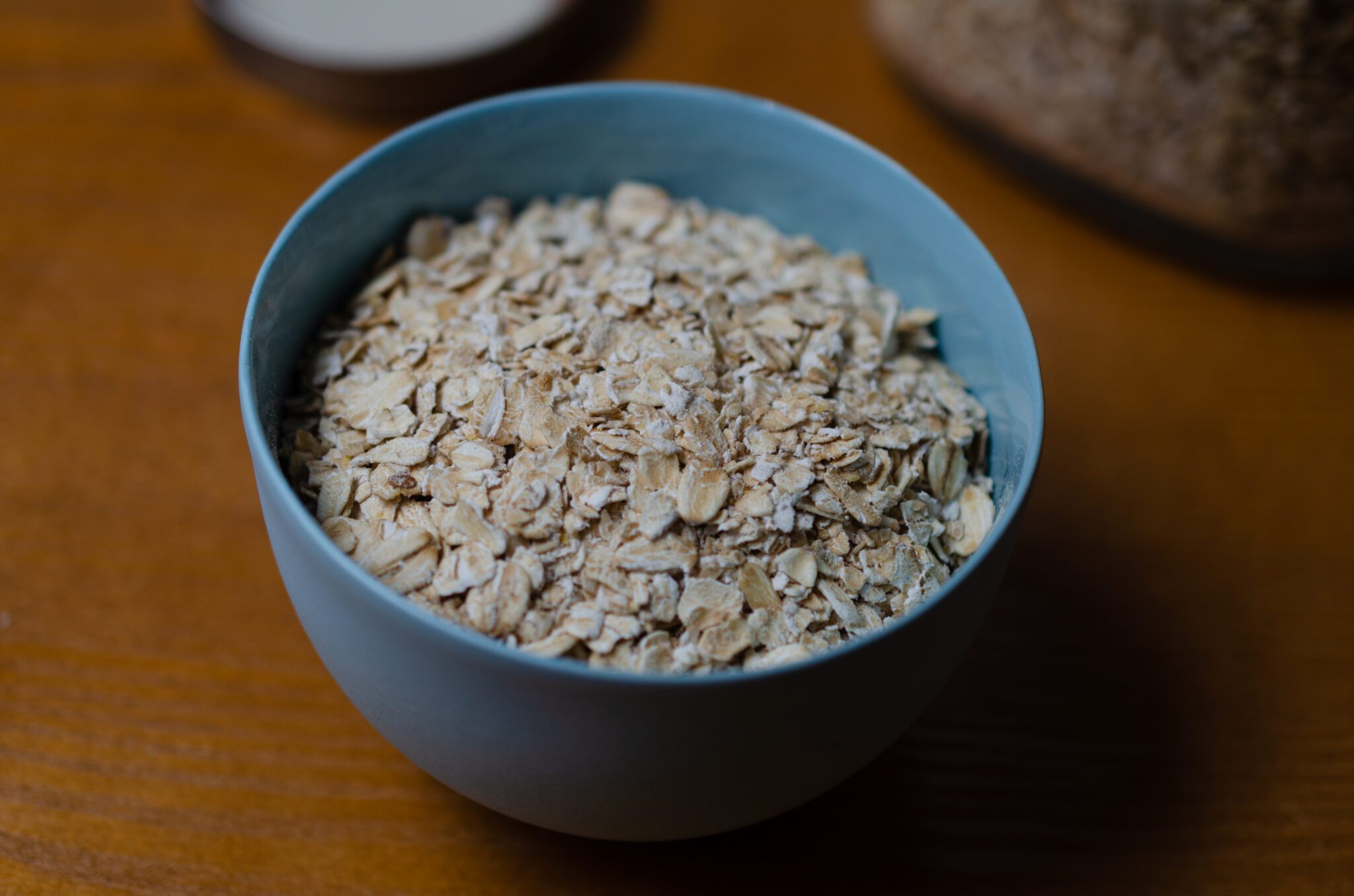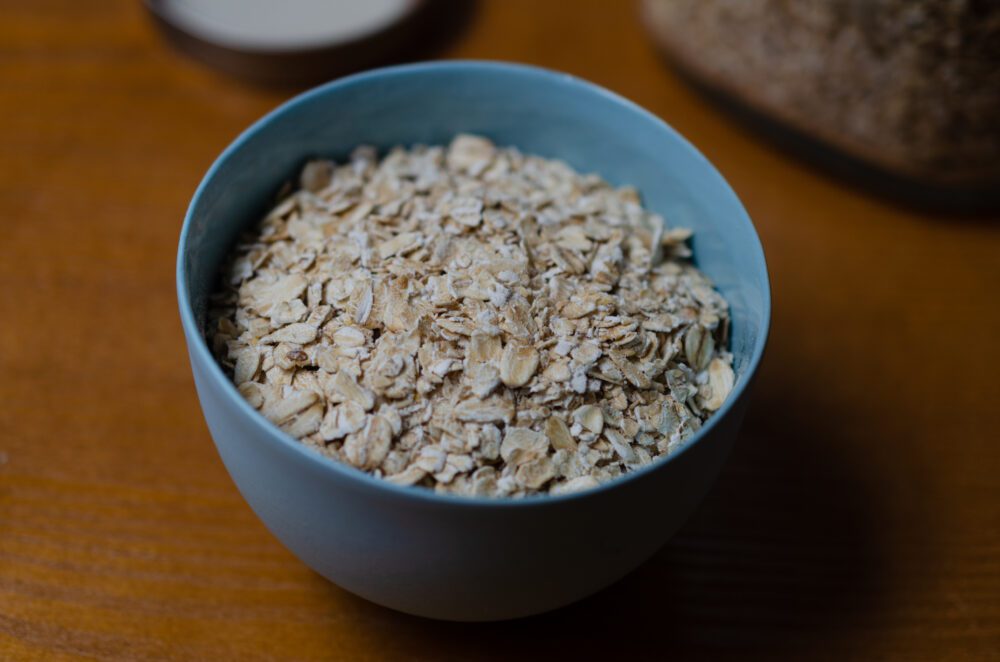 Are Oats Good for Lowering Cholesterol?
I decided I wanted an oat-based pancake instead using all-purpose wheat flour, gluten-free flour, or nut flour. Oats are one of the top foods to improve your cholesterol. Oatmeal contains soluble fiber, which reduces your low-density lipoprotein (LDL) cholesterol, the "bad" cholesterol.  Soluble fiber can reduce the absorption of cholesterol into your bloodstream. In the winter months, I eat oatmeal and Cheerios are a go-to, as well. A Baked Oat Pancake would help mix things up for menu options.
However, oats do not contain gluten. Gluten is a protein found in wheat, barley, rye, and triticale (a cross between wheat and rye). It is the protein that is the "glue" for wheat-based dough.  The result is that this gluten-free Baked Oat Pancake is delicate and tender. It also means that needs a binder in the form of an egg.  In other words, it needs some "glue." There's no need for sugar as the overripe banana provides the sweetness. The three ingredients are whizzed together and poured into a skillet. (The addition of the oats makes all the difference in flavor and texture and leaves not even a hint of sweet scrambled eggs flavor.)
That's it! A smidgen of salt and baking soda are added for lift. The chia is more of a healthy garnish, a means to amp up the nutrition and give it some crunch, not as a structural part of the recipe. Baking fruit into the oat banana pancake makes it more filling and higher in fiber. It also gives the pancake natural sweetness. Berries melt into saucy balloons ready to burst with fruit juices. Firmer fruits like thinly sliced apples or pears provide warm, toothsome texture. It's fantastic.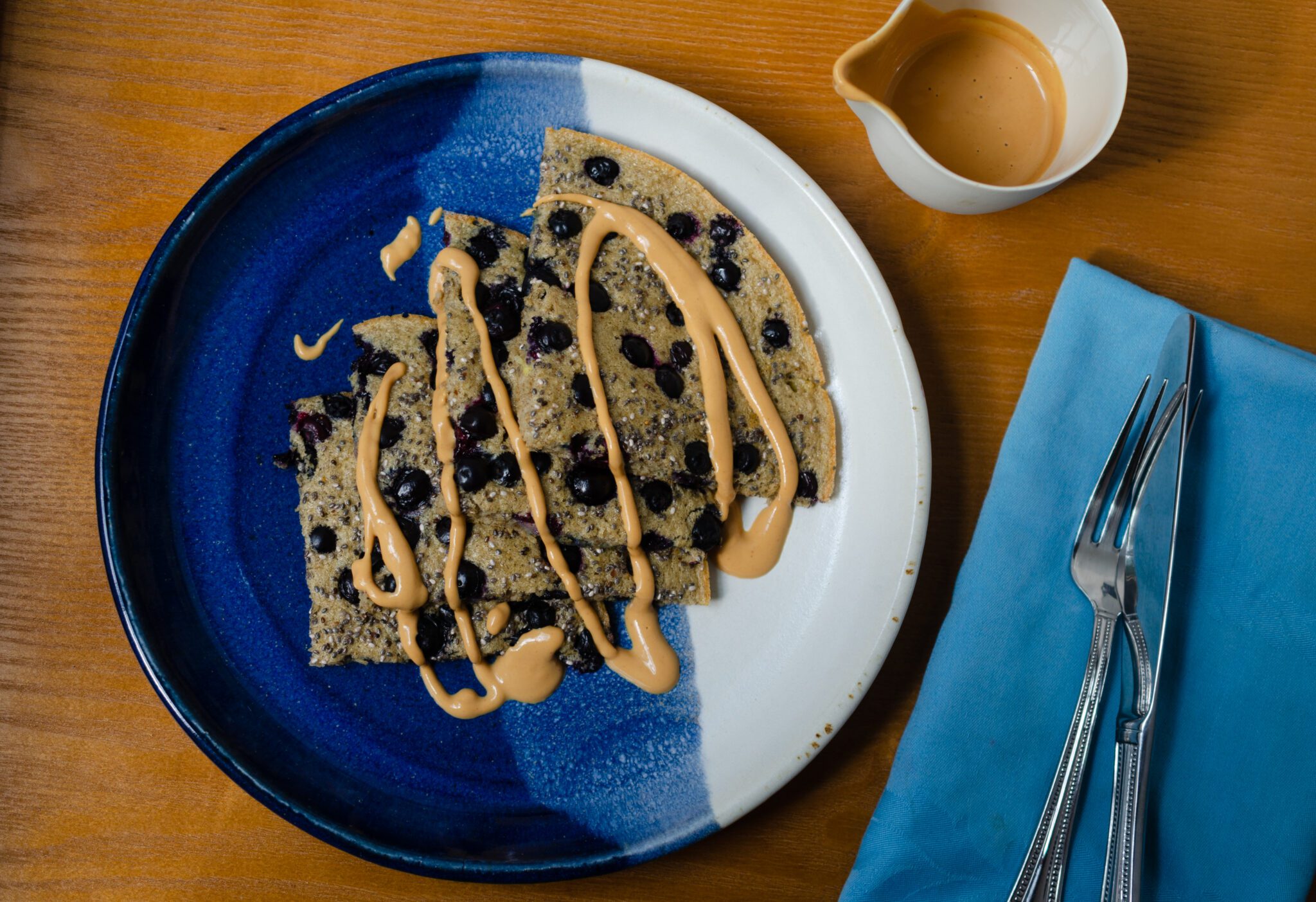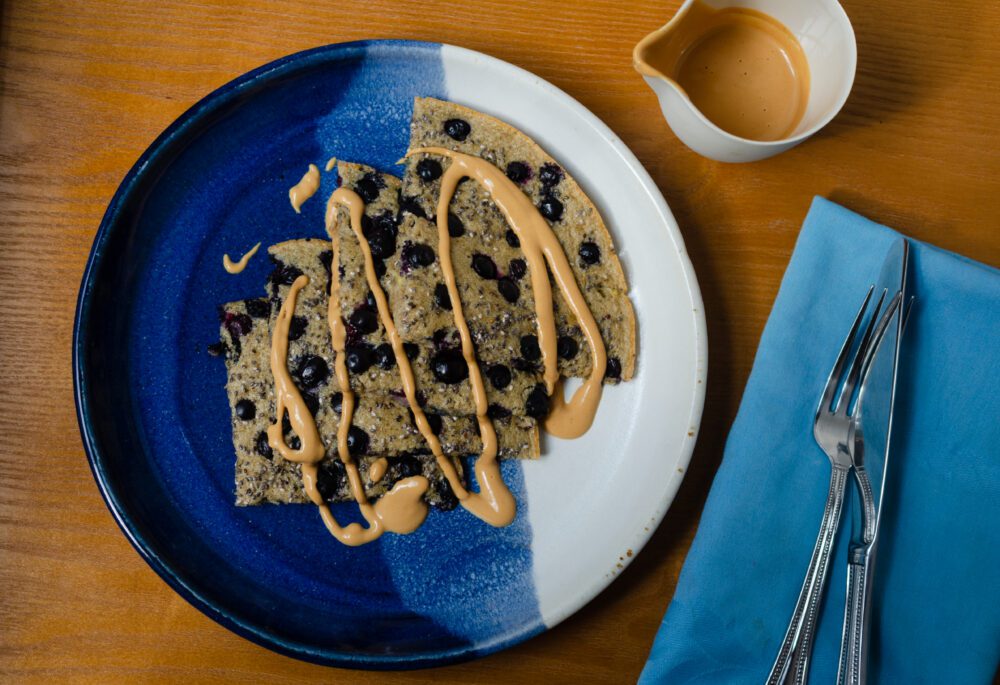 Flipping Tired
At the beginning of testing, I was making pancakes and flipping them. Between the tender dough and the high sugar content (due to the banana) causing them to brown too quickly, it was far more trouble than a quick breakfast needs to be. Baking it was the answer! Wow. What a time saver! Another great reason for baking is that everything is done at once, you don't need to serve pancakes in shifts or worry about keeping the first batch warm while you griddle the rest.
Admittedly, this recipe is not great for a crowd. It makes one 8-inch skillet to serve 1-2 people. As you can see in the photos it's the equivalent of 4 smallish pancakes. It could also easily be doubled and baked in a larger skillet to serve 2-4. You could also use multiple skillets. The key is having the batter be about 1/4-inch thick.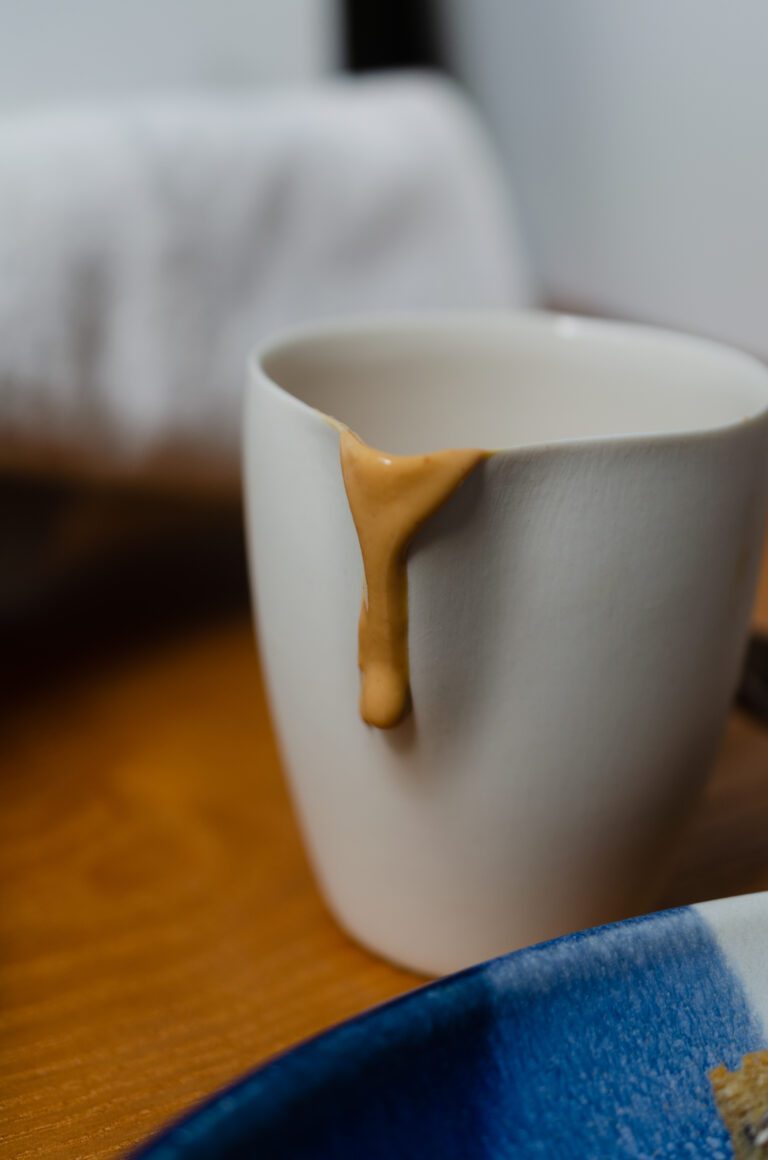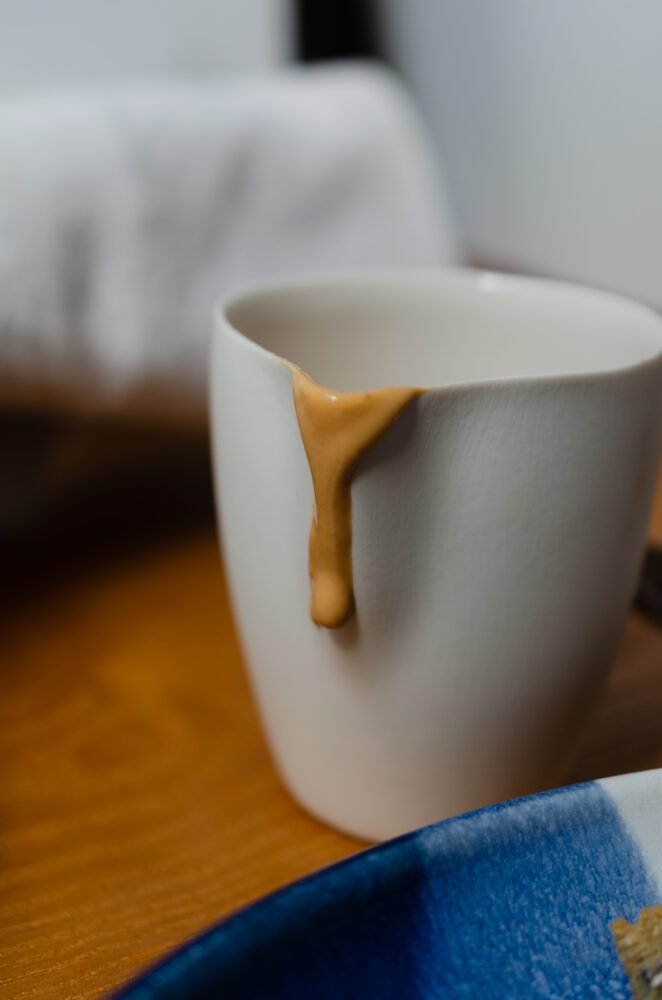 Point it Out
If you follow WW, a whole pancake is only 3 blue smart points, plus the points for the topping. It's great of course, served with real maple syrup ( I love Zoar Tapatree!) or Peanut Sauce, protein-rich peanut powder thinned out with water until it's the right consistency. That's a real success! Yay! This Baked Oat Pancake is a welcome addition to the breakfast rotation. It's super important to keep meals mixed up so you don't get bored. Boredom often leads to less healthy choices.
View this post on Instagram
Cookbooks with Virginia
A quick note to let you know about Cookbooks with Virginia. SO many great guests this fall including Dorie Greenspan, Rose Levy Berenbaum, Cassy Joy Garcia, Ali Rosen, Carrie Bailey Morey, Rebecca Lang, Bobby Shealy, Kevin Mitchell, David Shields, Kevin Belton, Elizabeth Heiskell, Belinda Smith Sullivan, Anne Solenne Hatt, Francisco Migoyo, and Erin Jeanne McDowell.
It airs (with a few date exceptions) every Friday at 11:30 am EST on my Facebook page and YouTube Channel. We also have a weekly giveaway on Instagram. It's a ton of fun! You get to ask the authors questions and enter to win a free book! For more information, please visit my website.
Thanks for reading! Please let me know what you think if you give my Baked Oat Pancake a try!
Bon Appétit, Y'all
Virginia Willis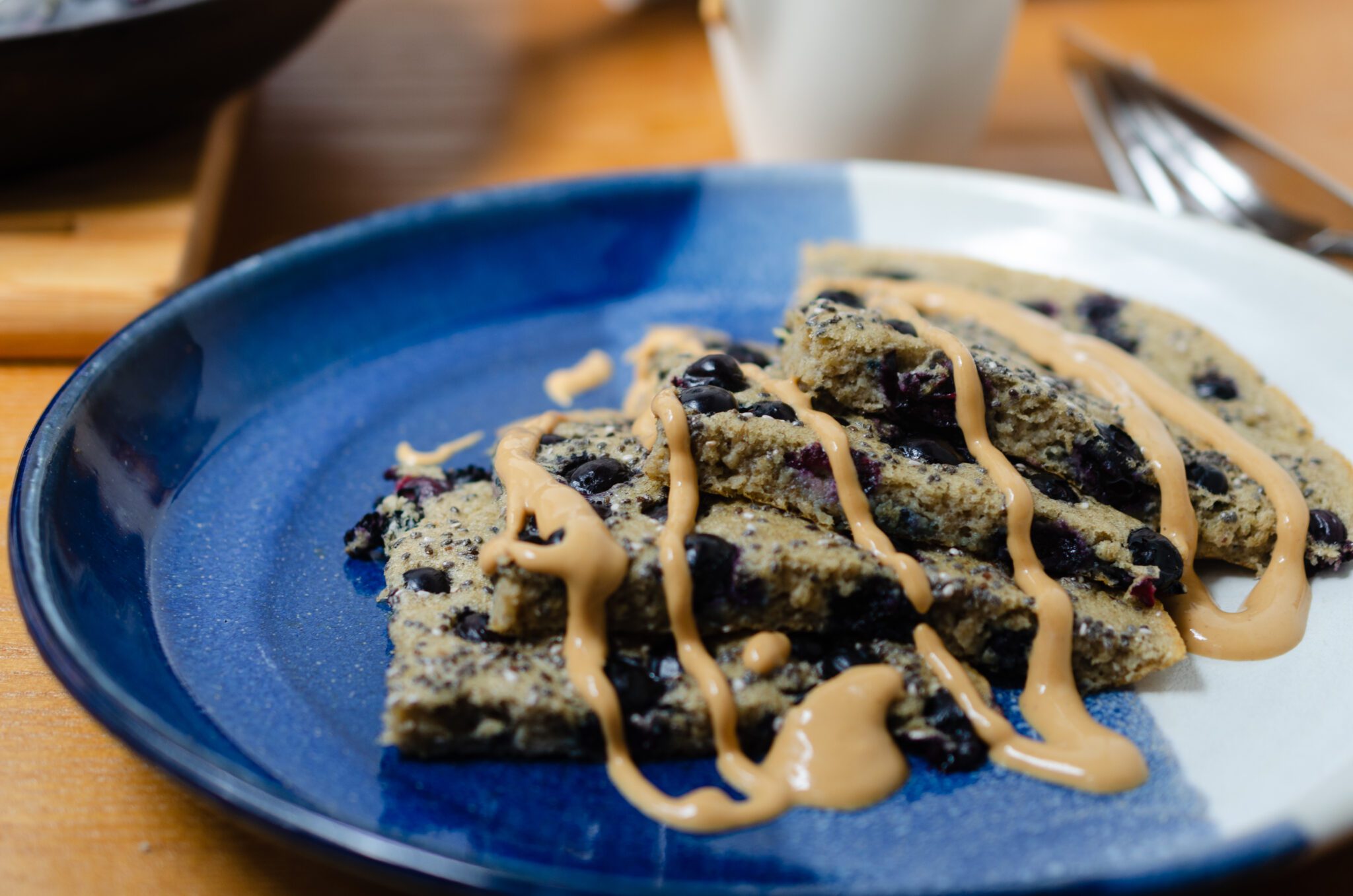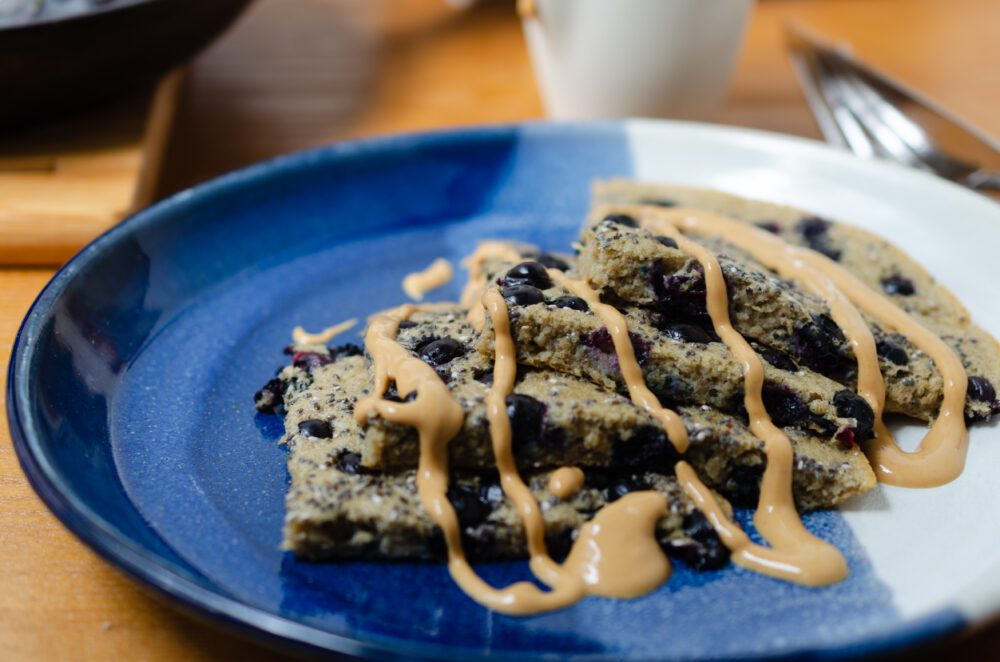 Baked Oat Pancake
My Baked Oat Pancake is a great fiber-rich, healthy start to any day! It's gluten-free, sugar-free, and made the food processor or blender. Best yet? It is absolutely delicious! 
Ingredients
1/4

cup

rolled oats

1

large egg

1

overripe banana

1/8

teaspoon

salt

1/8

teaspoon

baking soda

Nonstick spray

1

teaspoon

chia seeds

1

cup

berries or thinly sliced apple or pears

Peanut Sauce

for serving
Instructions
Heat the oven to 350F. Combine the oats, egg, banana, salt, and baking soda in the bowl of a food processor or the jar of a blender. Puree until smooth. Mist an 8-inch nonstick skillet with nonstick cooking spray. Pour batter in and tilt the skillet to evenly disperse the batter. Top with chia seeds and fruit. Transfer to the oven and bake until brown and set, about 30 minutes. Serve immediately with Peanut Sauce.
If you try this recipe, please let me know! Please leave a comment, rate it, and don't forget to tag a photo #virginiawillis on Instagram.
If you are interested in hosting me for a speaking engagement, event, cooking class, or a book signing, let me know! Send an email to jona@virginiawillis.com and we'll be back in touch as soon as possible.
Please be nice. Unauthorized use and/or duplication is prohibited. All photos and content are copyright protected. If you wish to republish this recipe, please link back to this recipe on virginiawillis.com. Thanks so much!
Let's connect on Facebook, Twitter, Instagram, and Pinterest!

The fine print 😉 
Please note that this post may contain affiliate links and I may make a commission if you use my affiliate link to buy the product.
Heads up! I am not a doctor, RD, or health professional nor am I an official WW ambassador or representative. I am simply sharing what works for me. Thanks for reading!
Please note that this post may contain affiliate links.