Please note that this post may contain affiliate links.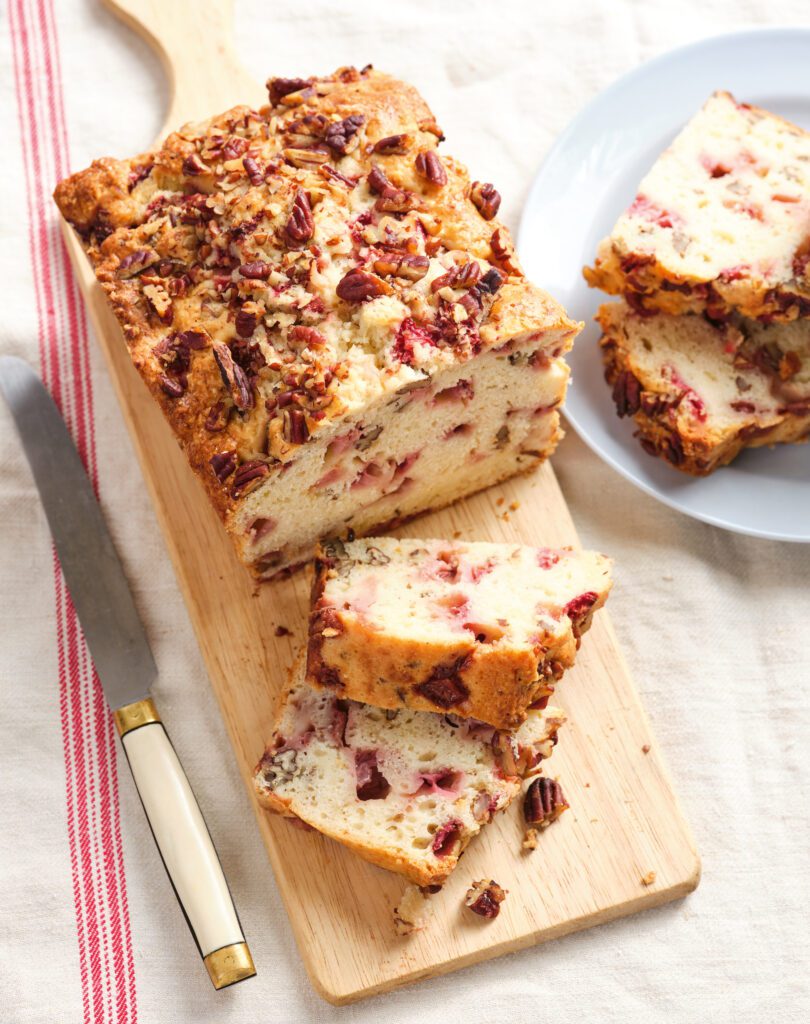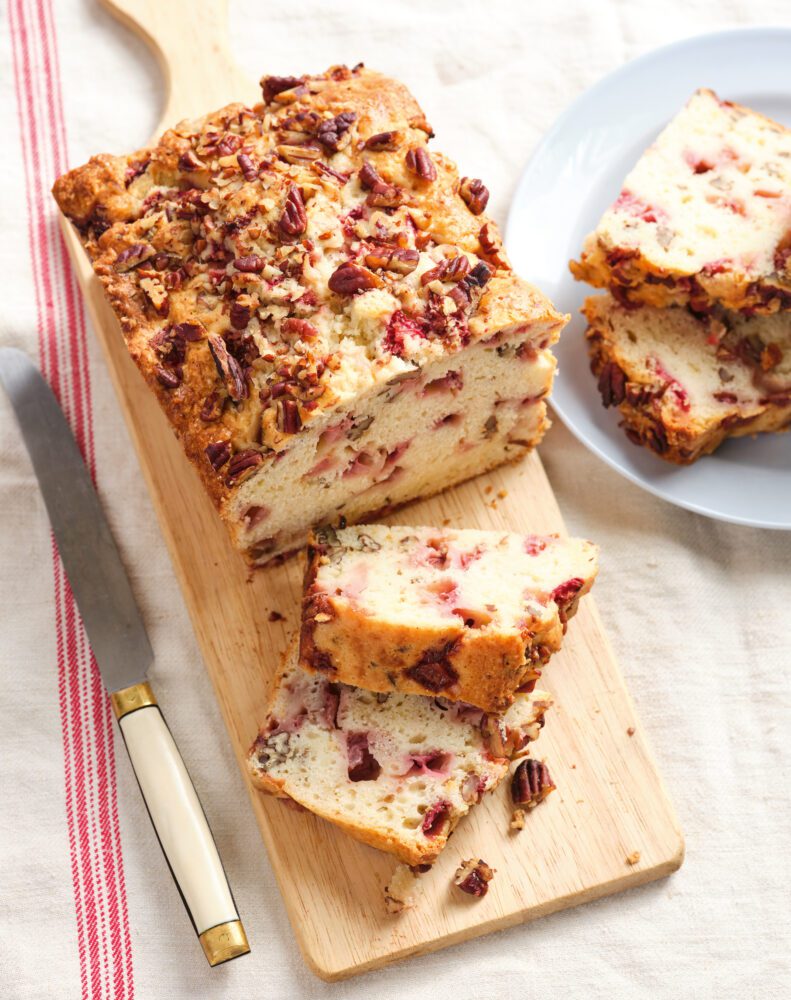 Berry Love! Berries are bursting out of this buttery bread! Doesn't that look amazing? There's something very comforting about a quick bread. Maybe it's the reliability of guaranteed satisfaction. You can enjoy a slice for breakfast, a nibble with a cup of tea in the afternoon, or enjoy it as dessert. This recipe Strawberry Bread with Pecans has a few tricks up its sleeve to make it even better! Read on to learn more about berries  — AND a ton more great berry recipes.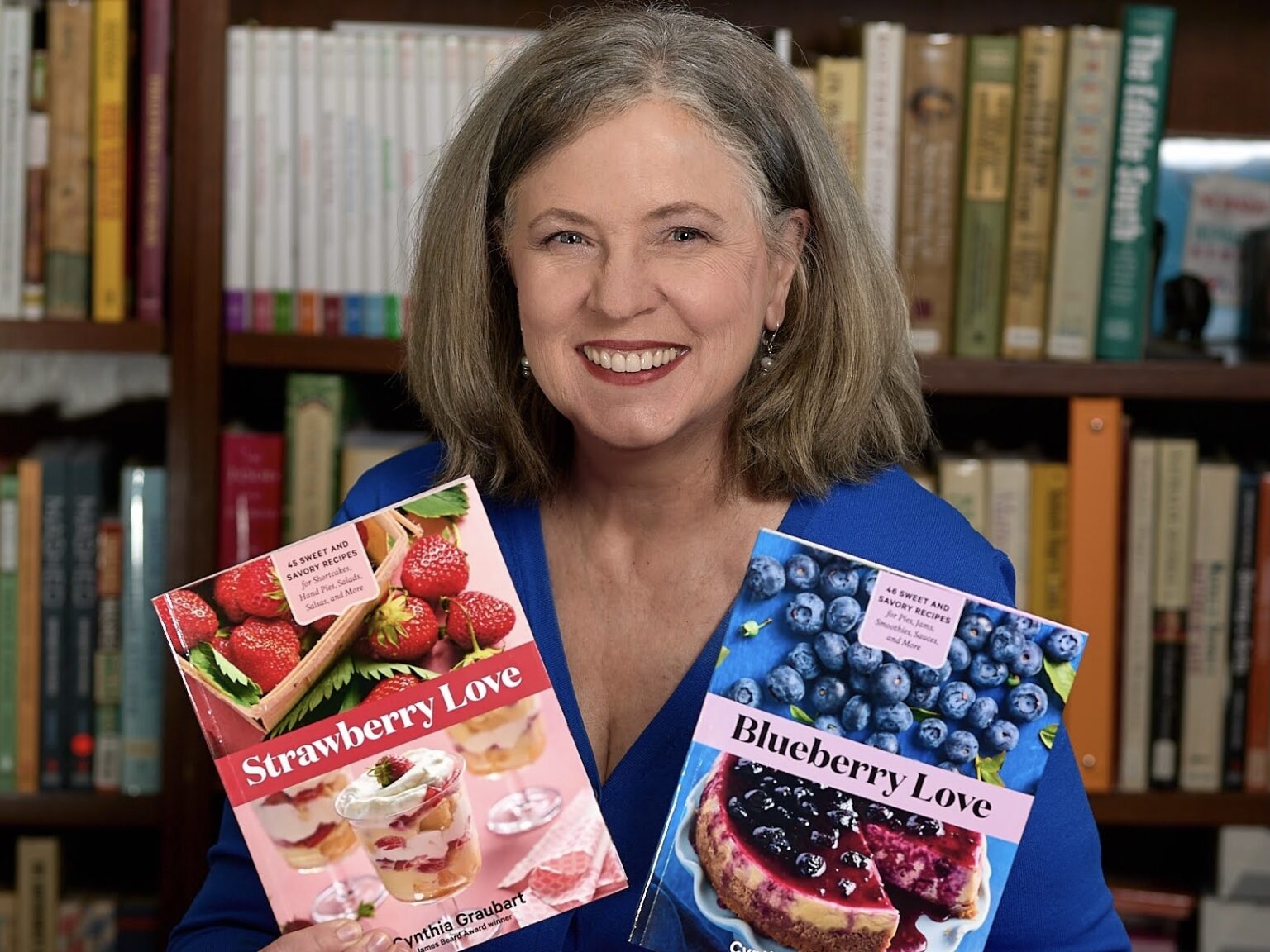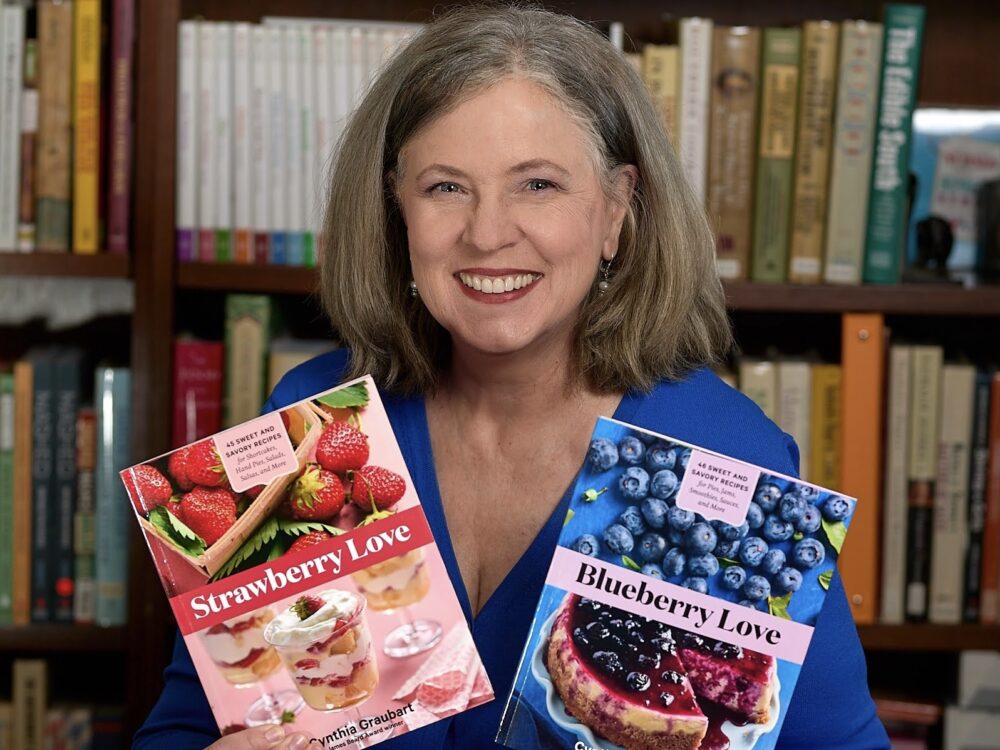 Berry, Berry Good
Summer is here! We're past the solstice and the temperatures are rising. Farmers markets are packed and gardens are starting to produce. Undoubtedly, summer food has its own vibe — bright, vibrant, and simple.
Berries are a key part of an easy-breezy summer food scene. James Beard award-winning cookbook author (and dear friend!) Cynthia Graubart has two new books packed with recipes that you need to have as part of your summer cooking repertoire: Blueberry Love and Strawberry Love, both packed with sweet and savory recipes for pies, jams, smoothies, sauces, shortcakes, salsas, salads, and more.
I am thrilled to share with you her recipe from Strawberry Love for Strawberry Bread with Pecans. I hope you enjoy this indulgent and buttery deliciousness! Cynthia and I both agree that blueberries, cherries, and many other summer fruits can be swapped out for the strawberries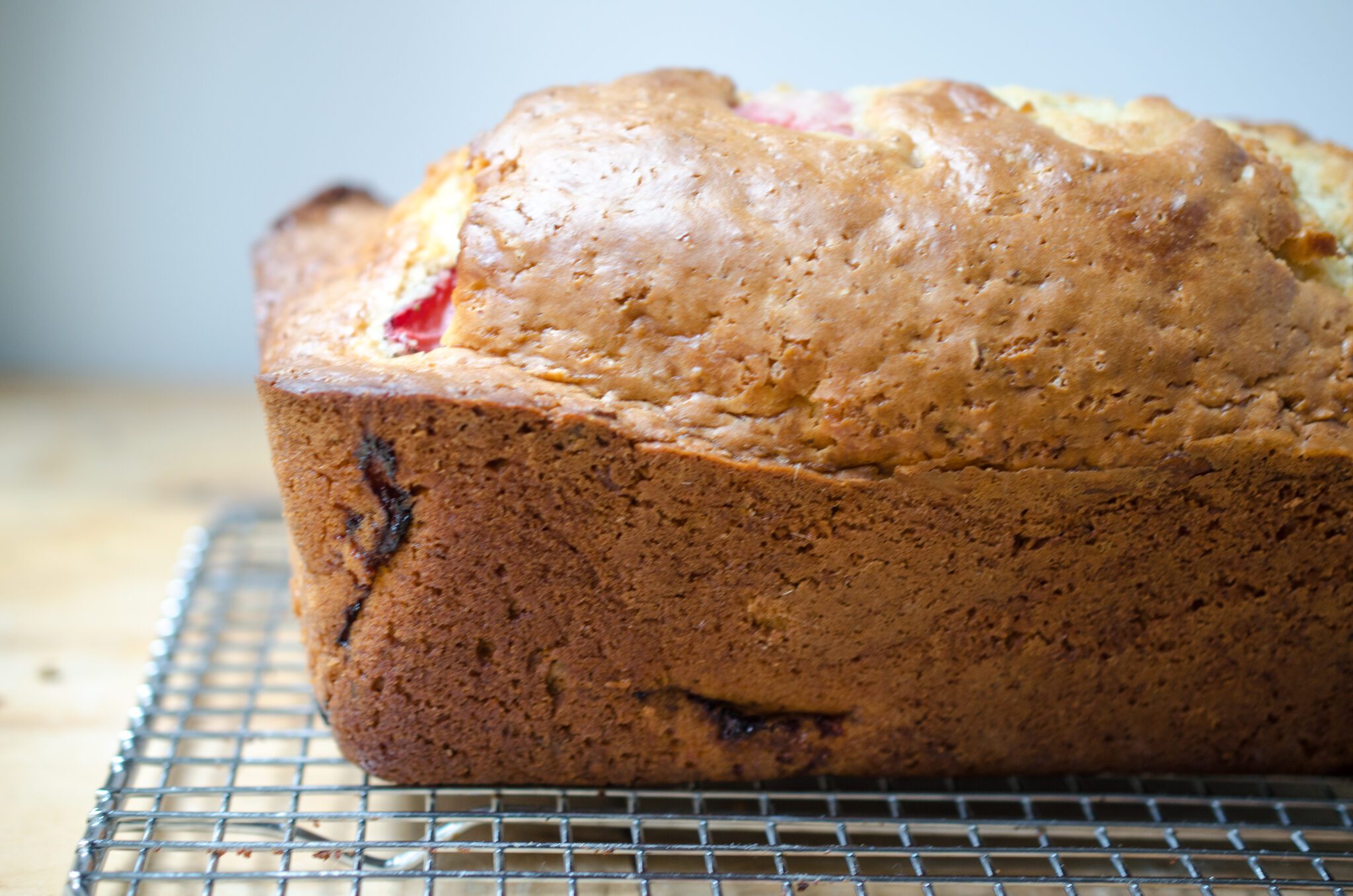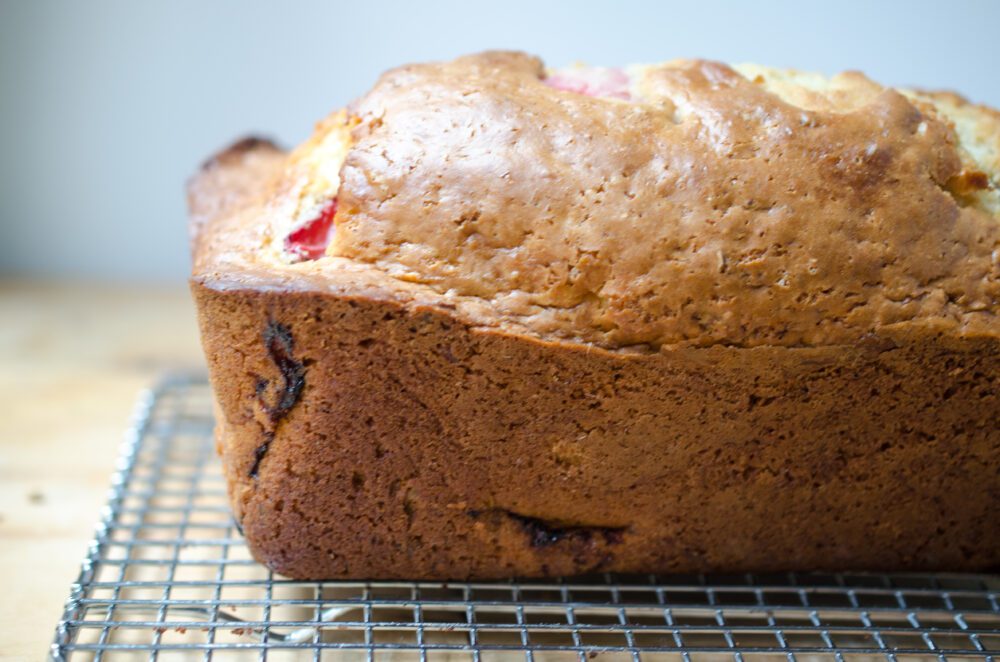 What is a Quick Bread?
This bread is a quick bread. A quick bread made with a leavening agent such as baking powder or baking soda, or both instead of yeast that allows for immediate baking. No proofing or rising is required and the bread can go immediately into the oven.  (Other examples of quick bread include biscuits, muffins, and this Golden Fruit and Nut Cake.)
You are going to love these books! Look to buy signed copies of Blueberry Love and Strawberry Love at CynthiaGraubart.com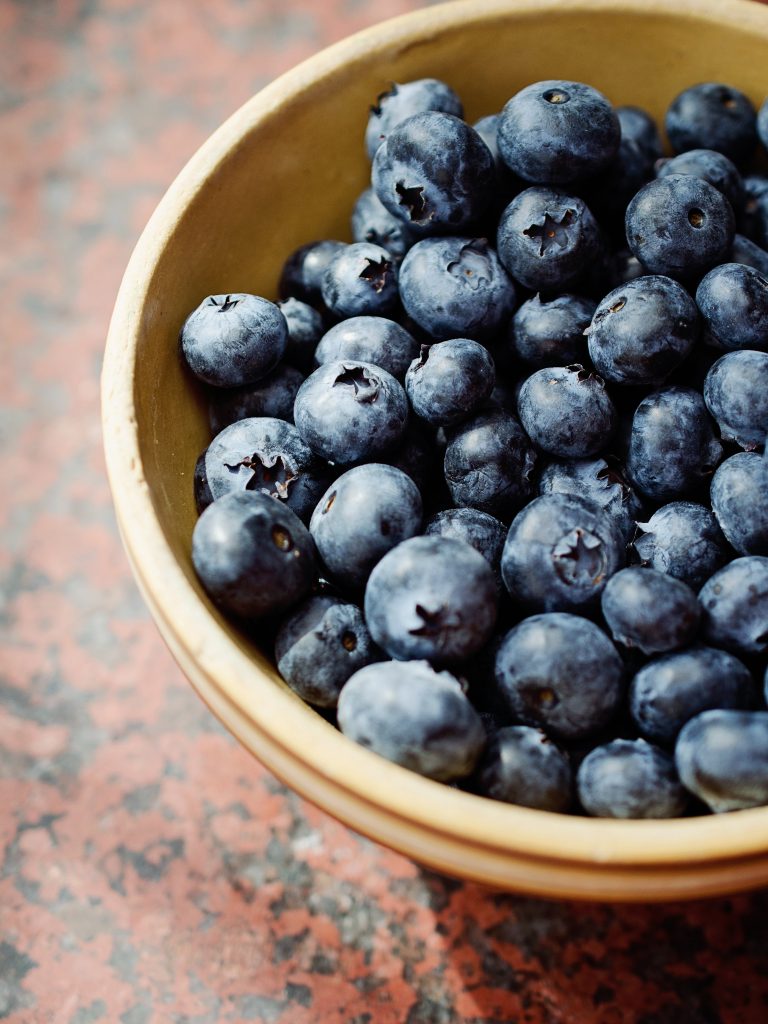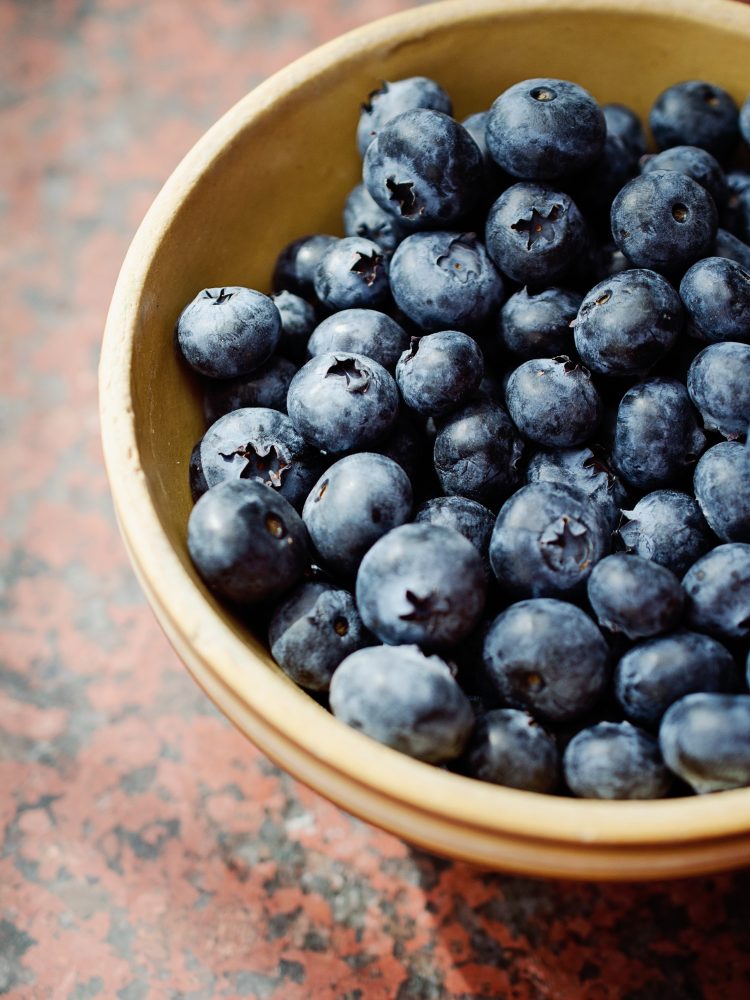 Helpful Hints for Stress Eating
I stress eat. Well, hell, I just love to eat. I eat when I am happy, I eat when I am sad, I eat when I am mad. I do also recognize that when I get anxious I want to eat. The first step is noticing it. And, I've decided to just go with it. How I handle it has changed. Instead of reaching for something less healthy,  I eat fruit.
"But there's so much sugar," you say.
Well, yes, but eating fruit with vitamins, minerals, and fiber is a heck of a lot better than most stress-eating foods.
Eating berries is a tactile experience and that's satisfying in a very important way. I am occupying my mouth and hands.  Also, I can only eat a few berries at a time so it's a somewhat slow process. It's all part of how I handle and manage the urge.
I also utilize berries for "mindless eating." You know what I mean – when you want to graze. I will put a bowl of blueberries near my desk so that if I simply want to graze or nibble, I am noshing on berries – not chips or some other salty snack. Sure, I could do it with carrot or celery sticks, but vegetables feel far too virtuous! The natural sweetness of the berries tricks my mind into thinking it's an indulgent experience.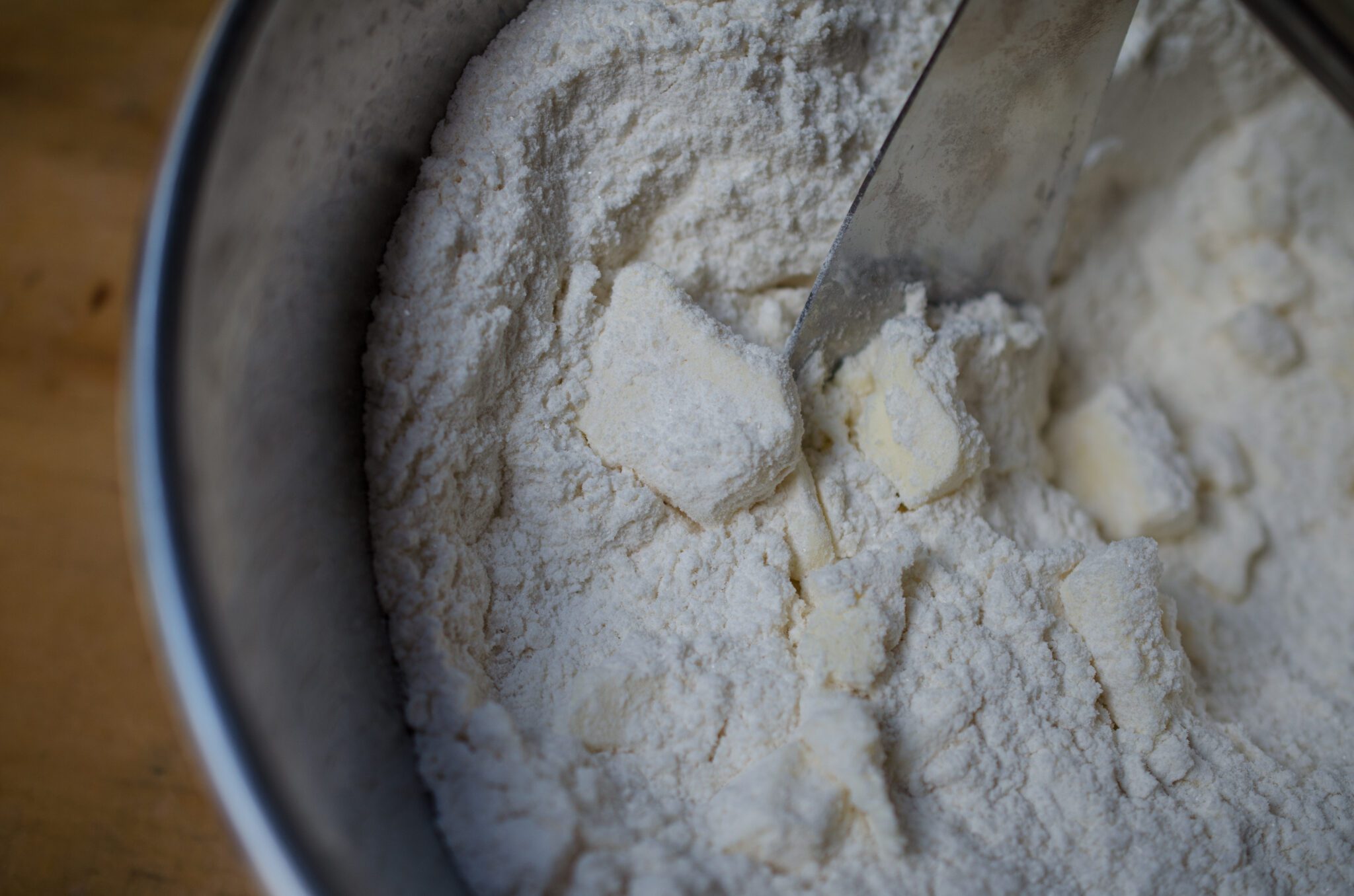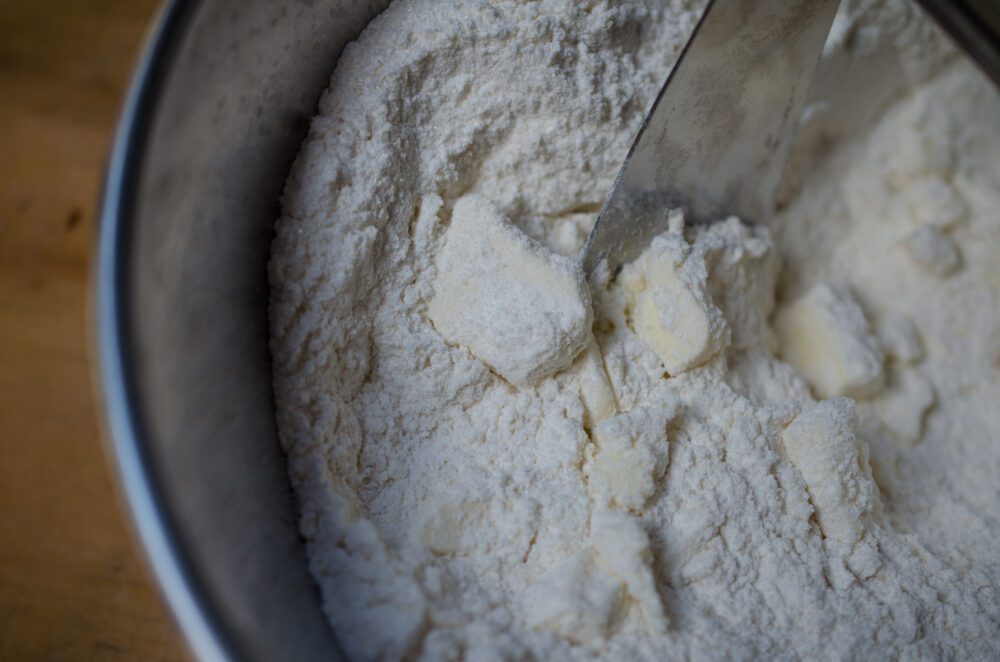 What Does it Mean to Cut in Butter?
Quite the transition to go from eating berries for mindless eating to butter. I eat butter. I had a reader comment that my Peaches and Cream Cake from last week was too many points. To that, I say to each his or her own. I'd rather have a slice of cake, of good cake. If you combine a box of fat-free cake mix with sugar-free soda and bake it for me, that's not cake. Sure, it might have zero points or near it, but whatever. That's a bucket of chemicals.
Let's use a little technique to make a really good cake instead of a bunch of ingredients you cannot pronounce.
Cutting the butter into the flour helps prevent the absorption of moisture and aids in a flaky pastry result. Moisture also helps in the overdevelopment of gluten; conversely, if there is less moisture, there is less gluten development.
The fat in the butter coats the grains of flour.  The term is a very common term in baking, most commonly used in the how-to when making biscuits and pie crusts. Cutting in butter means incorporating cold butter into the dry ingredients so that the butter stays in little clumps throughout the mixture.
Cold butter is the key to flaky, tender baked goods. When cutting in cold butter, it's important to work quickly to ensure that the butter stays cold until it is ready to be transferred to the oven. In the hot oven, the cold bits of butter melt and create steam. The steam makes small spaces and gaps in the crumb, resulting in a loaf of delicious quick bread.
(Even packed with pecans and bursting with butter, this indulgent strawberry bread comes in at 7 WW blue points a slice!)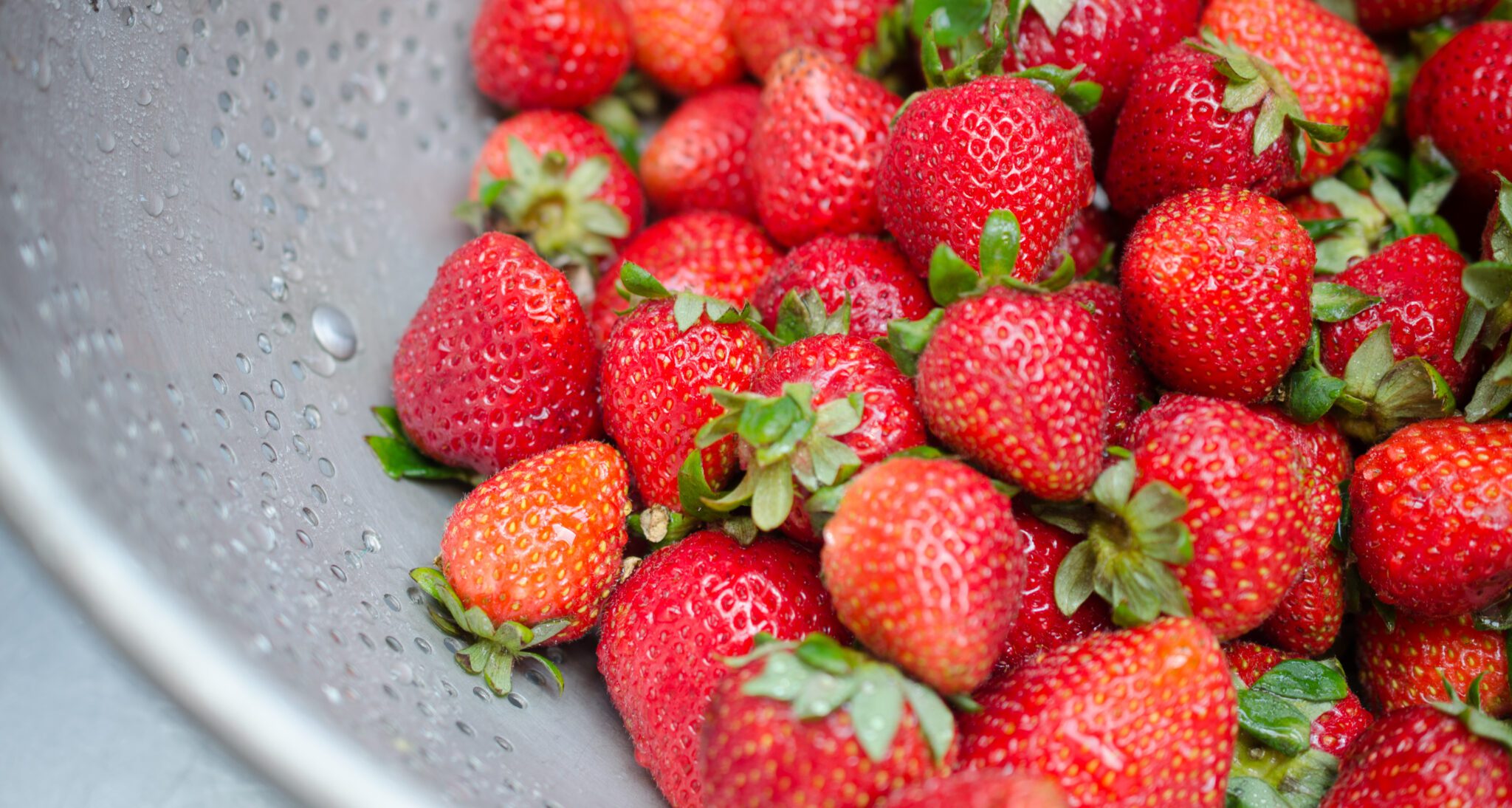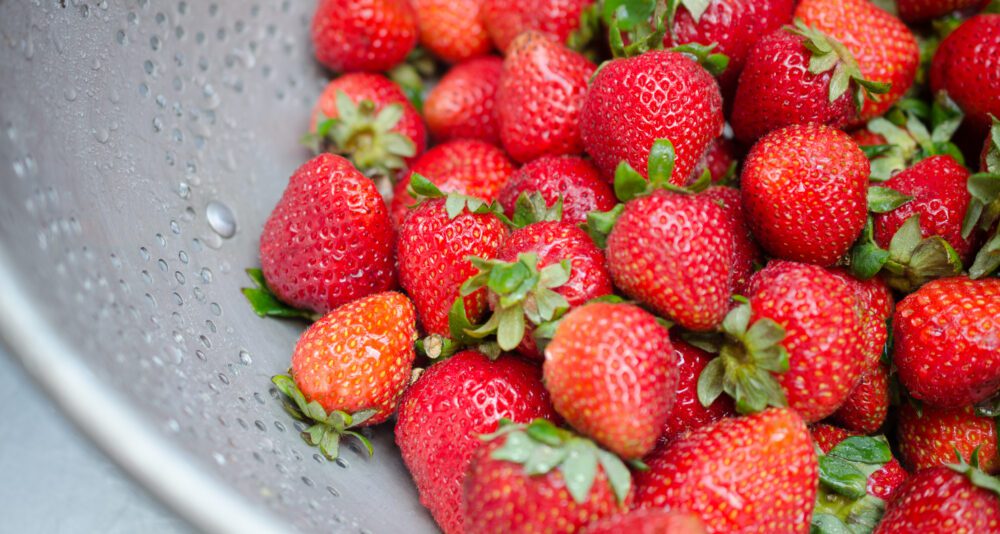 Berry Recipe Round-Up
Berries are bursting out all over in my recipe round-up! Check it out.
Thanks so much for reading. Make sure to check out Cynthia's books! Head over to my Instagram page and enter to win. And, Friday 6/25 at 11:30 am we'll be LIVE on Facebook and YouTube for Cookbooks with Virginia. Please join us!
Bon Appétit, Y'all
Virginia Willis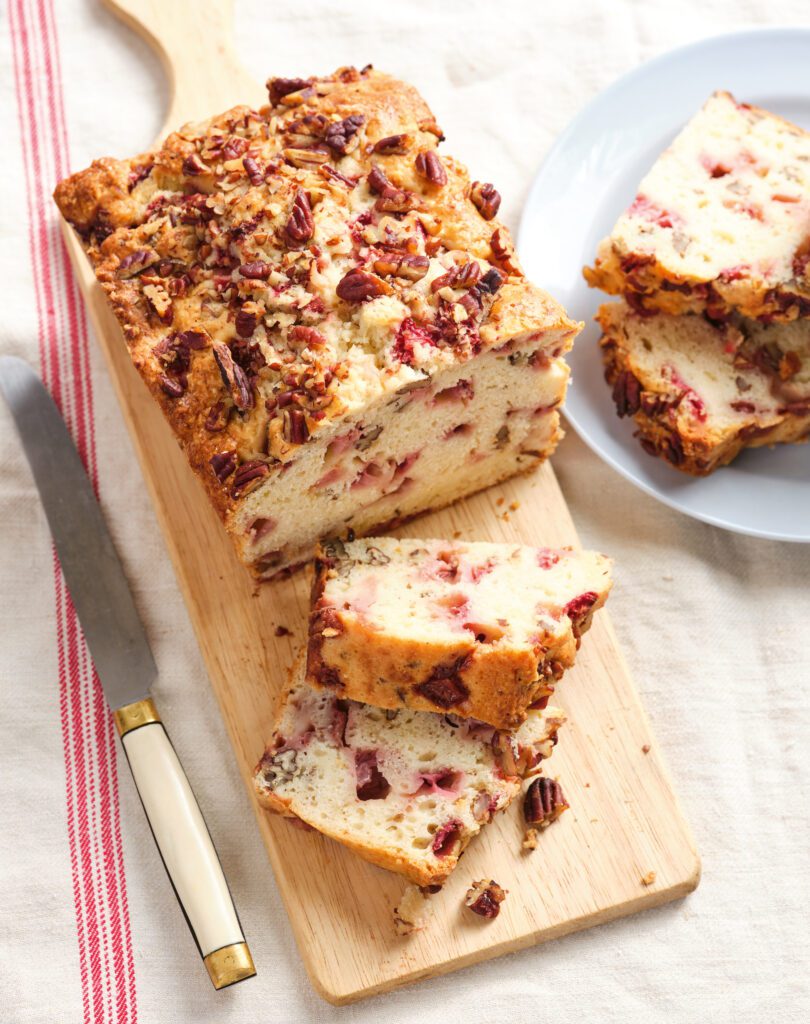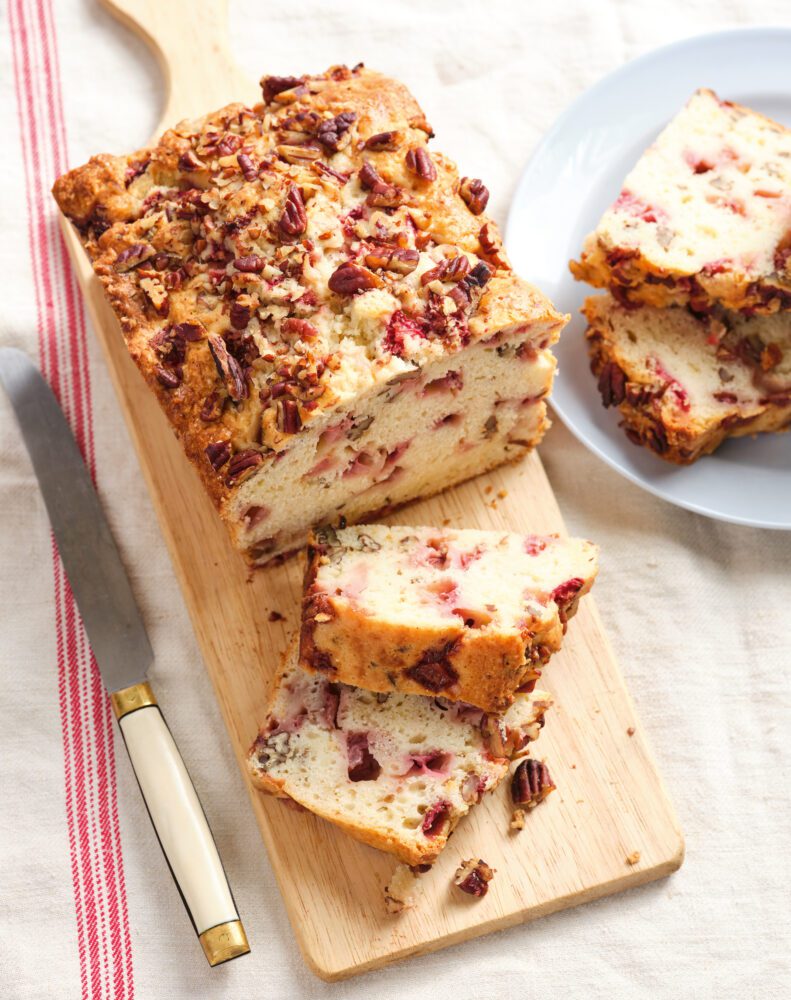 Strawberry Bread with Pecans
Makes 1 9x5 loaf
About 7 points per 1/2-inch slice
Ingredients
2 1

⁄2 cups all-purpose flour

3

⁄4 cups granulated sugar

1

tablespoon

baking powder

1

⁄2 teaspoon salt

1

⁄3 cup butter

cut into 1⁄2-inch cubes

3

⁄4 cup chopped pecans or other chopped nuts

2

large eggs

1

cup

milk

1

teaspoon

vanilla extract

2

cups

fresh strawberries

hulled and diced
Instructions
Preheat the oven to 350°F (180°C). Spray or grease and flour a 9- by 5-inch loaf pan.

Whisk together the flour, sugar, baking powder, and salt in a large bowl until thoroughly combined, at least 30 seconds. Scatter the butter cubes over the flour mixture and rub the butter into the flour using your fingers, or cut the butter into the flour with a pastry blender, two knives, or two forks, until the mixture becomes fine crumbs. Toss 1⁄2 cup of the nuts into the flour mixture. Make a well in the center of the flour.

Whisk the eggs lightly in a medium bowl, and whisk in the milk and vanilla. Add the egg mixture to the well in the flour mixture and stir gently but thoroughly, scraping the bottom of the bowl, until the mixture is just combined. Avoid overmixing. Gently fold the strawberries into the batter.

Scoop the batter into the prepared pan and top with the remaining 1⁄4 cup nuts. Bake the bread for about 1 hour 10 minutes, until a toothpick inserted into the center comes out clean (avoiding a strawberry).

Let the bread cool in the pan for 10 minutes. Run a knife around the inside edges of the pan to loosen the bread and turn it out onto a wire rack. Slice and serve warm. Refrigerate any leftovers and reheat in a microwave, or toast and slather with butter.
Reprinted from Blueberry Love from Storey Publishing ©2021 by Cynthia Graubart
Photo © Keller + Keller Photography  Styling: Catrine Kelty
Please note that this post may contain affiliate links and I may make a commission if you use my affiliate link to buy the product.
Heads up! I am not a doctor, RD, or health professional nor am I an official WW ambassador or representative. I am sharing here what works for me. Thanks for reading!
If you are interested in hosting me for a speaking engagement, event, cooking class, or a book signing, let me know! Send an email to jona@virginiawillis.com and we'll be back in touch as soon as possible.
Please be nice. Unauthorized use and/or duplication is prohibited. All photos and content are copyright protected. If you wish to republish this recipe, please link back to this recipe on virginiawillis.com. Thanks so much!
Let's connect on Facebook, Twitter, Instagram, and Pinterest!

Please note that this post may contain affiliate links.