Please note that this post may contain affiliate links.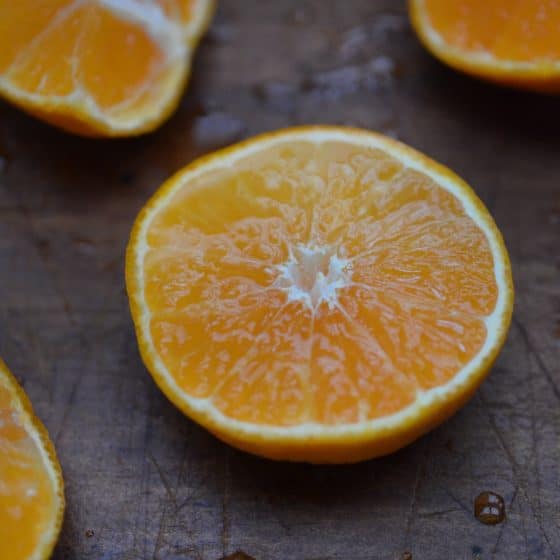 Winter is citrus season and the produce departments are overflowing. There are the diminutive Tangerines, Clementines, Tangelos, Mineolas, and Satsumas in the "cutie" citrus club. Down the aisle, big bold Navel oranges with their thick skins and bright colors rest aside their more thin-skinned, but certainly no-less-sweet juice oranges. With their intense colors and vibrant aromas, the decidedly more exotic Blood Oranges, Cara Cara Oranges, and Meyer Lemons often are featured in decorative baskets to highlight their preciousness — and higher price. Lastly, oversized red, pink, and white Grapefruit and the nearly comically large Pomello round out the bunch. There are a lot of kitchen choices for cooking with citrus.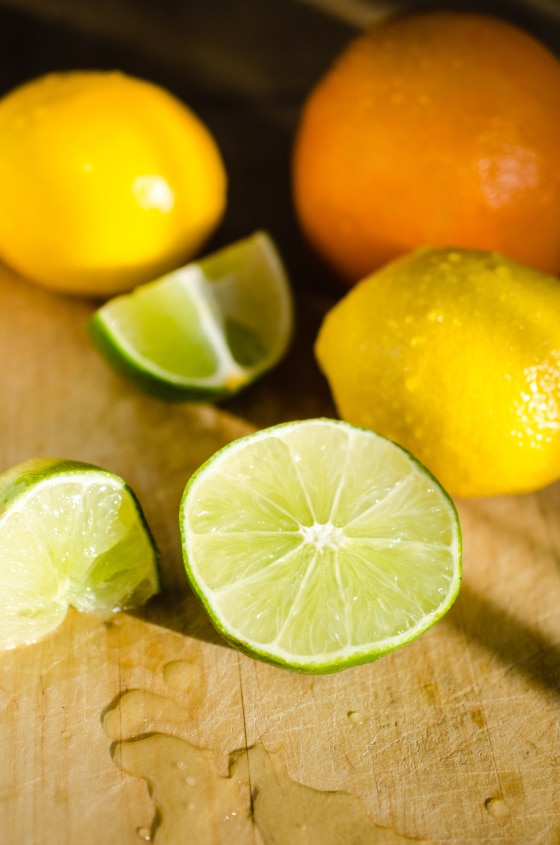 Usual Suspects
Lemon and limes are so commonly used when cooking with citrus that they are almost taken for granted. Both are available year-round and we hardly think about them having a season. They do, of course, it's just that they are in the market year-round because they are being shipped from all over the world from where ever they are grown. Having said that, Lemon Roast Chicken is one of my all-time favorite recipes and my absolute go-to for down-home comfort. Check out my recipe for Whole Roast Lemon Chicken on Food Network.com.  But, with so many choices in the market, it's nice to consider cooking with citrus of all kinds. Last year we fell in love with a recipe for Spicy Chicken with Clementines. It opened my eyes to the possibilities of thinking outside the ordinary when cooking with citrus.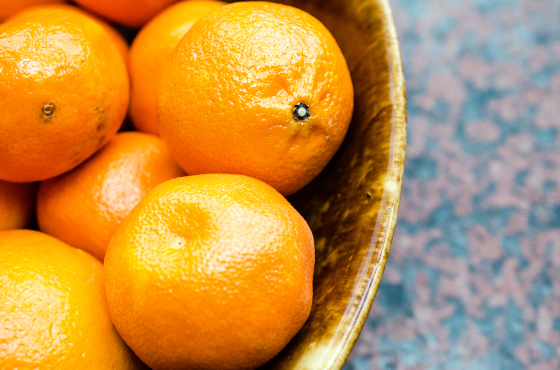 What's the Difference between a Tangerine and Clementine?
One of the most often asked questions regarding cooking with citrus is "What's the Difference between a Tangerine and Clementine?"  To answer, we need to take a step back and consider that they are more alike than different.
Mandarin Oranges
All smaller oranges such as tangerine and clementine are in the master category of Mandarin oranges. It's  a large category that contains all the zipper-skinned and easy-to-peel fruits. (Their tender skin is what makes cooking with them so intriguing because they literally melt into the dish.) Mandarins probably originated in northeast India, but like most citrus fruits were cultivated in China – hence the name "mandarin." They are less tart than "regular" oranges.
Tangerines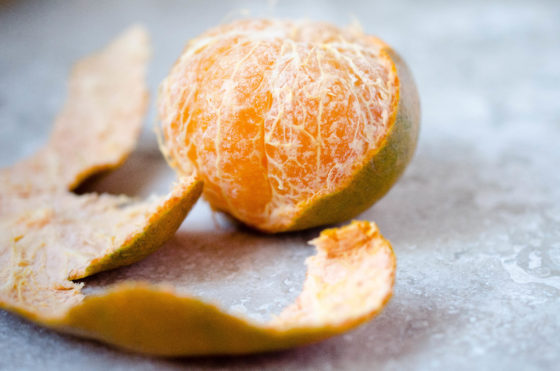 Mandarin oranges were exported through North Africa and tagged with the name "tangerine," from the city of Tangiers, Morocco. (You will notice there are still a good many tangerines imported from Morocco.) However, the name "tangerine" has become less generic. Three commonly grown cultivars are Sunburst, Robinson, and Murcott. This photo is of a Murcott and you will notice the reticulated white veins of the fruit, which are present to some degree in all Mandarins.
Clementines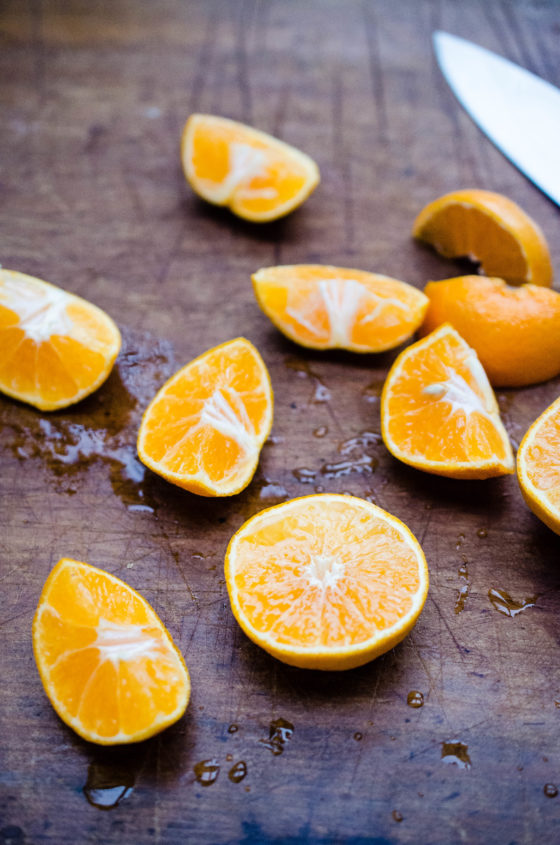 Clementines have a tart, tangy and slightly sweet flavor. They are usually seedless and honey-sweet. They're even easier to peel than tangerines, hence their popularity for children.The Mandarins branded as "Cuties" and "Sweeties" are clementines. According to  the University of California Riverside Citrus Variety Collection Website, the mother load of citrus information, this highly important North African variety "originated as an accidental hybrid in a planting of mandarin seedlings, presumably of the common or Mediterranean mandarin, made by Father Clement Rodier in the garden of the orphanage of the Péres du Saint-Esprit at Misserghin, a small village near Oran, Algeria."
Satsumas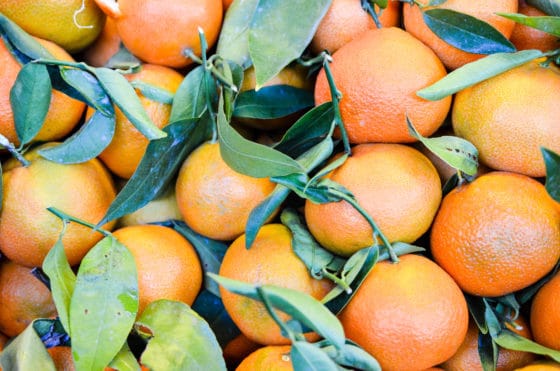 Satsumas are the Mandarin oranges that are most often canned. They're seedless and the easiest to peel due to a leathery skin. Often you'll see them with their leaves attached. I love to display a big, colorful bowl on my kitchen counter. Satsumas are more fragile than some other madarin oranges and most prone to shipping damage, which is why it is harder to find them fresh as compared to clementines or tangerines.
Tangelos
Tangelos are a cross between a grapefruit and a tangerine. They're especially juicy and lack grapefruit's acidity. Minneolas and Orlandos are types of tangelos. The Honeybell tangelo is particularly distinctive due to their slightly bulbous knob at one end. I hope you enjoy my simple recipe for Citrus Avocado Salad. Thanks for reading!
Bon Appétit Y'all!
Virginia Willis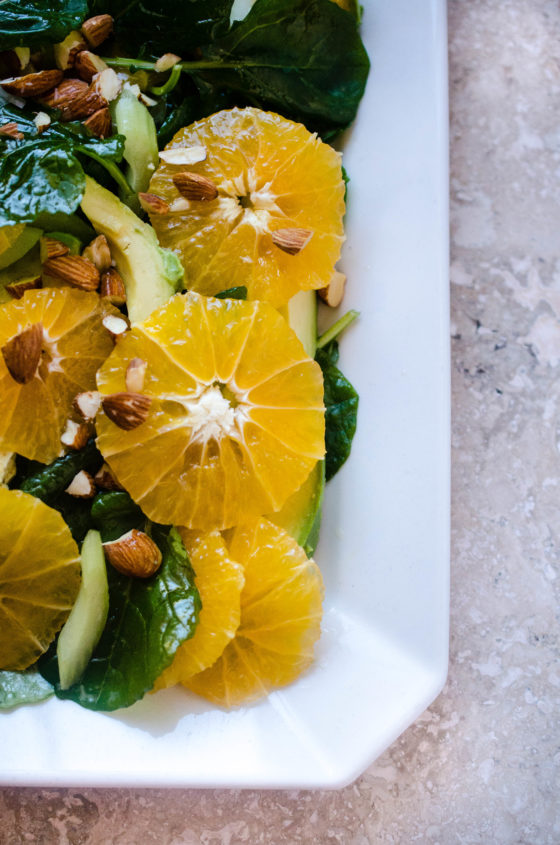 Citrus and Baby Kale Salad
Bright citrus with baby kale and creamy avocado.
Ingredients
2

handfuls baby kale

2

tangerine clementine

or honeybell oranges, skin removed and cut into wagon wheels

1/4

sweet onion sliced very thin

1

stalk celery thinly sliced on the diagonal

1

tablespoon

extra-virgin olive oil

1

avocado sliced

2-3

tablespoons

of chopped almonds

Good quality sea salt and freshly ground black pepper
***
Let's connect on Facebook , Twitter, Instagram, and Pinterest!

Please note that this post may contain affiliate links.