Please note that this post may contain affiliate links.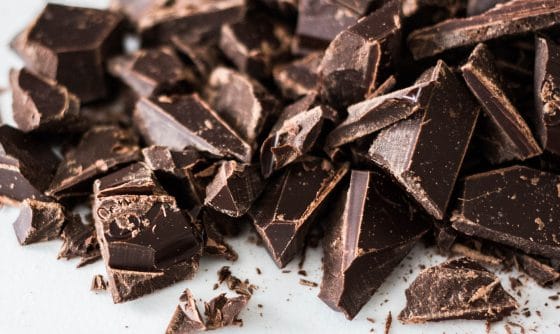 Deliciously Decadent
Chocolate Pots de Crème are undeniably creamy and indulgent — these are the French version of pudding cups. Typically, lunchroom fare certainly isn't considered very glamorous, but this French custard is tres chic, as well as deliciously decadent. Best of all? They are incredibly easy and best made ahead, making it the perfect dinner party dessert.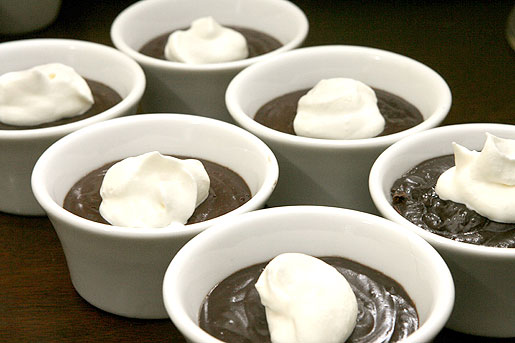 How to Pronounce Pots de Crème
Pots de Crème are named such because of the traditional individually lidded ceramic pots in which these custards are baked. They may also be prepared in ramekins, small bowls, custard cups, or mini-mason jars. The name translates to "pots of cream."  
I have heard this simple dessert pronounced every which way since Sunday. Although my command of the French language isn't spectacular, I can manage. (I've often said the Southern drawl does not play well with French pronunciation.) I had a friend once describe a French accent as sounding as if you are speaking with your mouth full of crackers.
No crackers are needed here. Pots de Crème is pronounced:
"Po" rhymes with go. "Pots" in French is

not

pronounced like pots (as in "pots and pans") is in English.
"de "sounds like a shortened "duh" with a soft e)
"Crème" is crem and rhymes with gym.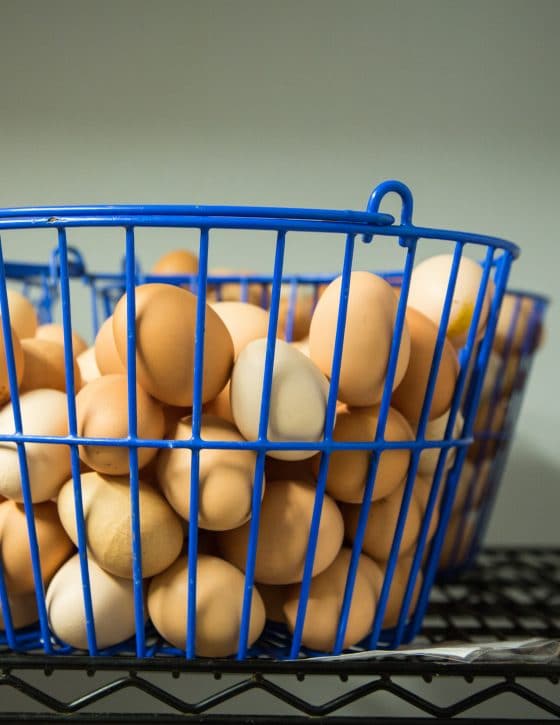 Custards
Pots de Crème are a type of custard. Custards are cooked mixtures of milk or cream and eggs and are the cornerstone of many classic desserts. The primary categories of custard are baked and stirred. Pots de Crème are baked custards, the most delicate of custards and require careful attention during cooking as they can quickly go from loose and undercooked to hard and curdled. The key to the success of baked custards is a bain marie or water bath. It creates a gentle, uniform heat around the food resulting in a firm, but delicate consistency and prevents the Pots de Crème from becoming a puddle of sweet scrambled eggs.
These Pots de Crème are flavored with rich chocolate, but they can be made in many different flavors including vanilla, citrus, coffee, spices, and even herbs.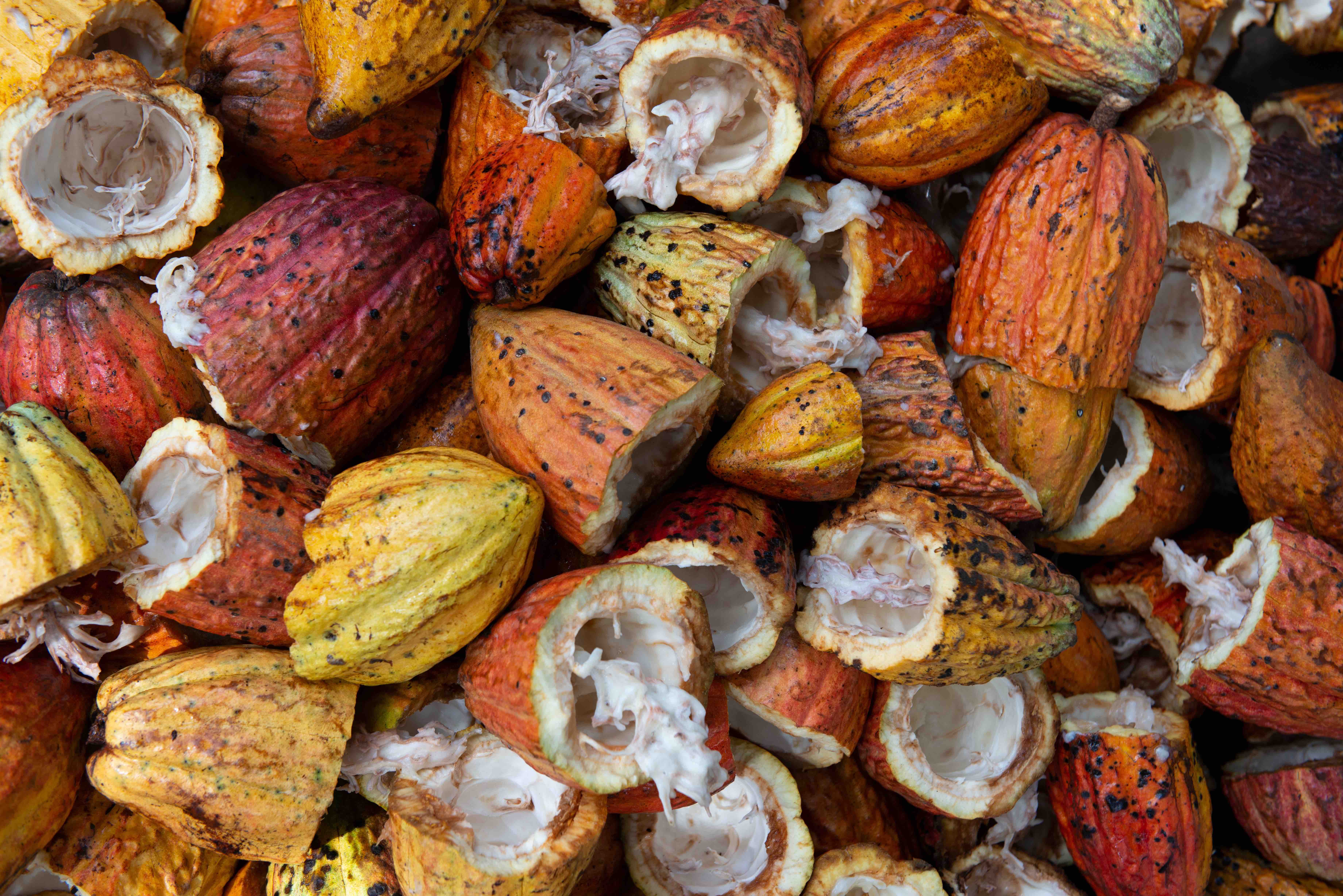 Bean to Bar
There are two types of dessert people: Those who like chocolate and those who like sweets prepared with anything but chocolate — think citrus, fruit, and spices. I am decidedly in the chocolate camp. I love chocolate and the darker and richer, the better. Let's take a look at how chocolate is made.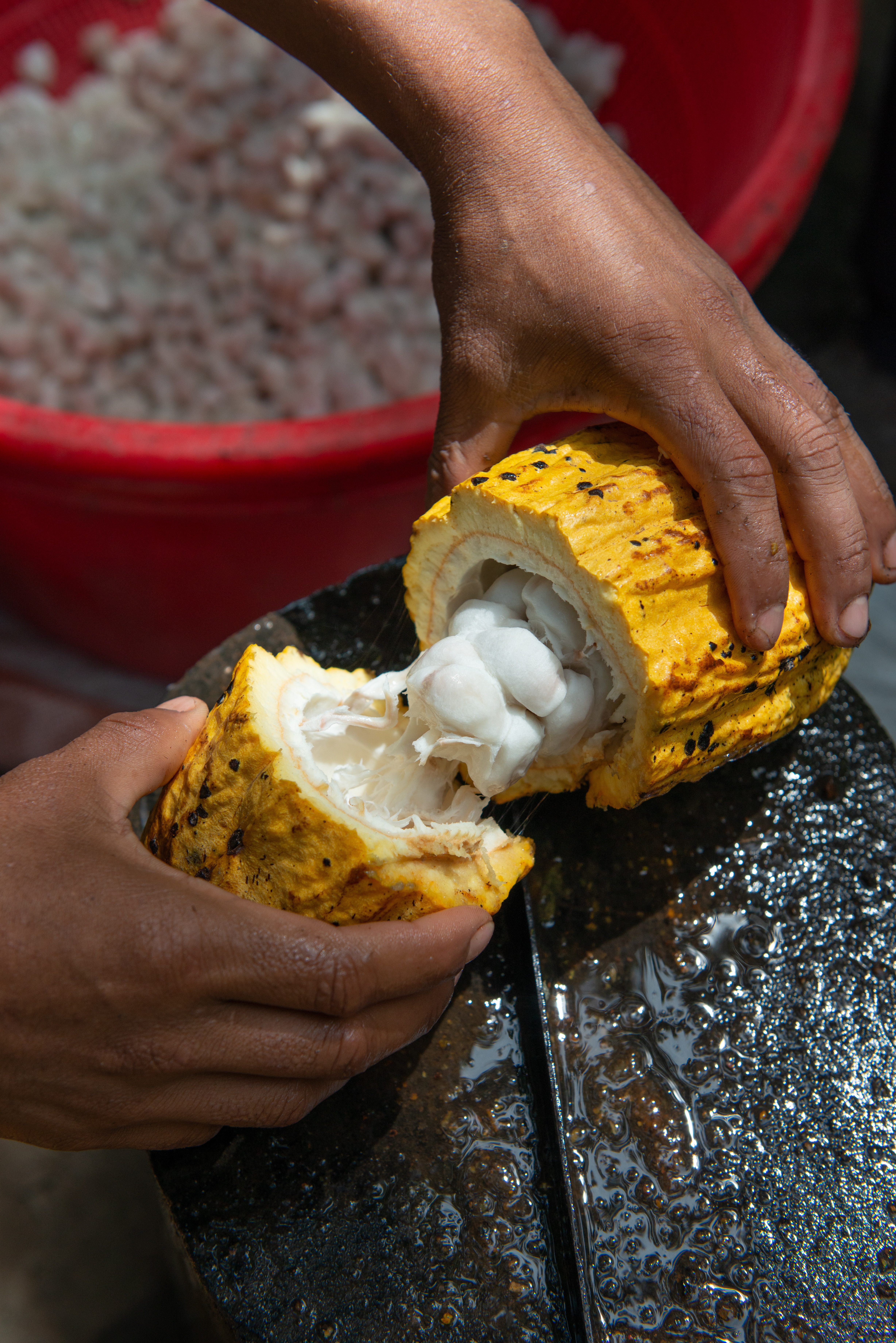 Cacao
Chocolate starts off as cocoa pods growing in the tropics around the equator. Cacao pods are veritably Seussian, growing directly out of the trunk of the tree and are fantastically brightly colored in shares of  vivid orange, bright yellow,  rich burgundy, and deep red. These colorful pods are harvested by hand then carefully broken open to release the cacao beans, which are embedded in a moist, fibrous, white pulp called mucilage.
The cacao beans are cleaned by hand, with the pulp left on to help develop and intensify flavor. The pulpy beans then fermented and during the process, the flavorful pulp dries up. (The word cacao for the pod and beans before they're fermented. After fermentation, they call them cocoa beans.)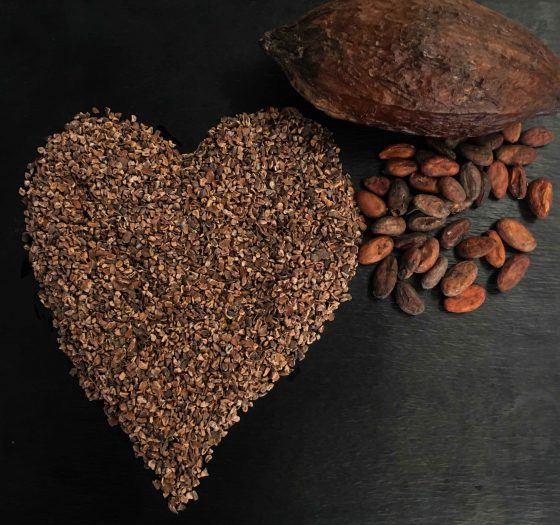 Once the cocoa beans have been fermented, they are laid out to dry in the open air for several days. Once dried, the beans are cleaned, then roasted at low temperatures to further develop flavor. Roasting prepares the beans for the removal of the shell to extract the nib. (The shell on the cocoa bean is not edible and has no chocolate flavor.) The taste of cacao nibs is nicely bittersweet with the crunchy, toasty flavor of roasted nuts and is about as close to eating pure cocoa as you can get!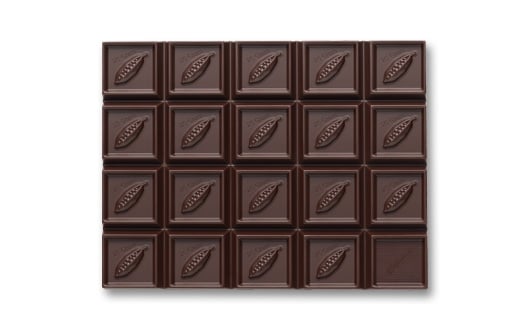 N/A Liquor
The nibs are then ground and liquefied, resulting in a fluid yet pasty chocolate liquor (although no booze is involved.) Chocolate liquor is a mixture of cocoa solids and cocoa butter — chocolate in its purest form. Pure chocolate liquor is very dark and bitter. The cocoa solids give chocolate its characteristic dark, strong flavor, and the cocoa butter translates to a silky smooth mouthfeel.
Chocolate liquor may be hardened in molds to form baking chocolate, pressed to reduce the cocoa butter and then pulverized to make cocoa powder, or mixed with sugar and additional cocoa butter to make eating chocolate. (The addition of dried or concentrated milk to sweet eating chocolate produces milk chocolate.)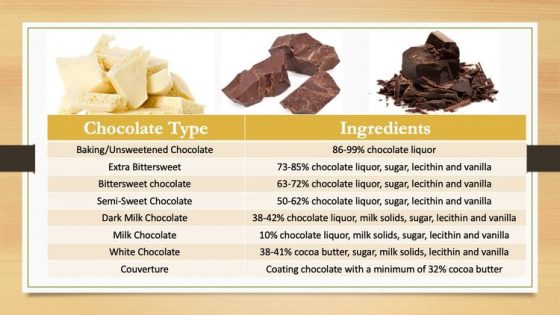 Percentages
You will often see a percentage printed on the outside of a bar or bag of chocolate chips. (The handy chart above is from TheCulinaryPro.com.) The percentage on a chocolate bar tells you how much of the bar is made from pure cocoa beans. It is the proportion of that product made from pure chocolate liquor and any added cocoa butter. Essentially, it's what's in the chocolate that isn't sugar, dairy, vanilla extract, emulsifiers, or other flavorings. So, the higher the percentage, the more intense and less sweet the chocolate. (There are other contributing factors, but this is a good general rule for understanding the percent principal.) The handy chart above is from TheCulinaryPro.com.
I prefer cooking with bittersweet chocolate and suggest bittersweet chocolate for these rich and intense Pots de Crème. Look for chocolate with a percentage in the 70% cacao range. Bittersweet can be used interchangeably with semisweet, and both are best when chocolate is the star player in the recipe.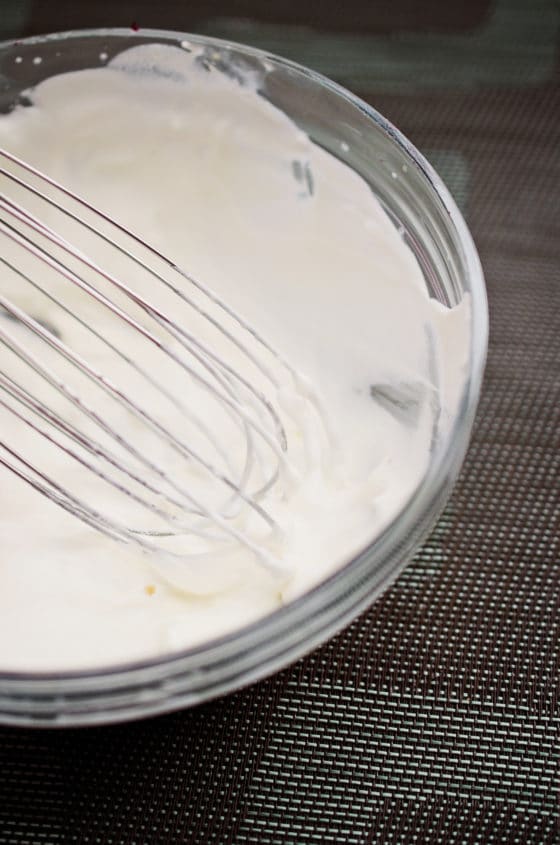 How to Whip Cream
Whipping real cream is easy – it's simply a matter of coagulating fat. (Yes, I know that sounds gross.) The key is that everything must be well chilled: the heavy cream in the refrigerator, and the mixer beaters and bowl in the freezer until cold to the touch. I often place a chilled bowl over a larger bowl of ice water to whip cream.
Whipping cream by hand is easy. All it takes is a bit of muscle. You can use a hand-held mixer, but be careful. If you over whip cream, you get butter. When gauging how much to whip remember that heavy cream doubles in size when it's whipped: 1 cup of heavy cream makes about 2 cups of whipped cream. Some folks add sugar, but I prefer not to add sugar to the cream, as I think most desserts are quite often sweet enough and sweetened whipped cream is overpowering. I like the contrast of silky, buttery whipped cream against the slightly bitter Chocolate Pots de Crème.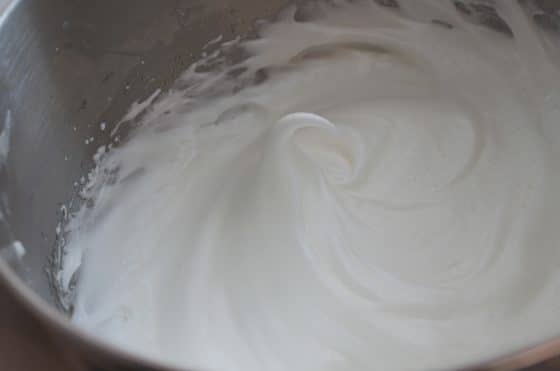 Shades of White
First of all, meringue has nothing to do with Pots de Crème, but there's enough confusion that I feel compelled to explain the difference between whipping cream and whisking meringue. Whipped cream and meringue are both white, but that's about it. 
Meringue is whipped egg whites and sugar to form a thick, stiff foam. Different textures are achieved by varying the methods of mixing the sugar and the egg whites and varying the baking times and temperatures. Meringue can be made soft to top a pie, or dried in the oven as a Pavlova or meringue cookie.
Egg whites are often whipped in a copper bowl as there is a chemical reaction that occurs as microscopic bits of copper interact with the egg white that helps create a firm meringue. However, whipping cream in a copper bowl doesn't make any sense. The copper does not perform any beneficial function and in fact, might mar the taste of the whipped cream. Stick to stainless steel or glass when whipping cream.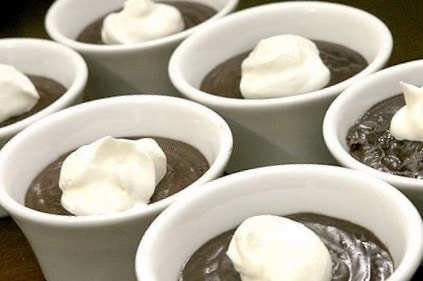 Make-Ahead Dessert
Back to Pots de Crème. These sexy pudding cups are the ultimate make-ahead dessert. Make them the day before you plan to serve them, so when it's time for dessert, all you have to do is pull the chilled custards out of the refrigerator and dollop them with a luscious scoop of freshly whipped cream.
Bon Appétit Y'all!
Virginia Willis
PS: Need even more chocolate in your life? Try my Mexican Chocolate Pudding or my No-Bake Chocolate Peanut Butter Bites.
Chocolate Peanut Butter Bites
Bittersweet chocolate, heart healthy whole grain rolled oats, all-natural peanut butter, and just a touch of butter are combined to make a semi-healthy, decadent, and delicious treat.
Ingredients
3 1/2

cups

whole grain rolled oats

1

cup

all-natural peanut butter

stirred

1

cup

bittersweet chocolate chips

2

tablespoons

unsalted butter

Pinch of kosher salt
Instructions
Line a baking sheet with a nonstick baking sheet, parchment, or wax paper. Set aside. In a medium saucepan combine the oats, peanut butter, chocolate, butter, and salt over medium heat. Cook, stirring constantly, until the chocolate is melted and the ingredients are well-combined. Using a small ice cream scoop or a tablespoon, spoon the mixture onto the prepared baking sheet. Set aside to firm up and set. They can be stored in the refrigerator in an air-tight container for 1 week.



Please note that this post may contain affiliate links. (That means I make a commission if you use my affiliate link to buy the product.) 
If you are interested in hosting me for a speaking engagement, event, cooking class, or a book signing, let me know! Send an email to jona@virginiawillis.com and we'll be back in touch as soon as possible.
Please be nice. Unauthorized use and/or duplication is prohibited. All photos and content are copyright protected. If you wish to republish this recipe, please link back to this recipe on virginiawillis.com. Thanks so much!
Let's connect on Facebook , Twitter, Instagram, and Pinterest!

Please note that this post may contain affiliate links.