Please note that this post may contain affiliate links.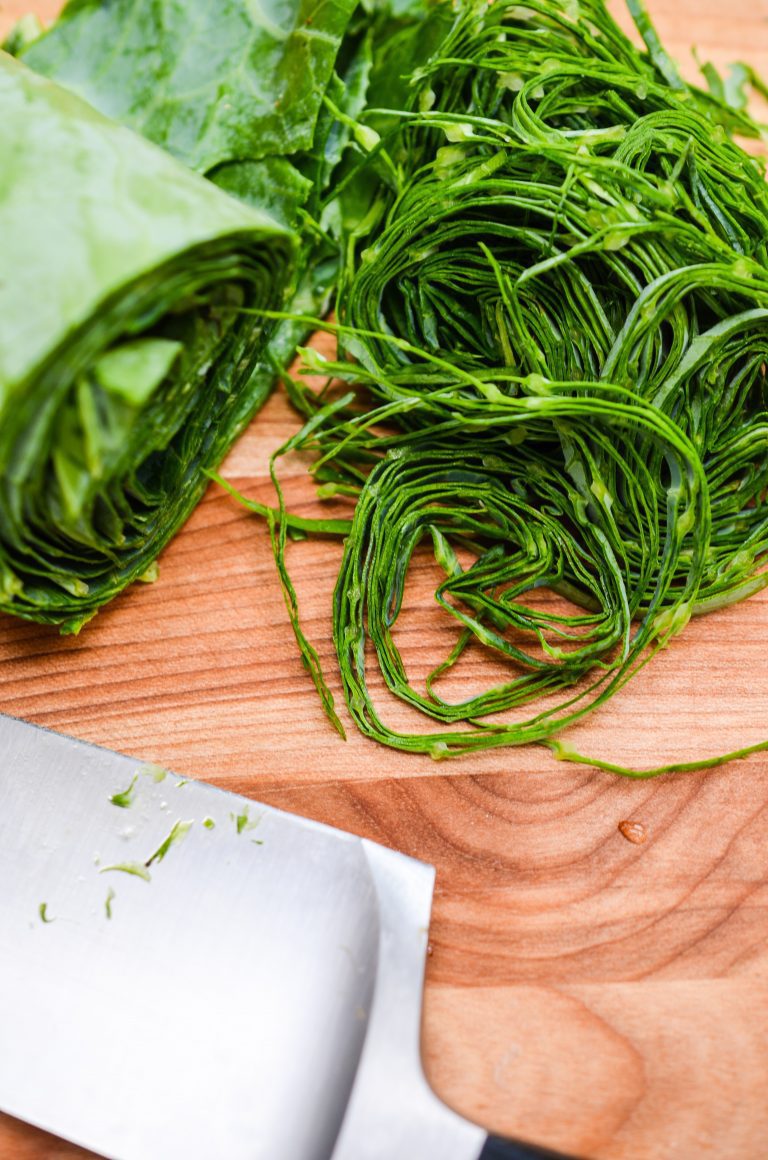 Collard greens are as much a cornerstone of Southern cooking as biscuits and gravy. And, the use of the ingredient has evolved like the cuisine. Collard green kimchi, collard green chiffonade, wood-fired dehydrated collard greens, and collard green patra are now part of the Southern culinary lexicon alongside pot likker and sidemeat. However, in much of the country, collards are thought to be prepared one way: drowning in pork fat and cooked beyond recognition into a form of Army green pabulum. Read on to learn how to prepare an umami-packed, point friendly vegetarian collard green recipe perfect for these cold winter days.

Collard Me Crazy
I love this photo! Angie Mosier shot it and I have it labeled "Happy VA in Collard Patch" in the cloud. It's several years old now, but it still makes me smile.
My love of collard greens is almost as well documented as my love of okra. The love is well-deserved. While I love old-school style collard greens (especially with a wedge of skillet cornbread) there are so many more ways to enjoy them. Country girl collard greens are higher in nutritional density than the supermodel of brassicas, kale! They are an essential ingredient in a winter healthy eating plan.
Collard greens are high in umami. The word umami means "yummy" or "delicious" in Japanese. It's also known as the "Fifth Taste" and is sometimes also described as "savory" to go along with sour, salty, bitter, and sweet. When considering umami, think of the meaty, yeasty flavor of cured meats and cheeses. There's also the richly vegetal flavor of winter greens and the natural saltiness of a tomato.  The combination of multiple ingredients that are high in umami is the key to why this dish tastes so good and is so satisfying. 

Parmigiano Reggiano
The key to this dish is the Parmigiano Reggiano cheese rind, also high in umami. Parmigiano Reggiano is a must-have cheese. The real deal, not pre-grated. Sure, I have that too, but true DOP Parmigiano Reggiano is otherwordly. It's a very high flavor cheese that's also fairly low in points!
However, it creates a rich, buttery broth that takes my beloved pot likker to a whole new place. You can buy them, but I suggest to simply buy whole pieces of cheese and save them in a container in the freezer. You've paid dearly for the real thing and may as well use every last bit. I use them, well like my grandmother used a ham hock, to flavor the dish.
How to Make Vegetarian Parmesan Broth Collard Greens
Here's a quick 30 second Instagram Reel and the recipe is below!
Thanks so much for reading and watching. I hope you enjoy my latest version of this dish. I've dialed down the oil to let the rind provide all the fat. It's easier and means fewer points, but it also allows for great balance with the collards and cheese. I make this recipe every other week. It's so good!
Bon Appétit, Y'all
Virginia
PS Try them with a fried egg on top for breakfast or bathed in broth and like a bowl of soup for lunch.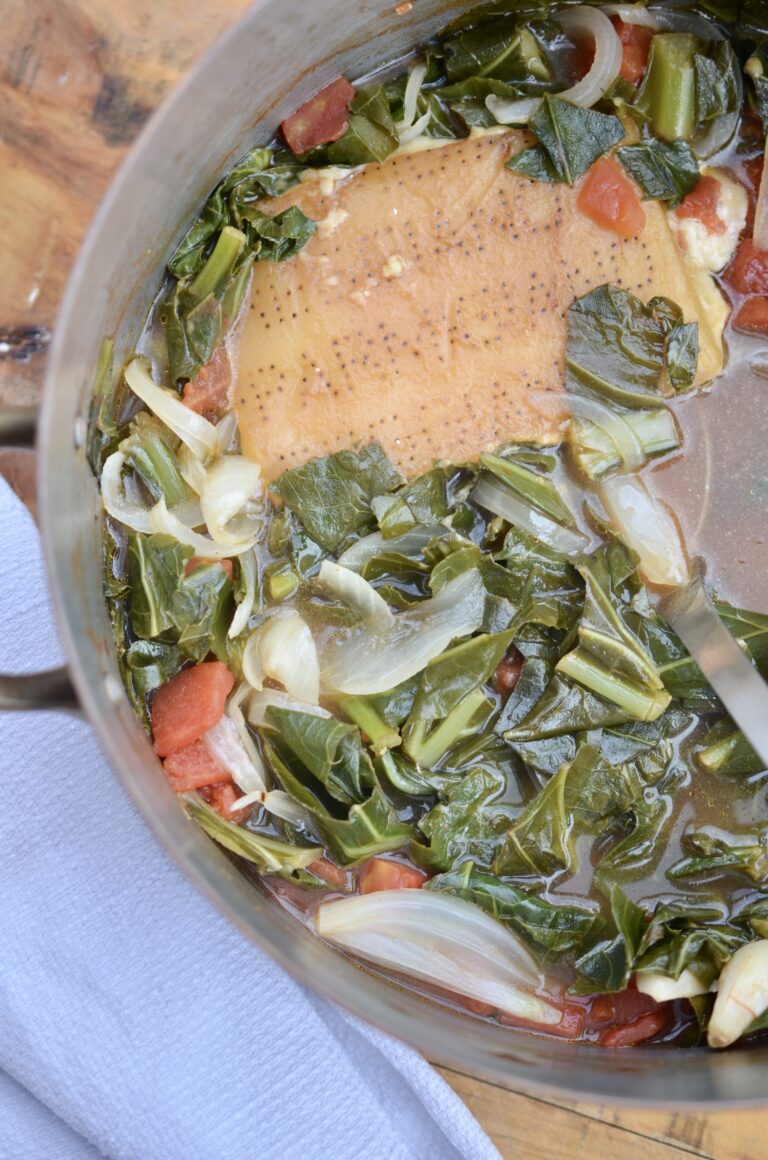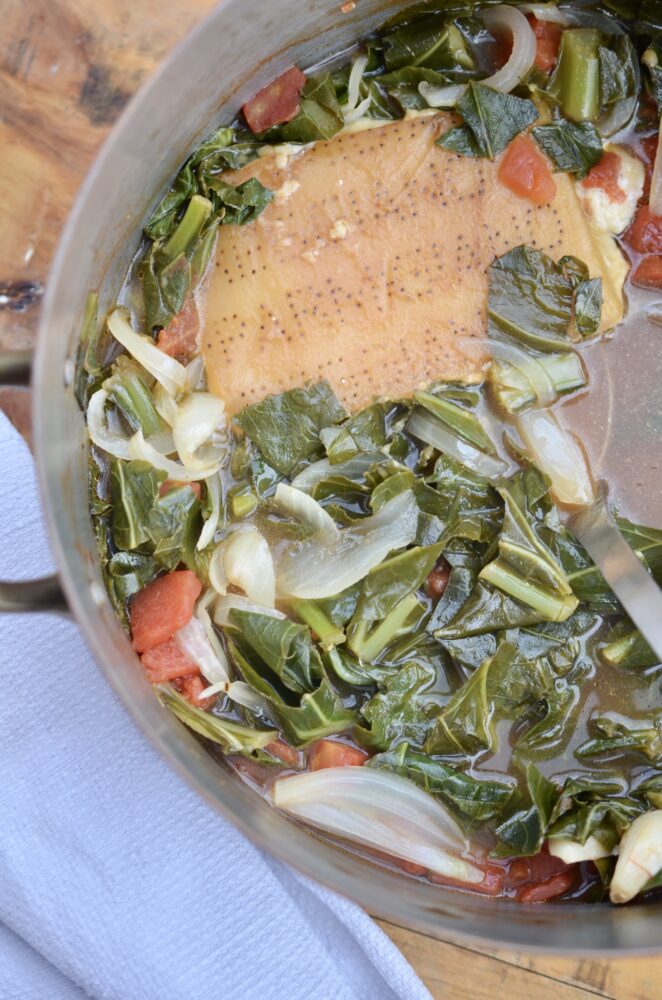 Vegetarian Parmesan Broth Collard Greens
Ingredients
nonstick spray

1/2

onion, sliced

2

cloves garlic, smashed

1

15-oz

can diced tomatoes

1/2

teaspoon

red pepper flakes

1

piece

Parmigiano Reggiano rind

3

cups

water or vegetable stock

4

cups

chopped collard greens

Coarse salt and freshly ground black pepper
Instructions
Mist the bottom of a pot with nonstick cooking spray. Add the onions and garlic. Add the tomatoes, red pepper flakes, rind, stock, and collard greens. Stir to combine.

Bring to a boil then reduce the heat to simmer. Cook until tender, about 20 minutes. Taste and adjust for seasoning with salt and pepper. Keeps up to 3 days in an airtight container.
If you are interested in hosting me for a speaking engagement, event, cooking class, or a book signing, let me know! Send an email to jona@virginiawillis.com and we'll be back in touch as soon as possible.
Please be nice. Unauthorized use and/or duplication is prohibited. All photos and content are copyright protected. If you wish to republish this recipe, please link back to this recipe on virginiawillis.com. Thanks so much!
Let's connect on Facebook, Twitter, Instagram, and Pinterest!

Please note that this post may contain affiliate links.