Please note that this post may contain affiliate links.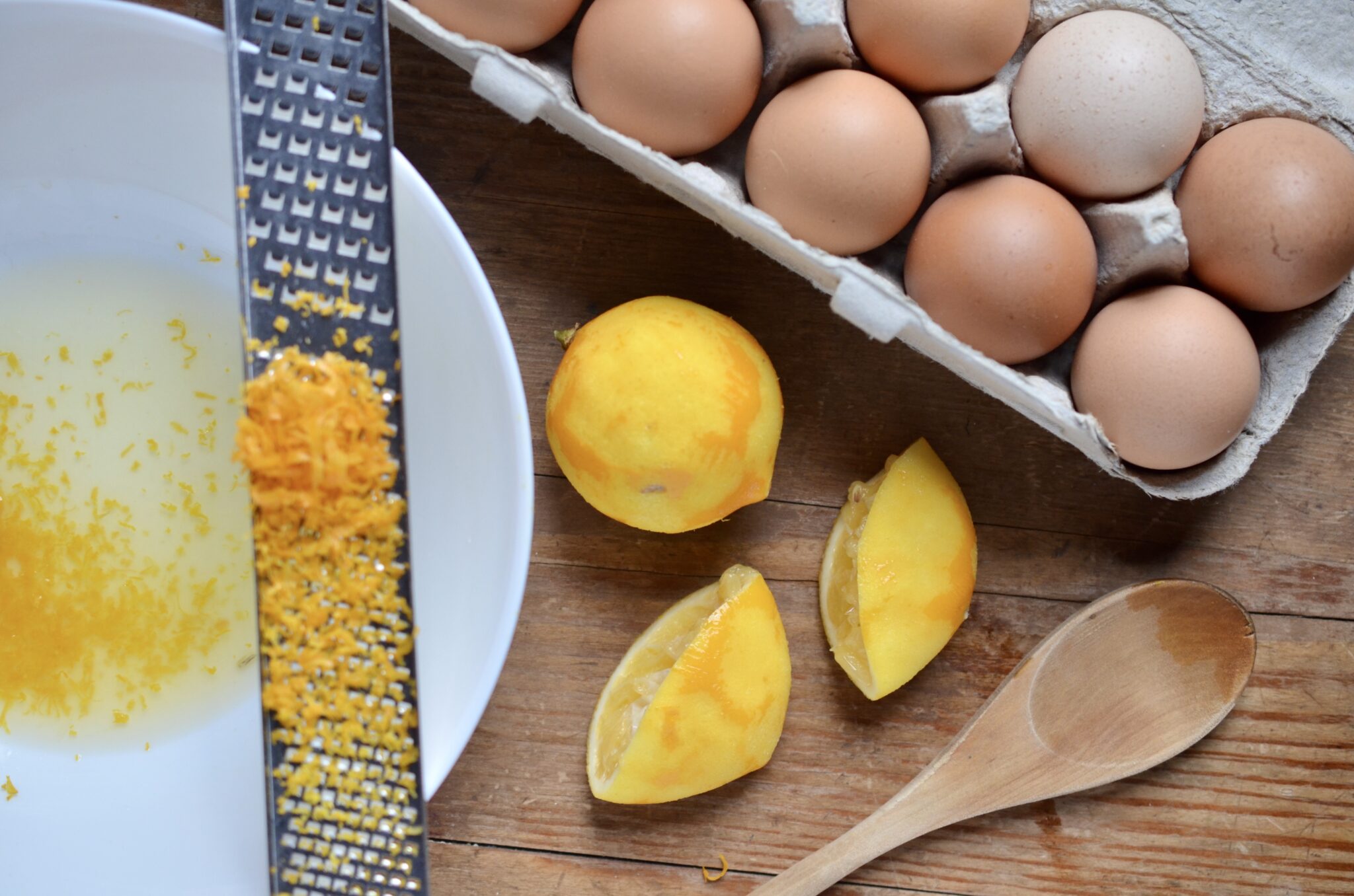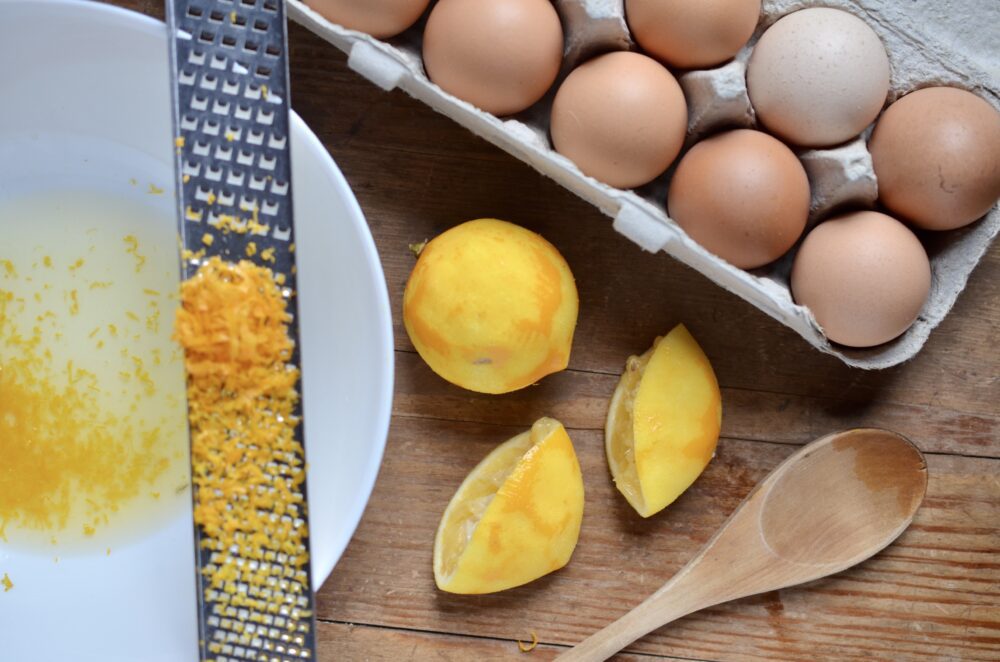 Lemon Squares are often made with gobs of butter and sugar and well, that's one reason why they are so good. But, they are really about the lemon. Lemon is, or should be, the star of the show. I am convinced there are ways to lighten things up and still have great flavor with baked goods, desserts, and sweet things – lemon squares included. My Easy Lemon Squares are not any harder to prepare and do not require any special ingredients. There are no boxes or mixes. It's one bowl and one pan. Bonus. My tasters had no idea it was a healthier version of a lemon bar – and loved it. Read on to learn more!

Sweet Tart
Clearly, that's not a square. I wasn't very good at Geometry, but that's a triangle. Call it lemon square, tart, or bar – Lemon "Squares" are a buttery shortbread topped with sweet-tart baked lemon custard. And, they need to be all about the lemon! When in season, I prefer to use Meyer Lemons instead of regular Eureka or Lisbon lemons. These are the two most common lemon varieties found in the produce section. Meyer lemons are a cross between an orange and a lemon. They are one of my favorite ingredients and worth the extra money for cooking and baking.
When giving a recipe a healthy makeover and still have it taste good is all about editing. Removing the extraneous, but keeping enough that makes it still recognizable.
I am not in the camp that thinks cocoa powder swirled into yogurt is chocolate mousse. That is not chocolate mousse. It is not pudding. It is yogurt. Don't lie to me. A lemon square can keep its soul, adapted to be more healthy, and still taste indulgent and rich.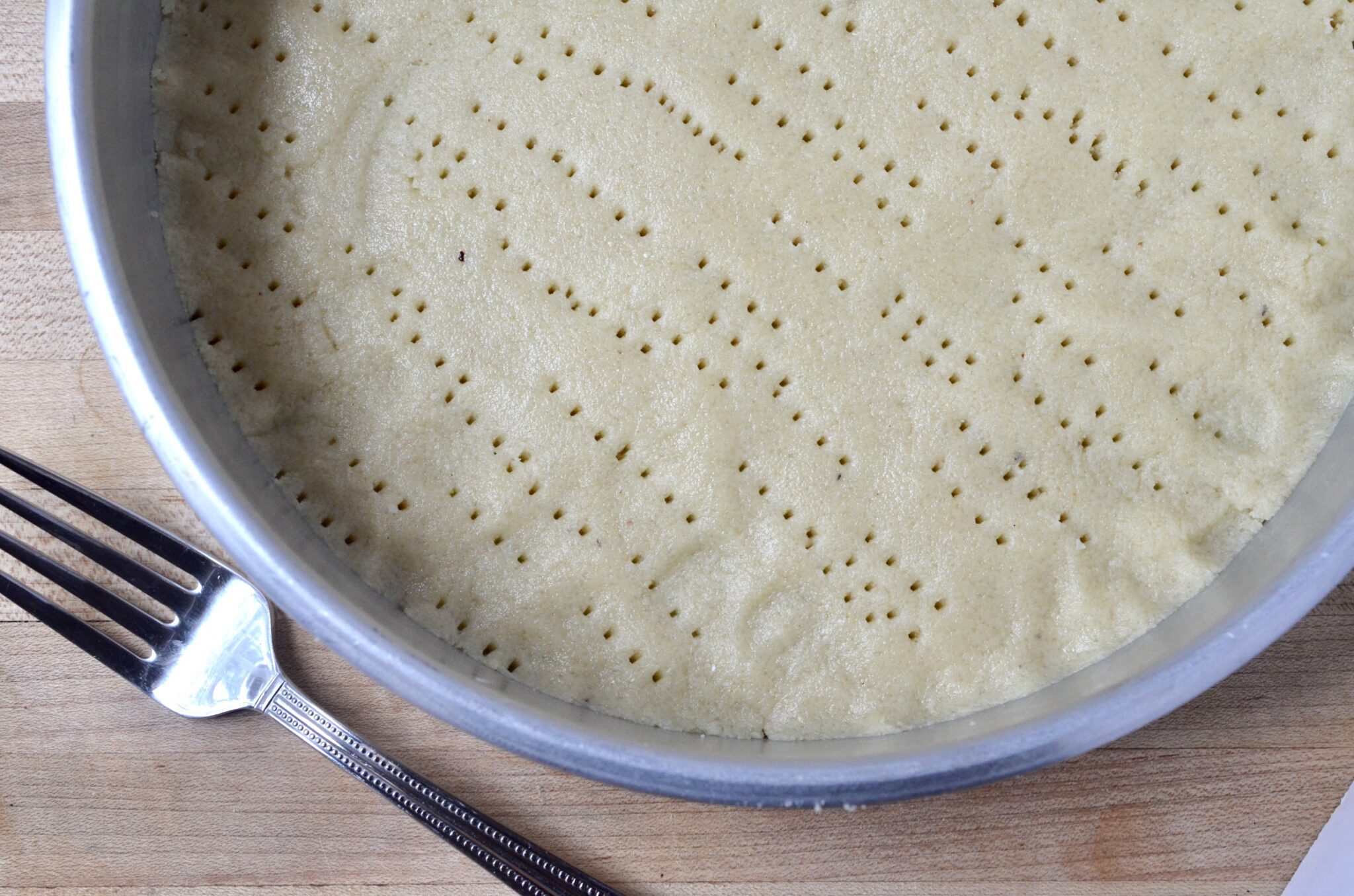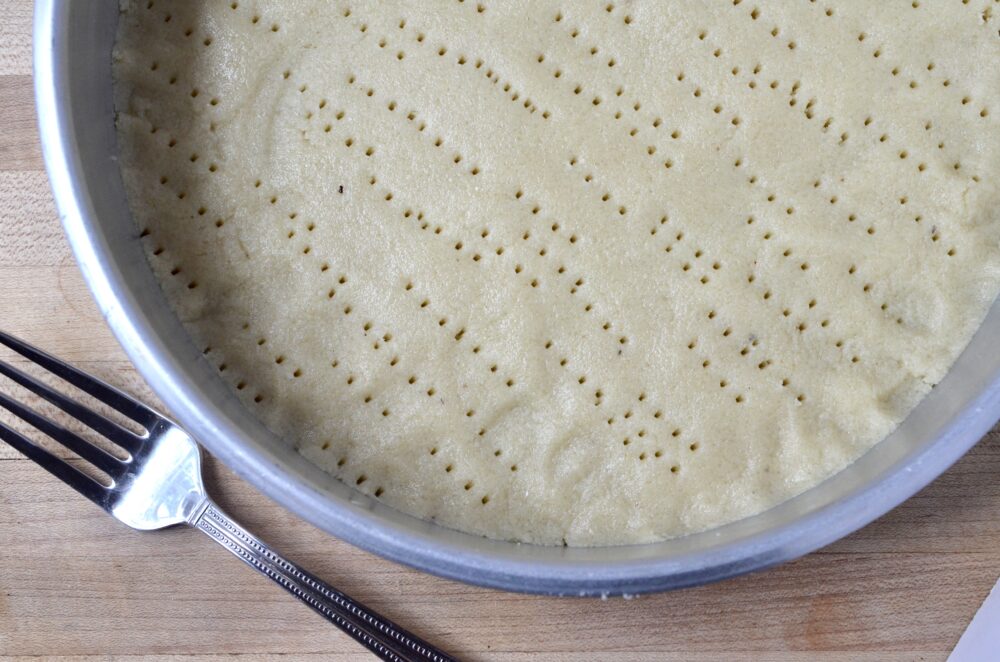 Almond Flour
Almond flour shortbread is deliciously more buttery than plain pure butter and wheat flour shortbread. Almond flour is made from ground almonds. The process involves blanching almonds in boiling water to remove the skins, then grinding and sifting them into a fine flour. Almond flour is not the same as almond meal. (Almond meal is made by grinding almonds with their skins intact.)
Almond flour is rich in vitamin E and magnesium, two important nutrients. It is high in fiber and heart-healthy, too. It contains no gluten and while it seldom be used interchangeably for wheat flour cup to cup, it works with shortbread with a few adaptations.
All-purpose flour is actually fewer points than almond flour, but I wanted to try this recipe both with regular flour and gluten-free almond flour. Personally, I do not need to cook gluten-free for health reasons. I like to use almond flour for flavor. It makes an excellent shortbread.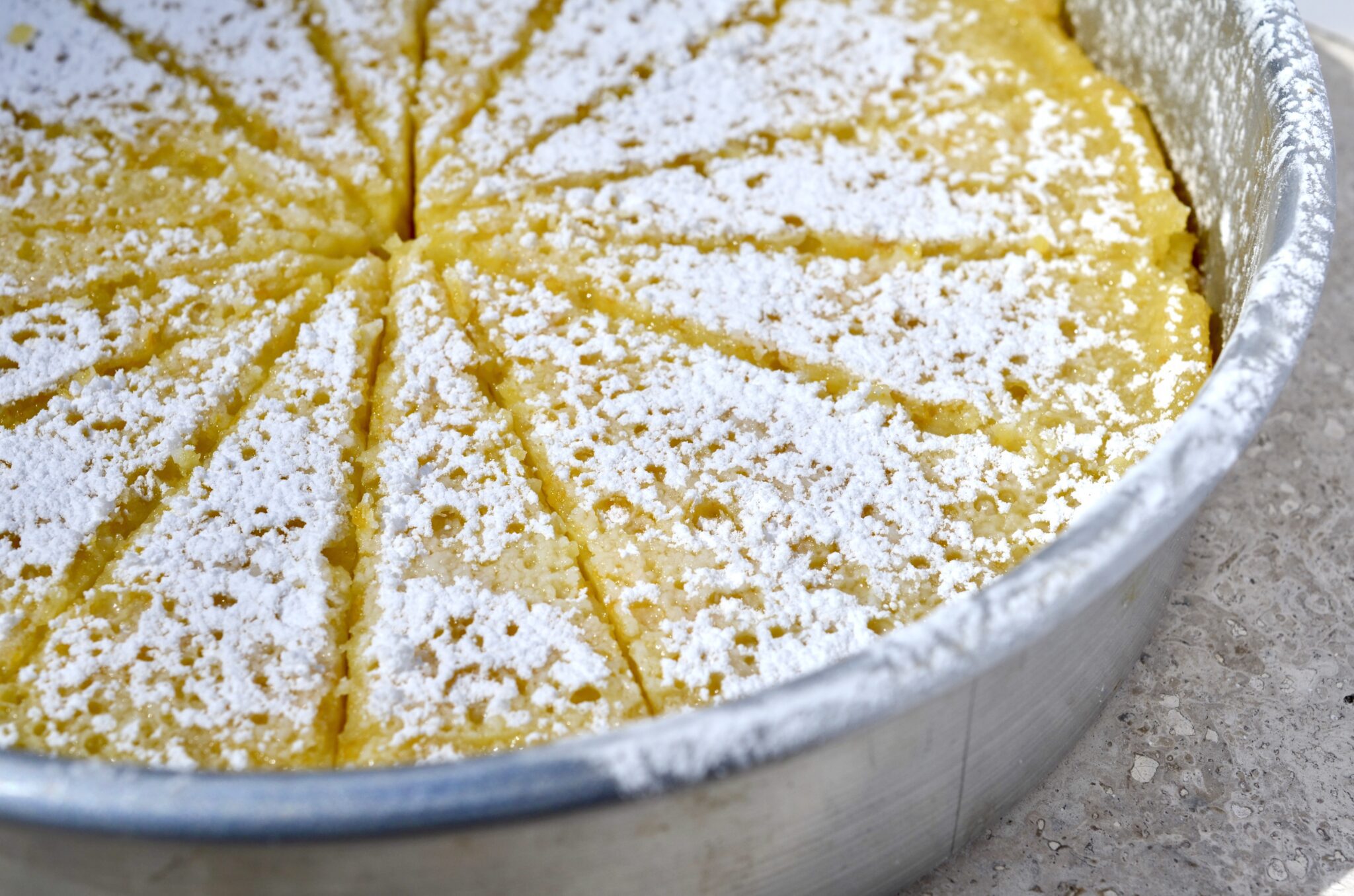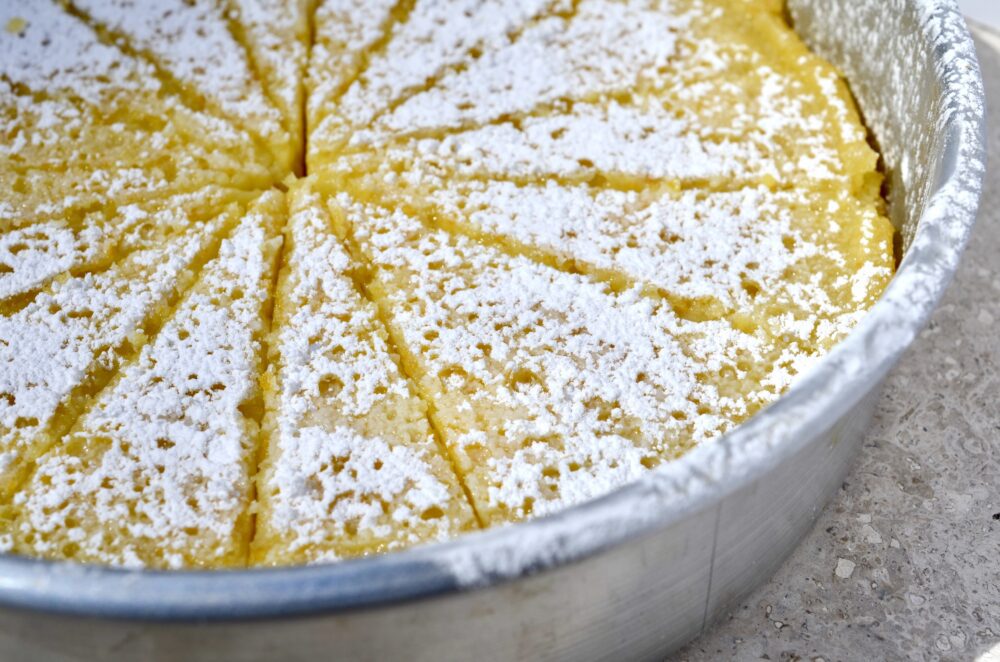 Baked Custard
Sliceable lemon custard is set most often in three ways: flour, cornstarch, or cooking the eggs on the stovetop. The latter was an instant no-go. The results are clear and lovely, but I don't want effort in this instance. I am looking more along the lines of dump-and-stir.
With an almond flour gluten-free crust, it may as well have a gluten-free custard, so cornstarch is the answer. Cornstarch like many starches can be tricky. Cornstarch has twice the thickening power of all-purpose flour. The key is hitting the mark with the set – too much is too much and not enough is not enough.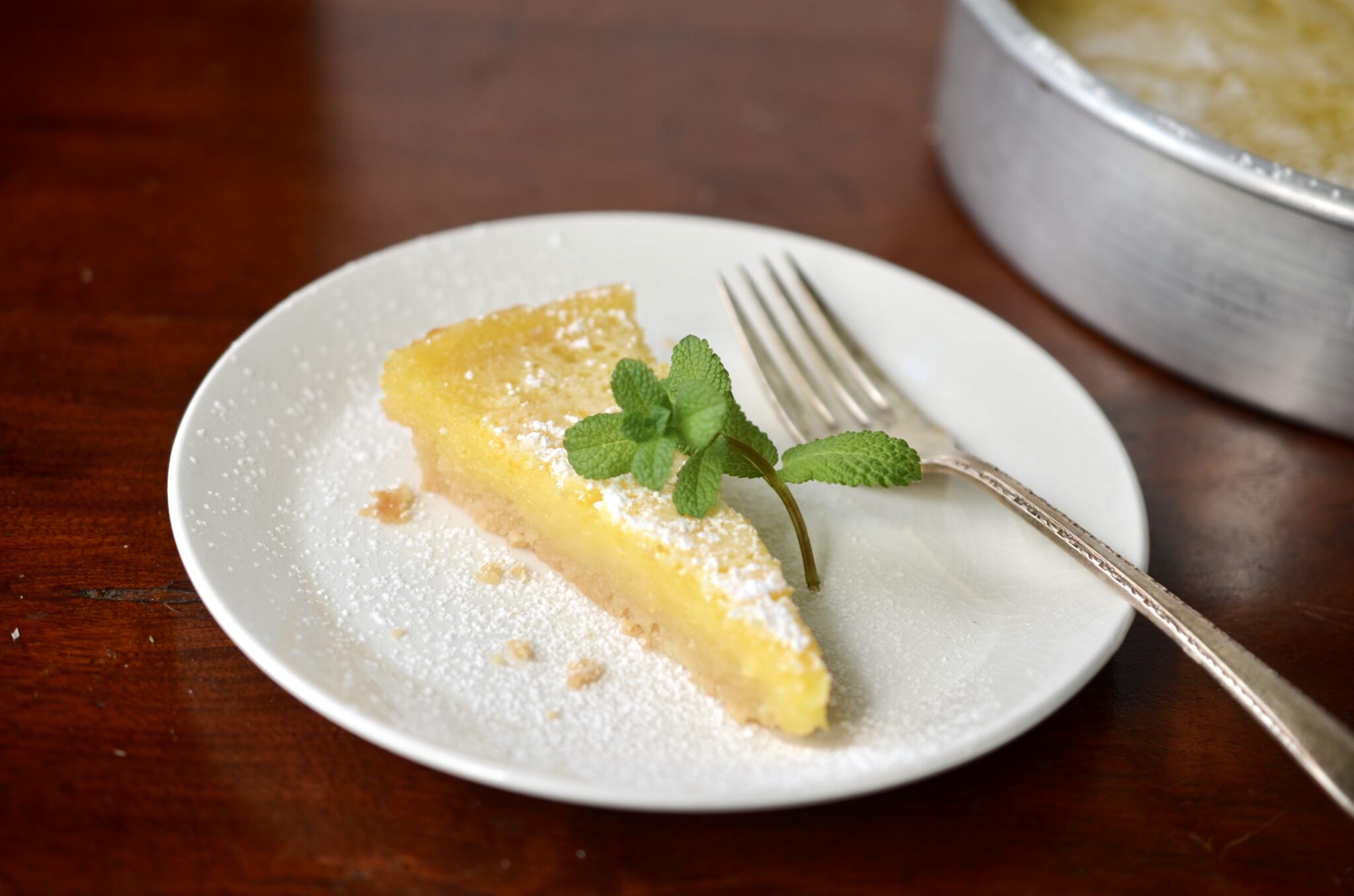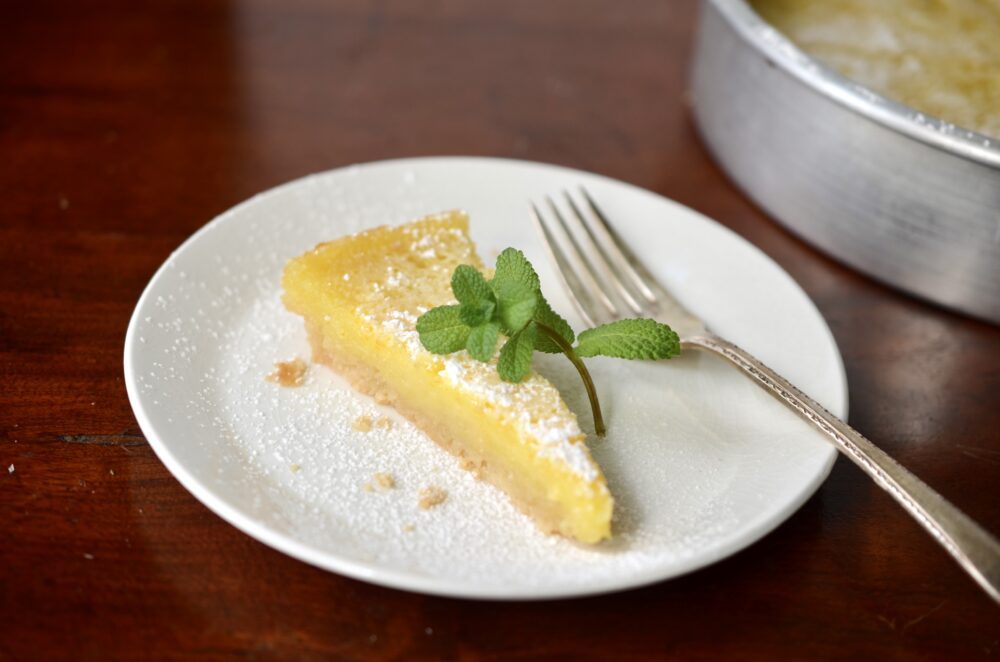 Small Bakes
There's a trend starting I think with "small bakes." Baking seems intimidating because it always seems so "big." But it doesn't have to be. It's like canning. You don't have to can a bushel of green beans. You can preserve a pint. Increasingly, I am making smaller desserts. It helps with portion size and feels manageable.  It's potentially less wasteful, too. Small pods and solos need small bakes. (In WW world this luscious dessert comes in at 5.5 blue points per 1/16th slice.)
In terms of the pan. I had a 9-inch cake pan and wanted a tart. These Easy Lemon Squares can also be made in an 8-inch square pan. Let me know what you think! Thanks so much for reading. Please make sure to check out Cookbooks with Virginia. It's now streaming LIVE on YouTube at 11:30 am EST every Friday and you can also check it out after it airs live. Lots of great guests in the works!
Bon Appétit, Y'all
Virginia Willis
Here's my little 30-second how-to video on Instagram. Check it out. Keep scrolling for the recipe!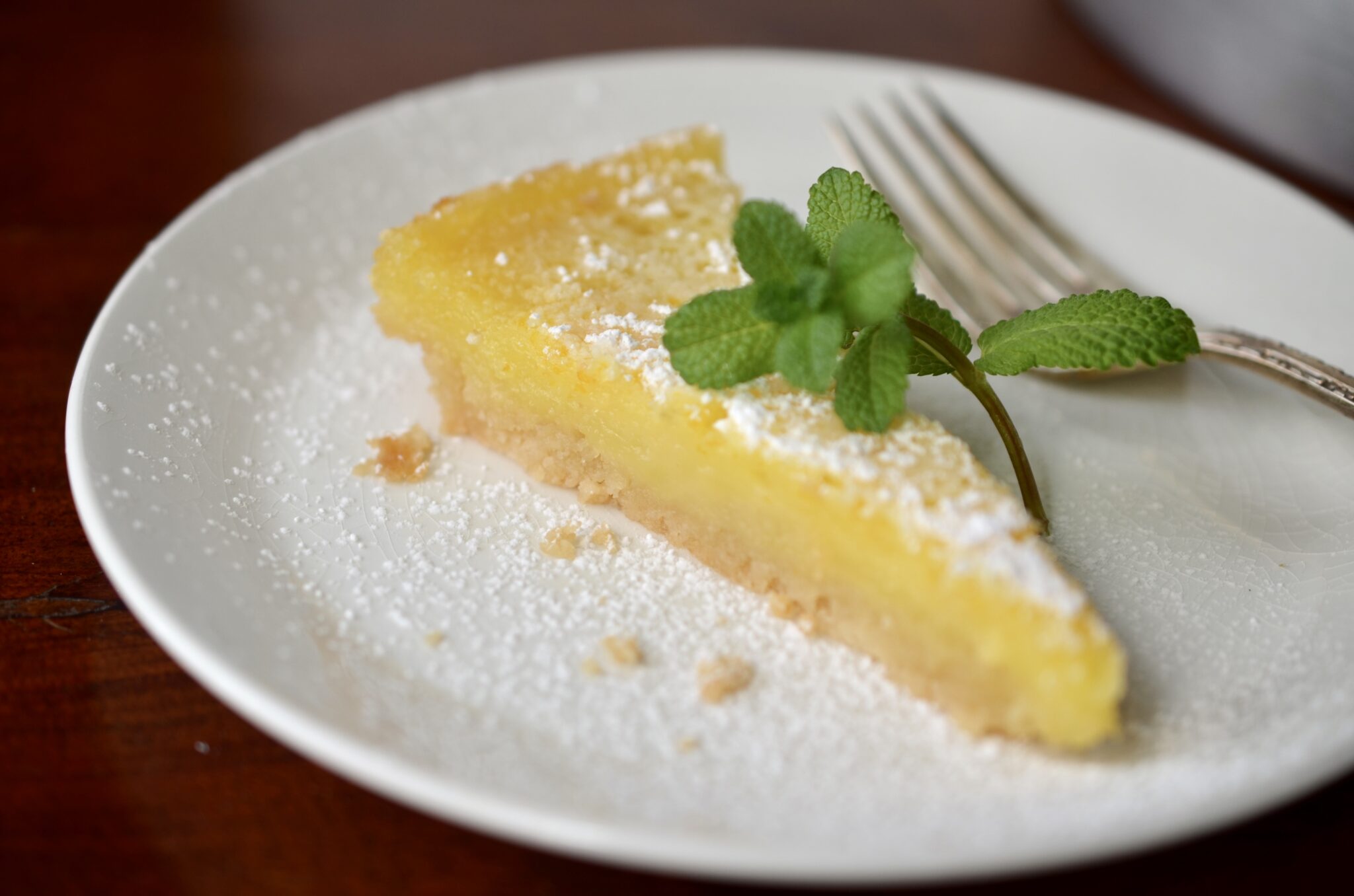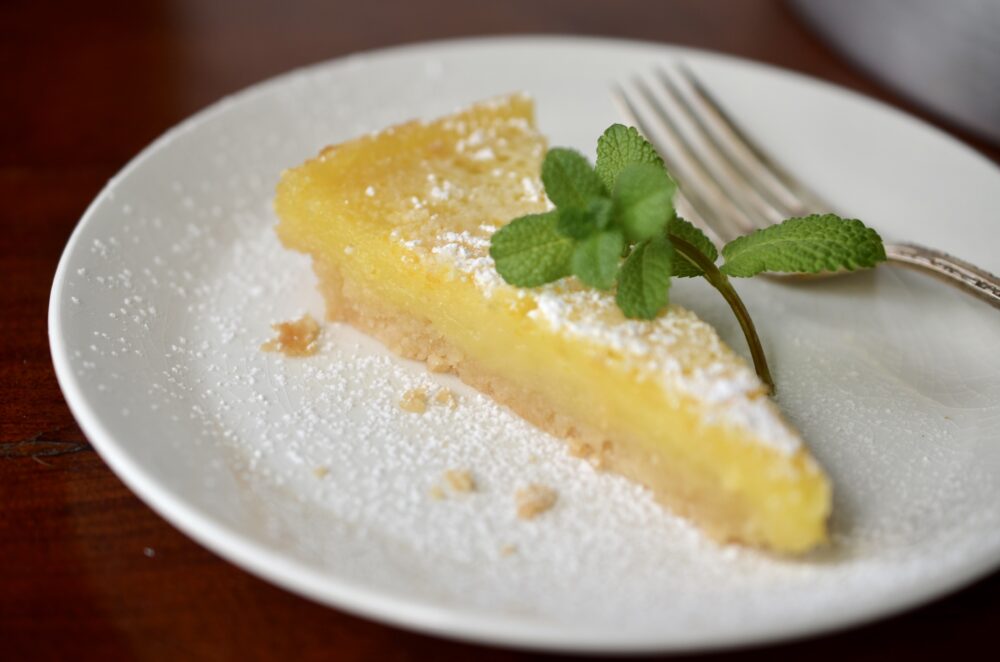 Lucious Lemon "Squares"
One slice is 6 WW blue points. I prefer the almond flour shortbread as a base for these Lemon Bars, but if you don't have almond flour you can use regular all-purpose flour, simply leave out the cornstarch in the pastry.
Ingredients
FOR THE CRUST

¼

cup

1/2 stick unsalted butter

1

cup

almond flour

¼

cup

sugar

1

tablespoon

cornstarch

Pinch

salt

FOR THE FILLING

1

cup

sugar

2

tablespoons

cornstarch

Pinch

salt

4

eggs

Zest and juice of 3-4 lemons

(¾ cup juice)

Confectioner's Sugar

for serving
Instructions
Heat the oven to 350°F. In a microwave-safe bowl heat the butter until just melted, 1 minute or so, depending on the strength of your microwave. (Don't melt it until it's oil, stop when there's a hunk of semi-solid butter at the center. It will melt as you make the dough.) Add almond flour, sugar, cornstarch, and salt. Using a rubber spatula, stir to combined and solid. (The shortbread dough will feel like Play-doh.)

Press the dough into a 9-inch cake pan or 8-inch square. Prick all over with the tines of a fork. Transfer to oven and bake until browned and set, about 20 minutes.

Meanwhile, IN THE SAME BOWL combine the sugar, cornstarch, salt, eggs, lemon juice, and lemon zest. Whisk to combine and make sure to stir until any and all clumps of cornstarch are incorporated. (You can use a whisk or a handheld mixer.) Pour into the still-warm crust.

Bake until set and it starts to pull away from the sides of the pan, 20 to 25 minutes. Remove to let cool for several hours uncovered. Shake over Confectioner's Sugar to garnish.
Please note that this post may contain affiliate links. (That means I make a commission if you use my affiliate link to buy the product.) 
If you are interested in hosting me for a speaking engagement, event, cooking class, or a book signing, let me know! Send an email to jona@virginiawillis.com and we'll be back in touch as soon as possible.
Please be nice. Unauthorized use and/or duplication is prohibited. All photos and content are copyright protected. If you wish to republish this recipe, please link back to this recipe on virginiawillis.com. Thanks so much!
Let's connect on Facebook, Twitter, Instagram, and Pinterest!

Please note that this post may contain affiliate links.